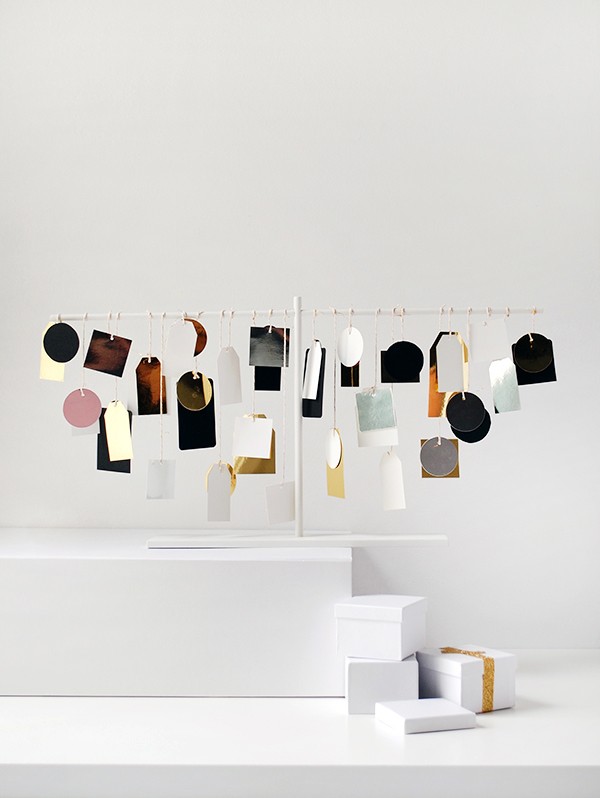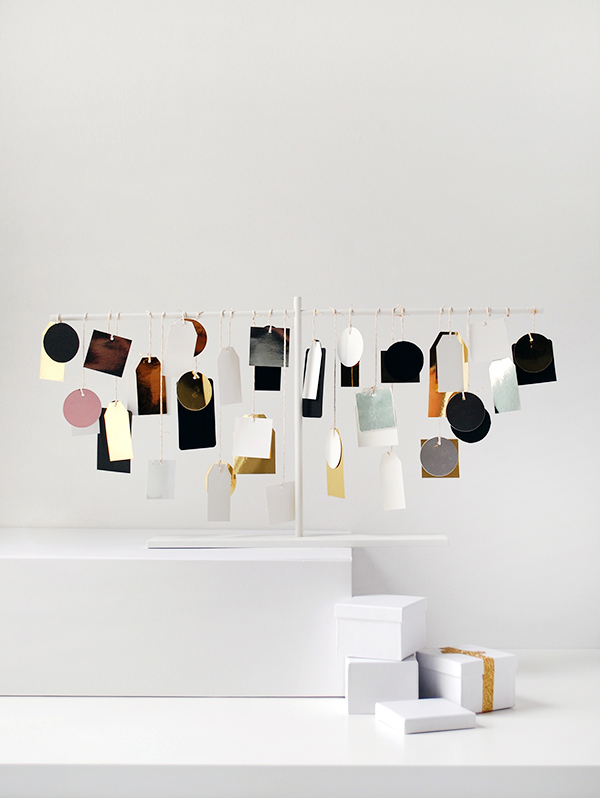 This advent calendar requires no craft skills, no chocolate, and it's super easy to make it yourself. It's modern and graphic and ties in with the current trend for monochrome interiors. A dash of metallic silver and gold adds a reflective festive sparkle.
If the whole red and green palette and sometimes cheesy traditional Christmas look isn't for you then this contemporary sculptural advent calendar might be what you've been looking for. The kids still get their advent fun, and you have something you're happy to display.
My modern advent calendar is also IKEA hack, making it easy and inexpensive. After Christmas you can remove the tags and use it for its original purpose of displaying jewellery.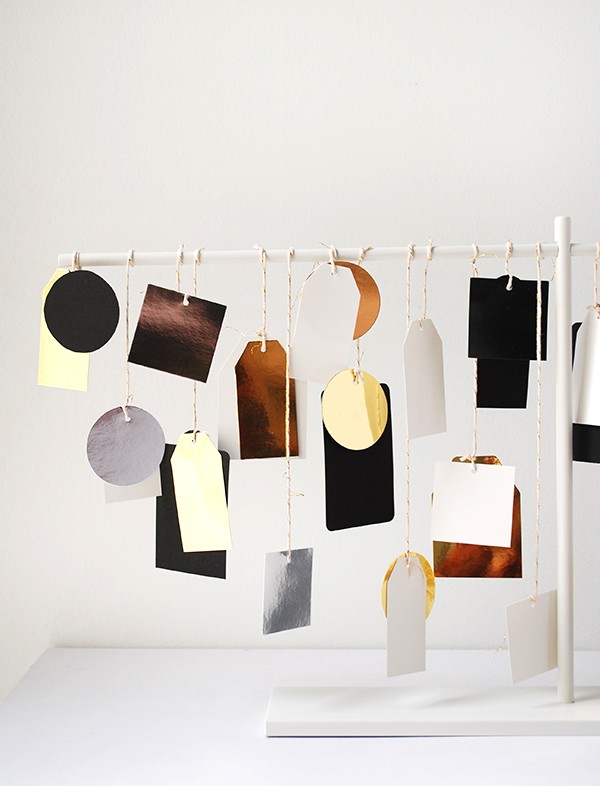 Materials
Vinter Decoration Stand from IKEA
Vinter gold and silver labels from IKEA
Matte black tags from Inky Co

Blank Goods Original Gold Glitter Twine from Etsy.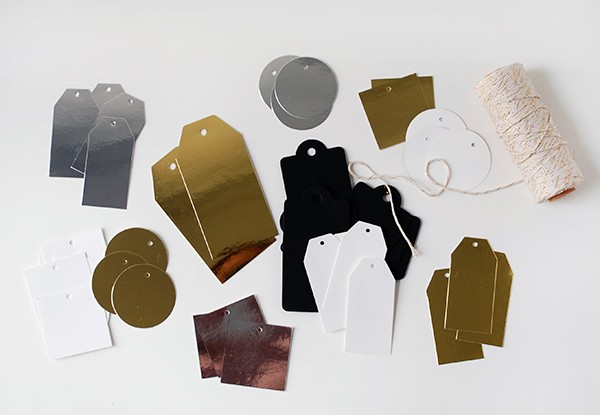 Let's get started
1. Select 48 tags so that each day of Advent (total of 24 days) will have a pair of tags. Pair different shapes and colours.
2. This Advent calendar isn't about a chocolate a day – it's more about other types of treats and sharing Christmas activities with friends and family. It's perfect for families like mine who have a tween or teen who have outgrown Santa and reindeers, and it also encourages special experiences and family time during the festive season
Write each day's 'treat' on the back of the first of the pair of tags. Think of things that your children would like to do, like special days with friends or family. It might be a movie they are wanting to see, a new nail polish colour, a day at the skate park, a cupcake decorating class, a ticket to a special concert, or even a day making a gingerbread house together or a free pass to stay up later than usual.
3. Now write the number of each day of Advent (from 1 to 24) on the back of the second of the pair of tags.
4. Cut a length of twine and thread through the pair of tags together, tying at the back.
5. Now tie each pair of tags onto the hanger. Vary the lengths, and consider shapes and colours when choosing which ones to hang next to each other. Mix it up for a beautifully graphic jumble of shapes and texture.
Your modern and minimalist Advent calendar will make a stunning addition to your Christmas decor.
Love my DIY craft projects? I'm making more for Christmas, so keep an eye on the blog. In the meantime, have a look at my other DIY Christmas craft tutorials.
If you make any craft from my tutorials, make sure you tag me on Instagram @we_are_scout_lisa and use the hashtag #WeAreScoutCraft. I love seeing your creations!
Styling and photography by Lisa Tilse for We Are Scout.
Save
Save
Save