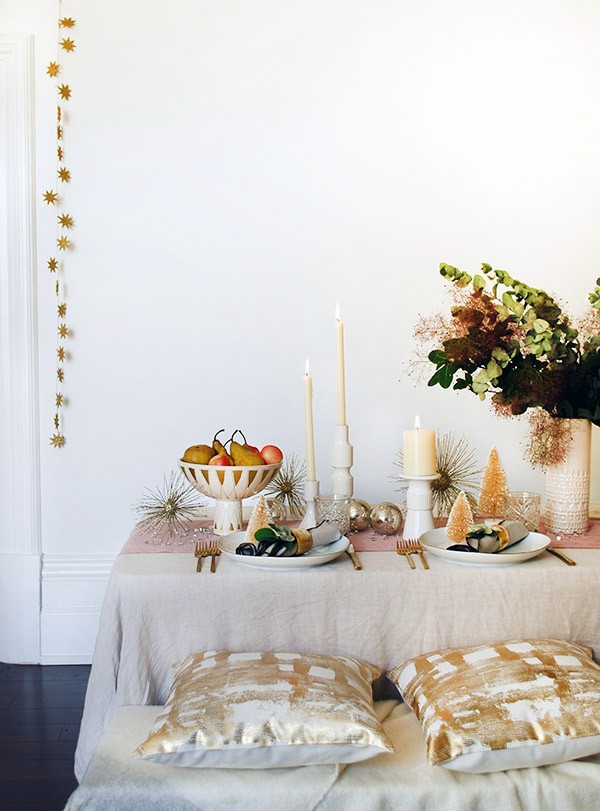 We love a beautifully decorated tablescape, and Christmas is the one time of the year when you can really have fun. Setting a gorgeous Christmas table will make your guests feel special, excited and embrace the holiday spirit.
We shopped at West Elm to create this Christmas table, and were inspired by their beautiful collection of Christmas baubles and mid-century inspired decor.
With the classic Christmas colour palette of cream and gold as our starting point, we'll show you how we added colour, texture and tableware to create a fresh and festive new look.
What's our theme? We're calling it a mid-century inspired, rose-gold Christmas. Let's get started.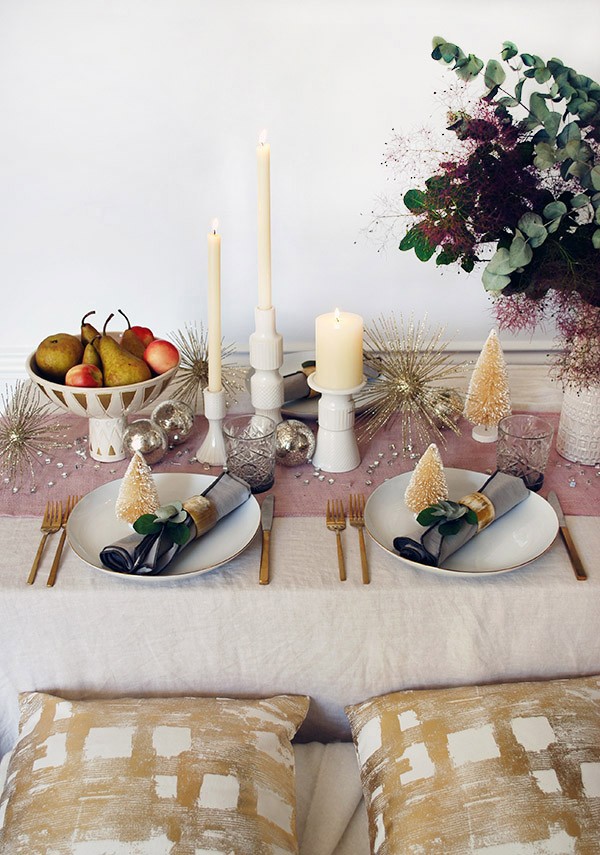 1. Start by laying the table with a natural linen tablecloth. Note that it's not a stark white tablecloth, as we wanted the base to look raw and natural.
2. Lay a dusky pink runner down the middle of the table to establish the next layer of colour. We used West Elm's frayed net table runner.
3. Set your table with white dinnerware. We chose West Elm's metallic rimmed organic shaped dinnerwear, and accentuated the subtle gold rim with gold flatware. West Elm's modernist-inspired gold cutlery is our favourite.
4. We could have gone with pink linen napkins, but it would have looked too… matchy and overtly feminine. Instead, we used the neutral border stitch napkin set, with bone napkin rings (available in store at West Elm) which have flecks of golden tones.
5. Add a playful festive note with a miniature bottle brush tree at each place setting. We love these brilliant Christmas decorations and they add a touch of vintage nostalgia to our table.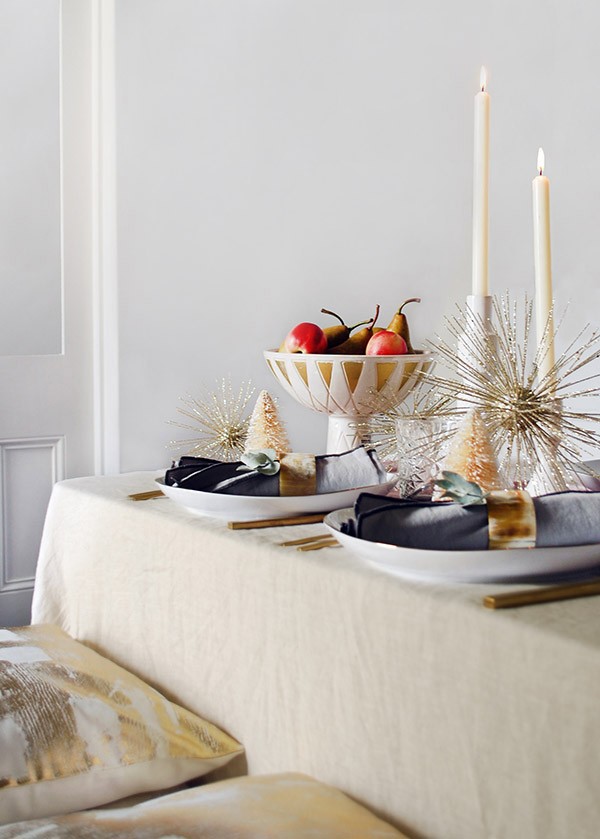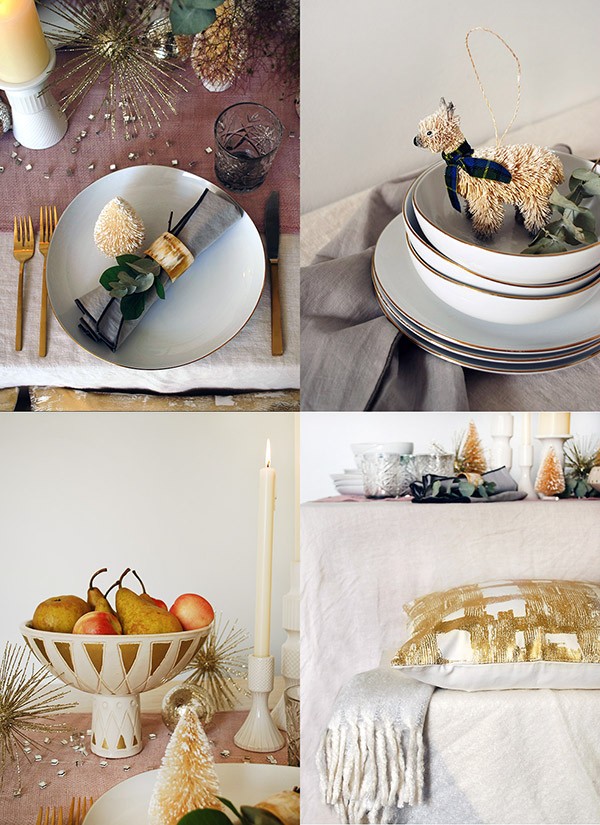 6. Reflect the golden gleam on the table with cushions on a bench seat. Soft and cosy for guests, the metallic brushstroke grid cushion enhances the gold elements on the table. Next, we added the cosy texture throw for extra softness and comfort.
7. A table isn't set without candles, especially your Christmas table. Textured candle holders, taper candles and unscented candles work with our cream colour palette, while adding height to the table setting.
8. Add sparkle to the table by scattering a selection of baubles and ornaments down the runner. We love the Sputnik-style glitter burst ornaments – a perfect nod to our subtle mid-century theme – as well as mercury ball ornaments and mirror garland (available in store at West Elm).
9. Create a mini forest of bottle brush trees down the runner of the table. We popped a playful llama ornament on top of a stack of plates. Your guests will love these thoughtful touches and fun details.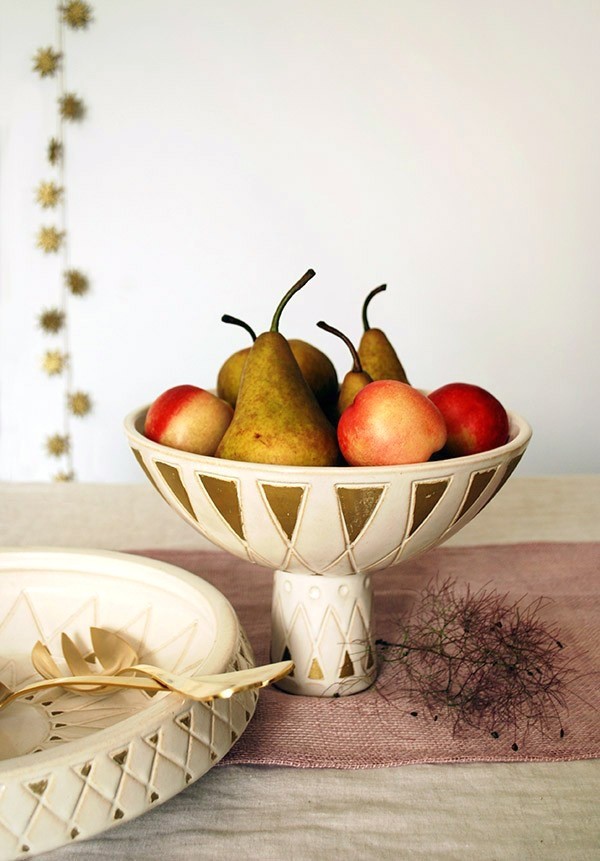 10. Add your mid-century decor pieces. We chose West Elm's stunning mid century ceramic centrepiece bowls for their beautiful form and gold details, and completed the look with a gleaming pair of gold flatware servers.
Fill your centerpiece with golden pears and rosy nectarines for a fresh element that ties in beautifully with the colours on the tabletop.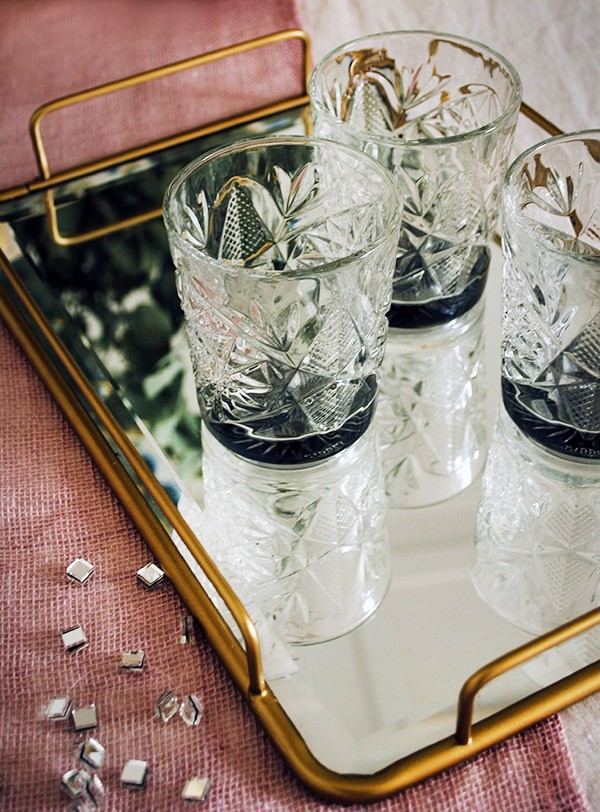 11. Serve your drinks on a mirror-topped tray for a dash of festive flair. West Elm's Fishs Eddy brass mirror topped tray is available in store. For our glassware, we loved the cut-glass vintage appeal of the decorated hobstar glasses.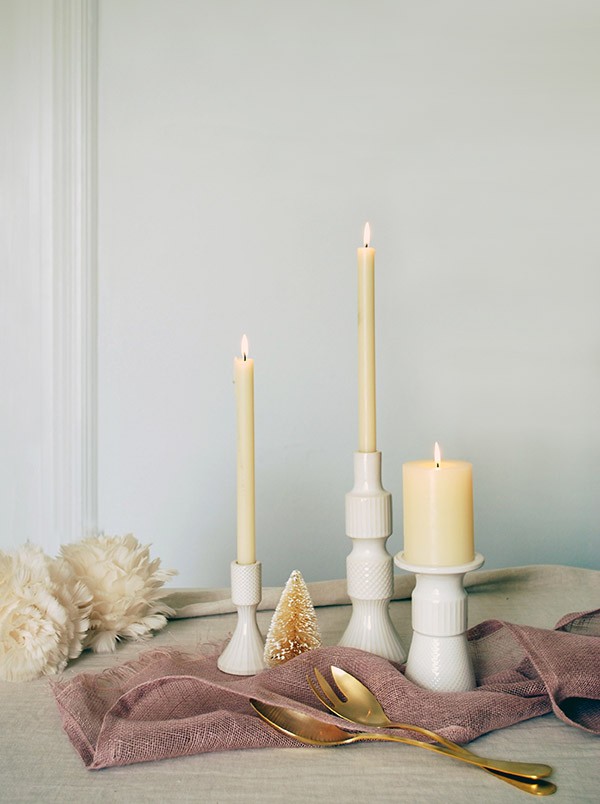 12. You can never have enough decorations. West Elm's fluffy cream feather ball ornaments add an element of softness to our tabletop.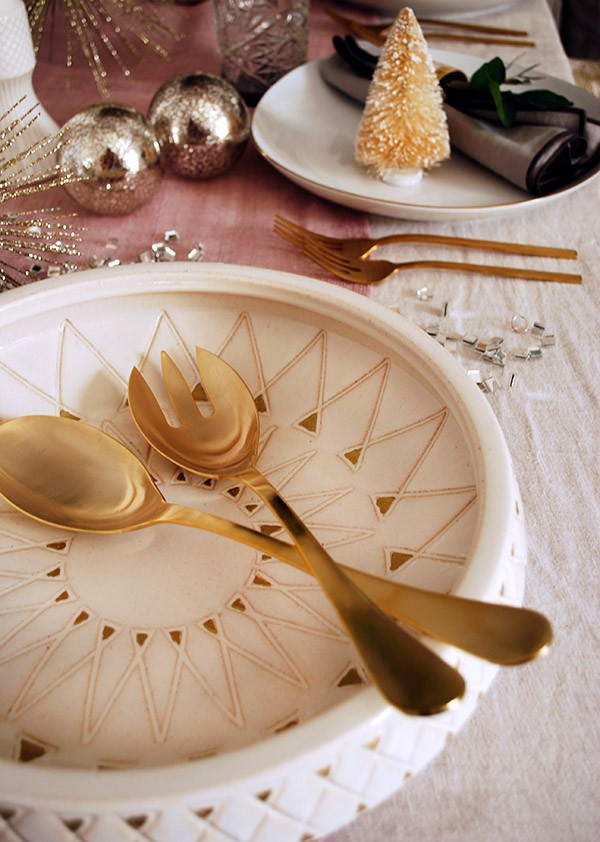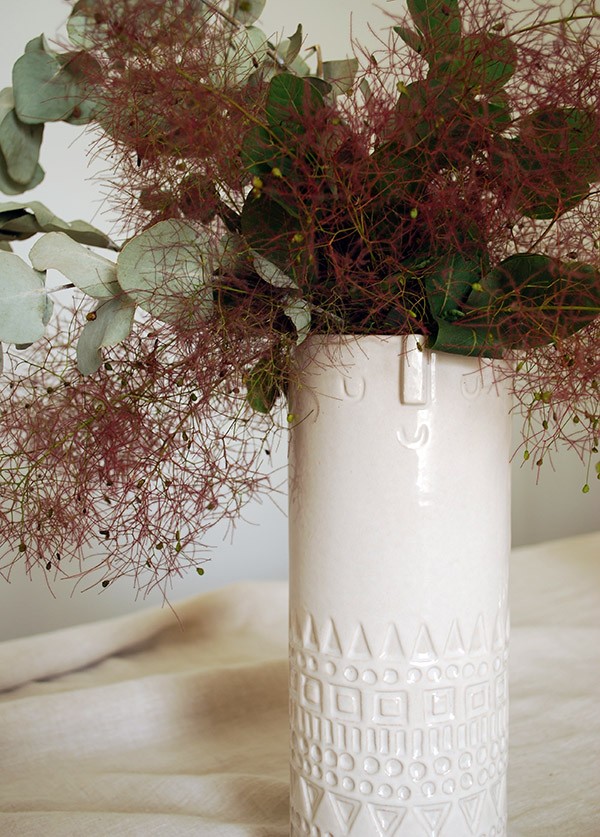 13. We created a beautiful centrepiece with a mid-century style vase. West Elm's Atelier Stella vase is perfect, and we filled it with dusky pink smoke bush and eucalyptus leaves.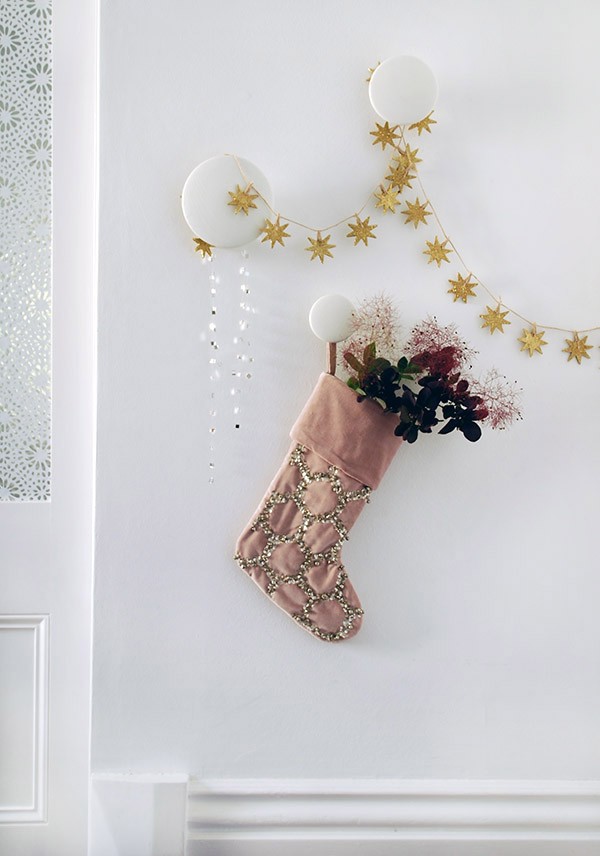 14. Add touches of your table's theme throughout your home. We decorated our walls with the glitter craft gold star and mirror garlands and hung up the lush dusky pink jingle velvet stocking, which is embroidered with little bells. Gorgeous!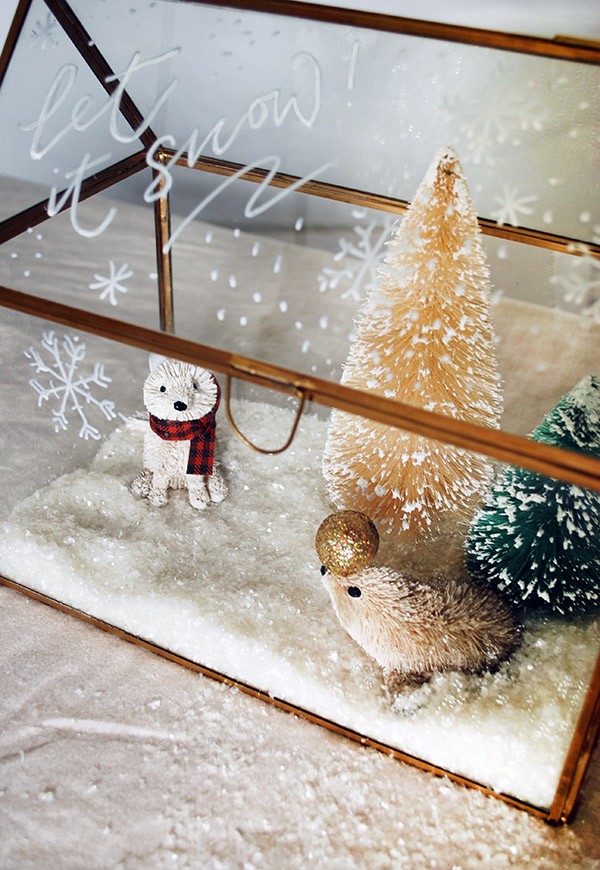 15. For a final fun and festive touch, create a miniature winter wonderland with West Elm's brass display box house. The little ones (and big ones) will love it! We filled it with glitter snow, and added the baby fox in scarf ornament; seal with golden ball ornament and more bottle brush trees.
Create a personal festive message (which can be removed later) and more snowflakes with a Posca white paint pen.
This miniature winterscape would make a welcoming statement – and set your Christmas day theme – on top of a console table at your front door.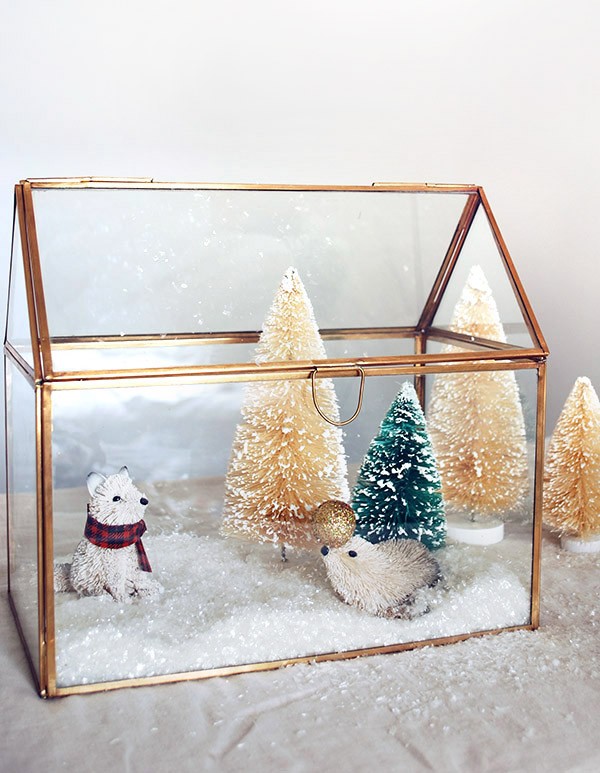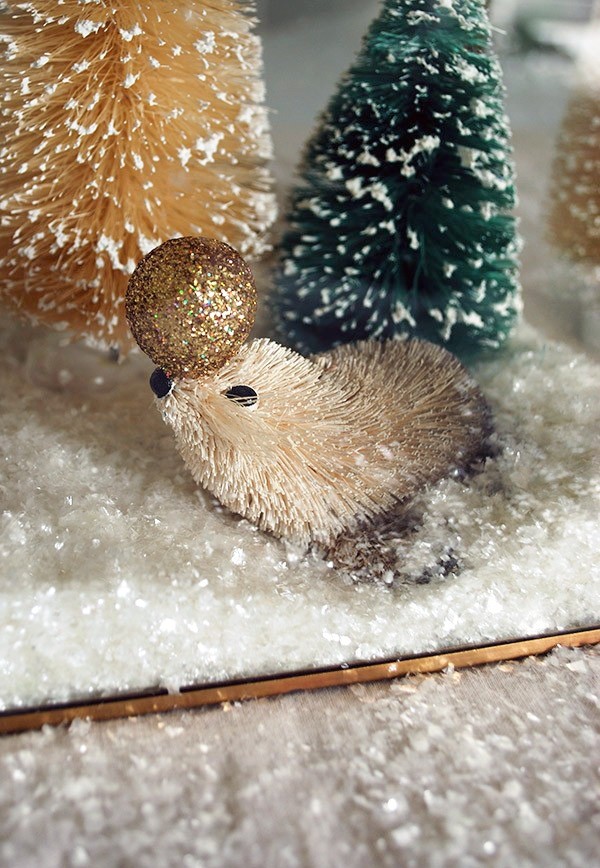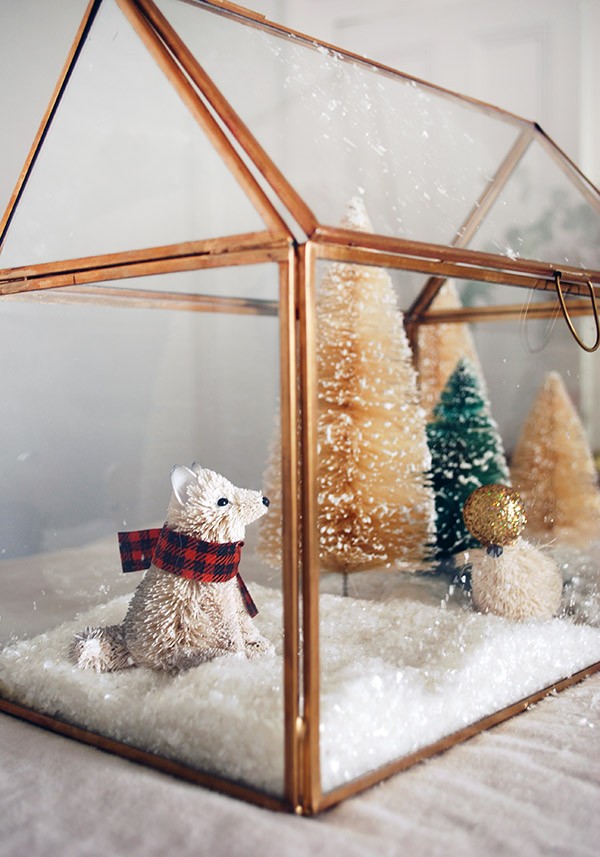 There are loads of ways you can add just a few extra pieces to your existing tableware for a totally new look for your Christmas table. Here are our top 5 ways to jazz up your table on a budget:
1. Upgrade your flatware. We love West Elm's modernist-inspired gold cutlery sets. You can buy individual sets so you can cater for your crowd.
2. For at least one day of the year, bin the paper napkins and embrace linen napery for instant luxury. It's easy to personalise a place setting with napery and napkin rings. We tucked in a piece of eucalyptus to tie in with our floral arrangement. You could also use ivy, holly or mistetoe.
3. Get a new table runner – it will add new colour and texture to your tabletop.
4. Invest in some new statement ornaments to give your table a Christmas theme. We love West Elm's bottle brush trees.
5. Buy new glassware. Swap your glass tumblers for something special on Christmas day, like West Elm's decorated hobster glassware.
Now your mid-century inspired, rosy-gold Christmas table is complete. Do you love it as much as you do?
By Rebecca Lowrey Boyd and Lisa Tilse for We Are Scout.
All photography and styling by Lisa Tilse, for We Are Scout.
Disclosure: This is a sponsored post in collaboration with West Elm. We only partner with brands that are a good fit with our blog, our aesthetic and what you, our readers, enjoy. Content and concept, product selections, words and opinions are all our own.
Save
Save