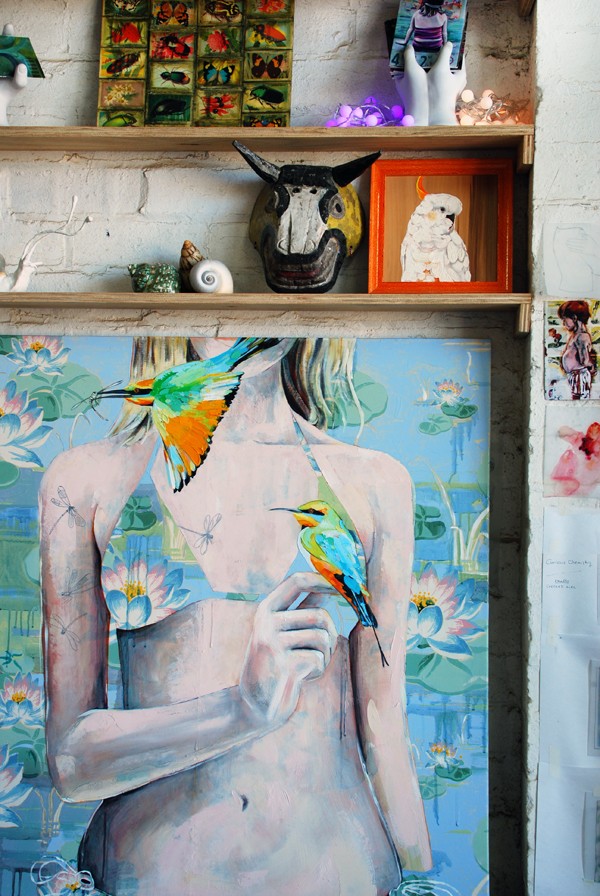 I'm always excited to bring you posts in my Space to Create series, particularly the ones that I get to shoot. I love visiting artists and makers in their studios and getting to hang out and chat with them.
The morning I spent with Jessica Watts was so lovely. Her studio is beautifully situated in a quiet bush setting, it's big (by my standards!) and bright, and Jess herself is the nicest person – open, warm, gregarious and quick to laugh.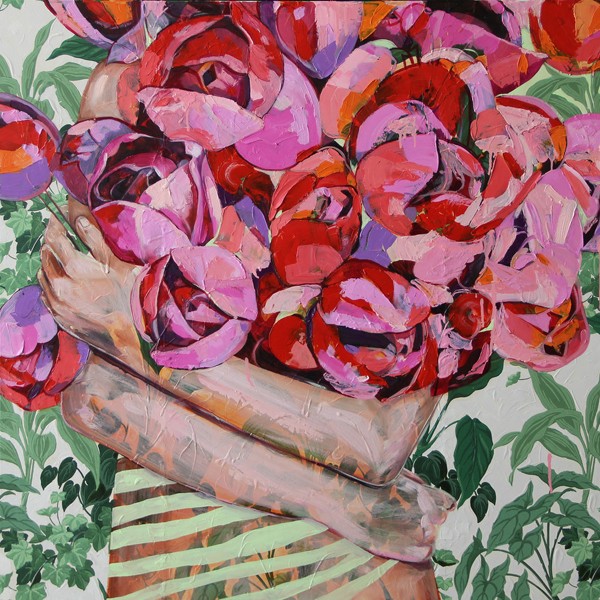 Jess paints with oils, but the basis of her art is collage – using her hoarded paper ephemera: vintage storybooks, old bingo cards, and "the fortunes from every cookie I ever ate". Her current series, titled Wallfower, features backgrounds of delicate blooms on vintage wallpaper over which female forms are layered in oils, acrylics and enamel.
When I visited her studio it was bursting with gorgeous Wallfower paintings as Jess works towards a solo show this month at 19 Karen Contemporary Artspace on the Gold Coast.
Meet Jess…
Where do you live?
I live in a heritage listed semi-detached worker's cottage in Manly, about 200 metres from the beach, with my husband and two boys. My husband is a builder and he has been renovating our house between jobs for the past seven years. Although it can be frustrating that the work is going so slowly, I try to remind myself that with the money we save in labour we get to spend on really cool stuff, like the glass walkway leading to the kids' room. But, power tools and building supplies are permanently on the floor – so right now my interior style is Tool Shed meets Marble.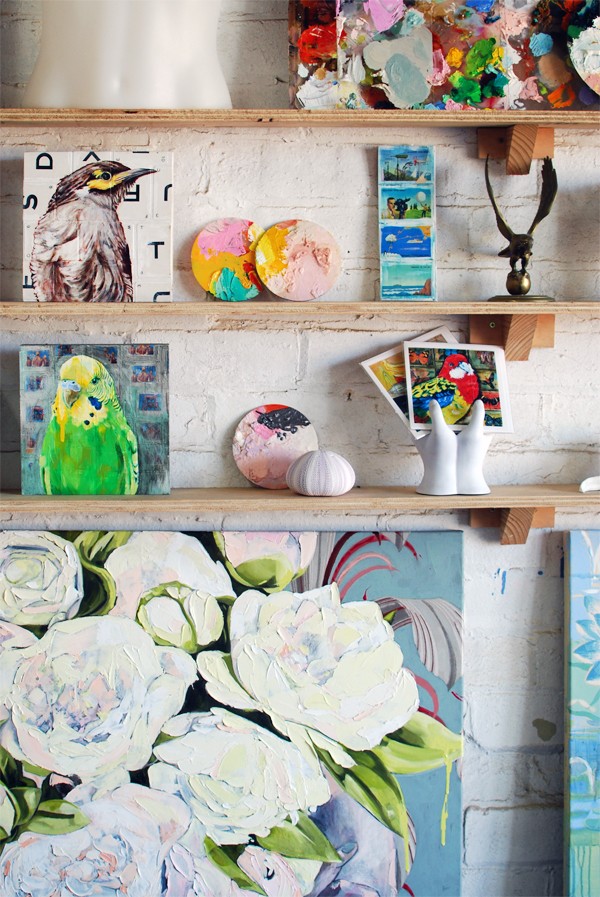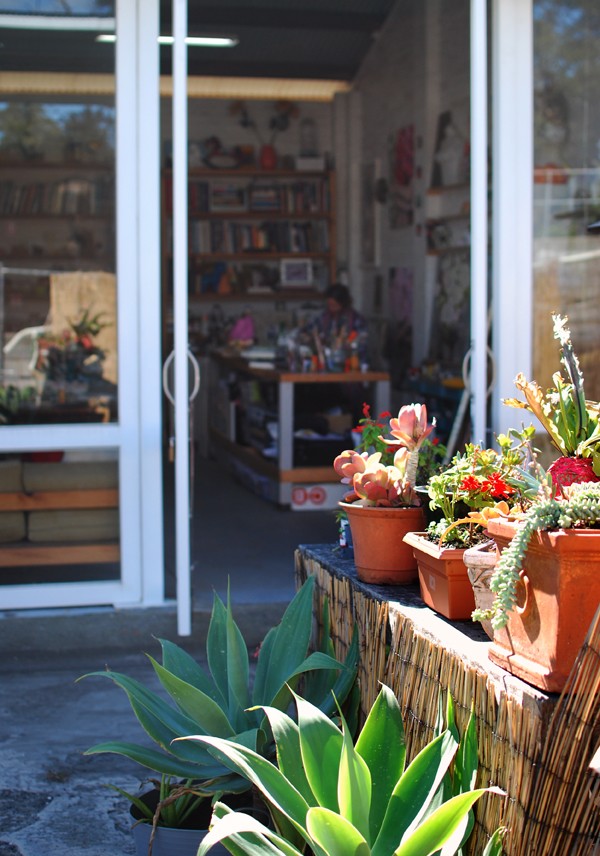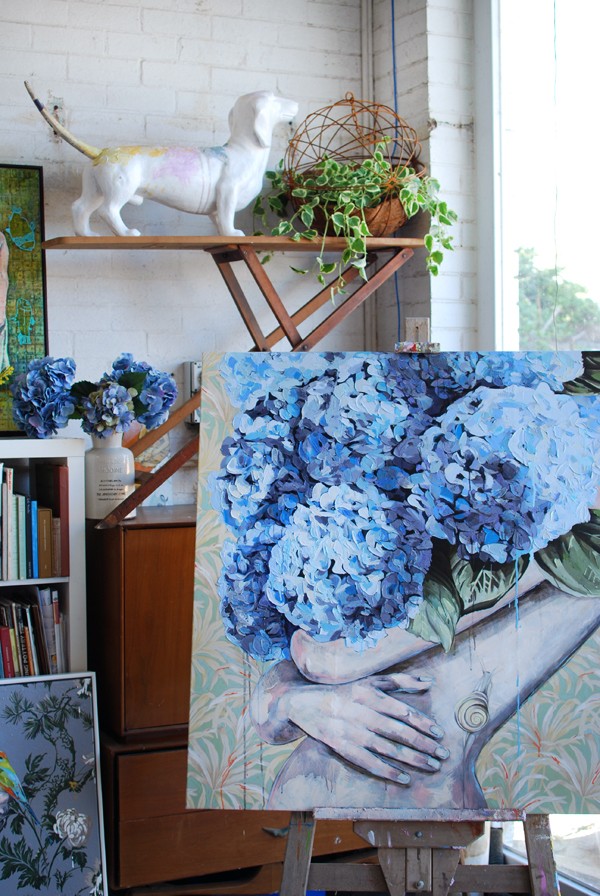 Where do you create?
I work in a studio at Sydney's North Head, about five minutes drive from home. It's a special part of the world and I'm lucky to have found it. I share my studio with a sculptor (Angela Griffiths) and a few bush critters who infiltrate at night.
When do you create? Is it a full-time job?
Between school hours, five days a week. My guilty pleasure is working a day here and there on the weekend: it is AMAZING how much creating you can do in eight consecutive hours! I never really stop thinking about my work though, so I do a lot of conceptual and admin work at night.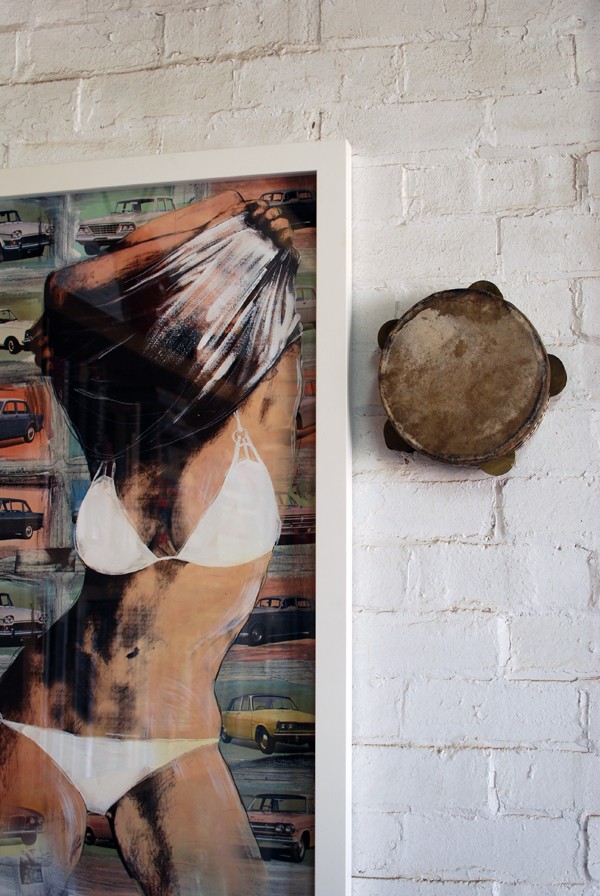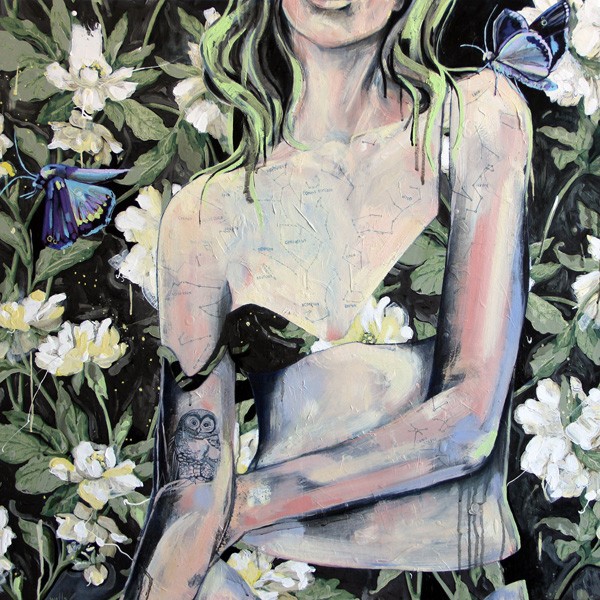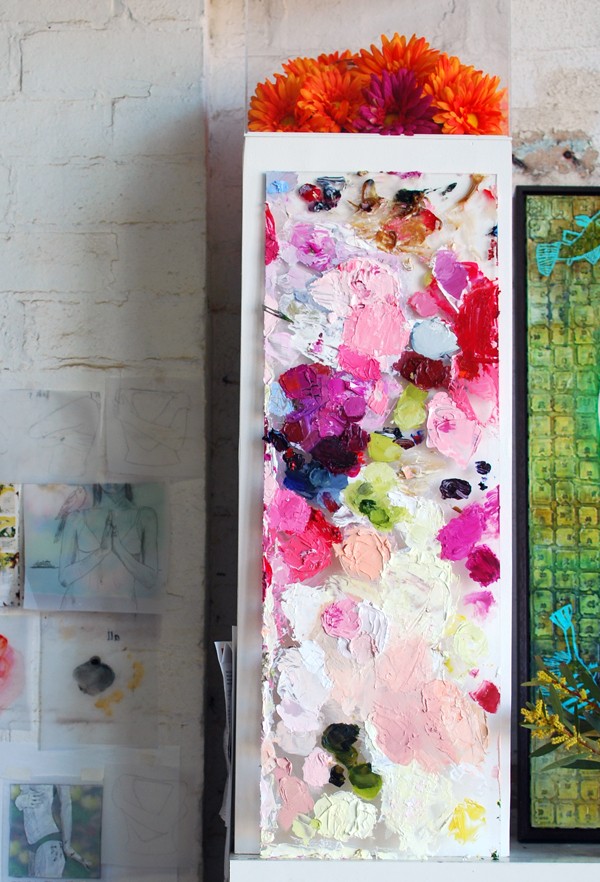 What path led you to this creative place?
I have always been a maker. When I was a kid I'd spend hours in my room building cities from cardboard, making garages for my Matchbox cars and people out of Fimo. I would sell hand-made card sets to the local newsagent and I never stopped drawing.
I studied Visual Communication at Sydney College of the Arts and started my career as a typographer and graphic designer in Sydney. Then I moved to New York and worked as an art director in advertising for a decade, mostly working on big brands like Toyota.
During this time I was also renting a studio on the west side where I painted in my spare time and completed the odd commission. When I eventually I moved back to Sydney, I freelanced half-heartedly for different ad agencies for a few years, before tossing it all in to indulge my urge to paint!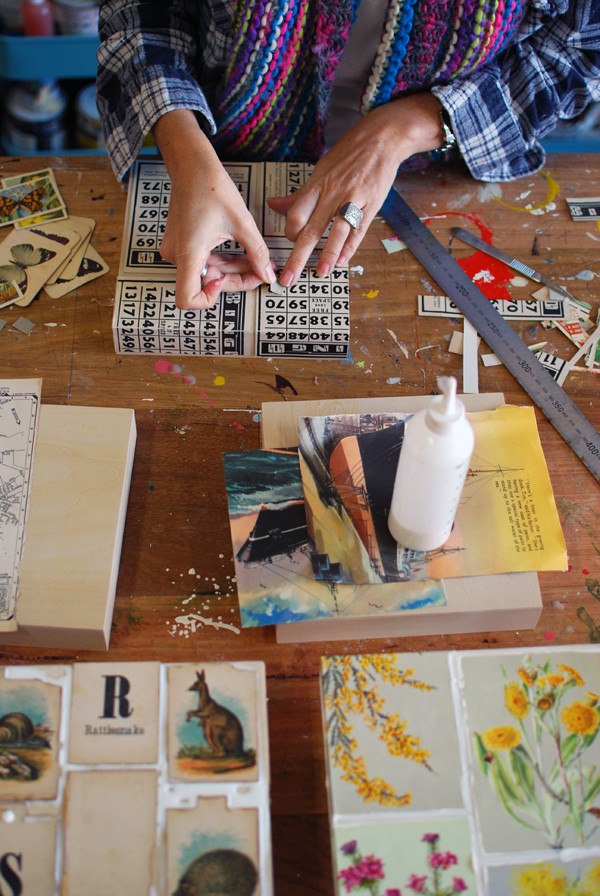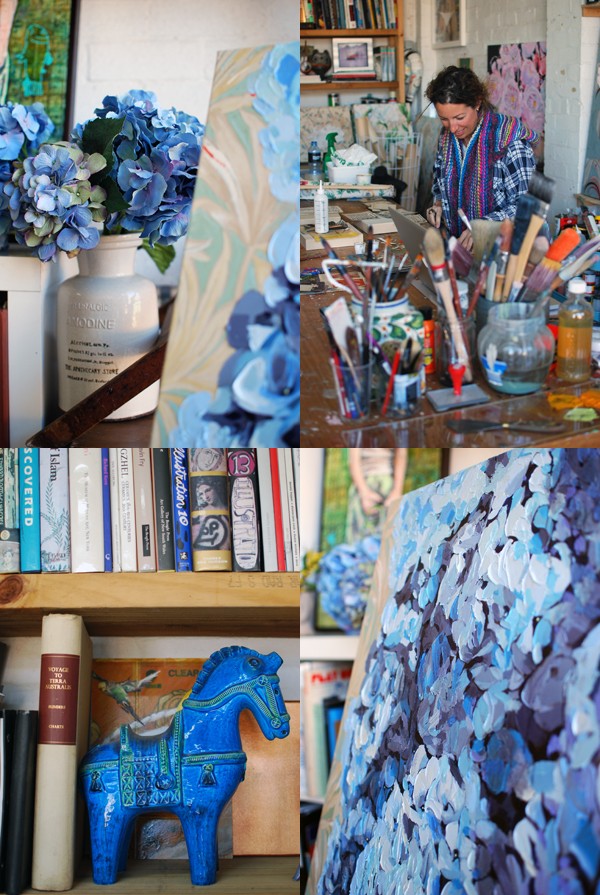 What's your elevator pitch? How do you describe what you do?
I am a figurative artist working predominantly in oil, but my art is rooted in collage. I use printed ephemera I have collected over the years to activate my canvases and provide inspiration for my work. Although most of my paintings deal with core subjects of beauty and nature, you won't have to look too hard to find a bit of humour in there too.
How would you describe yourself in six words?
Intuitive, loyal, laughy-loud, considerate, rumpled, hungry.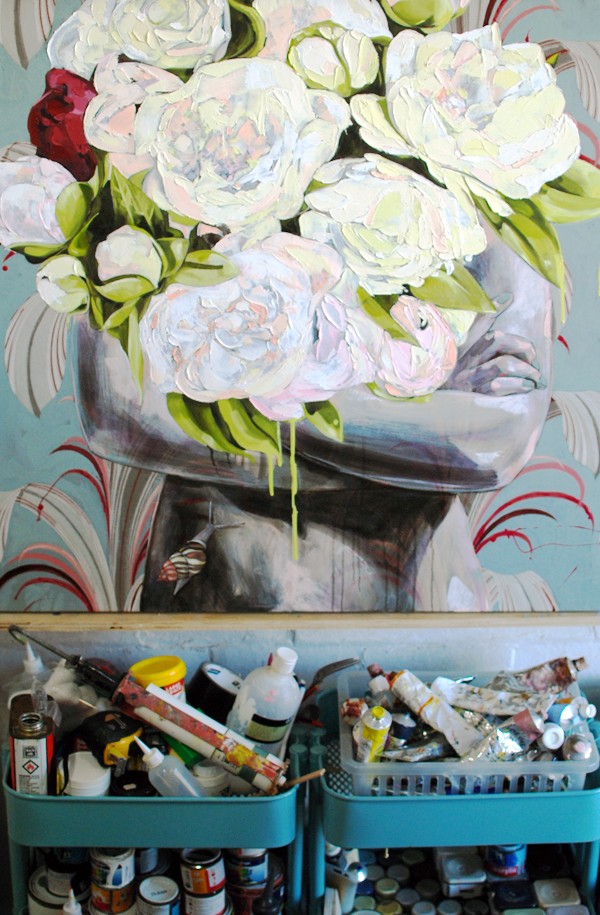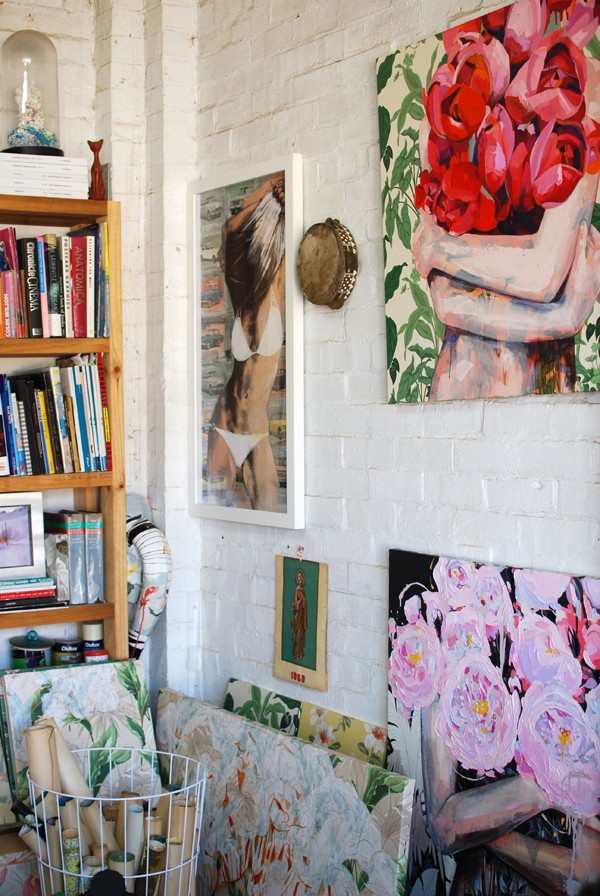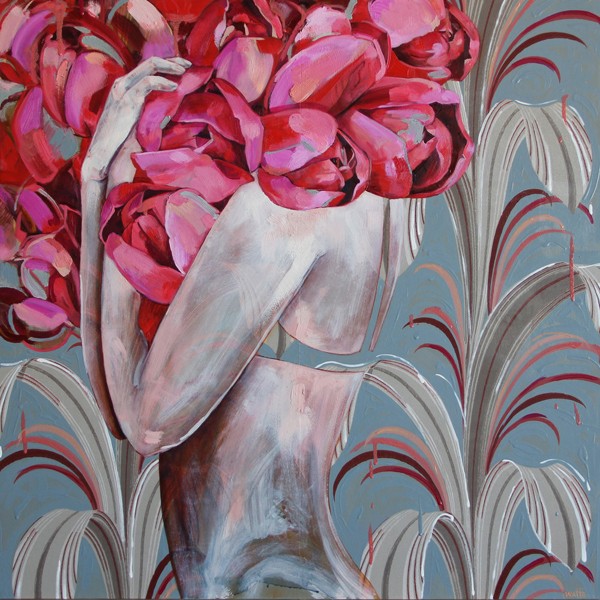 Where do you find inspiration and motivation?
I am nostalgic by nature and I find inspiration in all the stuff I have collected over the years. Things that tickle my fancy that I have tucked into drawers include: the fortunes from every Chinese take-out cookie I've eaten, old bingo games, trading cards, rolls of vintage wallpaper, rubber stamps pinched from hotels around Europe, 1940s seed packets, retro Gregorys maps… the list goes on…
For me there is a tenderness and affection in reviving things that once belonged to someone else. All this paraphernalia eventually finds its way into my work.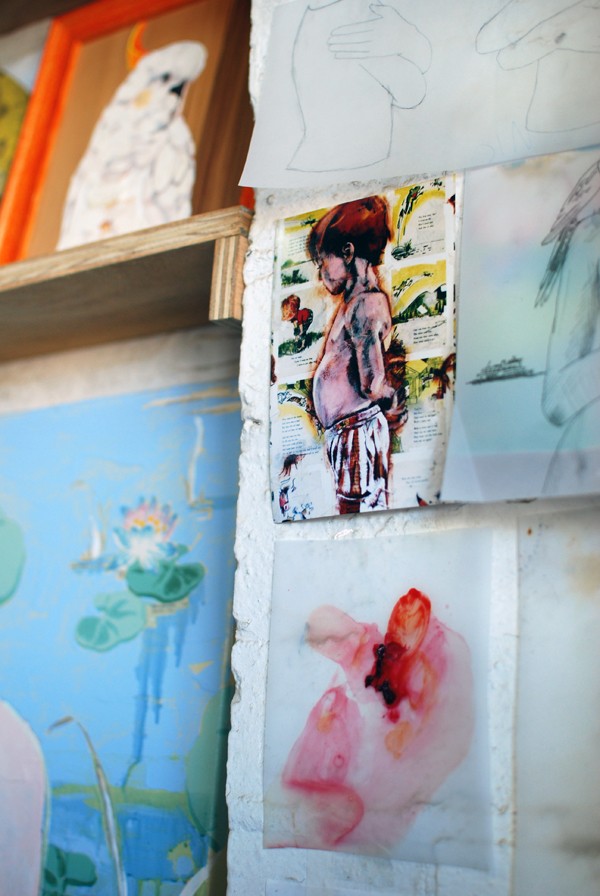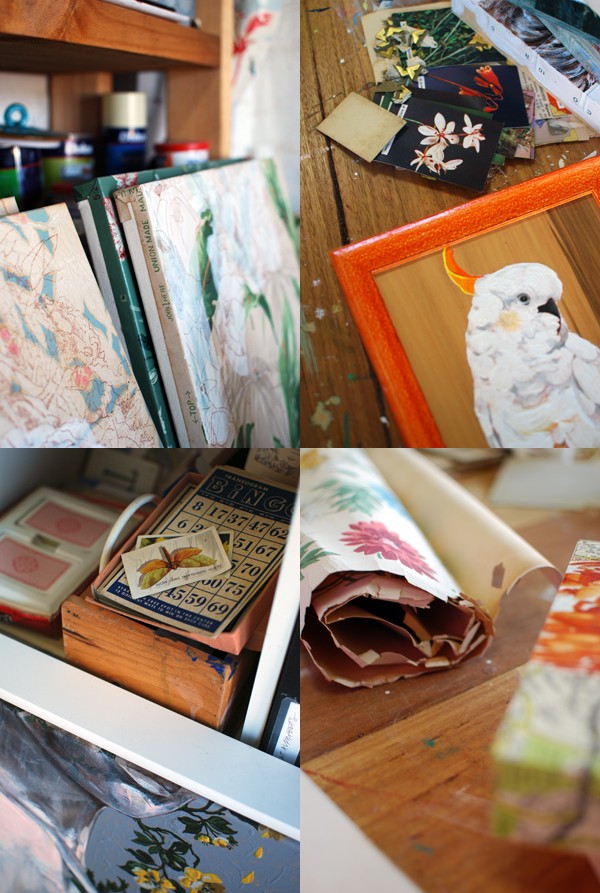 What are the essential items in your workspace?
Everything is absolutely essential, which is why nothing can ever be thrown out!
Do you have a favourite tool that's essential to your work?
My beautiful buttery Charvin oil paints. At the moment I'm deep into my series "Wallflower" so my vintage wallpaper is mandatory. I'm also really enjoying my Catalyst polytip bristle brushes: I am shockingly neglectful in the care of my brushes and these puppies can happily withstand all kinds of torture.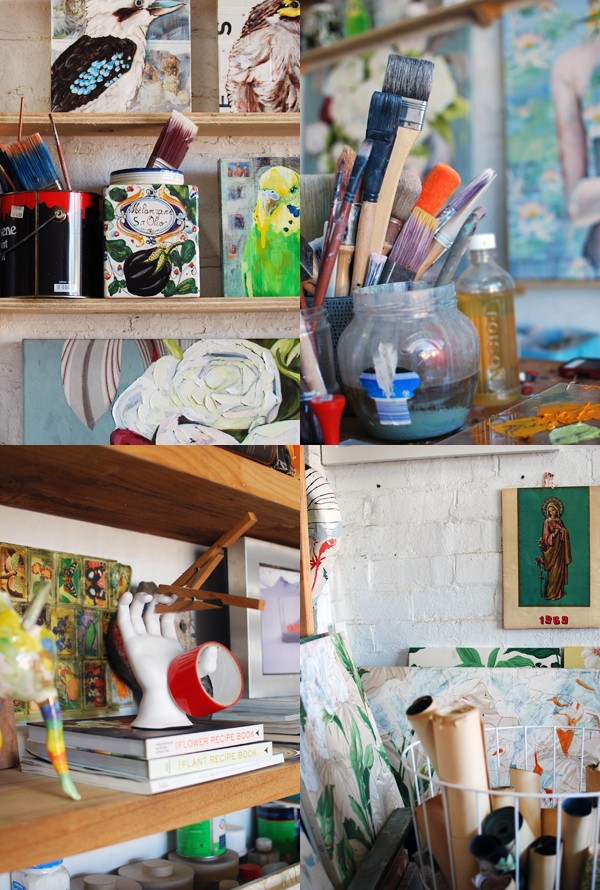 What do you love the most about your creative space?
The super-high ceiling, laughing with my roomie, our self-made garden. And I love that this space is completely and utterly mine (mothers don't get much of that)
My studio sits within the Australian Bronze foundry and I love that I am surrounded by sculptors. I have almost completed my first sculptures for my upcoming solo show, a series of vases which are an expression of my paintings in 3D – called "Flower Girls". I could never have pulled this idea out of my head and into reality without the sculptors and resources around me.
[See the process of producing the Flower Girls vessels here.]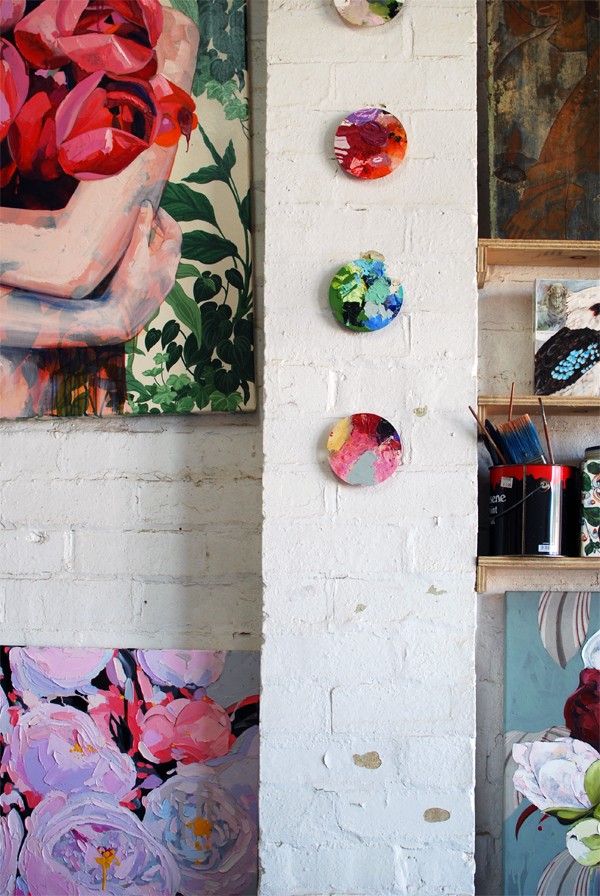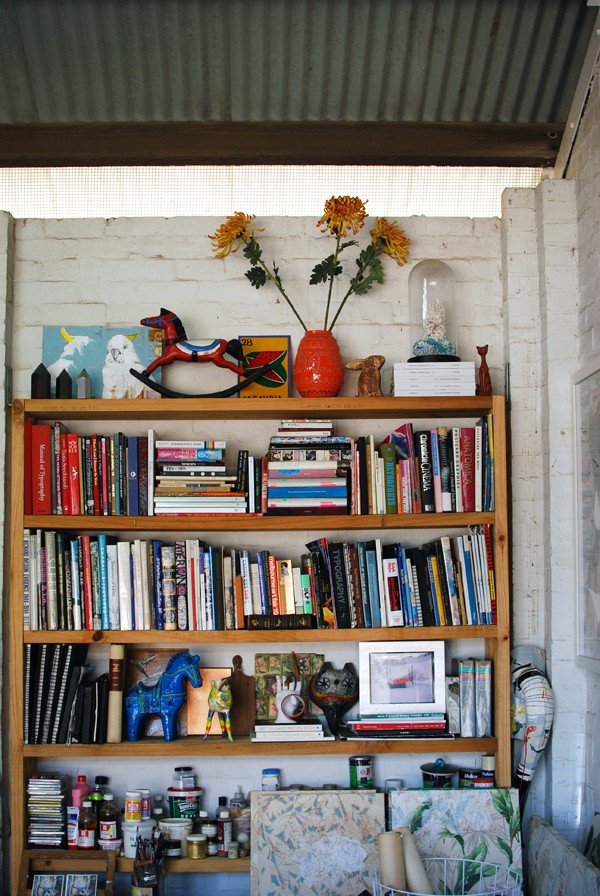 Is there something you don't like, or would like to change?
I want what every other artist wants – MORE space to create!!
Do you listen to anything while you work? Music? Podcasts? TV? Silence?
Music or 702 ABC, not a fan of silence in the studio.
Favourite work-time snack (or beverage)?
Coffee.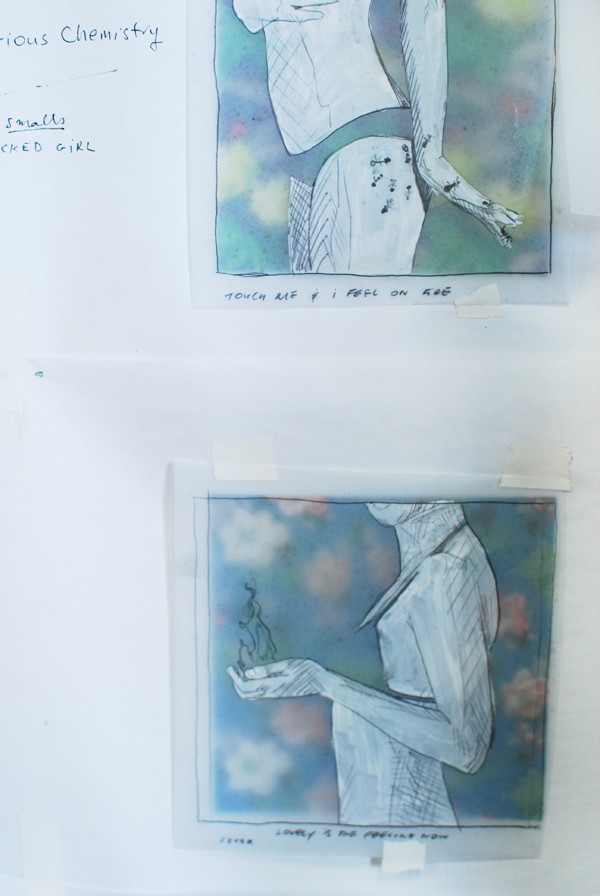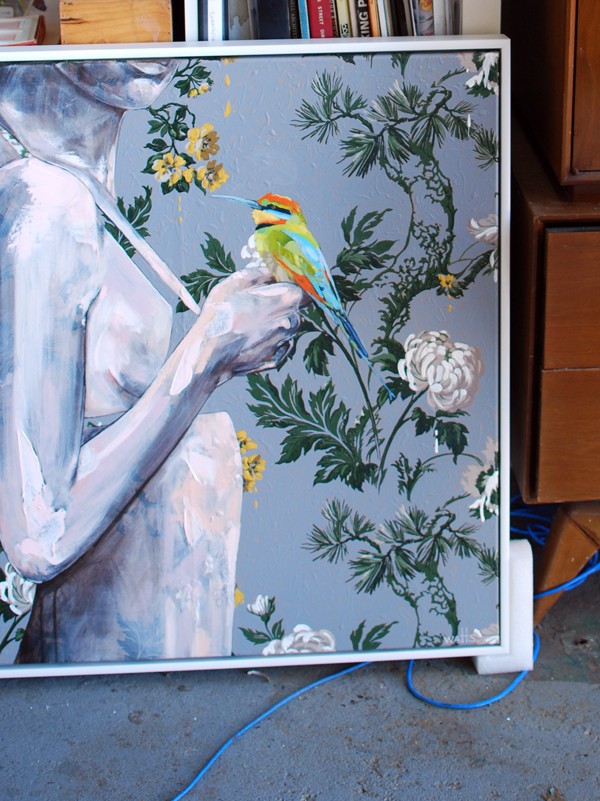 What would be your dream job or collaboration?
I'd love to work with an interior designer on something big – like providing paintings and sculptures for a hotel. Or work with a stylist to create a series of little worlds in the windows of a fabulous department store like Bergdorf's.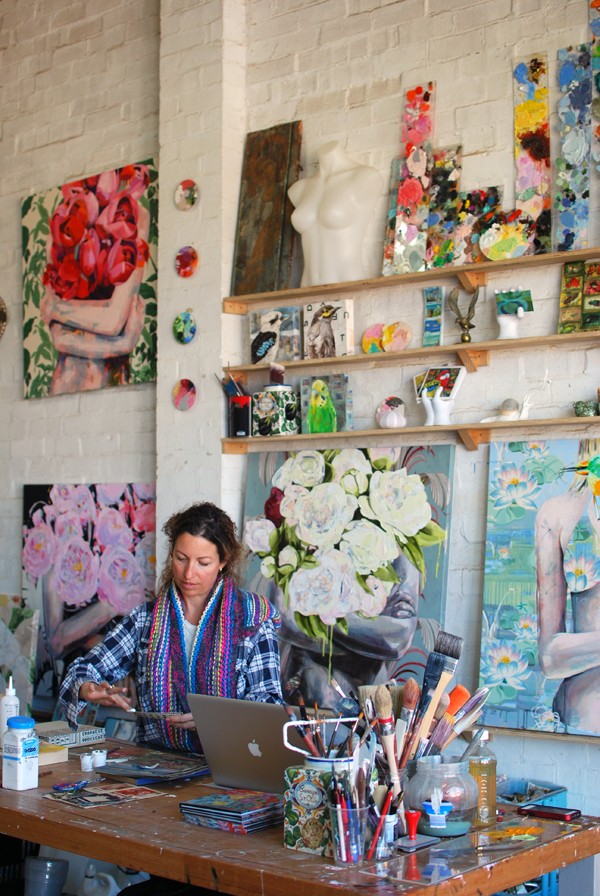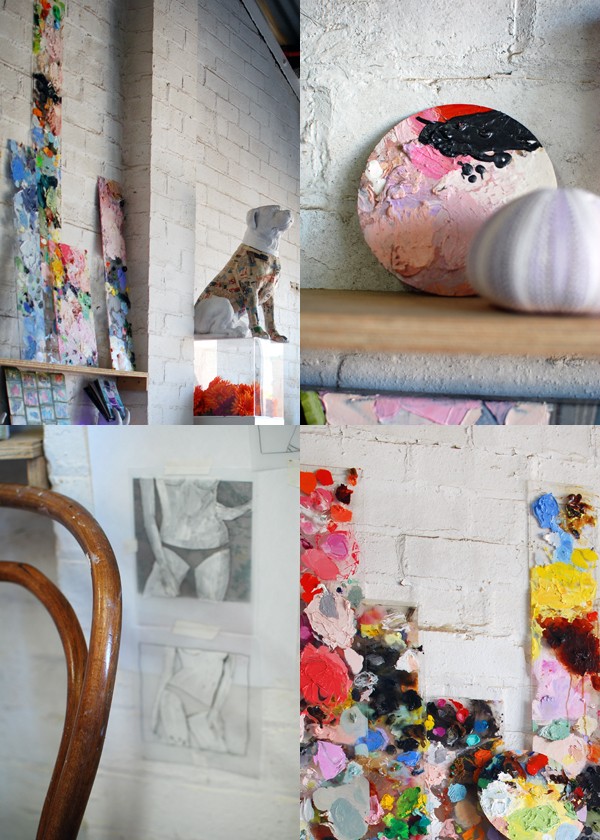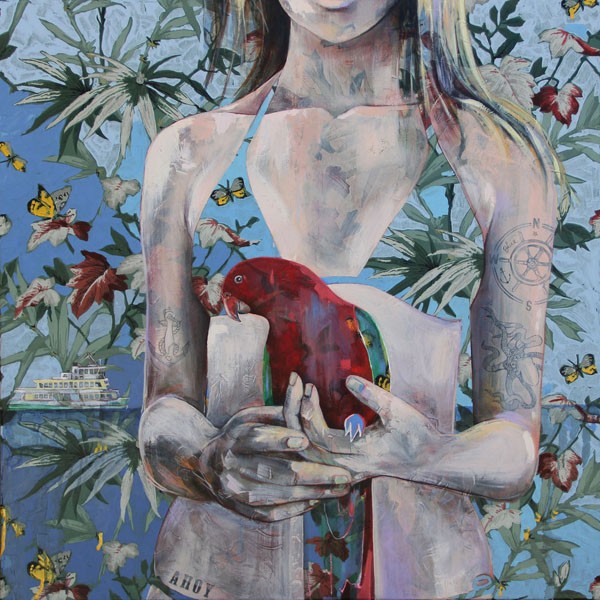 Tell us five online resources or apps you can't live without.
Instagram, Facebook, Typendium (for typography tragics) and Pic Monkey.
I can't thrive without Artwork Archive, a fantastic online resource where I organize my inventory.
What's the hardest thing about what you do?
Making things by hand is time consuming and running a business where all the output relies on one person is challenging. I am finding it difficult to produce enough work to meet demand, while maintaining my sanity.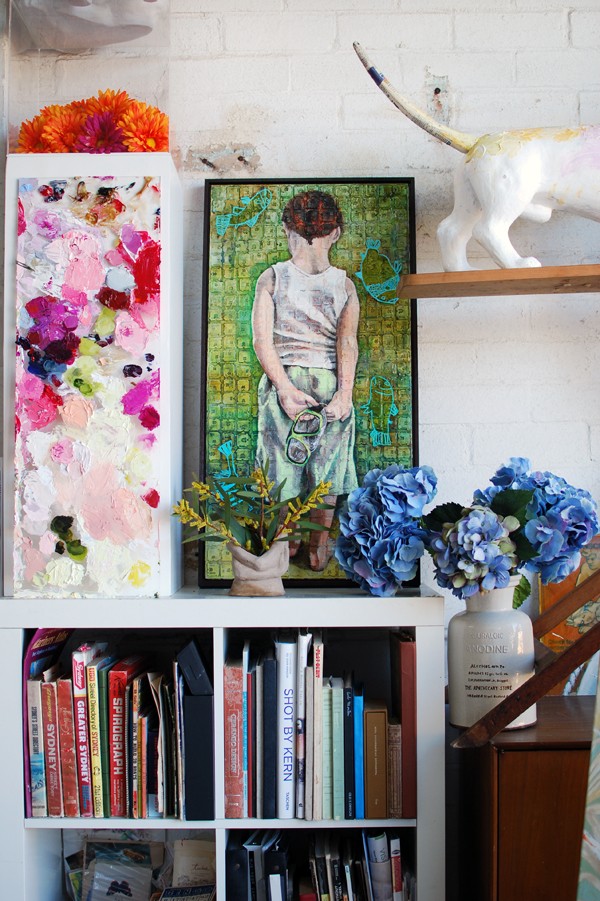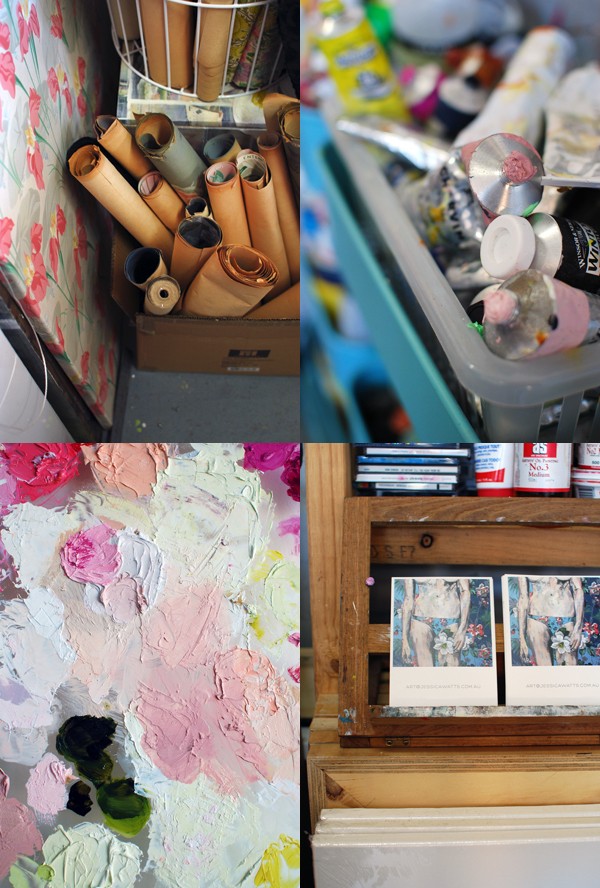 How do you work out the financial aspects of your business? What resources, tips and tools would you recommend?
The financial aspects of this business are cruel. Artists put so much time, energy, hope, love and money into what they do that it's best for one's mental health to approach finances as vaguely as possible!
I am fastidious about record keeping with Artwork Archive to keep track of sales, details of paintings, consignment reports, limited edition print runs, client contacts, inventories etc. So if one day I ever want to see the pie charts, bar graphs and cold hard facts of what state my business is truly in, I know where to go.
Do you have a dream that you'd love to fulfill?
I want staff! My dream is to have an enormous studio space that I own. I'd share the space and collaborate with all kinds of different creatives, there would be a garden, a studio dog, friday afternoon summer barbeques and lots of laughter.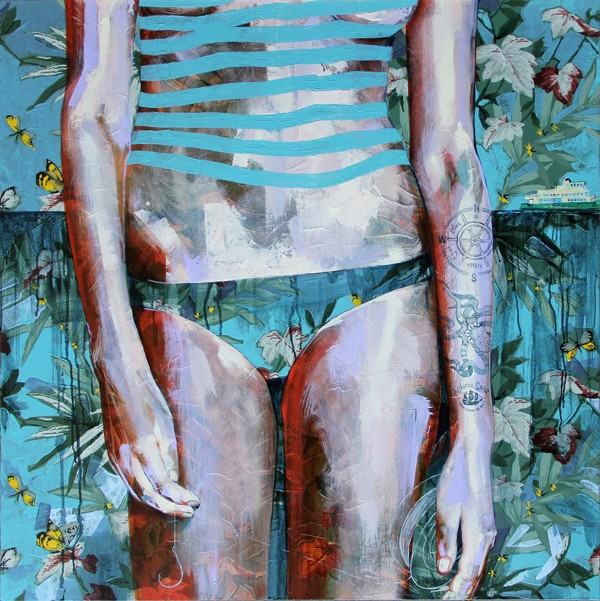 If you're near the Gold Coast you can catch Jessica's solo show at 19 Karen Contemporary Artspace in Mermaid Beach. It runs from 26 September to 14 November.
While I'm saving up to buy an original piece from Jess, I have my eye on one of her archival quality prints, which are available in her online shop. Prints are always a great starting point on the way to an original art collection.
You can connect with Jess on Instagram (@jessowatts), on Facebook, and visit her website here.
Jess has also very recently starting blogging – check out her musings here.
Stay tuned for more Space to Create posts in the coming weeks. In the meantime, catch up on previous posts in our Space to Create series.
Photos by Lisa Tilse for We Are Scout (unless otherwise noted).