It's  Space to Create Wednesday Thursday this week! Today we're heading to Singapore to peek into the creative life of Izziyana Suhaimi. I stumbled across Izzi's beautiful embroidered art some time ago and recently found her on Instagram – I love seeing her works in progress pop up in my Instagram feed.
Izzi is currently working on a new blog where she will post her creative process. She says: "I am a strong believer in showing process and reading about it, because most of the work, research and thinking is done there. Process also varies so greatly from one person to another and it can be quite liberating to reach a point where you are comfortable with your process regardless whether it is strange or not exactly 'normal'. Or not traditionally 'artistic'."
Meet Izzi…
Where do you live?
I live in Singapore, a small island country, very modern and developed. I stay in what we call a HDB flat, basically apartment housing, where about four fifths of Singaporeans live. We're on the fourth floor (some HDB flats go up to 40 floors or more but ours is just till 16th). It's not a very noisy neighbourhood though sometimes it can get loud when kids play in the open space right in front of the block. There's a soccer area nearby fenced with high enclosures and there are vines and flowers crawling all over it, it's very beautiful especially when the sunlight hits. It's my favourite thing about my view.
Where do you create?
I work from home, in a studio/bedroom setup. It's a fairly recent setup, I used to share the room with my sister. I like to keep my working space clutter free as much as possible, and hang the works in progress on walls.
When do you create? Is it a full time job?
Yes. I like to start work in the mornings, with coffee and I can go on until bedtime. Sometimes that gets tough and I can only focus on work till late afternoon. Then I'll do some reading or look at things online or meet up with friend.
What path led you to this creative place?
I went to art school in university though I've never really studied art in my life. After that, I really wanted to sell the things I make so I tried to find opportunities to do that and I guess one thing led to another.
What's your elevator pitch? How do you describe what you do?
This is tough! I've always wondered that and don't think I have actually found the perfect one. Usually I will say I am an artist who works with embroidery mixed with other mediums.
How would you describe yourself in six words?
Quiet, curious, shy, dreamer, still, scatter-brained. Took me a really long time to come up with these! Perhaps I should say self-unaware.
Where do you find inspiration and motivation?
Inspiration comes by looking and observing. I find that reading about and looking at other people's work inspires me, it doesn't have to be someone working in the visual arts, or even in the creative industry. I think anyone who is passionate about their work and puts in so much effort into it, that's inspiring and motivating for me.
What are the essential items in your workspace?
Needles, thread, and paper. Pencil, eraser. Pincushion. Water.
What advice do you have for aspiring creatives?
Just keep working. It's something I come across quite often when reading about other creative people. Their successes came after years and years of hard work and really just keeping at it and putting what you create out there for other people to see.
Do you have a dream that you'd love to fulfill?
I would love to travel more and actually go back to school.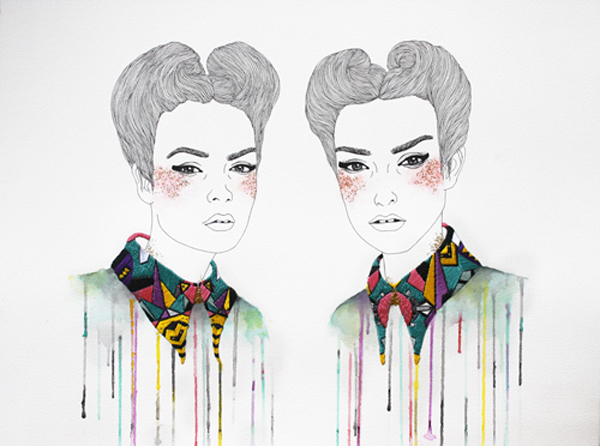 I hope you've enjoyed this glimpse into Izzi's creative space. Thanks Izzi!
You can see more of Izzi's work here, but she says… "it's hopelessly outdated! I'm working a new website and also perhaps an online shop to sell things that I make but not necessarily art-related, like accessories or cards."
Catch up on previous Space to Create posts if you've missed them.
Save
Save
Save