It's Space to Create time again, but first I wanted to say thank you so much for the emails, comments and Instagram comments telling me how much you're enjoying this series of posts. I'm so happy to hear that because I really enjoy connecting with the people I'm featuring and love to see and hear about their creative lives too. So today the lovely Madeleine of Made by Mosey is giving us a glimpse into her world. Madeleine's wares always bring a smile to my face – they have a lovely sense of a happy childhood in simpler times. She uses traditional crafting techniques and a combination of vintage and new textiles and puts her own, often bright and graphic, spin on them. Made by Mosey is sold through small independent boutiques across Australia as well as several gallery stores. I've never met Madeleine, but from her online presence she seems like a bright sunshiny person and that personality comes through in her lovely creations.
Meet Madeleine…
Where do you live?
A lovely suburb in Melbourne in a not so lovely rental! My husband, two children and I have made it home for the time being but we look forward to one day having a house all of our own.
Where do you create?
I worked for a long time on our dining table but eventually it became clear that my business was outgrowing our home, so the hunt for a studio began in 2012. It took some time and then somewhat serendipitously I managed to find a small space right near the school my children go to. It doesn't fit all my requirements but it fits the one that matters most to me and that is I can be close to the kids for drop off and pick up and the sheer convenience of that cannot be discounted. My daughter Coco, began school this year and we both share a good deal of comfort knowing that we are in such close proximity of each other.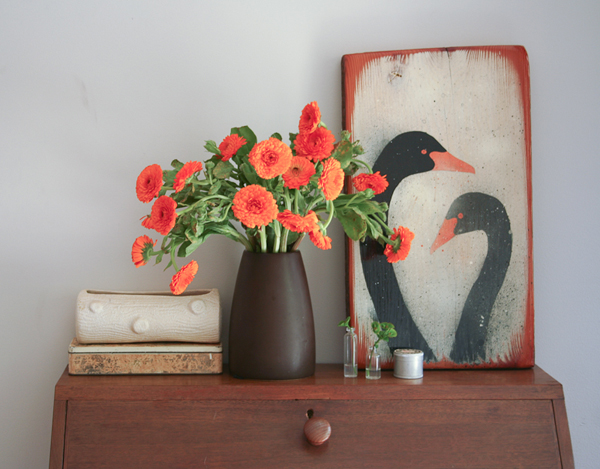 When do you create? Is it a full time job?
It's a 9 to 3 job, so basically during school hours. If I'm super busy I work in the evenings after the kids are in bed or sometimes duck into the studio over the weekend. I would say it's definitely a full time job but with unconventional hours.
What path led you to this creative place?
I studied photography straight out of high school and after the ubiquitous backpacking trip through Europe with a girlfriend I became interested in interior design. I returned home and pursued this new interest through more study but it really wasn't until my son Otto was born that I picked up sewing again. It was something I had always done on the side (after being taught at a young age by my extremely talented Grandmother) and I could also do it around my baby. It was also after a hefty bout of post-natal depression that I came to rely on sewing as part of my therapy. I didn't intend for it to be a business as such, it just organically flowed that way. Now of course I couldn't imagine doing anything else.
What's your elevator pitch? How do you describe what you do?
I describe what I do very awkwardly, it's tricky actually because I don't know what sort of box I fit in. Sometimes I say a designer of children's products, or that I work with fabric, or that I have a home wares label. Essentially I'm a maker. A maker of lovely 'things'.
How would you describe yourself in six words?
I am no good at these questions so I asked Otto and Coco and they said 'creative, loving, happy, optimistic, cool and awesome' !!!
Where do you find inspiration and motivation?
I find it everywhere. Books, galleries, online, magazines, makers and artists past and present and lately instagram and the wonderful community of insta-mates I've made. No stone is left unturned. I'm not so much motivated as compelled to create something. If it's in my head, it must come out and I can't seem to rest until I've had a good crack. Sometimes it goes on its way to being something great and sometimes it it goes straight into the fabric scraps basket. It doesn't matter because I believe the more you make the more chance that you'll have of hitting the nail on the head.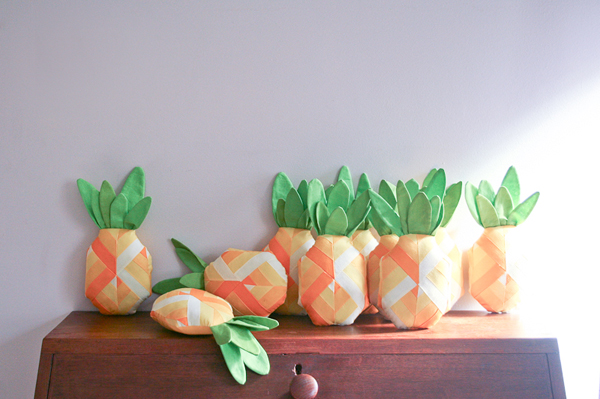 What are the essential items in your workspace?
Of course my trusty old sewing machine is my most essential tool and next comes fabric and thread. After that comes general sewers kit. Add a cuppa and good dose of Lauryn Hill and I'm all set.
What advice do you have for aspiring creatives?
Be prepared to work hard! However if you are doing something you are passionate about and truly comes from your heart then the hard work part shouldn't be too much of a chore. Be innovative, hone your skills, listen and share.
Do you have a dream that you'd love to fulfill?
Hmmm, that's a hard one because I often feel as though I have fulfilled a dream…I've always wanted to create, sew, have my own little business and make it work around the two little apples of my eye and that is currently right where I'm at. So perhaps a dream I'd like to fulfil outside of Mosey is owning a Kitchenaid mixer! Swooooon.
See what I mean by Sunshiny goodness! Thanks Madeleine for allowing us into your home and studio. You can see more of Madeleine's work and connect with her here:
Instagram: @madsmosey
Save
Save