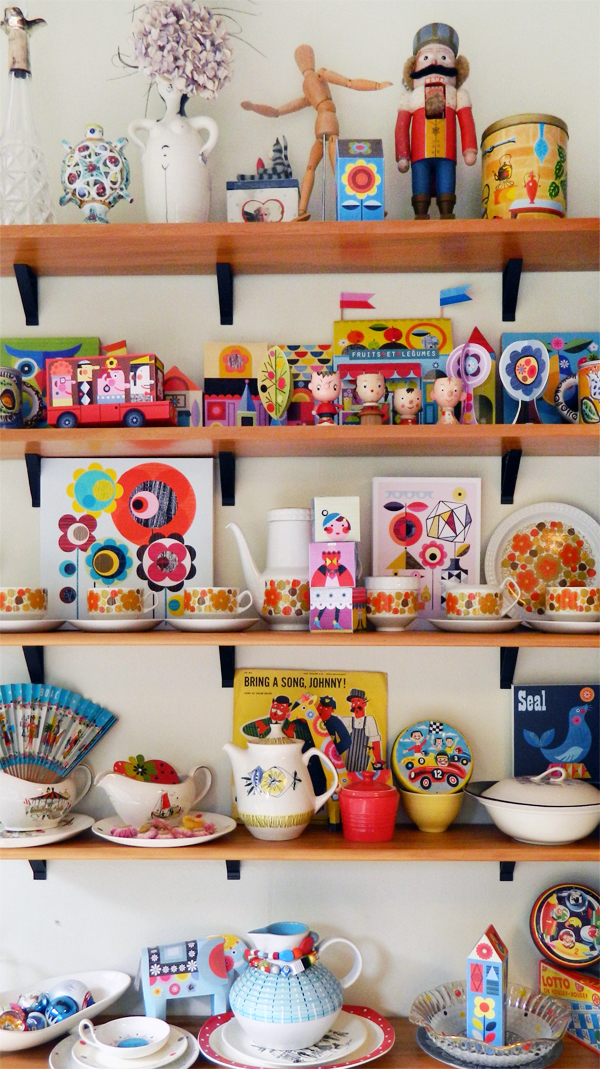 This week's Space to Create interview is a wonderful peek into the creative and colourful life of illustrator and designer Ellen Giggenbach. Her background in graphic design is clearly evident in her signature illustration style of bright, graphic geometric shapes.
Ellen has recently fulfilled a dream of having two books – My Town and My Zoo – published by Templar Publishing. There's a photo of one of them at the end of the post and you'll see it's a whole lot more than just a book!
I'm really happy to be able to share Ellen's work and creative life with you today, as well as a look at her collections of fab vintage pieces.
Meet Ellen…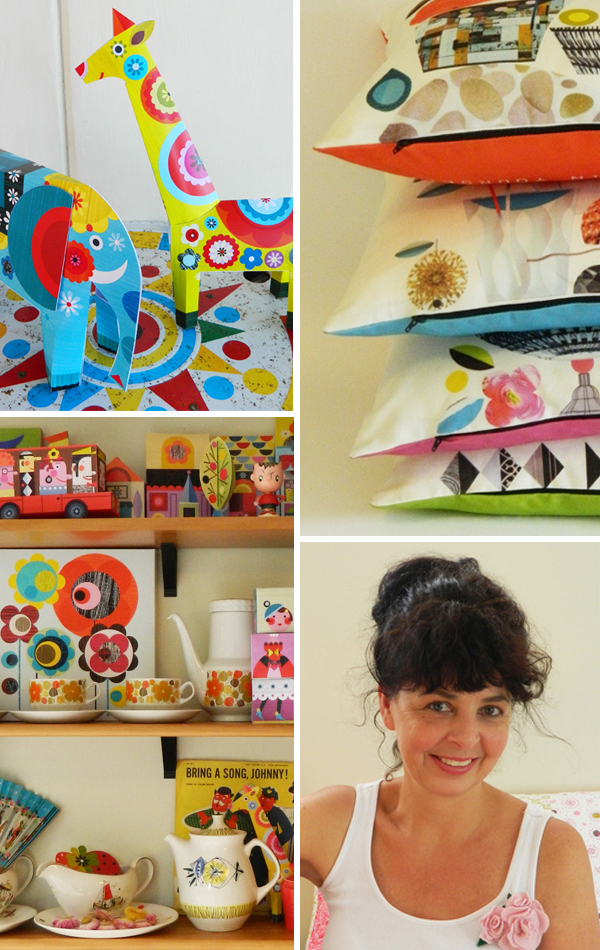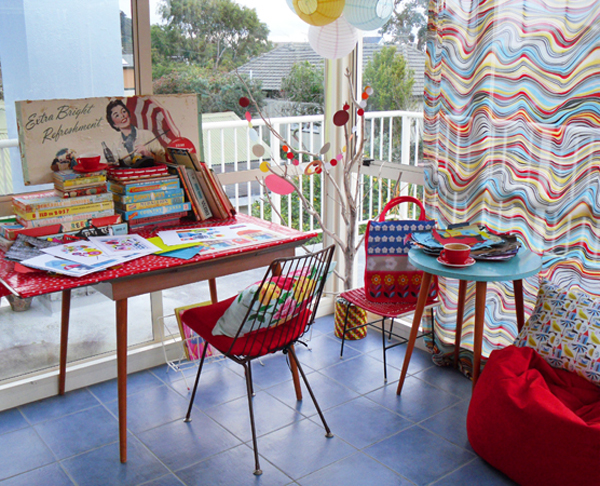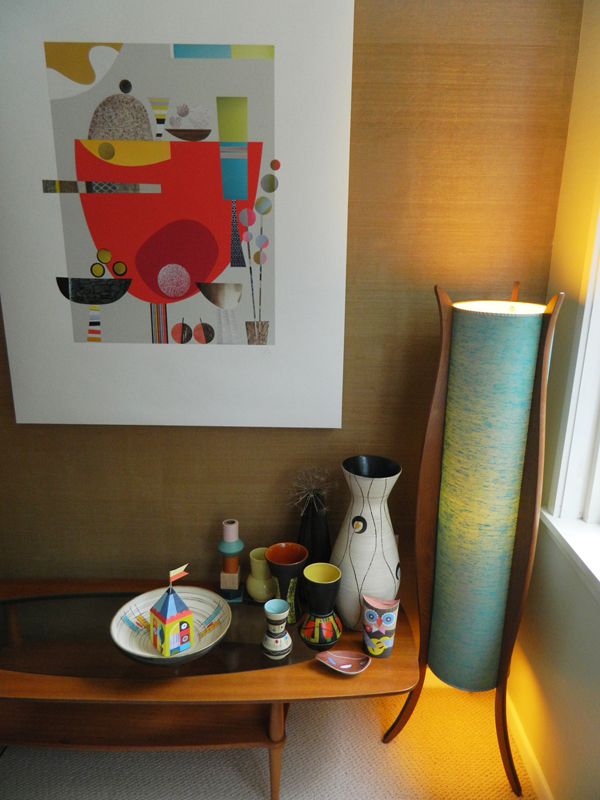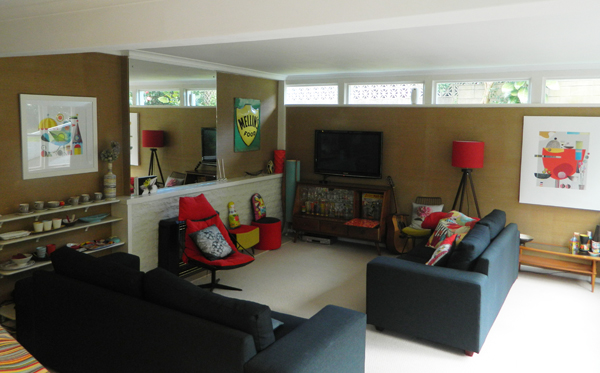 Where do you live and create?
I am very blessed to be able to live and create in my sunny 2 story house, located in the little seaside village, Eastbourne across from Wellington harbour in New Zealand. I share my life with a wonderful husband and my 2 ever entertaining teenaged sons.
We have tree covered hills, buzzing with the call of native birds on one side and the tranquil beach and harbour on the other, I walk almost every day with my girlfriends, it's important for me to get out, especially as I work alone.
I have always been crazy about all things mid century so you can imagine my joy when we found our 1950's home! It is surprisingly modern with fabulously authentic features such as hessian wallpaper and glass backed alcoves for displaying glassware. My home is filled with colour and mid century treasures, anything deemed too girly is relegated to my upstairs studio!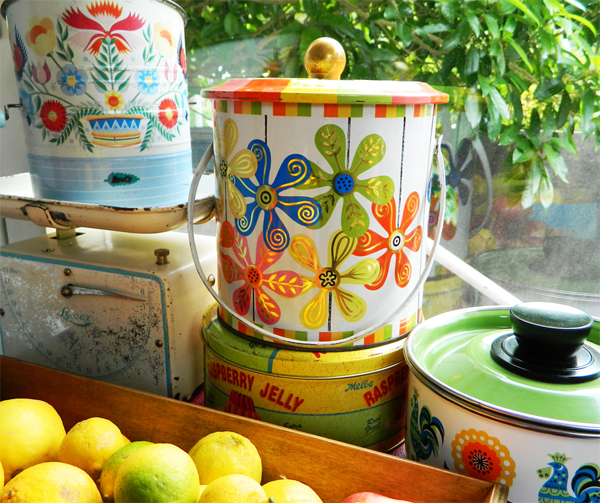 When do you create? Is it a full time job?
With the support of my family, I have been able to grow my career by working full time from when my family leave in the morning until it's time to pack up in the afternoon and become mum again.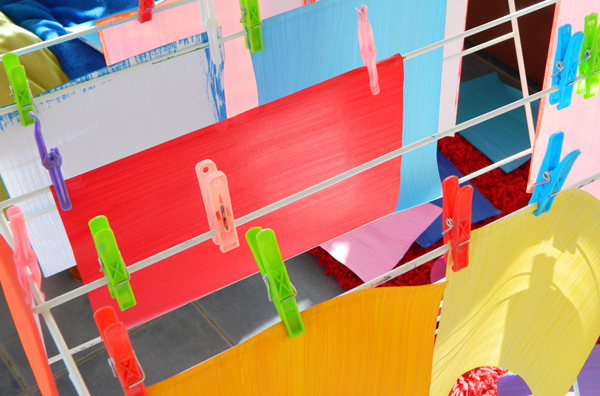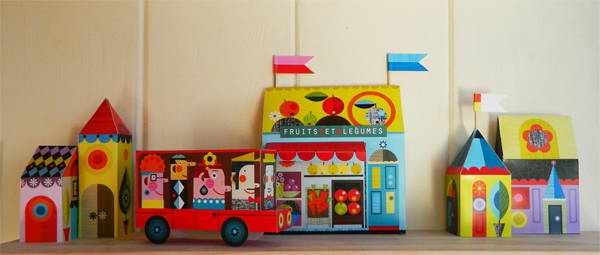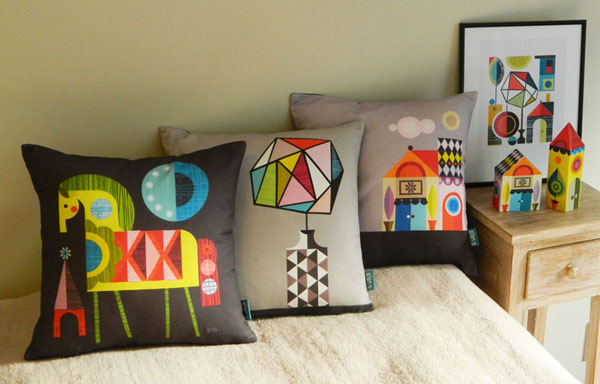 What path led you to this creative place?
I was born in Germany and when I was a little girl, we emigrated to New Zealand so that my father could further his study of volcanoes. Although he was a scientist both he and my mum where very creative people – my dad made almost all the furniture in our house and my mum was a seamstress who sewed most of our clothes (which was a real blessing, as at that time New Zealand was seriously behind the rest of the world).
My sister and I spent most of our free time sewing, drawing and crafting. Our house was a mix of modern and traditional folk, a feature that is evident in my designs style.
During my teens, my father's 3 year appointment at the United Nations took us to live in Vienna where I began my studies at the graphic arts school. On returning back to New Zealand I completed a 3 year Graphics course and was awarded a Diploma with Distinction.
I only lasted one year as a graphic designer at an advertising agency as I decided early on that I preferred the freedom and limitless possibilities that come from being self employed. After several years freelancing for ad agencies I formed my own clothing business which I ran successfully with my husband for some years. I down sized my career while my children where very young, and for the last 5 years I have steadily rebuilt my profile and like a snow ball it has been steadily growing in momentum!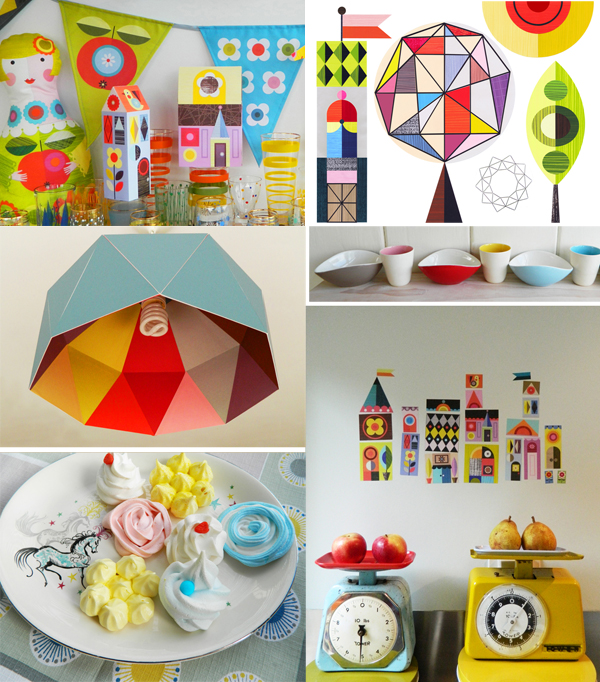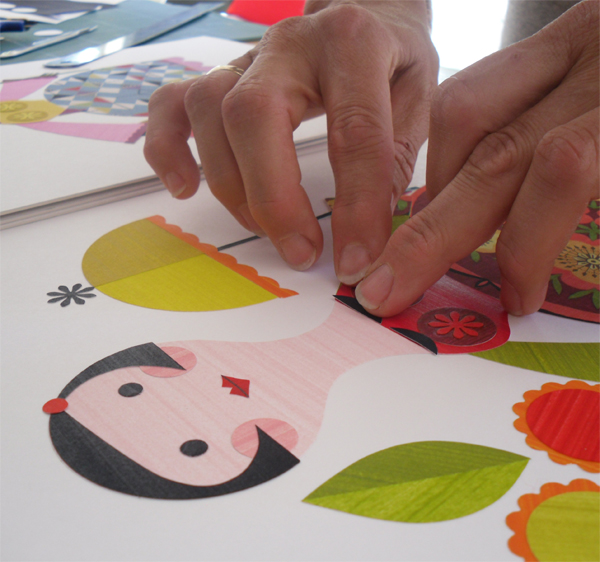 a href="http://www.we-are-scout.com/wp-content/uploads/2013/10/Ellen-G-print.jpg">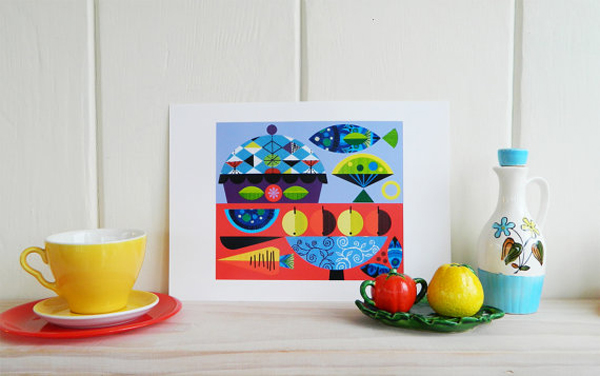 What's your elevator pitch? How do you describe what I do?
My artworks are created by hand cutting paper which I have previously painted in a large variety of colours and hues. I then assemble the pieces which I have cut into simple, pleasing shapes. I often rearrange them several times till I am happy with the balance of colour. In a world that can be so serious,I aim to make art, filled with colour and joy.
How would you describe yourself in 6 words?
Colourful
Independent
Organised
Warm
Embarrassing  (according to my teenagers!)
A Perfectionist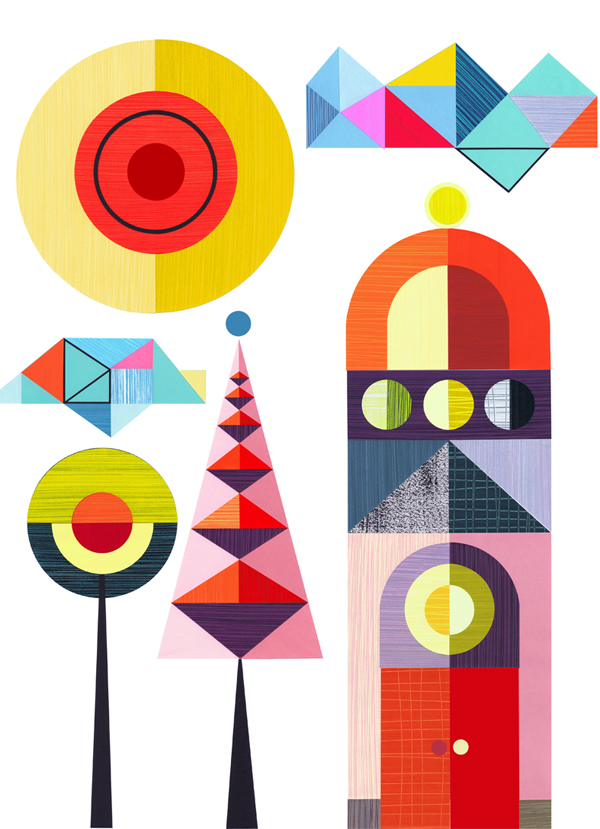 Where do you find inspiration and motivation?
For me, it's absolutely vital that I am surrounded by things that are visually pleasing to me, therefore you can see from the images that I have quite a collection of inspirational items from vintage fabrics and ceramics to mid century children's books!
I also enjoy my favourite blogs and for eye candy nothing beats Pinterest!
I think the greatest motivators are the wonderfully supportive feedback I have received from around the globe, taking on new, challenging and exciting projects and the fantastic buzz that comes from successfully transforming a few bits of white paper into a new piece of art.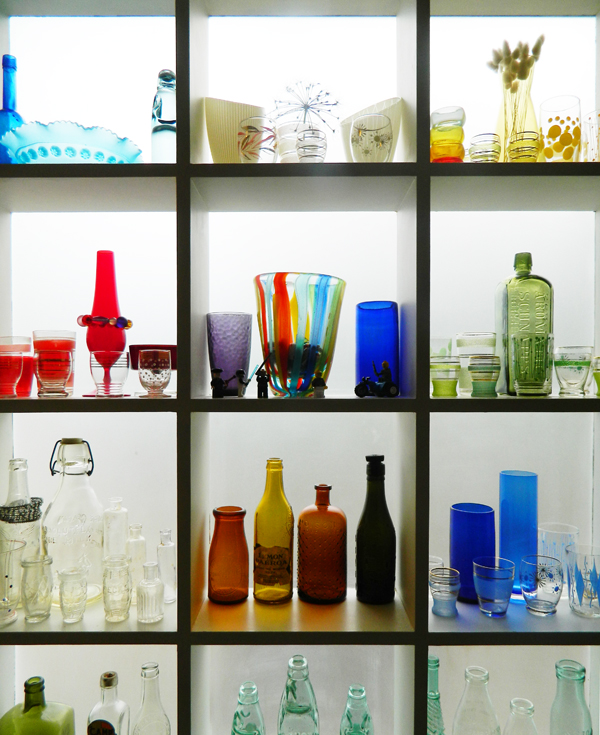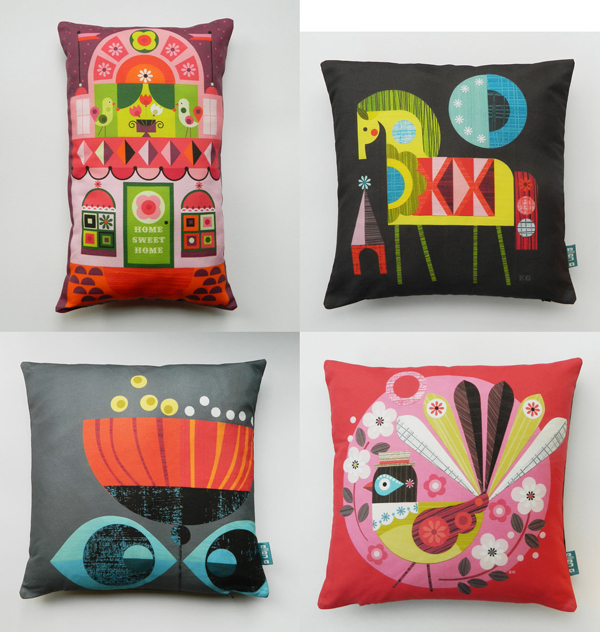 What are the essential items in your work space?
I have a great set up, I don't have to dress up! I can listen to any music I like! so all I need apart from that are my art supplies such as paper, paint and a scalpel.
What advice do you have for aspiring creatives?
My biggest advice is to let people know about you! Don't be shy, if you find a company you would like to work for, send a few of your best images to them. I have not had success with agents, I feel no one can sell you better than yourself. A website, Facebook page and blog are essential. The great thing is that it doesn't matter any more where you live! Look at me I'm at the bottom the world!

Do you have a dream that you'd love to fulfill?
I am so very happy with my career, one of my dreams was to design a series of paper folding books, this is being realised so really my last dream would be to have a retail outlet like Orla Kiely selling seasonal collections of paper products and home wares. It would be a fabulous challenge, something I will always be up for!<
See what I mean about the beautiful fold out My Zoo book? So good! Thanks Ellen for sharing your creative space and your work with us… it has been a welcome pop of colour and fun in my day.
Ellen's books are available on AmazonPurchase Ellen's new cushions, her prints and paper crafts in her Etsy shop
Connect with Ellen on Facebook
If you'd like to catch up on previous interviews in my Space to Create series just click through.
Save
Save