With our lives increasingly being lived and shared online it's no wonder that we are gravitating more and more towards handmade. One antidote to our fast paced digital world is to surround ourselves with tactile one of a kind things – made by our own hands or by others. They have a deeper story, a connection with the maker and a sense of origin and craftsmanship. Macrame and weaving have been trending for years now, and more recently beautiful handmade ceramics are the must have items for our homes.
The lovely thing about collecting handmade ceramics is that they can be decorative or functional – or they can transition between both at different times. I've been slowly replacing all my plates with handmade ones, and I absolutely love eating off something artisan made, with perfect imperfections, every day. There's something really grounding and soul-fueling about it.
I've also been collecting handmade ceramic vessels and vases in an ad hoc way and I enjoy grouping and styling them in different configurations to show off their unique forms. So when Etsy asked me if I'd like to showcase some Australian makers I immediately knew that they would be ceramicists.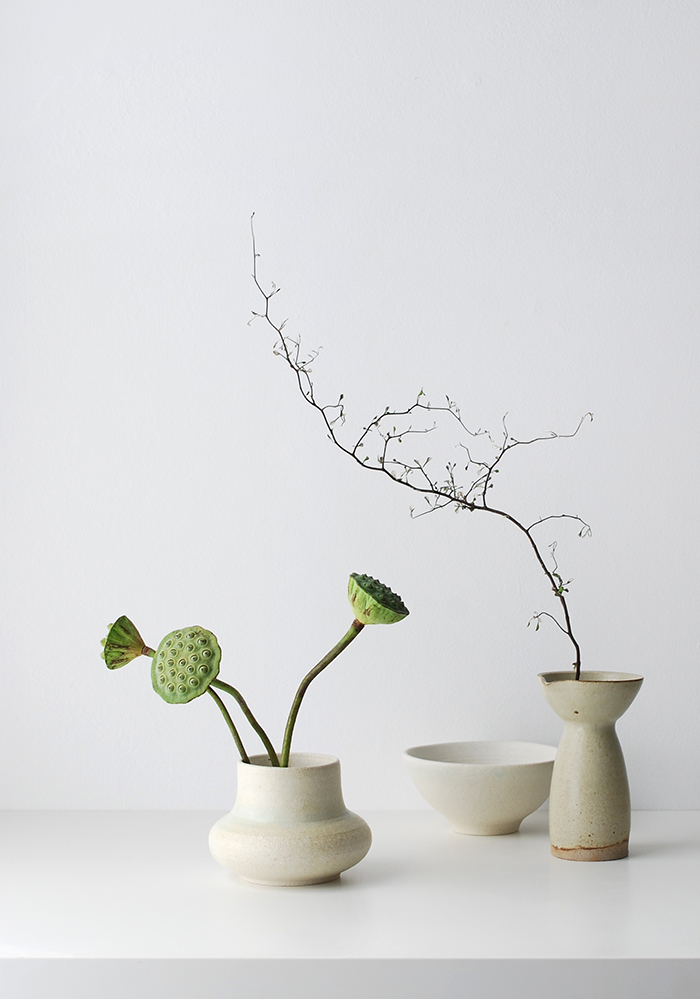 I love the simple functional shapes and beautiful stoneware of these wheel formed ceramics.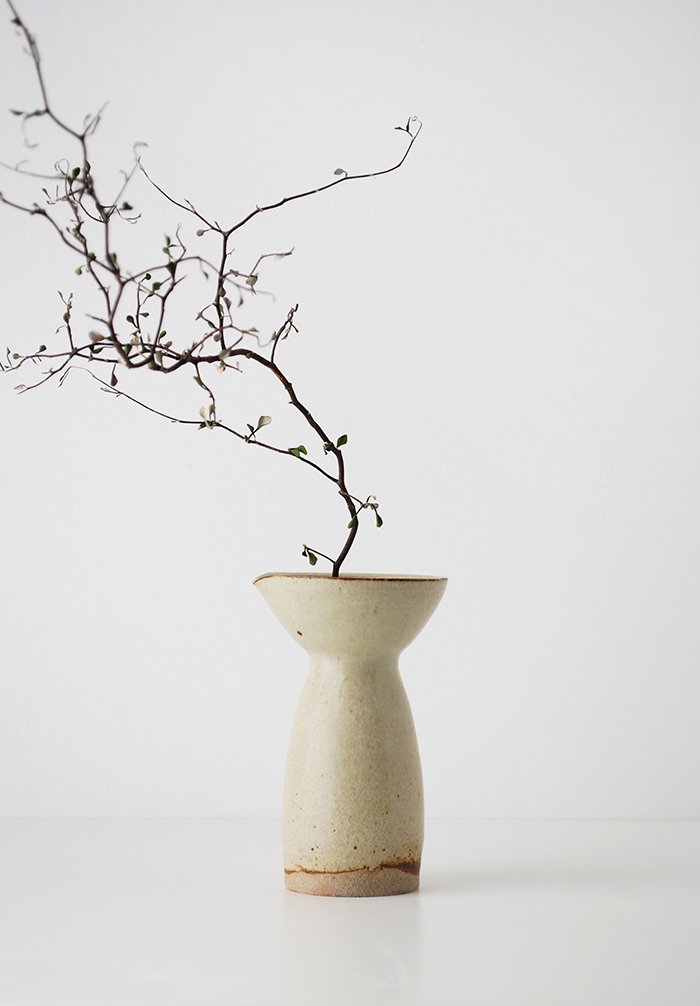 My tips to style handmade ceramics at home
• Group the vessels in odd numbers: single pieces or groups of three or five always look good.
• These wheel thrown forms are stunning in their own right, so don't overwhelm them with large bunches of flowers. Take your cue from the Japanese aesthetic and go minimal. The three lotus pods and single branch in the top photo are more than enough to create a beautiful balanced vignette. Compliment the vessels rather than competing with them.
• Be aware of varying heights and of creating a visual balance with size, shape and colour.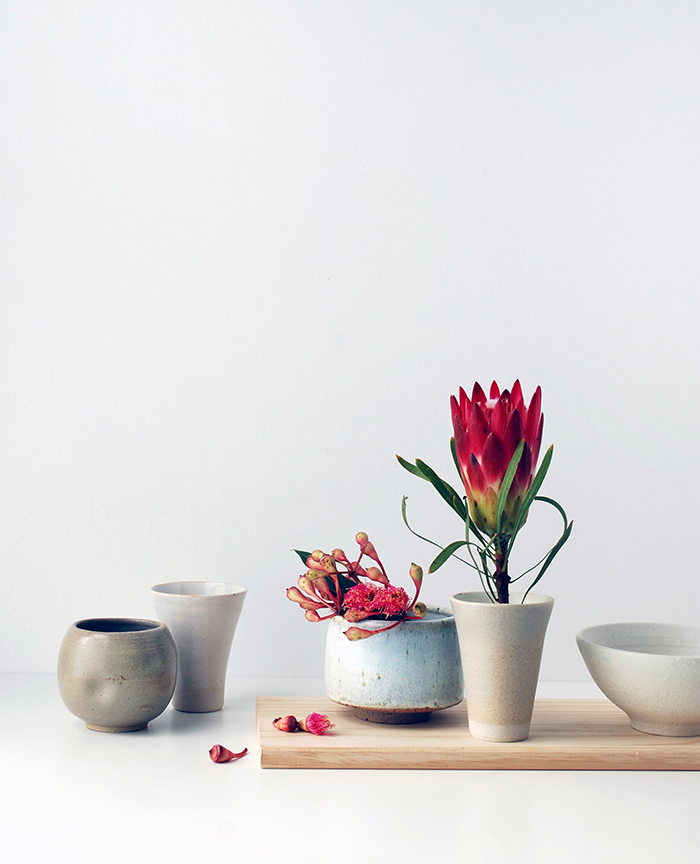 • Choose a style or look for your handmade ceramics vignette or collections. The pieces in the images below are quirky and whimsical, in contrast to the simple elegance of the previous vessels. The unifying features are white porcelain, fun features and splashes of bright colour.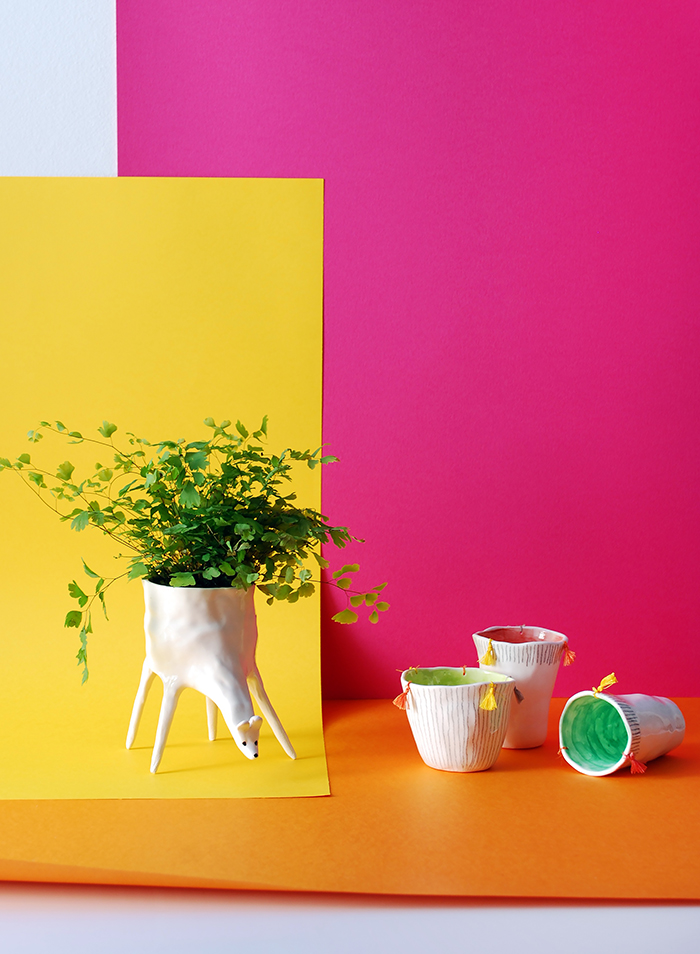 • Plates can create a backdrop feature for a collection, and can be seen better, when standing up. Simply lean the plate against the wall or the back of your shelves and secure the top with Blu Tac.
• Consider scale. The collections above and below are visually balanced because of the variations in scale.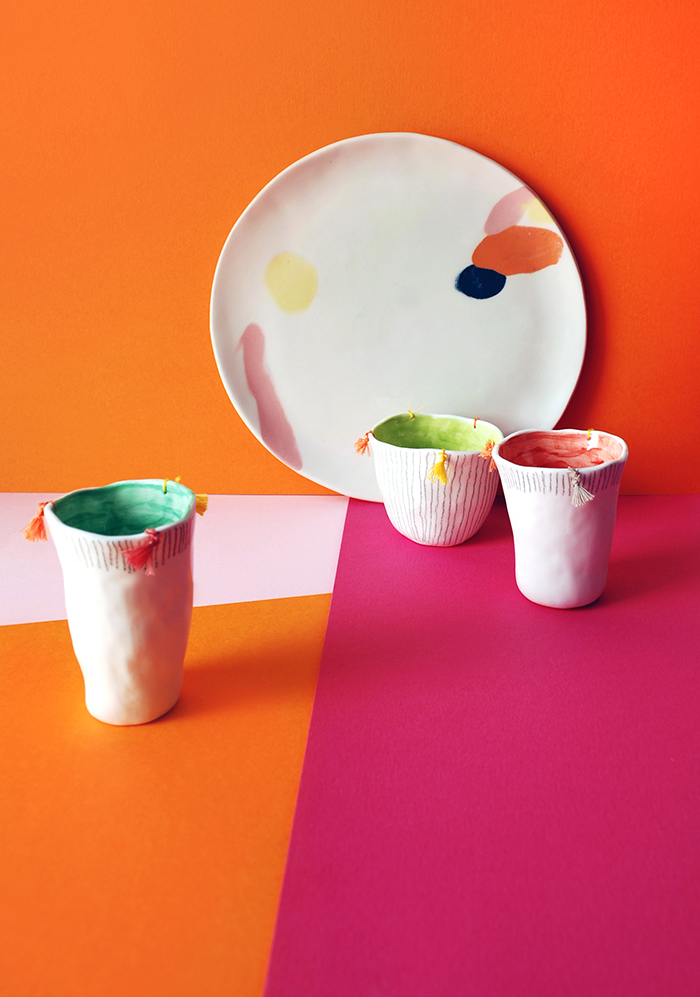 • Ceramic planters combine the best of two huge interiors trends that show no sign of going anywhere. We're crazy about greening up our interiors with indoor plants, and they pair perfectly with a collection of handmade ceramic planters.
• Think rough textures and finishes and a natural colour palette for this '70s inspired vibe – which brings us to the other massive trend which works with ceramics: wall hangings.
• A modern rustic ceramics collection lends itself to en masse groupings and lots of foliage.
• Planters don't have to be purpose built – I've used two rustic stoneware bowls here. You can use bowls without a hole in the base if you add a layer of activated charcoal or pebbles before soil.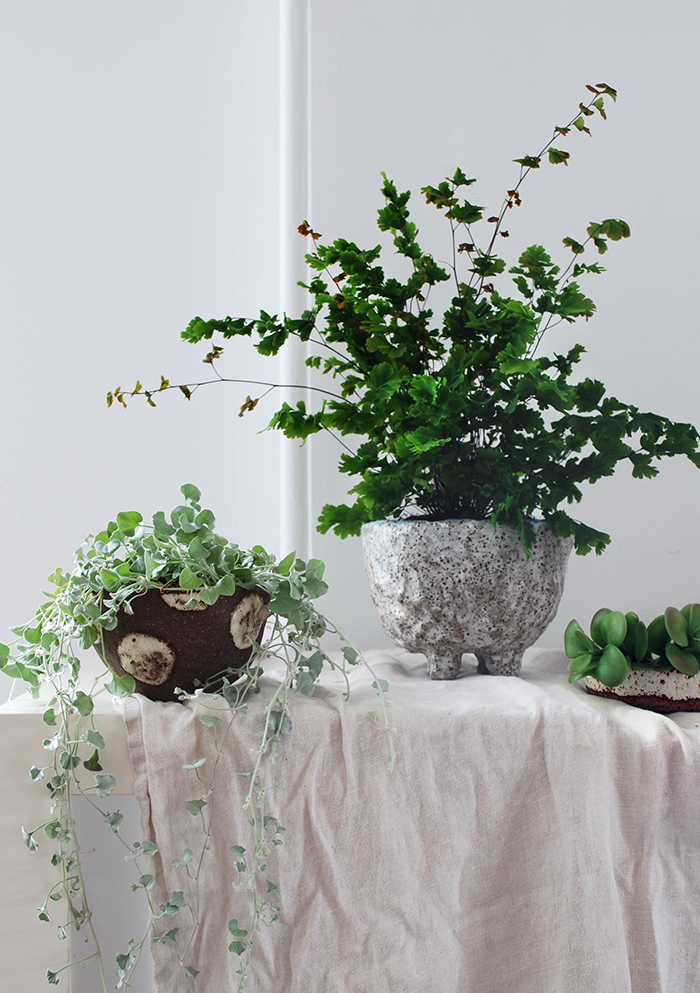 • Succulents can be fun and they're definitely on trend too. Use their inherent quirk and sculptural form to style a different and dramatic look for your ceramics collection.
• Stack 'em! The spotted soup bowl and stoneware bowl from Makers General Store create a cool totem planter when stacked.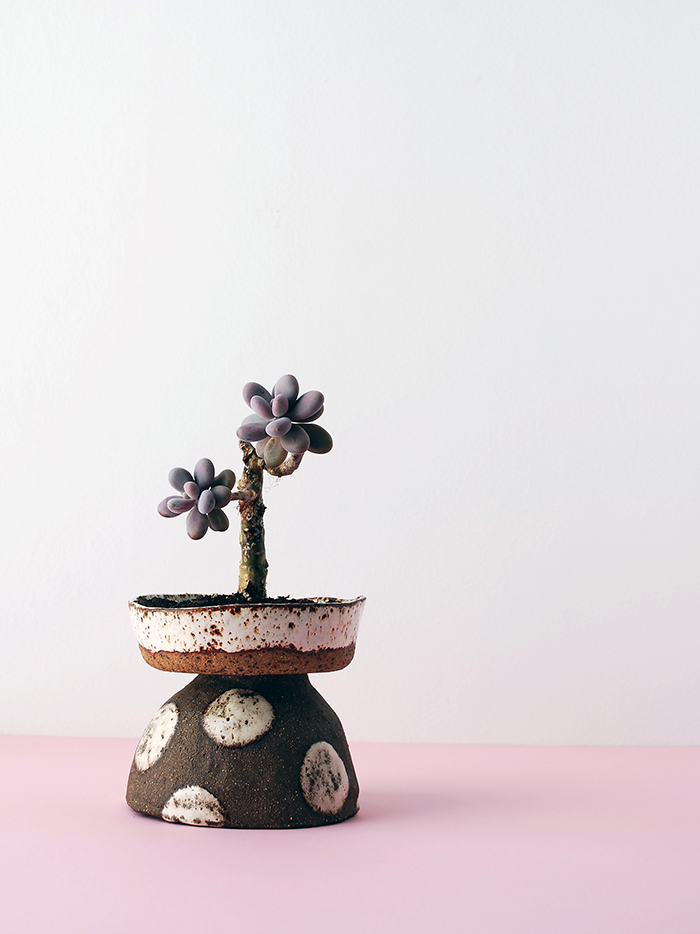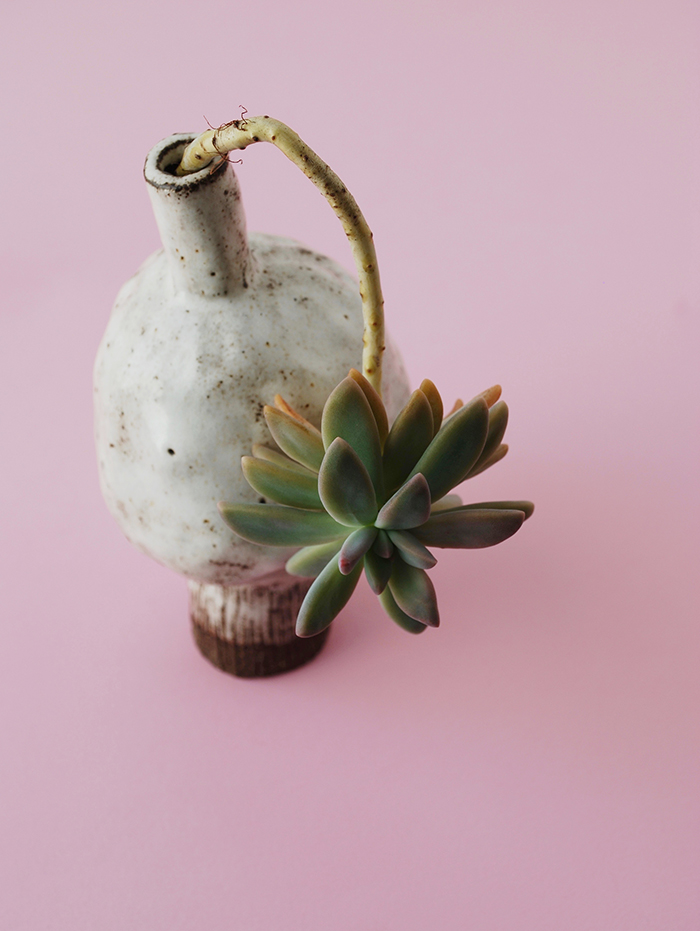 • Succulents will grow in water so a bud vase can be an unusual way to display a single wayward stem.
Whether you're starting a handmade ceramics collection from scratch or adding to what you already have, take a look at the Australian ceramicists selling their beautiful and very varied pieces on Etsy.  Start browsing and bookmarking your faves. Buy what you love and regardless of trends you'll have pieces that were made with someone's heart and hands that you can always enjoy.
Styling and photography by Lisa Tilse for We Are Scout.
Disclosure: This post was produced in partnership with Etsy. I only partner with brands that are a good fit with We Are Scout, our aesthetic and what you, our readers, enjoy. Content, concepts and opinions are all my own. Thanks for supporting the brands that allow me to keep on scouting.
Save
Save
Save
Save
Save
Save
Save
Save
Save
Save
Save
Save