We Are Scout is a creative lifestyle destination by Lisa Tilse. The curated content on We Are Scout reflects Lisa's keen eye for design and style, her passion for interiors, and love of makers and making. Lisa is well known for her design-led contemporary craft and DIY projects.
We Are Scout showcases fresh trends and brands in the world of interiors, and features Lisa's craft tutorials and her inspirational finds in design, art and handmade. It was named as one of Domino magazine's Best Design Blogs 2016.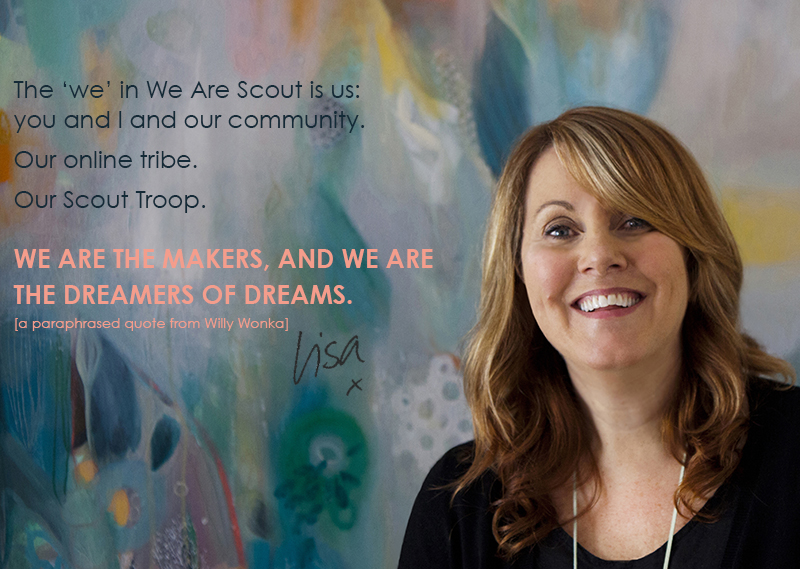 About me
I'm all about living a creative life and I'm passionate about sharing skills and inspiring creativity in others. Making with our hands and heart is necessary for our wellbeing and slowing down and reconnecting with that part of ourselves is becoming more and more important in our fast paced, largely online lives. It's not just for ourselves: modelling creativity, and sharing the process of making with our hands is invaluable for our children.
I began my first blog, the red thread, in 2008. It was a top 5 finalist in Kidspot's Voices of 2013 Blog Awards.
My DIY craft projects and content have been featured by some of the world's leading design sites and over 40 international magazines (check out some of them on the press page).
Creativity is part of who I am and as a result I earn my living doing many different things in addition to blogging. I can't sum up what I do with a single phrase… I'm a graphic designer and creative director / I also work as a marketing and communications creative and social media manager / I create props / I style shoots and events / I can make pretty much anything / I design logos and photograph products for small businesses / I hold craft workshops / I am a fabric designer / I have a range of softie sewing patterns and kits… and more! You can see some of my work here. And the red thread sewing patterns and kits are here.
I live in Sydney, Australia, and when I'm not making things I like to hang out with my daughter, visit galleries, read, ride my bike and eat gelato. But not all at the same time.
Why 'We Are Scout'?
I scout and gather the best trends and inspiration from around the globe, and in 2013 I published an e-magazine called Scout. Scout also happens to be the name of a feisty and much loved fictional female character, and it's simply a pretty cool name. So when coming up with a new blog name it seemed like the perfect fit for all those reasons. The 'we' in We Are Scout is the online community that's an integral part of any blog. Our online tribe. The Scout Troop. You!
We Are Scout was founded in 2015 by Lisa Tilse, creative director, and Rebecca Lowrey Boyd, editorial director. Since 2016, Rebecca can be found at Wee Birdy.
CONTACT
Lisa Tilse: lisa[at]we-are-scout.com
CONNECT
POSTAL ADDRESS
PO Box 511, Drummoyne, NSW 1470, Australia
For courier address details, email lisa[at]we-are-scout.com
Save
Save
Save
Save
Save
Save
Save
Save
Save
Save
Save
Save
Save
Save
Save
Save
Save
Save
Save
Save
Save
Save