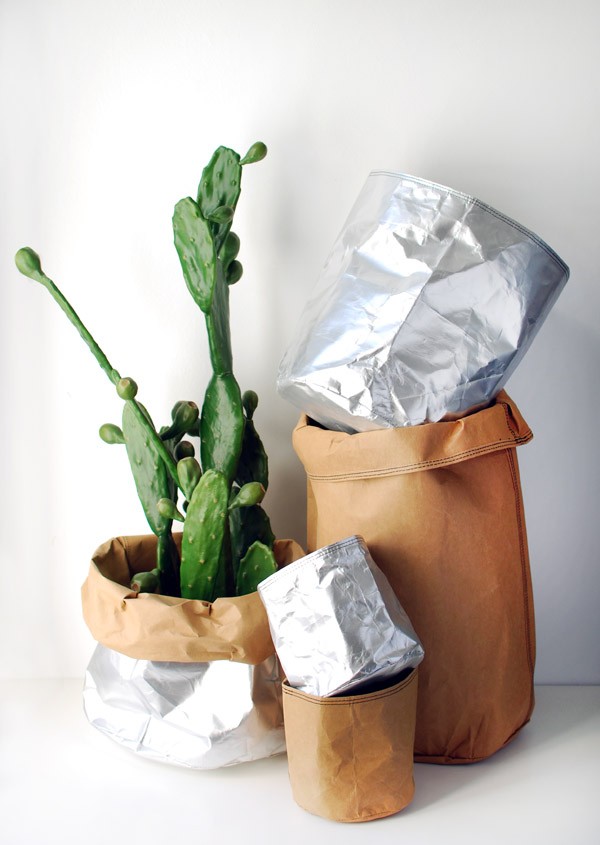 Have you seen these fabulous new storage bags at Freedom? They're called Sax storage bags and they're part of Freedom's new spring/summer collection for 2015. You might remember that we included the large Sax storage bag in our top 10 edit of the best things to buy at Freedom, and we thought we'd take the time today to show you exactly why we love this new product so much.
Available in four different sizes and two different colourways (kraft brown and metallic silver/kraft), prices start at $14.95 for an extra small. We're impressed by the way they double as both a practical and decorative element in your home.
We've come up with six fun, creative and functional ways you can use the bags in your home. Read on..
1. Planter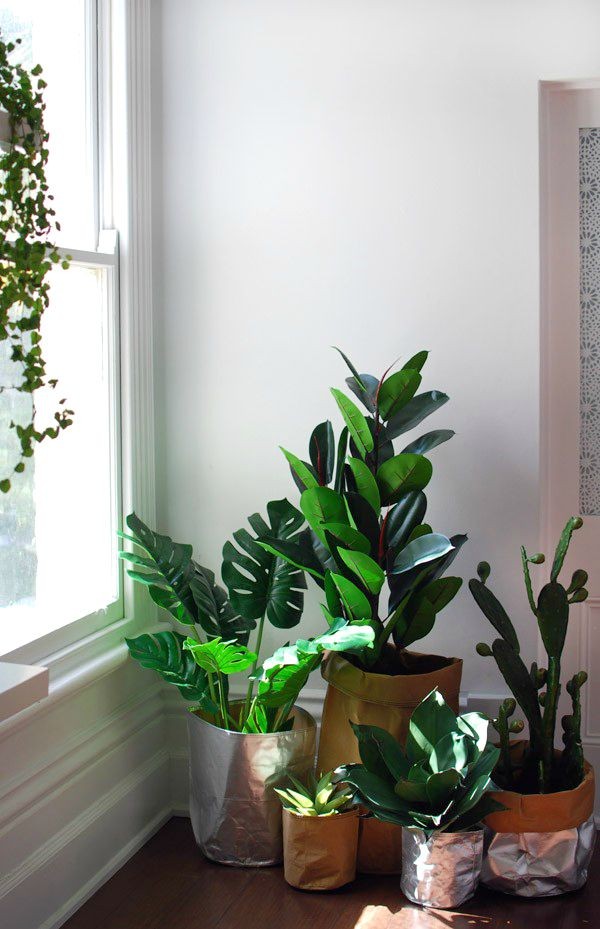 Create your own green corner by using a collection of different Sax bags as planters. They're tough enough to hold a plant, and any water spills can be easily wiped down. We love the look of them clustered together in mix of different sizes (from small to large) and colourways (both kraft brown and metallic silver).
Styling tip: use an assortment of foliage to create a variation in texture (we used Monstera; a rubber plant; pear cactus and succulents), and style each bag slightly differently. Fold over the top of about half of the bags, and scrunch others around the middle. Leave the rest to stand up straight and un-scrunched. Perfect.
2. Laundry Hamper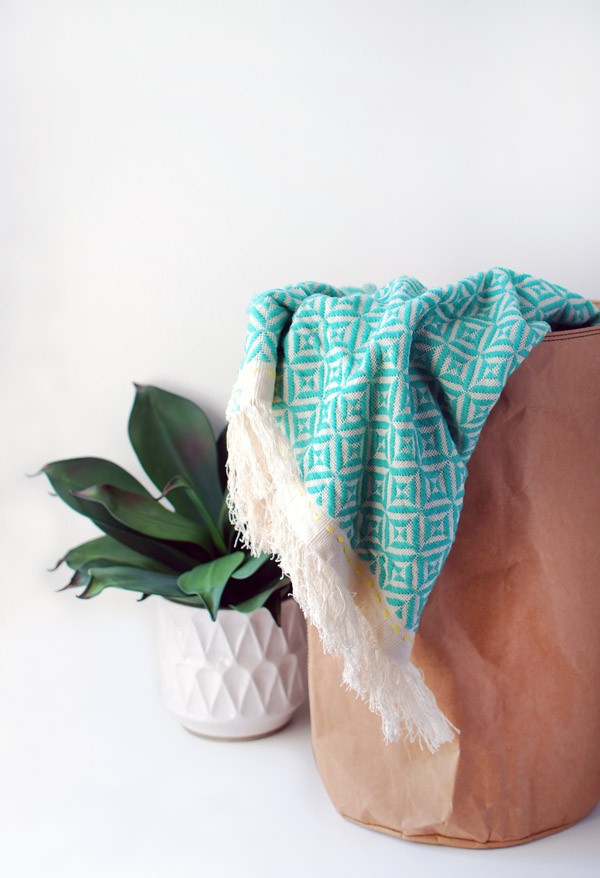 The large Sax storage bags are perfect for sorting laundry, and you can use a cluster of three bags to sort darks, lights and delicates. They're light enough so they can be moved between rooms and the laundry, and the unobtrusive plain kraft colourway means they can be easily incorporated within your existing homewares.
3. Cubby for Kitty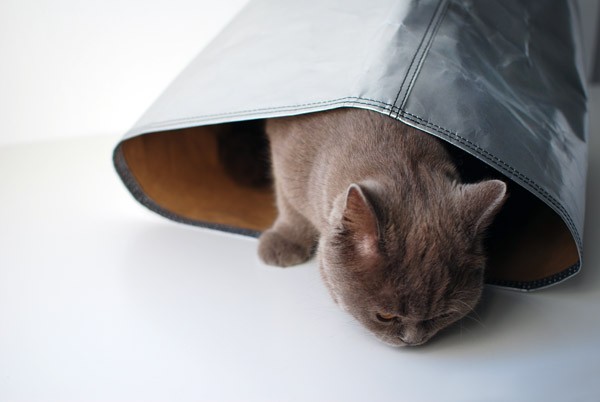 When you're not using your Sax bag for storage, it can be instantly transformed into a fun hidey-hole for your cat. Best thing about Sax bags? They're really sturdy and can be scrunched and re-scrunched without losing their form. In fact, they look better with more use. So let kitty go wild (and pssst… they can be easily wiped down and dried in the sun and still look brand new).
4. Kitchen Utensils Holder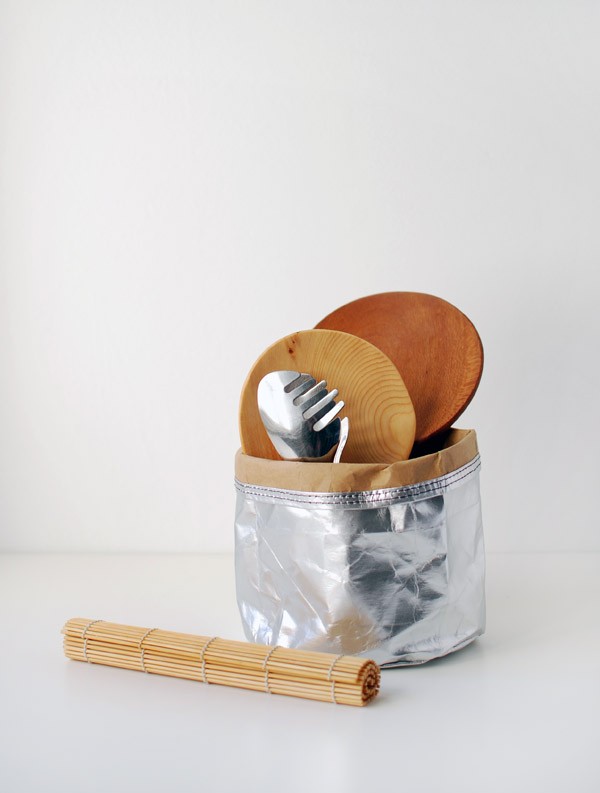 Give your kitchen an instant lift with a metallic sheen – and create functional and practical storage solutions at the same time. The small metallic bags make great utensil holders, and any grease or spills can be easily wiped down with a damp cloth. We love the look of the metallic and kraft brown paper combined with timber.
5. Flower Vase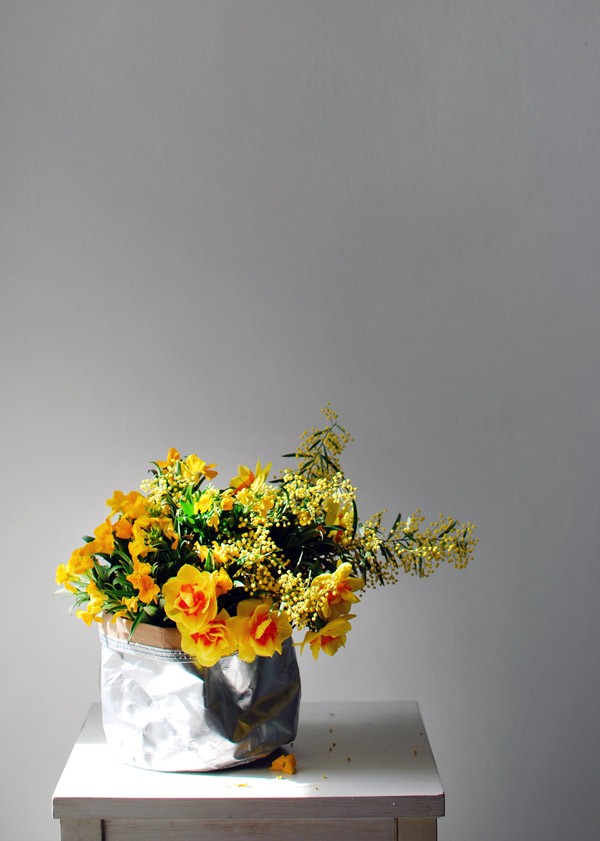 Create an interesting vessel that resembles a paper sack of flowers with one of the small metallic Sax storage bags. The metallic will pick up and reflect the colours in your blooms.
Styling tip: pop your flowers in a jar of water and then place the jar in the storage bag. Scrunch the top down to show off your blooms.
6. Wrap & Ribbon Storage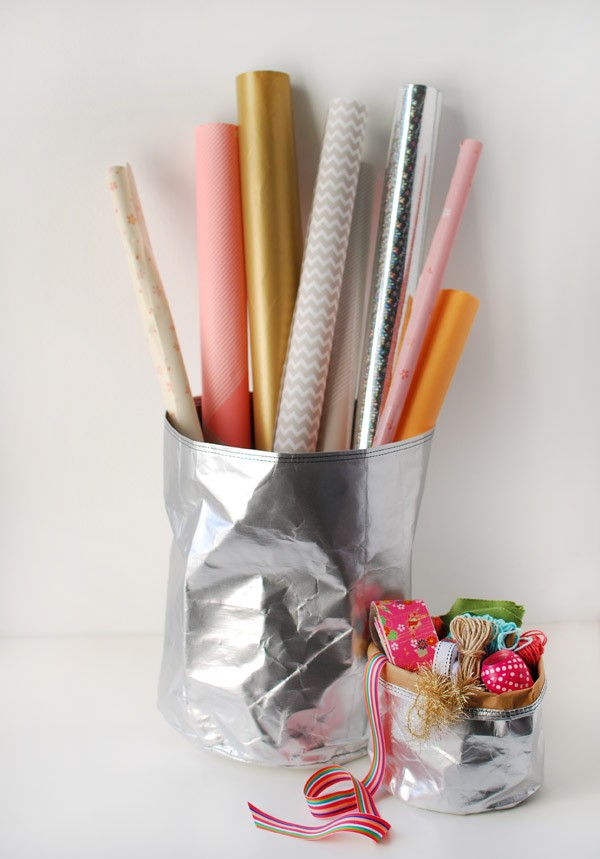 Get your wrapping paper collection under control by sorting and storing it in a large Sax storage bag. The good thing about storing your wrapping paper like is that you can see all of your paper at a glance, but it will also add an extra decorative element to your room. Use a smaller Sax bag to store ribbons.
Got any other great ideas for using a Sax storage bag? Let us know in the comments below.
Have you seen our take on a spring dining table? Click here to see how we decorated our tabletop using Freedom's new spring/summer 2015 tablewear.
Also, you might like to see what made our top 10 edit of the best new SS15 products at Freedom.
By Rebecca Lowrey Boyd/Wee Birdy for We Are Scout.
All photography and styling by Lisa Tilse, for We Are Scout.
Save
Save
Save
Save