With a background in design, styling and fashion Maryam Riazi has found her passion in recent years working with clay. Her distinctive sculptural feminine forms are uniquely beautiful and sought after. Two recent exhibitions – including one here in Sydney –  sold out within days of opening.
Maryam was born and grew up in "the quiet city of Shiraz, known for its poets, philosophers and the sweet smell of orange blossoms". In contrast, she now calls bustling LA home.
Meet Maryam…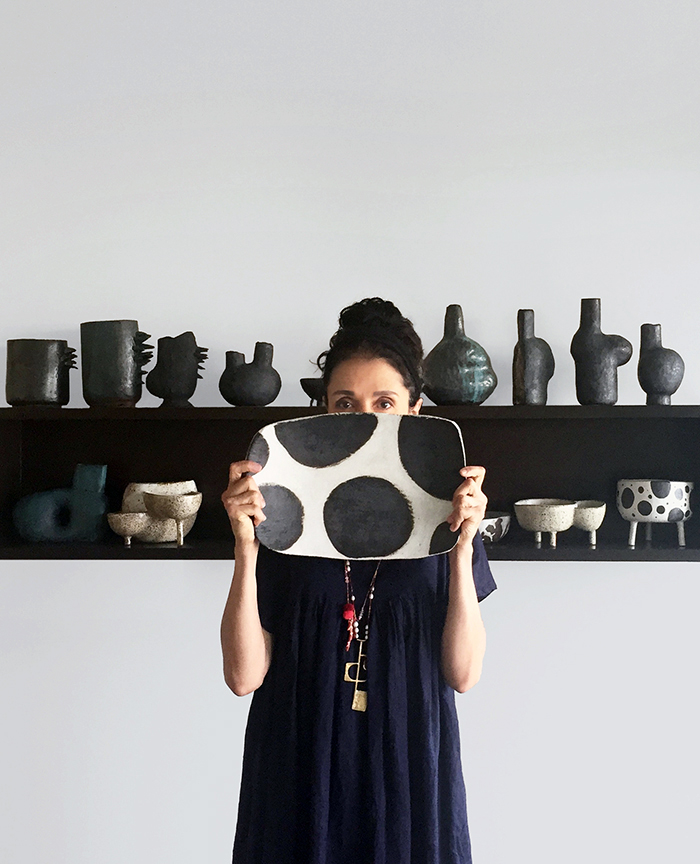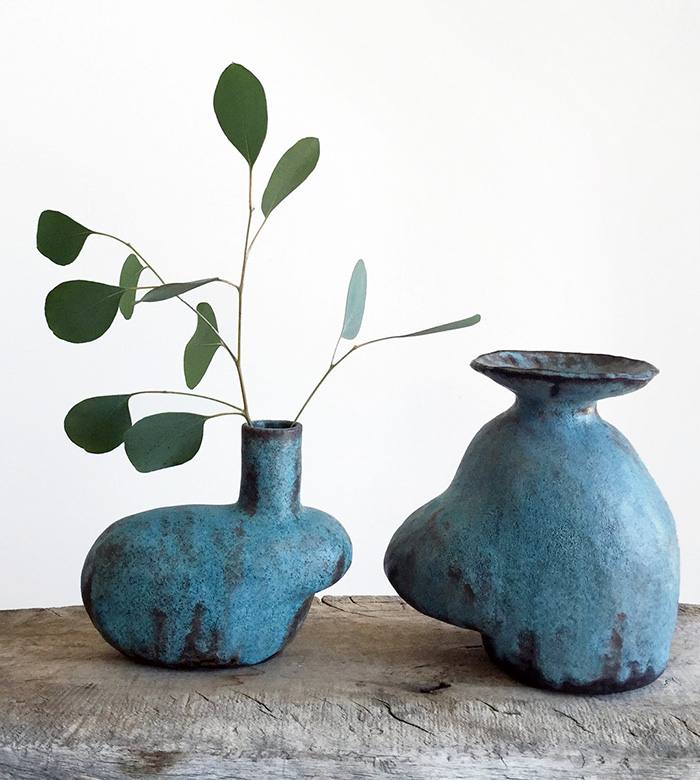 Where do you live?
I Live in Los Angeles, California. In a neighborhood called Beachwood Canyon which is not far from the Hollywood sign. We face the bustling aspects of life in a big city on one hand and the peacefulness of the hills with an occasional passing of deers, coyotes, squirrels and a huge mountain lion on the other! Yes, there is a  mountain lion living in Hollywood Hills!! P22 is his name and he has traveled from Santa Monica mountains, crossed over two freeways and is living (under supervision) in Hollywood Hills.
Where do you create?
I'm working to complete my home studio but for now, I work at a communal studio. I love it there cause I'm surrounded with amazing and inspiring ceramists who share and understand my passions and challenges and we get to exchange ideas and experiences with one another which is truly wonderful.
When do you create? Is it a full time job?
I work with clay part time and hoping to transition to full time soon.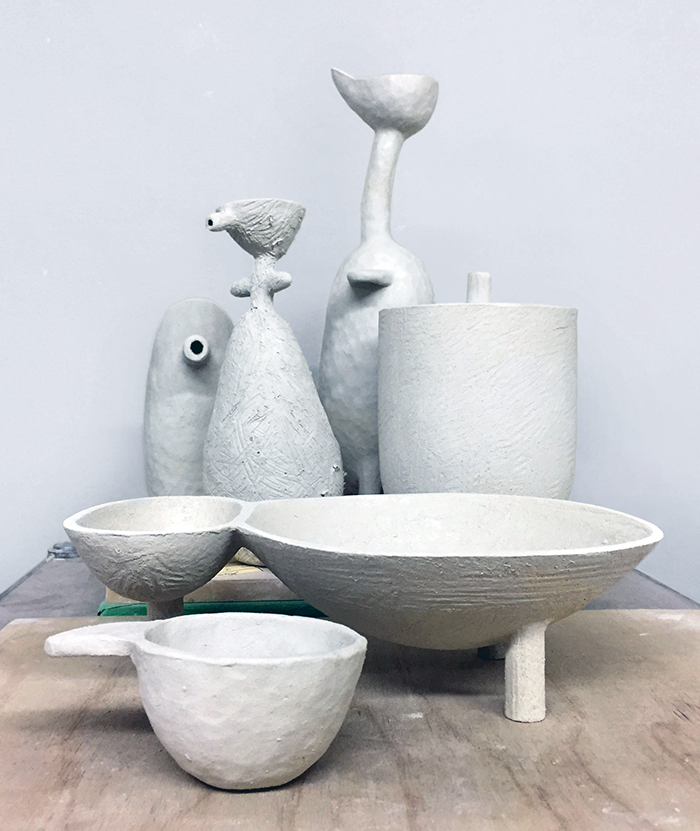 What path led you to this creative place?
I've always loved making things with my hands but I took my first ceramics class for fun several years ago and have not stopped since. I think playing out in the nature and playing with clay/mud as a child helped me build an emotional relationship with clay and working with clay brings me a sense of peacefulness and comfort which I have not experienced in anything else.
What's your elevator pitch? How do you describe what you do?
Three times a week, I go outside and play with mud and make things.
How would you describe yourself in six words?
Passionate, humble, curious, explorer, caring and content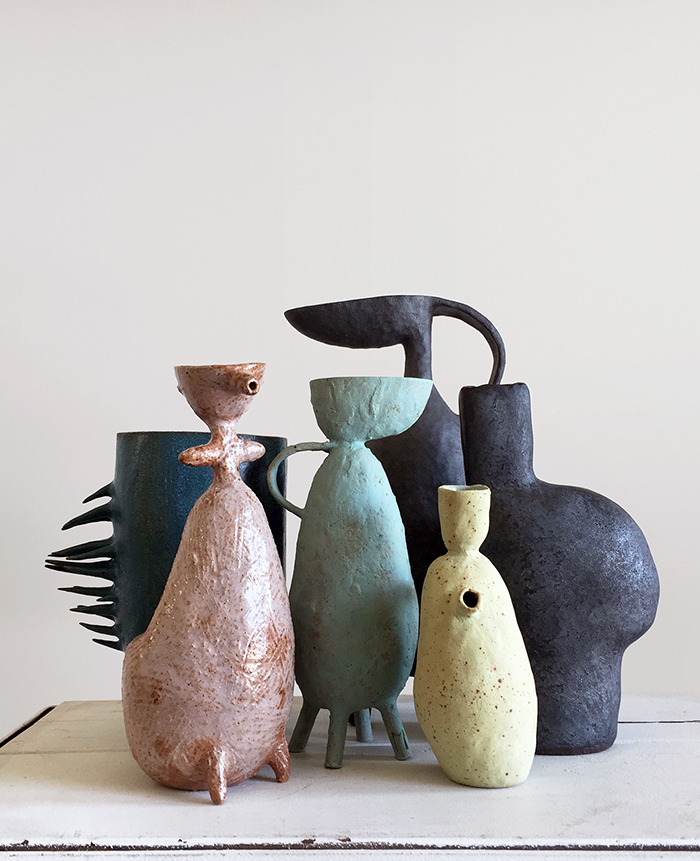 Where do you find inspiration and motivation?
These days you can spend 10 minutes online and feel overwhelmed by pictures, descriptions and works of many amazing artists which can also lead to confusion and lack of clarity. I often lose my true self in seeing all that beautiful work so I try not to search for inspiration online. When I spend alone time and trust my feelings and instincts, I always find that nature itself influences me the most.
What are the essential items in your workspace?
Clay, rolling pen, workbench and pottery tools… I'm obsessed with tools… and of course music.
Do you have a favorite tool that's essential to your work?
I admit, I'm a tool junkie. I love buying tools and I have a box full of them! Since I mostly hand build, I use trimming and carving tools and my favorites are the Kemper trimming tools and Sherrill Clay Shredder.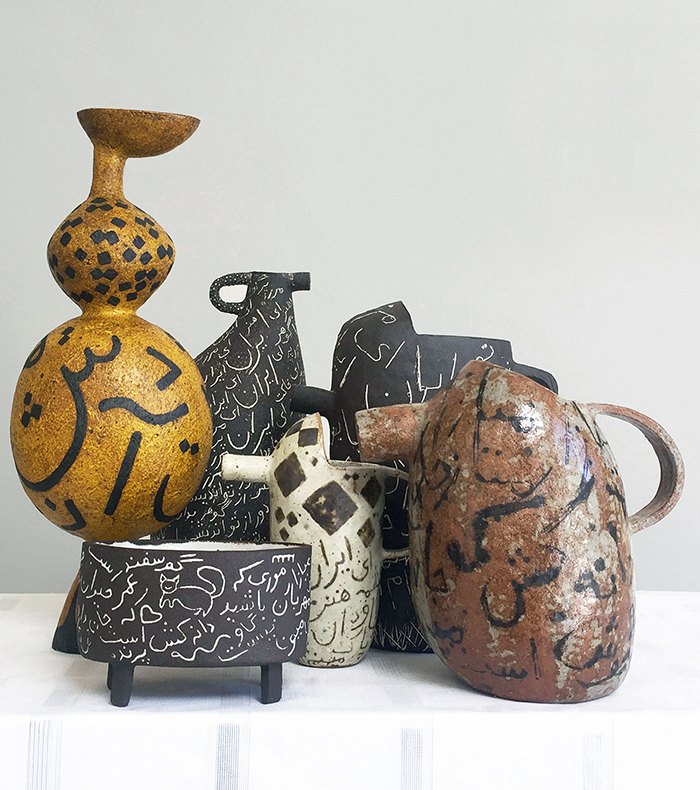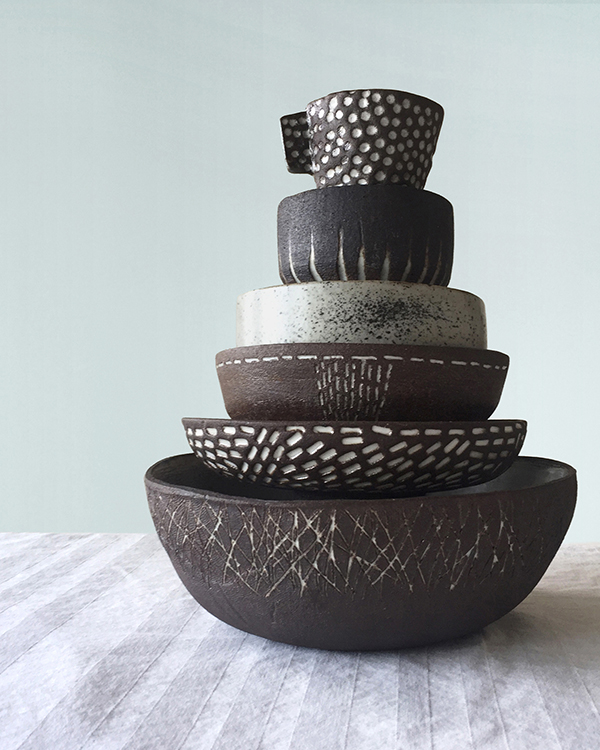 What do you love the most about your creative space?
At the moment I work in a communal studio and I love working alongside other ceramists. We interact and exchange ideas all the time and that has made the studio a home away from home for me.
Is there something you don't like, or would like to change?
I'm not too crazy about glazing! It's unpredictable and glazing really changes the look of one's work! I think although glazing can be an art in itself, I rather not deal with it 🙂
Do you listen to anything while you work?
It all depends on my mood and how focused I need to be. For some reason, stories and thoughts of my past start forming in my mind every time I start working with my hands! I think my thoughts influence me, so a lot of times I make things and listen to my thoughts. But If I need a distraction, then I listen to podcasts or music mostly.
Favorite work-time snack (or beverage)?
It depends on the season, but during summer heatwaves nothing feels better than a tall glass of iced tea mixed with mud of the day!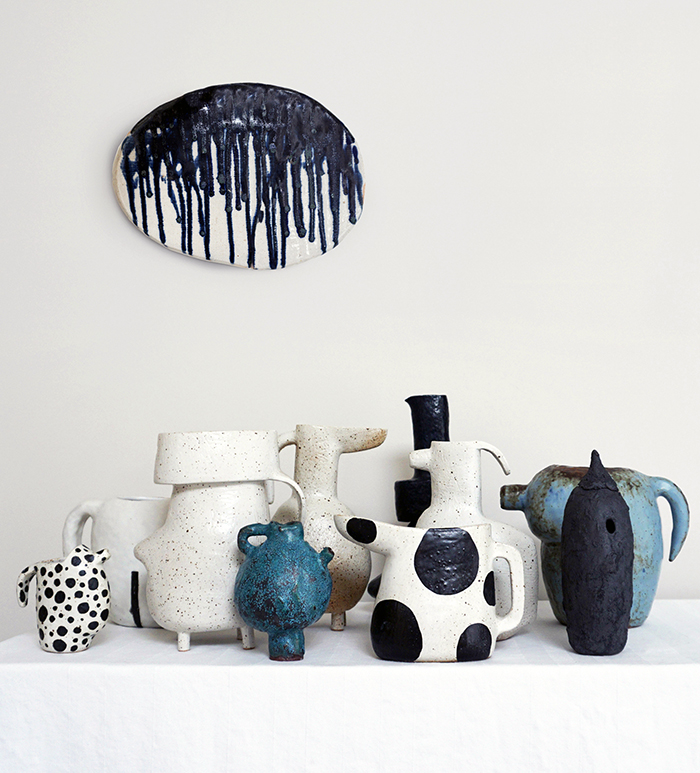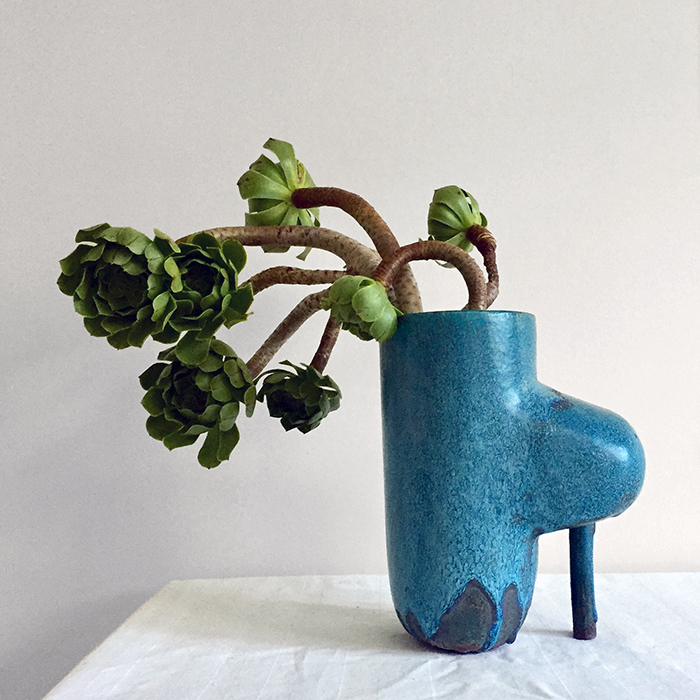 What would be your dream job or collaboration?
I think working with my hands is my dream job! I'm so lucky to be able to do that. As for collaboration, there are so many amazing artists from weavers to ceramic artists whom I would love to collaborate with.
Who or what are your biggest creative influences?
I'm always inspired by strong yet humble people, especially women.  As for what influences me creatively, I'm constantly drawn to the organic patterns and shapes of the nature around us, and on a human level, the works of many artists such as Lucie Rie, Deirdre McLoughlin, Hans Coper, Ernst Rottger, Mori Togaku, Mina Perhonen and Reza Abedini to name a few.
Tell us some online resources or apps you can't live without
I try not to go online too much cause hours pass too quickly without me noticing and I come out of it confused and lost. On the positive side, one can learn so much through artists sharing their experiences online so I do check out a few blogs. My favorite ones are: Ceramic Arts Daily, Pottery Making Info, Clayart Archives.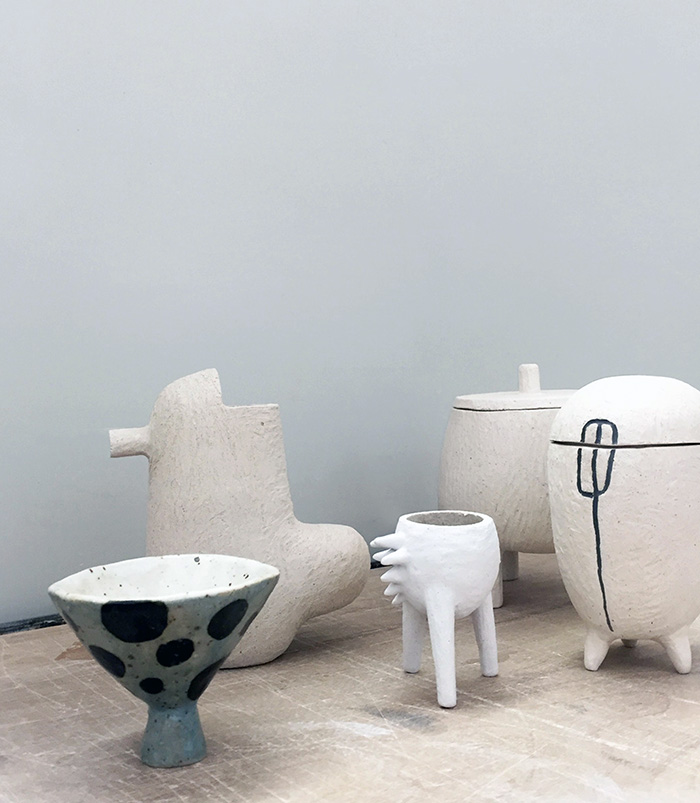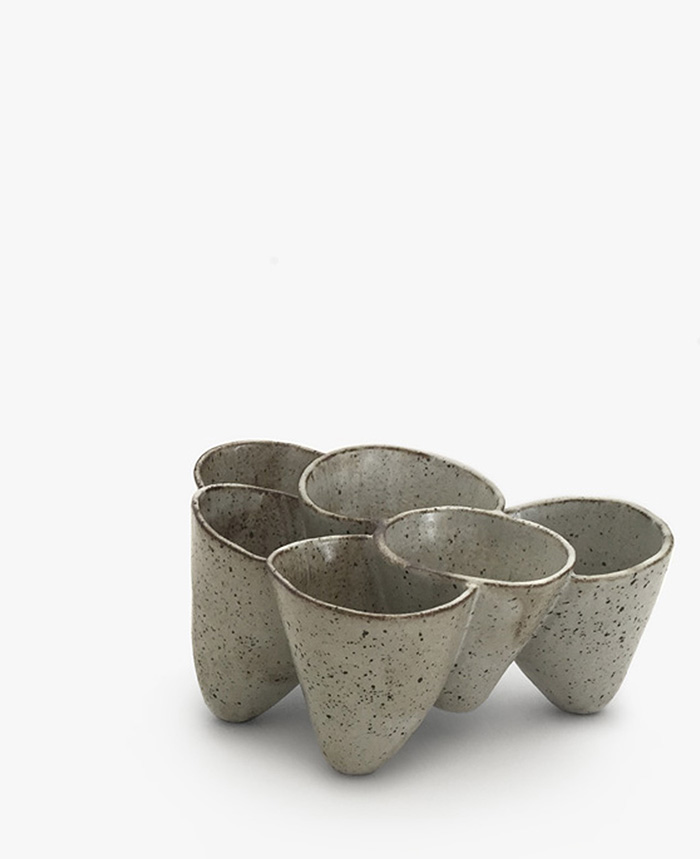 What's the hardest thing about what you do?
I think, like most artists, I don't enjoy marketing or selling my work.  Although social media has made marketing my work a more pleasant experience, I still find the practice of selling a bit uncomfortable.
How do you work out the financial aspects of your business? What resources, tips and tools would you recommend?
I started doing pottery as a hobby so I really haven't had to think about the financial side of the business. I always kept organized bookkeeping on Microsoft Excel and now that my business is slowly growing I'm looking into using a good accounting software. I haven't researched much but QuickBooks should be good and easy to use.
What advice do you have for aspiring creatives?
I believe our true and creative self can get confused, distracted and lost with all the work images available to us with a click of a button. I think it's very important to focus on nothing other than ourselves and to trust it, to work really hard at growing it and share it with others. I think presenting your work on social media, although requiring hard work and commitment, is a must for any artists trying to grow.
Do you have a dream that you'd love to fulfill?
I have many dreams but as pottery is concerned, I want to learn, learn, learn! I want to learn anything possible about ceramics. This saying by Albert Einstein is so true: "The more I learn, the more I realize how much I don't know."
I'm thrilled to feature Maryam Riazi here in the Space to Create series because I'm such a fan of her work. I hope you've enjoyed this insight into her creative process.
If you'd like to purchase Maryam's ceramics Los Angeles interior decorator's studio Estudio Los Feliz currently has some for sale. Maryam also sells her work directly from her Instagram account, so follow her and keep an eye out for available works.
You can connect with ceramicist Maryam Riazi here:
Visit her website
And find Maryam on Instagram @maryamriazi
To take a peek into a whole range of other artists' and creatives' lives and studios, visit the We Are Scout Space to Create archives.
Save
Save
Save