Kimmy Hogan is an Australian digital artist with a unique and beautiful style. She works from home and is currently juggling being a full time mum to two little boys, finding time to work on a new collection and fulfilling orders for her existing art prints.
I hope you enjoy this insight into Kimmy's creative life.
Meet Kimmy….
Where do you live?
I live in Geelong, Australia in a beautiful old home we purchased a year ago. As soon as I walked through the house I could see it's potential… I looked past the tired décor and cream walls and could see a big family home with wooden floors and giant windows. Before we moved in we painted the whole interior white and now it's filled with natural light and suits our collective quirky style perfectly. I love raising my babies here.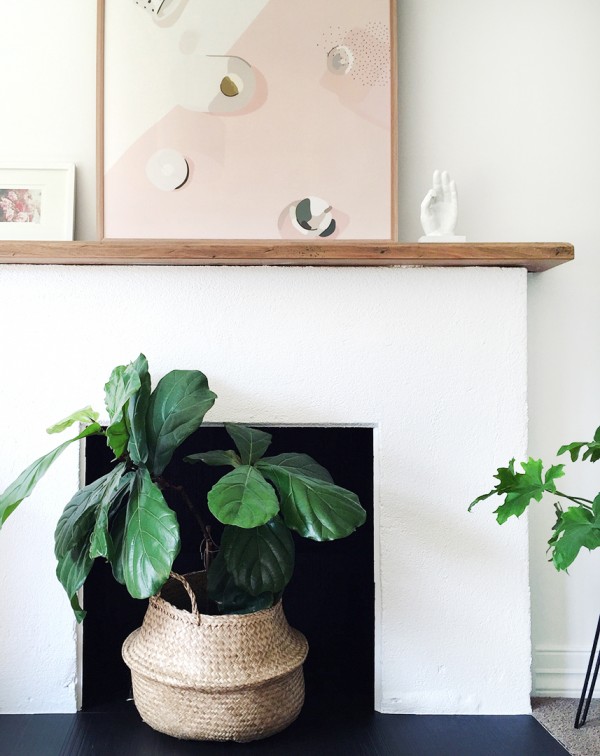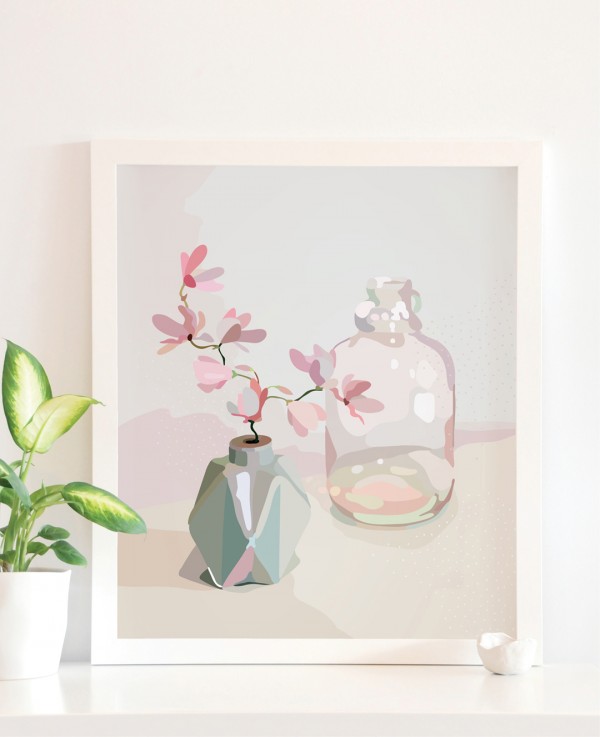 Where do you create?
Our home has a large second living area which we've turned into a guest bedroom / study. My workspace used to take up the entire room but with second baby arriving six months ago we needed to shift the guest bed and I didn't need to work so much! However I do have my sights set on a studio space in the back garage which is massive… I'd love to set up a place for creating and a place for filling orders/shipping without having to pack it all away each time!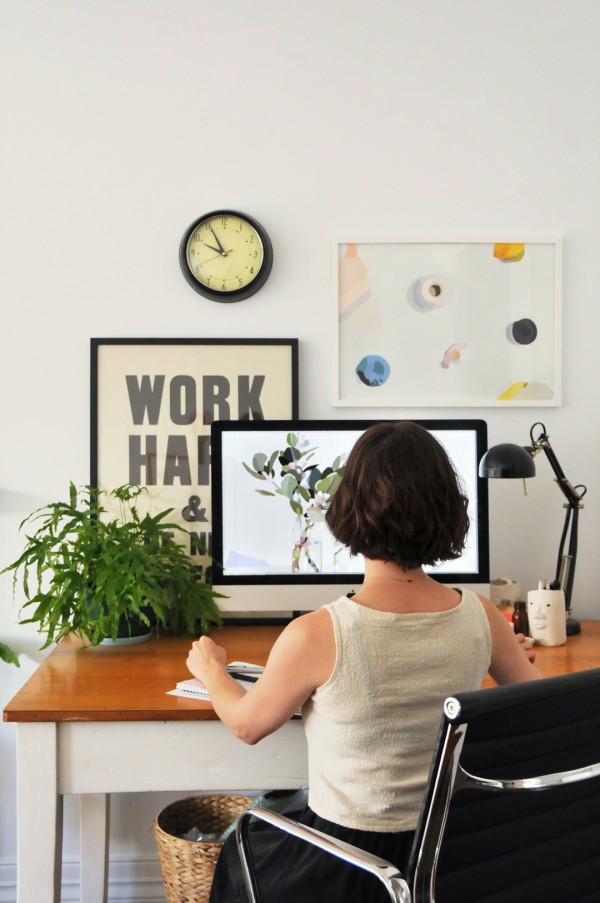 When do you create? Is it a full time job?
I have a two year old and a six month old so the work has been in very small doses at the moment! My toddler has daycare a couple of days a week and on those days and when baby is sleeping I fill wholesale orders or work on my new collection (so in the week there isn't much time for work at all!). Eventually when baby is old enough he will attend daycare but I didn't want to rush it. Instead I've been enjoying taking this next collection slowly and having lots of time with my two boys.
What path led you to this creative place?
A real interest in the digital arts started and grew when I was in high school. So I naturally went on to do my Bachelor of Communication Design at university as being a graphic designer would be a 'real' job. I worked in the industry for ten years doing logos, websites, magazines – the lot, and I enjoyed it but it was the interior world and arts that was always pulling on my heartstrings. I realised my skills in digital illustration could be my pathway to that industry and I started creating artwork.
My style has developed a lot over the last few years and I feel now I've really found myself in my latest collections.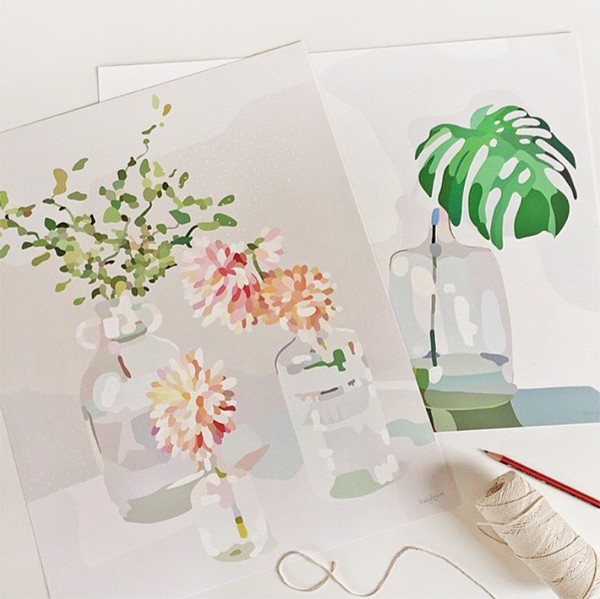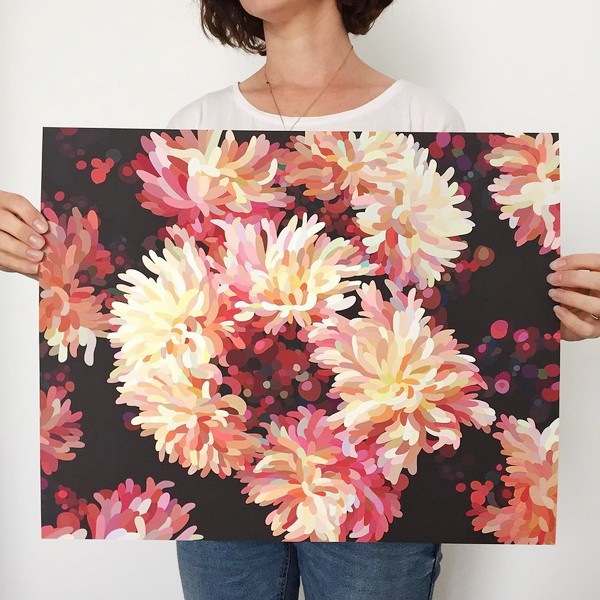 What's your elevator pitch? How do you describe what you do?
I'm a digital artist that loves to 'draw and paint' with the mouse. My artwork is inspired by my love of oil paintings and I sell fine art prints online to the world.
How would you describe yourself in six words?
Passionate. Busy. Creative. Motivated. Romantic. Generous.
Where do you find inspiration and motivation?
I am so inspired by oil paintings and all sorts of paintings and drawings. I became obsessed with a series on TV called 'Portrait Artist of the Year' and 'Landscape Artist of the Year' as I was fascinated to watch other artists interpreting and creating their art with such varied techniques. My digital artwork is created with the stroke of my hand and I like to let my art get messy and resist neatening it up too much so it remains as natural as possible. And with my latest collections being so well received it has been so motivating to create more!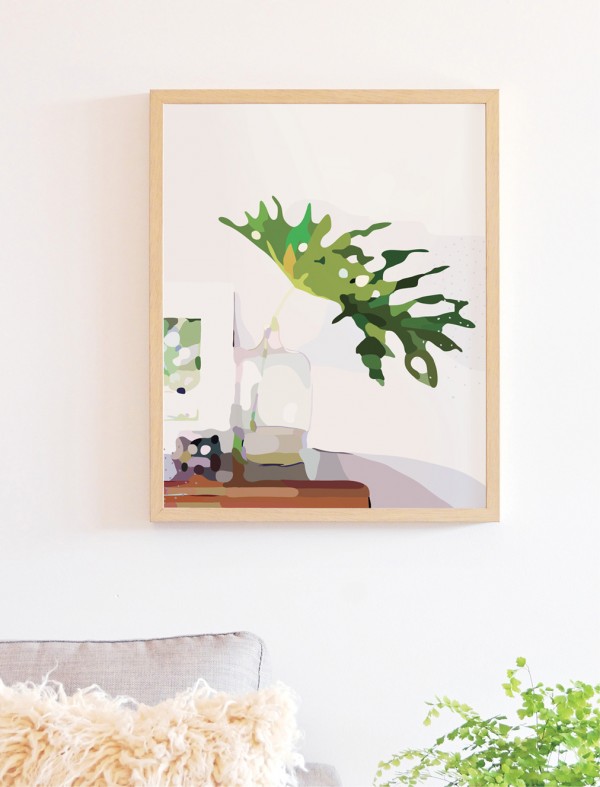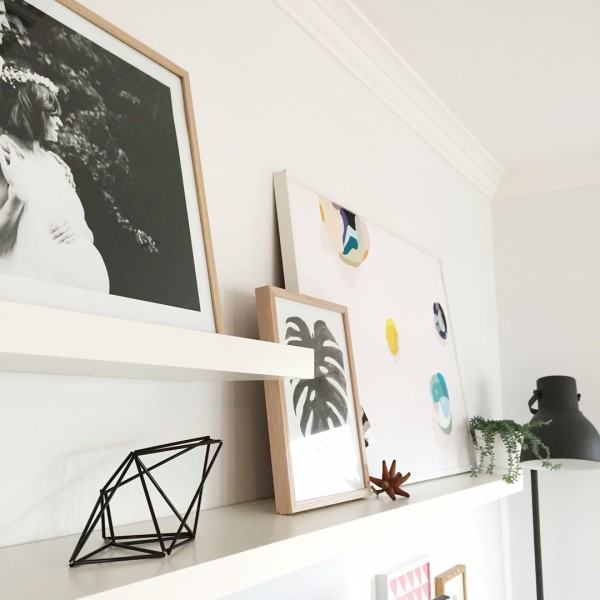 What are the essential items in your workspace?
My iPhone for taking photos of various subjects (whether it be flowers or objects), then of course my trusty iMacPro with big screen.
Do you have a favourite tool that's essential to your work?
As the 'tools' I use are digital, the essentials for me is the Adobe Creative Suite – especially Illustrator where all my art is created. In my 'tool box' are some digital brushes which I've created myself but mostly I draw every shape and curve free form with the mouse.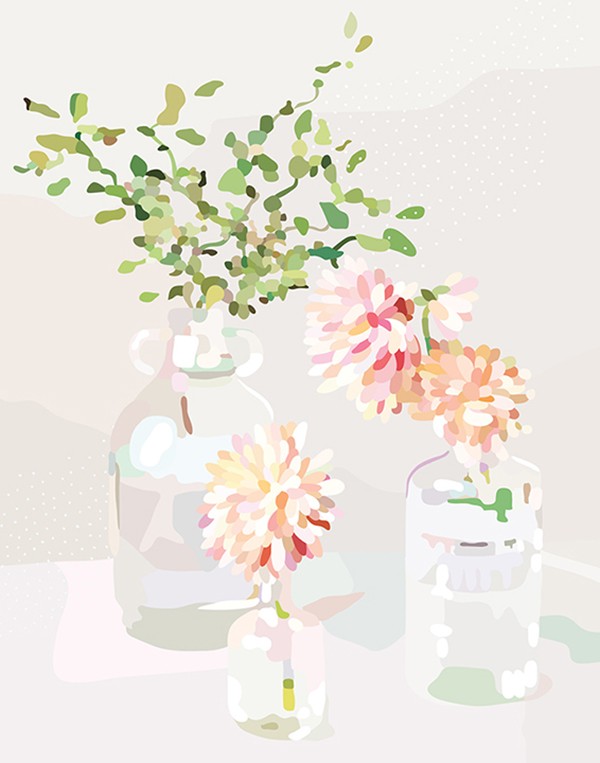 What do you love the most about your creative space?
Having the alone time to 'create' is the treat in itself as I'm always so busy these days! But I love my soft black leather chair and being surrounded by lots of art that inspires me. Oh and all the plants.
Is there something you don't like, or would like to change?
At the moment it's just such a small space – I really look forward to being able to set up a proper studio in our garage as I'll feel like I'm really walking out of the house to go to 'work' and be able to properly immerse myself in the creative process.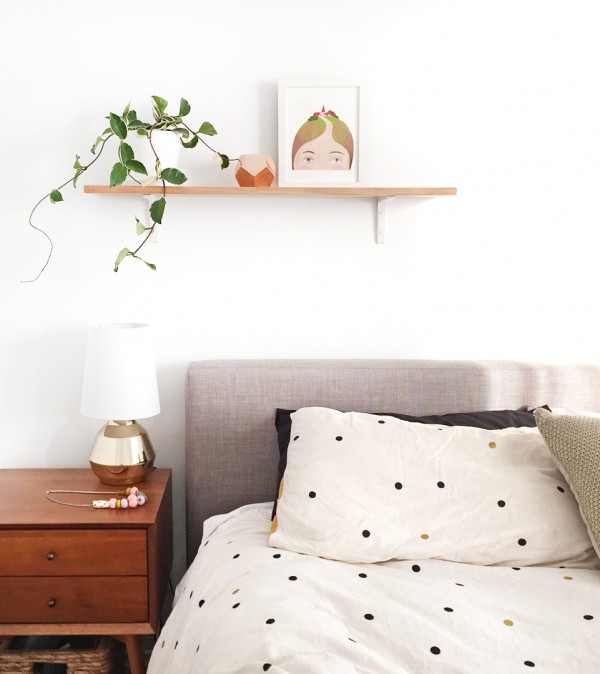 Do you listen to anything while you work?
Before baby arrived I used to listen to David Bowie but now my only work time is when my baby is asleep so unfortunately I sit in silence!
Favourite work-time snack (or beverage)?
Cup of tea and an Anzac cookie.
What would be your dream job or collaboration?
I'd love to do more commissioned artworks – designing an artwork for a creative home/bedding brand or designing textiles for a home or fashion brand would seriously be a dream!!!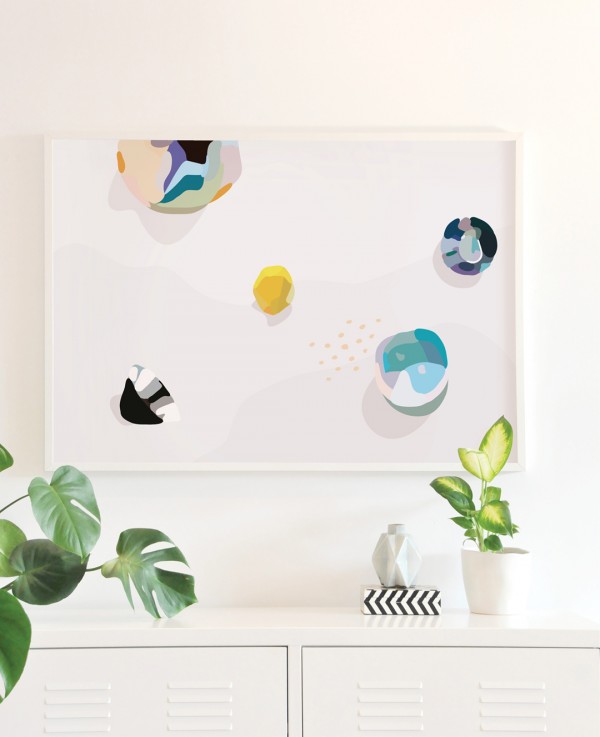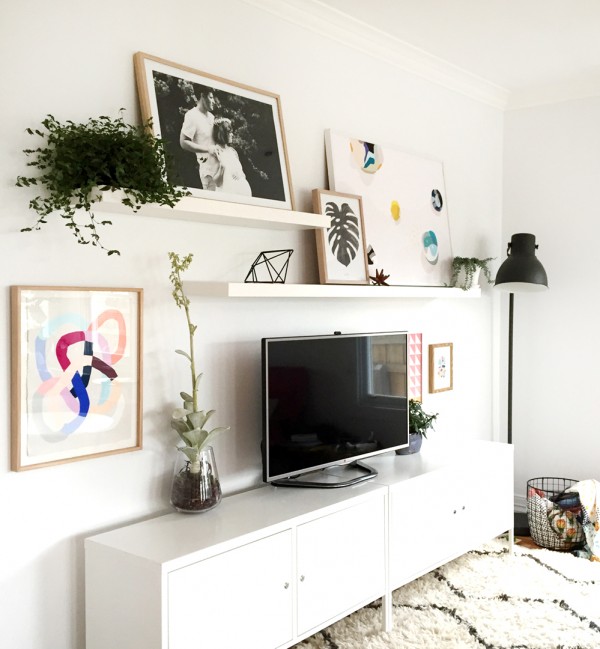 Who or what are your biggest creative influences?
I love seeing other artists doing well and really making a career out of what they do. Beci Orpin is a perfect example of an artist who has gone beyond just creating artwork and has published books, started a homeware label and is just an all round awesome, real lady.
Tell us five online resources or apps you can't live without.
Pinterest. Instagram. Google. Snapseed (photo editing app). VSCO (photo filter app).
What's the hardest thing about what you do?
The hardest thing at the moment is just needing big blocks of solid time to create my new range (but just not having it!).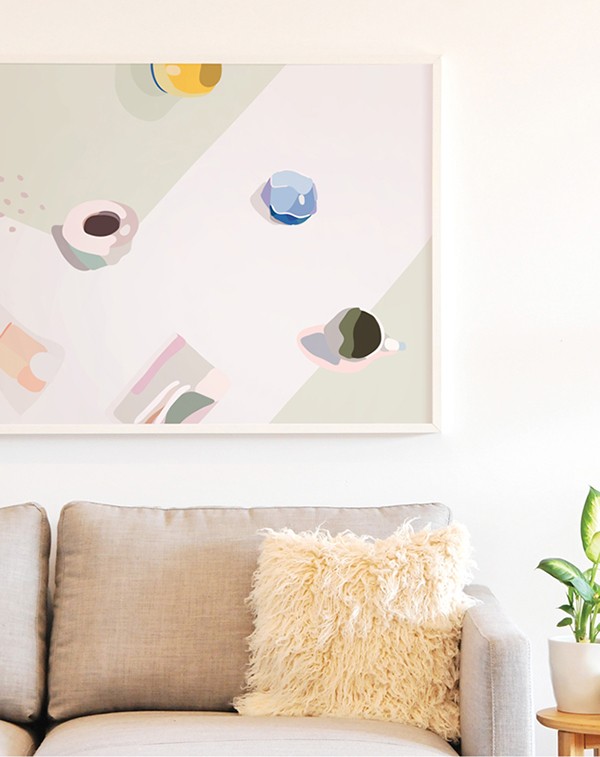 How do you work out the financial aspects of your business? What resources, tips and tools would you recommend?
I like to keep track of my comings and goings with excel… I like creating formulas to work out how paper and ink prices affect my overall cost per print as well as accounting for sleeves, packaging and post! It's so important to know what your product actually costs (not what you think it costs!)
What advice do you have for aspiring creatives?
Be yourself. It's ok to be influenced by trends but do your unique take on it, don't try to be like anyone else! If you have a vision just keep trying to get there, don't get disheartened if it takes you 100 drafts.
Do you have a dream that you'd love to fulfill?
I'd love to create an open edition artwork for a charity – specifically Cure for Brain Cancer which is something close to my heart. I plan to sell prints in my online store and donate the profits each month.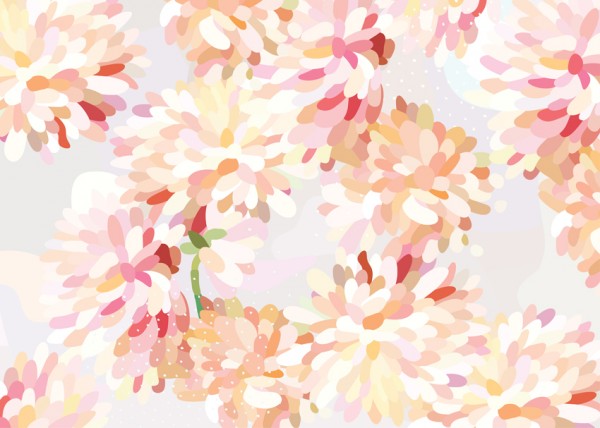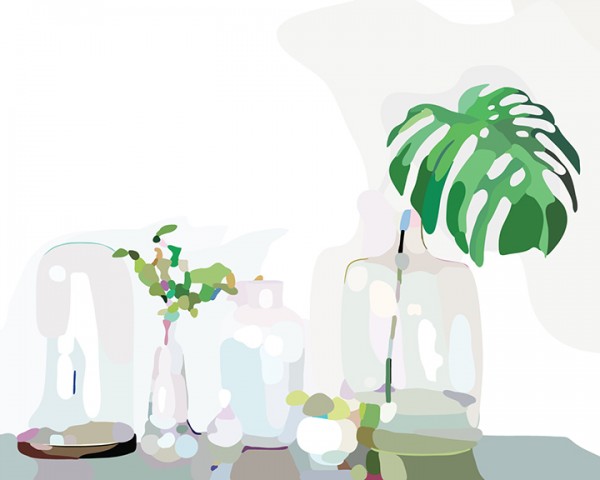 All photos courtesy of Kimmy Hogan.
Thanks Kimmy! While still on maternity leave you can purchase Kimmy's prints from Greenhouse Interiors. She's just been welcomed into the Greenhouse Interiors fold and her whole range is available in their online store, and they are also handling all wholesale orders.
To connect with Kimmy:
Visit her website here
For stockists – online and retail – click here
Connect with Kimmy on Instagram @kimmyhogan
If you'd like to take a look into a whole range of other artists' and creatives' lives and studios, visit the Space to Create archives.