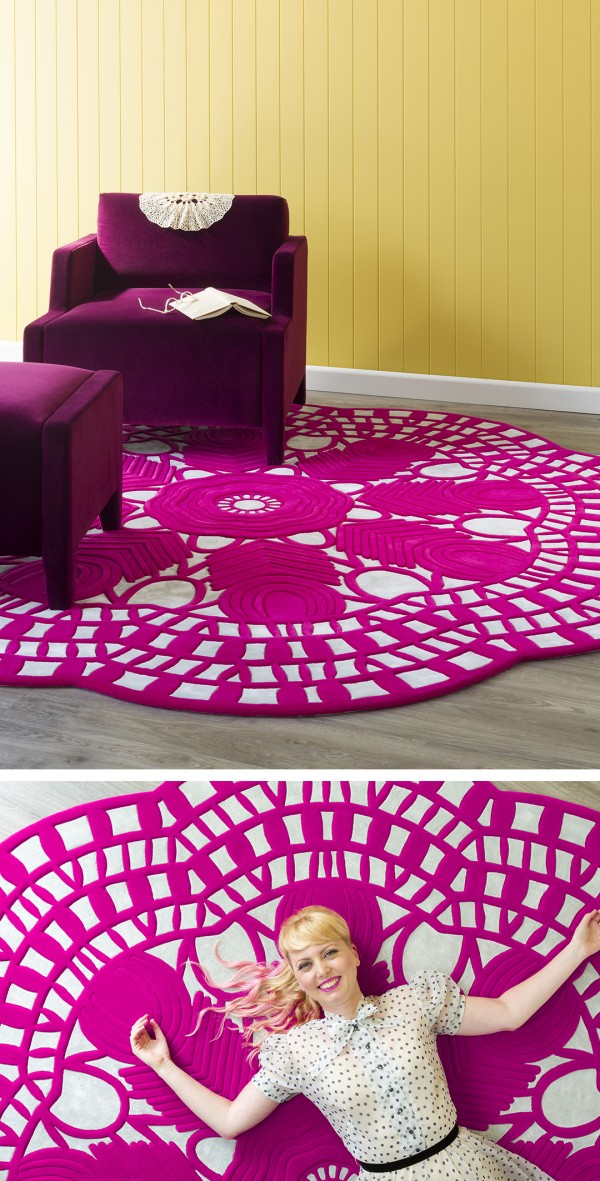 Petrina Turner's personal and nostalgic memories of craft have been interpreted into graphic contemporary designs in her collaboration with Designer Rugs. Petrina, of Petrina Turner Design, is a multi-talented, multi-passionate creative and this collaboration marks a full circle for her after beginning her career at Designer Rugs over 20 years ago.
The 'New Again' collection of hand tufted rugs references craft handed down through generations in Petrina's family. Each of the four rugs has a lovely nostalgic story behind it, but given a modern context and interpretation, the traditional craft motifs shake off any fusty connotations and are fresh and graphic. The 'Evelyn' (photo above) is a tribute to Petrina's paternal grandmother's intricately crocheted doilies. The bold execution of the design in bright magenta is fun and contemporary with a nod to the past.
New Again was launched at an event last night in Melbourne, with the official release today. "The perfect date for it to go out to the universe because my grandma Mavis will turn 93. The launch was the night before, to celebrate her and her namesake rug – there was cake!" said Petrina.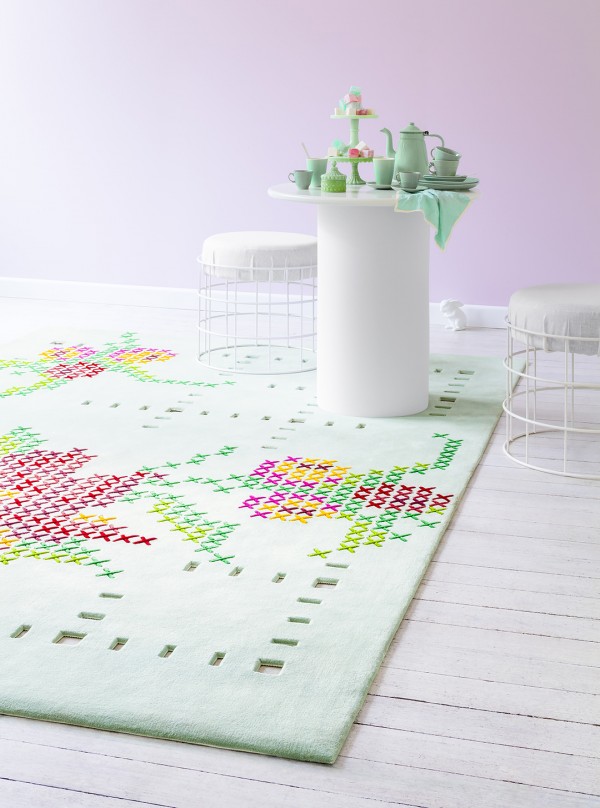 Petrina's earliest childhood memories are of her mum sewing and she treasures the hand stitched pieces that her mum lovingly created. Her mother was a talented tailoress and as a small child Petrina loved to spend time sewing jewel-like buttons onto scraps of fabric.
The 'High Tea' rug is inspired by a vintage cross stitched table cloth. Petrina says "Its many tea stains are testament to my love of sharing stories with friends and family over a beautifully set table and high tea".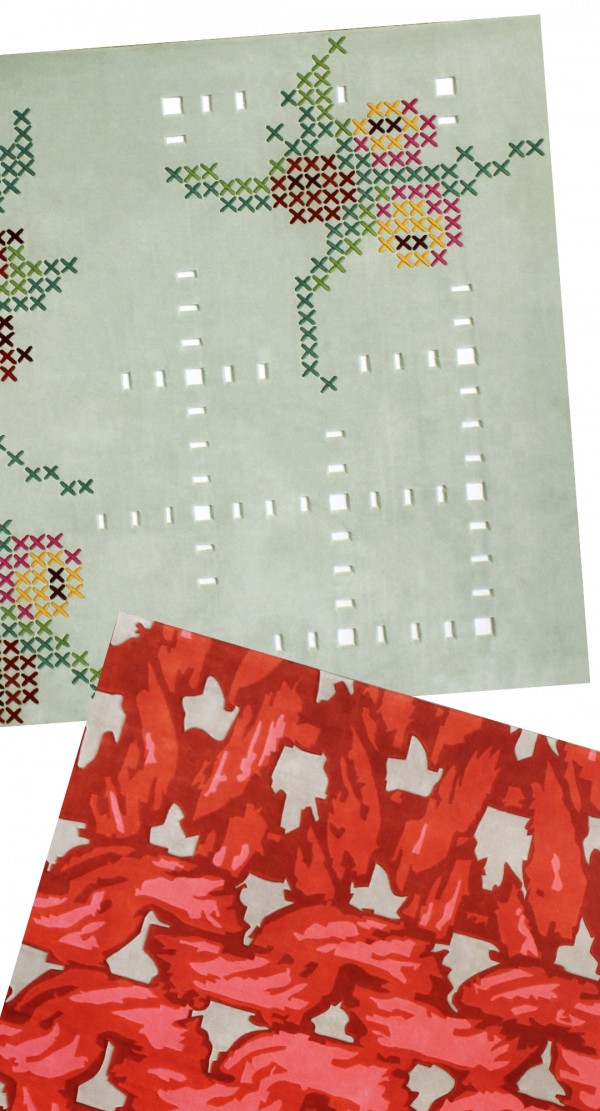 'Purls of Wisdom' is a graphic interpretation of the age old craft of hand knitting. Traditions and memories of inter-generational knitting lessons, scarves and jumpers hand made with love, and the stories that accompany them, are something that many of us can relate to.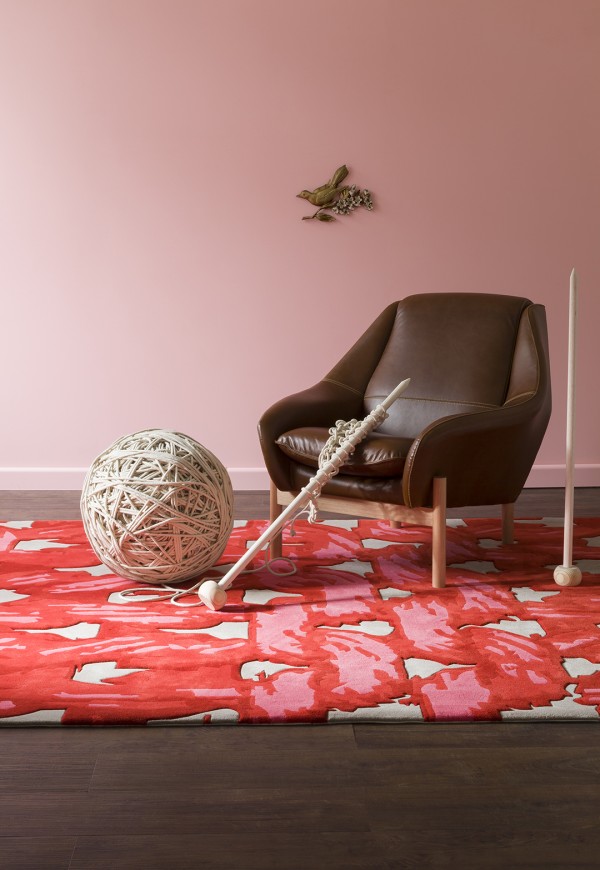 Childhood memories of Petrina's maternal grandmother Mavis and her home and garden are the inspiration behind the 'Mavis' rug. "Mavis is a reminder of our tight knit family, and the ties to tradition that inspire me today" explained Petrina.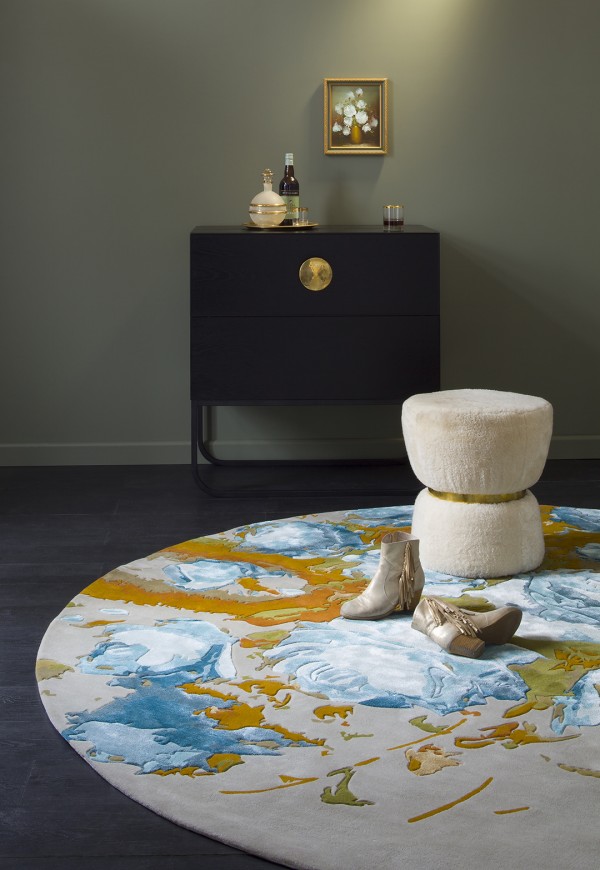 The New Again collection is available from Designer Rugs, and its essence is beautifully expressed by Petrina: "I believe you should celebrate everything… cherish those around you… be grateful. The joy in life is in the experiences we share and the stories we tell."
Photography by Amorfo Photgraphy, styling by Tamara Maynes. Photos courtesy of Designer Rugs.