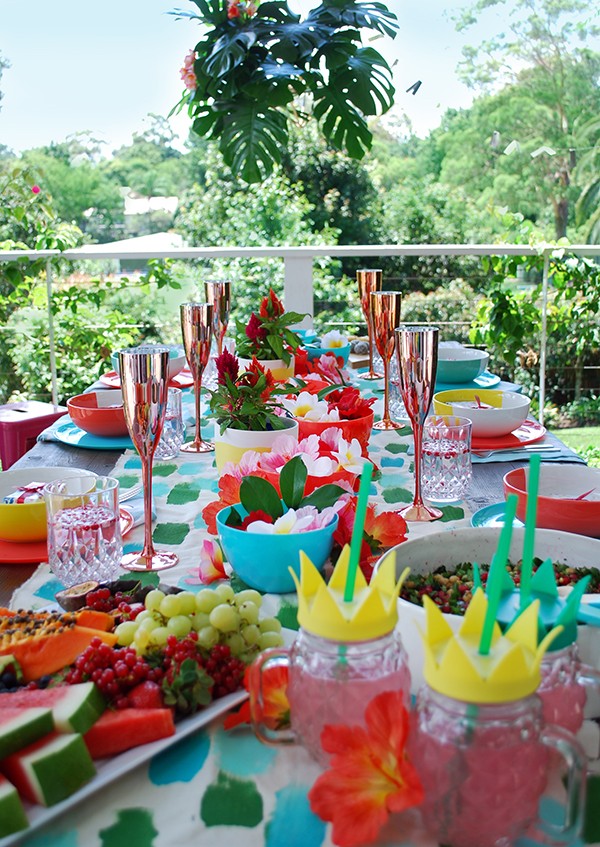 We've had so much fun creating this year's series of themed Christmas tables, and for our final setting we went a wee bit troppo, with a bright and beautiful tropical Christmas table.
It's summer here in Australia, and many of us spend our Christmas lunches gathered around a table outdoors on the deck, feasting on seafood, salads and loads of fresh tropical fruit – or a good pavlova. (Some of us still persist with the traditional English roast dinner with all the trimmings, but it makes for a hot and humid Christmas day!)
We were inspired by Target Australia's brilliant new tropical-themed collection of Christmas decorations and tableware, adorning our table with the cool colours of the ocean and rainforest, topped by tropical floral brights. A tribute to the great Aussie Christmas (sans flies and mozzies).
Let's get started.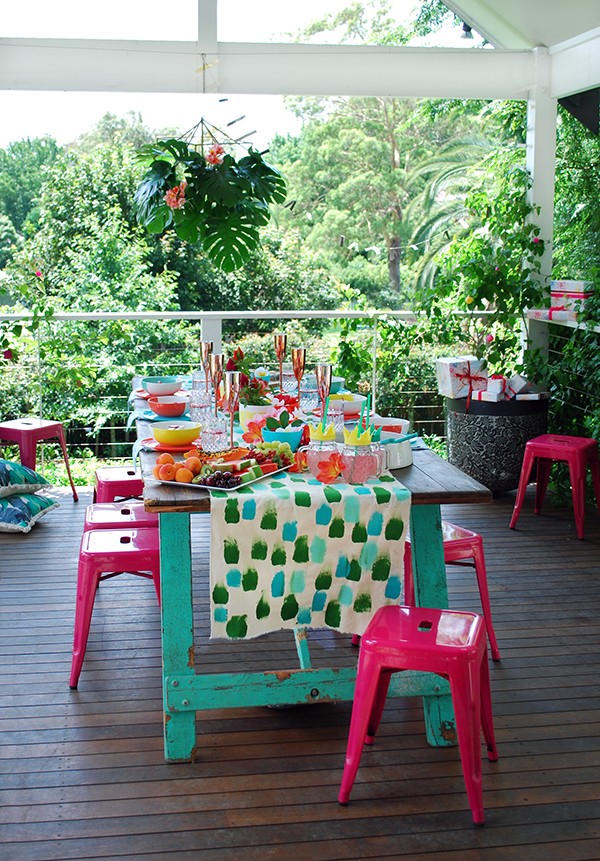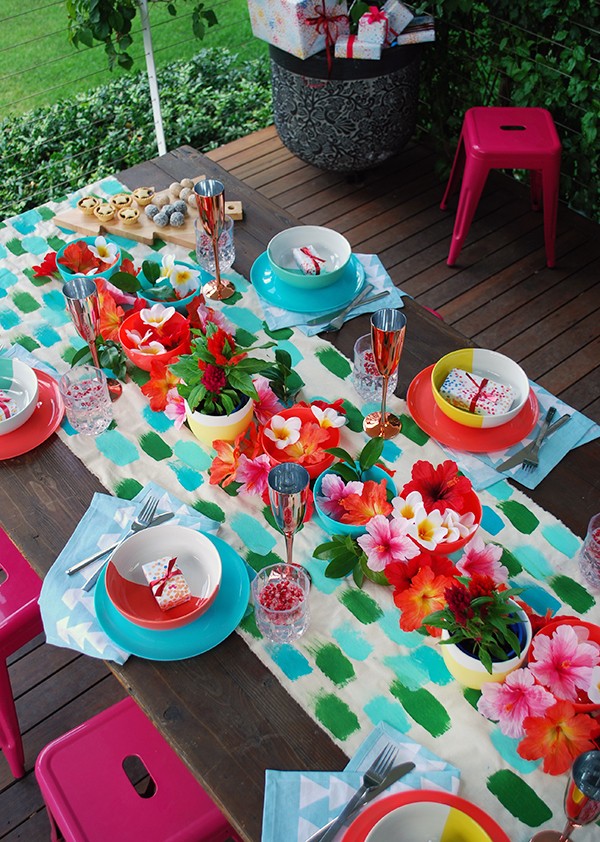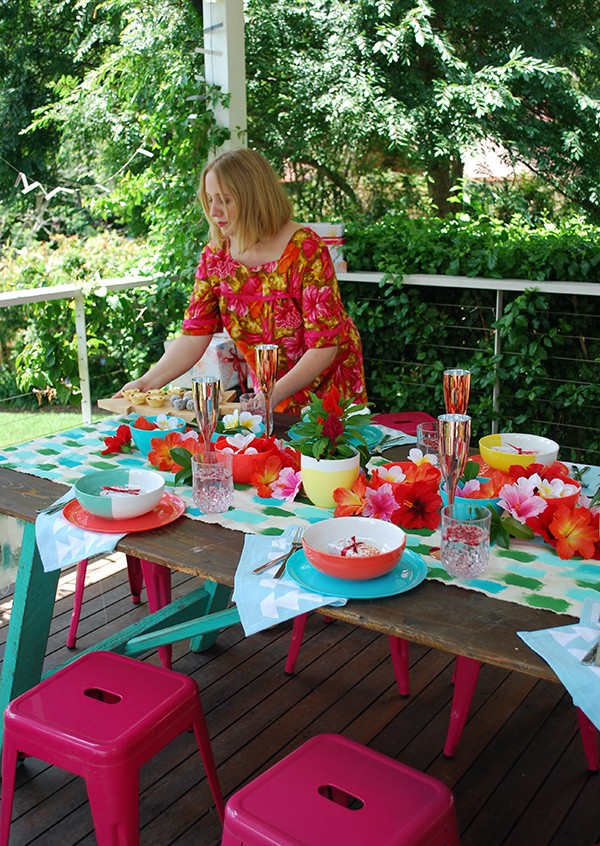 First, establish your table's base with your tablecloth, or in our case – my hand-painted table runner.
I created the table runner by applying random brush strokes to a length of washed calico in a mix of leaf green, teal and aqua acrylic paint. I added a textile medium to my paint, but you could use fabric paint. Look out for my full step-by-step tutorial on how to make your own hand-painted runner in a future post.
Next, create a bright floral runner down the centre of the table with a mix of Target's Pop plastic bowls (set of 4 for $2), and Hold It Pots – Dip Dye in Yellow ($10), and fill them with tropical blooms and plants.
We wanted to use warm bright flowers in pink, red, yellow and peach to contrast with the cool colours in my table runner, and hibiscus and frangipanis were the obvious flower of choice.
There are loads of these flowers around at this time of the year in suburban Australia, but hibiscus are rather delicate blooms once picked, and tend to close very quickly, so we opted for a safer option: premium silk flowers. For the best selection of the highest quality silk flowers, make a beeline for Flowerama's online shop (as well their bricks-and-mortar shop in Sydney's Castle Hill).
Complete your runner by tucking in a few sprigs of just-picked greenery between the bowls and pots. Gorgeous!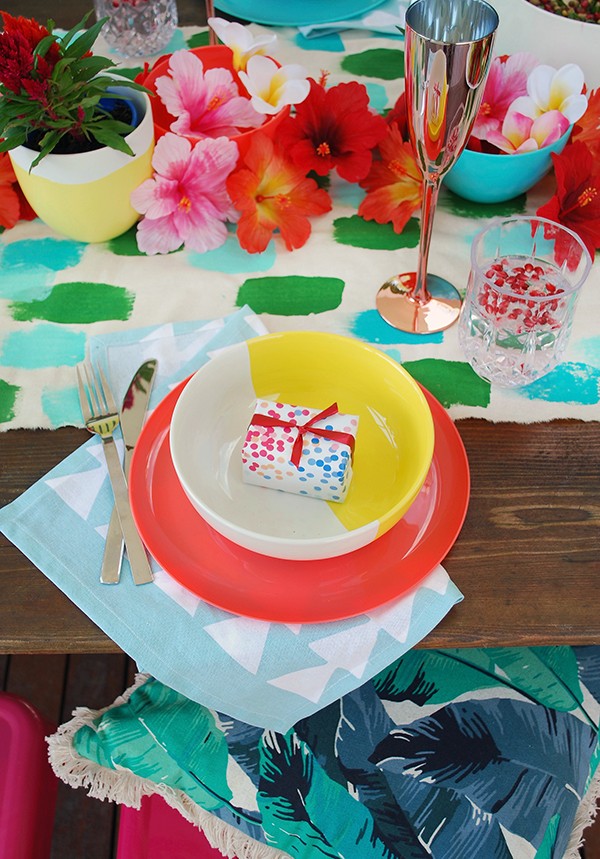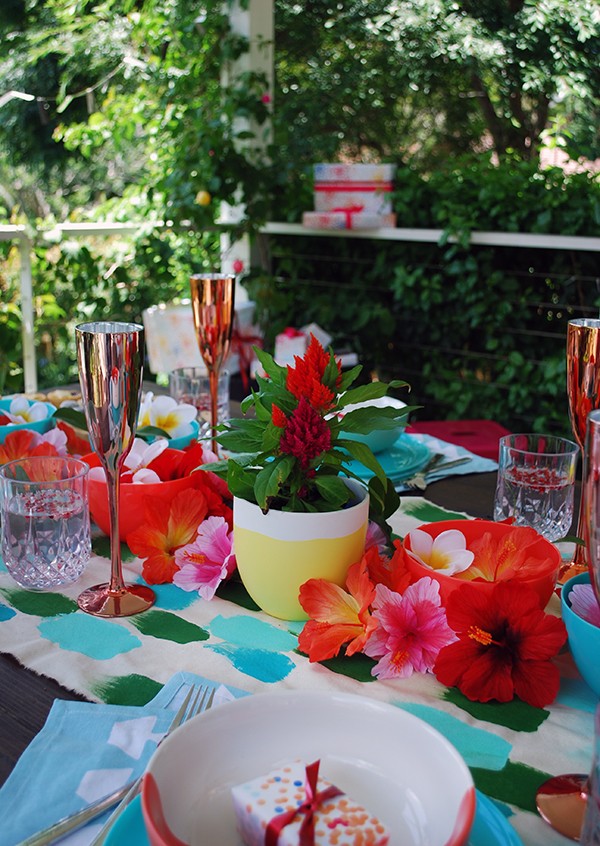 Now create your individual place settings. We used Target's Pop set of 4 plastic plates ($2) and alternated each setting with a mint or coral plate. Next, we placed a colour-blocked bowl on top (from the Life Serving Set of 3 Serving Bowls in either Yellow, Coral or Mint, $8).
For drinks, we used Target's Palace Acrylic Short Tumblers ($3), combined with Lisa T Set Of 2 Flute Glasses in Rose Gold ($20 for 2) for a mix-and-match splash of sparkle, shine and texture.
We served a sparkling grapefruit punch in Target's Tropicana Pineapple Mason Jars ($3 each), which add a fun, playful touch to the table (and kids love them, too).
I tucked a graphic mint placemat (from Modern Folk set of 4 placemats, $10) under each place setting as a super-sized napkin.
Finally, I popped an individual small present in the middle of each bowl as an extra gift and surprise for our guests. I used Target's lovely confetti-patterned gift wrap ($2 a roll) to reflect the table's colours.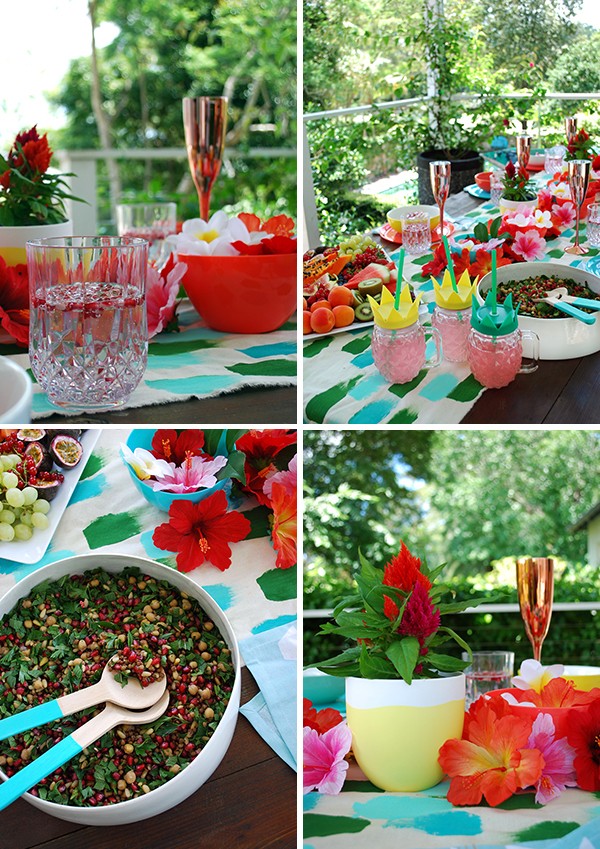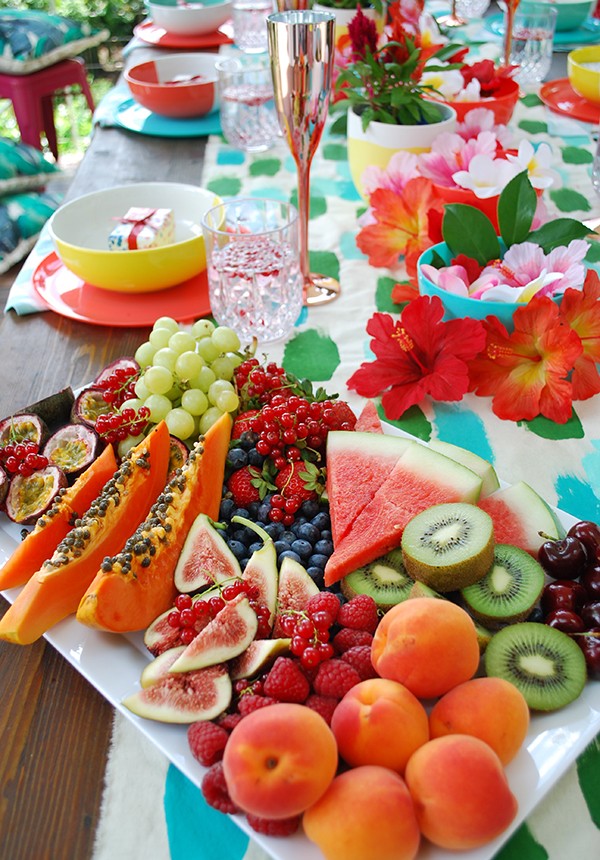 We made our guests tropical salads, like Pomegranate Party Salad, which is one of my favourite recipes (and looks like Christmas in a bowl). Target has a fantastic range of serving ware, including their festive gold-patterned platters and bowls. We used Target's Dwell round bowl ($20) to serve the salad with Life Wooden Salad Servers ($6).
Meanwhile, Rebecca served her tropical fruit platter on Target's Rectangular Serving Platter ($10), and piled it with pawpaw, passionfruit, red currants, grapes, blueberries, strawberries, raspberries, watermelon, kiwi fruit, cherries, apricots, and figs.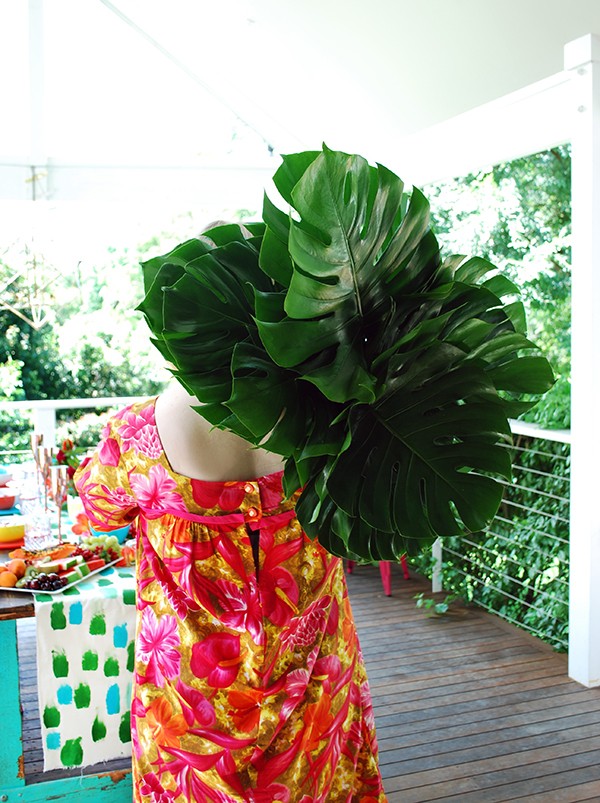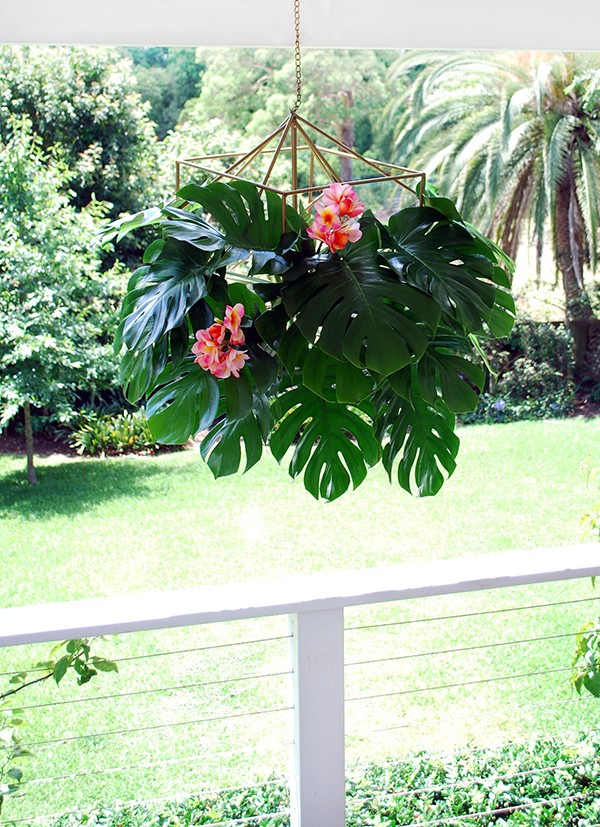 Finally, we completed our tropical Christmas look with some greenery in the form of our favourite foliage, Monstera Deliciosa. We created a simple hanging chandelier by poking 10 small Monstera leaves and 10 large Monstera leaves in to the gaps in a hanging geometric wire pendant.
However, if you wanted to create a longer-lasting Monstera chandelier, our florist Des from Turramurra's Fecund Flowers (who supplied our gorgeous glossy Monstera foliage for our table setting) suggests you create a base of floristry sponge, soaked in a bucket of water, and covered in a frame of chicken wire. Poke the stems of your Monstera through the chicken wire and into the wet floristry sponge, which will act as your water source.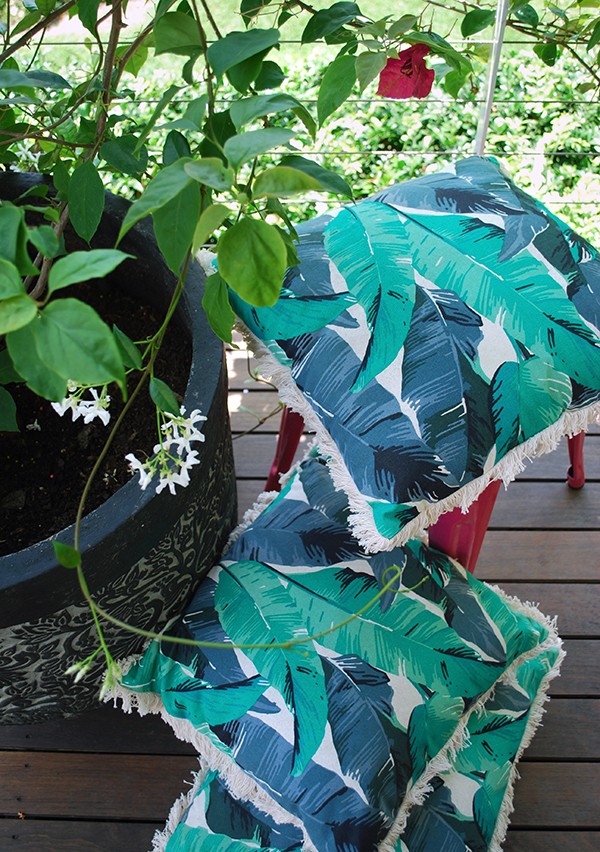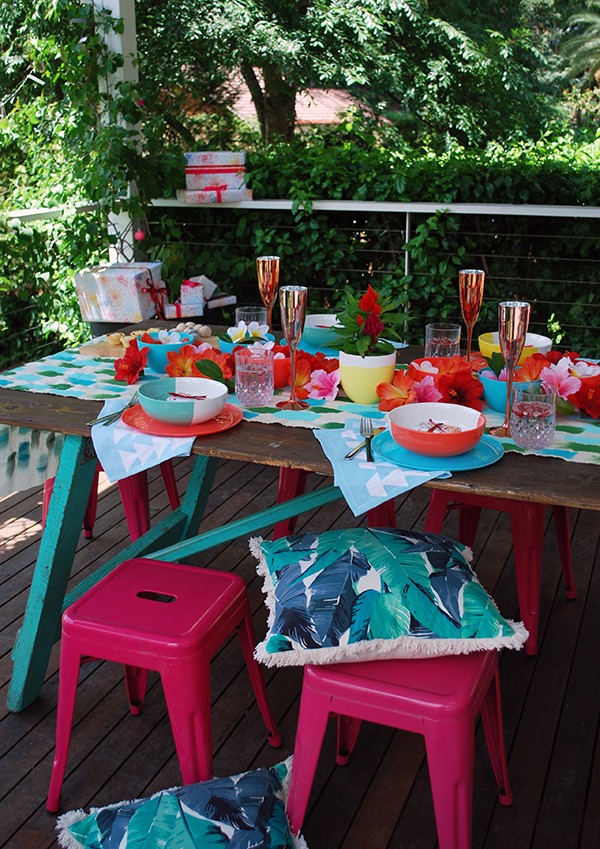 Complete your table with some hot pink stools (or your might like to use Target's Pop plastic stools, which are available in mint, coral and yellow), and toss some tropical-print cushions around for comfort and a relaxed look. We used Target's lush Amazon cushions ($20 each).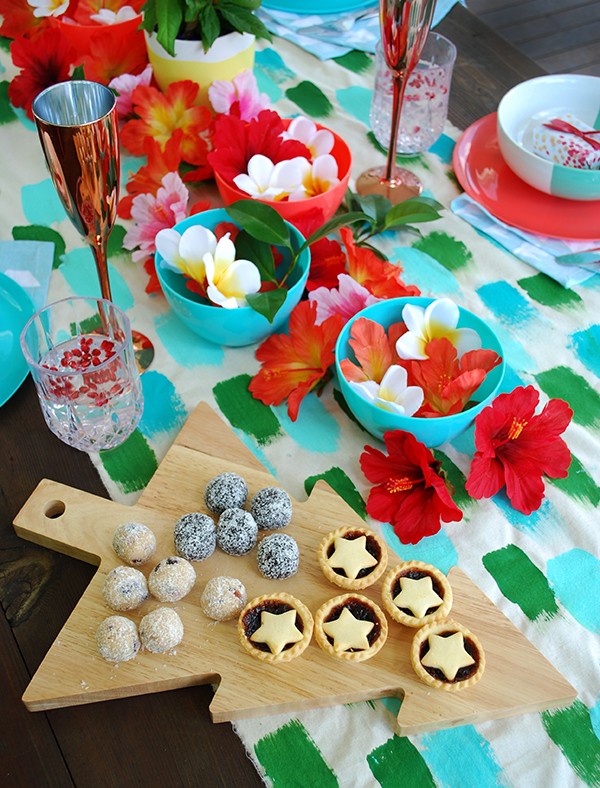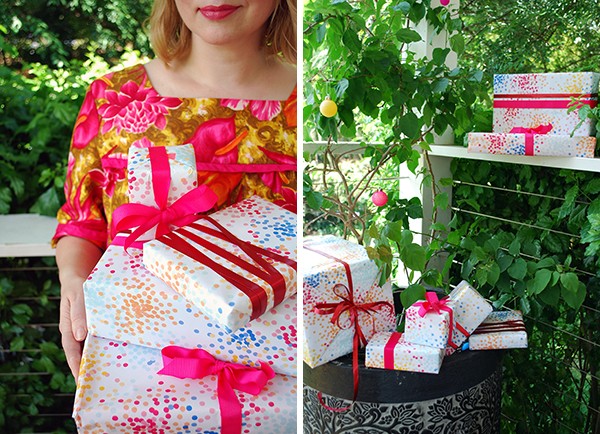 Finally, offer your guests a platter of Christmas treats with coffee. We used The Fabulous Food Company's Coconut Cranberry Bits Infused with Brandy; Luxury Cherry and Fruit Mince Mini Tarts Infused with Brandy; and Rum Balls, which are all available from Target.
Served on Target's Celebrate Wooden Christmas tree board (now just $15), they make a suitably festive statement for the end of your meal.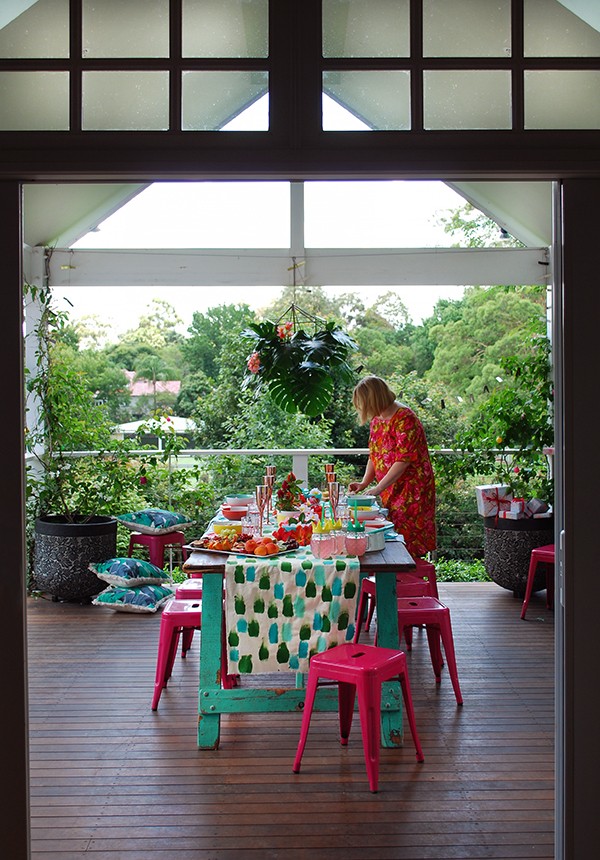 That's our bright and beautiful tropical Christmas table, with all tableware and serving ware from Target.
If you'd like to make a hand painted table runner like ours, Lisa has a step by step tutorial for you.
After more inspirational entertaining ideas and table settings for Christmas?
Click here for our mid-century rose gold Christmas table setting.
Click here for our gleaming gold Christmas table setting.
Monstera leaves courtesy of Fecund Flowers in Turramurra.
Silk hibiscus and frangipani courtesy of Flowerama.
Big thanks to Trenna and Craig for allowing us to shoot in their beautiful home.
Disclosure: This is a sponsored post in collaboration with Target Australia. We only partner with brands that are a good fit with our blog, our aesthetic and what you, our readers, enjoy. Content and concept, product selections, words and opinions are all our own.
By Rebecca Lowrey Boyd and Lisa Tilse.
All photography and styling by Lisa Tilse, for We Are Scout.
Save
Save
Save