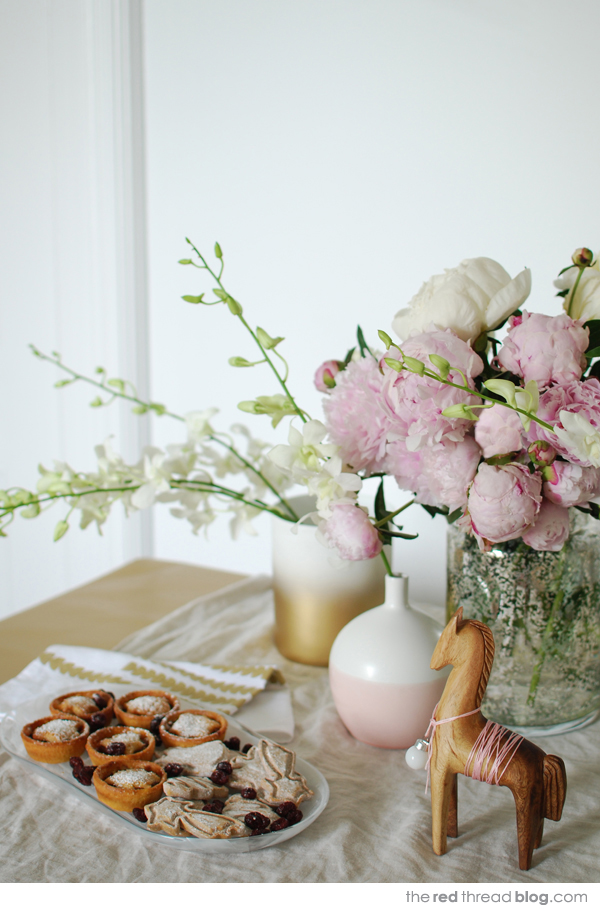 It's almost time to start decking the halls, planning the menu and the styling of the Christmas dining table, and wrapping gifts – things that I look forward to doing every year. I started a little early this year when Freedom asked me to share how I'd style my home using their new Christmas collection. I've chosen to go with a soft colour palette of pastels, gold, white and wood. I was after a sparkly but simple and modern look and I found beautiful pieces in store that fit my aesthetic perfectly. I styled my table setting, put up a stunning simple tree, wrapped gifts and made a wreath, and I can't wait to show you…
 Setting the Christmas table
I chose a mixed selection of tableware that together make a beautiful and stylish vignette for my Christmas table, and used separately they will be lovely to use throughout the year. I covered the table in gold wrapping paper and loosely draped a natural linen tablecloth that I already owned over it. For each place setting there is a gold charger, a seafoam dinner plate, and a marbled white glass plate topped with a white and gold napkin, a ceramic star and a fresh flower stem. To finish off the simple but lush place settings the glassware – tumblers, wine glasses and champagne flutes – is clear with a frosted white base.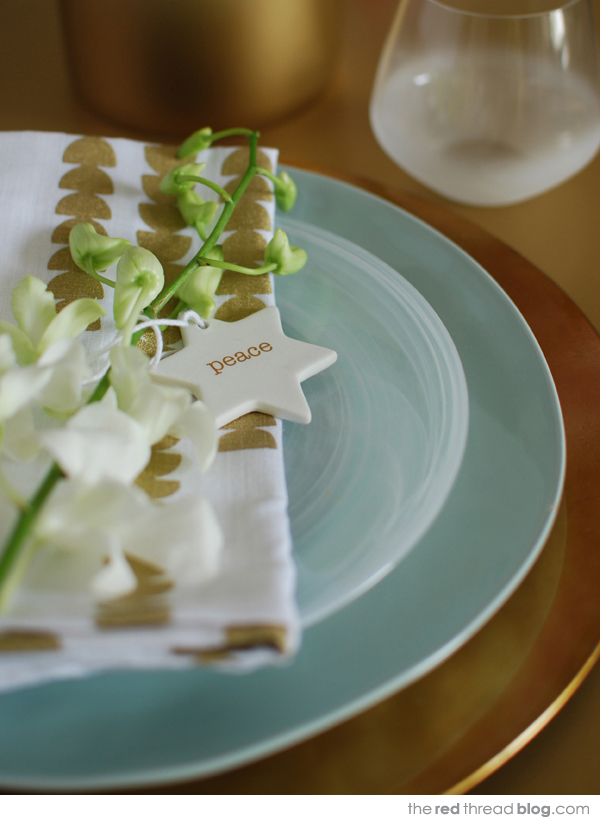 Serving platters are a collection of wood, white ceramic, and marbled glass, and I decorated a wooden horse with pastel pink yarn and a tiny white bauble to tie the timber back into the decorations. The touch of palest pink on the vase adds a little splash of colour.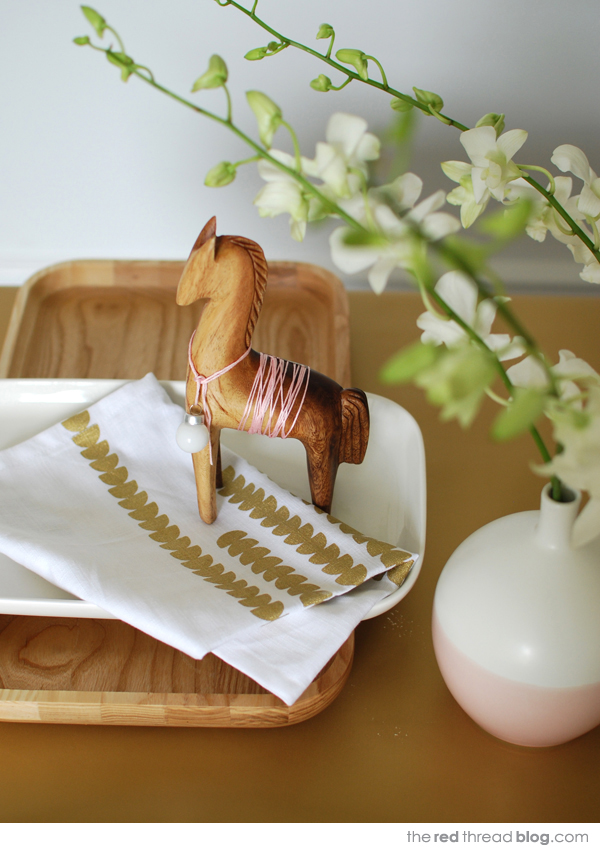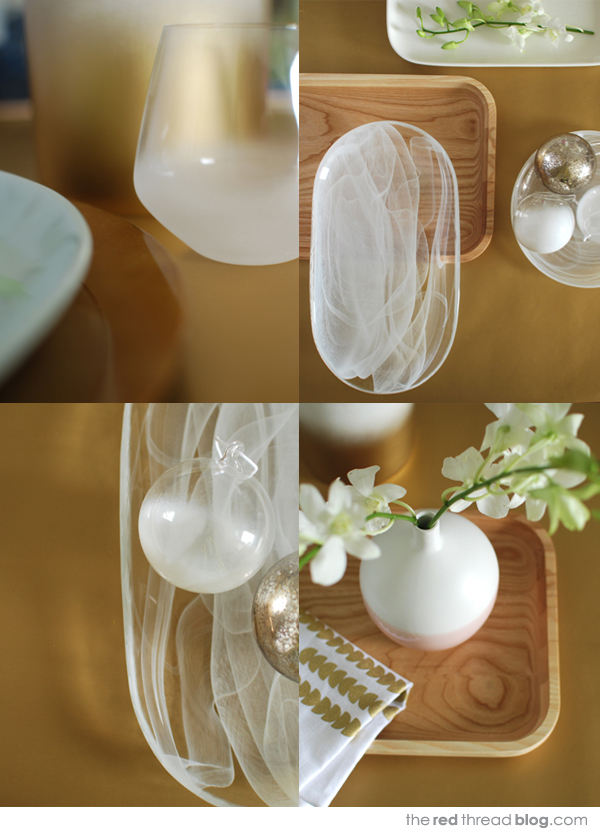 Fresh blooms and a collection of beautiful vases complete the look.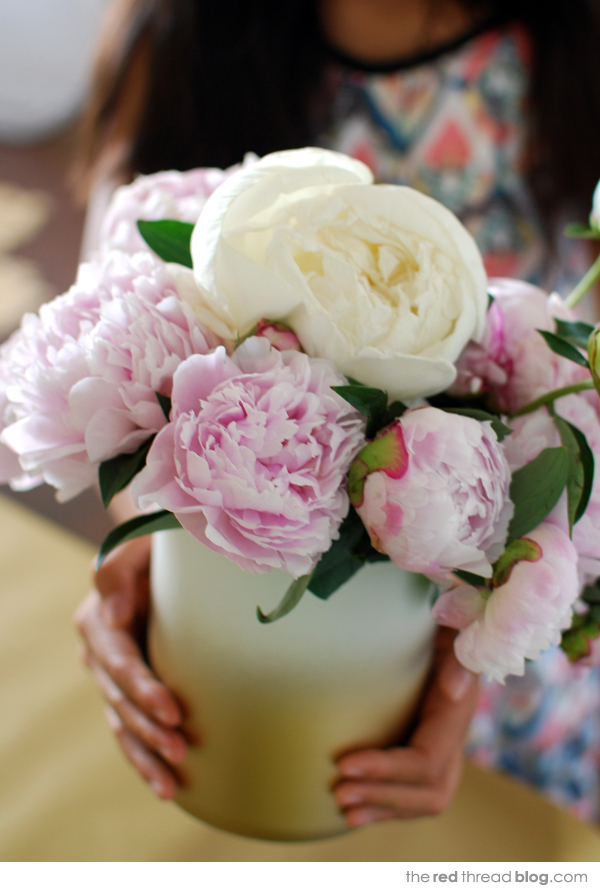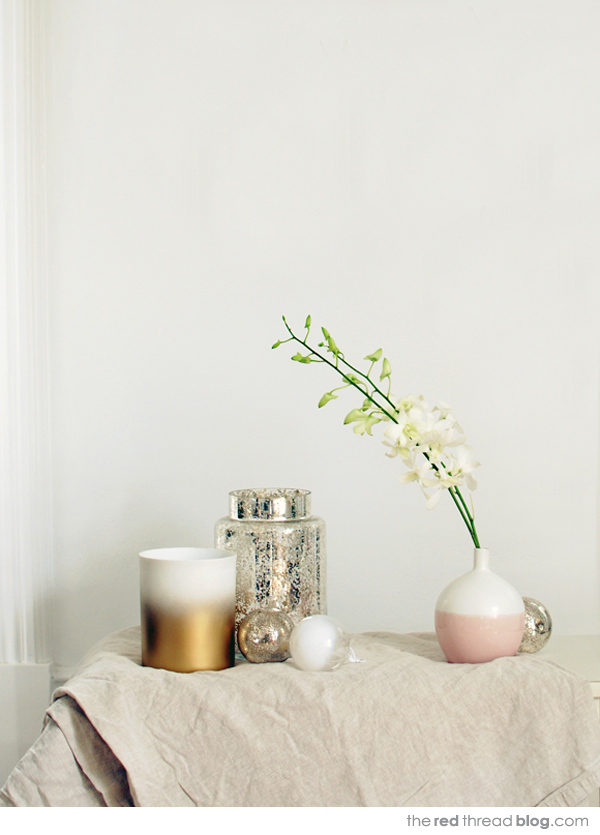 Place settings: Entertain Gold Charger Plates  //  Sorrento Dinner Plate in Seafoam  //  Entertain White Glass Side Plate //  Entertain Placemats – used as napkins  //  Frosted tumbers  // Frosted Champagne Flutes  //  Quintessential Ceramic Ornaments
Vases: Decorate Gold Ombre // Decorate Vase //  Casey Vessel in Pink
Serving wares: Entertain 4 Piece Cheese Knife Set //  Entertain Oval Glass Platter  //  Host White Platter  //  Host Oak Platter from Freedom's summer collection – available in store
Decorations:  Qunitessential Baubles – Mercury  //  Qunitessential Baubles – White Ombre // Timber Horse available in store at Freedom
 A simple contemporary Christmas tree
Earlier this year we added a sweet kitten to our family and we adore her – she's called Fleur (see her slinking by in the photo below left?). As well as other changes we've had to make, having an active and curious 8 month old kitty means that we can't put up our large green Christmas tree that is usually groaning under the weight of many baubles. I'd been thinking about what we might do and then I saw the perfect solution at Freedom. This contemporary all white tree has its lowest branches above Fleur's eye level, and hopefully therefore away from everyday temptation. I've decorated it sparingly in keeping with the simplicity of the design and so far Fleur hasn't been tempted to climb it, or try and reach the baubles, or do anything else destructive. Roxy loves it because it lights up and I love the design and that it's all white… so we're all winners!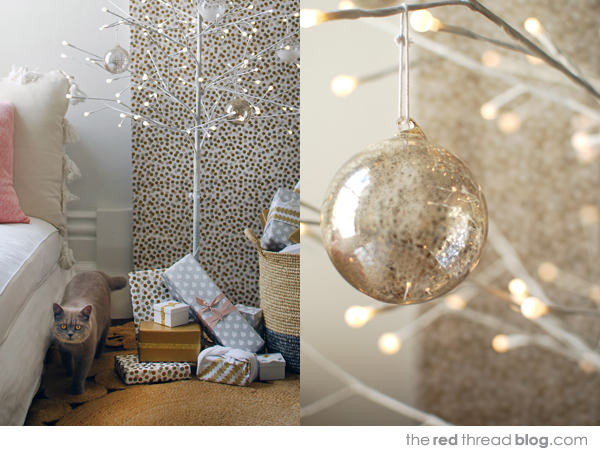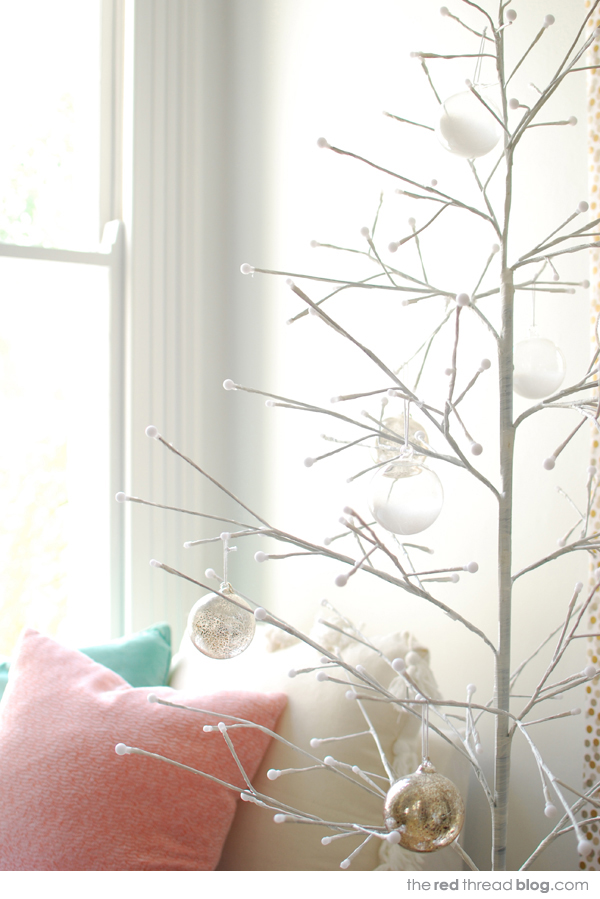 The soft pink/coral cushion and the aqua velvet cushion tie in the colours from the table setting and look lovely in this all white corner. I used wrapping paper to create a backdrop to add more sparkle and life behind the tree, and found a fabulous large storage basket to pile the presents in. After Christmas I know I will find many uses for the basket – I'm thinking maybe a catch-all for the front door, to store towels in the bathroom, or one more storage solution for Roxy to throw things into in her room.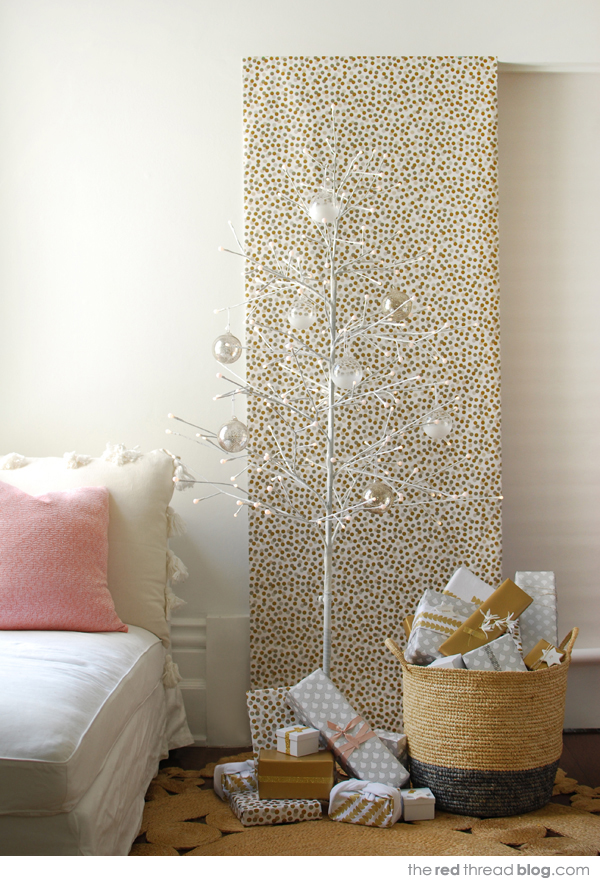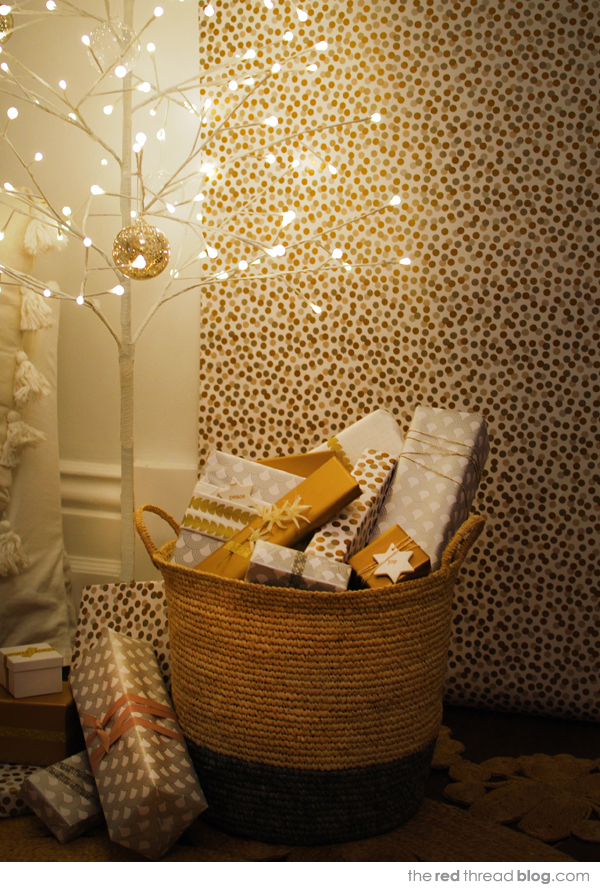 White Light Up tree // Qunitessential Baubles – Mercury  //  Qunitessential Baubles – White Ombre // Quintessential Ceramic Ornaments – used as gift decorations  // Large Bright Band Basket in Grey  //  All wrapping papers and gold twine are available in store at Freedom
Jive Cushion in lobster  //  Velvet cushion in jade
Gifts and wrapping
It can be tricky to find gifts for Kris Kringle, or for neighbours or teachers, that are thoughtful, beautiful and affordable. So I had a great idea when I saw these beautiful porcelain canisters in white, and the palest pastels: blush, lemon and mint, for under $10 each. They are a gorgeous gift in themselves, but when you add something inside they become really special. I baked some ginger cookies (well, actually, no I bought them… but they look home baked!), or you could fill one with sweets or nuts. The rubber seal on the lid ensures they'll stay fresh. Other ideas are to include a beautiful bauble, a bar of luxurious soap, small craft supplies or anything else that might suit the recipient. There's no need to wrap them – just add a tag, and some sparkly tape or twine.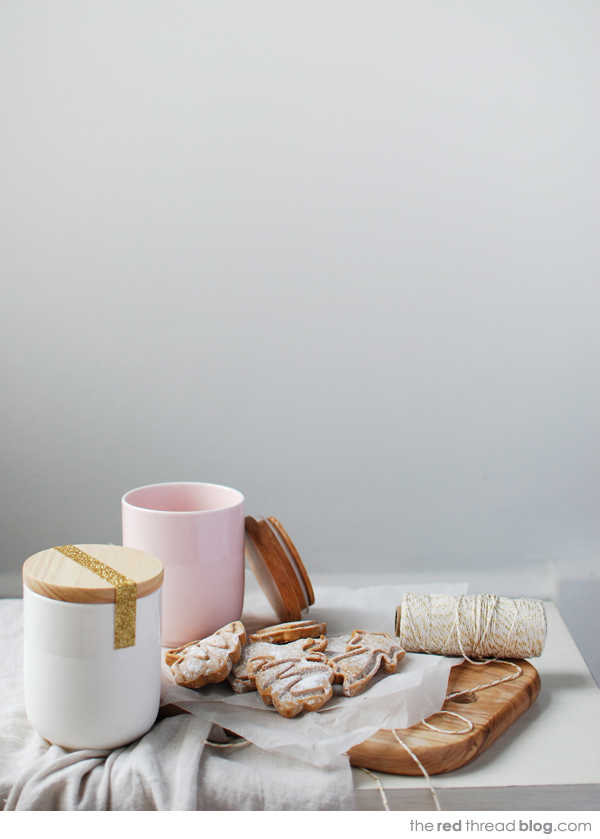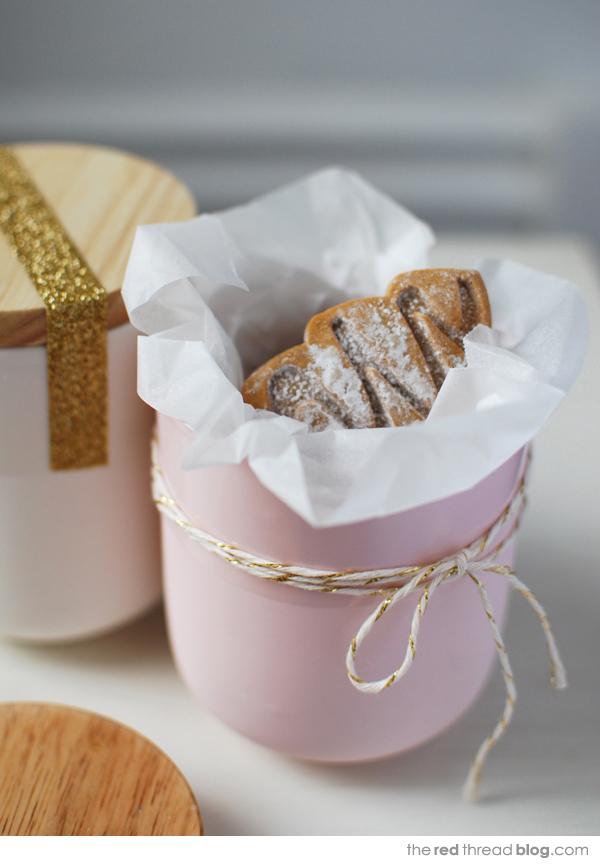 Willow Canisters  //  Gold Twine available in store at Freedom  // Host Timber Serving Board from Freedom's summer collection – available in store
To wrap my Christmas gifts I chose gold, silver and white paper and decorated them minimally with sparkly gold tape, gold twine, washi tape, faux flowers and ceramic decorations – all (with the exception of the gold tape) available in store at Freedom. I also used the Entertain Placemats as gift wrap that does double duty as an additional gift.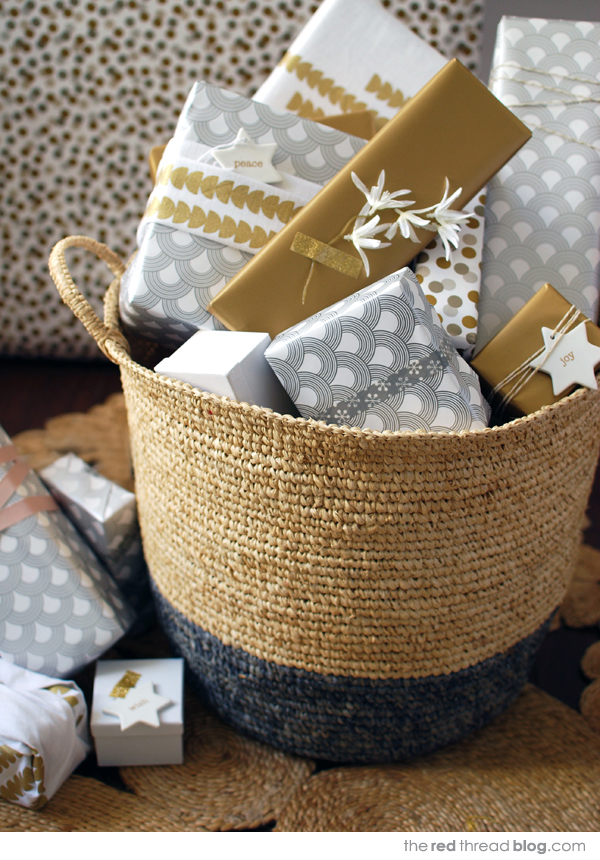 A simple wreath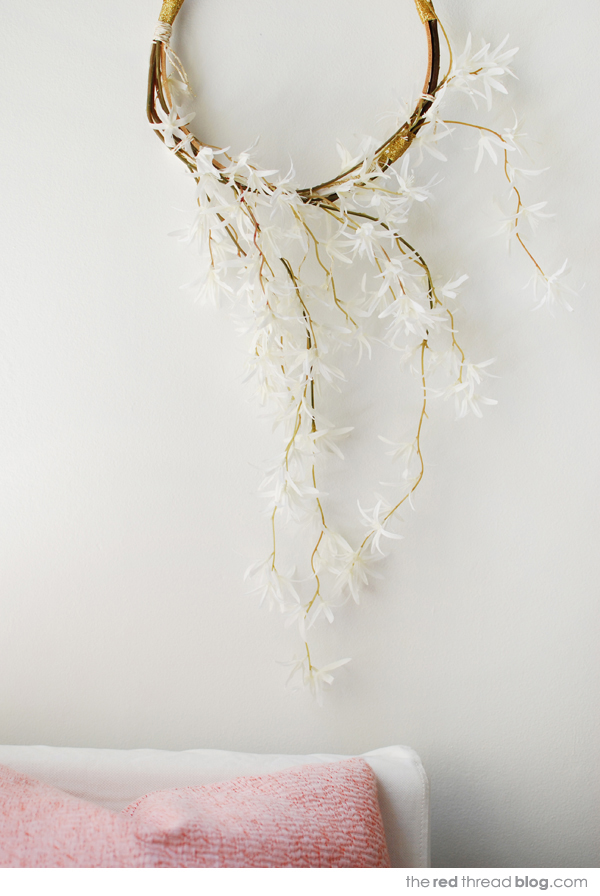 I made this simple wreath with just a branch of faux spider orchids, an embroidery hoop, glitter tape and gold twine, in less than 20 minutes.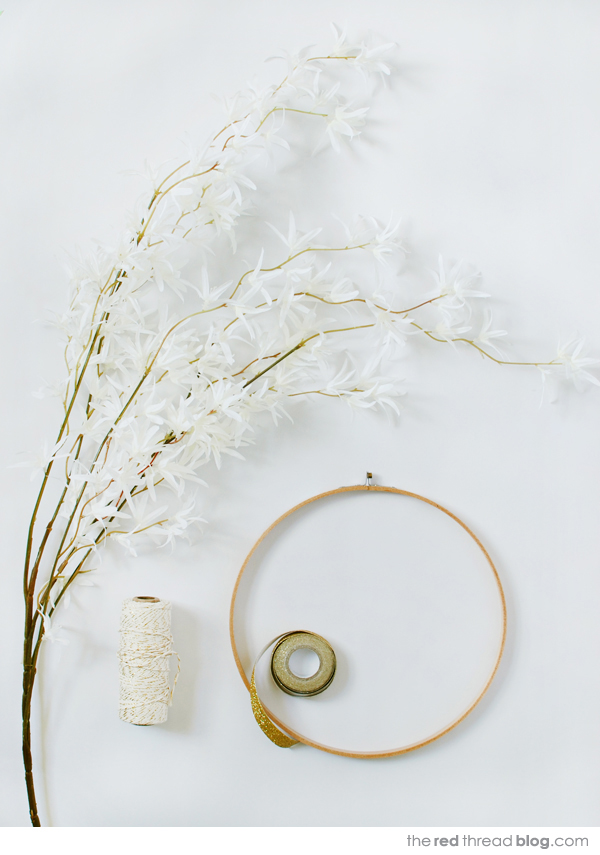 Start by wrapping a few random sections of the hoop with gold tape (just for decoration), then join the end of the branch securely to the hoop with tape and then twine. Bend the branch around the hoop, securing them together as you go. As you bend and secure the branch let the tendrils of flowers to hang down randomly in the center and towards the right hand side of the hoop. Bring one tendril up to the top of the hoop and secure it with tape. Attach some twine to the top of the hoop for hanging and you're done.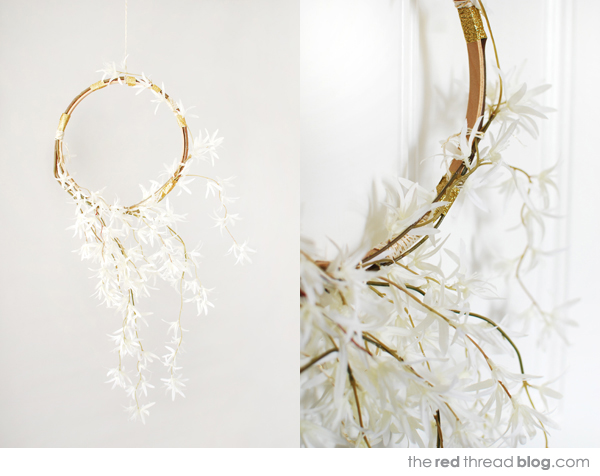 Faux Spider Orchid spray and Gold Twine are available in store at Freedom.
And just like that I'm ready for the silly season… although I do have some more shopping to do and a menu to plan. I'm so happy with this colour palette and how everything came together. It's refreshing to break from tradition and find that you can make on trend colours and homewares look festive in your home. How are you going with your decorating and plans?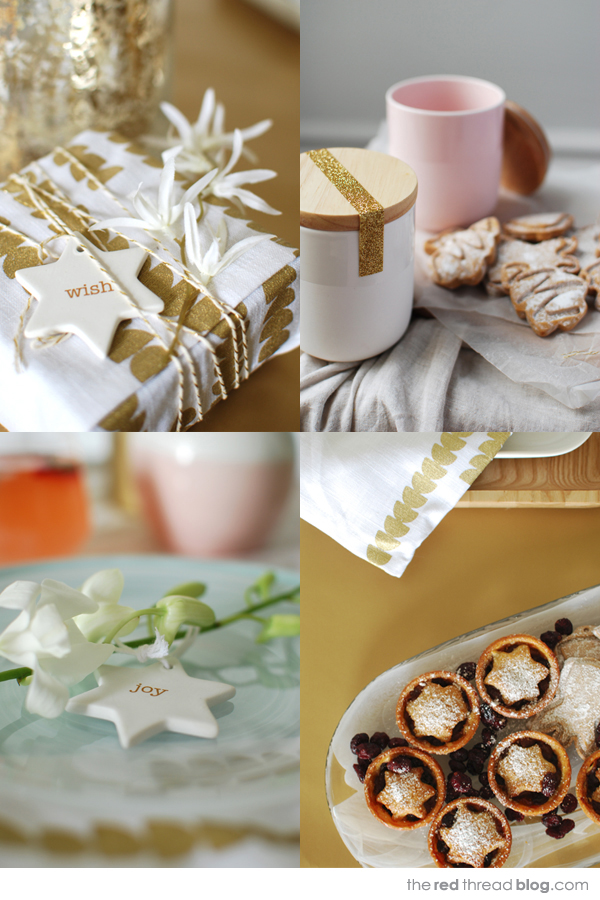 All styling and photography: Lisa Tilse for the red thread blog
This is a sponsored post in collaboration with Freedom. I only partner with brands that are a good fit with my blog, my aesthetic and what you, my readers, enjoy. Content and concept, product selections, words and opinions are my own. All photos and styling by me, Lisa Tilse,  for the red thread blog.

You might also like to check out my sorbet hued afternoon tea styled with Freedom's new Summer collection, and my mini bedroom makeover courtesy of Freedom's lush autumn/winter collection this year.
Save