Imagine spending your day turning plants and natural fibres into a piece of art. Perhaps a functional vessel, like a bowl. A basket. Maybe a sculpture?
Spend a little time with fibre artist/basket weaver Nicole Robins, like I did one morning, and it's just about impossible to look at a plant in quite the same way again.
Meet Nicole…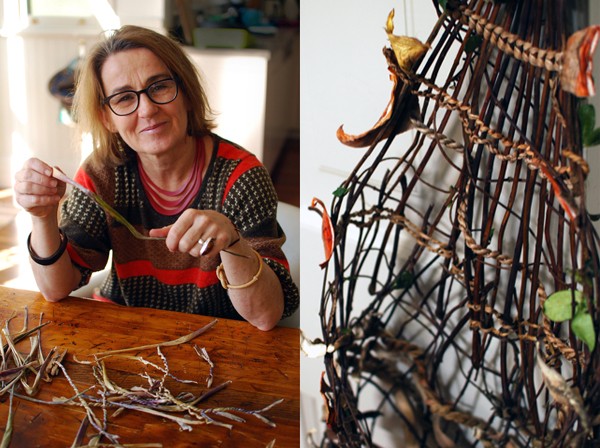 You may already know Nicole from her popular Instagram account as Loosely Woven Basketry. From a career as a family therapist to the creative life of a full-time fibre artist, Nicole spends her days immersed in making, and loving every minute of it.
When I visited Nicole, I was struck by her passion for her art, and there is evidence of it in almost every corner of her home.
There are natural fibres and plants hanging to dry, others being soaked and piles of them ready to be transformed into gorgeous vessels. And the beautifully woven results are everywhere –  hanging on windows, walls, door handles, and propped on mantelpieces, shelves, and cabinets.
If you detect a note of envy, maybe there is one… how I'd love to be making all day! I really enjoyed meeting Nicole and chatting to her about her art practice. I hope you enjoy this insight into her creative life.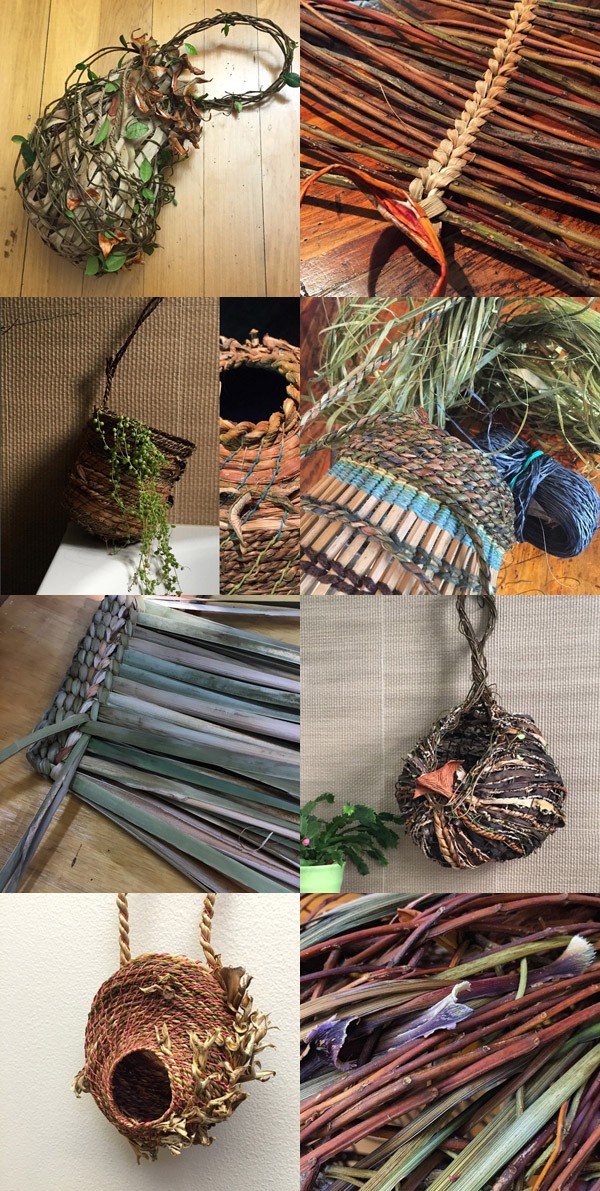 Where do you live?
I live in Haberfield – dubbed 'the garden suburb' of Sydney's inner west – with my partner and two teens. Sydney is a green subtropical oasis anyway, but it's nice to be so close to the CBD and still feel like there is space to roam.
Where do you create?
All over the place, depending on the weather and my mood. In summer I sit by a wading pool to soak things in the backyard, and in winter I chase the light and warmth around the house.
Technically I have a studio/office that I share with my partner, who is an astronomer in his spare time. He is processing photos on his computer while I am weaving on the other side of the studio.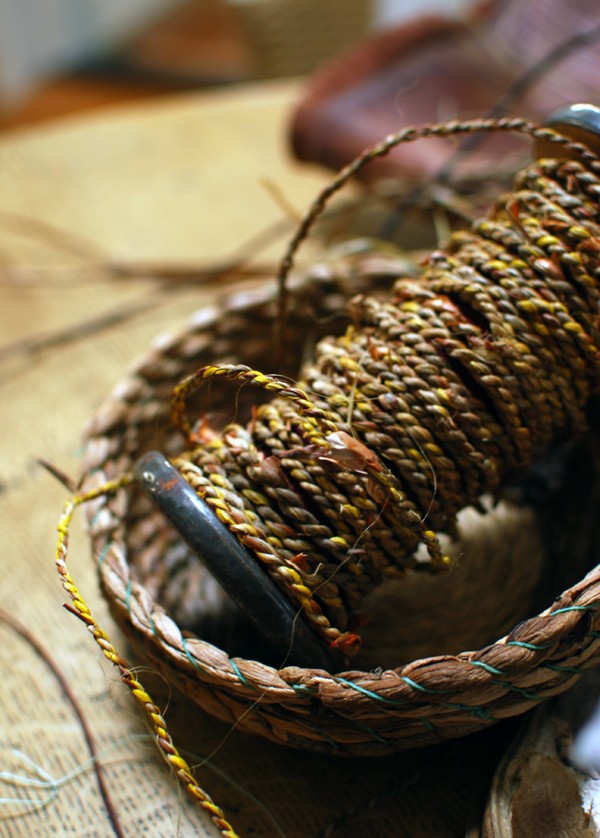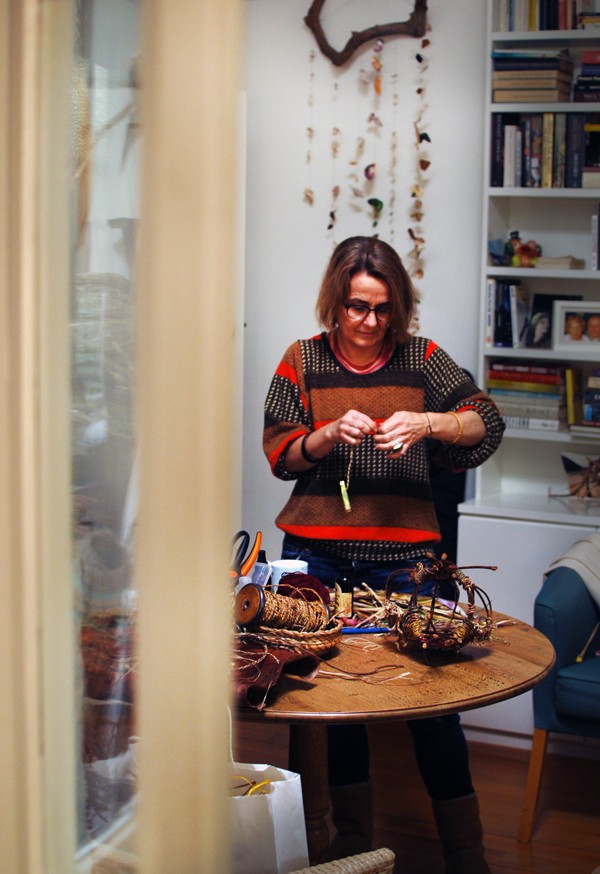 When do you create? Is it a full-time job?
I create for several hours most days – I'd say it's a full-time obsession. I have so many ideas, and at the moment I am in a very experimental phase.
What path led you to this creative place?
Ha! All roads lead to fibre art! A love of travel and the handmade. A love of plants and the garden. A great midlife yearning to be more creative. Retiring as a Couple and Family therapist. A workshop in the Botanical Gardens with fellow basketeer Meri Peach, in about 2012. I haven't stopped since then.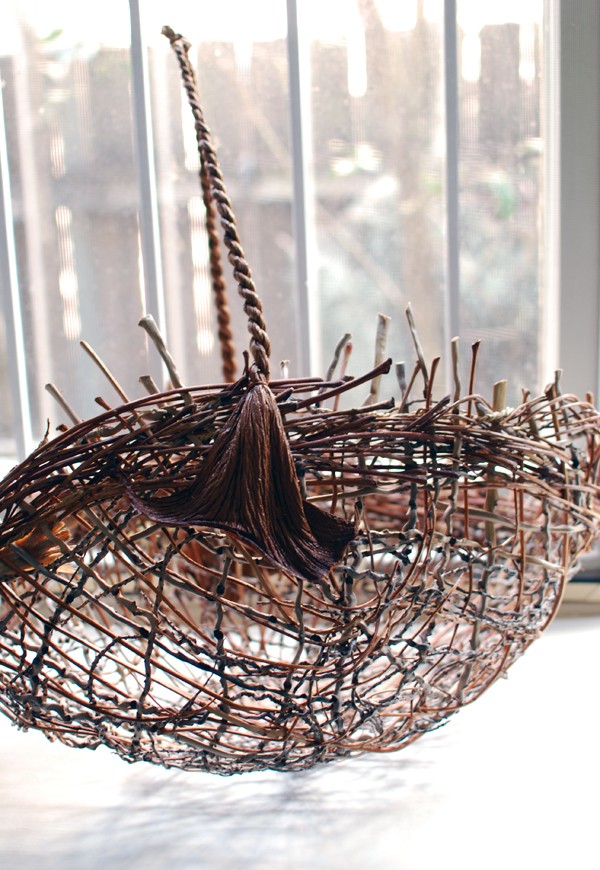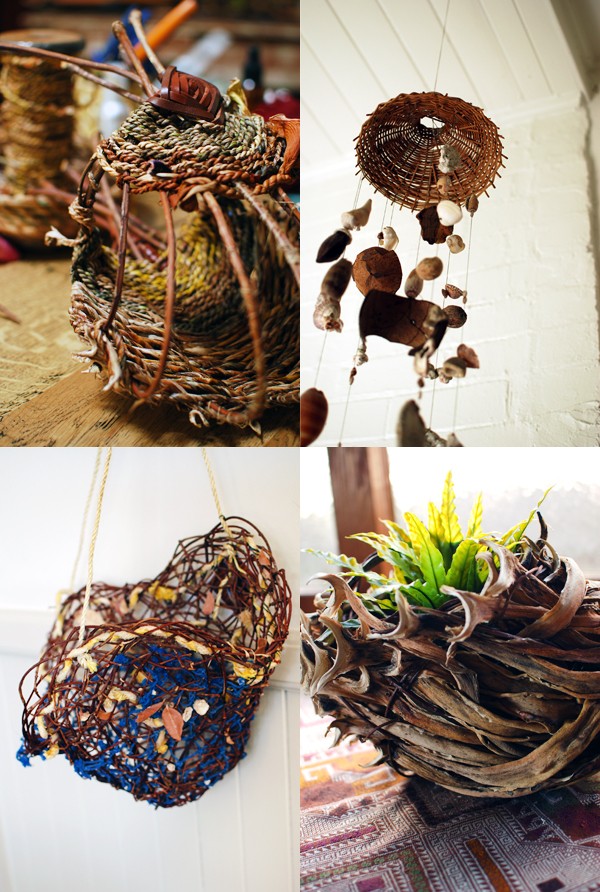 Where do you find inspiration and motivation?
My inspiration is definitely from the plant world around me in Sydney, but the forms take inspiration from all domains of life – how people live, and what they choose to have around them to give their environment beauty and meaning.
Lately I like the idea of hanging work – baskets, flat pieces, and wall sculpture. I am trying to use traditional techniques from basketry, while embracing our current range of domestic and native plants.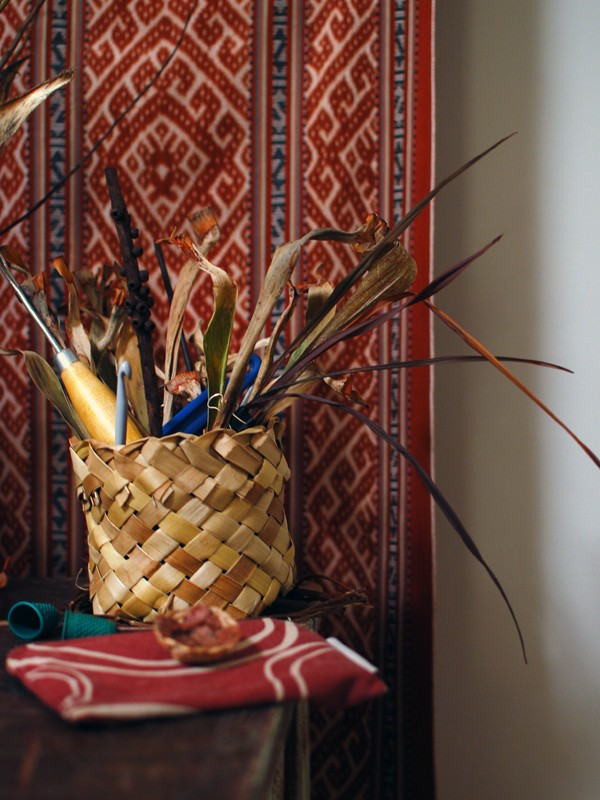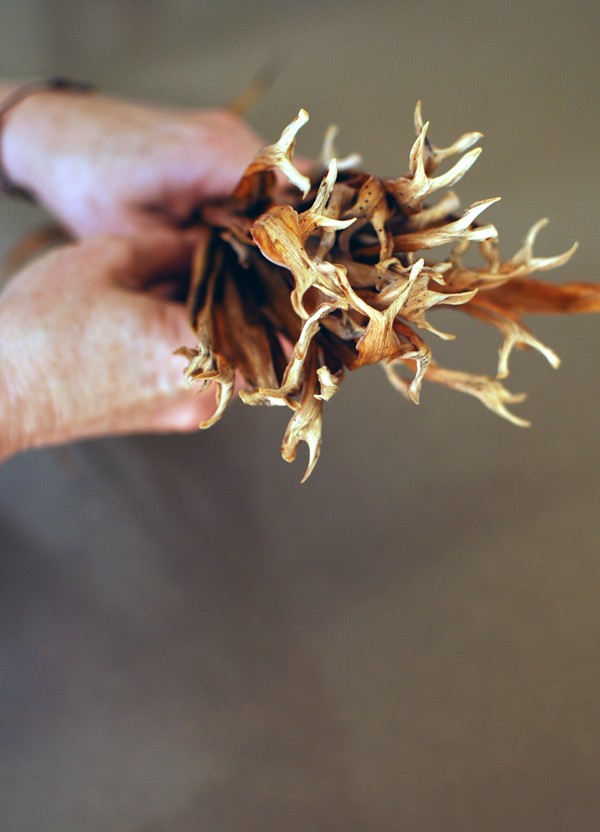 What are the essential items in your workspace?
Fibres. Found objects – I like to get inspiration from looking at shapes and textures.
Do you have a favourite tool that's essential to your work?
My green rubber thimbles.
What do you love the most about your creative space?
It's also my house. Huge pros and cons, like the washing that needs to get hung out…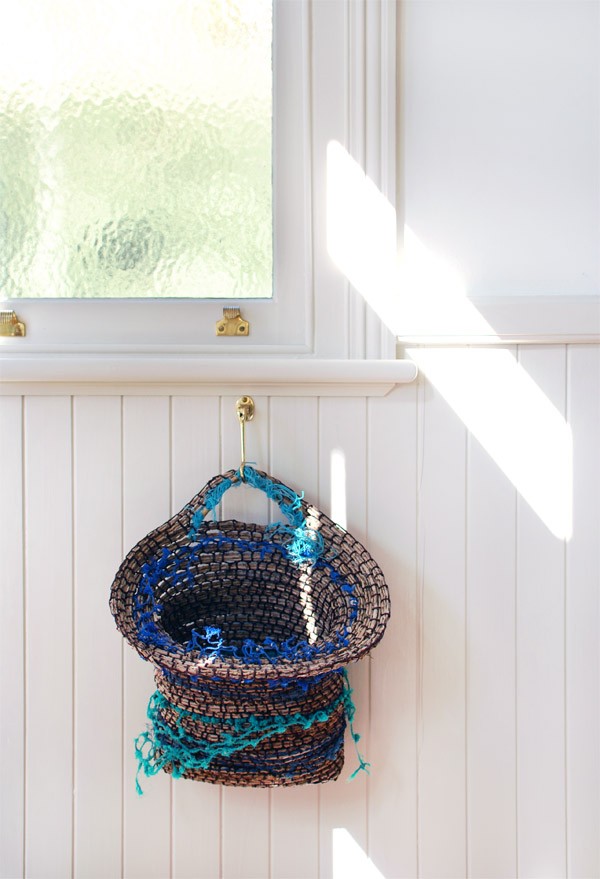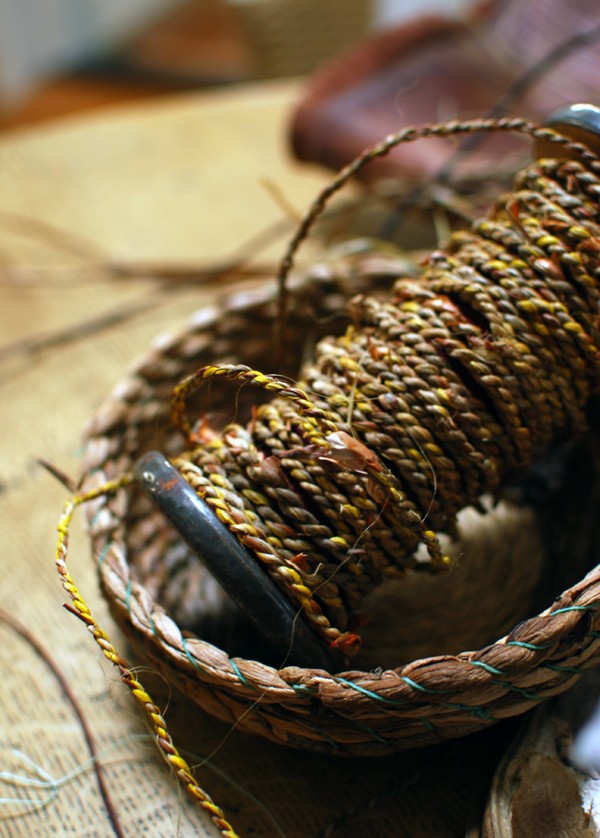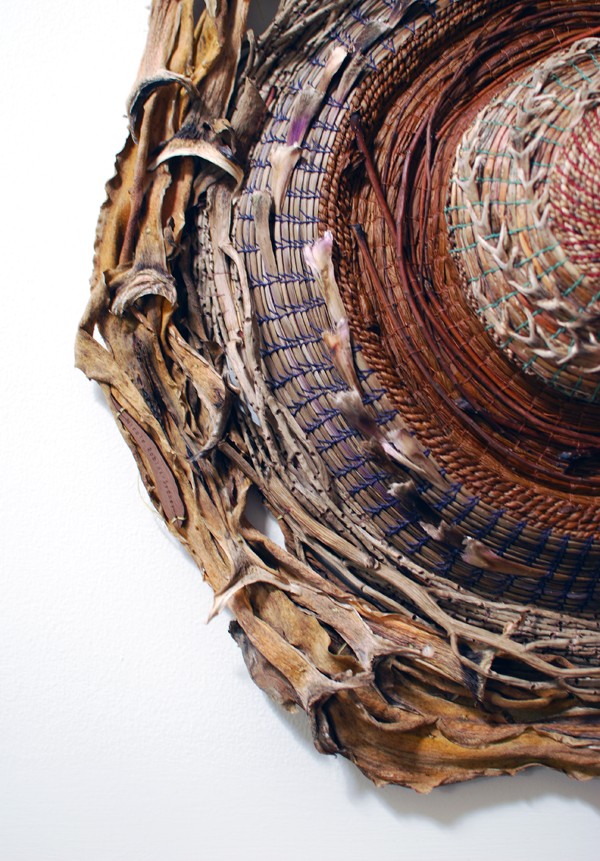 Do you listen to anything while you work?
Podcasts and audio books, mostly.
Favourite work-time snack?
Almonds and lots of tea.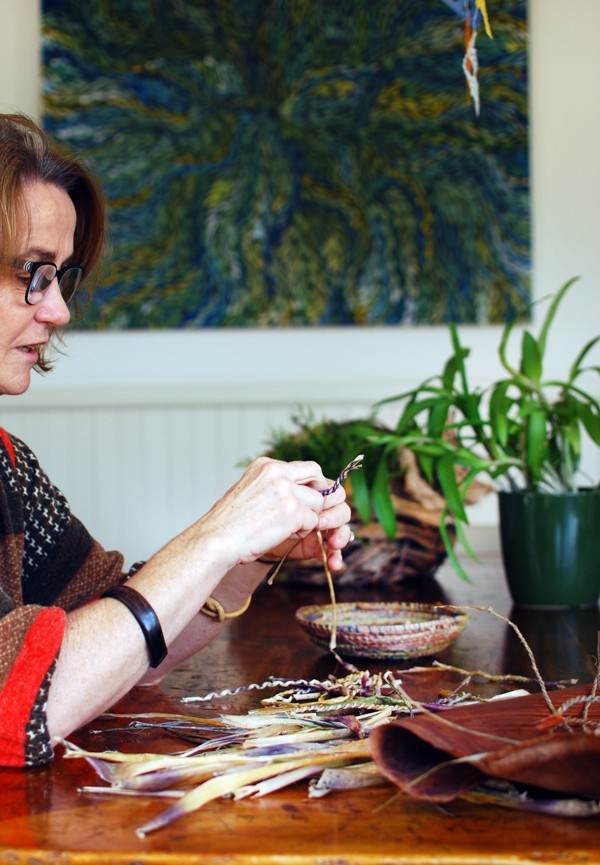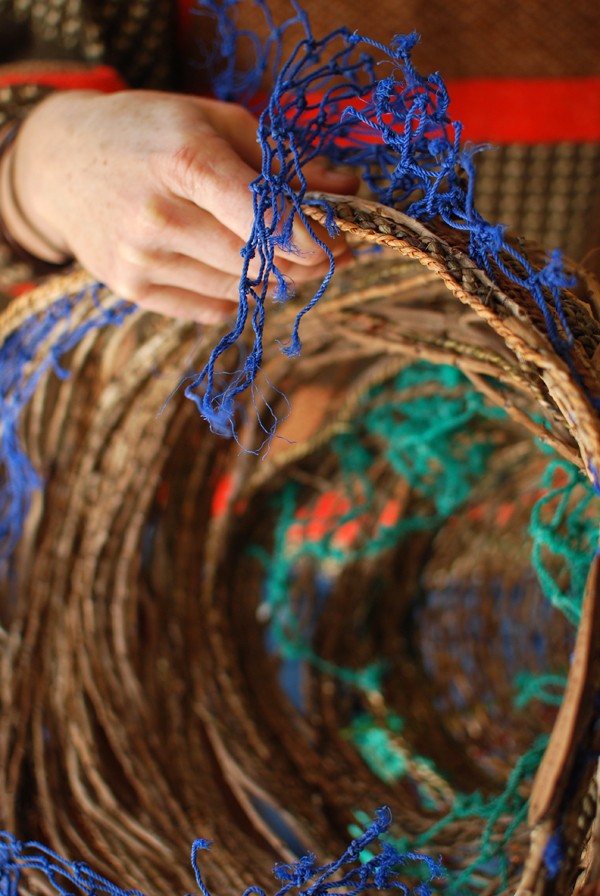 What online resources or apps can't you live without?
Audible.com. I also love seeing what other creatives are doing on Instagram, but it does use up time, so I probably could live without it!
Habu Textiles online store for beautiful threads and fibres to mix with my Australian fibres – I am very attracted to a Japanese aesthetic, so just looking at Habu is a visual feast.
The internet – in general – to find out things quickly. I was an adult when it came along, so it still feels a bit magical to be so globally connected.
What's the hardest thing about what you do?
Not being able to stop sometimes!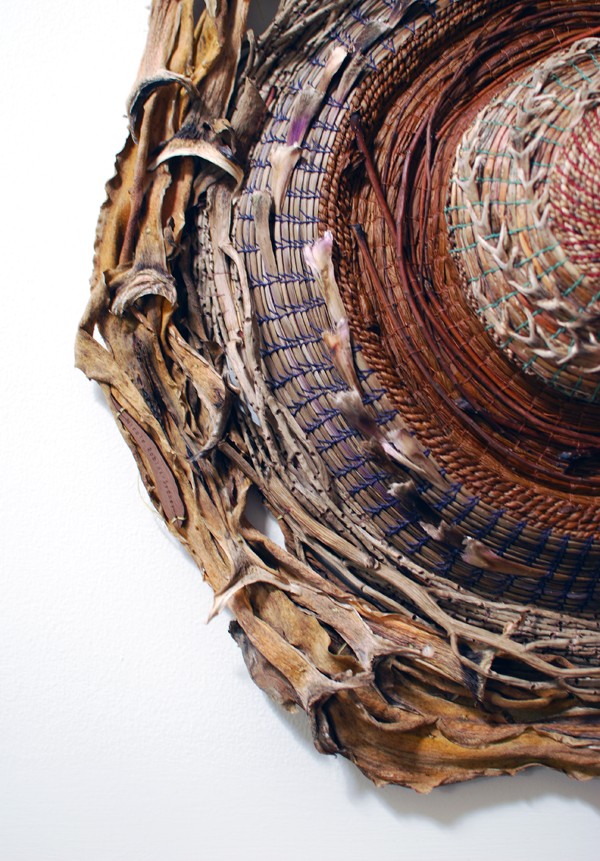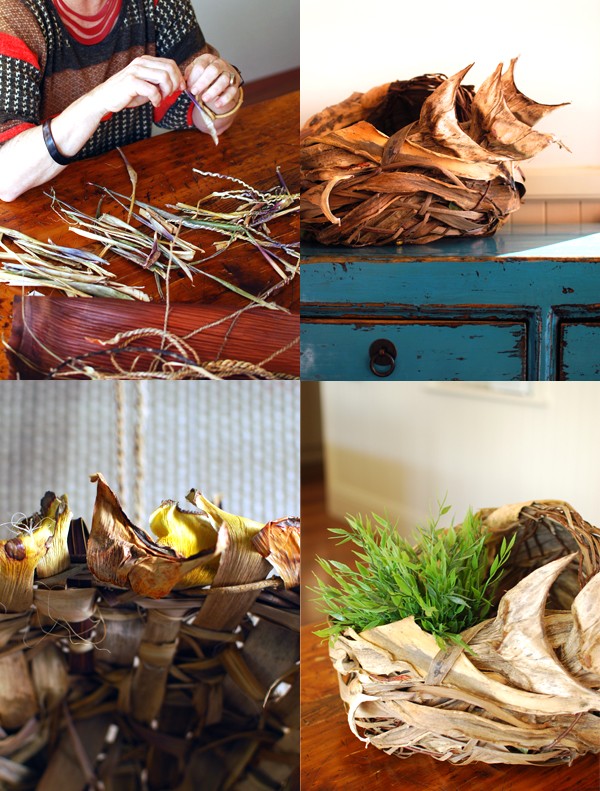 How do you work out the financial aspects of your business? What resources, tips and tools would you recommend?
It is simply not a financial enterprise. I sell my work in mainly four gallery shops in Sydney. Each one is a beautiful space run by very creative people. Because weaving is very labour-intensive and slow, I now have enough places to show my work.
I really value the opinions and feedback of the wonderful artists and business people who support my work, including Meryl at woodpapersilk in Petersham, Ross at Planet in Surry Hills, Melissa at The Design Hunter in Waverley and Kristina at Kristina Brenke Collective in Palm Beach. They've all been so helpful in finding a market for my pieces. Their instincts and curation are spot-on.
I would recommend trying to have this kind of personal relationship with the marketing of your work. It is often a painful chore for makers – and yet it can be a rich source of inspiration. I love dropping off my work and wandering around these spaces – seeing how Meryl, Kristina, Mel and Ross have put together their stores and what other people are up to.
For example, Kristina – my newest connection at Palm Beach – has acquired some beautiful handmade fishing nets and timber skateboards. They are works of art but they also, cleverly, attract men into her beautiful gallery.
Both Meryl and Ross use their front window space brilliantly as an almost separate room – curated sparingly with several artists' work. I get extremely excited to be in a window!
The Design Hunter has an online store and it has been very exciting to see my work sold that way. When something sells it is a "woo-hoo" moment. Not because I am earning money, but because I feel OK to go on making.
What advice do you have for aspiring creatives?
Just keep at it. That is the hardest thing, to hang on long enough to feel happy with what you are producing.
Do you have a dream that you'd love to fulfill?
Endless travel destinations and to visit fibre art forums and workshops all over the world.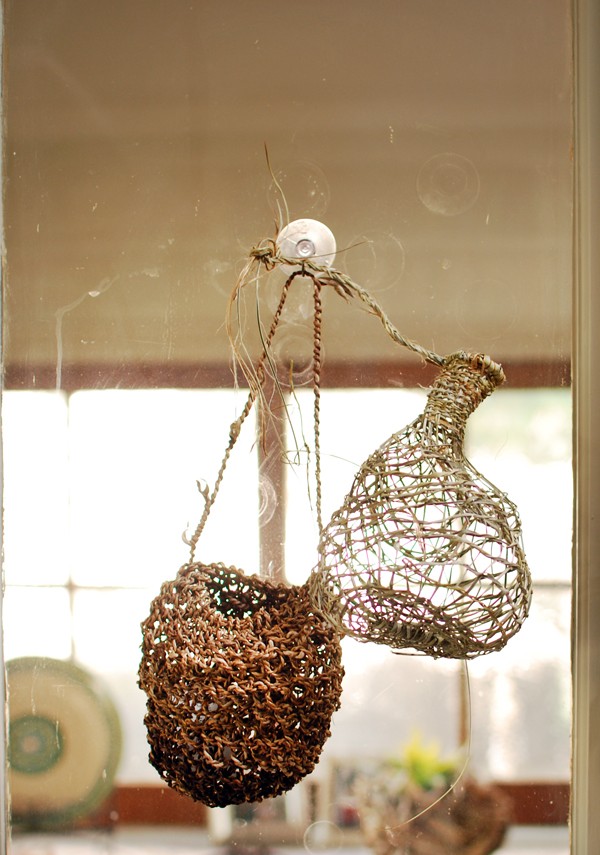 Connect with Nicole on Instagram (where she's known as Loosely Woven Basketry) – it's lovely to follow the progress on the vessels she's making and her creative process.
Stay tuned for more Space to Create posts. In the meantime, catch up on previous posts in our Space to Create series.
Photos by Lisa Tilse for We Are Scout (unless otherwise noted).