Melbourne-based artist Sam Michelle is thrilled to have had her first solo exhibition, Flourish, last month. And even more so that the show, at Sydney's Saint Cloche gallery, completely sold out. When you see Sam's beautiful still life oil paintings of flowers in unique vessels on patterned fabric and tile backgrounds, it's not hard to see why they are so covetable.
Sam is now busy working towards her next three(!) solo shows – you can find the details at the end of this post. Here she shares an insight into her creative practice, her dreams, and the fear that propels her forward on her relatively new path as a full time artist.
Meet Sam…


Where do you live?
I live in Berwick, Victoria, in a home my husband and I built when I was just 19. Now 34, we are having a great time renovating and updating. We live with our two young boys, two old dogs, an old cat and a new kitten.
Where do you create?
My studio is 40 minutes south in Mornington, a beautiful relaxed beach town. I have a studio at Southern Buoy Studios with a bunch of wonderful artists. Southern Buoy is right next door and they build all my frames, canvases and have all the art supplies I need which is super handy!
When do you create? Is it a full time job?
I have been painting full time for the last 3 years and paint, pack, plan or do something within my business everyday. Currently I am about 10 weeks behind on commissions and work which is a (crazy) dream come true.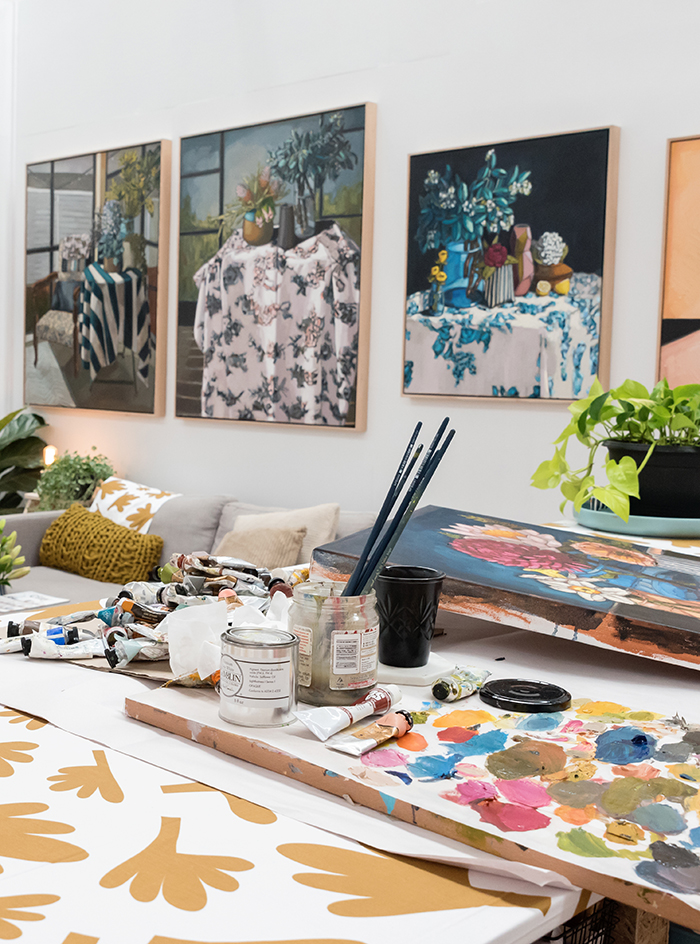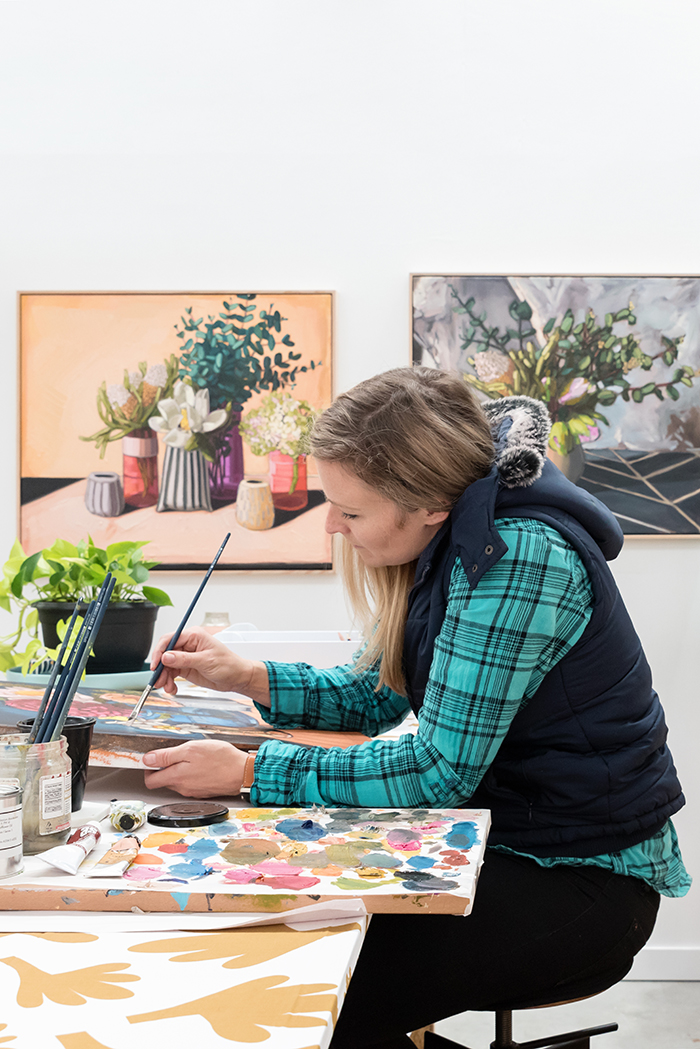 What path led you to this creative place?
I grew up in a creative family and was being gently pushed to study art at university by my NZ art teacher at college, however I had always wanted to keep it as a hobby. I started my banking career at 17 and finished up 3 years ago.
Throughout my banking career I would always paint in my spare time but it wasn't until 3 years ago that I thought that painting full time could be a feasible job. With my business experience and time I had invested into painting, I felt like it could potentially be financially viable. Scared as heck, I quit my job and took the leap. The fear of going back into the highly stressful, uncreative finance industry keeps me pushing myself forward with my painting.
What's your elevator pitch? How do you describe what you do?
I am an oil painter who creates painterly still life works. I paint flowers that are in season and love collecting ceramics, vases and textiles to create my still life set ups. I love every part of painting, from the prep to the packing. I love creating and working on commissions and learning the reasons for particular content people wish to use, from hydrangeas that remind a person of their grandmother, to a special meaningful vase.
How would you describe yourself in six words?
Mumma, hard worker, creative, go-getter, happy, independent.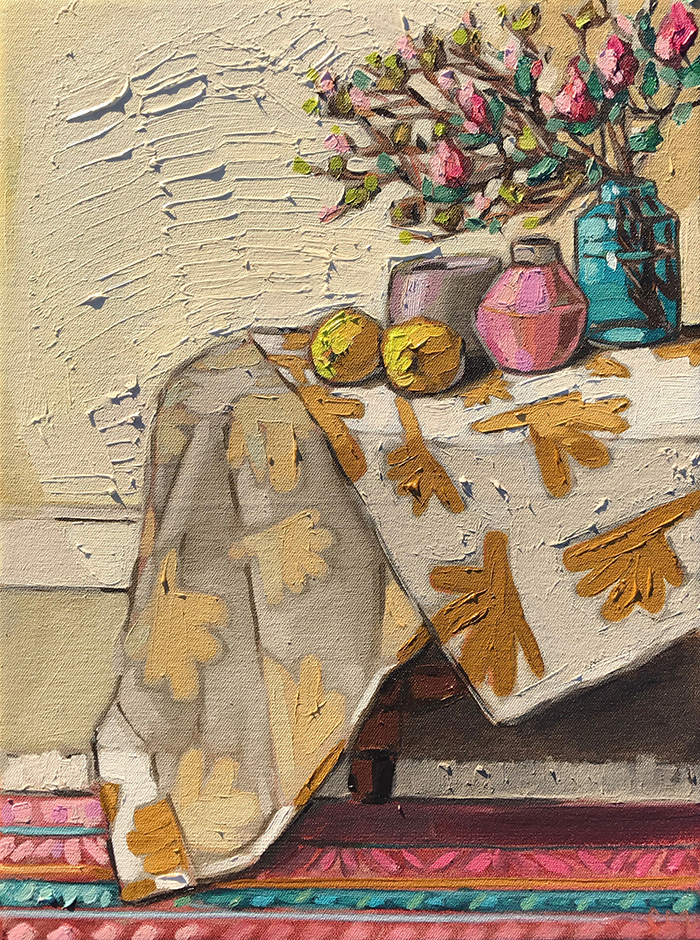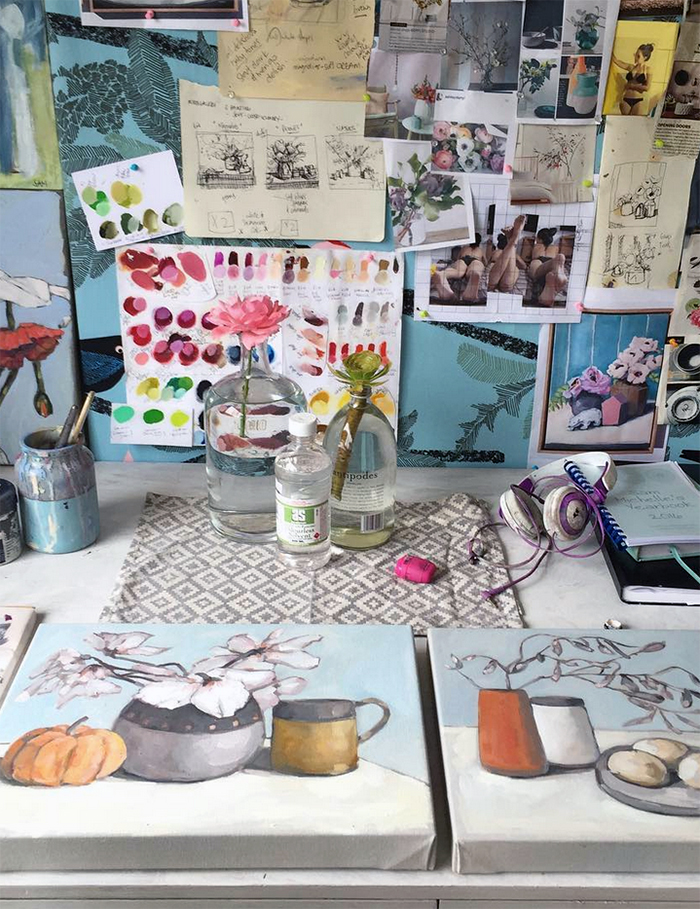 Where do you find inspiration and motivation?
I find inspiration in the seasons and shopping at florists. I find inspiration from ceramicists and my ceramics collection. I find colour palette inspiration in all sorts of places, the laundry basket and interior magazines to name a few.
Motivation for me comes from Instagram and the beautiful comments and messages I get from people that follow me. Selling a painting is my magical motivation potion, the feeling that someone has connected with something I created and spent hours on, what a high that feeling is!
What are the essential items in your workspace?
I have 6 big draws full of oil paint, I love collecting new shades of paint and trying new brands. I get so excited to squeeze a little onto my reference sheets which I use all the time to help pick the right shades to use. I also must have music and have a sweet pair of wireless headphones so I can move around and boogie 😉
Do you have a favourite tool that's essential to your work?
I like to be very self sufficient so I would have to say my essential tool is my treasured Milwakee drill. I order my canvas and frame at the same time from Southern Buoy so when the painting is finished, I can frame it with my drill and can send it to where it is heading to.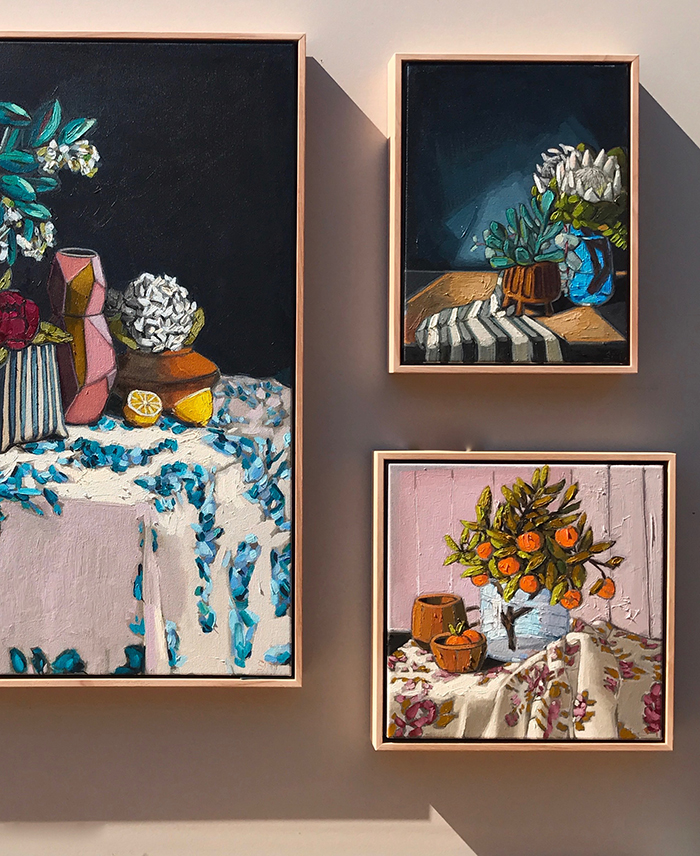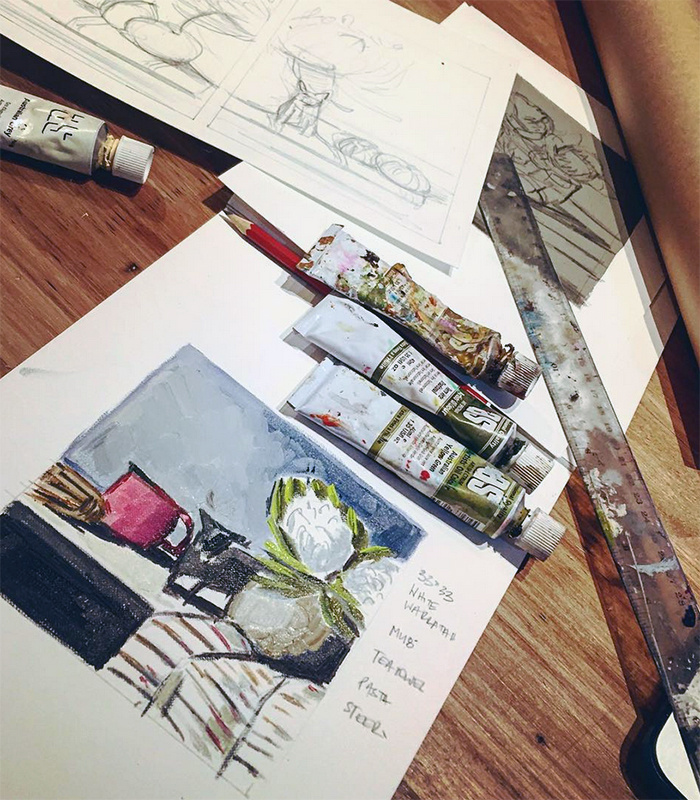 What do you love the most about your creative space?
I LOVE my studio. I loved working from my home studio but after 3 years it became hard to separate life and work and I found I would work day and night and was burning out a little. I love that my studio is large enough and the walls are high enough to get canvases up to see how a collection will potentially look, this is the process I would use at home but never had quite enough room. I love being around other artists for support and chats. I love that my studio is set up in a comfy way so that my boys can come and hang out if they are a little sick or on school holidays.
Is there something you don't like, or would like to change?
I love that I am doing what I love, everyday. In the last 3 years I have never had that awful Sunday night feeling of, 'oh man, Monday tomorrow and another week of work'. I am a very lucky artist and have some wonderful support and mentors. I have never been happier and I can honestly say that I wouldn't change a single thing.
Do you listen to anything while you work?
Spotify is great, I put my newest fav song on repeat and zone out. On the drive to the studio I put on a podcast which gets me pumped up, I have been loving 'Starving Artist' by Honor Eastly, 'Dumbo Feather' podcasts, 'Art for you Ears' by the Jealous Curator, and 'After the Jump' by Grace Bonney.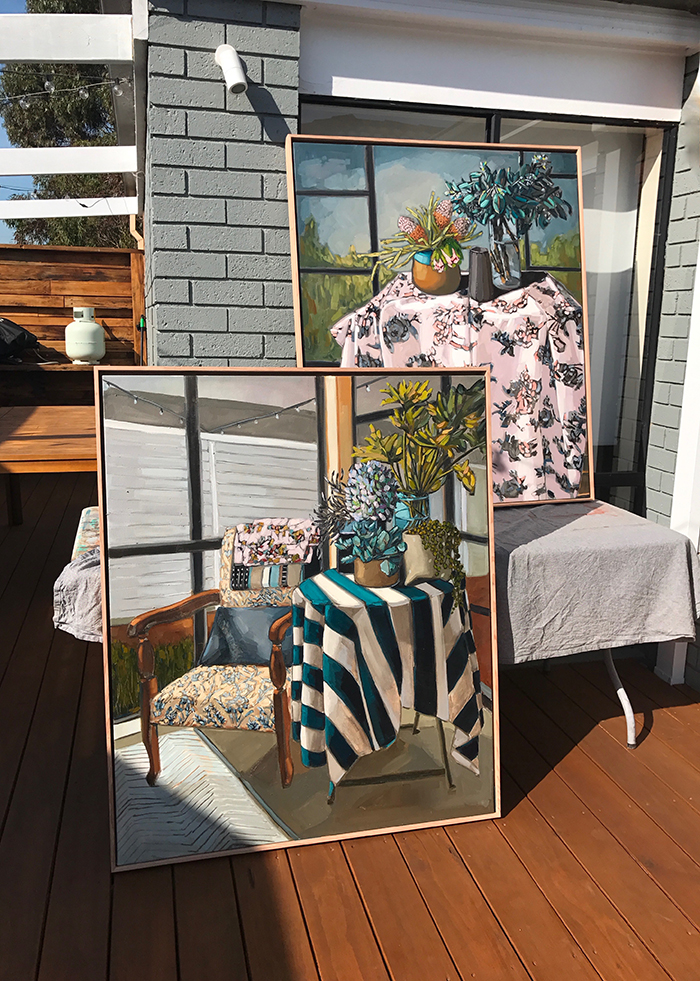 Favourite work-time snack (or beverage)?
Lots of black coffee during the week and corona on a Friday arvo.
What would be your dream job or collaboration?
My favourite Australian artist and I are planning a joint still life show together during 2018, this is a dream collaboration of mine and I can't wait!
Tell us five online resources or apps you can't live without.
Instagram, Instagram, Instagram, Instagram, Instagram!
I also use google analytics, mailchimp, and wix a lot too.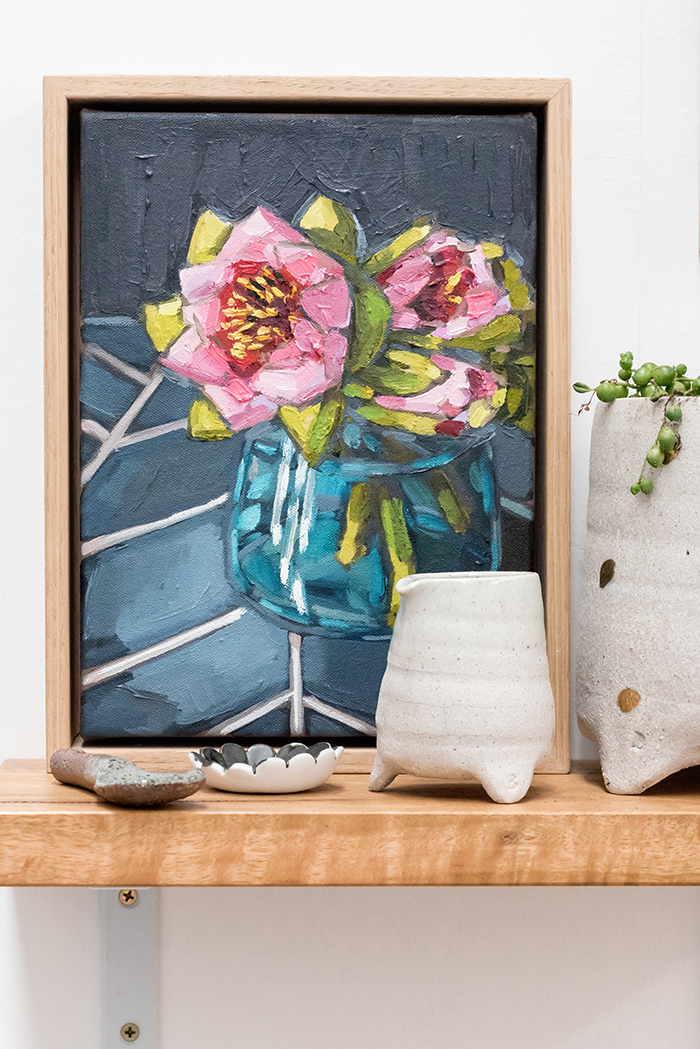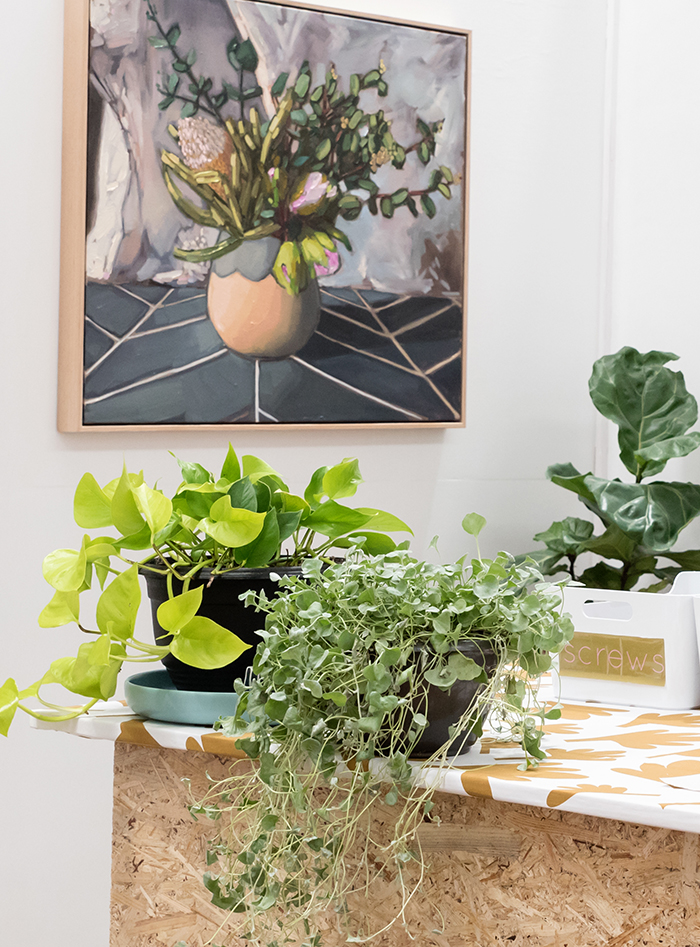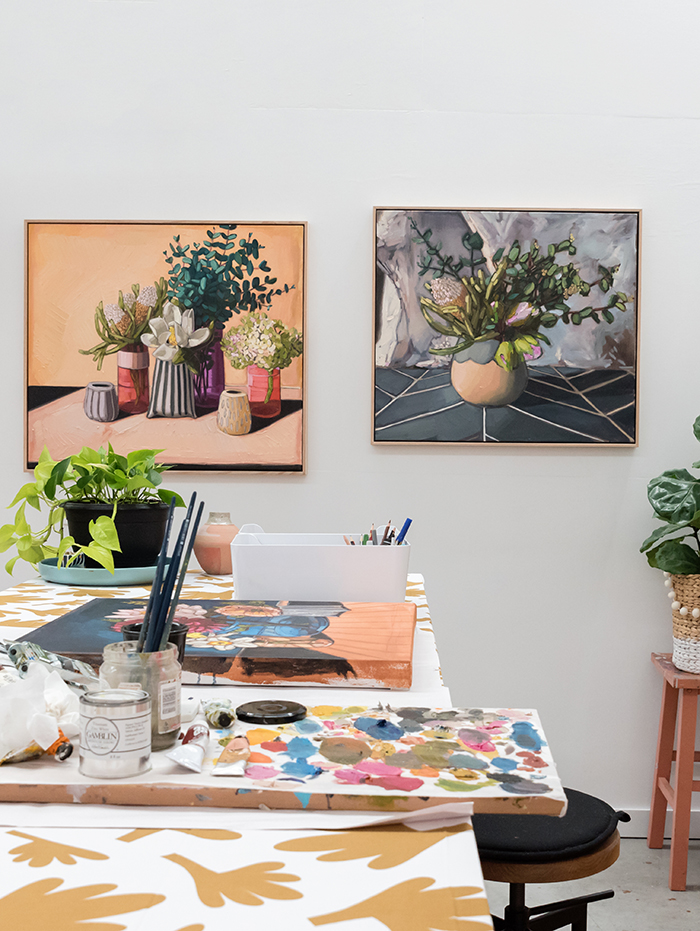 What's the hardest thing about what you do?
Family and life can throw little curve balls in and mix up my painting schedule so keeping up to date and meeting deadlines can be hard at times.
How do you work out the financial aspects of your business? What resources, tips and tools would you recommend?
For the last 3 years I have been using the Makers Yearbook. It is a great printed resource that I keep in my handbag. I helps with planning and reviewing and just generally keeping me on track. It has put me into a great system/habit of reviewing my goals and important business aspects each month and also the habit of completing my profit and loss monthly. I would highly recommend it to any creative looking to grow their business.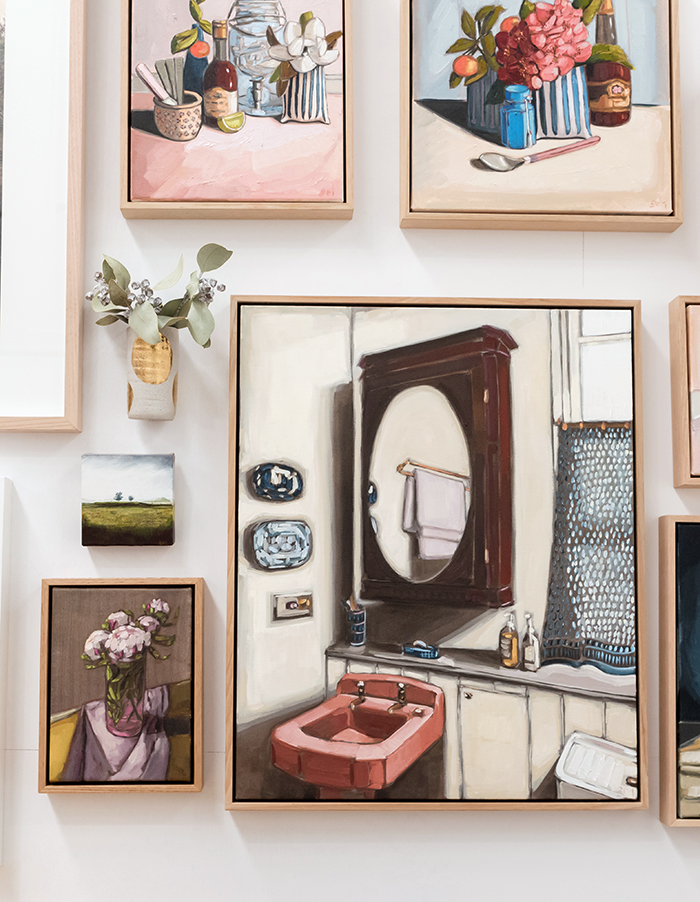 What advice do you have for aspiring creatives?
Take risks and take advice.
Pay it forward, make connections, be brave and if you're not, just pretend and practice to be.
Use negative remarks as a special kind of motivation. For example, when people tell you that all artists struggle or the economic climate means you will find being an artist hard, use these comments to push you to prove them wrong.
If you are are having a bad day or are knocked back from an art prize, only let yourself be down for a day max then move on and focus on what you can control.
Do you have a dream that you'd love to fulfill?
My long term dream (20 year+) is to have a country property with a studio gallery. I would love to use the gallery to exhibit my work along with work from young artists I hope to one day mentor.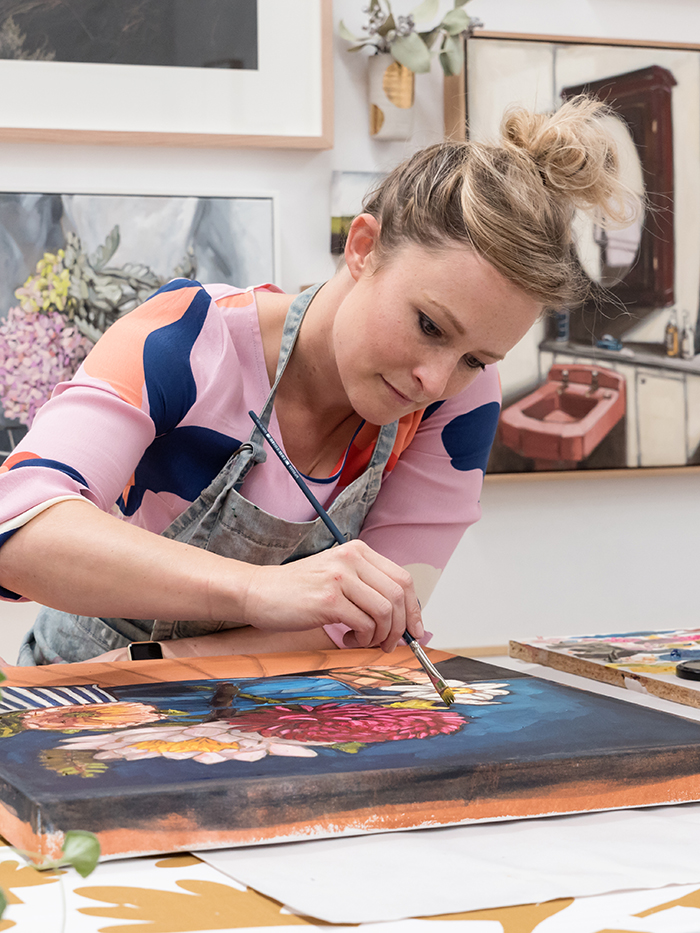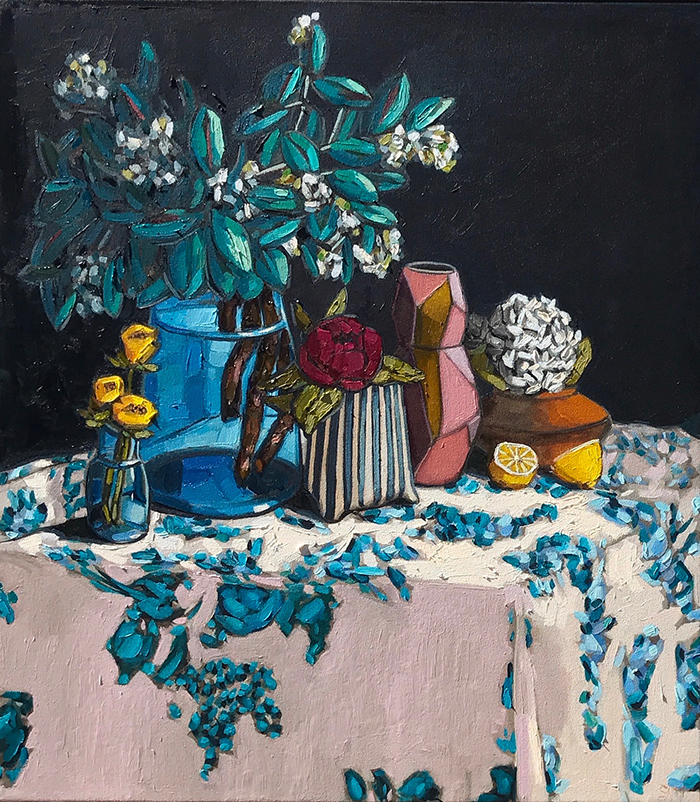 Sam Michelle's upcoming solo exhibition is Effloresce at KAB Gallery, in Terrigal NSW, which opens September 2nd 2017. Following that she will have two more solo shows this year, in October and December in Melbourne.
You can connect with artist Sam Michelle here:
Visit Sam's website
Find Sam on Instagram @sammichellepaintings
and on Facebook @sam.michelle.paintings
To take a peek into a whole range of other artists' and creatives' lives and studios, visit the We Are Scout Space to Create archives.
Save
Save
Save
Save