Have you seen the incredible creations of Sydney-based paper artist Gunjan Aylawadi? Painstaking in construction and meticulous in detail, Gunjan's art is unique and mesmerising. Strips of paper are rolled and coiled then woven and glued into place to create dimensional artworks.
These mathematical and geomerty-based paper constructions are no doubt influenced by her pre-art career as a computer science engineer. It's always fascinating to discover the background of artists – like many, Gunjan's creative path has been an interesting and somewhat unplanned one.
Gunjan has a solo exhibition opening at Koskela this weekend (find the details at the end of this post), so it was an opportune time to catch up with her in her studio recently with many works in progress.
Meet paper artist Gunjan Aylawadi…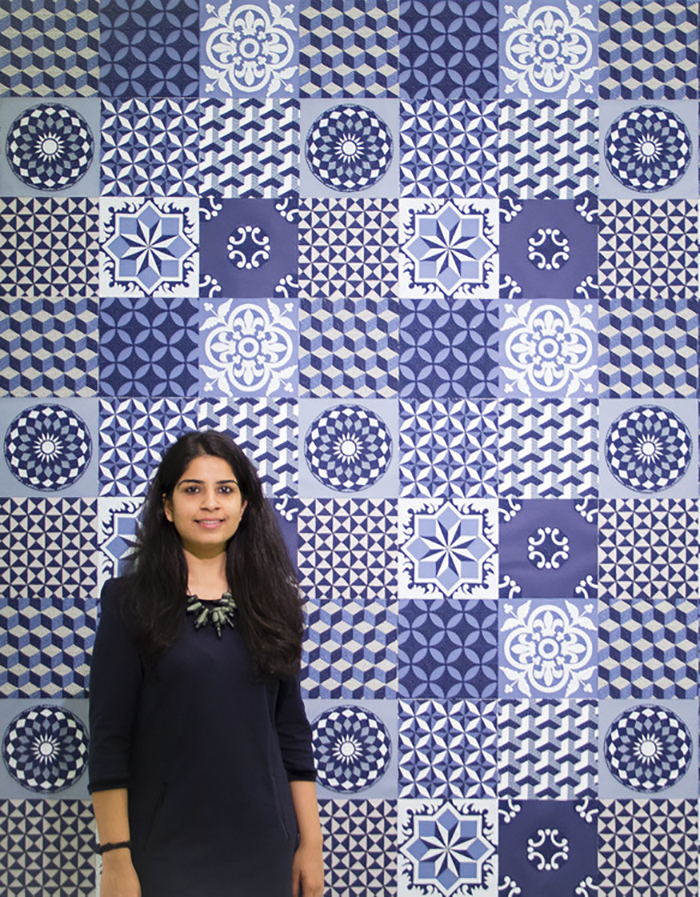 Where do you live?
I live in a gorgeous, light filled apartment in Kirribilli, Sydney with views of the harbour and harbour bridge from every window. I moved here with my husband five years ago…not knowing how long we'd stay. Currently, we never want to leave and feel lucky to have found this spot in paradise. We love how close we are to the city yet coming home feels like going to a resort every time!
Where do you create?
In my home studio – which is a spare room in our apartment. Most of the space is taken up by a large plan drawer that stores all my papers flat. There's bits of curled up paper all over the floor. Plenty of books, small tools that I use and glue bottles to last me a year!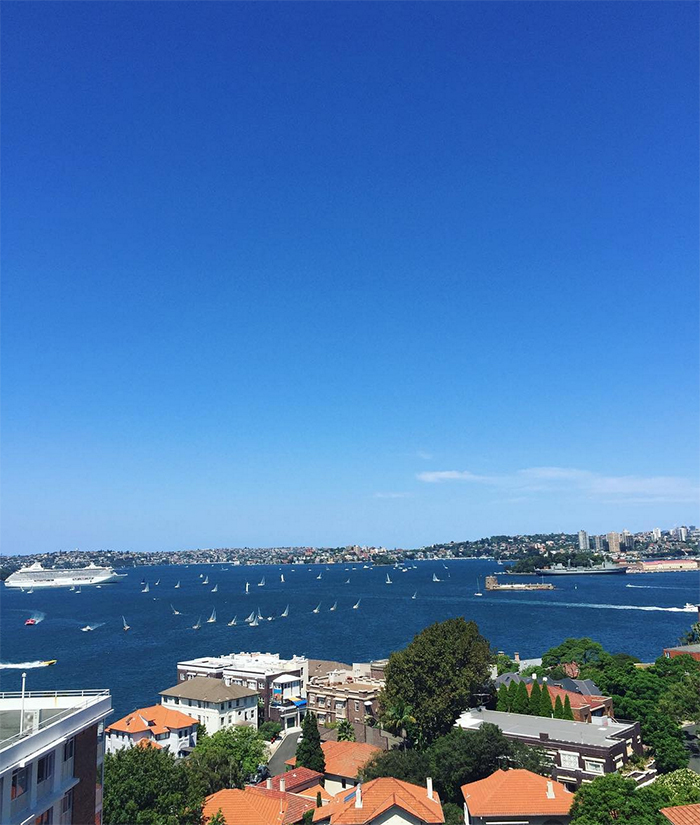 When do you create? Is it a full time job?
I've been making art (professionally) for the last 4 years – for the first two years I was studying industrial design and for the last 1.5 years I've been setting up a food startup, so 50% of all my time does go to art. I start at 9am and finish at 11pm with small meal breaks in between. Some days I end up cutting and curling papers for unto 14 hours straight!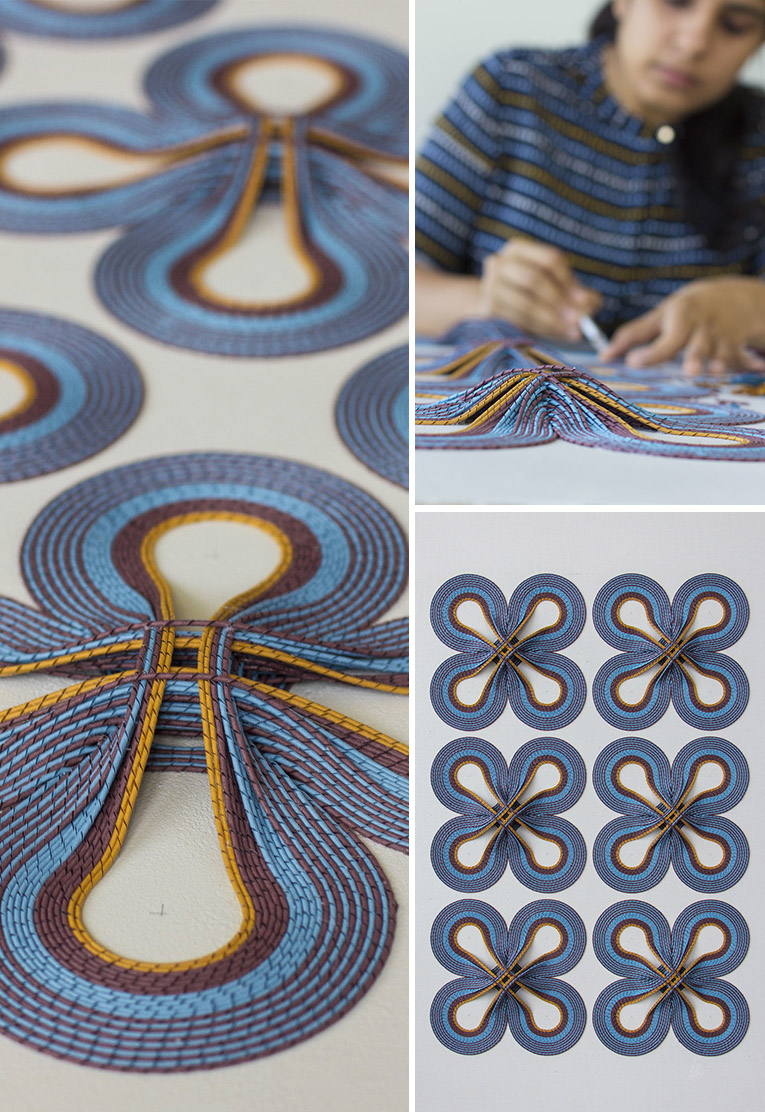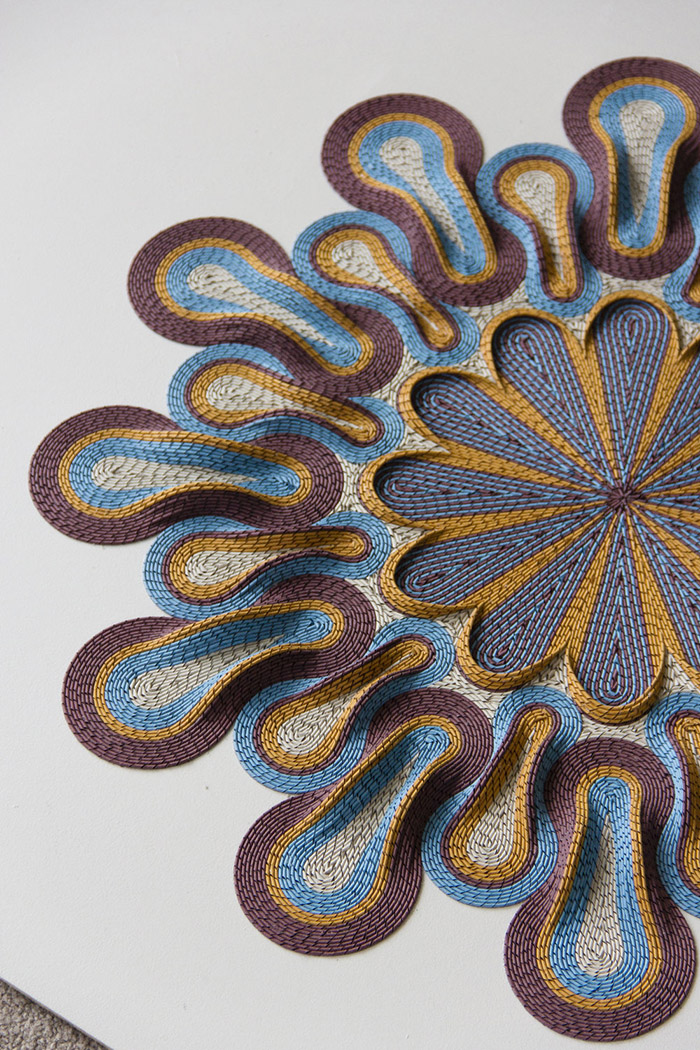 What path led you to this creative place?
Art was always my thing but like most kids who grow up in India, I studied to be a computer science engineer and had a career as one. In 2010 I moved to the US to be with my husband. No work visa meant that I had a lot of time on my hands and not much to do. I happily took to art as a way to do something but still never thought of it as a serious career choice. That one year of making things all the time and exposing myself to art galleries in Philadelphia gave me the art bug. I loved making things with my hands and it was hard to stop after that period. Paper was my go to material because we were travelling and moving around a lot and it could come with me anywhere! But it became clear to me that I wanted to do something different with it that no-one else was doing. That's how I came up with the paper tapestries and started showing work here in Sydney in 2013. One opportunity led to another…and the internet has been the best place. The CODA museum in Netherlands saw my work on the internet and invited me to do a large scale install at the paper art biennale.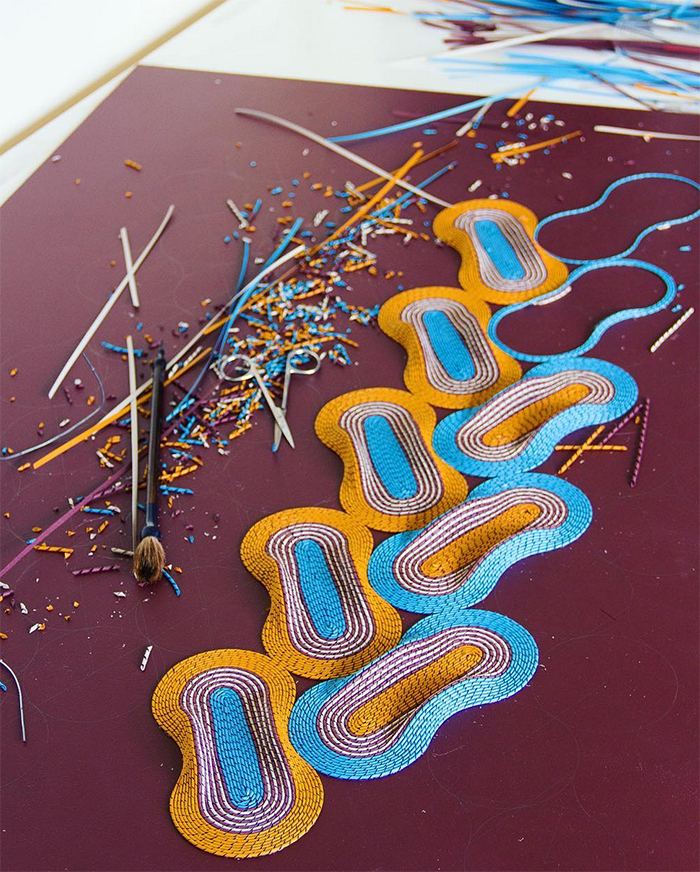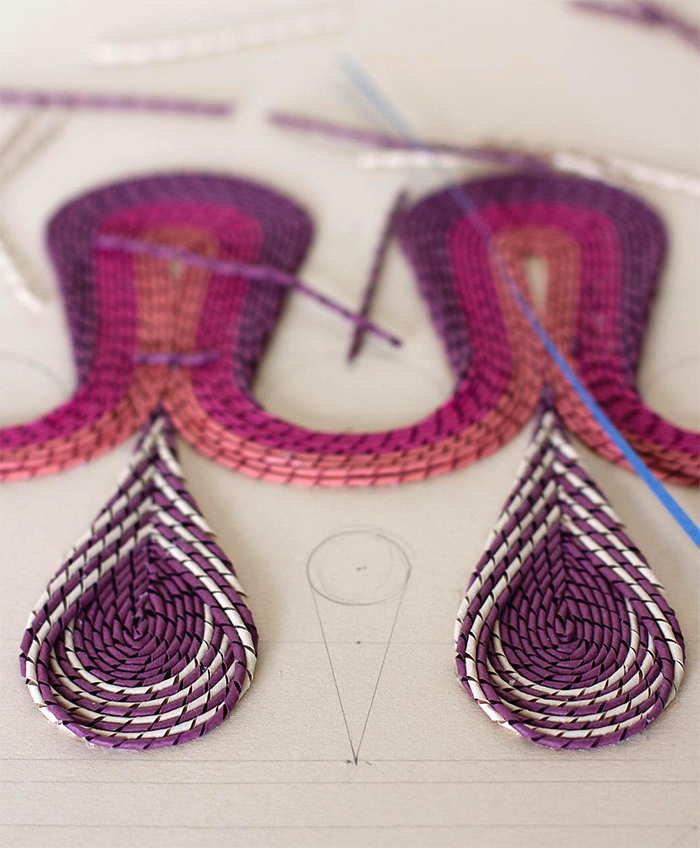 What's your elevator pitch? How do you describe what you do?
This is the hardest bit. I find it very hard to explain to people what I do. I am a paper artist but I use paper in a very specific way. And geometry is a big part of my work too. I mostly give up trying to explain and end up showing pictures of my work to whoever asks 🙂
How would you describe yourself in six words?
Curious, self motivated, anxious, impatient, doer/maker, creative.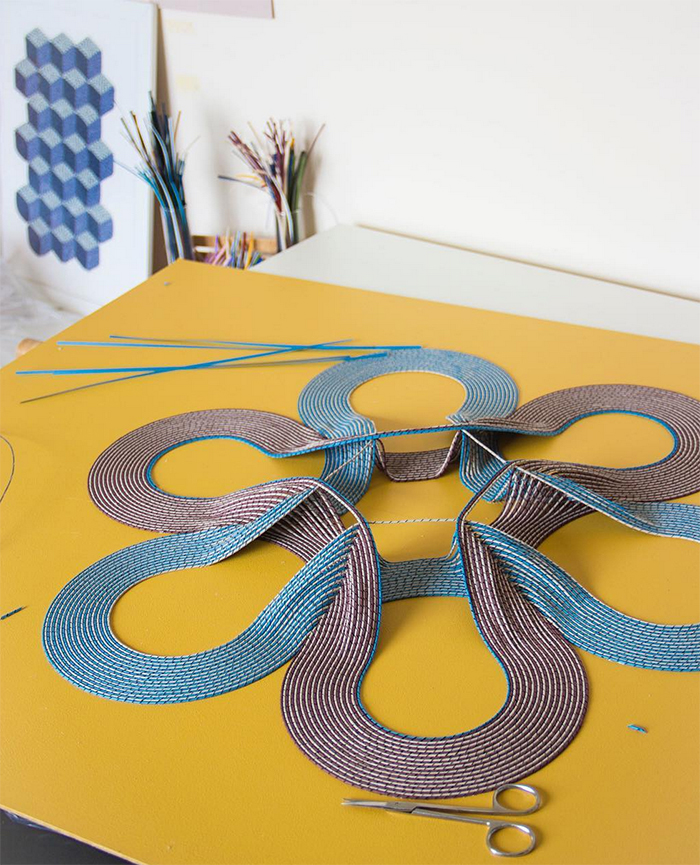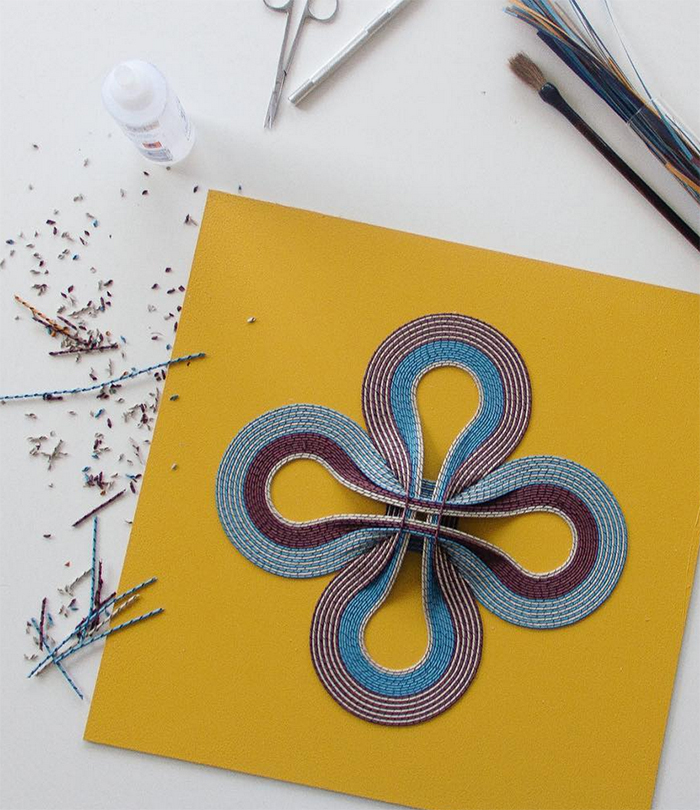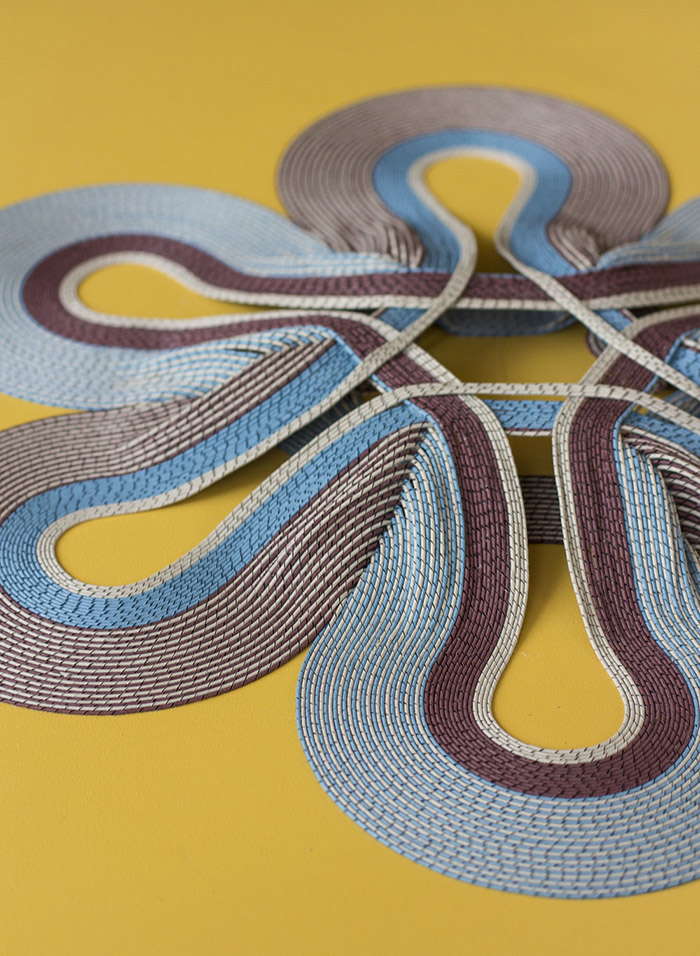 Where do you find inspiration and motivation?
For inspiration I turn to architecture, textiles, tribal art and fashion. Motivation – a good idea in my head that I really want to see come to life provides a lot of motivation for me! I love seeing ideas come to life! It is my biggest high!
What are the essential items in your workspace?
Paper, a good sharp edged geometry set, sharp pencils, compass, glue, wire, a guillotine and coffee!
Do you have a favourite tool that's essential to your work?
A guillotine – for cutting clean edged paper strips. I've been using a Jastek one for the last ~5 years and change the blade every year. It is essential to cut even paper strips and that is what gives the uniform looking tapestry in the end.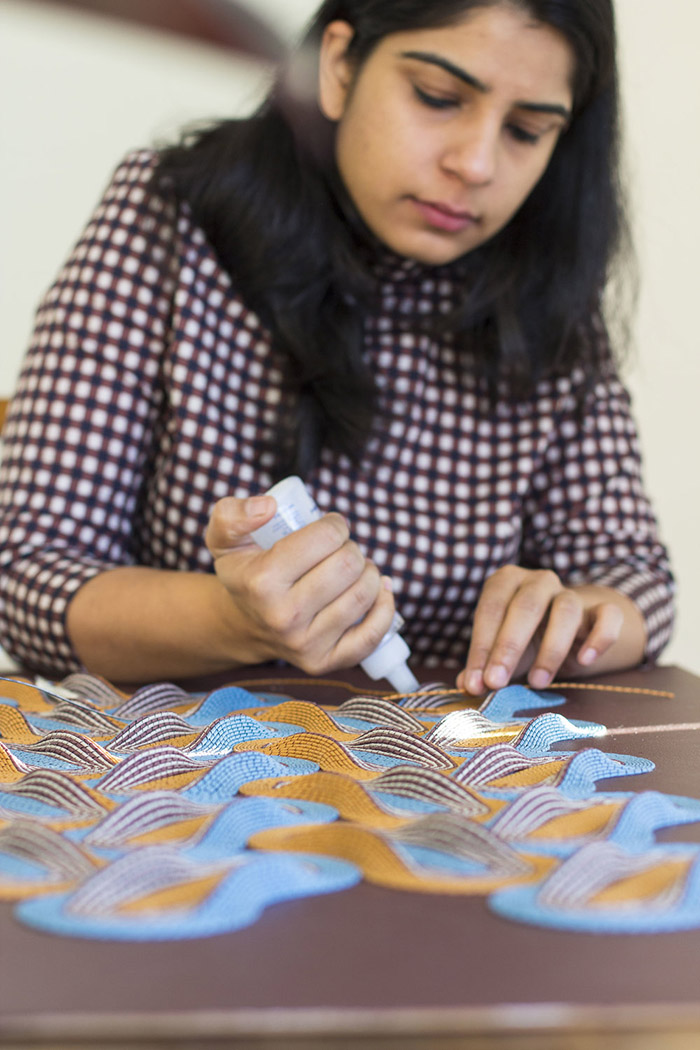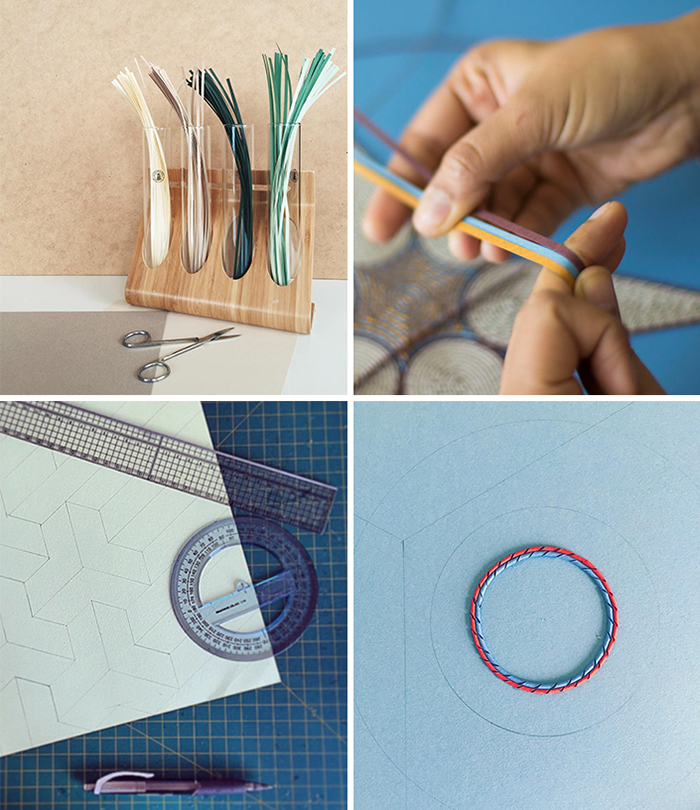 What do you love the most about your creative space?
The large window, the view of the beautiful harbour and the chance to be in touch with the amazing Sydney weather at all times! But mostly I feel lucky to have a space to create at all! It is a privilege! Not having to travel to get here and access to snacks anytime is a plus too!
Is there something you don't like, or would like to change?
I wouldn't mind if someone took care of all the boring tasks and I could focus only on making. I'd also like to bring more plants here!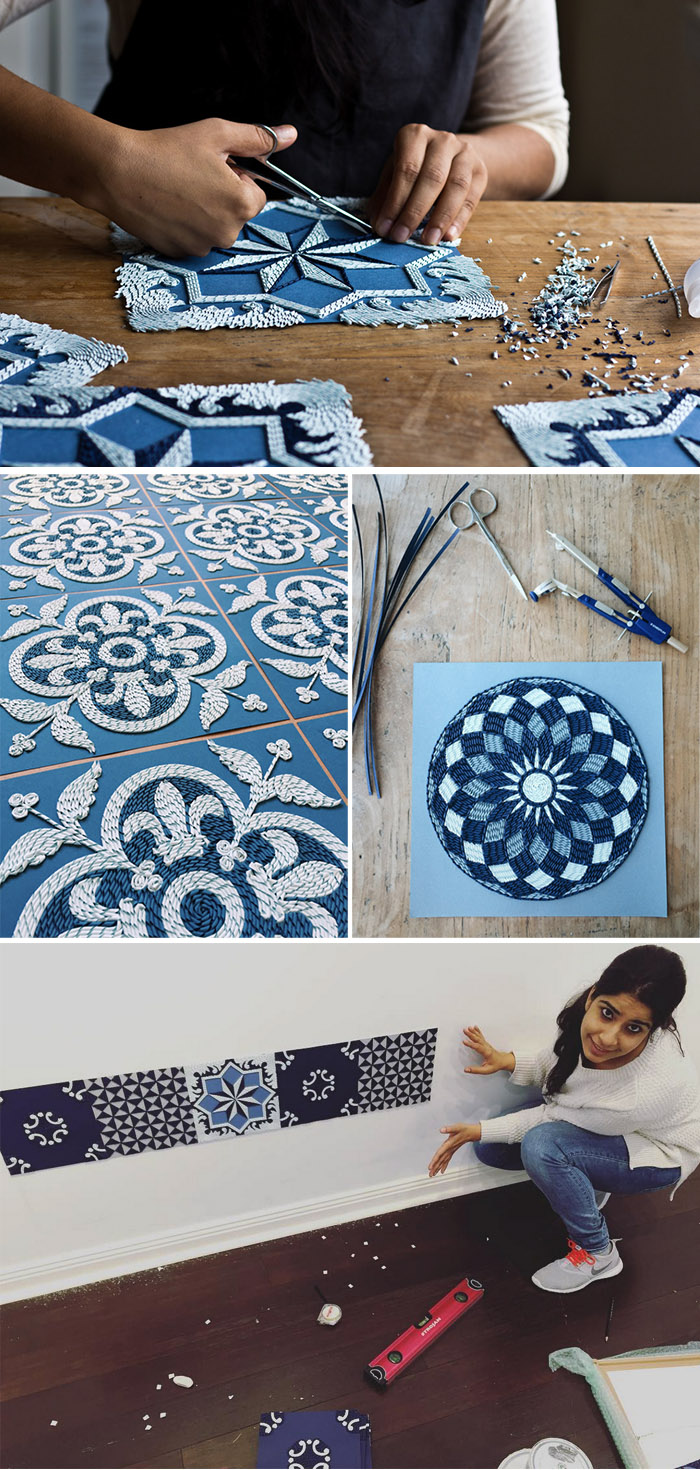 Do you listen to anything while you work?
Oh yes – I am always listening to something or the other – mostly podcasts. My favourite ones at the moment are The case file, The enquiry, How I built this, Beautiful anonymous and On Being.
Favourite work-time snack (or beverage)?
Coffee and rice cakes with real peanut butter and honey!
What would be your dream job or collaboration?
I'd love to see my work translated into prints or relief work for clothes. But I try to not decide a direction for myself. All my work is a result of not knowing where I was going and just playing/ having fun with it. I couldn't have imagined this. I want the future to be something that I can't imagine right now!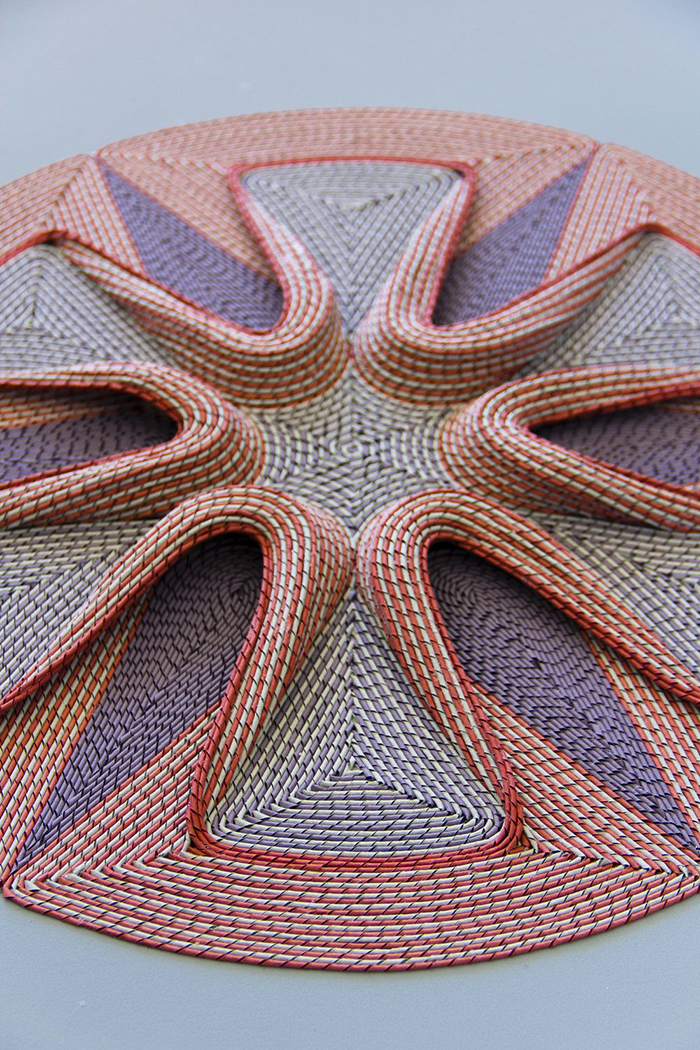 Who or what are your biggest creative influences?
There are many but some of the top ones are Agnes Martin, Sheila Hicks, Mark Rothko – I love works that have a sense of quiet and sensual texture. Japanese Zen gardens have been a huge influence too.
Tell us five online resources or apps you can't live without.
Instagram and wherever that takes me. Google images is a good way to find something unexpected. The podcasts app.
What's the hardest thing about what you do?
Training the mind to be in that space where making work is everything. My work is both physically and emotionally very demanding. And somedays being in the right mind space lets men create some really challenging pieces.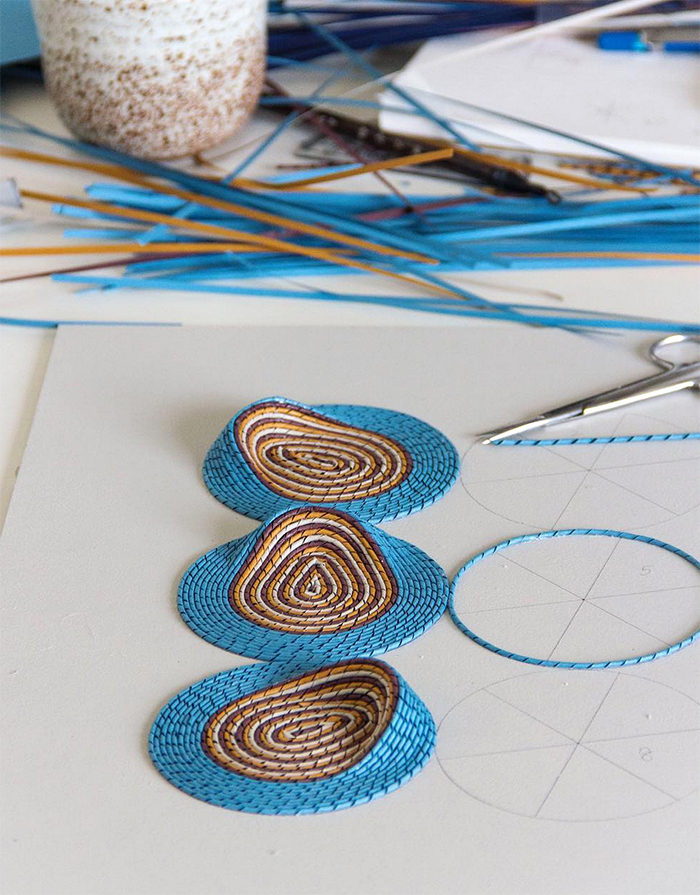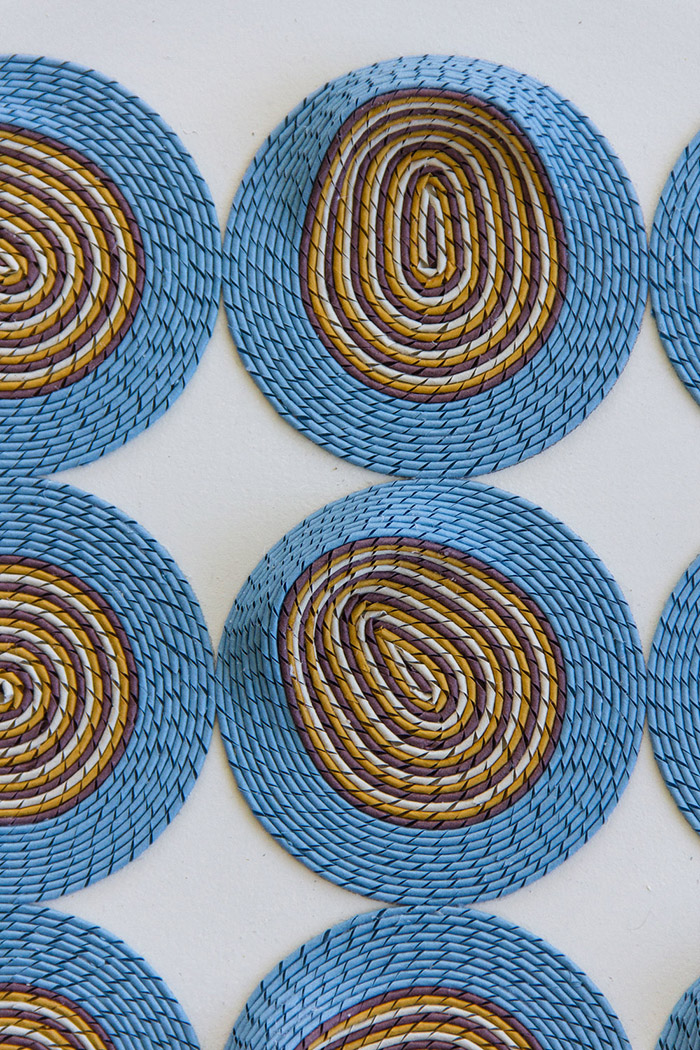 How do you work out the financial aspects of your business? What resources, tips and tools would you recommend?
People. Asking for help from the right people and asking often has helped me a lot. My friends in the art world who have a lot more experience than me have been precious. Also, acknowledging that I know nothing and sharing my specific circumstances with these people really helped get the right advice.
What advice do you have for aspiring creatives?
Take your pleasure seriously. My husband lives by this and gave me this advice very early on. Not worrying about anything and fearlessly making work was and is very beneficial for me. All of us creatives are here not only because we love doing this but because we can't stand not doing this – not losing sight of the pleasure it brings at the hardest of times has been helpful.
Do you have a dream that you'd love to fulfill?
My dream is more an ongoing dream – I'd like to wake up feeling creative and curious everyday of my life and never stop.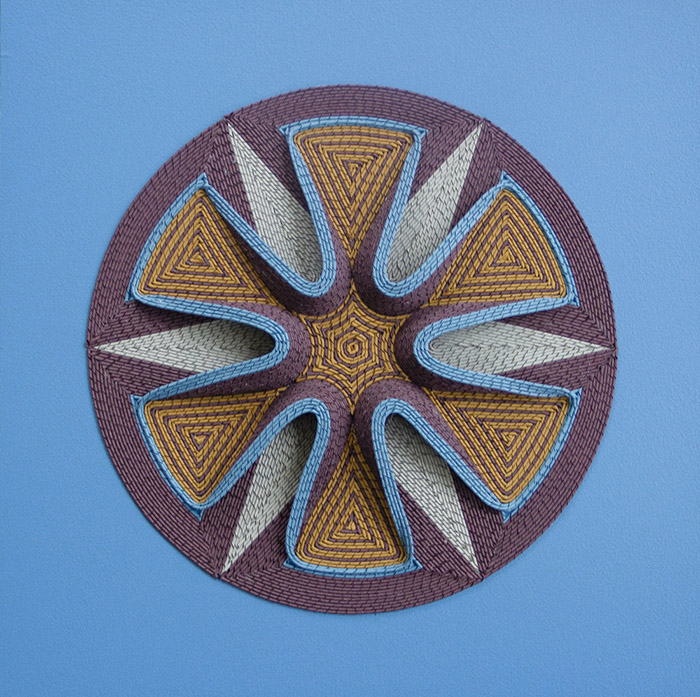 Gunjan's exhibition Place for Prayer opens at Koskela this Saturday, 24th June 11am-1pm, and runs till 23rd July. Find out more details here.
You can connect with paper artist Gunjan Aylawadi here:
Visit Gunjan's website
Find Gunjan on Instagram @gunjanay
and on Facebook @PaperArtByGunjan
To take a peek into a whole range of other artists' and creatives' lives and studios, visit the We Are Scout Space to Create archives.
Save
Save
Save