Expat Australian designers Joel & Kate Booy are responsible for one of the standout pieces in IKEA's new PS 2017 collection. Hailing from Brisbane, the duo are now based in The Netherlands and their design studio, Truly Truly, produces multidisciplinary work across objects, furniture, lighting, textiles and spaces.
This is the first time that IKEA has collaborated with Australian creatives for their annual PS range. "We feel so lucky to be invited to design part of this collection for IKEA. The PS collection is very well known in Europe and some really big names in the design world have been a part of it. And here we were, a couple of Aussies who hadn't quite graduated yet!", said Joel.
The sofa that Joel and Kate designed is fun and quirky and so comfy. Importantly, in the spirit of IKEA's PS collections, it's innovative and forward thinking. Kate explains "The sofa is actually 18 standard cushions strapped to a metal mesh frame. The beauty of it is that you can change the cushions, and in fact use any cushions".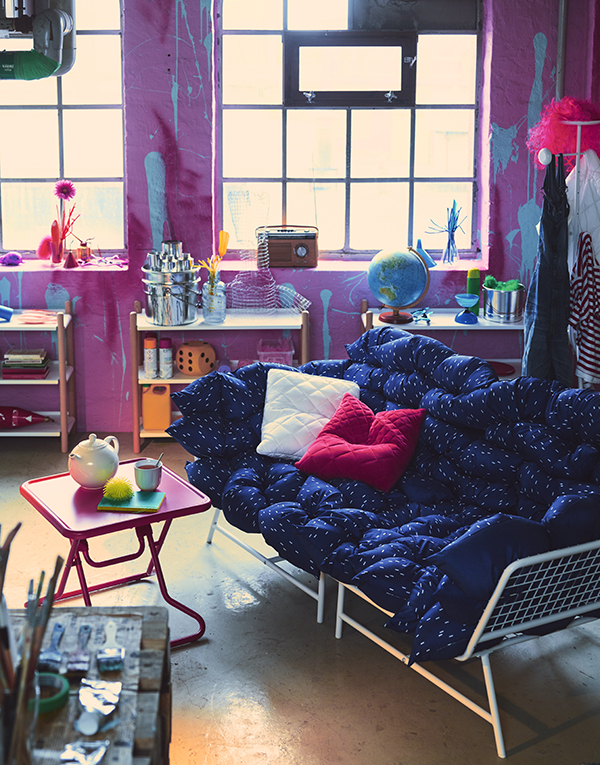 I had the opportunity to chat with Joel and Kate about this collaboration at the recent launch of the IKEA PS 2017 collection.
W E   A R E   S C O U T: Hi Kate and Joel, tell us a little about your design background.
J O E L: While both working as graphic designers in Australia we were asked to do a few 3D design projects for the Judith Wright Centre – a design museum in Brisbane. We discovered that we both loved designing in 3D and it opened up a whole new world of possibilities to us in terms of materials and spaces.
Then I applied to study at the Design Academy in Eindhoven, The Netherlands. They only take 100 people per year, so when I was accepted we quit our jobs, sold our house and moved overseas to start again. Kate worked to support us, while I studied for four years doing a Bachelor of Design Studies in Industrial Design. The Dutch way of doing things is so different to the Australian way, so it's kind of nice to have the two melded together.
S C O U T: The Dutch design sensibility is known for being very experimental and 'out there' – was that your aesthetic before you lived there, or were you influenced by that when you arrived?
J O E L: I think we had a bit of an understanding of what was going on and we liked it. We love the freedom of it…
K A T E: … and the boldness, and daring. They're not trying to make everything look like everything else. They aren't scared and are willing to go out on a limb.
S C O U T: Dutch design definitely elicits a reaction doesn't it?
J O E L: Exactly, and that's something that really works with us, and what we use as a starting point. When we're working and find we are having a reaction to something, that's the part that we take and develop.
S C O U T: So how did the collaboration with IKEA come about?
K A T E: We have a studio space in a building in Eindhoven where there are many other design studios. It tends to attract quite a lot of visitors as it's quite a hub of innovative thinking.
J O E L: Dutch design mainly comes from Eindhoven. Dutch Design Week is held at the Design Academy, and the graduation event is the centre of the Design Week. That's why IKEA and many other big companies go there. And that's why we relocated to Eindhoven too.
K A T E: IKEA was visiting the school and other spots around the town that are interesting in terms of design. Our building was one of those spots. On the day they had seven studios to see, with seven minutes allocated to each, and ours was the last on the list that day. It was such a tight schedule that we didn't think they'd get to us, but they came exactly on time. Twenty people came in and filled our studio.
Joel was two weeks away from graduating at that point and he was super busy, but we couldn't say no to such an amazing opportunity.
S C O U T: How long ago was that?
J O E L: It was 2014.
S C O U T: Have you been working on the pieces all that time?
J O E L: No, but it does take time because they're putting together a whole collection. We started research for the sofa in December 2014. IKEA took us to India on a research trip to their textile manufacturing centre. It was super fun. They told us not to start designing until we got there, to gather inspiration and then go home and start working on things.
K A T E: The idea was to be inspired by what was possible, to see the techniques and processes, ask questions of the specialists and to get some new innovative ideas based on that. It was really interesting.
S C O U T: Who did you have in mind as the person who will buy this sofa, and what sort of space would they put it in?
J O E L: Young people. Uni students. They move around from place to place, living in small houses and with this you actually buy half a sofa. You and your mate buy half each and when you move on to other places you still have your half.
K A T E: It's that adaptability, customisation, and the flexibility of how you might want to use it, that was important to our thinking.
J O E L: And also it's aimed at that audience because they're willing to try something new. It's more than just a nice comfortable sofa as you understand it. IKEA challenged us to think about comfort in a new way. We also wanted to address the idea of the waste that goes with a sofa. So this is just a steel frame and cushions, which you can reuse. It isn't MDF with stuff glued and stapled to it and you throw the whole thing out when you're done with it. You can actually repurpose both the cushions and the frame. And it's super comfortable.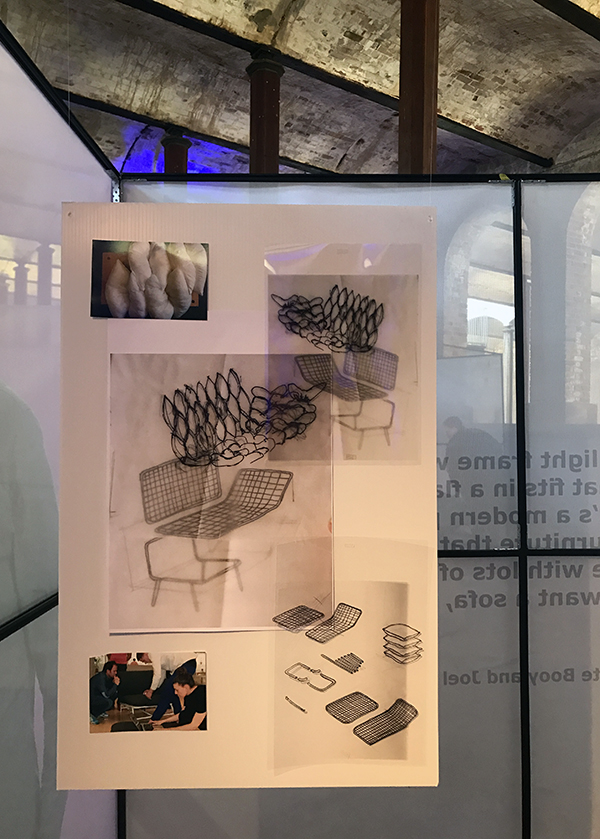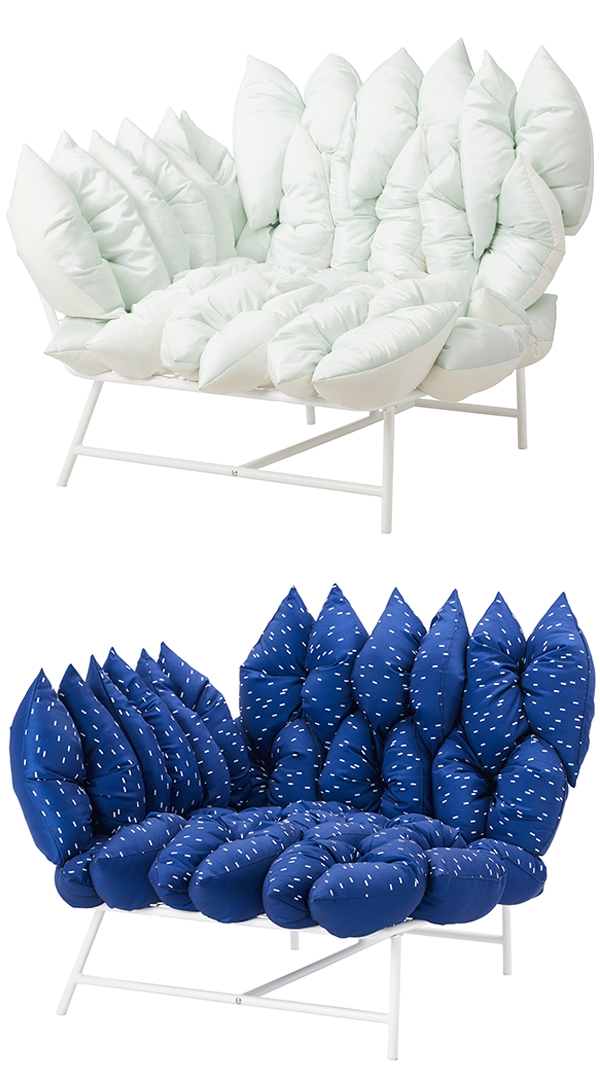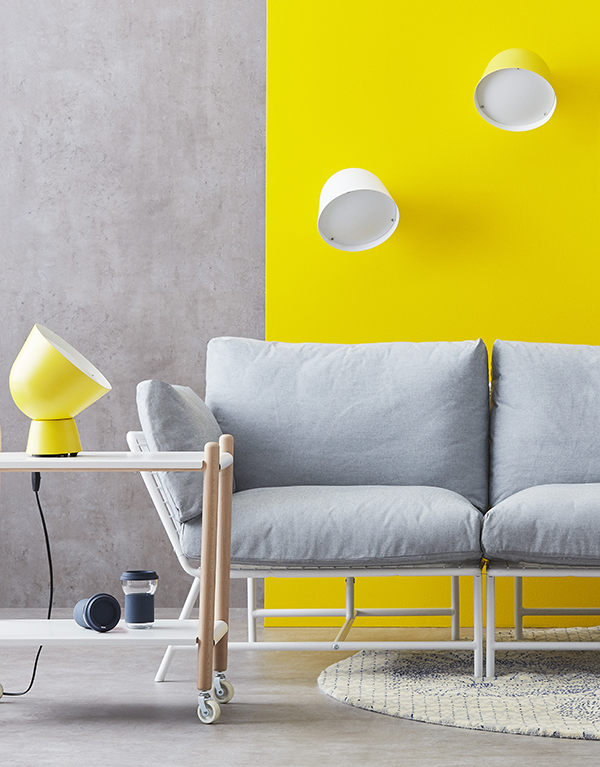 Unless otherwise noted, all images courtesy of IKEA.
It was really great to meet with Joel & Kate Booy and talk about design and their experience collaborating with IKEA. The innovative design, practicality and longevity of their sofa is something out of the box and studio Truly Truly, is definitely one to watch.
You can see more of the IKEA PS 2017 collection here, together with a rug designed by Kate and Joel, and my favourite pieces from the range. It's all available online and in store now.
Save
Save
Save
Save
Save
Save
Save
Save
Save
Save
Save