Originally from Willyabrup, in the bush of south west Western Australia, Angela Mckay of Ohkii Studio transplanted herself and her love of nature to Brooklyn, New York. Having established a successful freelance illustration and design career, Angela has produced her own collections of beautiful silk scarves.
Evil Under the Sun is the second range of retro-looking scarves from Ohkii Studio, featuring art inspired by the Agatha Christie book of the same name. Angela's designs and illustrations have a definite vintage appeal and they form a wonderful narrative series. I love that there is a depth of meaning and story to Angela's work, rather than it just being pretty to look at.
Angela primarily works in watercolour and gouache. "Sometimes I like to experiment with mixed media by layering different cut out elements and then painting over the top of them. I love the unpredictability and surprises you get when you create things by hand", she says.
I was intrigued by the story behind Angela's work, so I recently chatted to her about her creative path and the making of the Ohkii Studio Evil Under the Sun collection.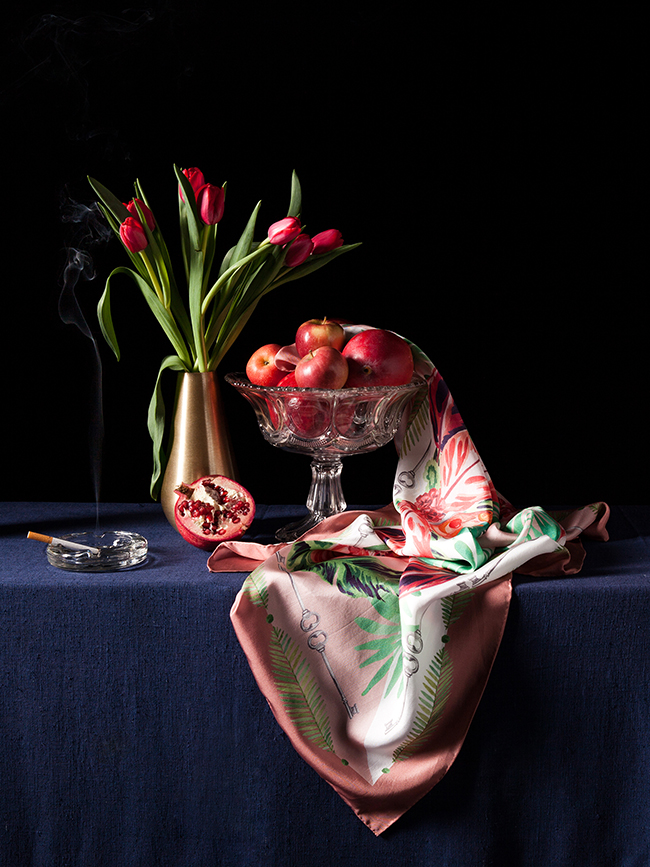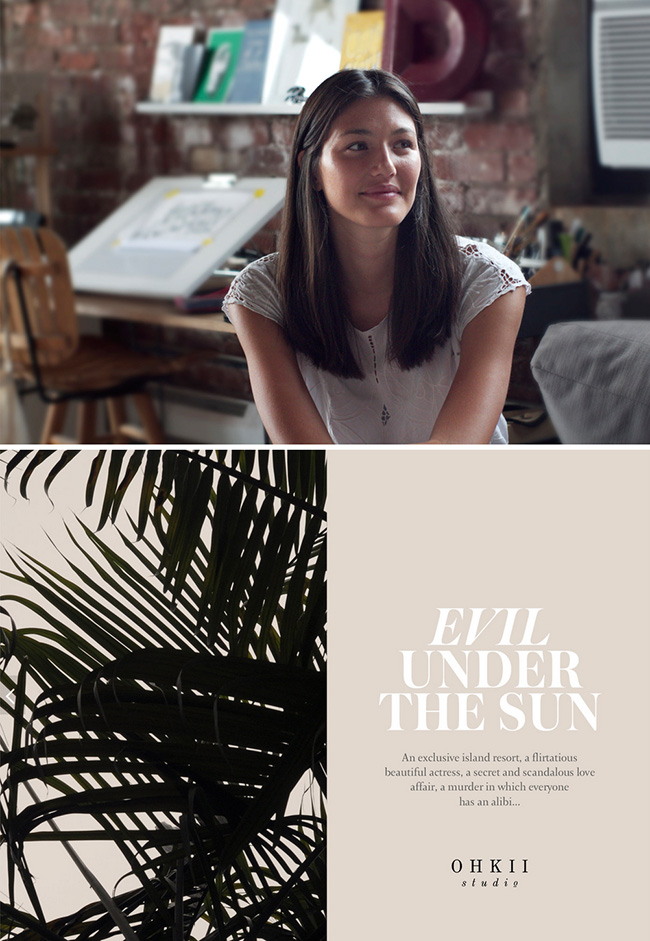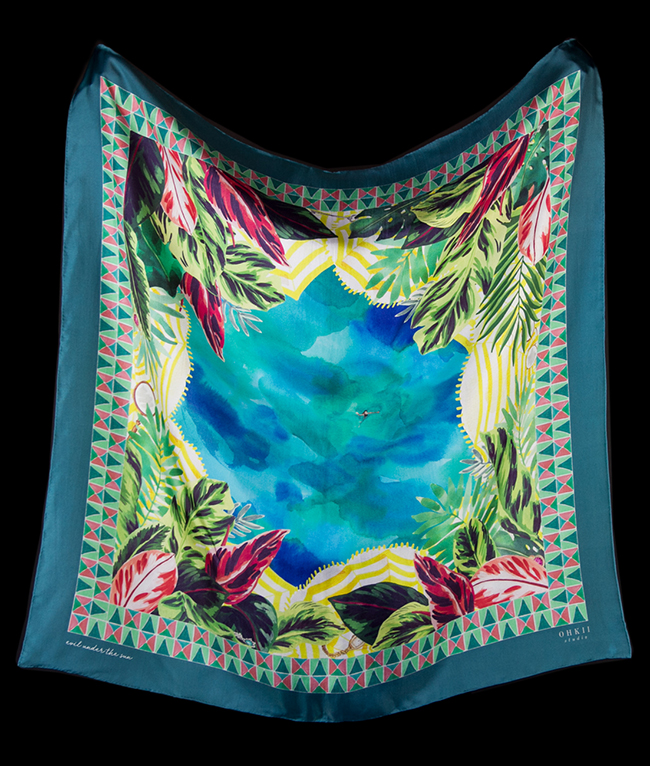 Can you tell me about your background and your creative path?
I spent my childhood running wild in the bush and at the beach, it was very idyllic. We didn't watch much TV so we were constantly using our imaginations to amuse ourselves. I also spent quite a lot of time in Thailand (my mother is from Chiang Rai) so this has also helped to shape my love and appreciation for nature and plants. I have always loved to paint but was concerned about 'making it' as a fine artist so later when I moved to Sydney and studied design, majoring in textiles and graphics, at uni. I cut my teeth working as a textile designer for a swimwear label for a year or so before moving to New York. I've always wanted to do my own thing so I decided to establish myself as a freelancer here. I now split my time between freelance client work, commissions and Ohkii Studio projects. It's can be tricky balancing all the different commitments but I wouldn't have it any other way.
What led you to create this gorgeous range of scarves?
As my background is in textile design, I have always admired and had a fascination with fabrics and textiles. I think it was a natural progression for me to combine my illustrations into textiles.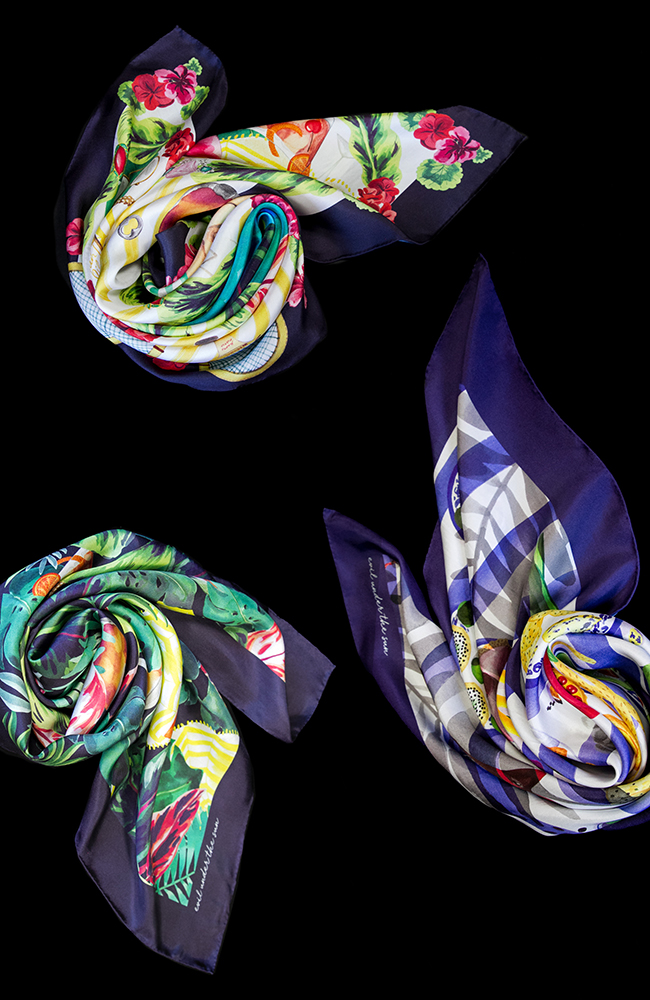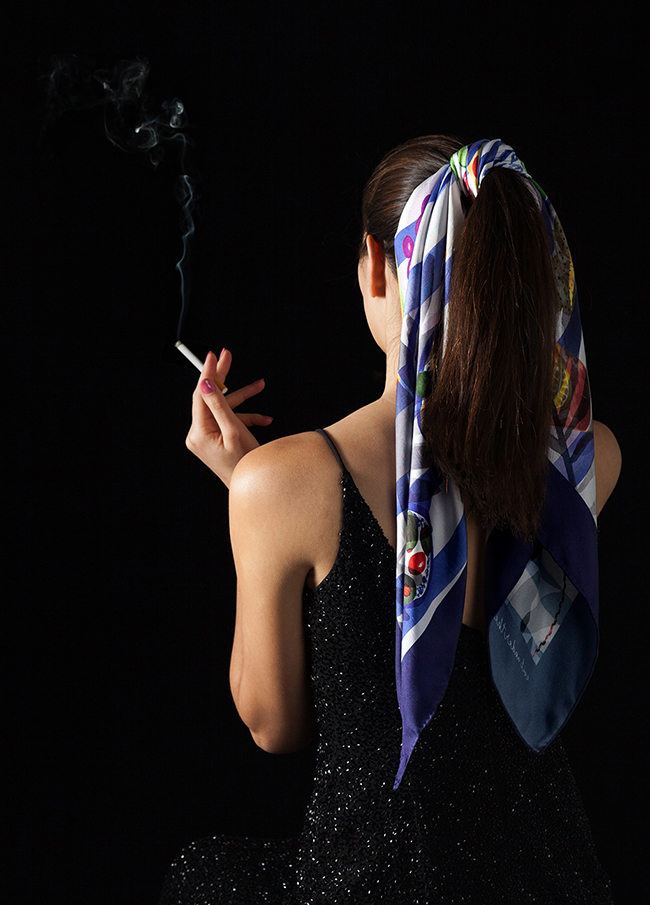 Your Evil Under the Sun range is inspired by the Agatha Christie novel. What aspects of the novel spoke to you?
My love for Agatha Christie originally came from my Nan. She had all the books in her library and would encourage me to read them. We would also watch old Hercule Poirot and Sherlock Holmes movies together. So for me, nostalgia definitely plays into my inspiration. Since then I have been pretty obsessed with all kinds of murder mysteries! I love the excessive drama, humor and interesting characters. I also think the era in which most of these old novels are set are great for costumes and design references.
What's your creative process?
I gather my inspiration from many places including the natural world, overseas travel adventures, folk tales and old books. Once I have an idea, I'll spend some time sketching out rough ideas then I usually jump straight into painting whatever it is I'm trying to create. Sometimes I get it in 1 go, other times it takes me 10 or 20 tries to get the idea right! If I have the time I'll walk away from it for a day or so and look at it again with fresh eyes. This usually helps to point out anything that needs to be fixed. Once I have all of my painted art, I scan everything into the computer and making any final touch ups. One unexpected bonus of having your own products is being able to come up with concepts for shoots, It's so much fun to see your ideas come to life.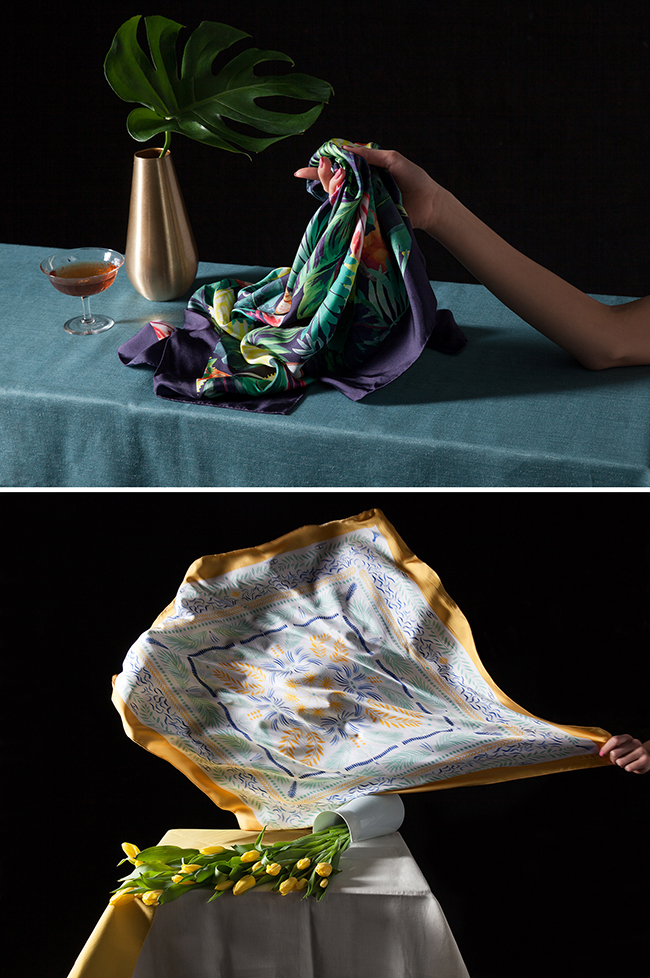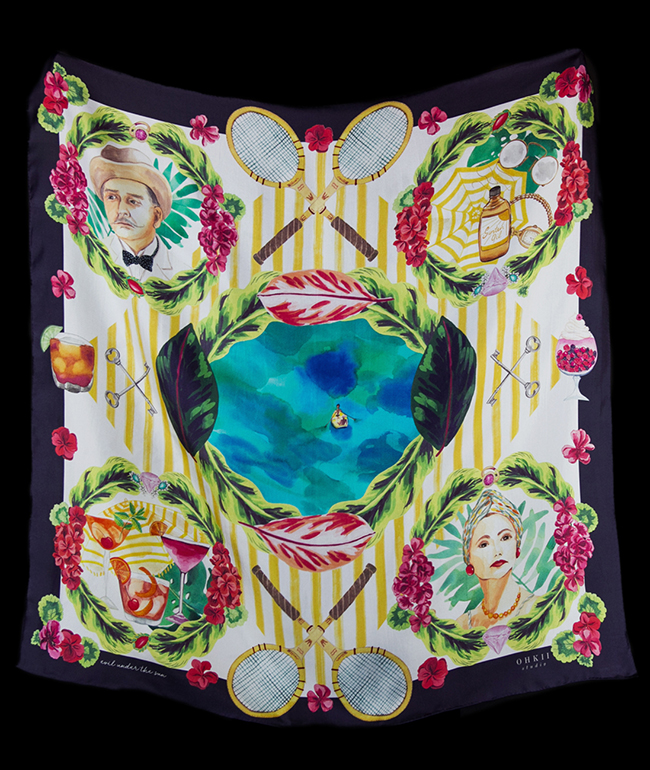 What is your favourite piece from this range?
I love the "Devious Escape" scarf (above). I feel like it really speaks of the exclusive island beach resort in the 50's. I think it has the perfect combination of comedy, drama and mystery!
And what's next for you and Ohkii Studio?
I would love to expand the product range, definitely more textiles. Maybe even continue making scarves based on my favorite books! I'd also like to keep focusing on painting and creating original pieces. I've been asked to contribute some pieces in an upcoming exhibition in Madrid so It would be wonderful to also have my own exhibition sometime soon.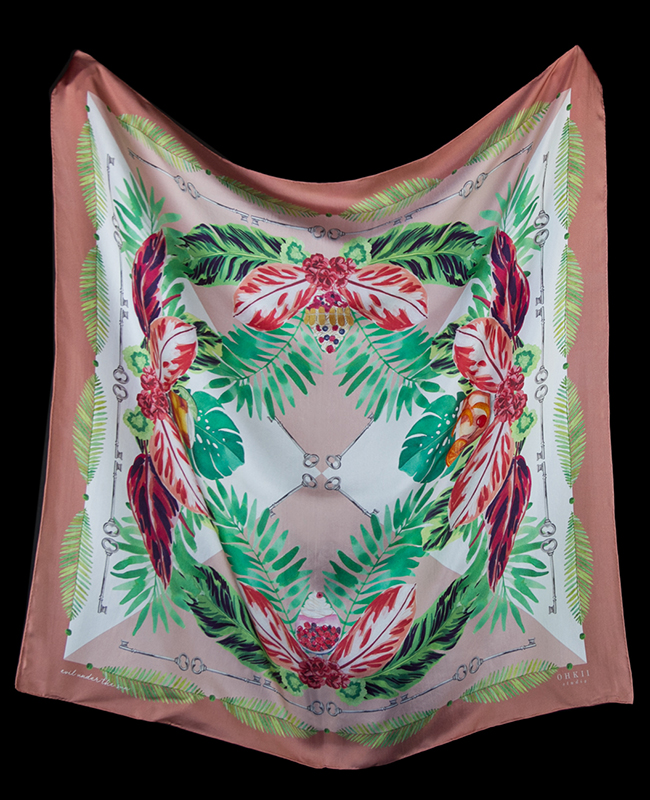 I think these stunning scarves would look amazing framed as art too, don't you? What a wonderful creative talent Angela is. I love that her vision extends beyond illustrating to product design, art direction of the photo shoots, and design of Ohkii Studio look books.
To find out more about Angela and Ohkii studio visit her website here. You can purchase Evil Under the Sun scarves, and Angela's other work in her online shop.
Save
Save
Save
Save