Iconic Australian brand Sportscraft has collaborated with artist Leah Bartholomew to create a truly gorgeous range of luxe summer essentials for the home and the beach. Just released, and perfectly timed for Christmas entertaining and giving, this limited edition collection is bound to fly off the shelves. And super exciting news… at the end of this post find out how you can WIN an original Leah Bartholomew artwork!
Leah's signature torn paper collages and vibrant aesthetic are at the heart of this collaboration, which features exclusive prints that reflect the Australian summer. 'I wanted to create a really fresh, playful design the encompasses the feeling of a summer's day" says Leah.
Ready for your first look at this colourful and covetable collection Scouts?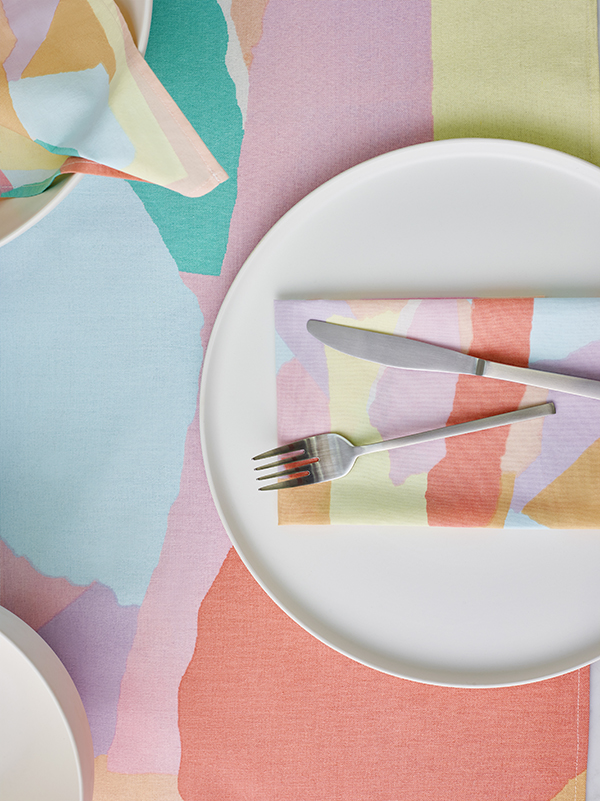 Leah lives an enviable lifestyle on the Queensland coast and she says she absolutely loves summer.
"Summer is a mix of beach BBQs, camping, swimming in incredible waterfalls on the Gold Coast and Byron hinterland, summer festivals and enjoying fun times with friends and family on my large deck. There is something so special about Australian summers living near the beach, everyone is so happy and living healthy – enjoying the outdoors and balmy nights".
This range is the embodiment of Leah's vision of our summer with the cool blues and aquas of the ocean and warm earthy tones of the sunburnt landscape.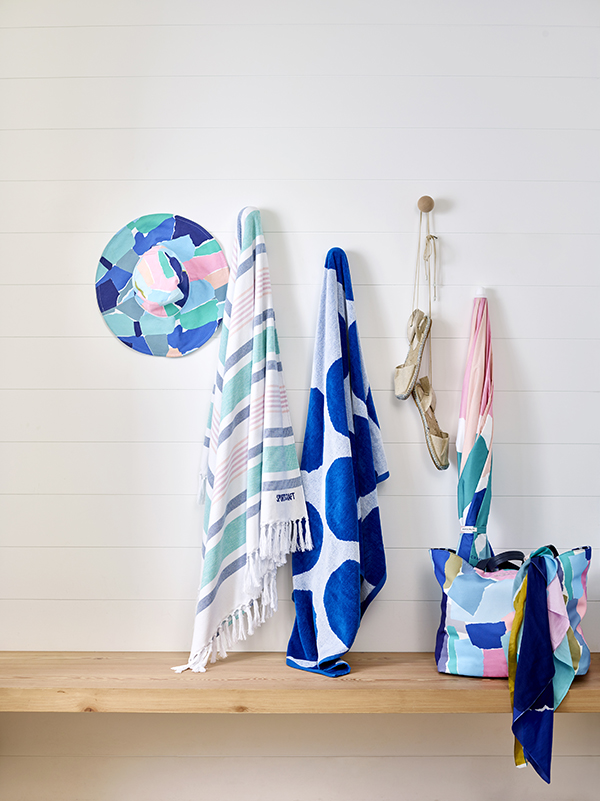 Festive entertaining is sorted with table linens, crockery and candles, while beach days are covered with a must have umbrella, towels, a tote and an essential broad brimmed hat.
Everything in the Leah Bartholomew x Sportscraft collaboration is totally giftable and there are even greeting cards, tags and gift wrap to complete the look.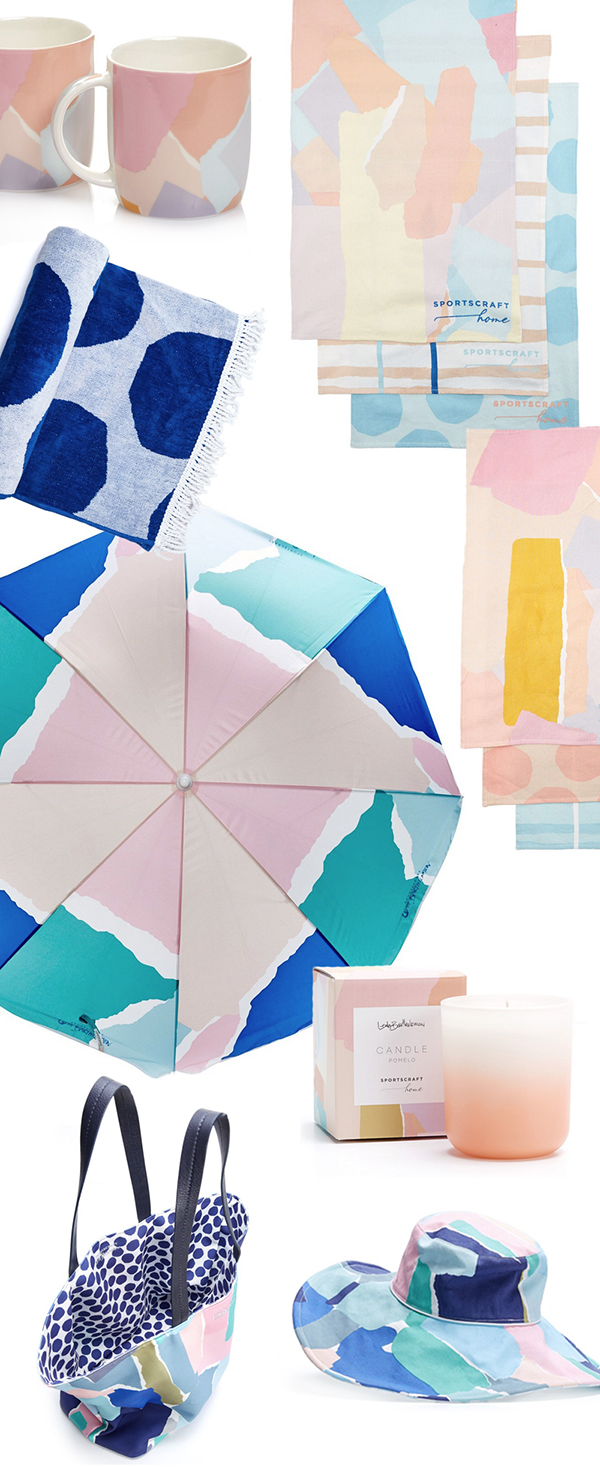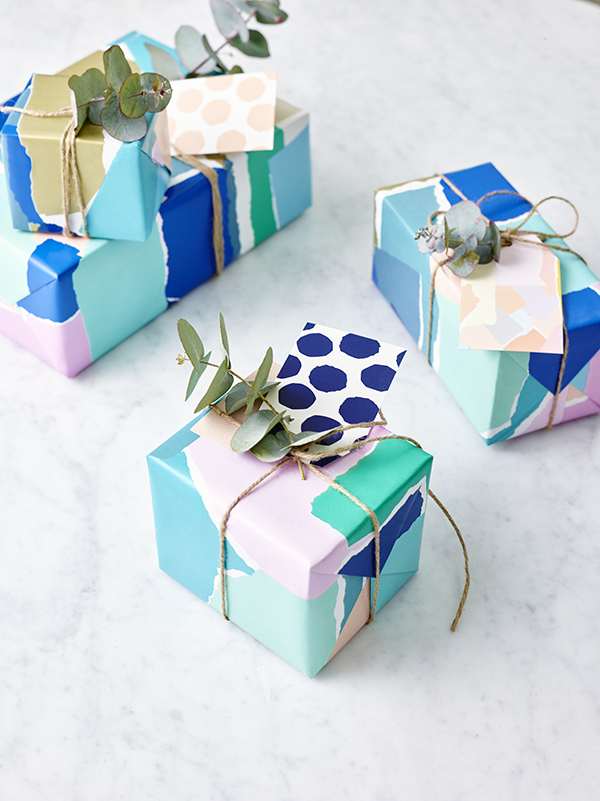 Leah shared some insights with me about her art practice, the collaboration and entertaining.
How did your art practice get started and how has it evolved?
I have always been a creative person and studied Fine Arts as soon as I left school. I absolutely loved those years of experimenting and figuring out where I wanted to take my art practice. I ended up leaving my home town in Northern Nsw and headed for Melbourne where I became obsessed with textiles, screen printing, music and the night life and liveliness of the city. I was heavily involved in the art scene and landed my dream job working as Beci Orpin's righthand lady where all my creative desires were fulfilled in a job. I had a couple of successful solo exhibitions while working full time in illustration and design and always knew in my heart that's what I wanted to do full time, just to make my art. It certainly took some time though until I made the full leap. I ran my own homewares business Beneath The Sun for a few years and it was only then I realised stop trying to please everyone with keeping up with trends or new products and simply do what truly makes me happy, staying true to my creative uniqueness. Ever since I made this decision to make it my main focus, my audience has grown and everyone has responded so positively.
Tell us about your studio space and creative routine.
I can honestly say, sometimes I actually can't believe where I get to work and I how my day plays out and the fact I can have success while doing it, blows my mind. My studio is based in my home, I live in the beach town of Coolangatta, Qld and am surrounded by lush greenery outside my window. I usually start the day with a swim or walk which is where I gather my thoughts or find most of my inspiration. I made the decision to leave Melbourne 5 years ago and return to where I grew up, I missed being surrounded with the gorgeous landscape we are so lucky to have here. My return home has had a huge impact on me creatively and it's now what most of my work is based on, I have a strong affinity with the landscape here in Northern Nsw and the southern Gold Coast. My friends would laugh if I try to convince you I actually have a routine but I definitely am improving on trying to balance several projects with admin and creative time, but my day never goes to plan!
You use a distinctive colour palette in your work, where do you find inspiration?
Colour is probably the most important part of my work and I'm always working on getting the right balance. My inspiration comes from daily walks in my local environment, collecting photographs of flowers, plants, rocks..anything that speaks to me on that day. I have sketch books with my observations and snippets of how I responded to my environment which may be jotting down the colours of the sky or a drawing of a plant which took my fancy..it could be anything..but the way I put this all together is to then make tiny paper collages that are mini abstract works and work natural elements into the foreground. I take these collages and use them as my basis to make much larger paintings. It's a process I'm very comfortable with and makes sense to me. The team at Sportscraft took an interest in how I see the Australian landscape and were fascinated in the strong use of colour I used and were interested in my process enough to want to work to create something unique together.
The Sportscraft Home range focuses on entertaining at home. What's your entertaining style?
The large balcony entertaining area at my house is an absolute favourite for my friends and we are always having get togethers. I live just up from the beach but set back in the bush so it feels like a little escape to the hills. We have Sunday fundays, my favorite day of the week. We take turns cooking up a storm and it's always super tasty. Very relaxed bbq's lots of laughs!
Do you have a signature go-to dish or drink?
My favorite dish would probably be my garlic, chilli, lime and fresh herb prawns done on the bbq with a fresh crunchy slaw and my signature drink is definitely my margaritas… yum
What's your favourite piece from the Sportscraft Home collection?
I love the beach towels and beach umbrella. I will be so excited to see those being used at my favourite beach.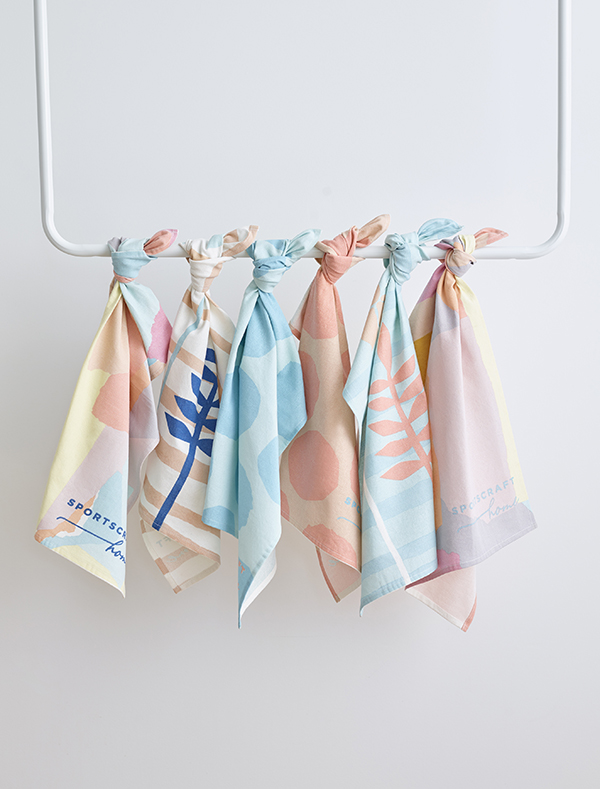 WIN this original artwork by Leah Bartholomew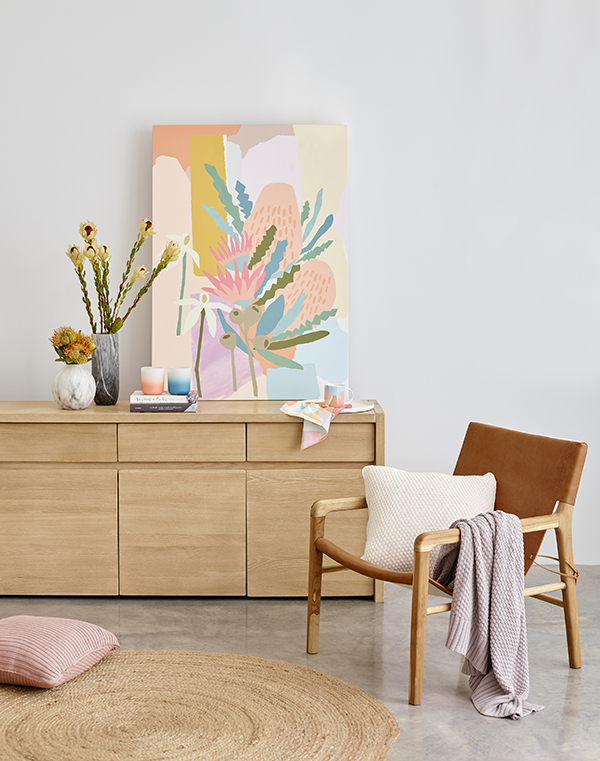 Are you a fan of Leah's beautiful art? Do you love this collection? It's a yes, and yes from me! You have the chance to win the original artwork pictured above by simply making a purchase of over $150 from the Leah Bartholomew x Sportscraft collection before December 15. Easy! That's Christmas sorted.
Shop the collection here and in store now.
Save
Save
Save
Save
Save
Save