Faded curtains, patterned sarongs, intricate kimonos and sumptuous linen tablecloths are just some of the textures you might find intermingling in the colourful creations of Pauline Boyd. The LA-based artist, who started her home accent studio Counterpane 10 years ago, lovingly handmakes patchwork-style quilts and cushions out of fabrics she acquires at local markets and while on trips overseas, making her pieces truly one of a kind.
In a fantastic coup, Pauline has recently collaborated with Pottery Barn on a range of unique quilts and cushions – now available here in Australia.
When I saw these beautiful textile homewares I was keen to find out more about Pauline and her work, so we recently chatted about her inspiration, creative path and the collaboration.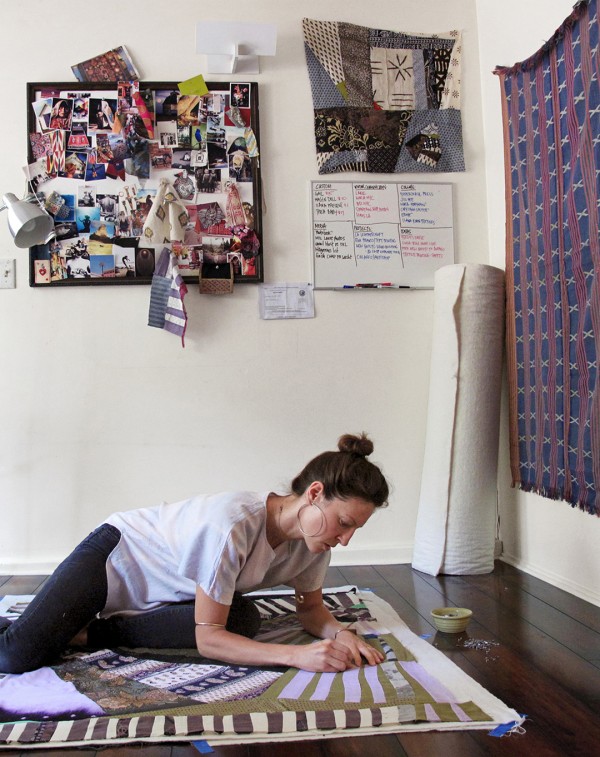 CAN YOU REMEMBER THE FIRST THING YOU EVER MADE?
Ten years ago I came up with the idea of making a quilt, so I went out and bought a sewing machine – I had never used one before. I pieced together a small quilt out of a bunch of stuff I cut up around my apartment – two sets of curtains, some pillowcases, some clothes. I bought some batting at a craft store, basted it together and quilted it by hand. I gave it to a friend for her birthday.
HAVE YOU ALWAYS CONSIDERED YOURSELF A CREATIVE PERSON?
Yes, certainly. I've always been into film and art and theatre. I love making collages and I used to sew pillows together by hand when I was a teenager.
WHERE DO YOU SOURCE FABRICS?
I like to use materials that have some history and hand to them, so I often use old clothes or panels of fabric that had a previous use, like curtains. I love taking things apart too, like old kimonos because they usually have gorgeous silk linings. I was travelling for a few years and would find scraps or make trades with people, like new sarongs from the local markets for their older sun-bleached ones. I scour local markets for beautiful scraps of embroidery, old linen tablecloths or panels of indigo.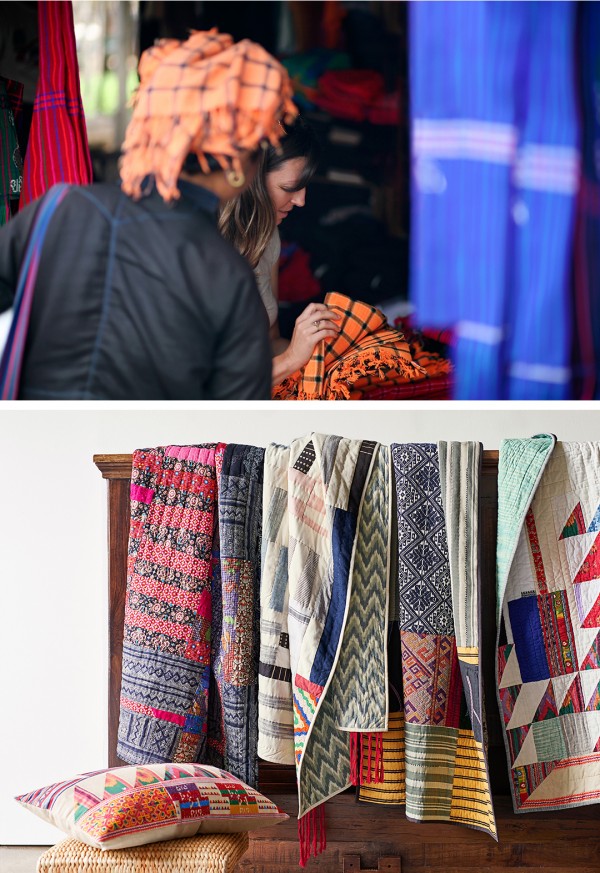 INSPIRATION COMES FROM…
Love, art, children, textiles, classical paintings, print, pattern, problem solving and improvisation.
ON AVERAGE, HOW LONG DOES IT TAKE YOU TO MAKE ONE QUILT?
It depends on the size but anywhere from one week for a baby quilt to three or four months for a king.
DO YOU LISTEN TO MUSIC WHILE YOU'RE MAKING?
No, I just like to let my thoughts rattle around while I'm working.
TELL US ABOUT YOUR WORKSPACE
A sun-filled room with a big desk and lots of shelves and bins full of fabric that I can see easily and pull out when I need. We renovated our basement for this studio, but I have always found a way to work in any space I had available; the living room floor at my last place, and even my mum's kitchen when I was between studios.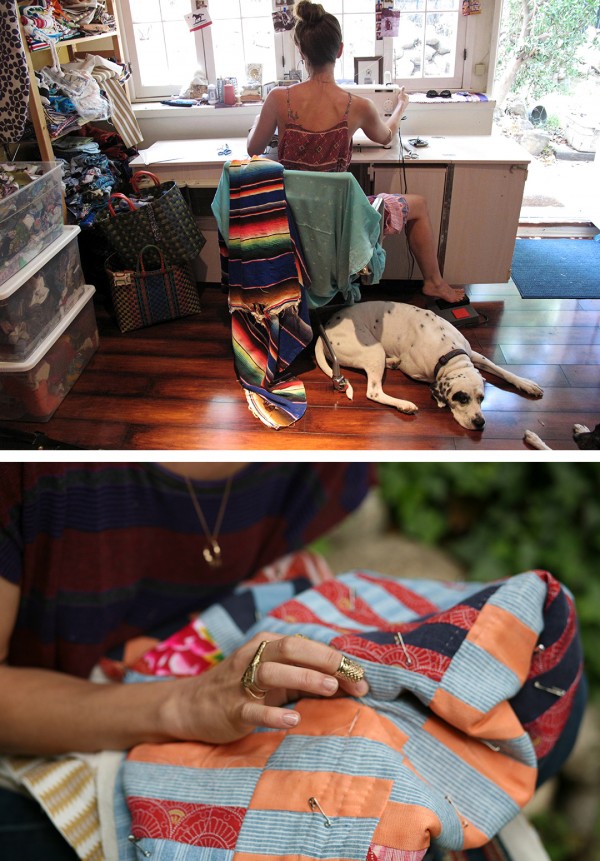 HOW DID YOUR COLLABORATION WITH POTTERY BARN COME ABOUT?
Pottery Barn found my quilts somehow and tracked me down and asked me to work with them! I was really flattered and excited. I'm a pretty small operation and it was so cool to get to work on such a large scale with the incredible resources they have.
WHAT HAS BEEN THE MOST ENJOYABLE PART?
The trust! I knew right away when I spoke to Pottery Barn's design team that I could trust them with the integrity of my work and that gave me a lot of freedom. Everyone on the team was so enthusiastic and knowledgeable; it really made it so delightful for me. All I had to do was be creative and they did everything else so expertly.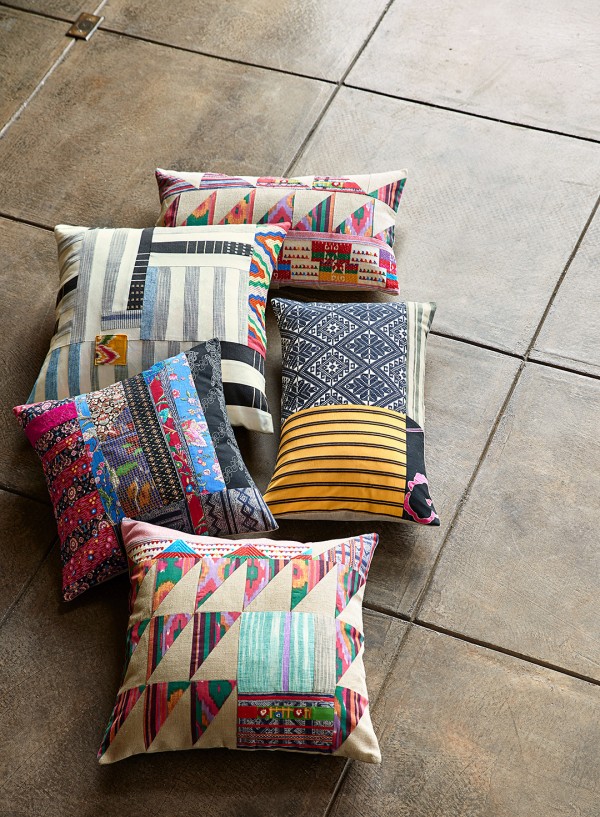 Photos courtesy of Pottery Barn.
IS YOUR HOME FULL OF YOUR HANDMADE BEAUTIES?
Ha, no! It's terrible really. I haven't even made a quilt yet for my daughter. What's that they say about the cobbler's children?
WHAT'S NEXT?
Catching up on orders, mostly. I've been working for a while on editioned baby quilts with sheets and accessories to go with, so that will probably come to the front burner soon.
Love Pauline's work? See the whole range online at Pottery Barn. You can find Pauline Boyd on Instagram @counterpane