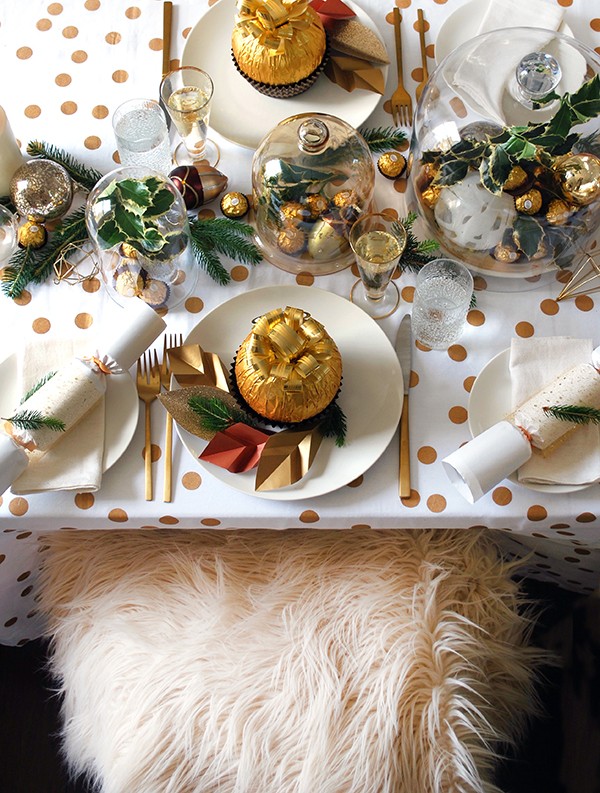 Mixed metallics have emerged as a major trend in interiors, design and fashion this year, so Rebecca and I were inspired to show you how to decorate your Christmas table with a gleaming gold theme, accompanied with hints of copper and bronze and a mix of modern and vintage decor.
We kept the look fresh with lots of white and greenery – and added Ferrero Rocher for an extra special festive treat for your guests.
Let's get started.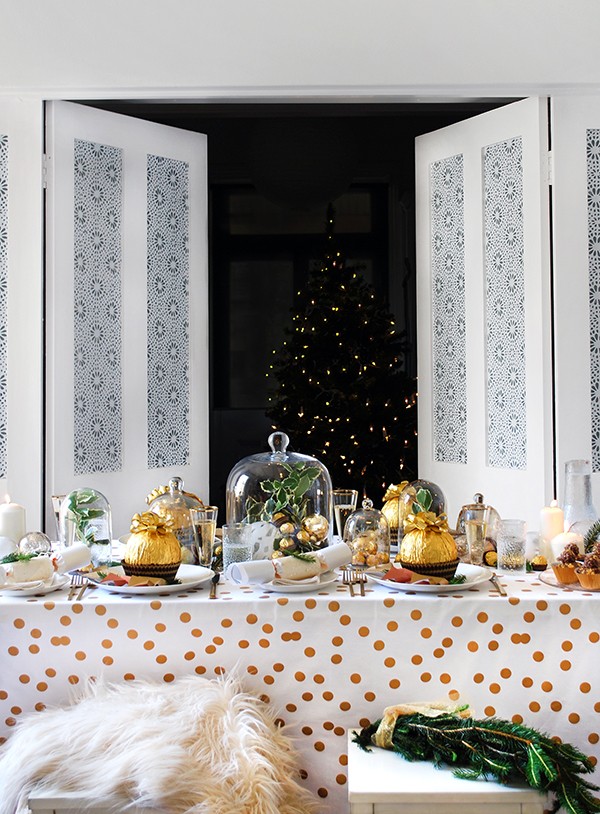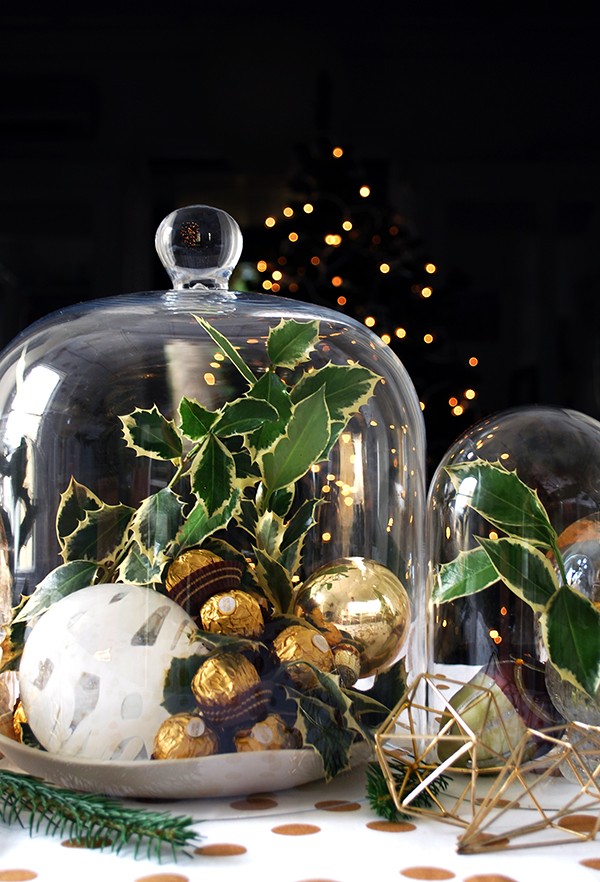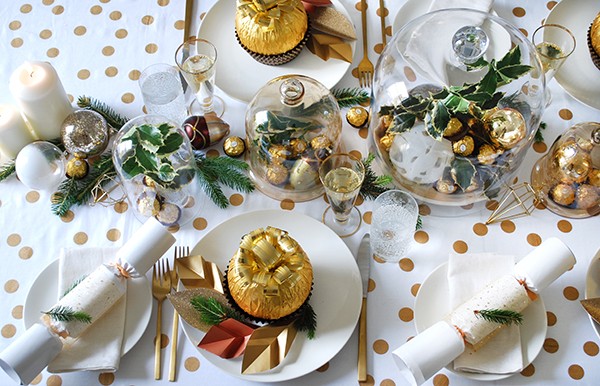 First, establish your table's theme by laying a tablecloth with gold accents on your table, like my white tablecloth with gold polka dots.
Next, create your own 'festive runner' down the centre of the table with a line of glass cloches filled with gold baubles, sprigs of fresh holly and loose Ferrero Rochers. We used my collection of vintage glass cloches, placing the biggest one in the centre.
I carefully piled a selection of gold baubles, including gold and brown acorns, which reflect the colours of Ferrero Rocher, on top of each other, adding a sprig of holly and a handful of loose Ferrero Rochers until it reached the top of the large glass cloche. Then we filled the smaller cloches with a similar mix of items, for a total of six glass cloches on the table.
Complete your runner by scattering sprigs of fresh green spruce, loose Ferrero Rochers and more gold baubles. Keep the look relaxed and fill empty spaces with baubles and greenery as necessary. Finally, add some white pillar candles for extra glow – it will reflect the glittering baubles and gleaming gold wrappers of the Ferrero Rochers.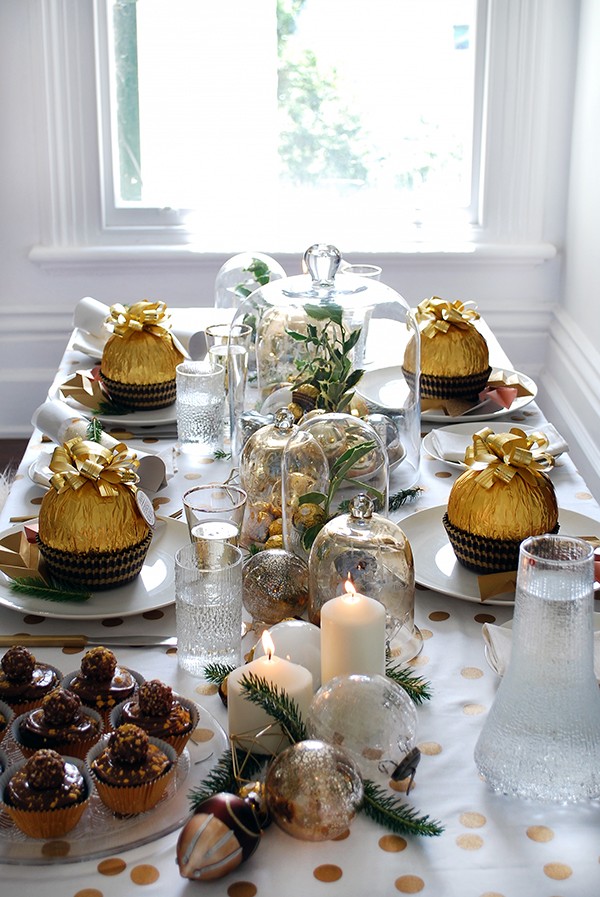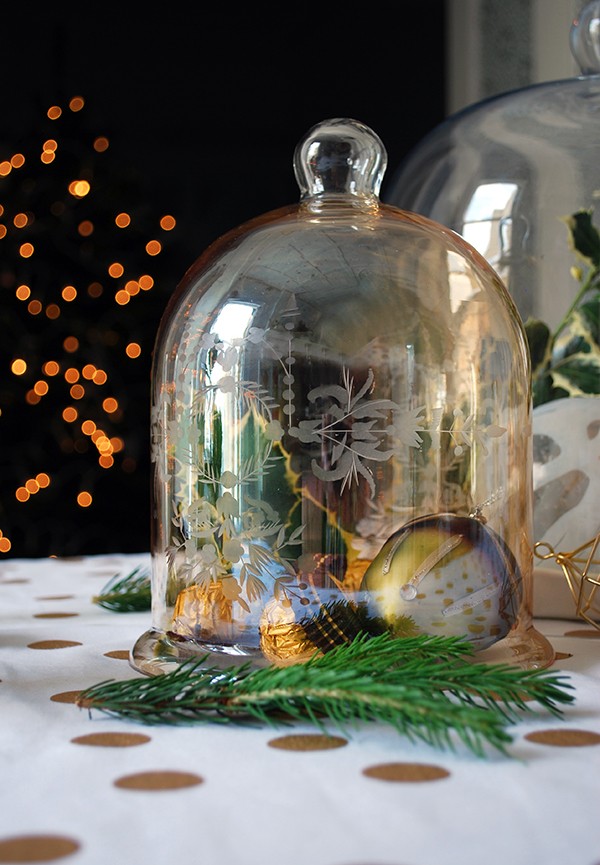 Now create your individual place settings. We used my plain white tableware, and gold cutlery to co-ordinate with the gold theme. Gold-rimmed Champagne glasses and my Mum's vintage frosted Iitala water tumblers add extra shine and texture – I always love to mix and match.
Place a white linen napkin on each bread and butter plate, and pop your own handmade Ferrero-filled Christmas cracker on top. We followed the instructions in this Ferrero Rocher bon bon step-by-step video tutorial, using white paper and a strip of gold mesh ribbon wrapped around the body of each cracker. We finished each one with a sprig of fresh green spruce to tie in with the greenery in the table setting. You could also add a tag with each person's name.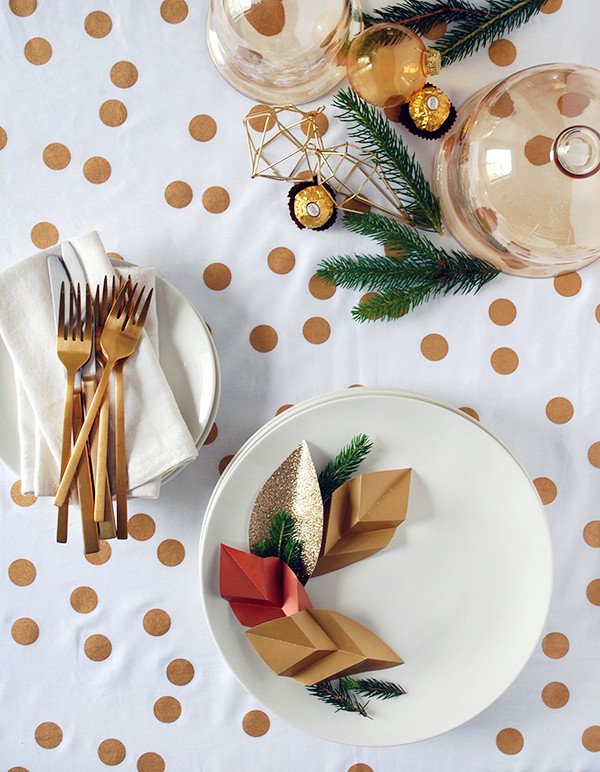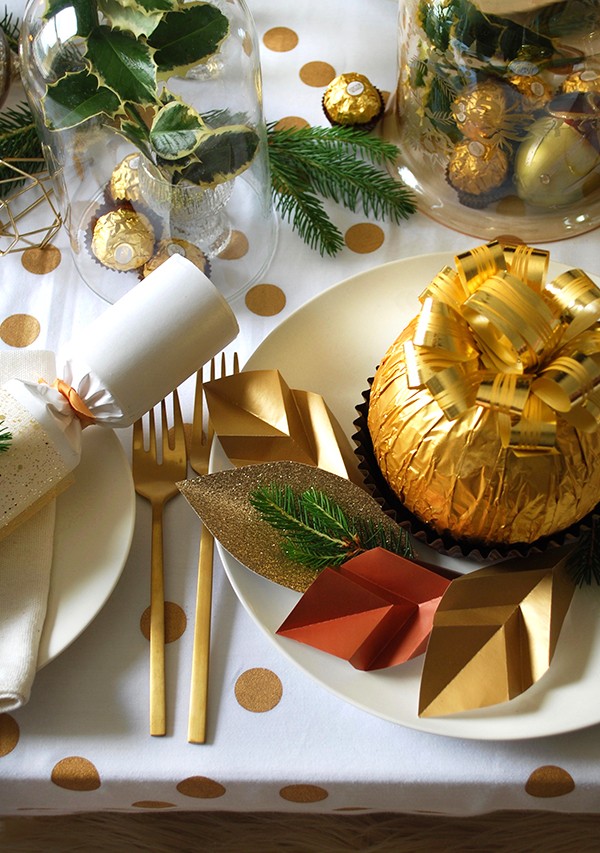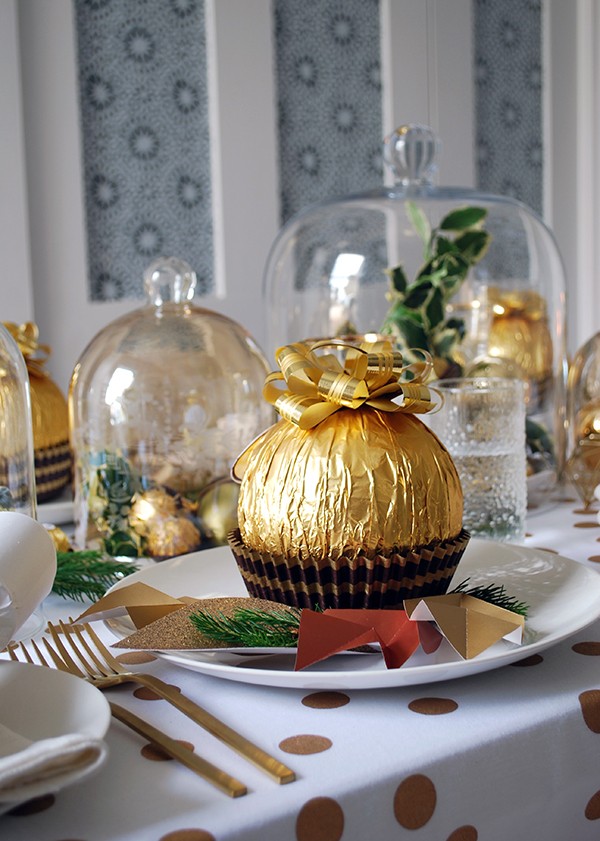 A special Ferrero Grand Rocher on each dinner plate creates an extra treat for your guests – and a visual style bomb! We placed a one in the centre of each plate – they're new and look so impressive on the table. Each larger-than-life Ferrero Rocher features a thick milk chocolate shell with hazelnut pieces, along with four classic pralines hidden inside.
Paper origami leaves complete the place settings, using a mix of gold, copper, glittery and bronze papers. You'll find the step-by-step tutorial for making them in a future post, so keep an eye out for it. Place four leaves in different shades around one side of each Ferrero Grand, finishing with a couple of sprigs of spruce for a fresh look. Stunning!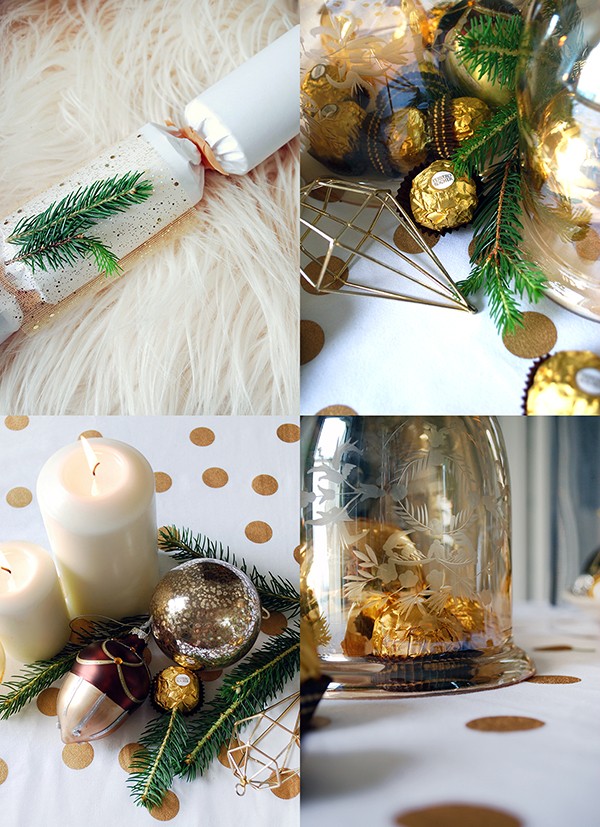 We love the idea of making our Christmas table extra-special for our guests, with lots of luxe treats and surprises. To tie in with our gleaming gold theme, we added edible 24ct gold sprinkles to each glass of Champagne for an opulent Christmas toast. You can also tear small pieces from a sheet of gold leaf. Make sure you use food-safe 24 c gold leaf or sprinkles of the highest quality.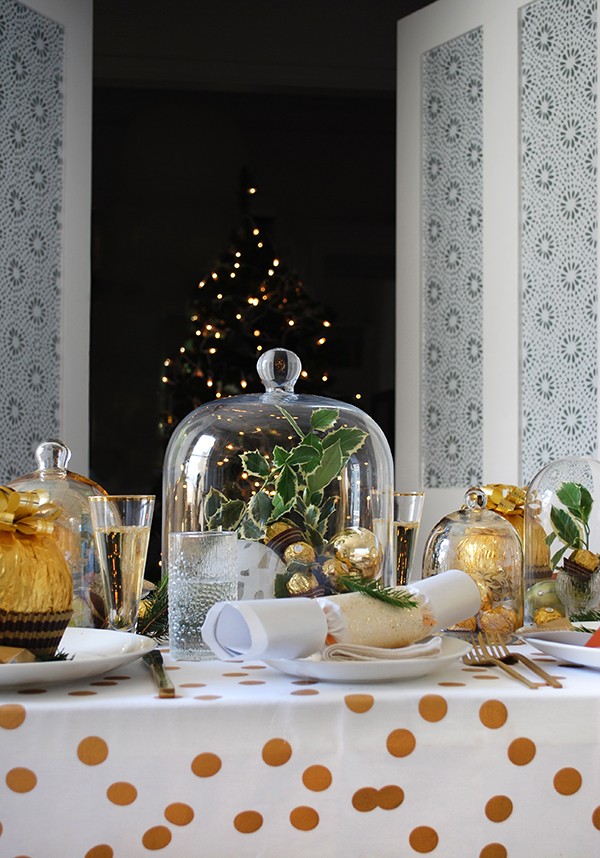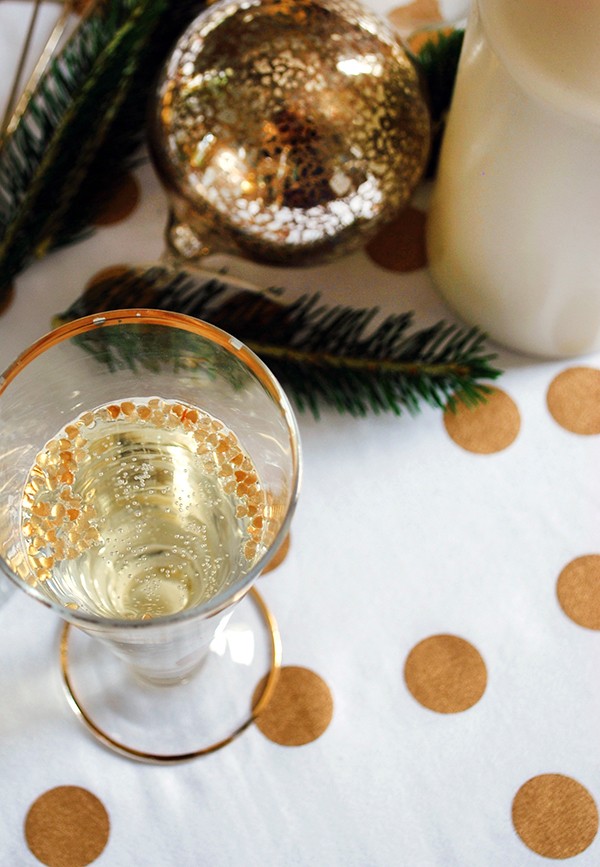 Serve your guests gold-flecked Ferrrero chocolate cupcakes with their coffee at the end of dinner. Dusted with flecks of gold powder, these chocolatey treats complete your gold-themed Ferrero Christmas dinner. You can find this indulgent festive cupcake recipe here.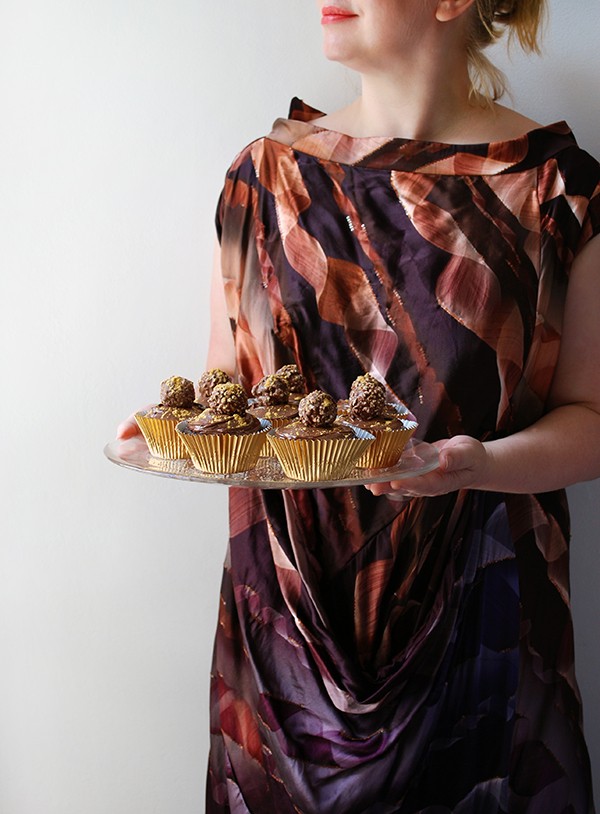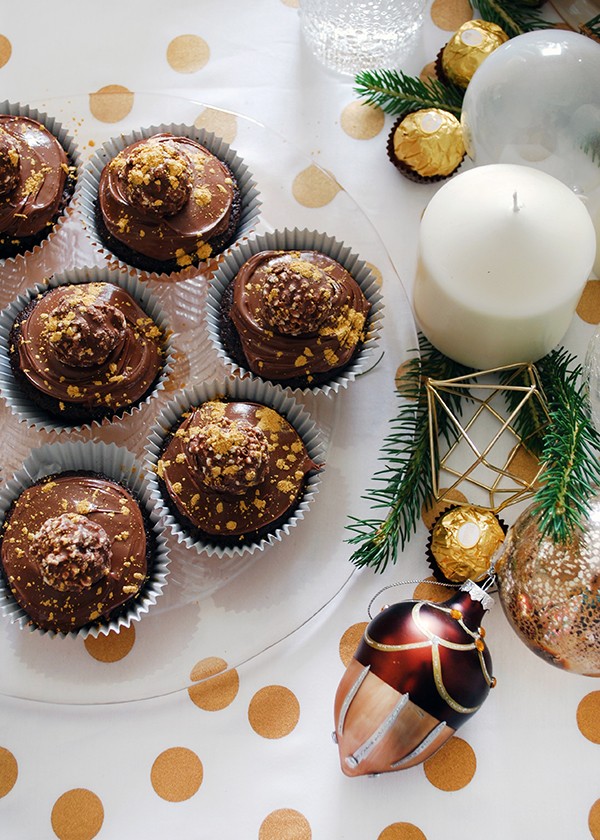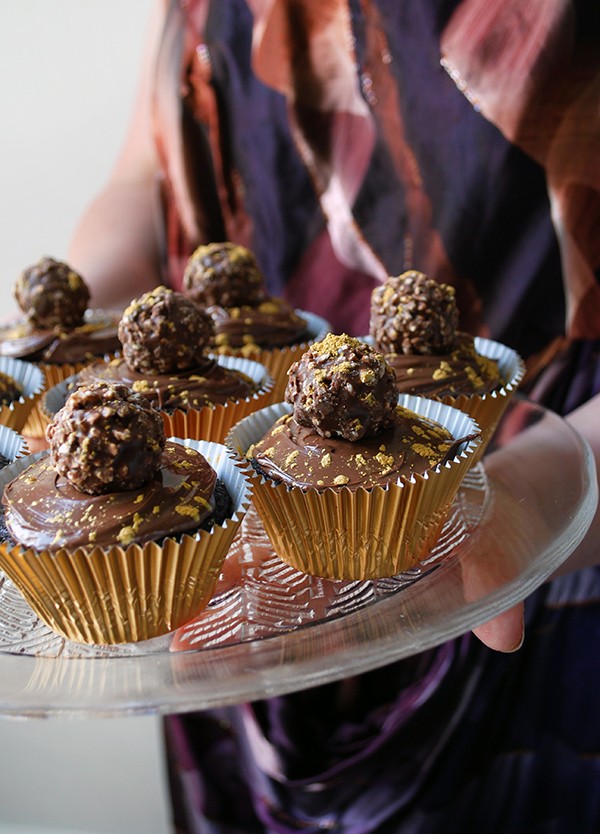 The Grand Ferrero Rocher (240g), $17.99; and Classic Ferrero Rocher, $18.99 a box (375g), are available now from Woolworths and Coles.
You can also find step-by-step video tutorials for Ferrero Rocher Christmas craft, including the Bon Bons we used for our table, at the following links:
bit.ly/FerreroPlaceCard
bit.ly/FerreroStarDecoration
bit.ly/FerreroBonBon
bit.ly/FerreroNest
bit.ly/FerreroTreeOrnament
After more inspirational entertaining ideas and table settings? Click here for our Christmas Table setting with West Elm.
By Rebecca Lowrey Boyd and Lisa Tilse for We Are Scout.
All photography and styling by Lisa Tilse, for We Are Scout.
Disclosure: This is a sponsored post in collaboration with Ferrero Rocher. We only partner with brands that are a good fit with our blog, our aesthetic and what you, our readers, enjoy. Content and concept, product selections, words and opinions are all our own.
Save
Save