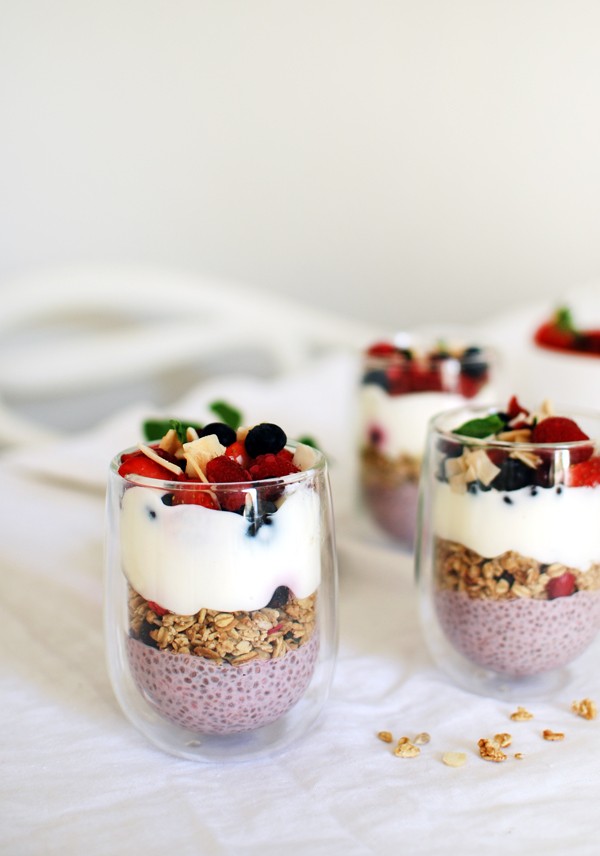 These strawberry chia brunch bowls are perfect if you're having friends around for brunch, and they're a delicious and healthy option, especially if you're also serving pastries or pancakes!
You can prepare the chia layer the night before, and they take no time to assemble in the morning.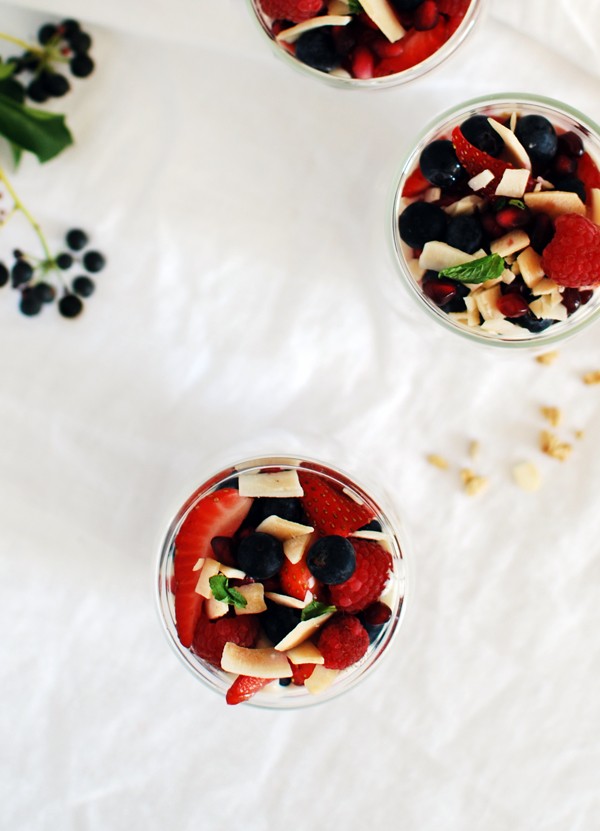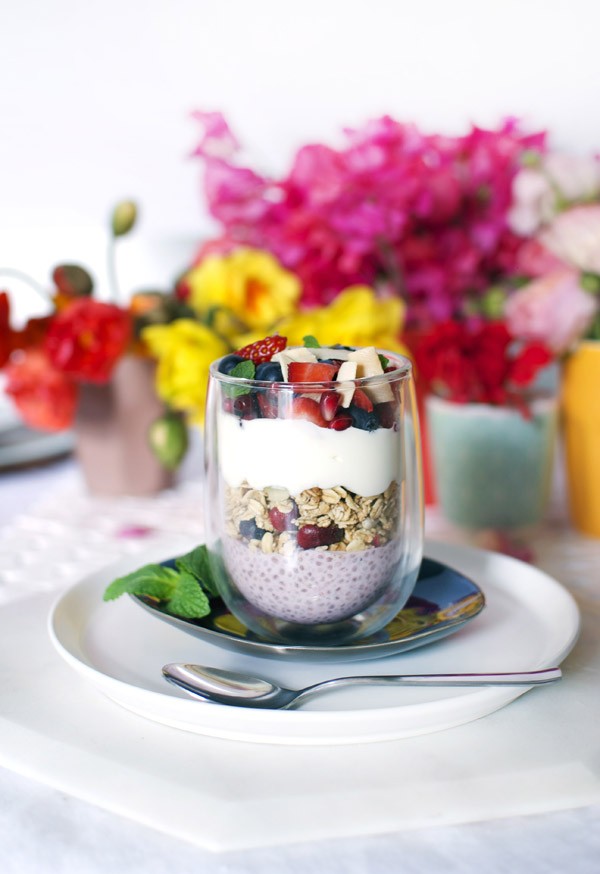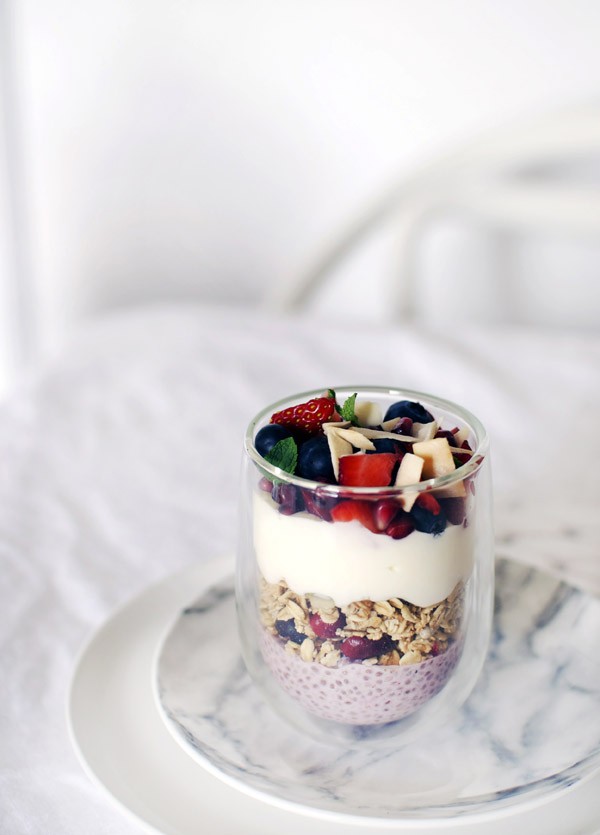 Recipe
Makes six depending on the size of your serving bowls/tumblers.
You will need
For the strawberry chia layer:
– 1/3 cup chia seeds
– 7 large strawberries
– 50ml of coconut milk
– 50ml of water
– 1 teaspoon vanilla extract
– 1 tablespoon rice malt syrup (optional – or honey)
– Packet of granola (choose your favourite or make your own)
– 1 tub of full-fat vanilla yoghurt (I used Jalna)
– Fresh pomegranate seeds and your favourite berries to top (I used blueberries, chopped strawberries, raspberries)
– Fresh mint
– Coconut chips
Method
1. Prepare your strawberry chia layer the night before. Pop the strawberries, coconut milk, water, vanilla extract and rice malt syrup (or honey) in a blender, and mix until smooth.
2. Pour the blended mixture on top of the chia seeds in a bowl and whisk well to combine.
3. Allow to stand for 10 minutes, then pop it in the fridge to firm overnight.
4. In the morning, get it out of the fridge and whisk again. Add a little extra water if necessary.
5. Spoon your strawberry chia layer into the bottom quarter of each serving glass. Be careful to keep the sides of the glass clean and wipe down any drips with a paper towel.
6. Now add the granola layer until it reaches half-way up each serving glass.
7. Next, add the yoghurt layer until it reaches three-quarters of the way of each serving glass.
8. Finally, add your pomegranate and berry layer, and garnish with fresh sprigs of mint and coconut chips.
Serve and enjoy!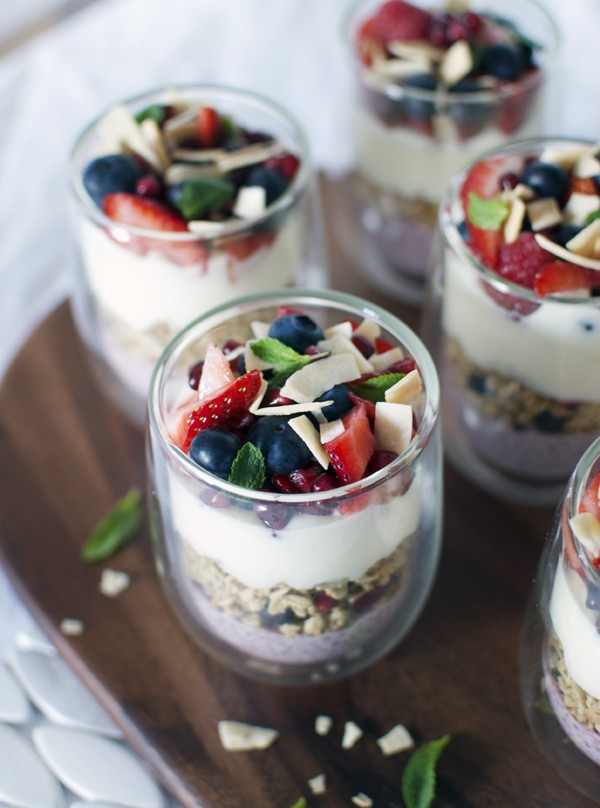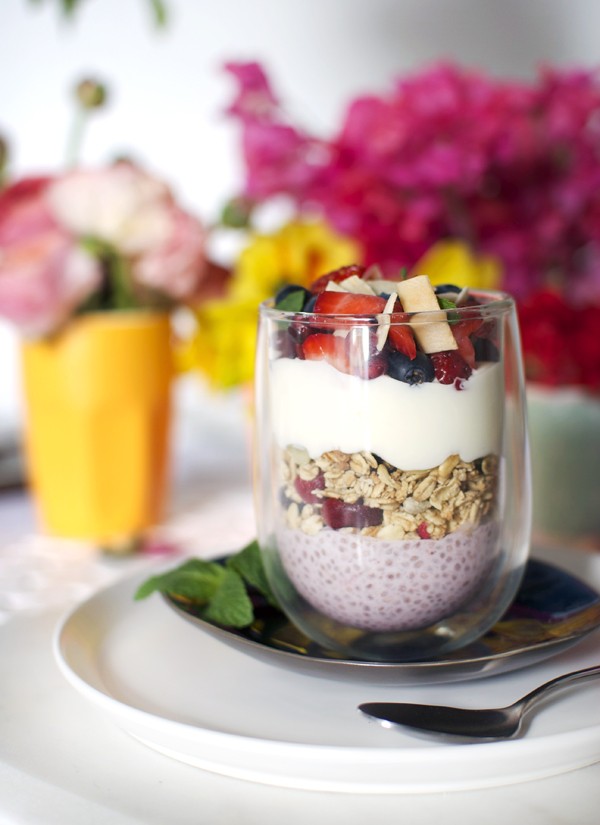 This is an easy recipe to adapt to your own tastes – you might prefer stewed fruit and nuts on top instead of berries?
After more inspiration for a throwing a spring brunch (or maybe a 'farewell to summer', depending on your hemisphere)? Check out our story on how to create the perfect spring brunch tabletop.
By Rebecca Lowrey Boyd/Wee Birdy for We Are Scout.
All photography and styling by Lisa Tilse, for We Are Scout.
Save
Save