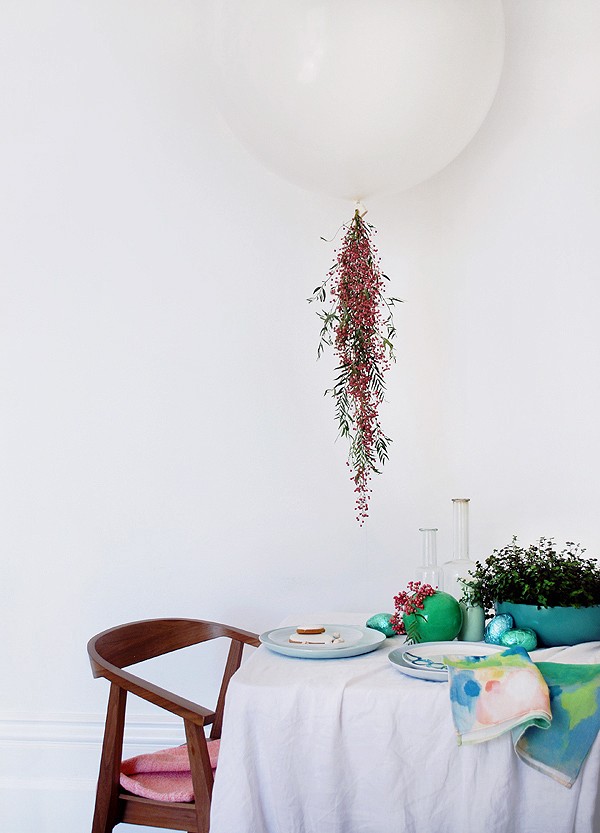 Easter is the perfect time to entertain, and you can have a lot of fun creating a beautiful table setting. We've got you covered this year with three contemporary and original decorating ideas.
All three of our Easter table styles use a plain white linen tablecloth as a starting point, to which we added various pieces of our own collections of plates, vessels, plants and linens. These looks are easy to recreate using basic things you may already own – just add some fresh blooms and oversized balloons for an original and contemporary Easter style statement.
1. FESTOONED FLORAL BALLOON
This pretty Easter table setting (see photo at top of this post) takes its cues from our oversized balloon, festooned with trailing berries and foliage, which creates an eye-catching and original centrepiece.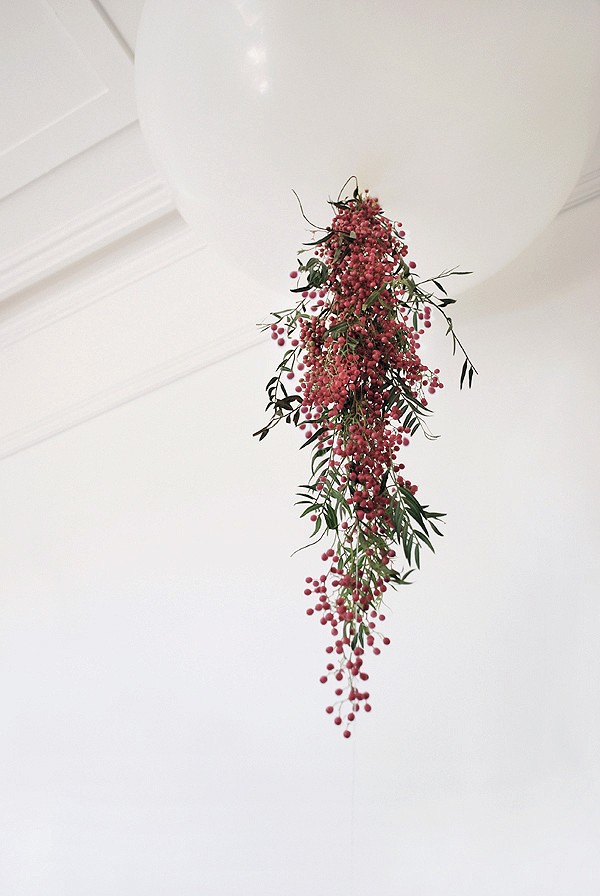 To create this stunning look, we used a single white oversized helium balloon, and attached fresh pink peppercorns and foliage to the anchoring fishing line with matte green washi tape.
Our tips
Start by attaching long trailing pieces of foliage to the fishing line, then add the berries and more foliage so the overall shape resembles an elongated diamond. Finish off with a sparse trail of berries at the bottom.
A 3-foot round balloon is the perfect size to hold the weight of the foliage – anything smaller won't float.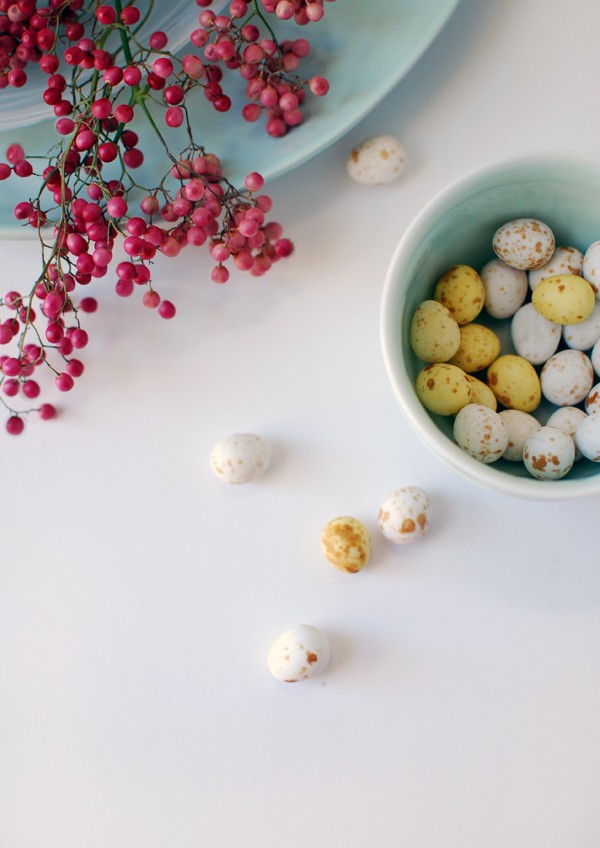 For a pop of complementary colour, the table was layered with a white linen tablecloth topped with watercolour-print tea towels (used as napkins) by Belinda Marshall, along with a blush pink cushion cover on the Ikea Stockholm chair. These colours brought out the tones of natural pinks and greens in the peppercorns.
A selection of ceramic vessels, vases and bowls in tones of greens and blues form a bold centrepiece with white, pale aqua and blue ceramic plates and clear glass bottles bringing a sense of lightness and brightness.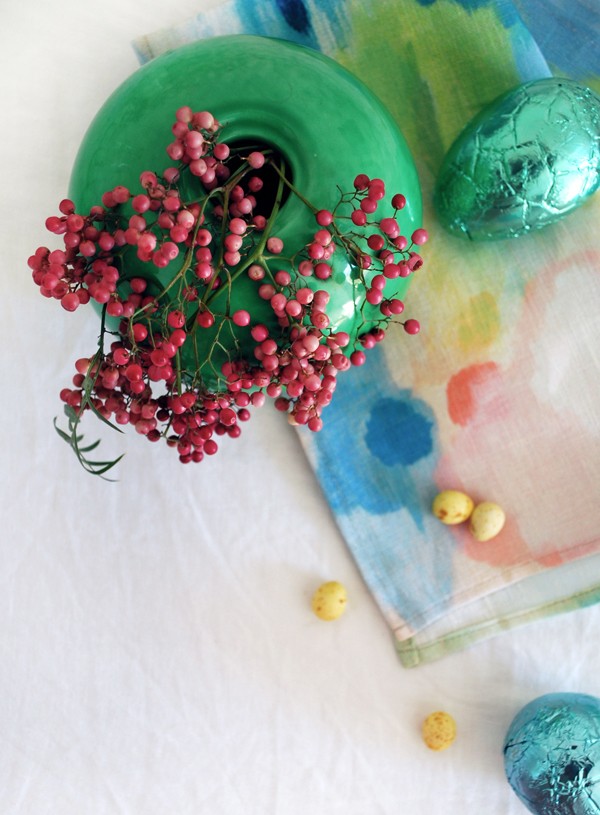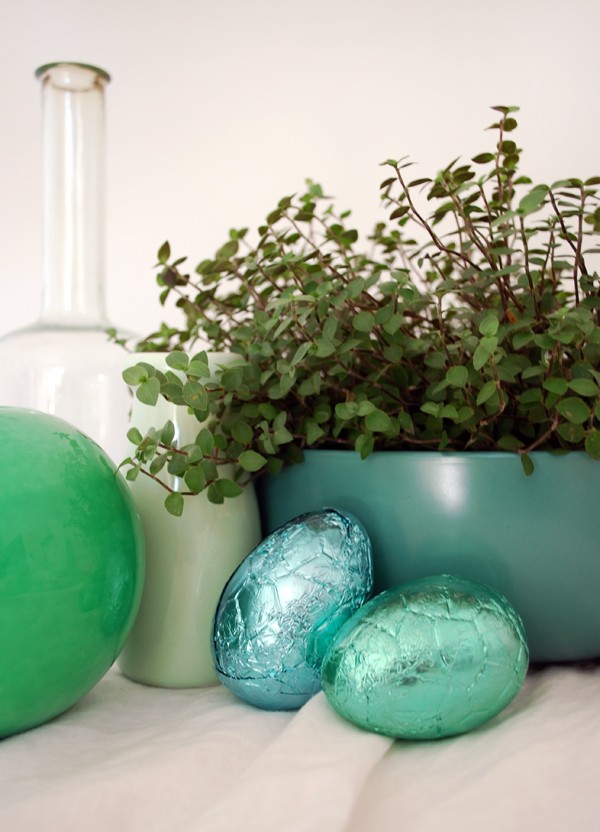 To complete the tablescape we popped a low-line leafy plant in a round jade Jett serving bowl, together with a couple of clear glass bottles from Freedom. A single sprig of peppercorns adorns one of the vessels and provides a visual link with the berries on the balloon.
For the final touch, foil-covered chocolate Easter eggs in greens and blues were clustered around the table.
2. FRESH AS A DAISY EASTER TABLE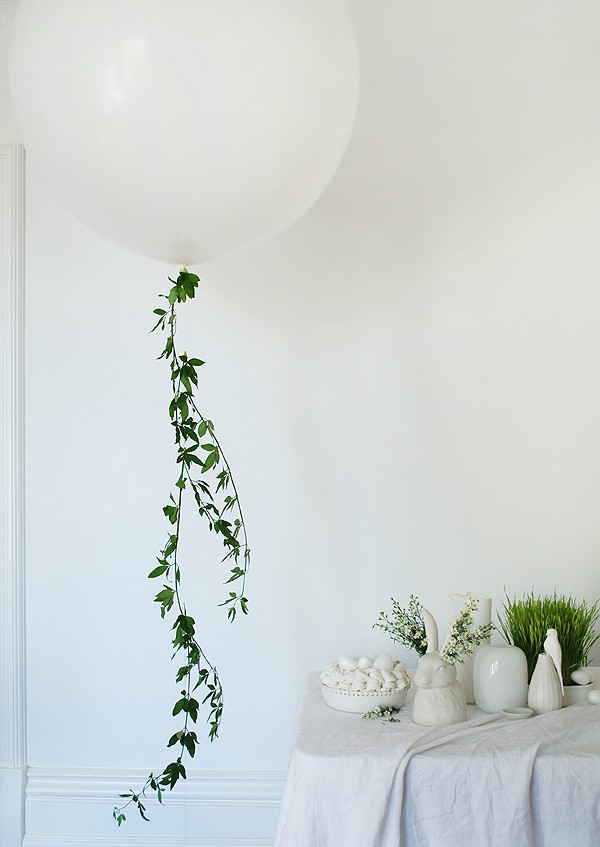 Fresh and zesty Easter daisies informed the look for this Easter table setting, which is kept minimal with a limited colour palette using white linen and an assortment of white ceramic vessels and bowls.
The key to working with white on white is to ensure you dial up the layers of texture, so it's not too bland and plain.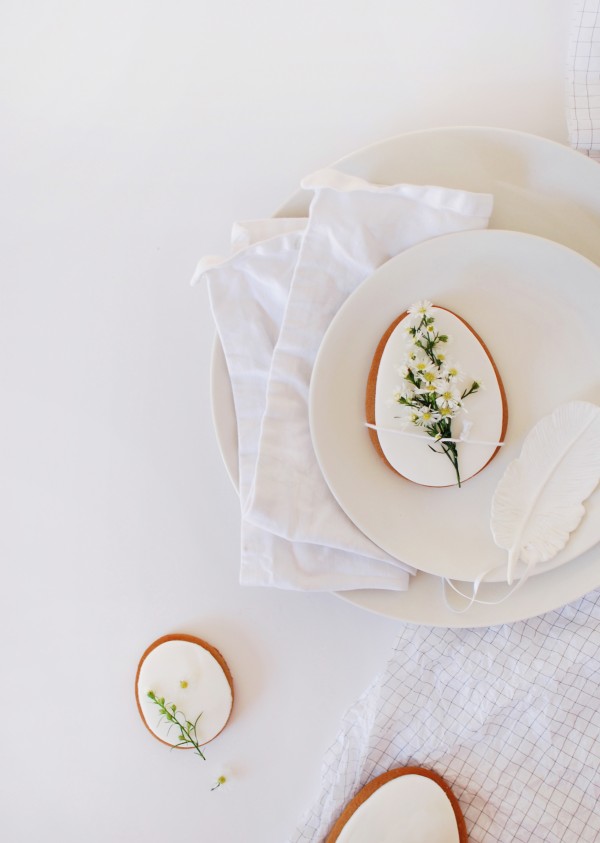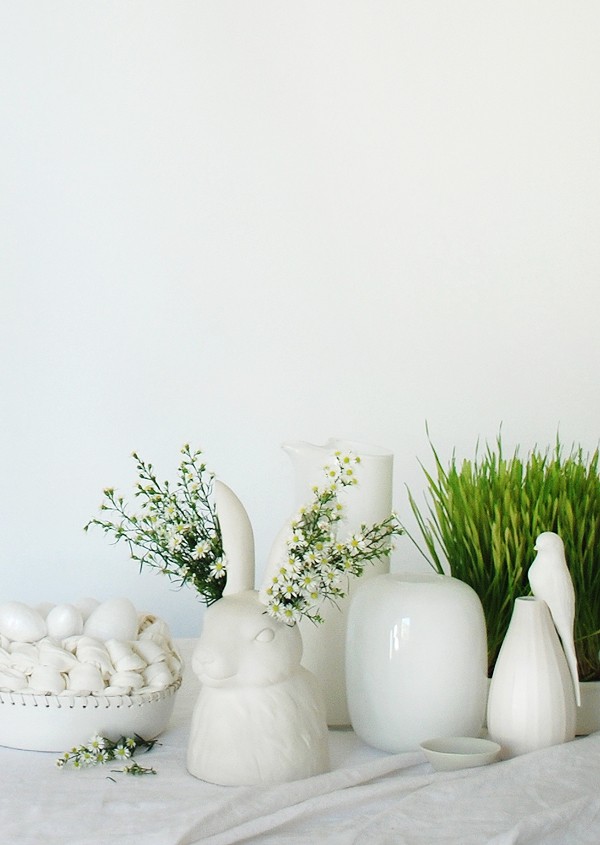 For this look, we layered the white linen tablecloth with a collection of vintage and new glass, ceramics and porcelain vessels in a variety of matte, gloss and textured finishes.
A handcrafted element adds to the interest and textures on the table – we used one of Lisa's own ceramic designs, a stunning white vessel in linen, leather and porcelain, and filled it with plain white Easter eggs.
Fresh trailing foliage on the oversized white helium balloon, along with a shallow bowl filled with fresh wheatgrass, combine to bring a touch of green to the table, which offsets the white-on-white palette.
Finally, we popped fresh Easter daisies into Lisa's adorable bunny ear vase from Anthropologie, and used a couple of delicate sprigs to decorate our homemade gingerbread Easter egg cookies.
3. TOASTY HOT CROSS BLUSH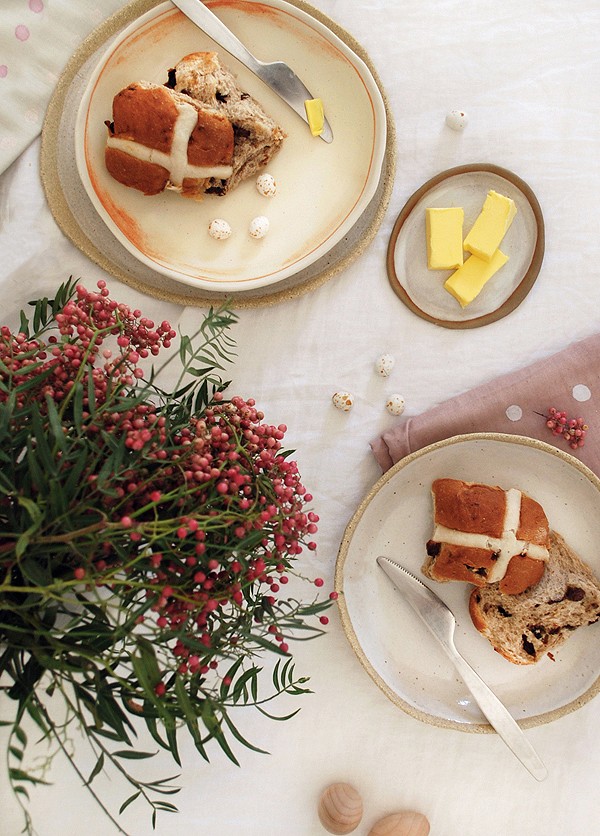 Dusky pinks and toasty browns combine in this table setting to create a warm and contemporary rustic Easter look.
Perfect for a hot-cross bun morning tea, this look is simple to achieve by layering a white linen tablecloth with a combination of blush-toned linen napkins and Nani Iro pink watercolour dot fabric.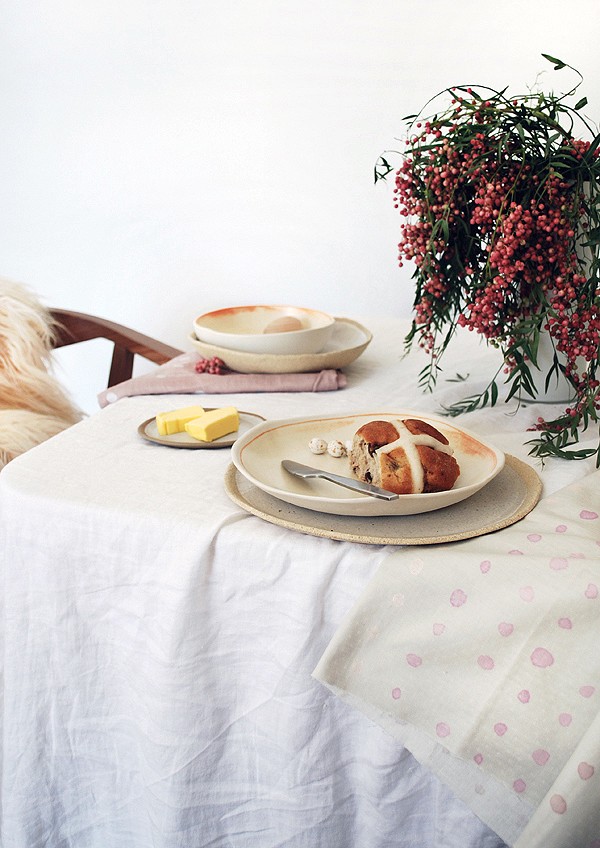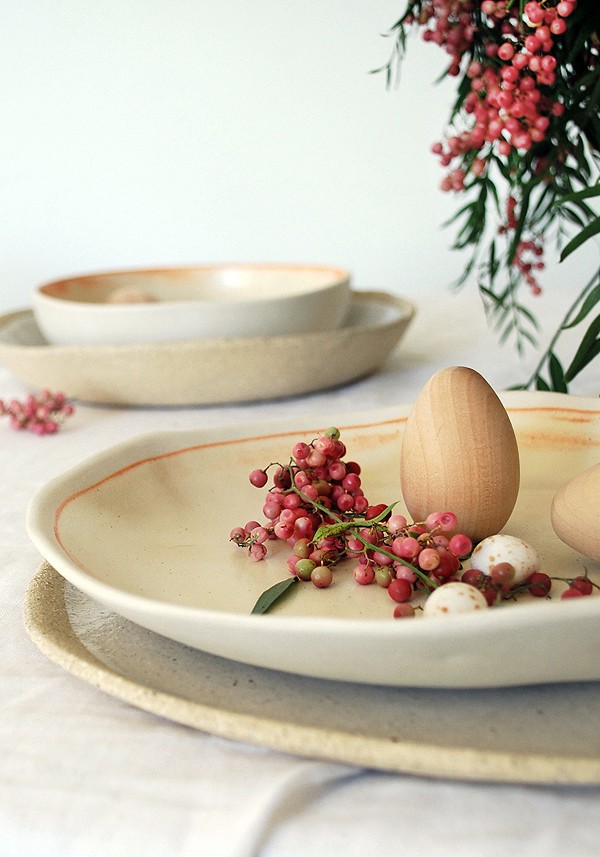 We used Kim Wallace's ceramic pebble plates and bowls to set the table, which are made from beautiful Australian stoneware raku clay. The rustic tones and textures in the hand-shaped plates and bowls give a warm and organic edge to the setting, perfect for a pile of steaming hot-cross buns with lashings of butter.
A bunch of fresh peppercorns fill a simple white glass vase as a centrepiece, surrounded by a scattering of plain wooden eggs and speckled candy Easter eggs.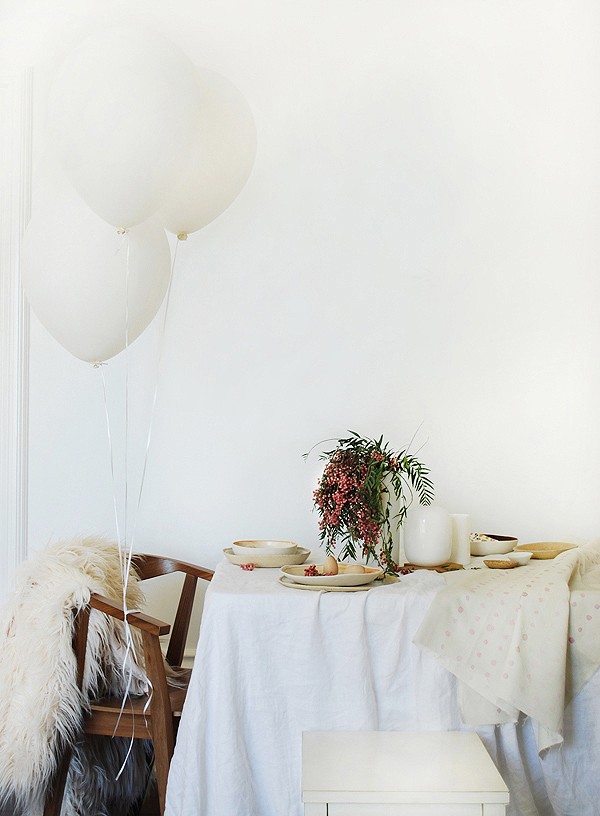 For a dash of extra hygge, we added some soft and shaggy textural warmth with Freedom's Grobi Bear throw in cream, and tied a set of three 16-inch white balloons to the chair for some contemporary cheer.
By Rebecca Lowrey Boyd and Lisa Tilse for We Are Scout.
All photography and styling by Lisa Tilse, for We Are Scout.
Save