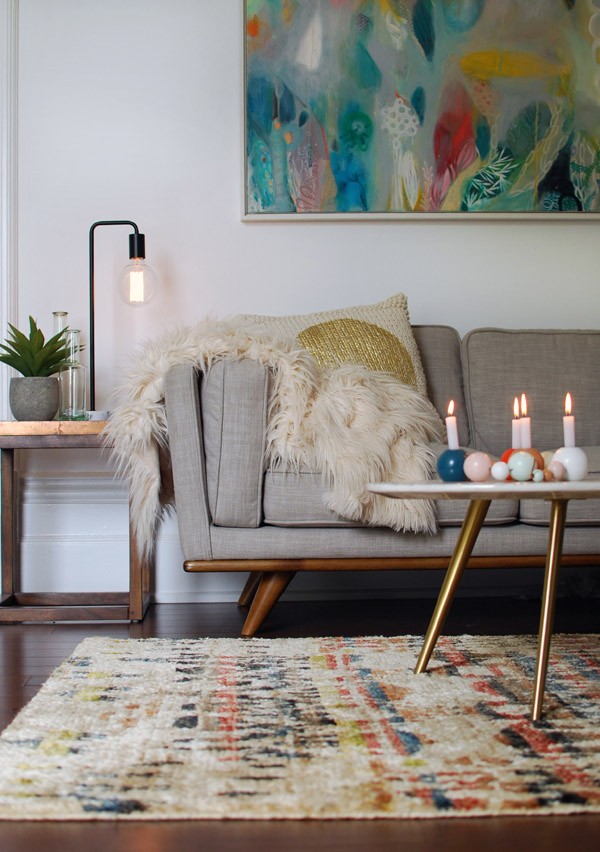 Freedom has just revealed their new collection for autumn/winter 2015, and there's a wide selection of homewares and furniture to covet. So when Freedom asked me how I would work their new season collection into my own home, I didn't think twice about giving my living room a makeover.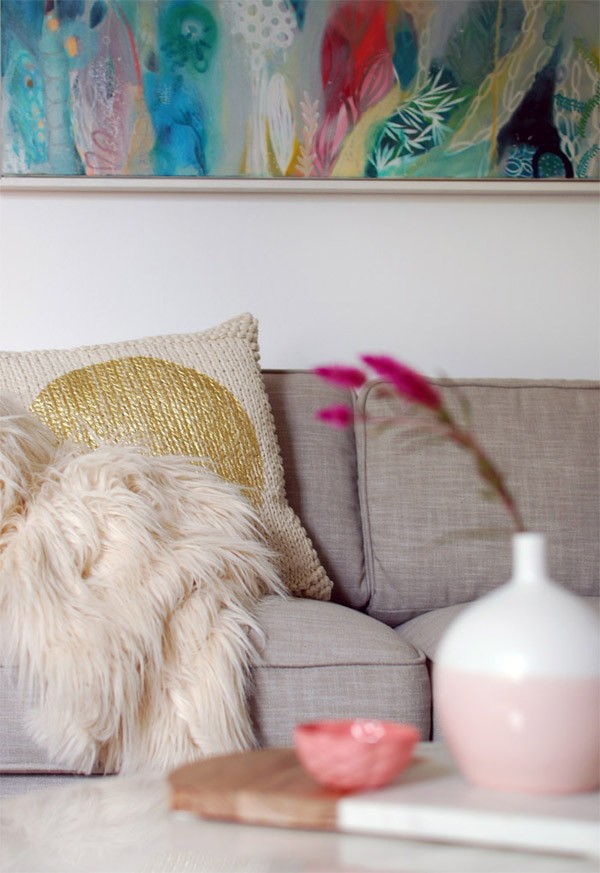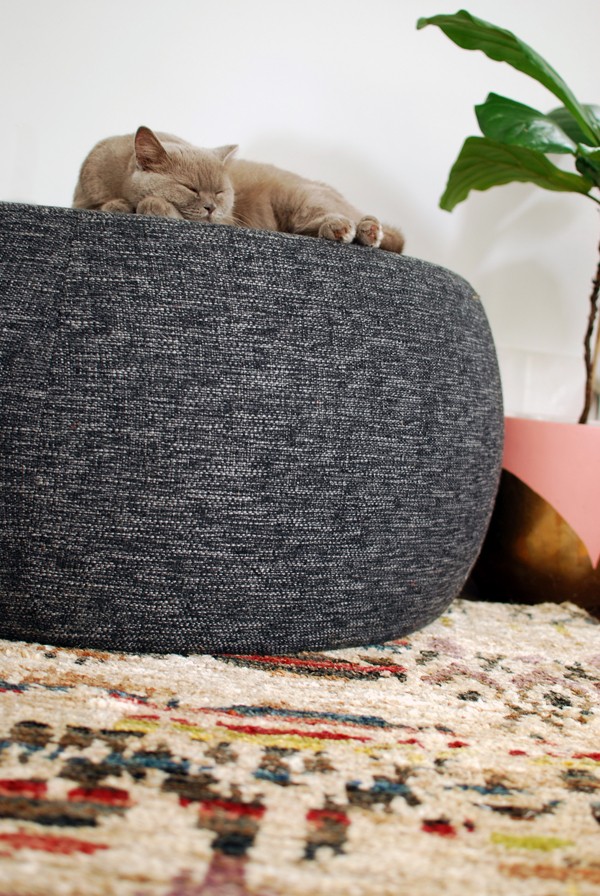 For me, winter isn't necessarily about dark or moody colours. It's about layering and mixing textures to create a sense of warmth. I really love the idea of the Danish concept of "hygge", which doesn't translate directly into English, but is central to their culture of creating a sense of cosiness at home.
Working with the concept of hygge, I chose a loosely bohemian-luxe look based around two of my favourite things in my apartment: a painting by Tiel Seivl-Keevers, and a multi-coloured timber candle holder, a souvenir from my 2013 trip to Scandinavia.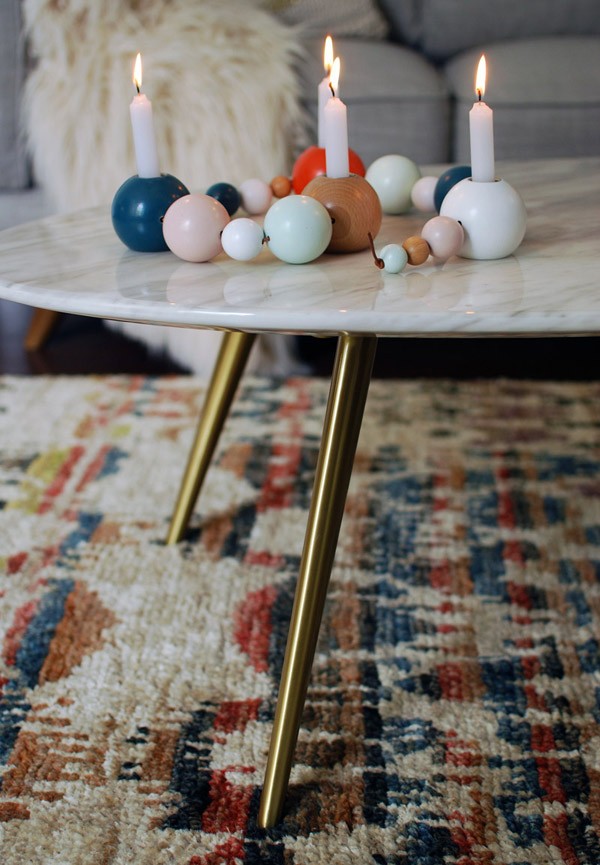 The first step in my living room makeover was to choose a new sofa, and I immediately pounced on Freedom's beautiful new Dahlia three-seater sofa. The beauty of Dahlia is that it looks contemporary and sleek, but it's also really comfy at the same time. The linen-blend fabric is in a soft neutral tone, so I can easily change the look with cushions and throws. The timber plinth running along the bottom of the sofa is also a great design detail that adds interest and a graphic, clean line.
I love unexpected groupings, and this season is all about mixing things up with different materials, shapes and textures. I grounded my new sofa with the jewel-toned Melita limited edition floor rug, and worked it back with marble, timber and metallic surfaces. The rug picks up the colours in my painting and candle holder without being too matchy-matchy, and adds to that sense of boho eclecticism.
I was pleasantly surprised to find that Freedom's new Stiletto coffee table, featuring a marble top with slender metallic legs, worked amazingly well in my new setting. It's not something I would have normally chosen, as I wasn't convinced it was exactly 'me', but I absolutely love it! It's got a great elliptical shape and the metallic legs echo the shape of the sofa's timber legs, so it's complementary without overtly matching.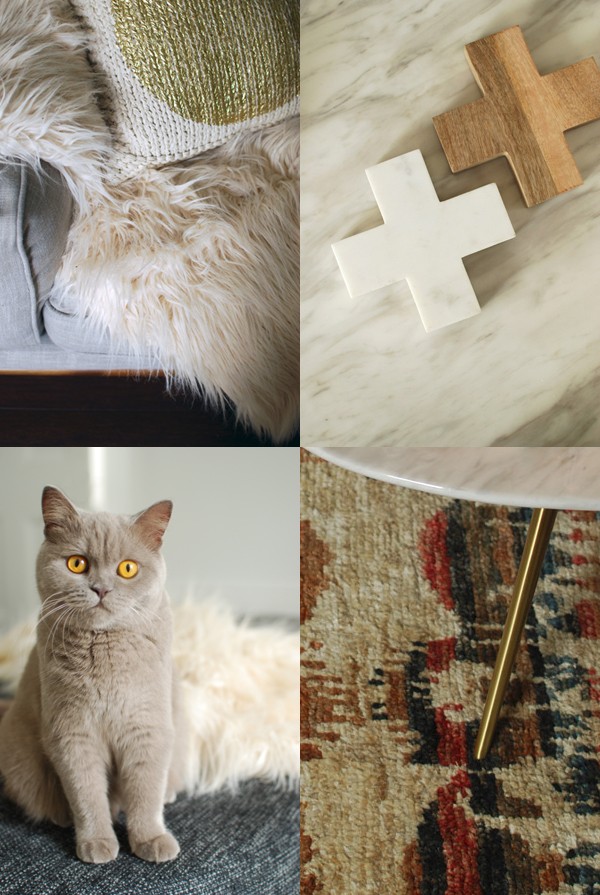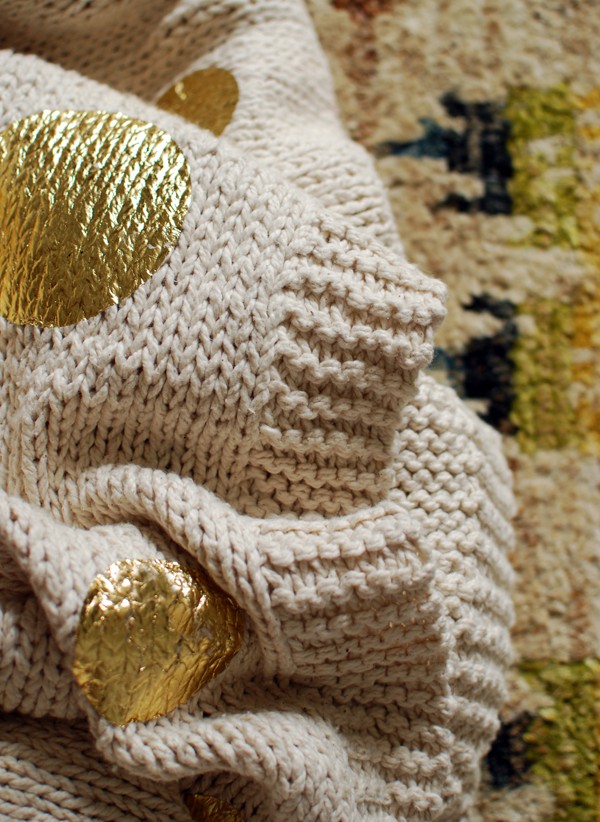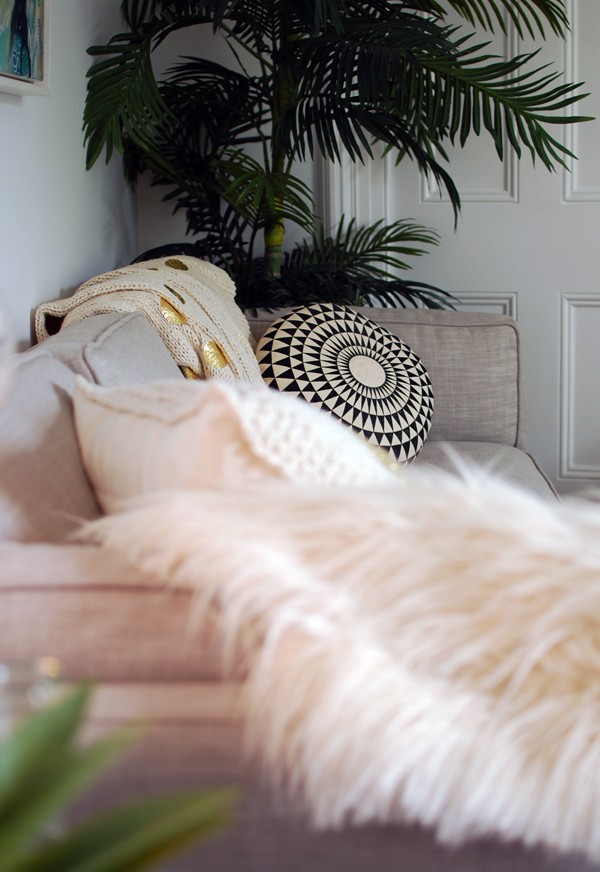 To create that sense of hygge, I layered loads of soft, lush textures from Freedom's new homewares collection, mixing a chunky knit, embroidery, linen, and a fabulous shaggy throw, which harks back to '70s afghans. It's all a mad clash but it really works, and it creates a laid-back cosy feel that doesn't try too hard too. Yet it's also cool, stylish and fantastically on trend at the same time.
Cushions are an easy way to mix things up in your living room, and Freedom's limited edition Gilt cushion features a giant gold dot, which creates an unexpected contrast to the natural-coloured chunky knit. Layered with the complementary Gilt dot throw, it also echoes the shape in the black and white circular cushion, without matching at all.
The Metro table lamp in matte black adds a semi-industrial style to the mix, while the simple silhouette picks up on the dark tones in the rug and the charcoal cushions. My timber side table, from a previous Freedom collection, has a copper top that adds to the overall look of mixed materials.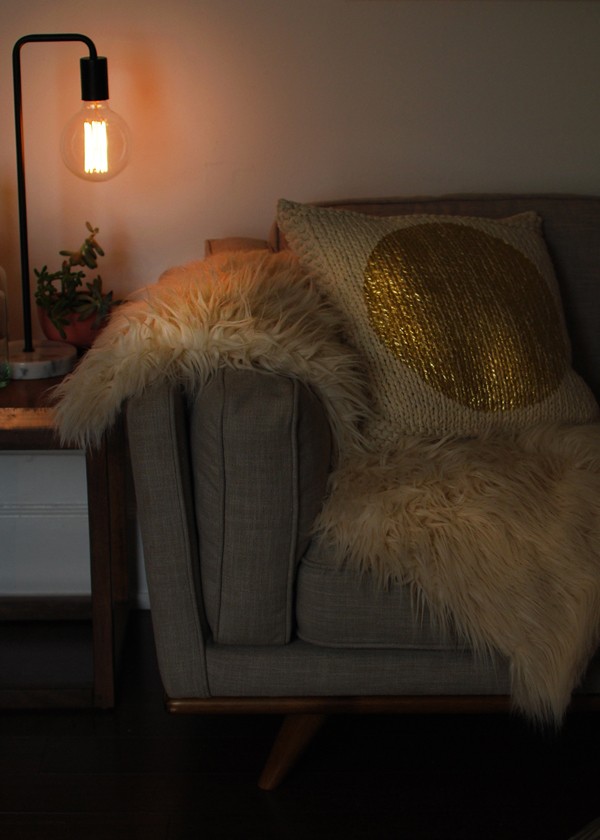 I also wanted to create a cosy new reading nook on the other side of my living room, which catches the warm afternoon sun. To make the new zone, I positioned Freedom's new oversized Basique ottomans under the big window, and layered them with a mix of textiles in charcoal and grey tones with mustard and sage accents. The ottomans are available in three sizes, and they have a wonderful organic shape that softens the graphic lines of the window. They're also endlessly adaptable, working alternately as seats, tables and foot stools.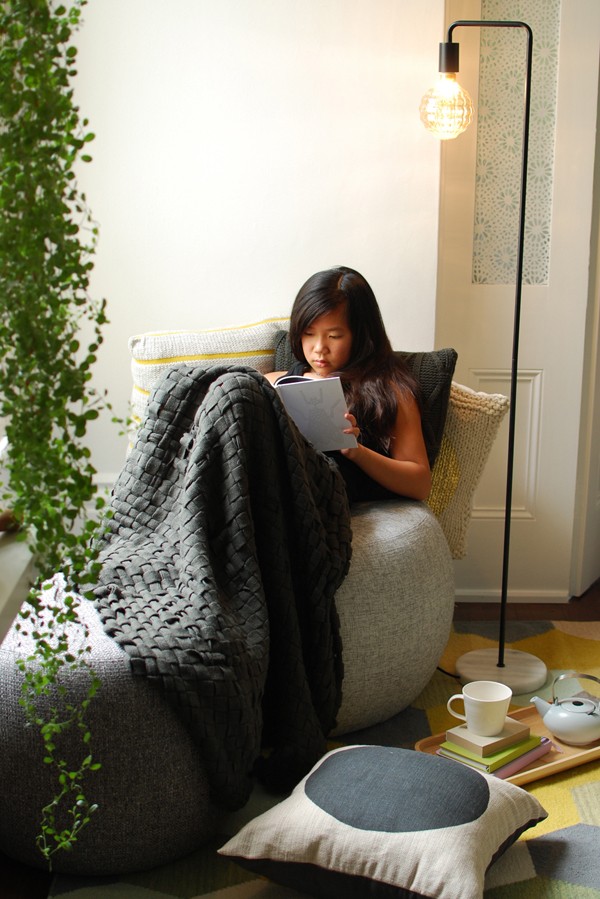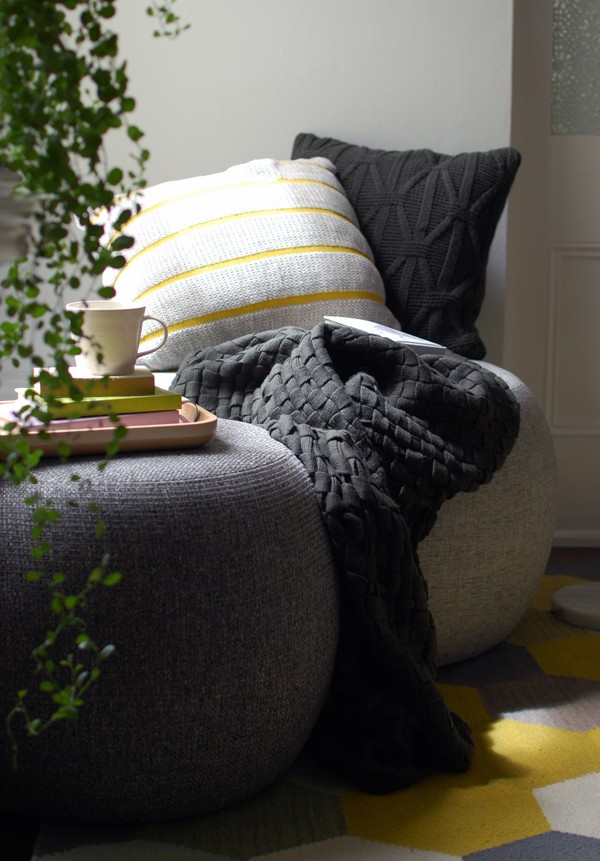 I added the new Honeycomb floor rug, and combined with the open weave throw and cable knit cushion, created a sense of softly clashing patterns and textures. For an extra decorative (and practical) element, I used the The Metro floor lamp as a reading light, featuring a cut-glass globe with a golden lustre.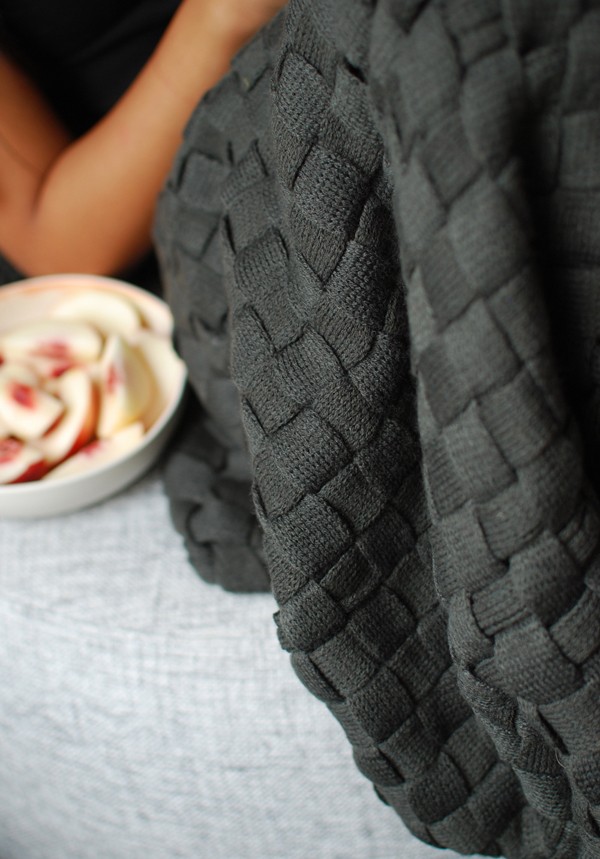 It didn't take long before my daughter – and kitten Fleur – discovered the comfy new living zone.
Basking in the warm winter sun, snug and curled up with a book and a cup of peppermint tea, my new Australian winter cocoon – with a dash of candlelit hygge – is complete.
You might also like to check out my Christmas at home, styled with Freedom's Christmas collection, my sorbet hued afternoon tea styled with Freedom's summer collection, and my mini bedroom makeover courtesy of Freedom's lush autumn/winter collection last year.
Tell me: what new piece from the Freedom winter collection do you fancy?
All photography and styling by Lisa Tilse, for We Are Scout.
Disclosure: This is a sponsored post in collaboration with Freedom. We only partner with brands that are a good fit with our blog, our aesthetic and what you, our readers, enjoy. Content and concept, product selections, words and opinions are all our own.

Save
Save