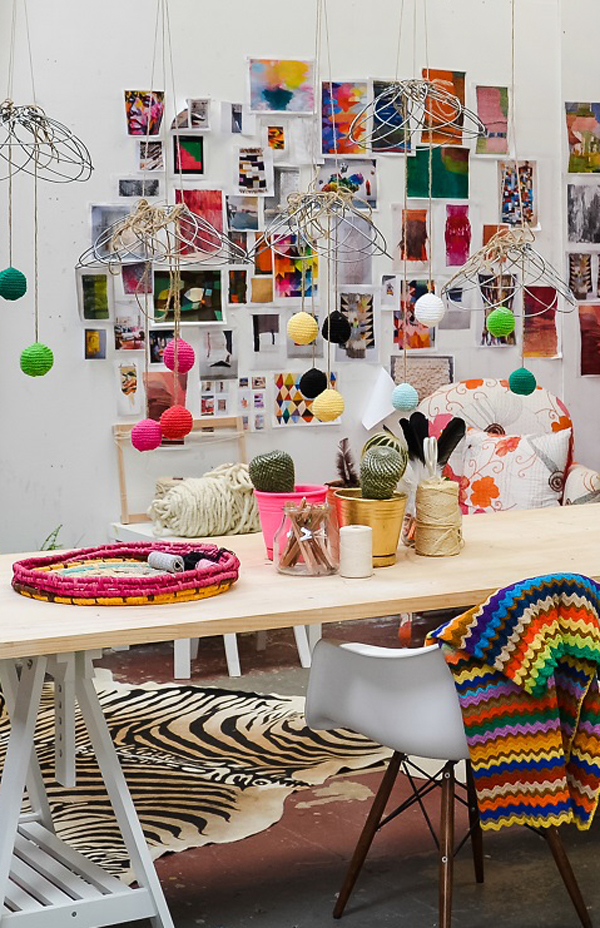 Natalie Miller  is a designer and maker who works from her vibrant and eclectic studio in the Southern Highlands of NSW. Natalie creates beautiful tapestry weavings and some amazing macramé pieces – wait until you see the enormous macramé owl that's in progress on her studio wall! I've followed Natalie on Instagram for some time, and I went to one of her tapestry weaving workshops earlier this year – and I'm now totally addicted to the craft. I can't wait to show you Natalie's beautiful part of the world, her colourful work and fab studio.
Meet Natalie…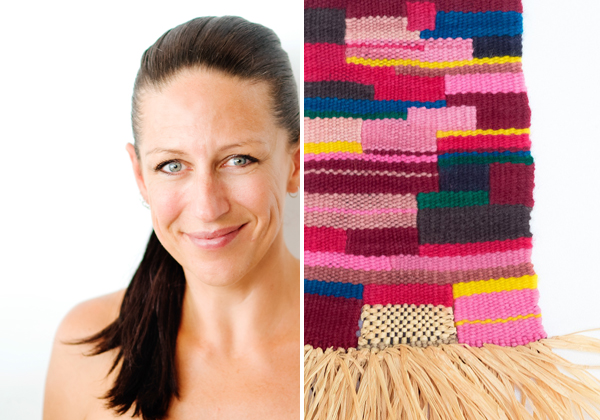 Where do you live?
I live in the most beautiful scenic countryside town of Kangaloon, part of Southern Highlands, an environment of constant inspiration. I live there with my husband and three children, two big boys and a little girl.
We relocated here 18 months ago after living in the inner city suburb of Paddington, Sydney for 20 years. We purchased 5 acres of land with the most magnificent view of green rolling hills and dairy farms. We have just started building our new house. It also has a river and rainforest on the site, with beautiful sunrises, sunsets and perfect northern light.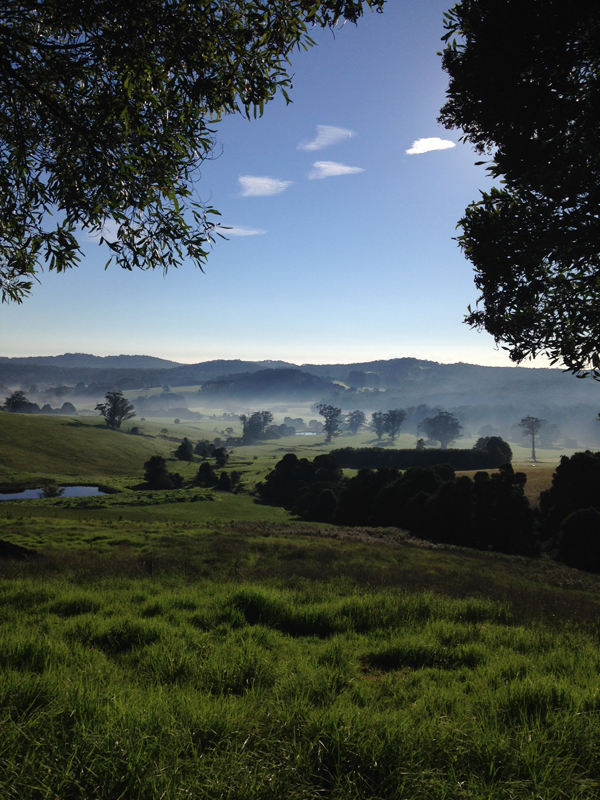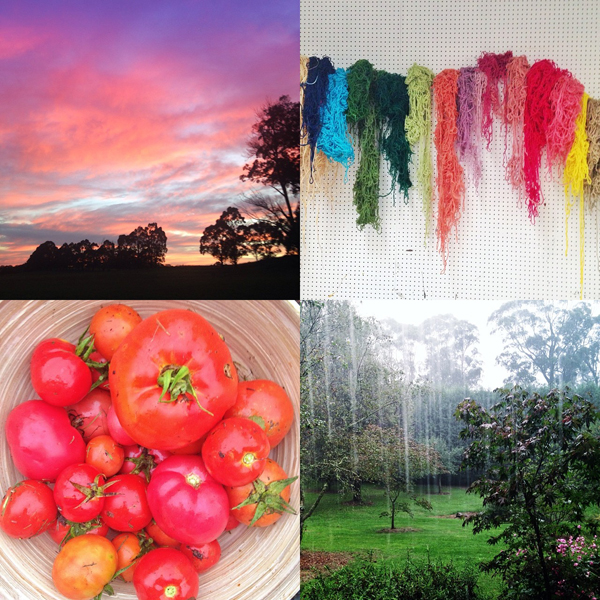 Where do you create?
I have a studio in the country town of Robertson that I share with two other artists, a sculptural basket maker and a painter. It's a wonderful creative environment that I share with two fabulous inspiring people.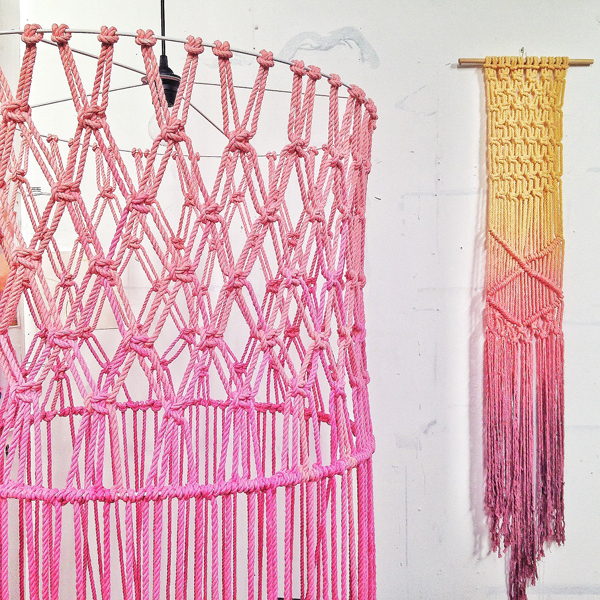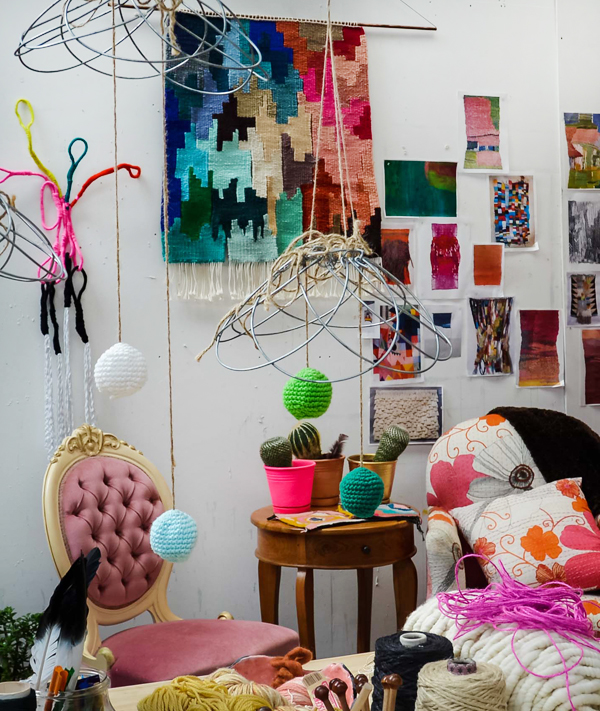 When do you create? Is it a full time job?
I create whenever I have a moment. I do spend around 20 hours a week making, the remainder working as an architect.
What path led you to this creative place?
I found that working in a modern western society, that my occupation had become very dependent by computers and technology. Unlike earlier years where drawing and designing on a drafting board, and endless hours of designing, colouring in and making models became overwritten by computer 3D renderings and CAD drafting. I was losing the sense of creating objects with my hands in the real world. I needed to make things and regain a sense of touch. If I am not making things I don't feel fulfilled. I find craft is very satisfying and meditative. I love to explore the different techniques of textiles, especially in weaving and macramé. I am put off by the saturation of mass produced products, and really feel that 'handmade' is unique and has personal meaning.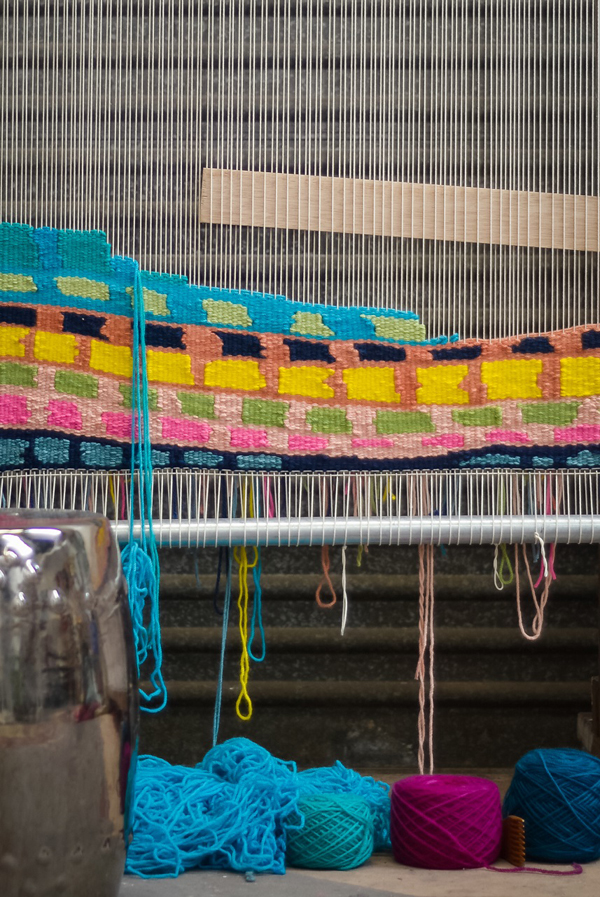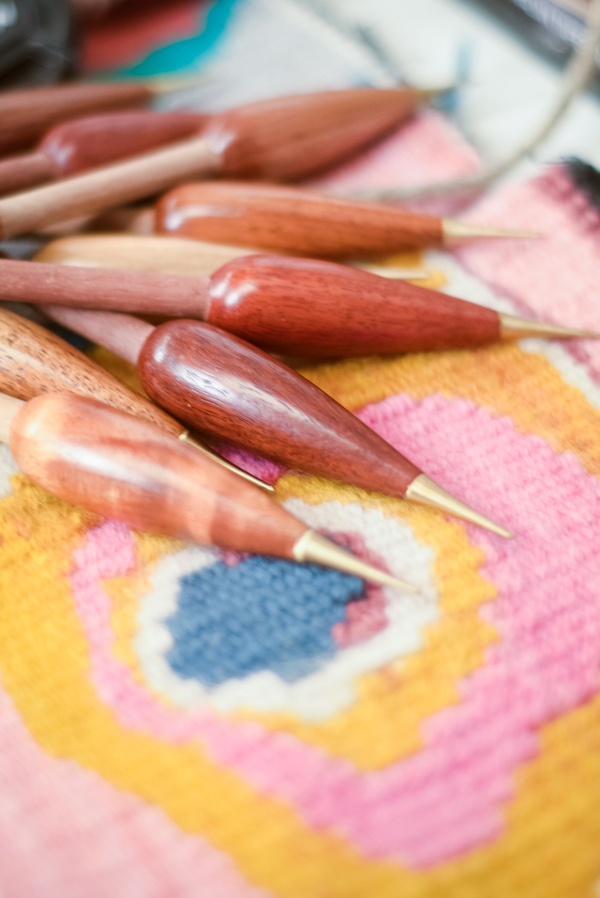 What's your elevator pitch? How do you describe what you do?
I am an architect, designer and maker. I'm also studying ceramics at Sturt Art and Craft Centre one day a week. I truly believe that I'm very fortunate to be able to take more time to play with my passion, being weaving, macramé and marrying the art of the fibres. I also have started to teach beginners tapestry weaving and macramé. I love the fact that I can share my skill with others and open their world to craft. I sell weaving kits and plunging into the world of handmade. It's my passion, I love it.
How would you describe yourself in six words?
Colourful, vibrant, pink, talkative, sensitive, independent.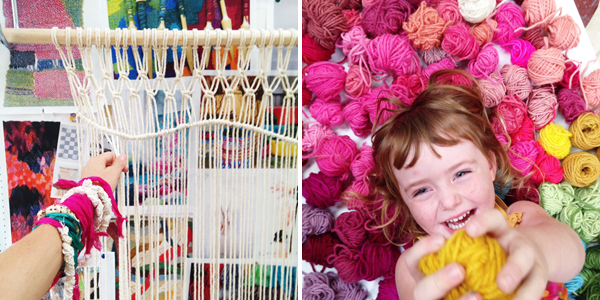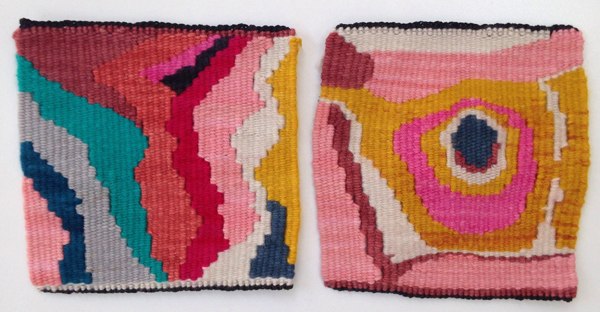 Where do you find inspiration and motivation?
I find that living in the highlands has given me constant inspiration. The mist that rolls into Robertson, Burrawang and Kangaloon, and the endless green rolling hills that I am surrounded by, just inspires me. There are a lot of artists and makers that live around here and just being surrounded by like-minded people is very inspiring. All of my works usually involves an intense amount of bright colours, I do love the colours, and makers that I see via Instagram and the internet. I follow wonderful creative people and I believe it's opened up a whole new world of inspiration.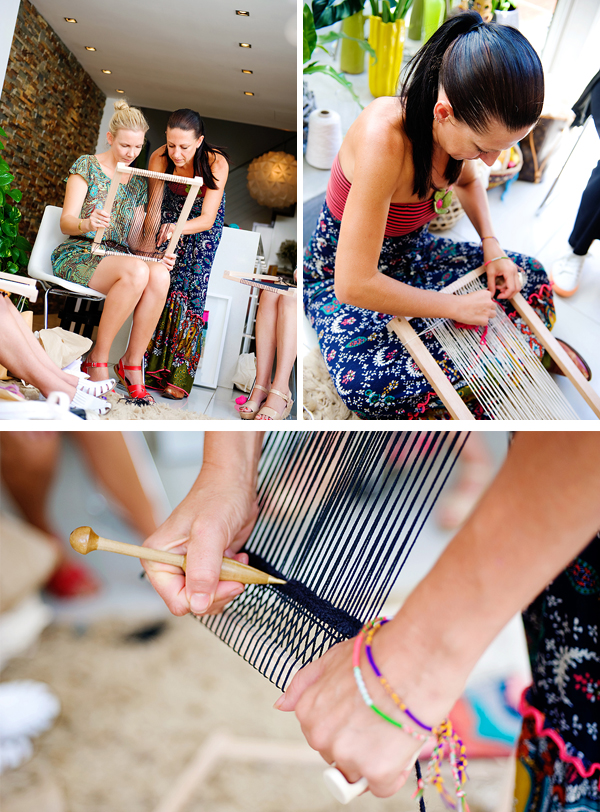 What are the essential items in your workspace?
Natural wool that I dye to fabulous colours, it's like cooking with colours. My large scaffold loom and small lap loom. My bobbins and beaters for weaving. My hooks for macramé. Endless fibres, wool, raw fleece, roving, sari silk, roving, jute and raffia. I can't forget my wool winder, which is just fabulous.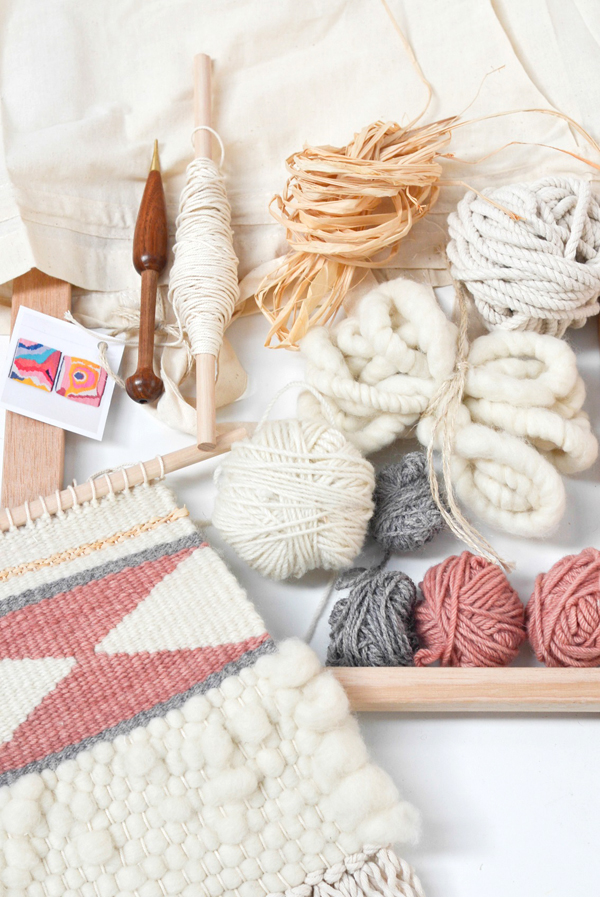 Natalie's Beginner's Weaving Loom Kit
What advice do you have for aspiring creatives?
If you're passionate about your work and creative passion, you will indulge your life into it and it will show. Share that passion with everyone, get on Instagram, and Facebook. Attend workshops and relevant events to meet other like-minded creatives.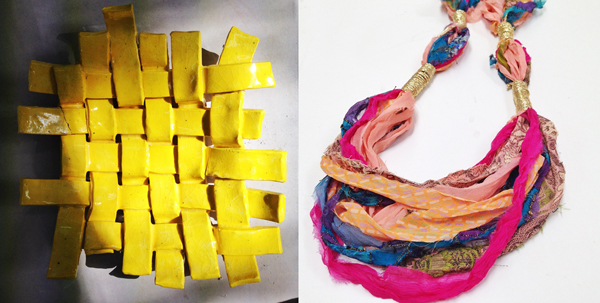 Do you have a dream that you'd love to fulfill?
I love what I do now and really believe that I am living my dream. I am soon to start teaching children different art and crafting skills in my local area. I can't think of anything more rewarding when children find craft fun and inspiring, and in this world of technology we need to teach our children to use their hands and make.
I guess I do have one dream that I am aspiring to, and that is to fill my house, that is under construction, with only everything handmade. My husband is building it, he is an architect and builder. It's very contemporary using off form concrete, glass and timber. My plan is to fill the walls with large tapestries, macramé and paintings. Weave the rugs and lights, and make all the ceramics, including tiles and sculptural vases. Yes that's my dream.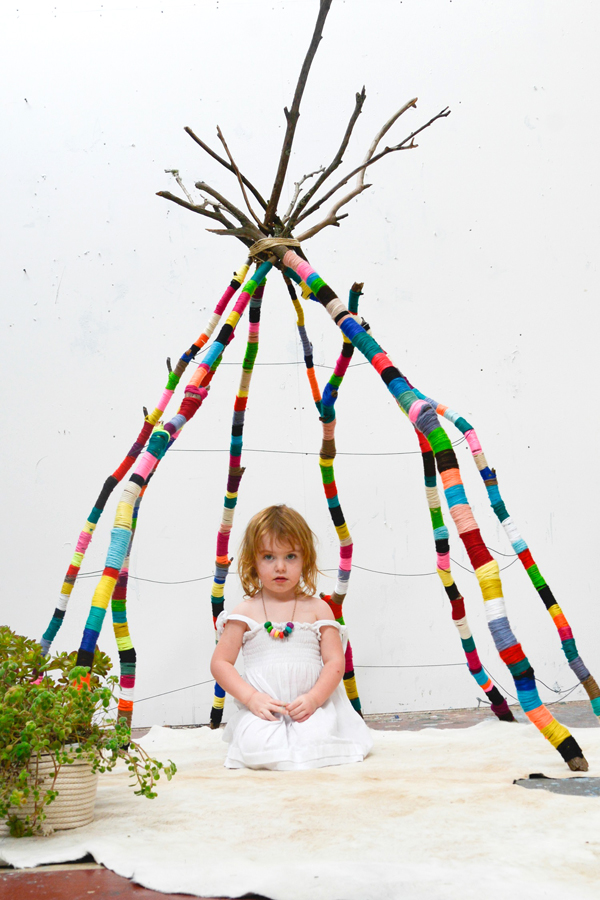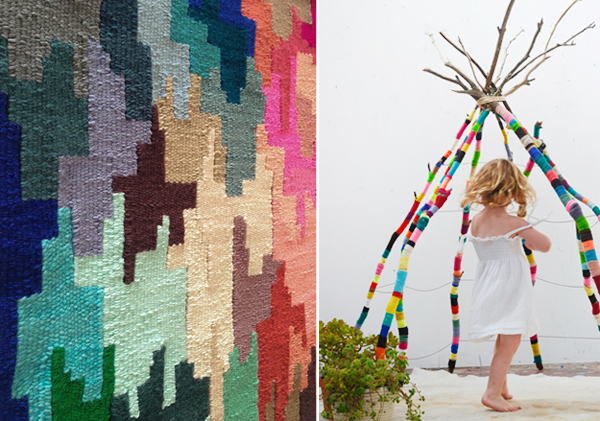 All photos courtesy of Natalie Miller.
Did you love visiting with Natalie as much as I did? How stunning is the weaving directly above, the yarn bombed tee pee, and her gorgeous wee poppet dancing in it. Natalie is lovely and a wonderful teacher, so if you're in Sydney or the Southern Highlands make sure you sign up for one of her tapestry weaving workshops – she runs them in both locations.
You can find out more about Natalie Miller on her website.
Visit Natalie's online shop to purchase her one off weavings, macrame lights and wall hangings, as well as beginners weaving loom kits and naturally dyed yarn.
If you've missed previous Space to Create posts you can catch up on this series here.
Save
Save