Today's Space to Create post is one big, satisfying Snap Crackle and Pop! of colour as we visit London-based textile designer Kangan Arora.
I first stumbled across Kangan on Instagram and I was instantly drawn to her use of bright hues, and her amazing photographer's eye as she travelled through India. The flavour of Kangan's Indian heritage is all-pervasive in her work, which is a riot of colour and shapes, but with a thoroughly contemporary urbane edge.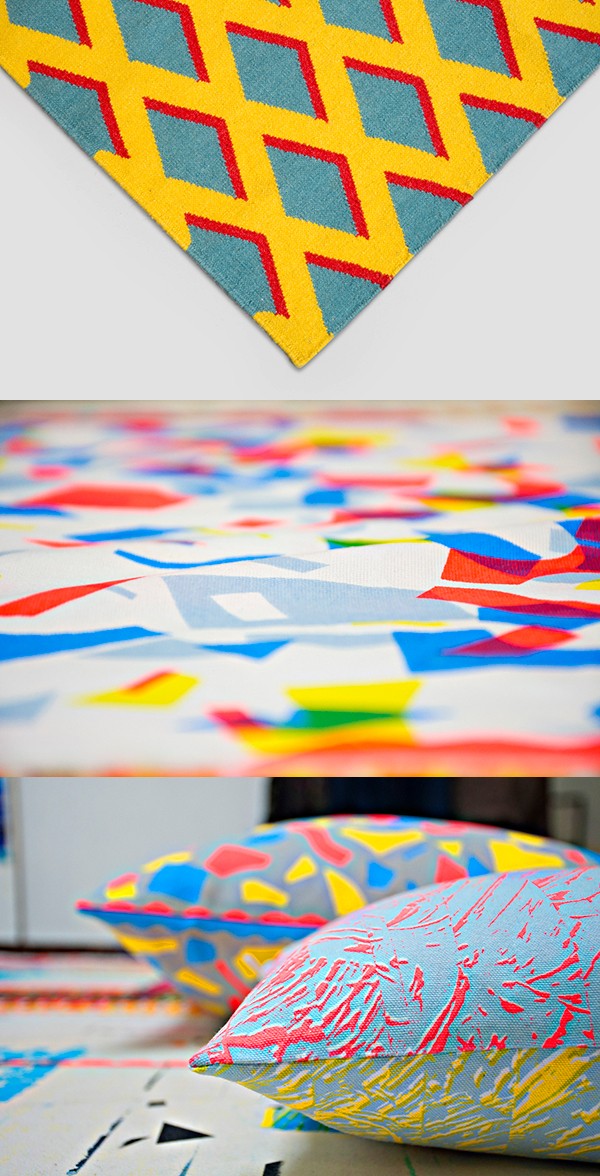 Together with her own line of soft furnishings Kangan has designed a new exclusive collection of bedlinen and cushions for Urban Outfitters Europe. It's so new that there are only a few cushions available right now, but expect stunning bed linen to land online any day now. There's also her ongoing collaboration with Floor Story which has produced three collections of hand-woven, tufted and hand-knotted rugs with a fourth collection due to launch at London Design Festival this week.
She's a dynamo, right?!
Meet Kangan…
Where do you live?
I live in leafy North London in a small first floor apartment with my husband. It's a beautiful, peaceful area, with late Victorian townhouses and large windows that capture the morning sun and the last of the evening light. We're just a 5 minute walk to Hampstead Heath – the largest open green area in London – and a 20 minute bus ride into the centre of the city which is handy.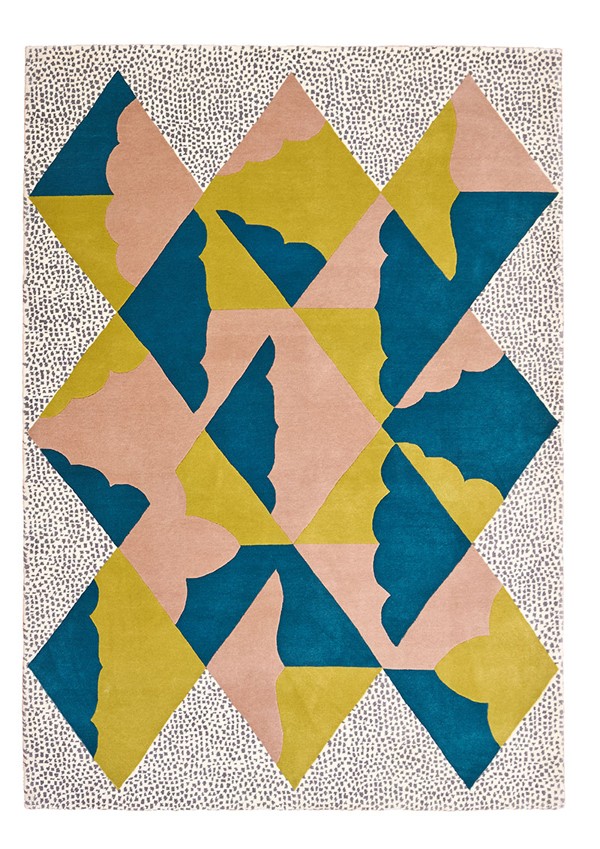 Where do you create?
My studio is on the opposite side of town in West Norwood (South of the river), where I share a cosy space with long time friend and sometimes-collaborator, Jonna Saarinen.
I'm based at Bainbridge Studios in South London. It's a converted 19th Century stable block tucked away behind the bustling high street, that's now a thriving little hub of creativity, with artists, designers, printmakers and illustrators all having studios next to one another. I'm not sure I could ever work totally alone, it's very helpful to be able to bounce ideas off one another and inevitably we feed off each other's creative energy.
At busy times, our living room at home can become an ad-hoc studio/warehouse – much to the annoyance of my husband!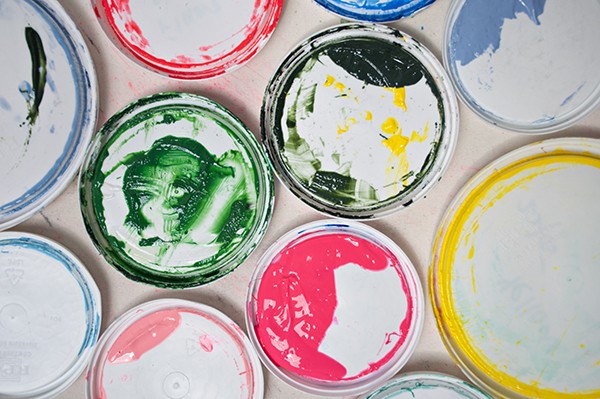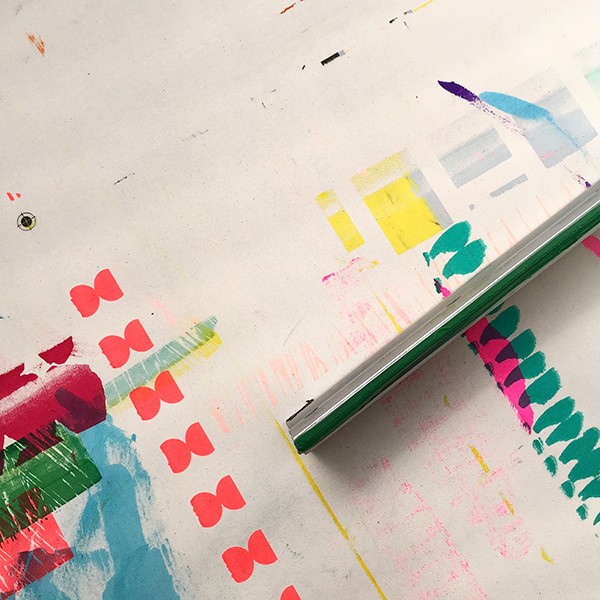 When do you create? Is it a full time job?
I run Short Courses at CSM (Central Saint Martins) so balance running my own business with teaching. I'm always in and out of the studio and try to remain very flexible with my schedule.
Sometimes I don't get to go for a couple of weeks; other times I'm at the studio everyday making new designs and sampling new colour ways, or out and about sourcing new materials. It's the variety everyday that keeps it interesting for me.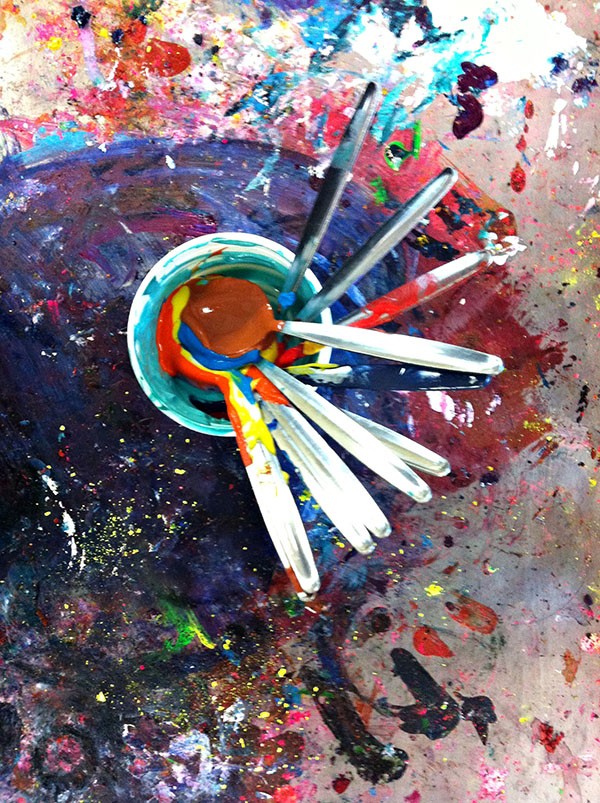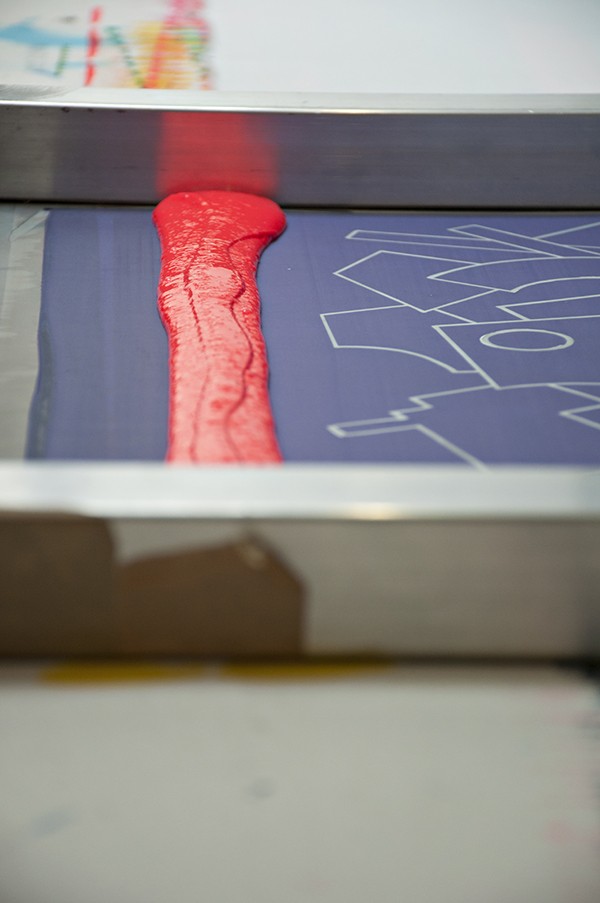 What path led you to this creative place?
It's been a long and winding route that started with a degree in Fashion at the National Institute of Fashion in Gujarat (India), followed by a very enjoyable 3-year degree at Central Saint Martins where I specialized in Printed textiles.
After a couple of years work experience with print designer Lisa Levis (nee Stickley), I set up my studio in 2011.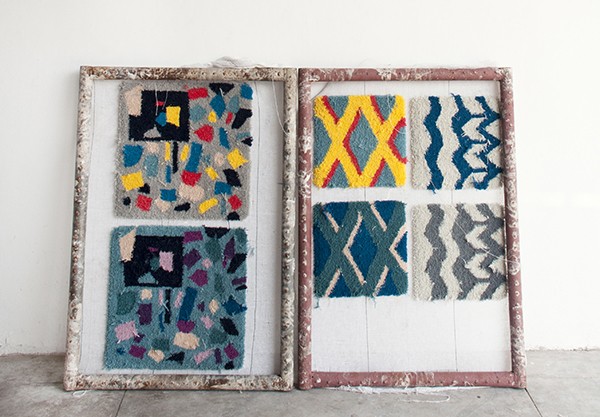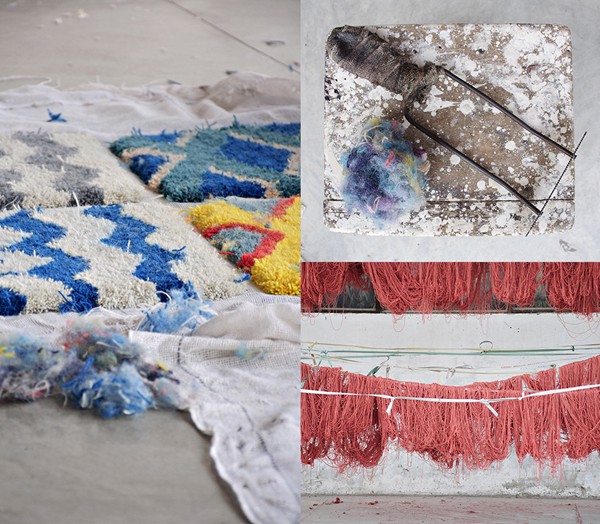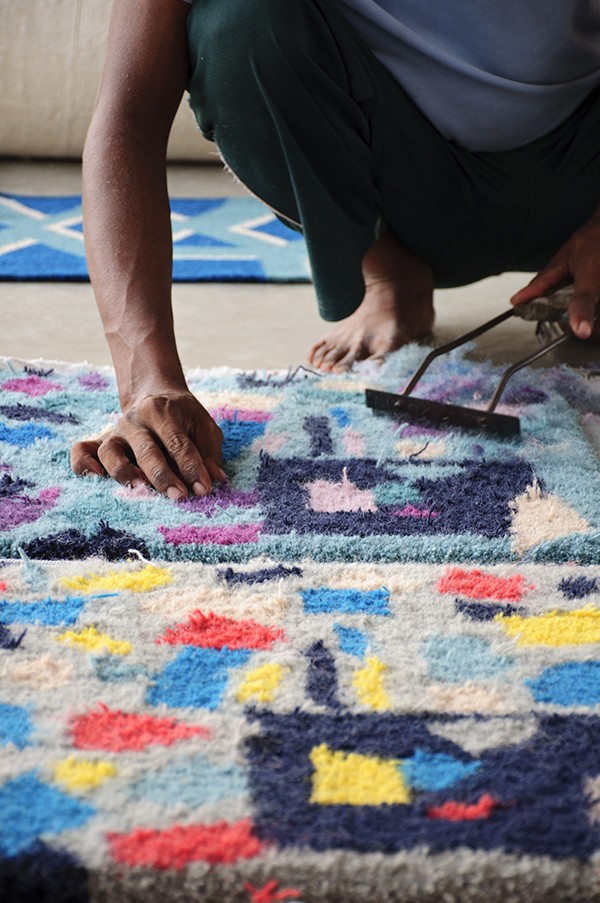 What's your elevator pitch? How do you describe what you do?
I run a design studio where I design and make vibrant, Indian-inspired screen-printed textiles for the home (the brighter the better!)
I also collaborate with companies where I get to design products I can't produce myself at the moment – Rugs, Bedlinen and soon Throws!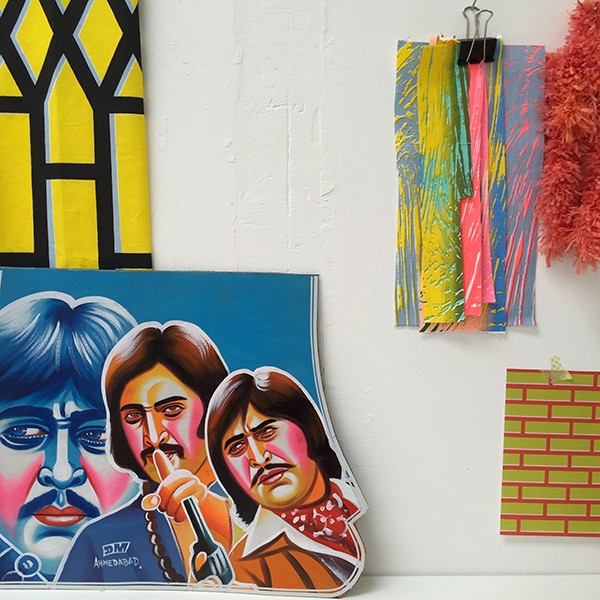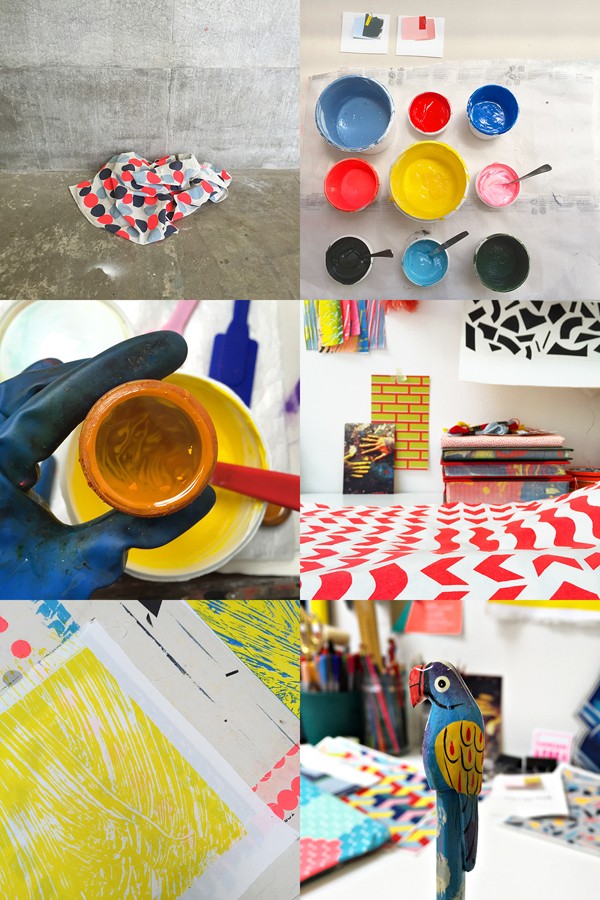 How would you describe yourself in six words?
Enthusiastic, Determined, Contradictory, Lively, Resourceful, Happy
Where do you find inspiration and motivation?
My main inspiration has consistently been India; I never tire of the hustle and bustle and visual assault of people, pattern and colour. More and more I also find myself being influenced by the tumble-dryer of creativity that is London, but its to the colour, energy and eclecticism of home that I'll always be drawn.
Sign painters the world over are my heroes, DM from Kankaria Lake in Ahmedabad gets a special mention! He paints the most beautiful eclectic mud flaps that make their way to the back of auto rickshaws; and some make it to studio spaces in London (on my desk!)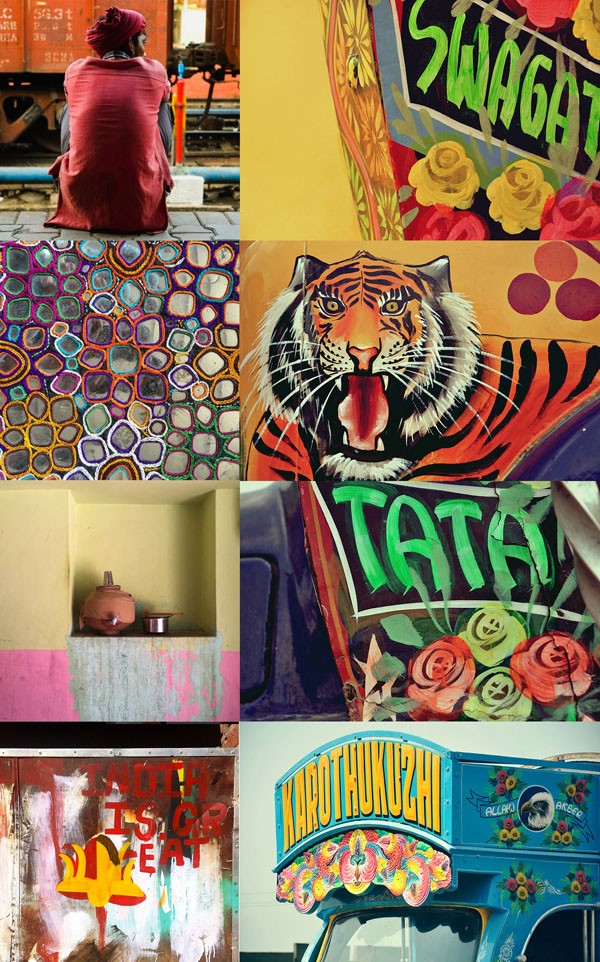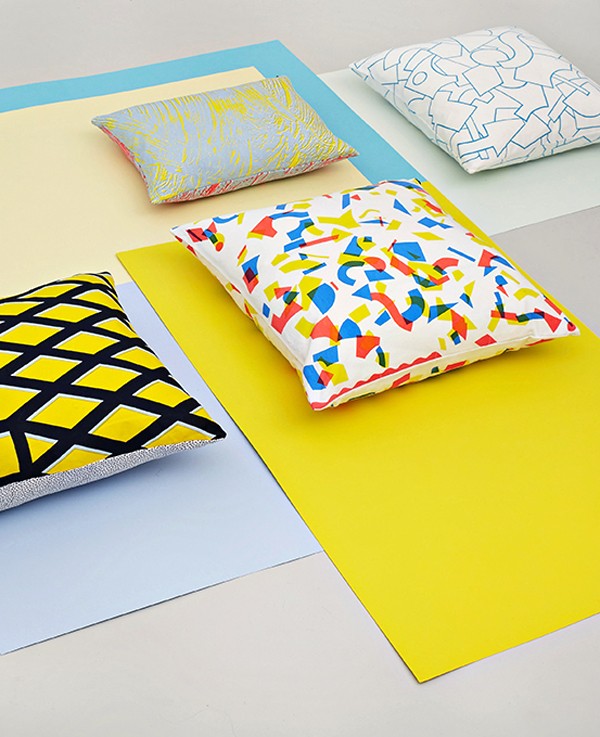 What are the essential items in your workspace?
A boiling Kettle with tea-bag primed and ready, a Radio humming with new sounds, Fabric, Screens and an eye-popping assortment of inks.
Do you have a favourite tool that's essential to your work? (Tell us about it – including brand, and why it works for you?)
My v-blade squeegee (used to screen print with) is super sharp and very beautiful. There are so many options with rounded edged or square edged ones, but I find that the v-shaped rubber gives me the best result on fabric – apparently, it's meant to be for printing on glass.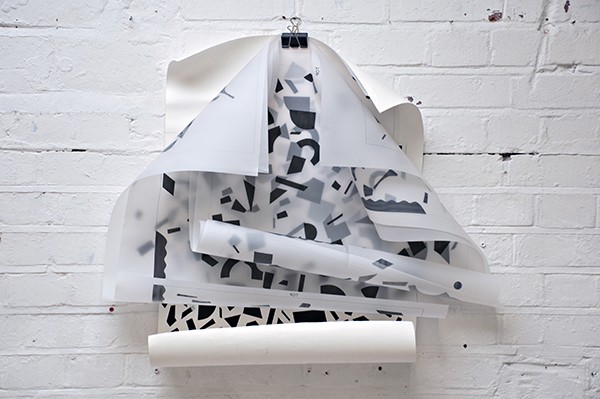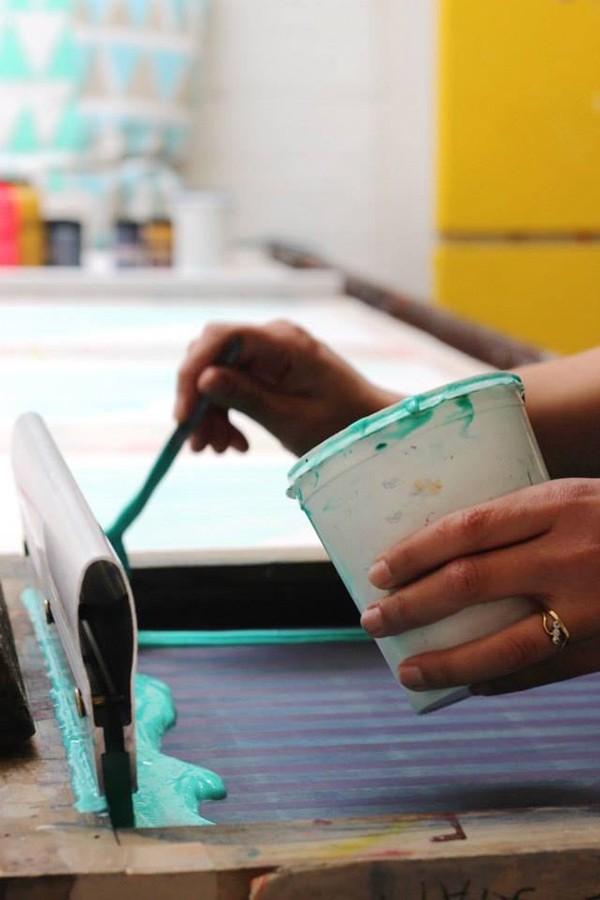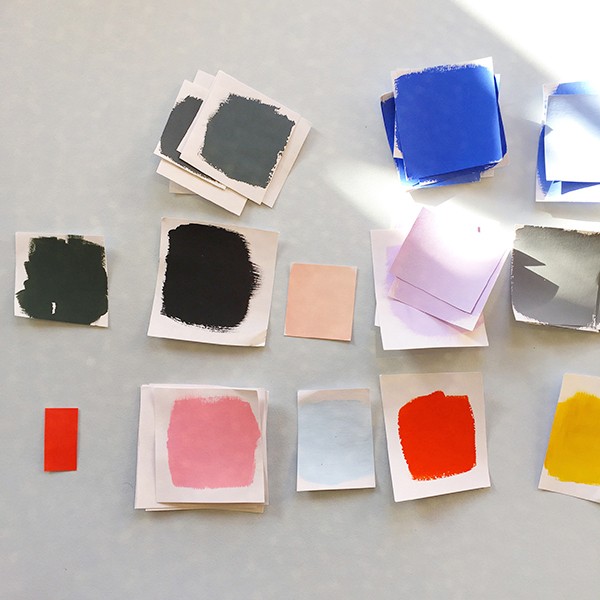 What do you love the most about your creative space?
Our 3.6mt print table that Jonna and I rescued from our old print room when CSM moved to the new campus in King's Cross.
We went with spanners and WD-40 and took it all apart in about 3 hours – it had been in the same spot since the 1970s so was hard work to dismantle. On the other end, it took us no more than 30 minutes to put it back together.
Every time I walk into our studio, I can't help but admire our table – the one that got away. It's the same one on which we learnt how to print so is super special.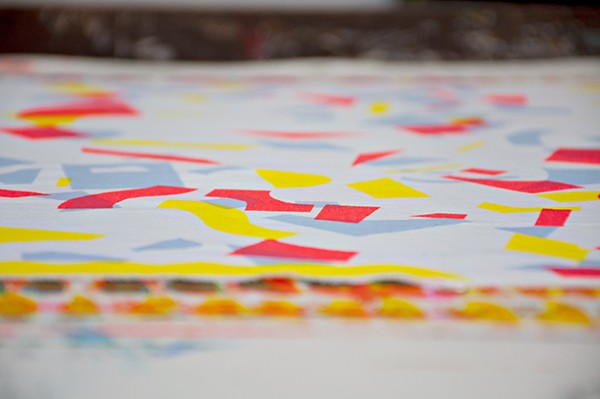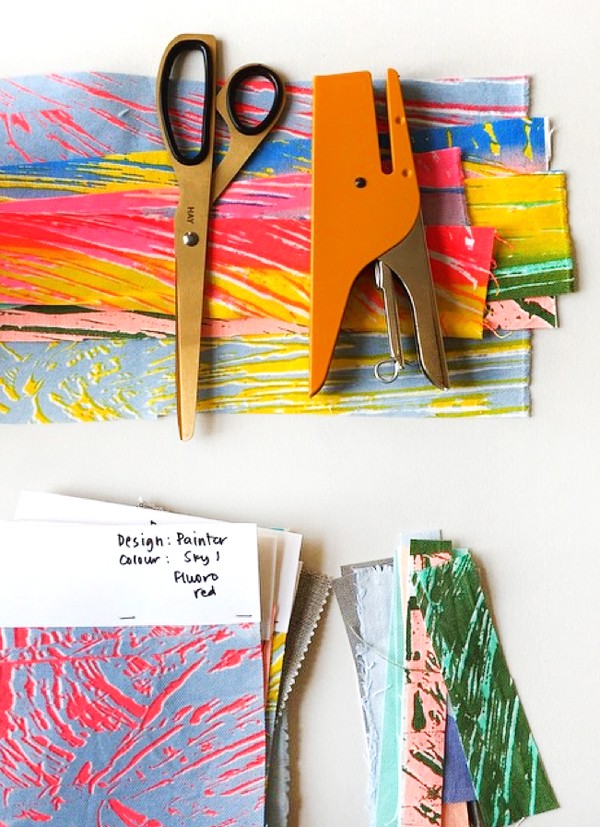 Is there something you don't like, or would like to change?
It's perfect for now but I wish I could find something closer to home so I could drop in and out more spontaneously.
Do you listen to anything while you work? Music? Podcasts? TV? Silence?
I listen to the radio all the time – either BBC 6 Music or Radio 3 (Classical music).
6 Music is fantastic – great new (and old) music and loads of banter… sometimes, too much banter – that's when I switch to Radio 3 for some classical music.
I've also been known to put on some 1970s Bollywood disco when no one else is around – I love it – totally uplifting (I have a Spotify playlist if anyone's interested)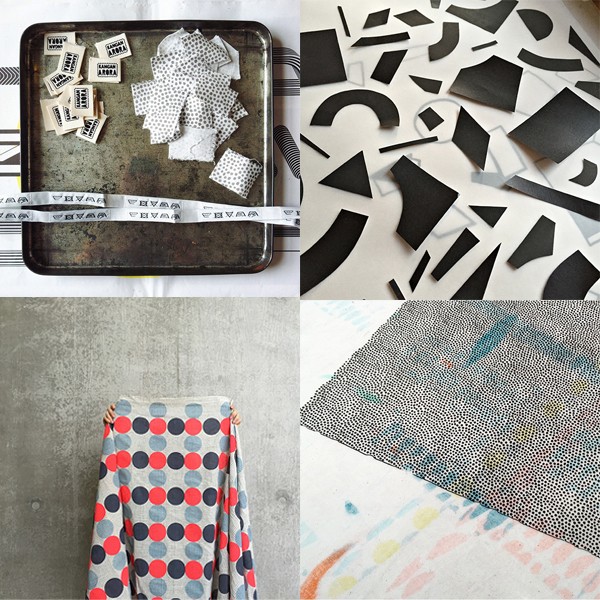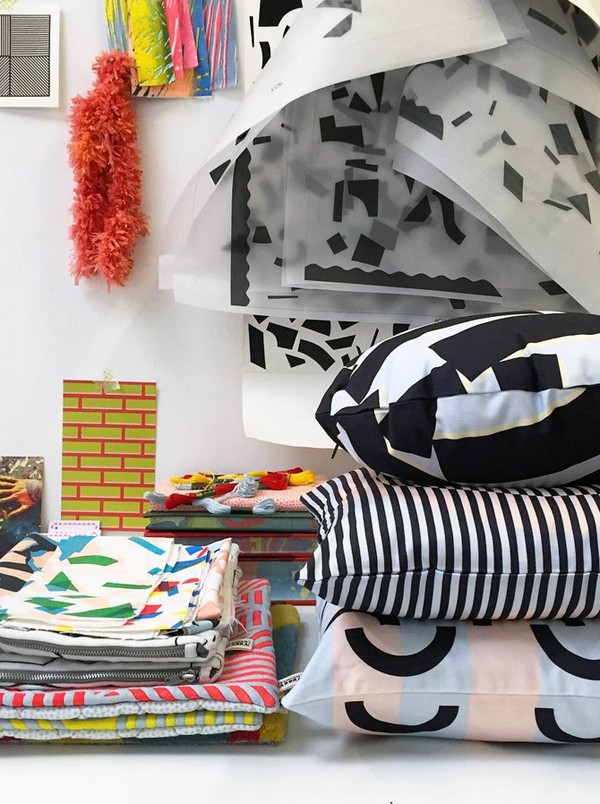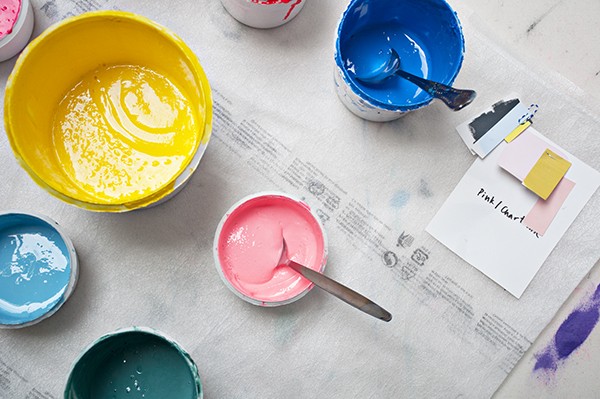 Favourite work-time snack (or beverage)?
A cup of Elaichi (Cardamom) tea – that I never finish – at regular intervals keeps me going…
What would be your dream job or collaboration?
I have long been an admirer of Danish lifestyle brand HAY and would love to collaborate on some products with their London-based brand 'Wrong for Hay'.
I think a return to Fashion at some point is lingering in the background too, I studied Fashion before my Textiles degree and my prints are often very appropriate for fashion purposes, so I'd love to work in one of the & Other Stories ateliers.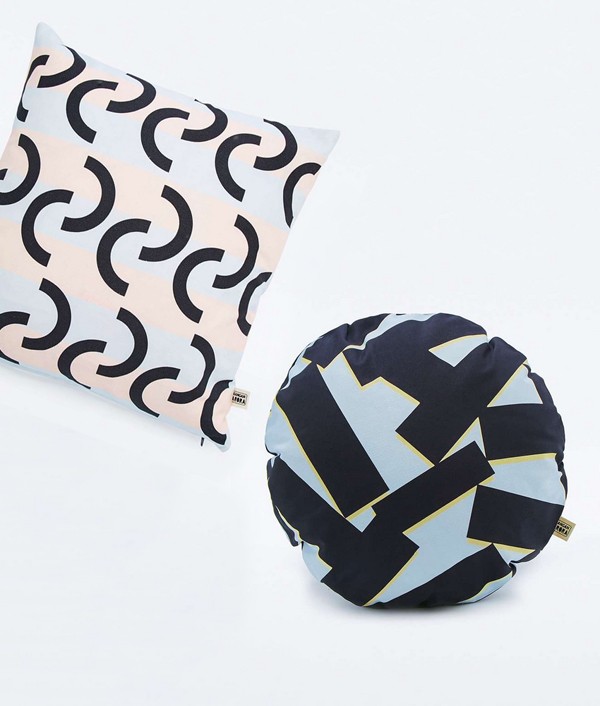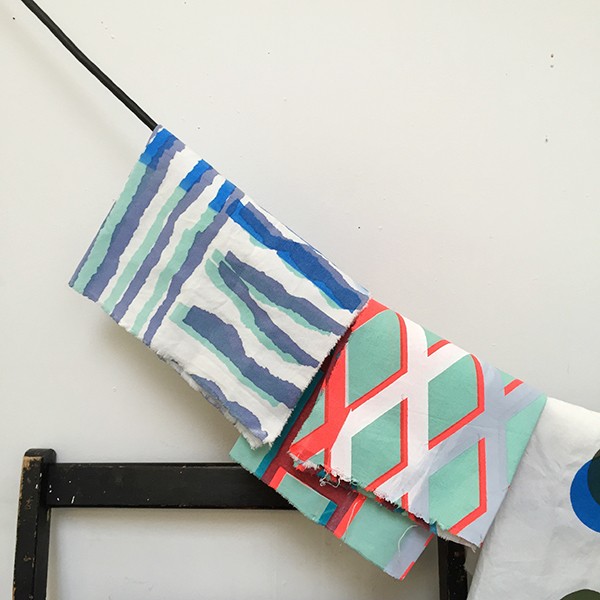 Tell us five online resources or apps you can't live without.
Instagram – I have met some amazing people through IG, We Are Scout included, and spend more hours on it in a day than I should be allowed to.
Sight Unseen – my daily dose of design inspiration.
Border & Fall – excellent content about design and craft from home (India).
What's the hardest thing about what you do?
The business side of running a brand is less natural to me so I'm making a concerted effort to learn as I go along. It helps immensely being part of a design community where my peers are very generous with sharing their knowledge and experiences.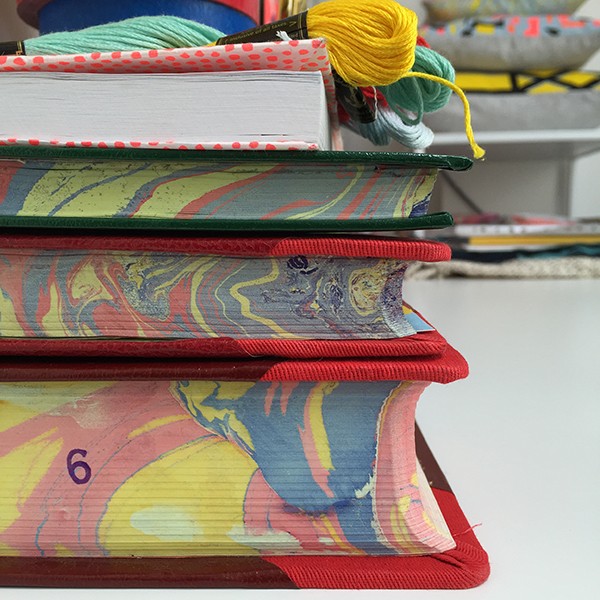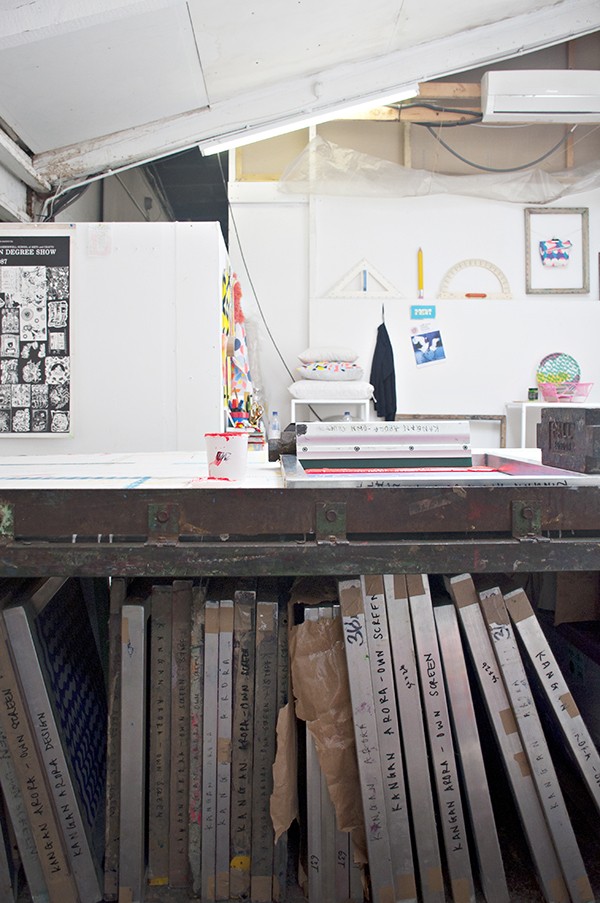 What advice do you have for aspiring creatives?
Tell 'your' story and have confidence in your own abilities.
It gets very challenging but keep going, it's all about the last man standing.
Do you have a dream that you'd love to fulfill?
I'd love to do the Rickshaw Run – a 3,500km race across India in an Autorickshaw! I think I'll be most excited about customizing the rickshaw, having spent many hours admiring the handiwork of sign painters and truck painters across the country.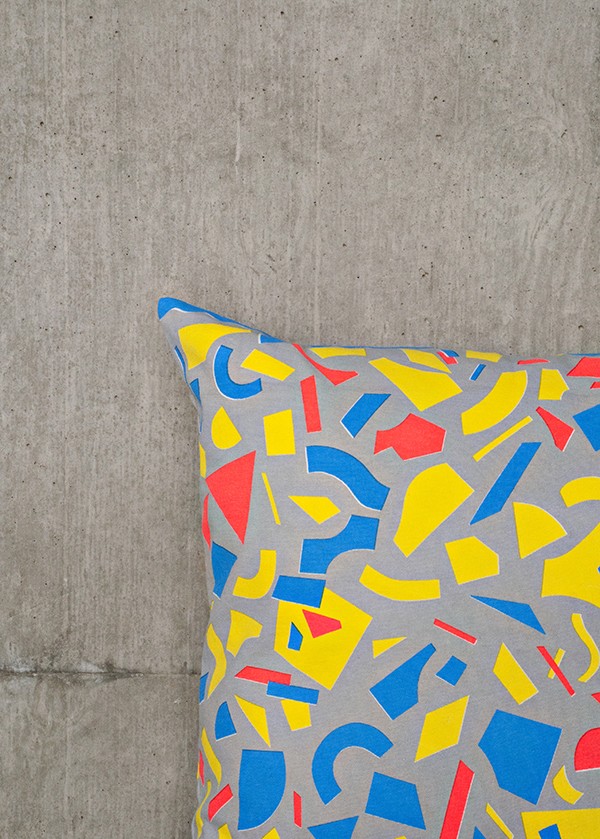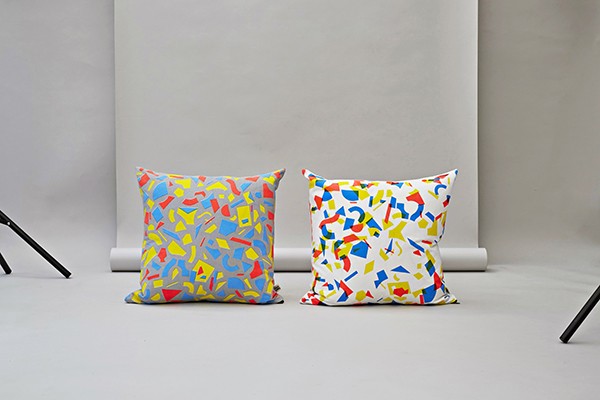 All photos courtesy of Kangan Arora.
If you're in London this week visit her pop-up shop at Designjunction, part of London Design Festival, 24- 27 September at Victoria House.
Connect with Kangan on Facebook, Instagram or Twitter, or she what she's pinning on Pinterest. Visit her website here, and you can purchase Kangan's vibrant soft furnishings from her online shop.
Stay tuned for more Space to Create posts in the coming weeks. In the meantime, catch up on previous posts in our Space to Create series.