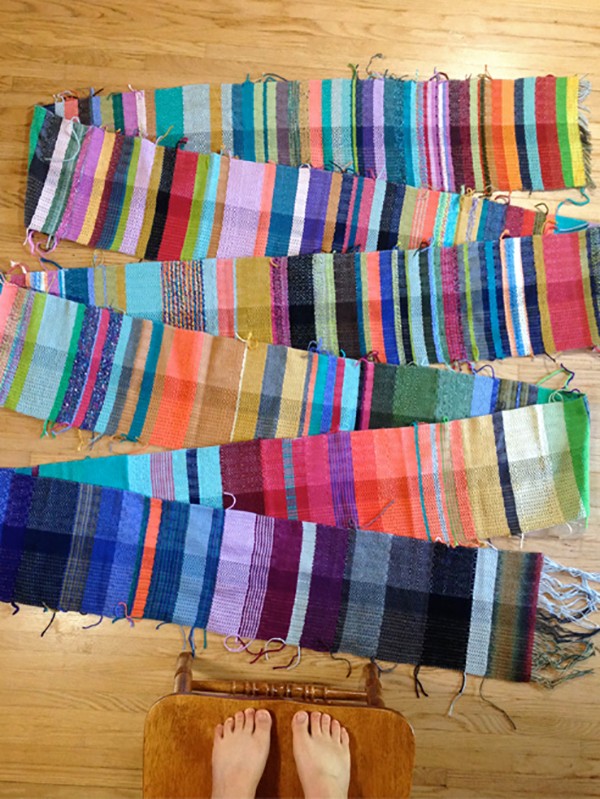 I'm excited to introduce you to Vanessa Lauria, aka pidge pidge, who weaves the most beautiful textiles from her home studio in upstate New York. I love Vanessa's enthusiasm for colour and her creativity which I can really feel through her wonderful photos and words. She has some great tips for productivity (I learned of two websites that could have a pretty big impact on my working life), and I really enjoyed peeking into her vibrant world. I hope you do too.
Meet Vanessa…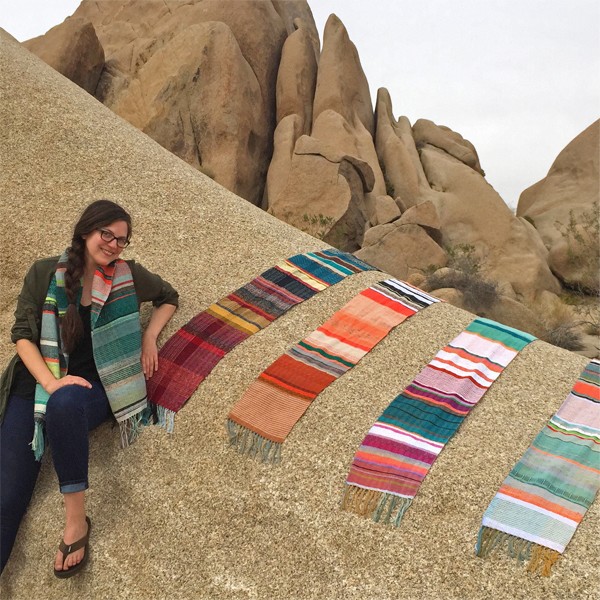 Where do you live?
I live in a quiet neighborhood in the suburbs near Buffalo, NY. My studio is tucked in the corner of the living room, next to a large sliding glass door with lots of natural light. I often weave looking out at the garden, which used to be a large inground swimming pool, now full of lavender, echinacea, and other colorful perennials. Winters are cold & snowy, perfect for tucking in to weave, knit and read. The rest of the year, I like to spend as much time outside as possible, going for walks, gardening and searching for colorful inspiration to observe and photograph.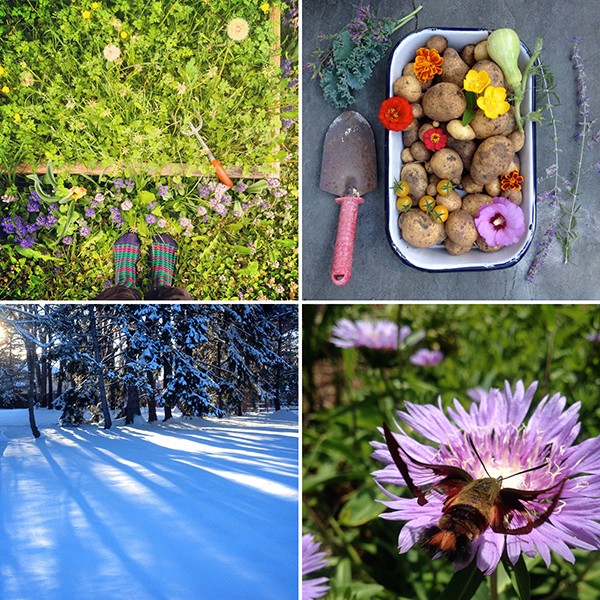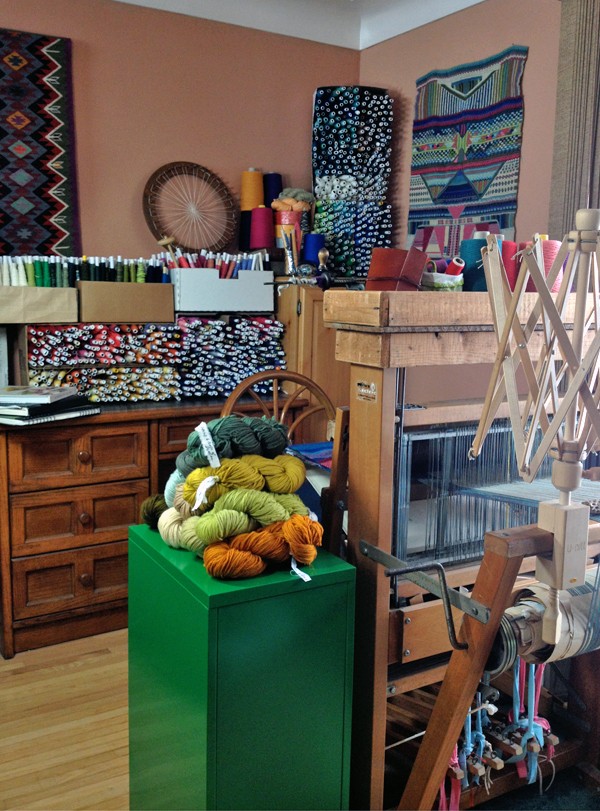 Where do you create?
Lately, my studio time has been split between three spots: at the loom, sewing machine & in the kitchen. I do a lot of prep work sitting at the loom, making bobbins, designing new color stories and winding warps.  When I'm designing new products, I like to experiment at my vintage sewing machine table, which has been retrofitted for my Bernina. My cat, Pidge, sits on a wooden window perch, staring down at spools of thread and scraps of yarn flying about. In the kitchen, I prepare yarn for dyeing and cook natural dye baths (from flowers and vegetable scraps).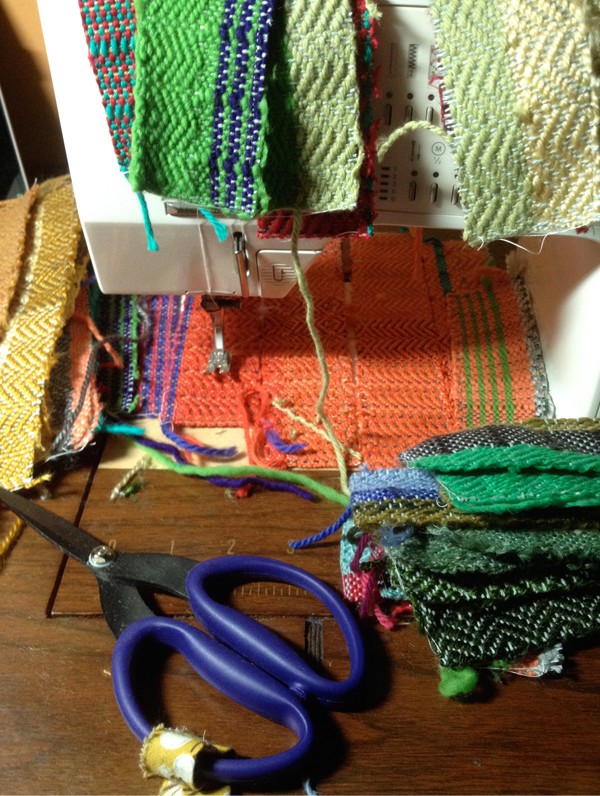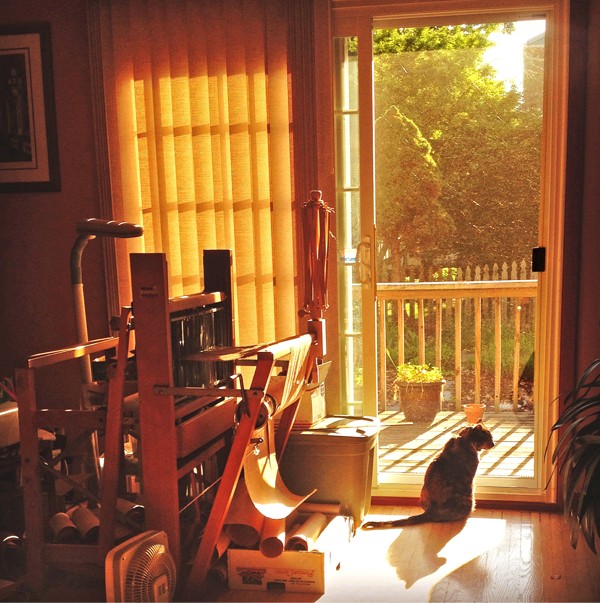 When do you create? Is it a full time job?
Whenever I can! Working on pidge pidge is full time. Last summer I took an intensive week-long business course, and began to focus a lot more on marketing, copywriting and seeking out opportunities to share my work. Balancing admin days with weaving has been challenging and I sometimes struggle with time for creating. But, on studio days, I can sit and weave all day! It's hard for me to have idle hands, so I'm always working on some creative project whether it's knitting, gardening or cooking.
What path led you to this creative place?
I discovered fiber arts my junior year of college, taking experimental textile & fiber classes, and learning techniques for dyeing, netting & basket weaving. My professor gave me access to the studio the summer after graduation and I took full advantage. Practically every day after work, and on the weekends, you'd find me on South Campus, weaving up a storm. I bought my first loom used on Craigslist for about $60 in 2005 (a clackety vintage workhorse), ordered some yarn on eBay and began to play!
Five years after graduating, with motivation from another creative friend & a great experience at a craft show in Chicago, I quit my day job and began my weaving business.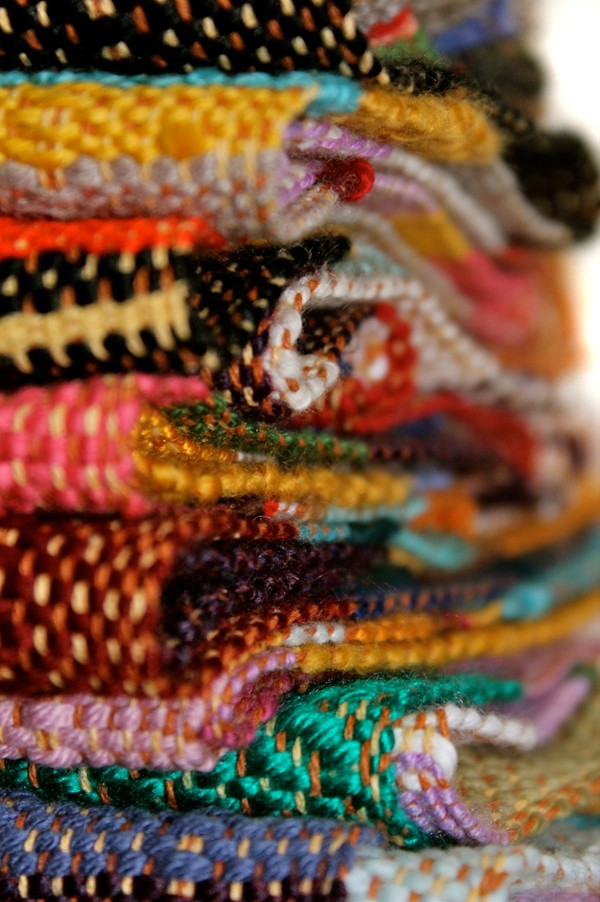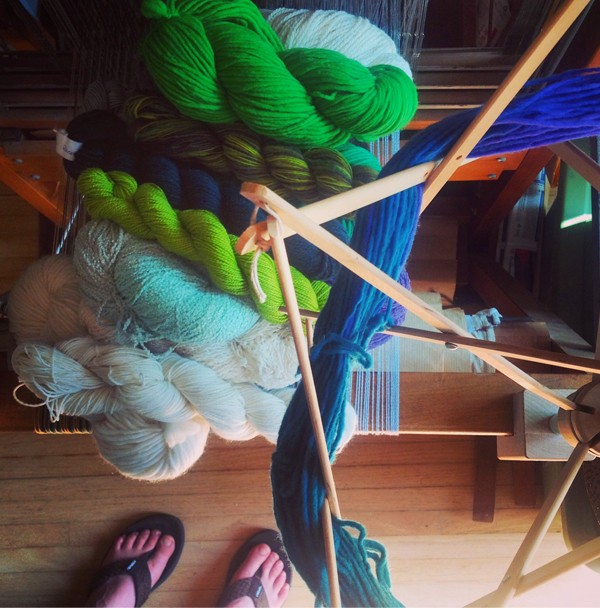 What's your elevator pitch? How do you describe what you do?
I weave modern scarves and accessories that merge the craft of traditional weaving with joyful, inspired color stories. With every piece I design, I hope to create the perfect handwoven accessory for anyone who loves bold color, pattern and texture – truly unique wearable art!
How would you describe yourself in six words?
Curious, color-obsessed, introverted (until we become pals), thoughtful, industrious, resourceful.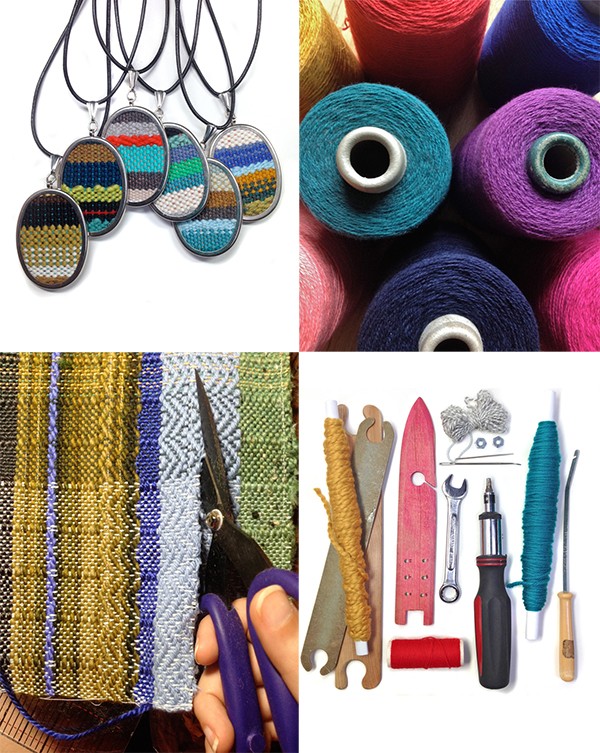 Where do you find inspiration and motivation?
Color gets me every time. I'm always on the lookout for interesting and unexpected color combinations. I keep my phone and a notebook handy when I'm out and about to capture the way colors interact with each other. I love to play with bobbins of yarn as my palette, arranging and rearranging them for design inspiration.
Once an idea gets traction, the anticipation of wanting to see the completed project usually propels me forward. Big projects can be overwhelming, so if I can break them down into bite sized pieces and think, "one step at a time", they become much easier to cross off my to do list.
One thing that definitely kills motivation? If it's gorgeous outside, I find it impossible to be inside. Sunny days are much harder to come by in upstate NY.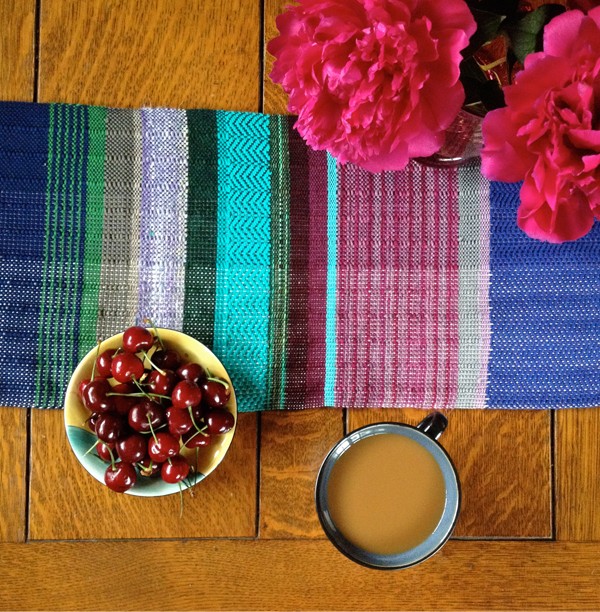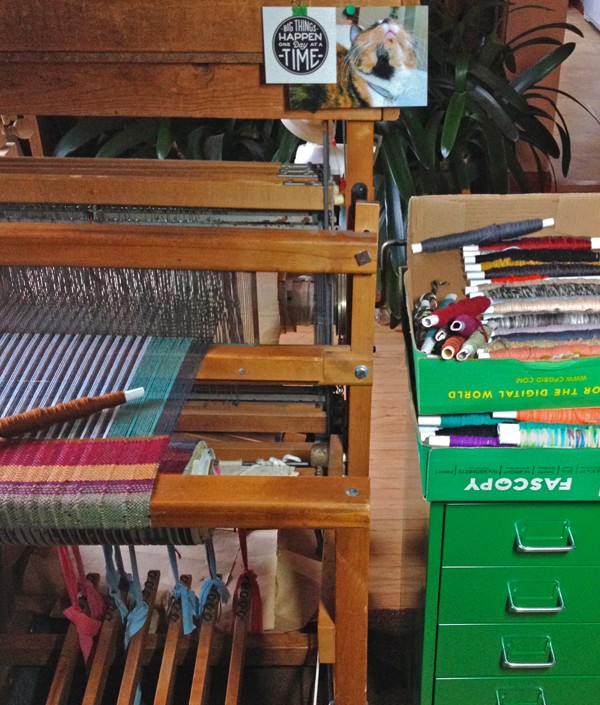 What are the essential items in your workspace?
My loom, of course. Also: a bobbin winder, yarn in every color under the sun, my Bernina sewing machine, water & snacks, a "true light" lamp, several pairs of scissors (I'm always losing them), iPad to watch movies while I weave, and iPod for podcasts while I sew/design.
Do you have a favourite tool for your work?

I love my antique Mattson Mora Swedish bobbin winder. It was one of the first weaving tools I bought when I got my loom. I make my own paper bobbins from junk mail, printer discards and old bills. The winder lets me have an unlimited supply of bobbins which allows me the freedom to have a full color spectrum at my disposal. Before my paper bobbin discovery, I was only able to weave with a few colors at a time!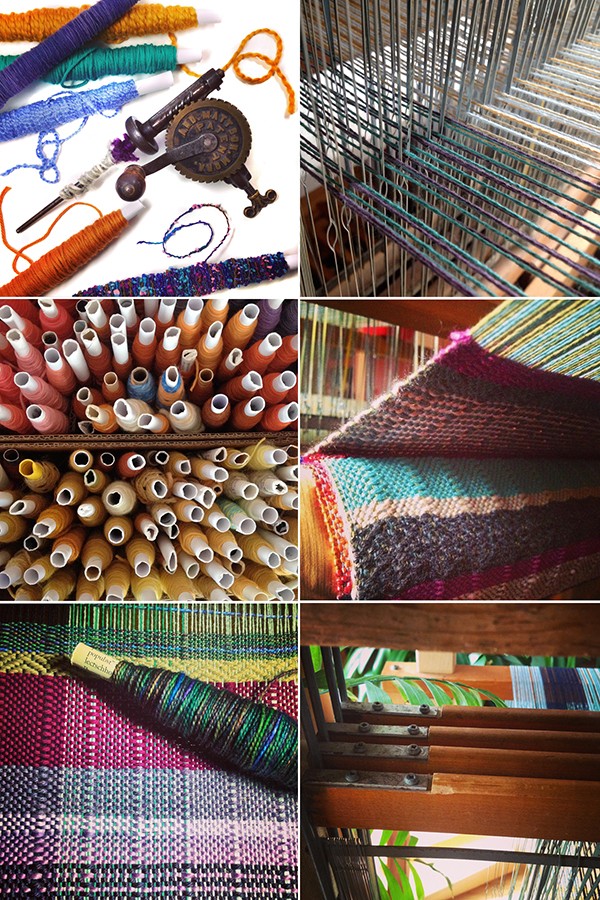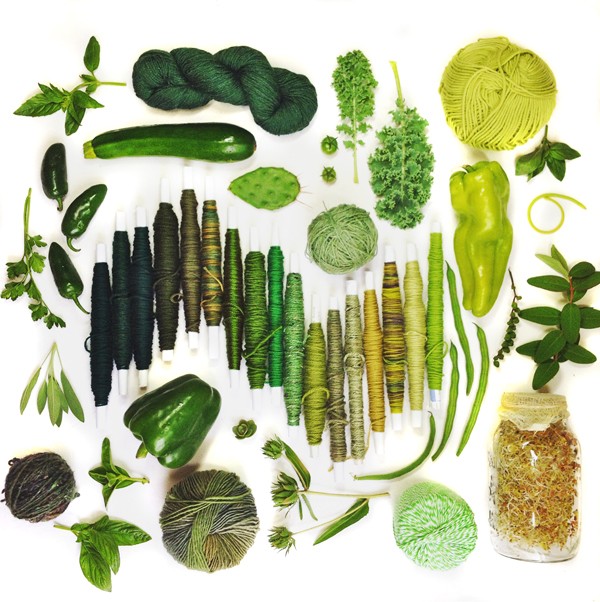 What do you love the most about your creative space?
I just finished a yarn organization project that I love. Skeins are arranged by color and now have a net barricade installed across each shelf to keep yarn avalanches to a minimum. It's inspiring to see a full spectrum of color and be able to easily access my palette for designing and filling bobbins.
Is there something you don't like, or would like to change?
I've always struggled finding the right chair for my loom. Height and comfort are important as I often weave for 6 hours at a time.
It would be great to one day have a separate room or studio space to fully block out the procrastination possibilities of working from home. Never has doing laundry looked more appealing than when I'm half into a work day!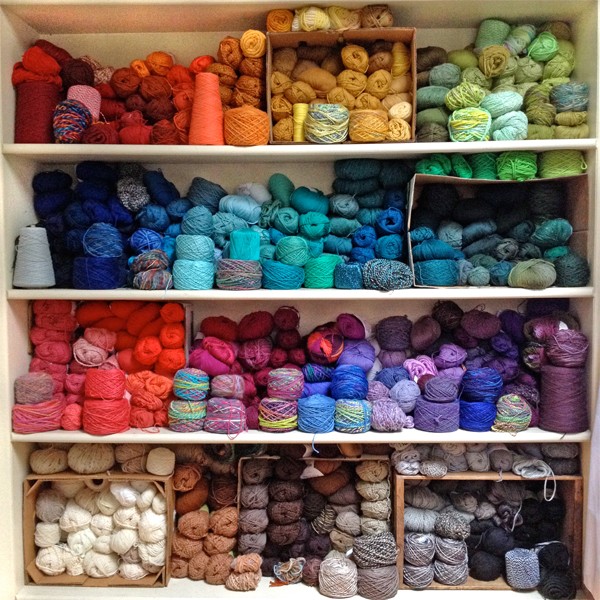 Do you listen to anything while you work?
I have to be listening to something when I work. It helps me to concentrate and get into a state of flow. I'm obsessed with podcasts and can balance my iPad on the castle of my loom, allowing me to watch TV/movies while I weave.
Favourite work-time snack (or beverage)?
A thermos of hot herbal tea and pretty much any kind of fruit.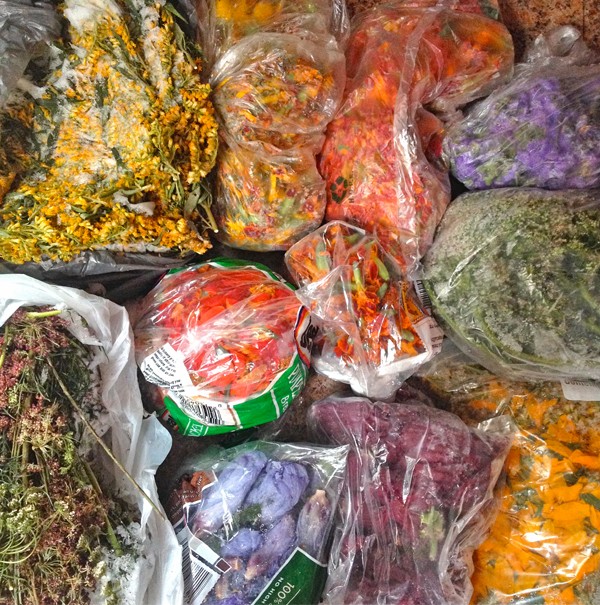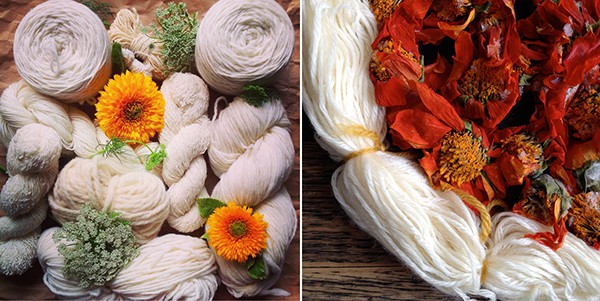 What would be your dream job or collaboration?
I'd love to work on a commission where I can combine my love of quilting and weaving to create an enormous blanket, pieced together from strips of handwoven fabric.
Tell us five online resources or apps you can't live without.
I'm all about Instagram. Also: Pinterest, itunes, Canva, and Unroll.me. Unroll.me combines all of my email subscriptions and newsletters into one email, helping me get to inbox zero that much faster.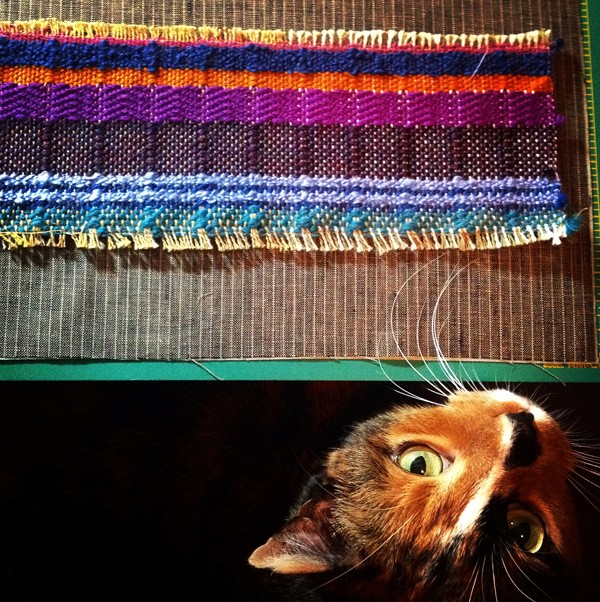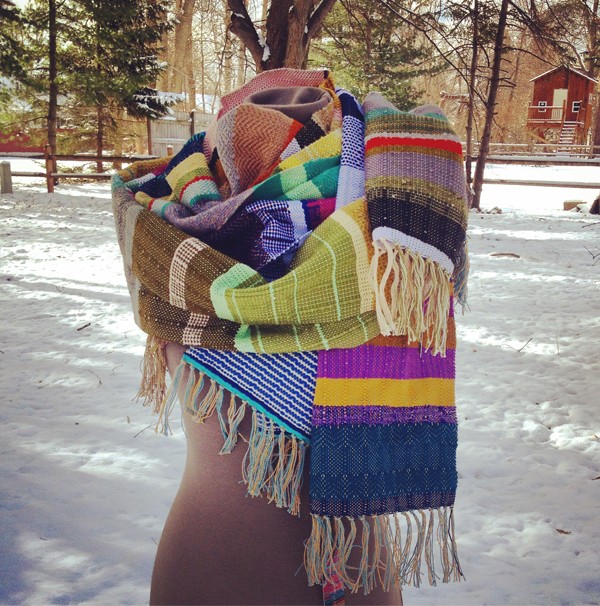 What's the hardest thing about what you do?
Managing everything myself is definitely my biggest challenge. Juggling social media, marketing, and record keeping don't come as naturally to me. It's all the more difficult when all I want to do is the fun stuff- weave, sew & create.
How do you work out the financial aspects of your business? What resources, tips and tools would you recommend?
I use Google Drive spreadsheets to keep track of receipts/expenses and income. I used to wait until the end of the year to tackle this, but it is so much less stressful to work on quarterly.
Though I've tried a million ways to stay organized and keep track of my to do lists digitally, I realized I'm a pen and paper kind of gal. My Get to Workbook planner lets me break down big projects into manageable chunks and gives me lots of room for scheduling, brainstorming and designing.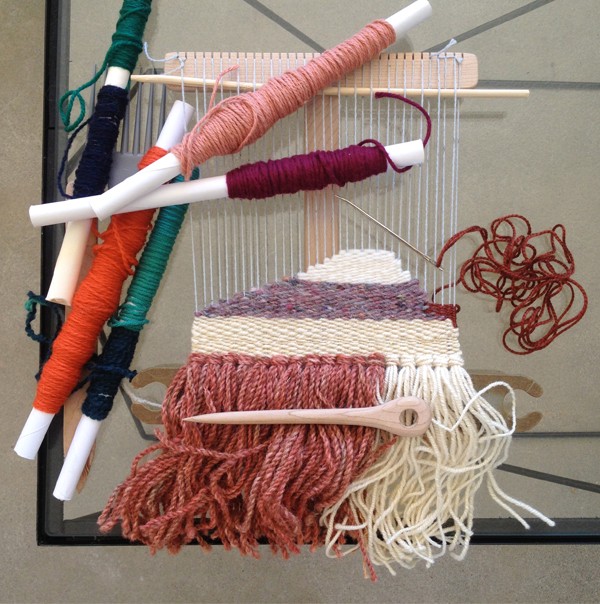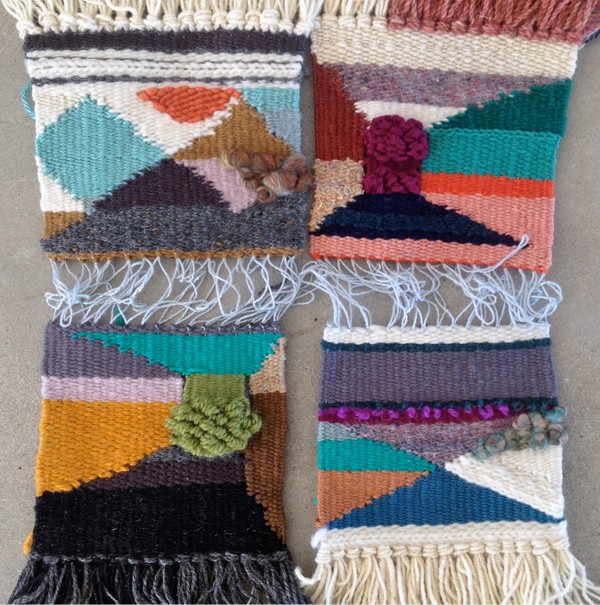 What advice do you have for aspiring creatives?
Be curious. Stop and smell the roses. Look for bits of beauty in the every day. Don't undersell yourself or your work. Engage with your creative community. Don't be shy about reaching out to people you admire or have questions for. Don't forget that mistakes can be happy accidents.
Do you have a dream that you'd love to fulfill?
I'd love for my business to grow, to have all of my hard work get enough traction to pay off so I can focus more on creating. Oh, and a trip to Hawaii! I want to soak up the lushness of a tropical island and be saturated with more colorful inspiration than I know what to do with. That could be a business expense, right?!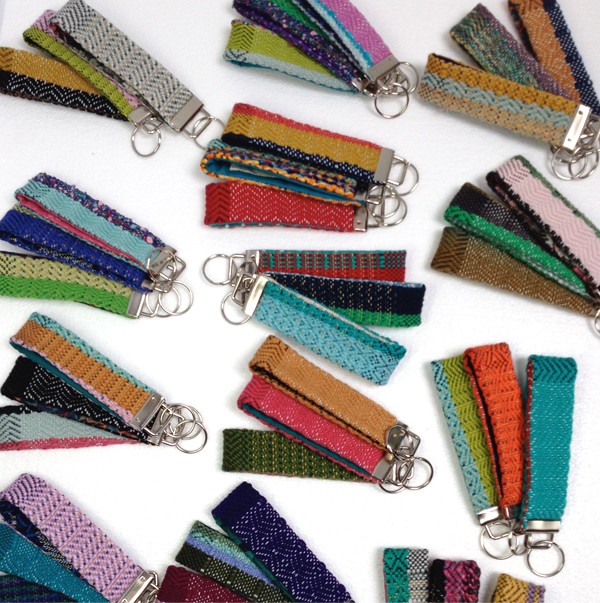 I've loved featuring Vanessa Lauria here – her energy and enthusiasm is evident and inspiring. She told me that she's read all the posts in the Space to Create series and she reached out to, and made connections with, some of the other creatives we've featured. So she means it when she says that she "loves to connect with fellow and aspiring textile-loving friends". Vanessa has a weekly newsletter as a way to keep in touch with customers and admirers of pidge pidge. She says the newsletter will give you the first peek at new products, behind the scenes in her studio, artist spotlights & free downloadable smartphone wallpapers. She also encourages people to email her about anything weaving related: "I relish conversation about fibers, weaving questions and suggestions; sharing my passion for modern color, texture and pattern is my favorite part of the biz! I invite readers to subscribe to my newsletter or email me at pidgepidge.etsy@gmail.com."
You can find Vanessa here:
Etsy shop pidge pidge
Instagram @hellopidgepidge
Facebook pidge pidge
Pinterest pidge pidge
Twitter @hellopidgepidge
I hope you've enjoyed meeting Vanessa as much as I have. I'm aiming to get back into publishing a new Space to Create post every few weeks this year – they're one of my favourite things to put together, and I know you like them too. In the meantime, you might like to catch up on previous posts in our Space to Create series.