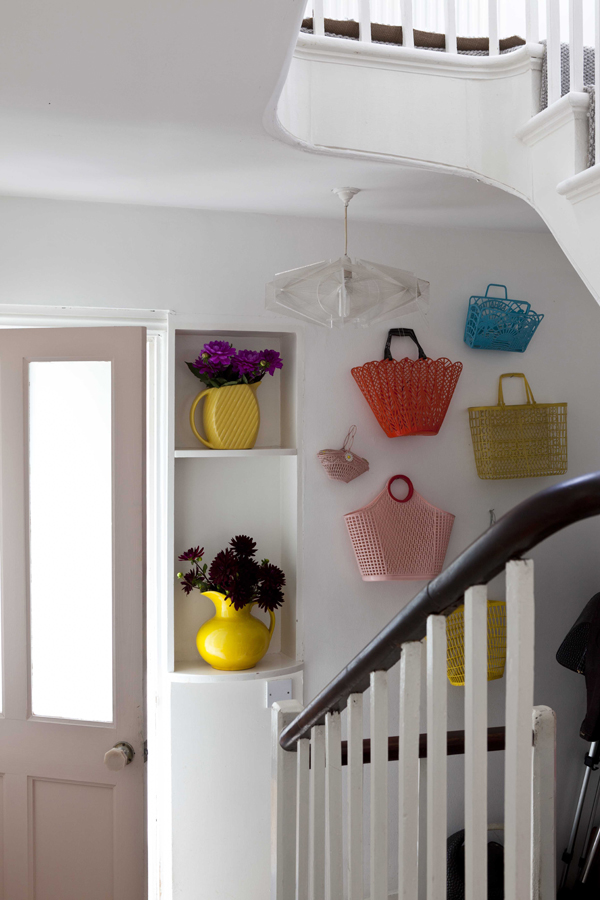 I've been in awe of the incredible mixed media textile art of Karen Nicol for some time so I'm delighted that Karen agreed to share her home, showroom and studio spaces this week on Space to Create. From her London based design and production studio – which has been established for over twenty-five years – Karen works in different media and various techniques including applique, beading and hand embroidery. With work so exquisite it's no wonder that her stella list of clients includes (amongst many others) Anthropologie, Marc Jacobs, Chloe, Vera Wang, John Rocha, Julien Macdonald, Michiko Koshino, Givenchy, Chanel couture, Mulberry, Harvey Nicholls, Harrods, Libertys, and Mario Testino. Karen's private commissions have been for clients ranging from the King of Quatar to the Pope.
Karen's processes and collections are inspirational and her creative spaces are stylish and enviable. I love what she says about her inspirations and motivation.
Meet Karen…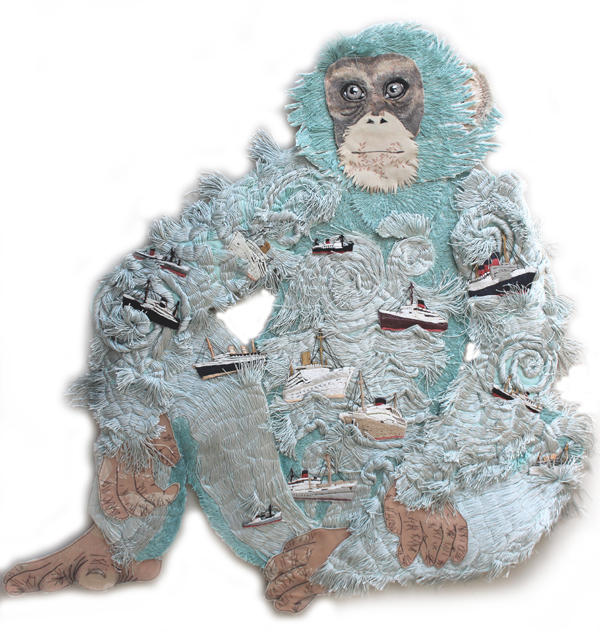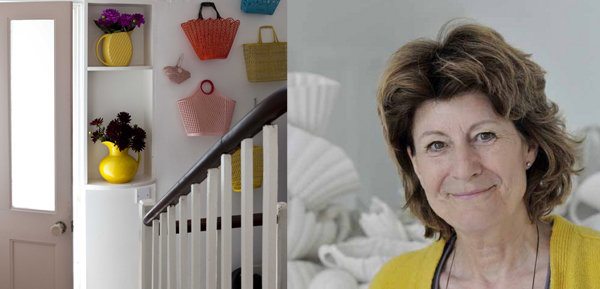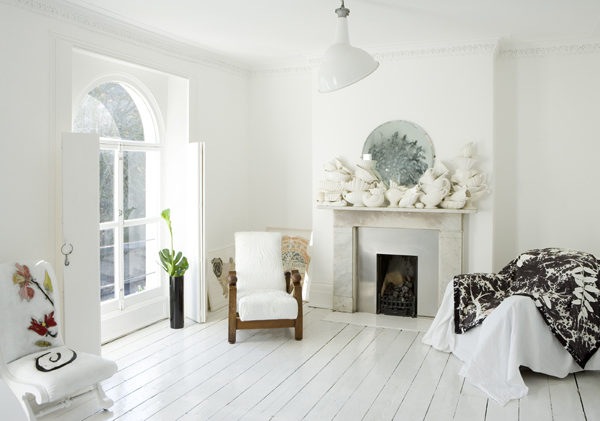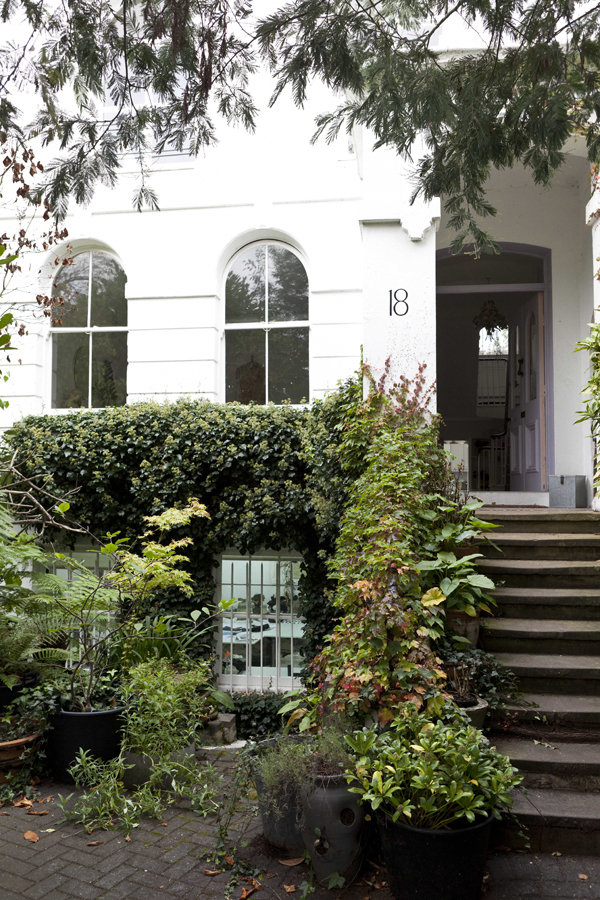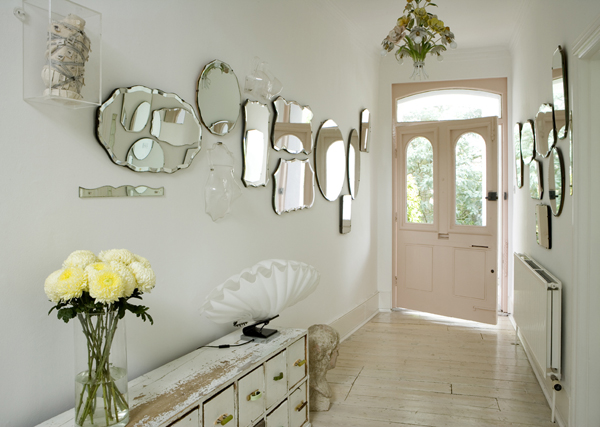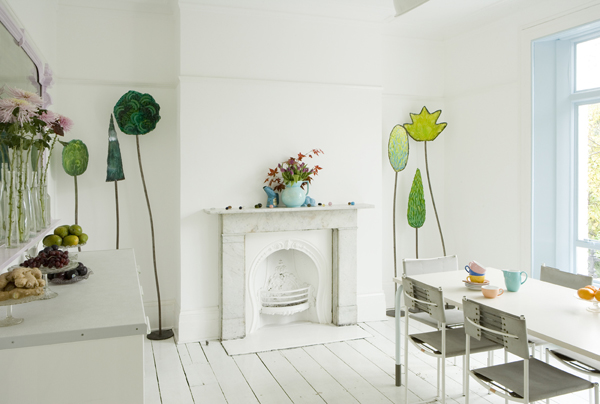 Where do you live?
I live 35 minutes from the centre of London just near Hampton Court Palace. My husband, collage artist Peter Clark, and I have a beautiful light filled four-story house built in 1857. It's a fairly quick hop into London or a walk up the road to meadows and river so perfect really.
Where do you create?
The lower ground floor is all studio space and we have a studio each and then a fantastic showroom upstairs with floor to ceiling windows.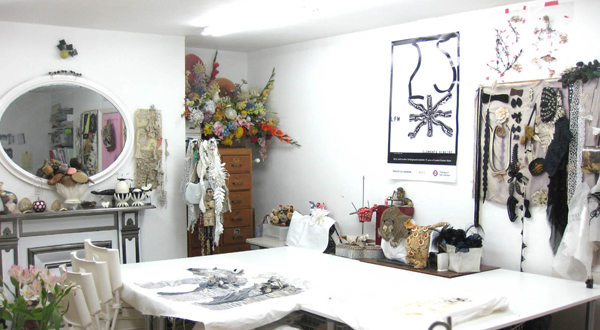 When do you create? Is it a full time job?
My work has been a full time career ever since I left Art College. For many years I worked in Fashion collaborating with fashion designers so had to work very long hours to cope with demand for new designs when creating a collection and then production of the embellishments after the shows. So when my kids were little I would often get up at 5am to work before they got up and then work till late. My work expanded to interiors and then started to include gallery and because embroidery is so time consuming I just have to put the hours in…I also teach odd days at art colleges and give talks and I was senior lecturer in Mixed Media textiles at the Royal College of Art for 15 years and then visiting professor there and research fellow.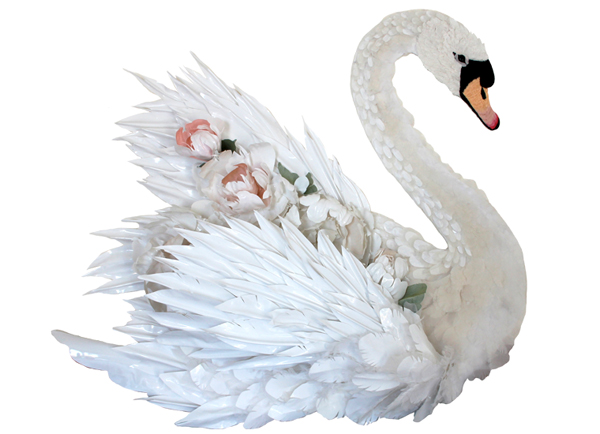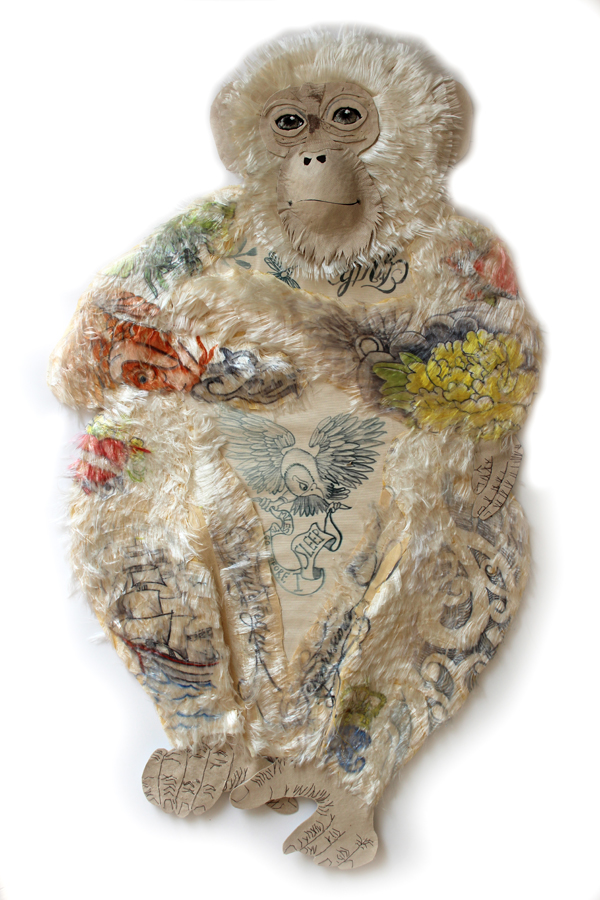 What path led you to this creative place?
I went to Manchester Art College and did a BA in textiles specializing in embroidery, then the Royal College of Art to do a Masters. After college I started selling my embroidered knitwear. I took them to Paris in a suitcase and went into shops I liked and one actually ordered things…when the pieces were in the shop I had a phone call from a German fashion designer holidaying in Paris and we started to work together. This lasted over 10 years and I really learned the fashion business and ended up ditching the knit and specializing in embroidery, ending up with a big studio in London and a production team designing and creating up to 1000 garments a season. I then started to contact other fashion designers in London and it all took off leading to working with some really wonderful clients.
After a few years I started to work in interiors doing own label ranges and working with interior designers. In 2005 I had my first gallery show which was a success and now I have dropped most of the fashion and interiors, just taking on a few tempting jobs and mainly do my 'couture creatures' showing with the Rebecca Hossack Gallery in London and New York and showing in Art Fairs all over the world.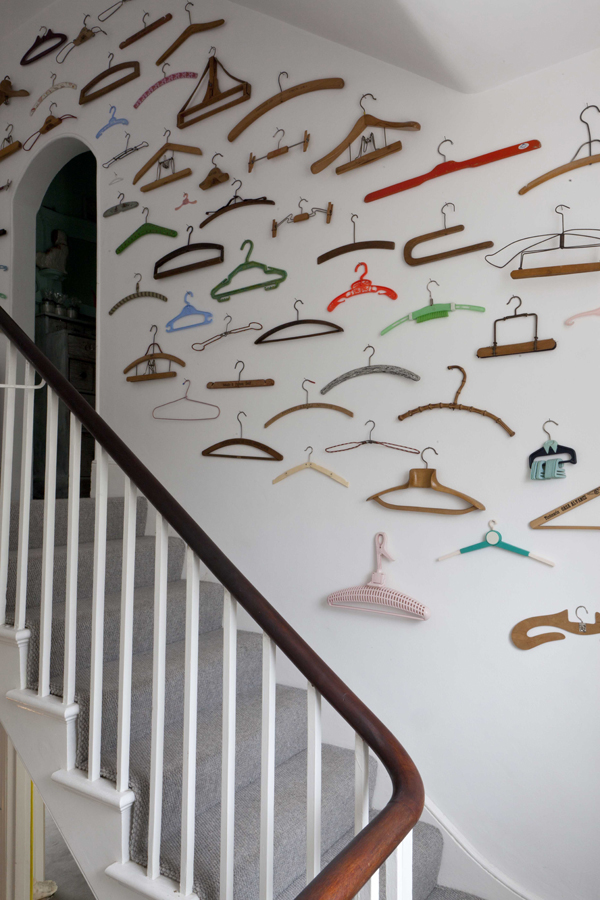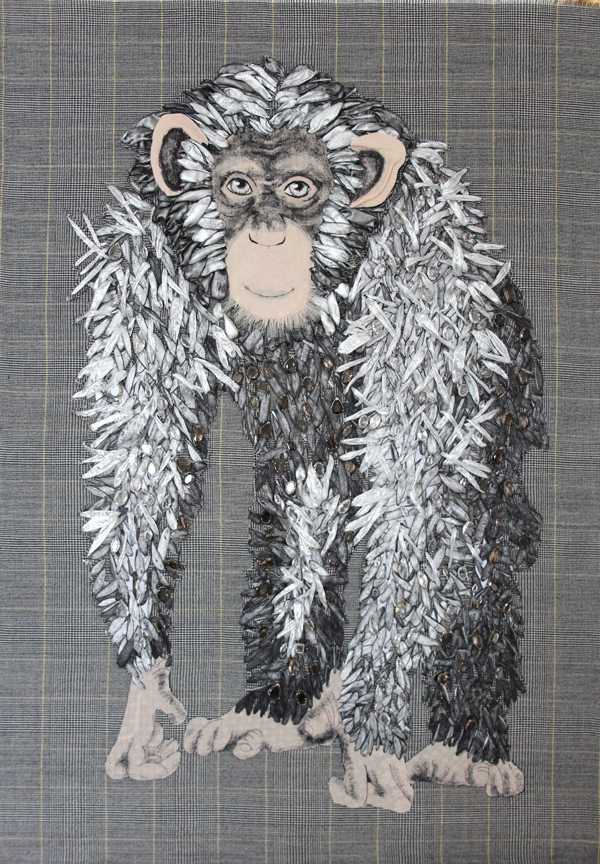 What's your elevator pitch? How do you describe what you do?
I am an artist and designer working in mixed media.
How would you describe yourself in six words
Irreverent, diverse and passionate about my work.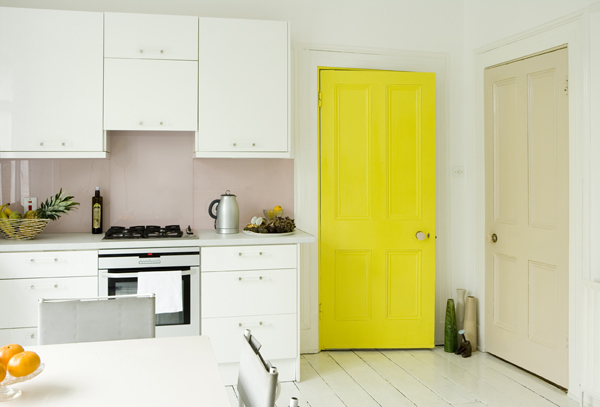 Where do you find inspiration and motivation?
Museums, galleries, shops, magazines, films etc. etc I also always carry a notebook and camera with me and photograph or sketch and make notes on anything that catches my eye whether it's something in a gallery or a wooden fence I happen to like the structure of, I am an unashamed collector of visual inspiration, and have notebooks dating back years.
I don't necessarily collect for the project I'm working on at that time just anything I like. When I start to focus on a project then a lot of information is already in my head and then I start sketching this also means rough quick sampling with fabric and threads, drawing on paper doesn't have the added values of the materials I'm working on.
I am happiest when I am trying to do something I've never seen before and having to get creative and innovative about how it can work, for instance at the moment I am trying to do embroidery that looks like cut glass I've got loads of visual information and now its down to the properties and qualities of the materials I'm using to try to express what it is I love visually in cut glass…I'm making a mandrill! After much trial and error I'm now embroidering with transparent yarn onto transparent fabric with plastic behind and cut fringes of clear plastic bags as fur… I did another recently where I wanted to have tattooed hair so I had to fray strips of fabric and sew it down then paint the tattoos on paper with transfer inks and then iron the images down on the 'hair'.
I am also addicted to car boot sales and Flea markets. my husband and I travel the world collecting inspirational things we like the quality of or the look of – dry, shiny pitted, smooth, colours, plastics, braids, threads etc or old techniques that I can then push forward. My studio is like a vast series of mood boards, a wild sketchbook page hung with moveable feasts of visual stories.
My motivation is that I always think the next thing I do may be better so I have to keep going.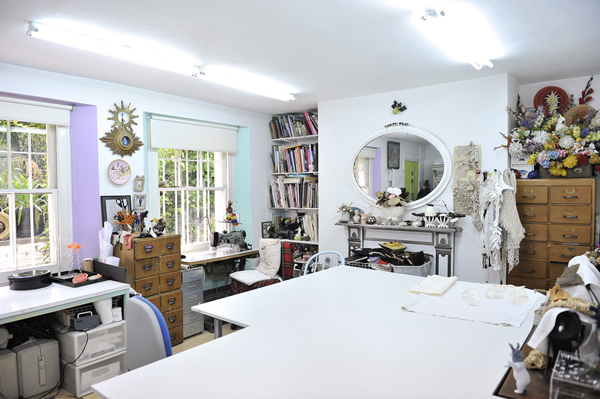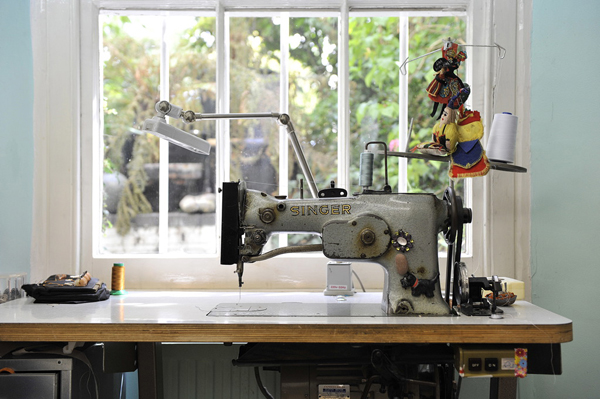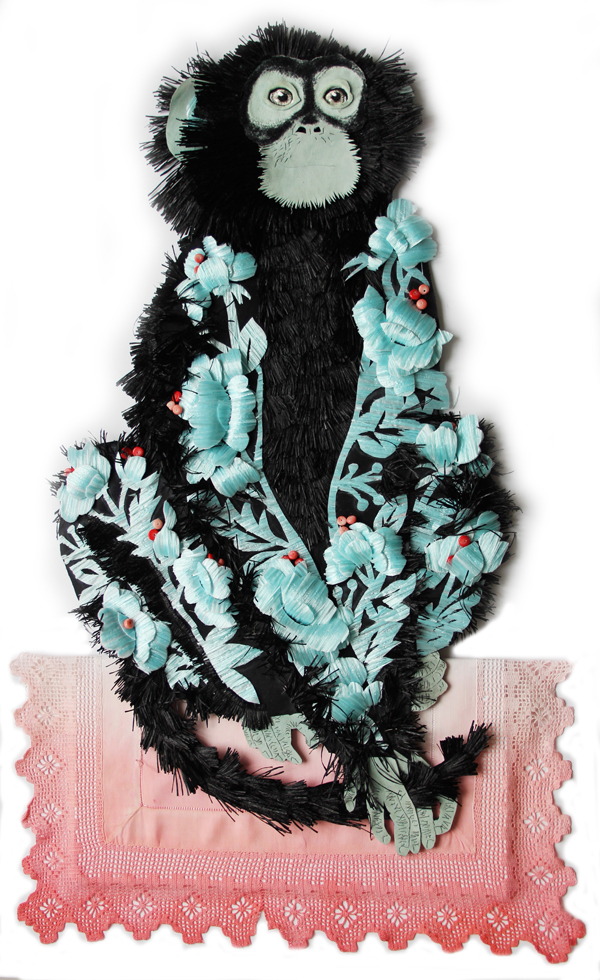 What are the essential items in your workspace?
My Irish machine.
What advice do you have for aspiring creatives?
Really look at things around you and don't be afraid of being literal about things that attract you visually rather than trying to make a ' design' out of it. Be versatile and diversify.
Do you have a dream that you'd love to fulfill?
I'd love textiles/ embroidery to lose their stigma and to be seen and accepted as the amazing subject they really are without the prejudice surrounding them.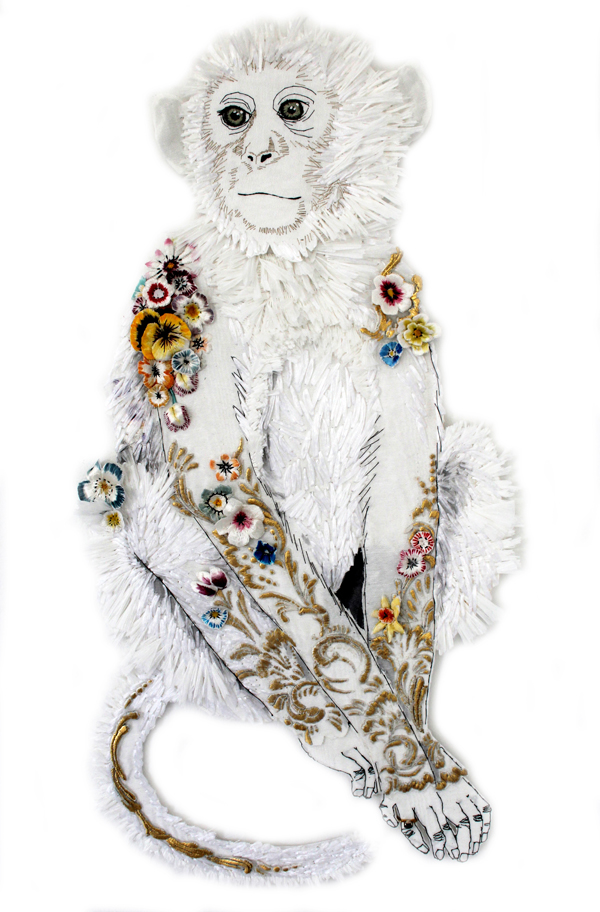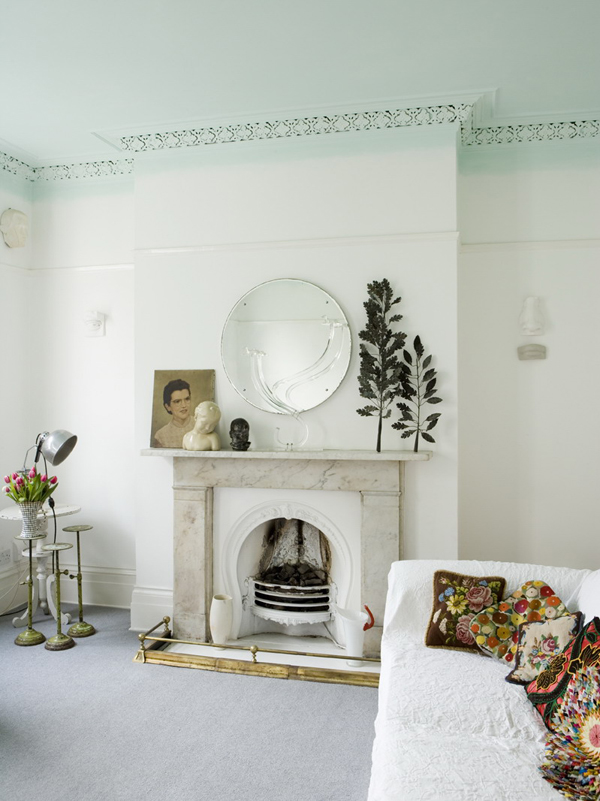 If  you'd like to learn more about the materials Karen used in her current works click through to the listings for her upcoming exhibition at Rebecca Hossack Gallery. The exhibition starts in the London gallery on 29 October 2013.
I also have to mention Karen's book Embellished: New Vintage  – it looks like a must-have for anyone interested in vintage objects, fashion and textiles… that would be me! In the book Karen explores her collection of vintage finds and how much these objects have subconsciously influenced her work. Featuring ten carefully chosen techniques, including cut work and using sequins, Karen demonstrates how materials can be pushed to their absolute limits to create stunningly unique pieces.
Visit Karen Nicol's website to connect with her and see more of her amazing art.
Catch up on other Space to Create posts you might have missed.