This week's installment of Space to Create takes us into the Alice in Wonderland world of Jacqui Fink who handcrafts chunky throws on knitting needles almost as big as she is. Working under the name Little Dandelion Jacqui has created a niche for herself with incredible one of a kind knitted textiles made from the softest unspun pure wool and linen. I'm really happy to be able to give you a peek into Jacqui's world – I've been swooning over the photos of Jacqui's creations and really enjoyed finding out about her unusual journey to her creative career.
Meet Jacqui…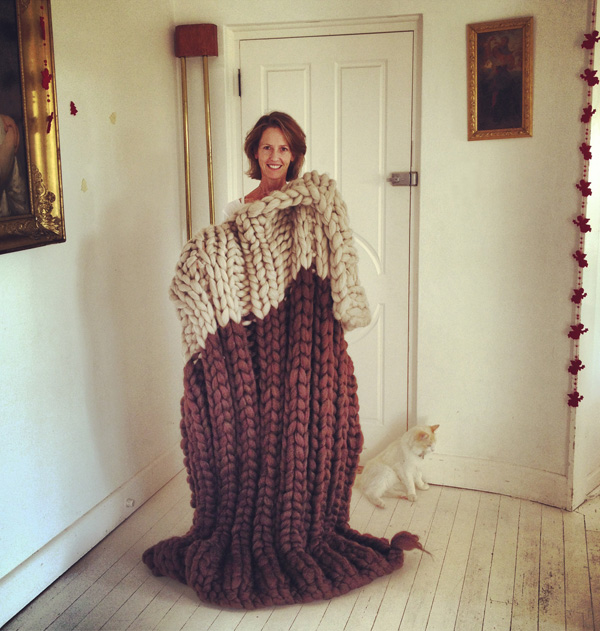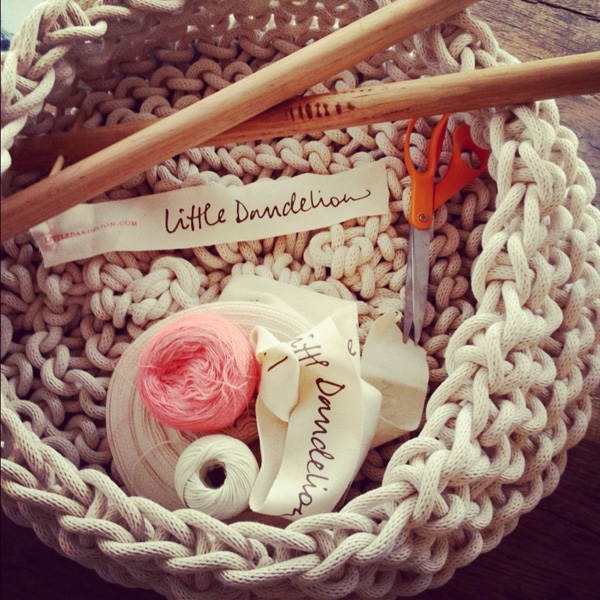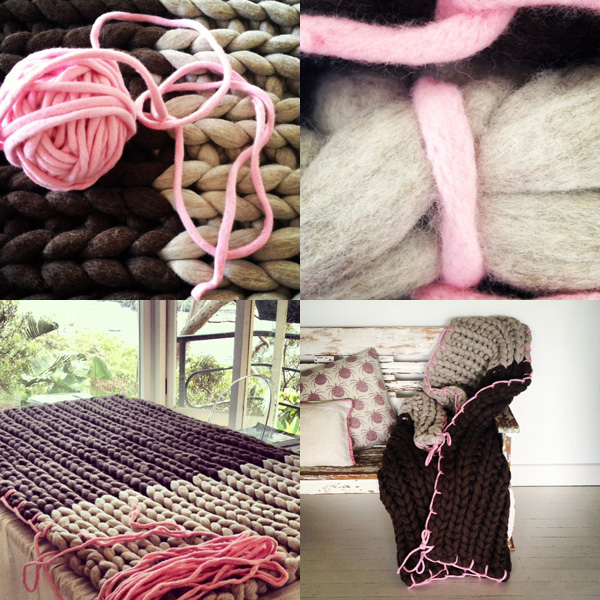 Click on the link below to be inspired.
Where do you live?
I live on the Northern Beaches of Sydney with my Husband (Eric), our three children (Jasper, Remy and Elodie), one very old dog and two cats. We are visited every morning by Lorikeets and Cockatoos as well as the occasional Kookaburra. It is a bit of a menagerie at times.
Our house was built in 1940 in a P&O style by a builder for his daughter on her marriage.  The story goes that she didn't stay long and since then, the house has been home to only three families. We are the fourth. The house resonates happiness and you can feel that it has borne witness to much joy over the years.
We enjoy a beautiful active view from the house and feel very blessed to be its current care takers. It's an oldie but a goodie.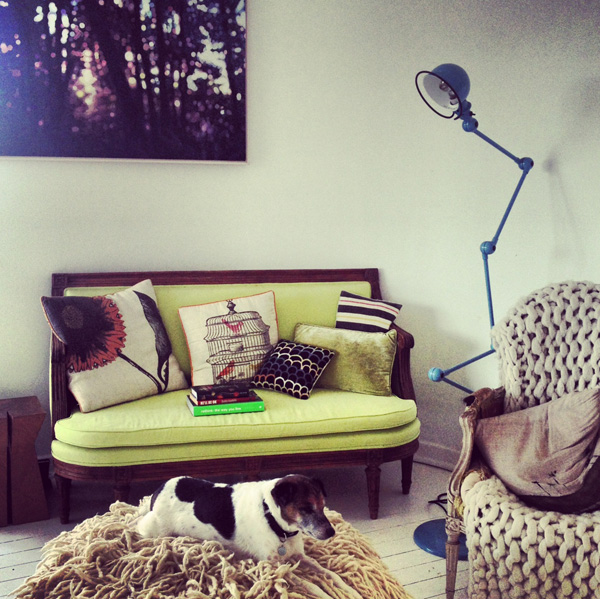 This is Jacqui's favourite corner of home to make her textiles.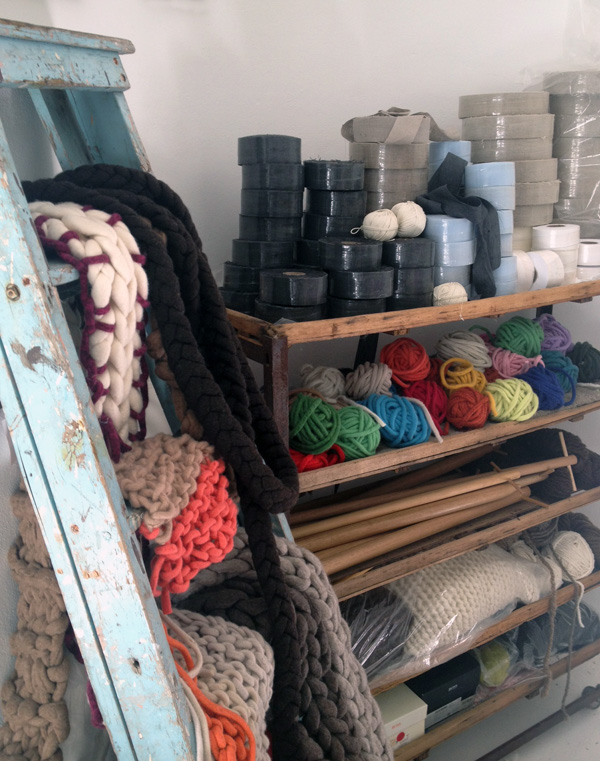 Where do you create?
Much to my Husbands's chargrin, I do most of my work from the centre of our living room. Our house is not large but my work requires a great deal of open space. Natural light is also a must and the living room has that in spades. I have a studio down stairs in which I keep all my Little Dandelion bits and pieces. It's a pretty space but it's a bit too far away from the kitchen for my liking. I do love a cup of tea while knitting. And some chocolate perhaps.
When do you create? Is it a full time job?

Gratefully, there has been very little down time since launching my business last April.  I try to make the most of the hours the children are at school because on their return it's tools down to help with the whole homework, bath and bed routine. I often need to knit into the night but my work is very physically demanding and I'm not getting any younger.  The old body is quick to remind me when I need to put the needles down. I also knit on the weekends. My pieces take such a long time to make that I need to keep knitting to keep up with the momentum of my business. My lead time is approximately 6 to 8 weeks depending on the weather. My business is definitely a full-time job and I confess to not managing the work/life balance very well at all. It's really hard to switch off from something you love.
What path led you to this creative place?
To cut an extremely long story short, I have a law degree but only practiced as a solicitor for a few years. It was not for me at all. I then spent many years working in my Husband's retail fashion business (Hugo Boss) and, while that was never my passion, it exposed me to the inner workings of business, customer service, visual merchandising and the importance of branding. Once children came along, I stayed at home to care for them. We had our children close together and, without family here in Sydney to provide support, we felt it was the obvious choice to make. I loved being at stay at home Mum and, frankly, I still consider that to be my primary role. However, being a stay at homer is by no means any easy option and I really struggled to find my way in those early years. I suffered from post natal depression after my first child was born and, while I overcame that experience, it left me with many residual anxieties about parenting and my place in the world. So, I started to search for something for myself. I didn't know what I was looking for. I just wanted to prove to myself that I could create something from nothing and do it well. I searched for years and then in November 2009 my Mum had a life saving double lung transplant. In the haze of her recovery, I found myself in a very surreal space. Something had definitely shifted within me and I knew, for so many reasons, that my life would never be the same again. It was during this time that I had a dream one night in which this big loud booming voice told me that "YOU WILL KNIT HUGE WOOLEN BLANKETS". I woke up completely startled but didn't question it at all. I decided to trust the message and the next morning I started down the path that led me to Little Dandelion. Crazy but true!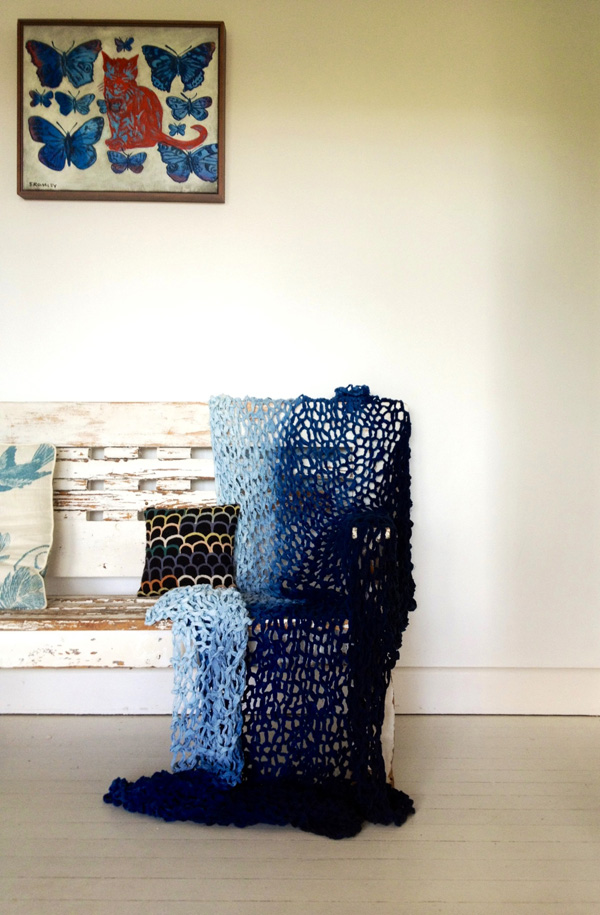 This stunning shibori throw created in collaboration with Shibori Textiles.

What's your elevator pitch? How do you describe what you do?
Cue some cool evelator music: "Hi, my name is Jacqueline. I'm from Little Dandelion. I make large scale mega chunky hand knitted blankets and throws using high grade Australian and New Zealand unspun wool and gorgeous linen fabrics. They take me weeks to make and each creation is a one of a kind".
I actually find it hard to describe what I do because unless you are able to see my work first hand it's hard to get an idea of its scale. As they say, a picture speaks a thousand words.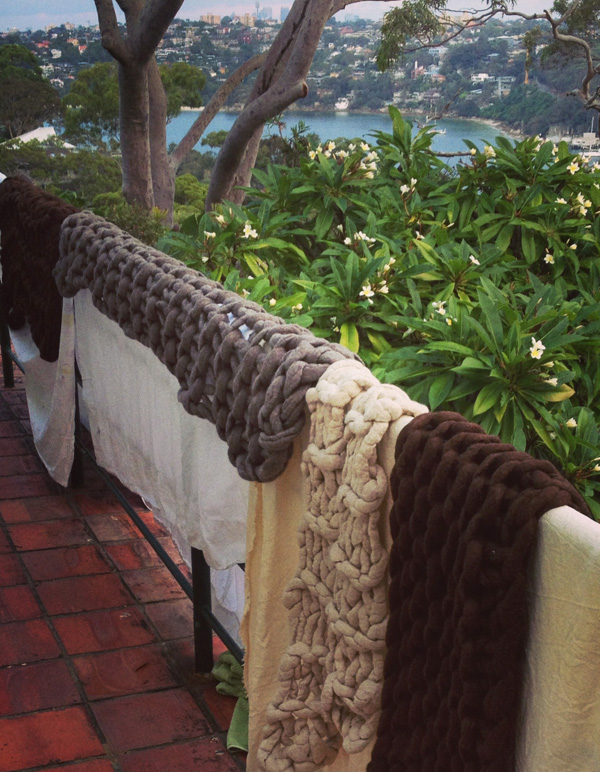 'Woolies' drying on the balcony after being felted.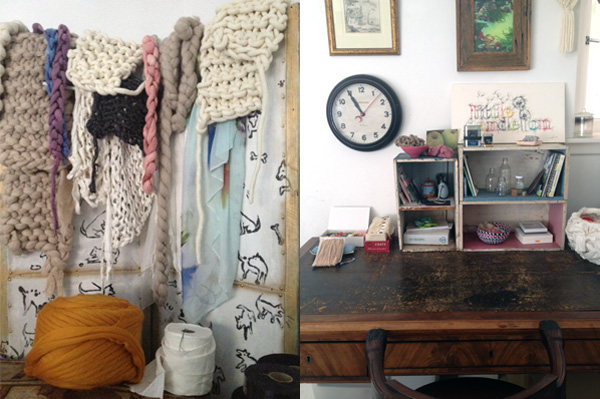 How would you describe yourself in six words?
Determined, introverted, patient, curious, stoic and sensitive.
Where do you find inspiration and motivation?
Nature is my greatest source of inspiration in terms of my choices of materials and colour combinations. Observing other peoples' creativity is very motivational. I have met so many wonderful creatives through platforms like Instagram. It is an extremely supportive community and we all help keep each other buoyant. We are a sensitive lot.
What are the essential items in your workspace?
My needles and beautiful raw materials of course.
A chair without arm rests is a must. I can't knit otherwise.
A cup of tea within arm's reach is handy.
A tape measure is definitely an essential.
I'd be lost without my computer and iPhone. They are very powerful business tools.

What advice do you have for aspiring creatives?
Trust your instincts and make a start. Spend decent money on getting your branding right from the beginning and understand the power of an image. Do something everyday to push your business forward no matter how small it is.
Do you have a dream that you'd love to fulfill?
Yes indeed. On a personal level, I am not very well travelled and I would love to provide my children with a broader sense of the world by showing it to them. I actually want them to see the Developing World before they see West. I would love for them to see themselves as global citizens and feel a sense of shared responsibility for others.
I also hope for my little people that they will never loose touch with their creativity. I value and encourage their creativity daily because I want it to become second nature to them that living a creative life will help keep them on an even keel.
Professionally, I am still in pursuit of my dream to prove to myself that I can turn turn nothing into something truly meaningful. My motivation is not financial, although I'd be fibbing if I did not admit to wanting a sense of security in that department. It's baby steps for me. I'm currently developing a Little Dandelion yarn (in keeping with the scale of my current creations) so that others can make their own blankets and throws. I'd love to take this yarn all over the world. Nothing short of world domination for me thanks. No really, my ultimate aim is to develop my business in such a way that it can help others, particularly women, find their own success. I am very passionate about the lives we women live and I know my life's work is somehow tied up with helping to ensure we find our true paths. I'm not sure how I'm going to do that yet but that's not a problem. I'll find a way. I do know that the yarn will be the key to unlock that door though.
Little Dandelion
Little Dandelion on Facebook
Jacqui on Instagram: @jacquifink
Thanks Jacqui for allowing us into your home and creative world!
All images: Jacqui Fink for Little Dandelion.
If you missed previous posts in the Space to Create series I've interviewed tassel queen Pippa Taylor,  artist Penny Leaver Green, fabric designer Saffron Craig, and photographer Mariana Garcia-Katz.
Save