I'm beyond thrilled with our bathroom renovation – it's been a long time coming! Now it's the Moroccan-tiled-terrazzo-filled bathroom of my dreams.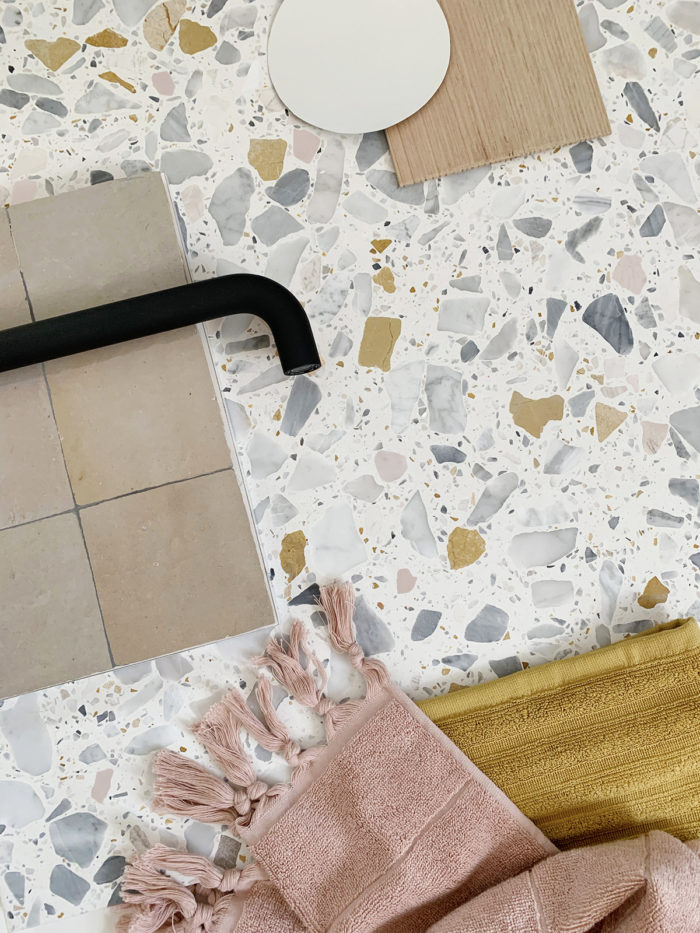 Before
I've been wanting to do a bathroom renovation since the day we moved into our apartment. As an interim measure I painted the brown walls and the brown floral wall tiles white, but over time the white tiles turned to cream and everything else began to deteriorate too. I had to have the basin tap replaced last year and the plumber couldn't tighten it too much because the basin was so cracked he thought it may fall apart. It was that bad! The shower shelf and shower screen had also both fallen off… as embarrassing as the bathroom was, here are some 'before' shots…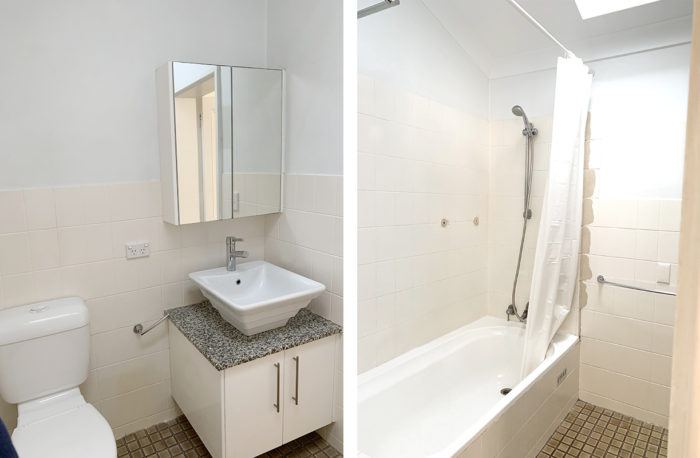 The design process
Our bathroom isn't big and there wasn't any scope to move things around. Having said that, the layout is actually good and it's always more cost effective to leave all the plumbing in place.
Making decisions wasn't too hard. I knew that I definitely didn't want:
/ A bath – we never used it and I hated stepping in and out to have a shower
/ All white or grey tiles – too boring!
/ Floor to ceiling tiles on every wall
My must-haves were:
/ The handmade beauty of Moroccan Zellige tiles
/ Terrazzo!
/ Black tap ware
/ A floating timber shelf instead of a vanity ( I sacrificed storage, but I wanted simplicity)
/ Hanging plants

I started with the tiles because I knew exactly what I wanted and I was willing to splurge on them. It was worth the indulgence – they're even more gorgeous than in the photos. The terrazzo is stunning and I love the mustard with blush and grey. I teamed it with the Moroccan Zellige tiles in 'Wheat' which really are amazing, but difficult to photograph!
I drew up this visual once I'd chosen all the inclusions: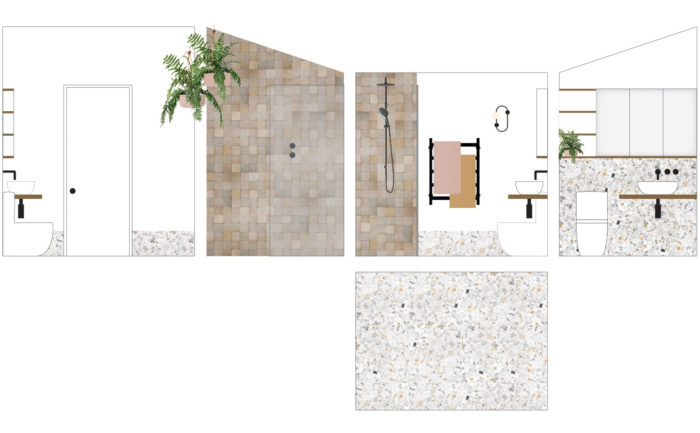 The finished bathroom
This is how it turned out… exactly as I'd envisaged.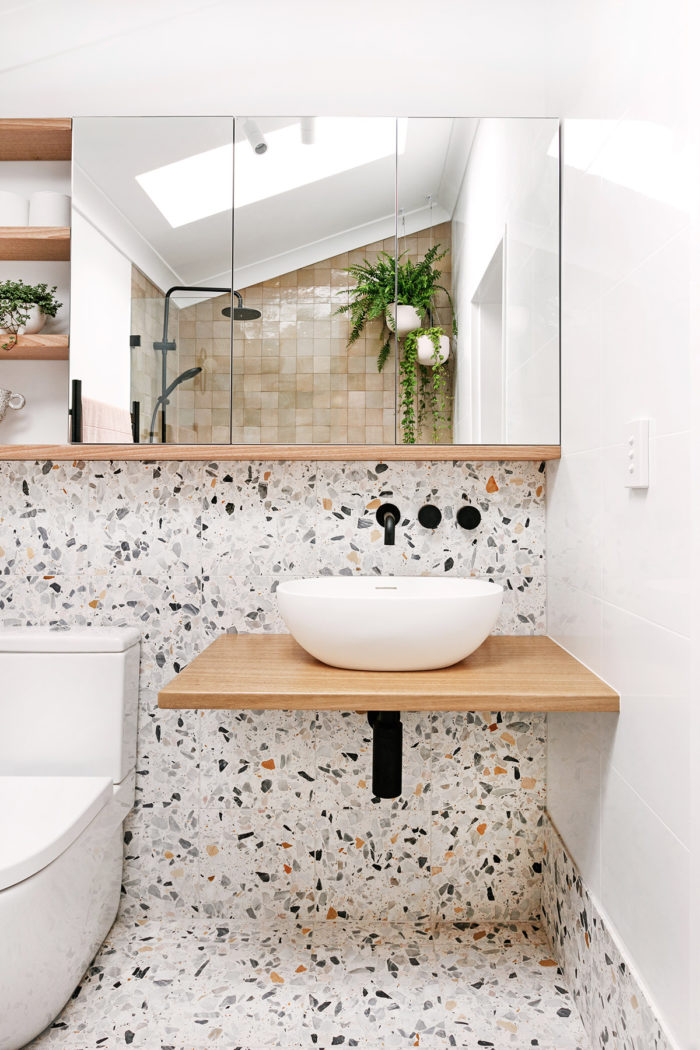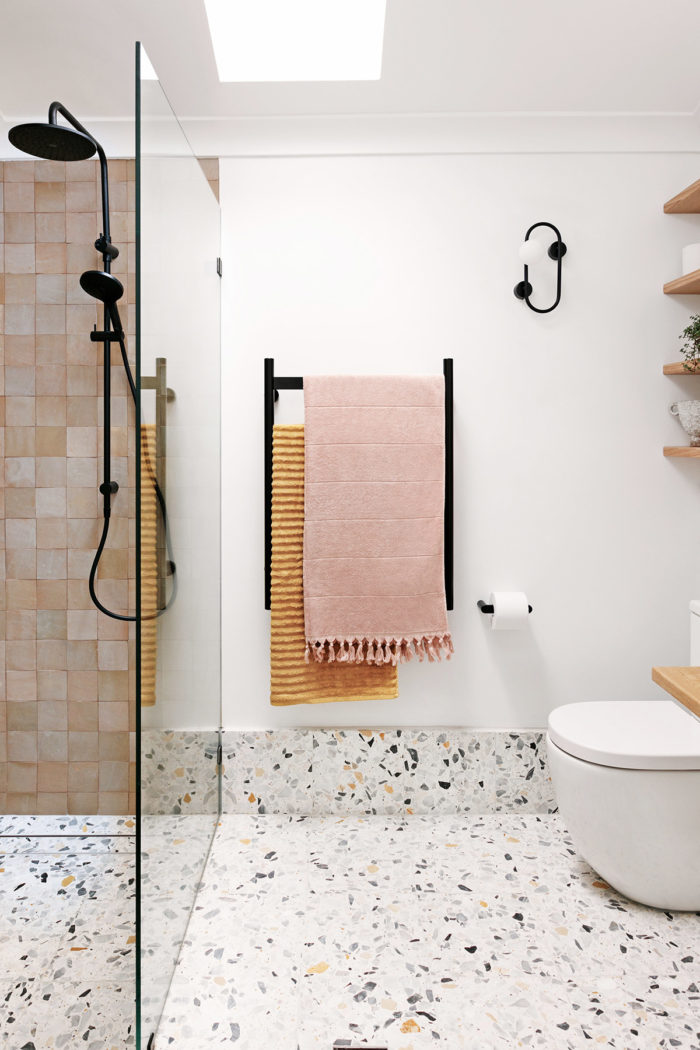 I'm so happy with the terrazzo 'skirting' against the painted wall. It started off as a practical solution when I learned that you can't have an untiled wall meeting the floor in a bathroom. Instead of trying to hide it using a white tile, I went big and bold and I love that it's a fantastic design feature.
The colour of the handmade tiles is so hard to capture in photos – there are tones of blush, gold and soft terracotta which seem to change according to the light throughout the day. The irregularities and imperfections in the shape and finish of the tiles were almost too much for my old-school tiler to get his head around, but he did a fantastic job with them. There's no mistaking that the tiles are handmade, which is what I love. I kept everything else sleek and clean so the bathroom looks contemporary rather than rustic – no macrame hangers or cane baskets! (Even though I don't mind either in a different context.)
I settled for a back to wall toilet – in an ideal world I would've had a concealed in-wall cistern, but I decided that instead of spending extra money getting the wall built out I'd put it towards the fixtures and fittings that I wanted. Of course there were unforeseen expenses to take into account (common to a lot of bathroom renovations!) like issues with the structure of one of the walls which were revealed when the tiles were removed.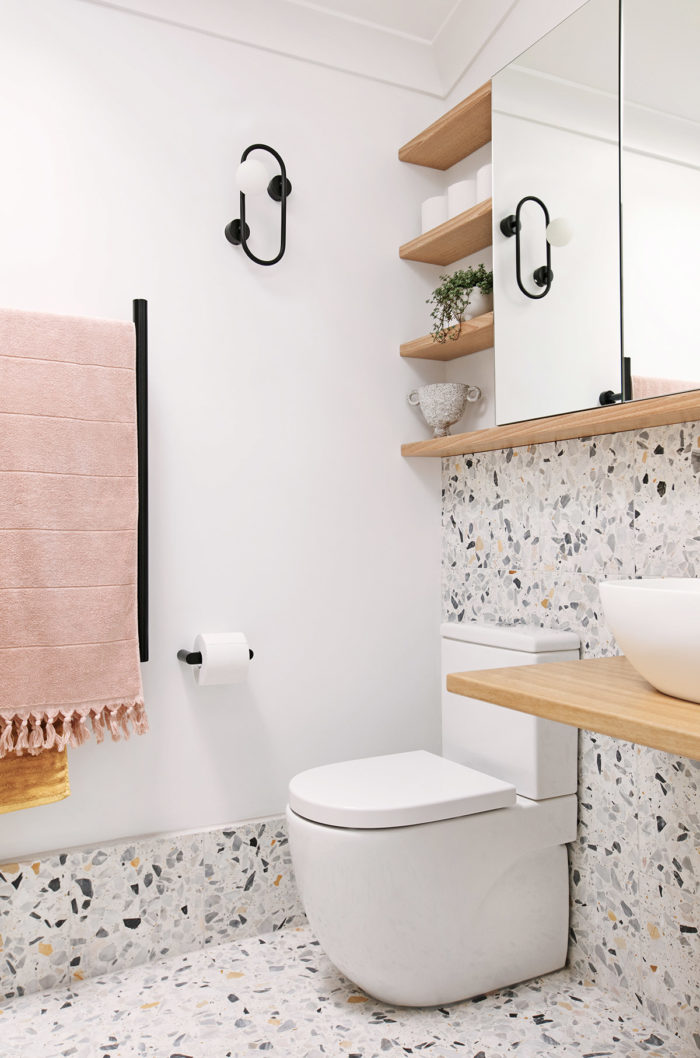 The shelves and vanity were custom made from Tasmanian Oak. By adding the timber shelves next to and below the mirror cabinet it gives more of a custom made look to the cabinet without the expense.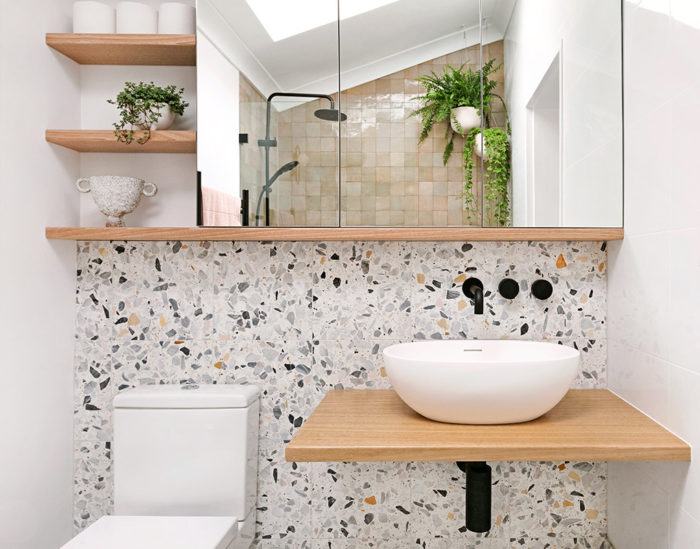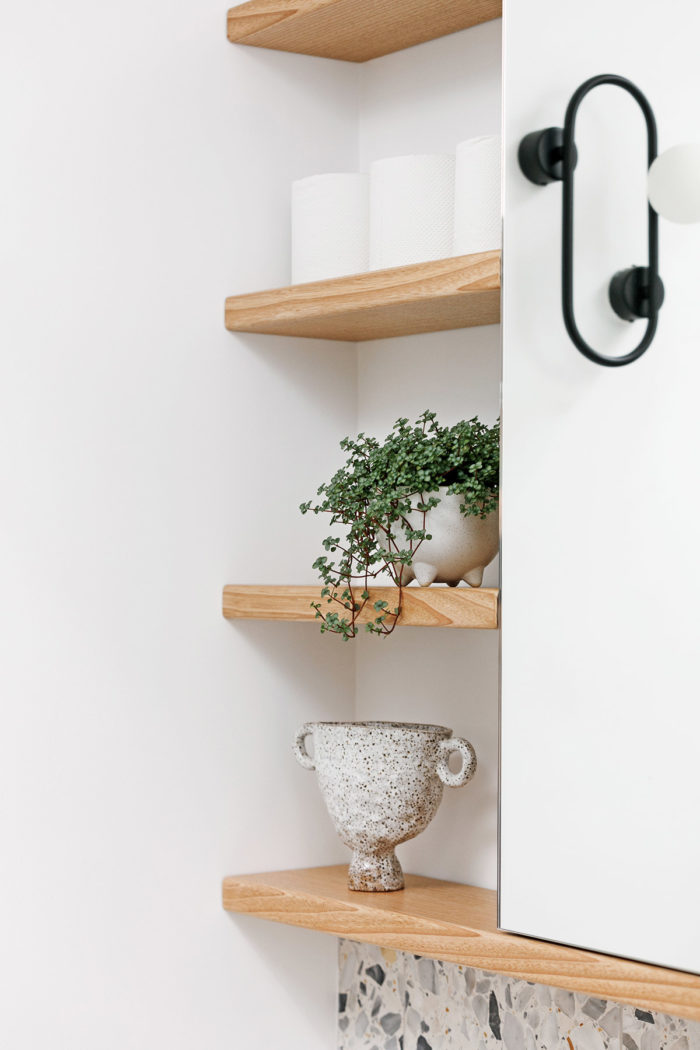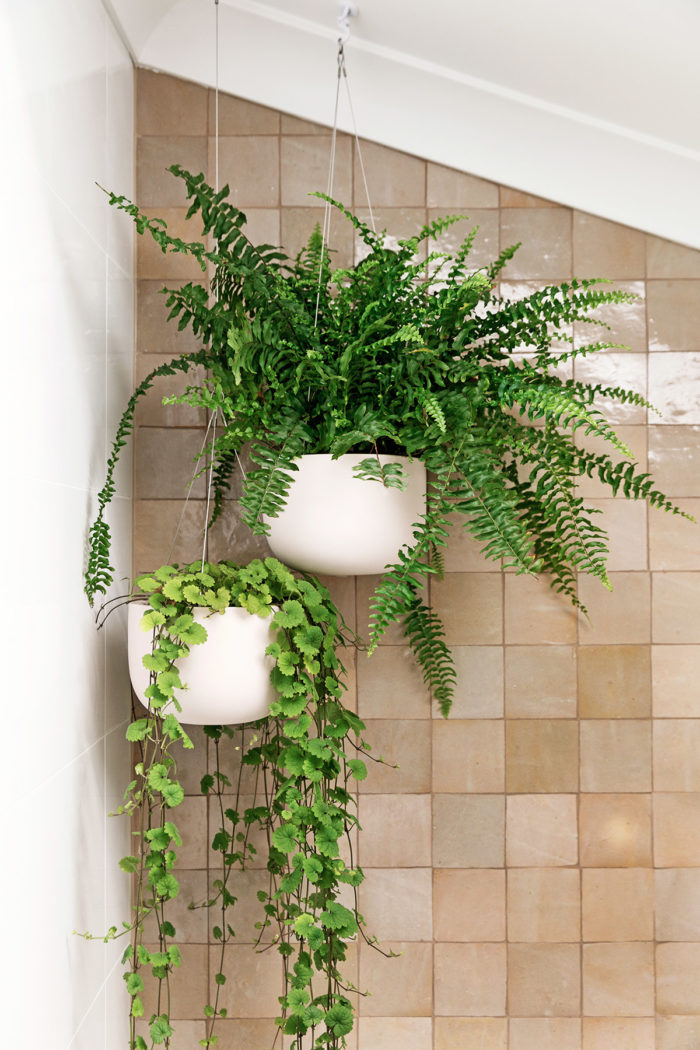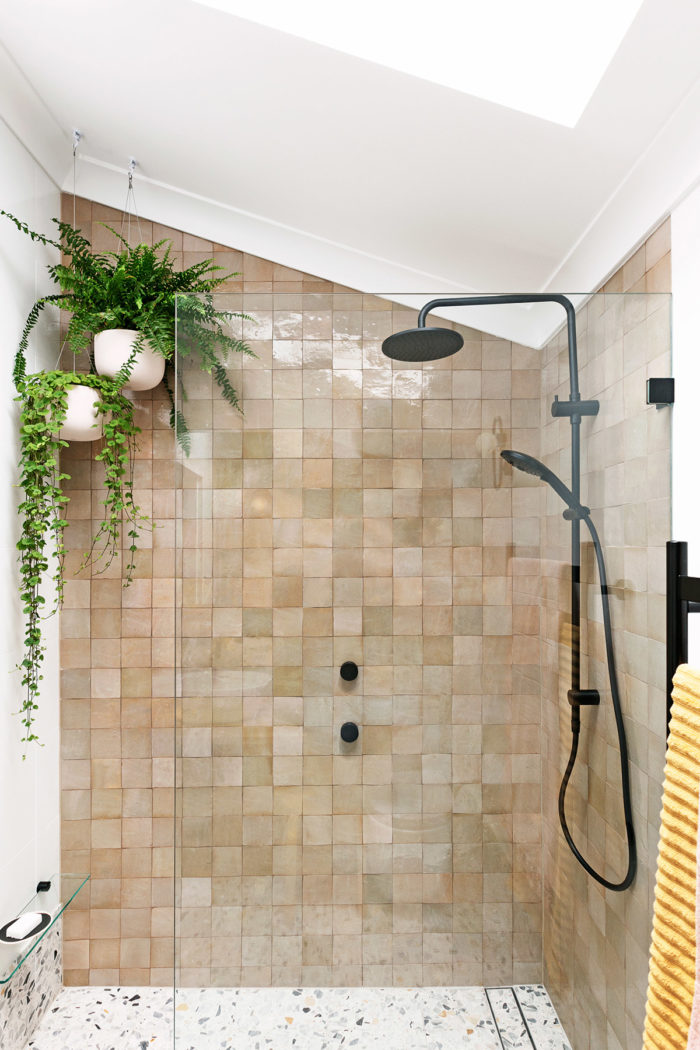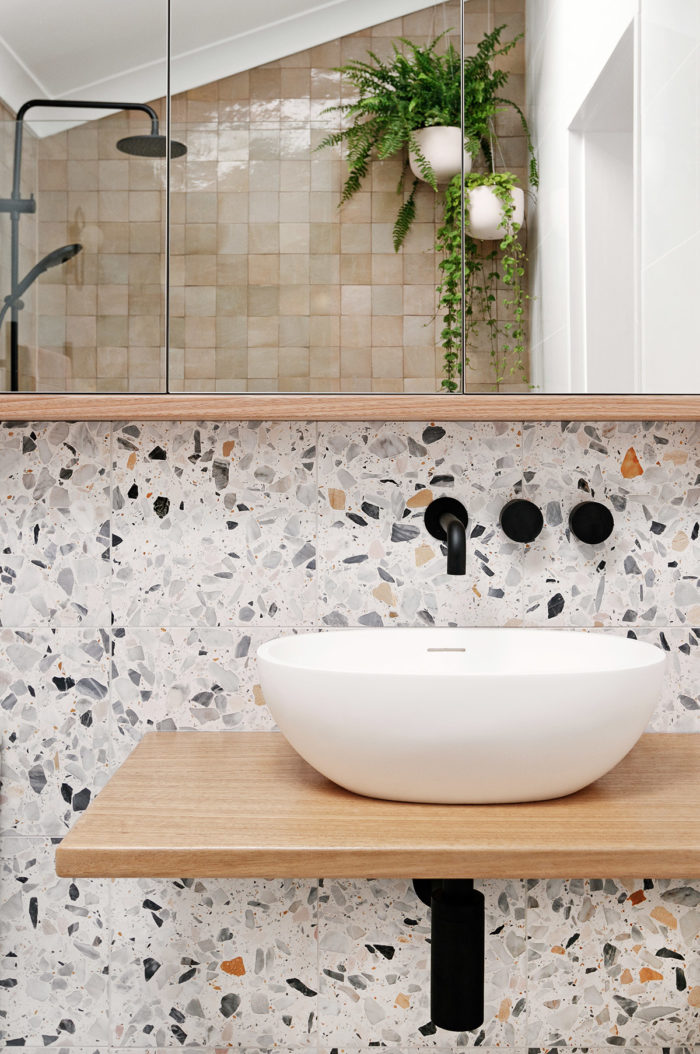 So that's my bathroom renovation… I've had to wait a really long time to afford it, but I couldn't be happier with the result. The whole process went smoothly and quickly, and six weeks later there's nothing that I'd change or do differently.
Photos of the finished bathroom by Jacqui Turk.

All the details
Just a quick note that nothing in my bathroom reno was sponsored – I chose everything because I loved it and these are my honest reviews.
Tiles
I bought the stunning terrazzo and Moroccan Zellige tiles from Lulo Tile who were amazing. Michael owns this family run business in Sydney's Northbridge and he's lovely, super knowledgable and helpful. I loved being able to support a small, local business with amazing customer service rather than buying from a huge franchise.
/ Ciottolo Grande terrazzo
/ Moroccan Zellige tiles in Wheat
Custom made timber shelves
The gorgeous Natasha from Little Red Industries made the shelves and vanity. She brought timber samples to discuss with me and was meticulous in her work. The Tasmanian Oak she recommended has a slight pinkish hue which goes perfectly with the blush in the terrazzo. If you need anything custom made from timber Tash is your girl!
Fixtures and fittings
Tap ware / I had my heart set on matte black tap ware – shiny metallic isn't my thing. I love the simplicity of the taps and spout.
/ Spin Nero Matte Black Half Turn Basin Set from Highgrove Bathrooms.
Basin / I fell in love at first sight with the shape, thickness, matte finish and square top edge of this basin. It's perfect.
/ Kado Lussi Cast Solid Surface Vessel Basin with Plug & Waste from Reece.

Shower / Posh Domaine Twin Rail Shower Matte Black from Reece.
Heated towel rail / Matte black too, of course!
/ Mizu Stream Heated Towel Rail from Reece.

Toilet and mirror cabinet / both from Reece.
/ Meridian Rimless Back to Wall Back Toilet Suite
/ Posh Domaine Shaving Cabinet, 3 Door

Wall light / The perfect feature for that wall. I love the design and it's great as a night light when you don't need the brightness of the overhead lights.
/ Buch 30 LED Wall light from About Space

Ceiling light / Two simple white cylindrical spots.
/ Tivah 2 Light Bar from Urban Lighting.
Hanging pots / Gorgeous matte ceramic pots in the palest blush. Yum!
/ Raw Earth Hanging Planters in Rock Salt Pink From Angus & Celeste.
Shower shelf / A simple glass shelf with black fixtures from Domayne.
Towels / I love the pink and mustard combo that compliments the terrazzo.
/ Paros bath sheet in Pink Clay from Aura.
/ Mercer + Reid Ultrasoft bath sheet in Mustard from Adairs.
Paint / Dulux Lexicon quarter strength.
Trades
I can't recommend Michael from Kasten Made highly enough. You hear so many terrible tales about tradies… but this certainly isn't one of them! Michael managed the renovation and was wonderful to deal with – always communicative and responsive. They finished on schedule (an amazing four week turn around!), on budget and nothing was too much trouble. The only additional costs were the unforeseen issue with the wall and the custom made shower grate that I had to have!

You might like to take a look at the makeover of my daughter's tiny bedroom. From little girl's room to teen retreat.

Click here to see more of my apartment.