I'm calling it – Castle & Cubby make the best cubby houses in Australia. Not only do they promote good old fashioned play, but they are designed and made in Australia from 100% Australian sustainable materials, using a mix of recycled products and new sustainably sourced timbers that are completely untreated and safe for kids. With cubbies like the Black Barn and the bohemian Tribe, family business Castle & Cubby are killing it with super cool design and style.
Castle & Cubby is the work of husband and wife team Kellie and Jonathan Stones. "My husband and I started this business by building a cubby house for our first son almost 5 years ago. Understanding that our rustic aesthetic was unique and probably desirable we started a little business on the side with an Ebay ad," said Kellie. "Things moved quickly to having our own website, official business status and after a few celebrity cubby houses – including Zoe and Hamish Foster Blake, Carrie Bickmore, Natalie Bassingthwaite, Kate Ritchie, just to name drop a few – this time last year we knew it was time for both of us to go full time and quit our other jobs."
"We are passionate about creating spaces not just for children but for families to connect and be reminded of what good old fashioned outdoor fun is.  We build cubby houses and complimentary outdoor play things such as mud kitchens, sandpits, swings and furniture to help families create a whole outdoor area. Recycled and sustainable is, for us, the only way to go, to encourage our children's creativity and imaginations and set them on the right path to appreciating these materials."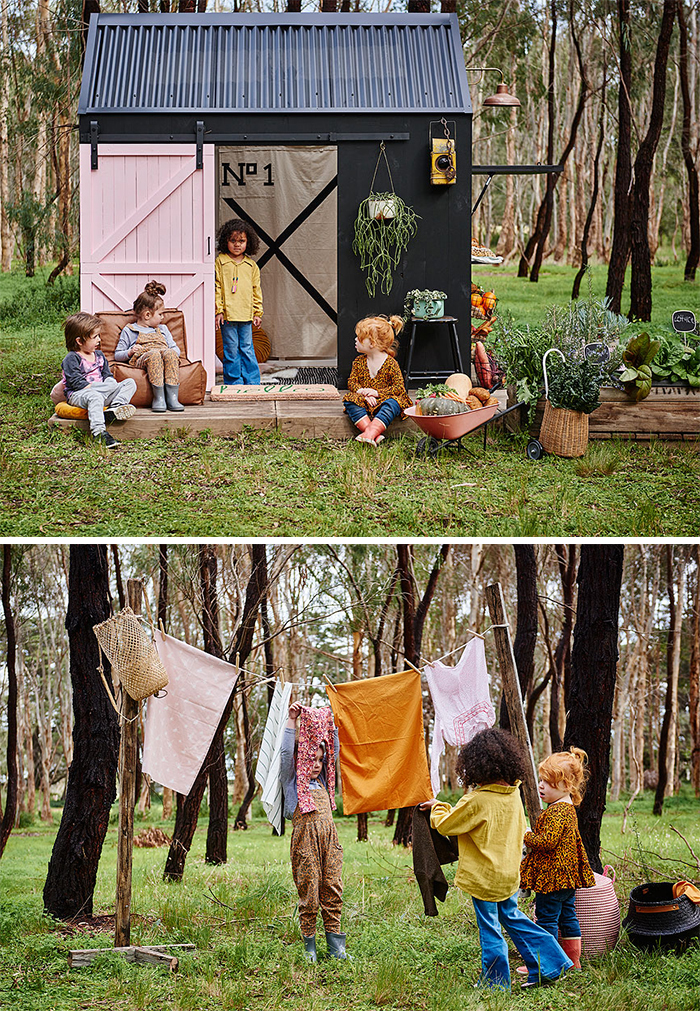 As long-time admirers of the style of black barns, Kellie and Johnathan decided that as their dream to live in one was a long way off they just had to build mini black barn cubby houses. Black barns are an inherently British farm building that have been transformed by architects and savvy individuals in recent years. These modernised homes feature big open spaces, high ceilings, bold lines, and the contrast of contemporary meets modern. The translation of this style to the mini Castle & Cubby version is just beautiful. There are so many fun and stylish elements and accessories, and a blush door is always a winner. Complete the scene with a mini vege garden, a mud kitchen, an outdoor eating area and a rustic clothesline and this little farmlet is a true haven for kids' imaginative play.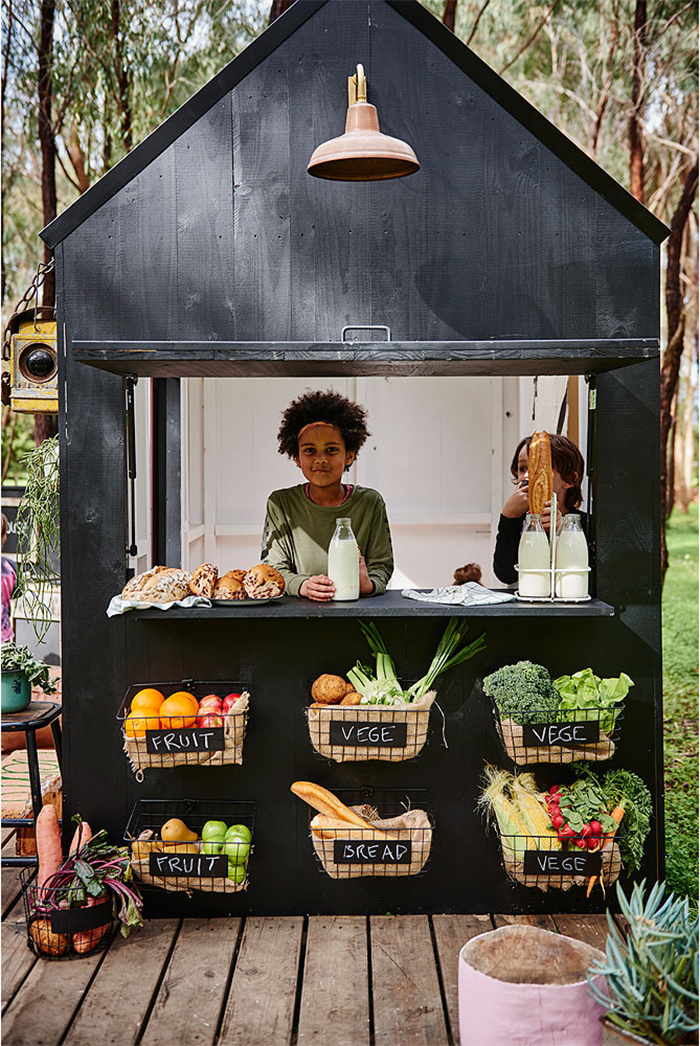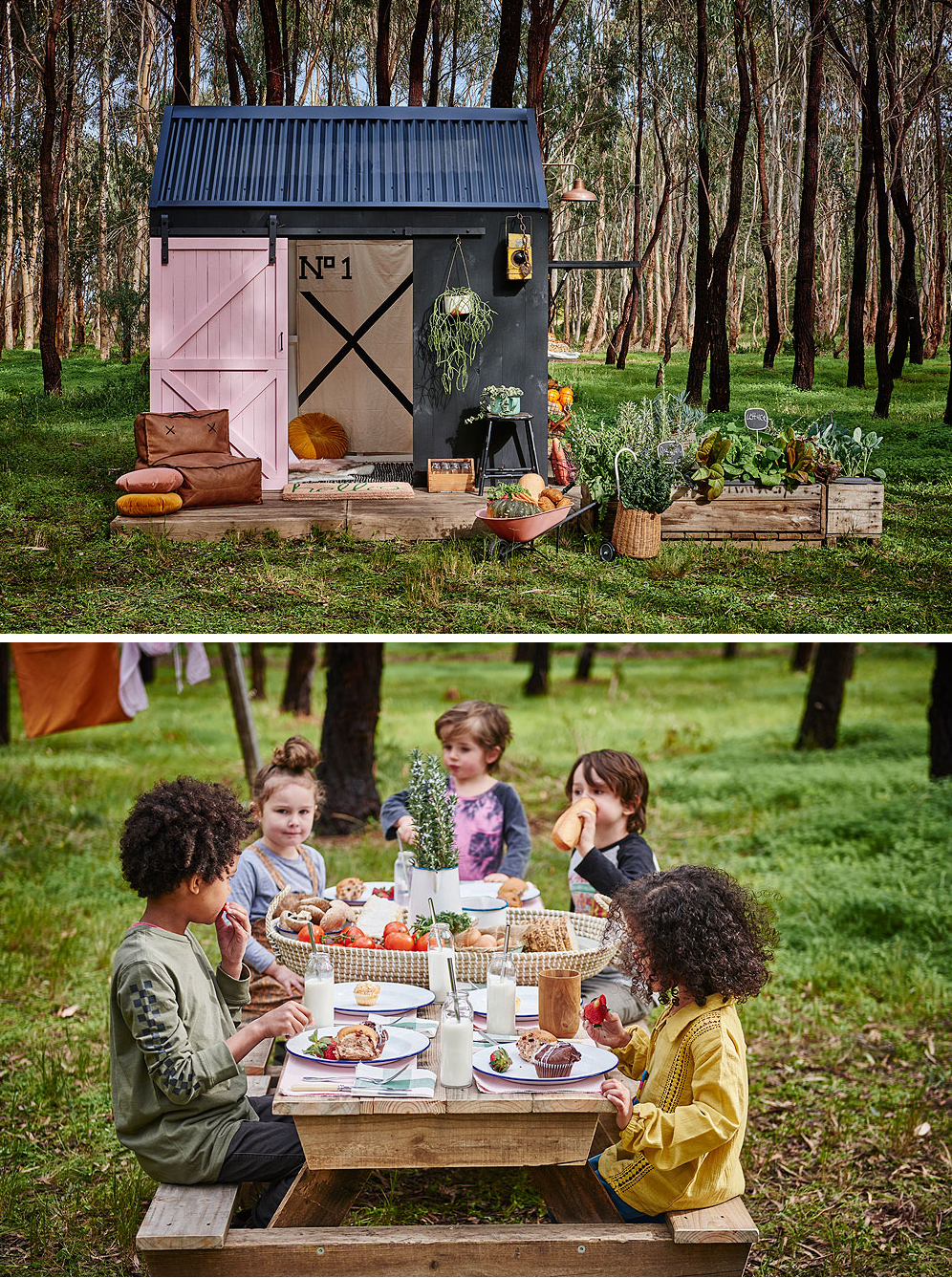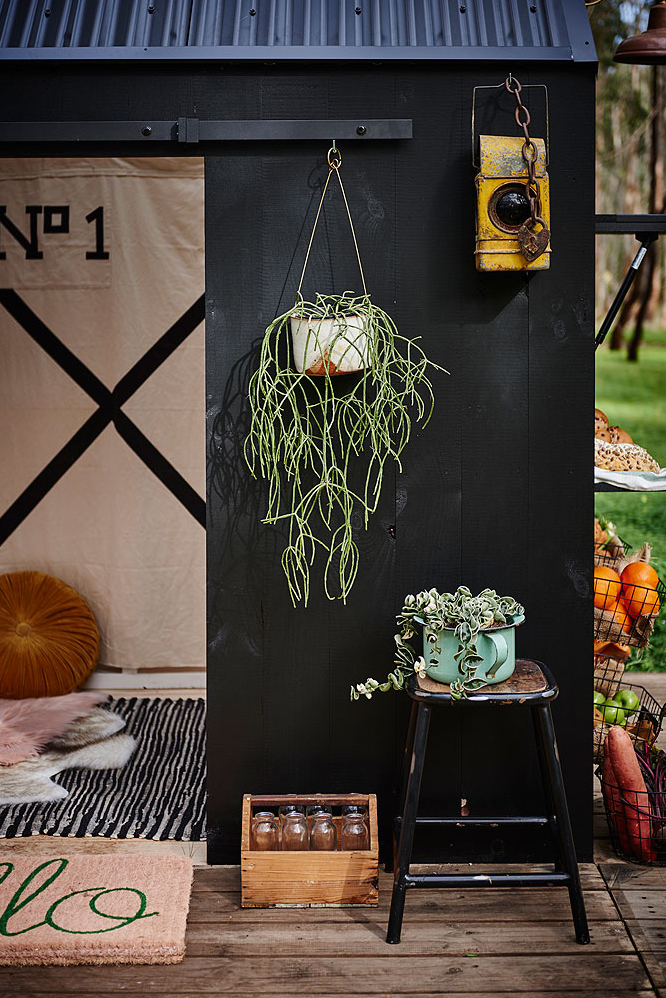 Castle & Cubby's Tribe houses are modern boho at it's best. This one has an extended verandah roof and gorgeous natural tree stump posts, with decking around two sides. The accessories include cafe windows, a timber awning, planter box. Kellie and Johnathan went to town for this shoot with painted and stenciled doors and windows to give this cubby house in the Australian bush a super cool geometric and bohemian vibe.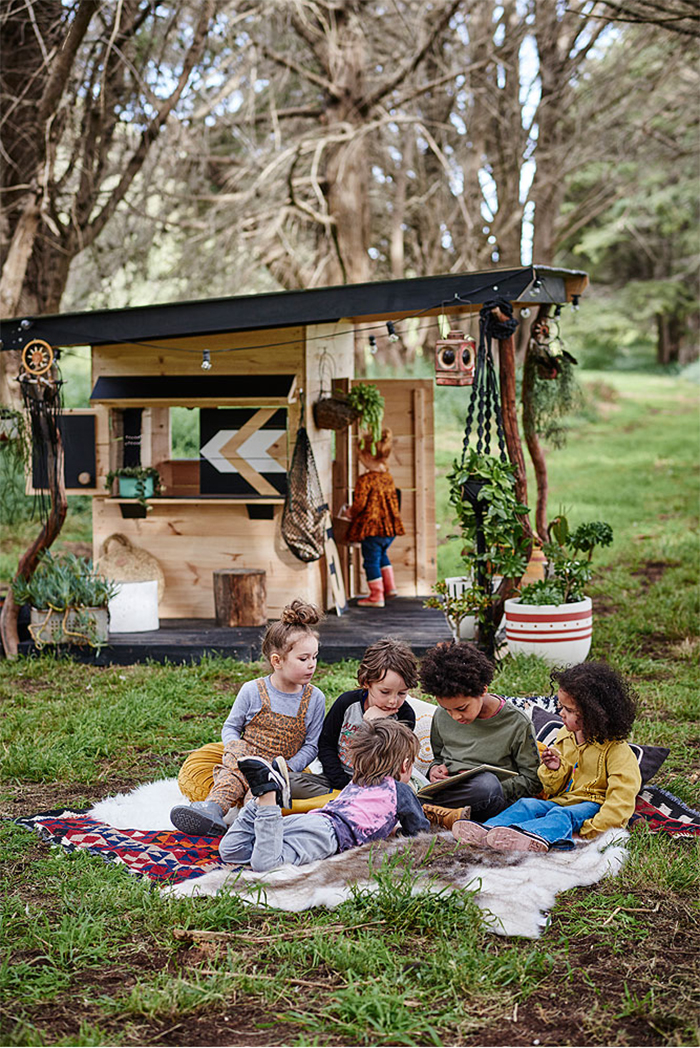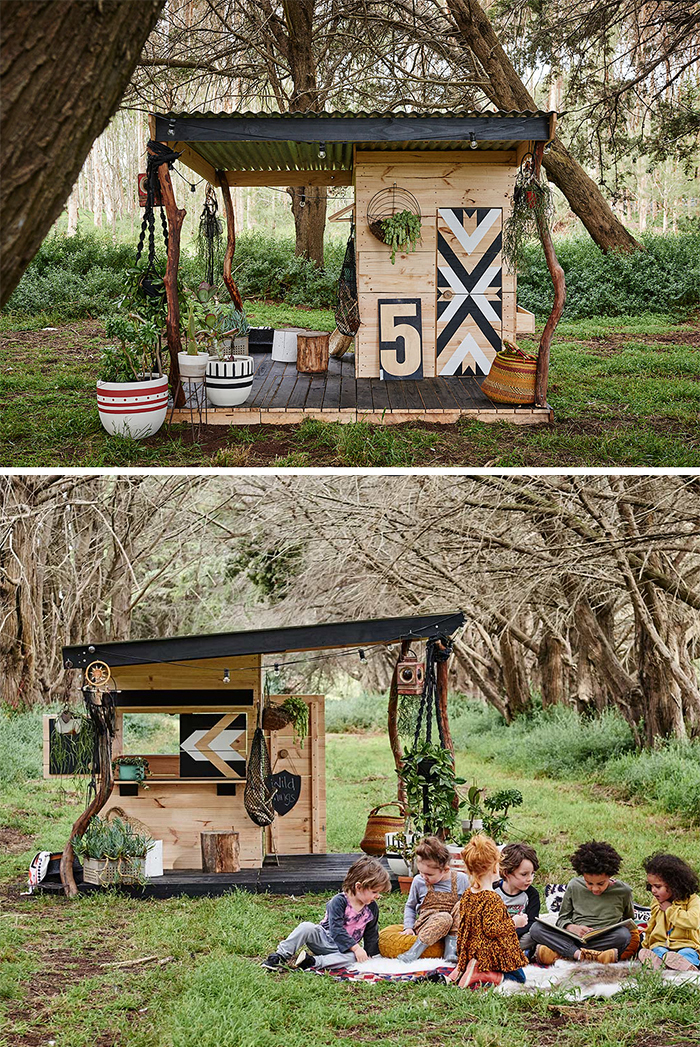 I asked Kellie what she thinks is the best part of their business, Castle & Cubby. "There are so many great things to our job – seeing the looks on kids faces when we deliver their very own cubby house, they are literally clambering over the top of us to get inside. Being Santa's helpers at the end of the year when we deliver letters especially from the big man himself. Watching kids heave in and out at our showcase events having the time of their lives. We all have a cubby house story from our childhood, whether we had one as a kid, the local kid had one and we all played in it or we desperately wanted one. Cubby houses are the stuff of childhood dreams, so for us the absolute best part of our job is knowing that we have played a part in cementing some lifelong memories for a lot of kids," said Kellie.
And what Kellie love to overhear someone say about their cubby houses: "'I have heard about these cubbies – apparently they are eco friendly and the people who make them are mad passionate about re connecting families'. Haha – I wish. Mostly what I actually overhear is 'I have heard about these cubbies, aren't they gorgeous!' That works for me too!"
I don't think it's a reach to declare these the best cubby houses in Australia, do you? I wish that Roxy was still small enough to want a cubby house. Actually I'd just love a bigger one for myself – minimalism and tiny house living is such a major trend nowadays… maybe Kellie and Johnathan can be convinced to branch out into tiny houses!
See more of the Black Barn cubby and the gorgeous shoot here, and take a look at the boho Tribe cubby houses here. You can find out more about Castle & Cubby and all the fun things they make for kids on their website.
Save
Save