Nothing beats the texture and warmth of natural materials in our homes – think natural fibers like wool and linen, and beautiful timbers. The grain and tones in wood interiors can warm up and bring life to spaces. Not only is it beautiful, adaptable and durable, it's also proven to be good for our well being and the environment.
There's a noticeable trend for wood interiors at the moment, but beyond trends it's an enduring element in our homes. Wood feature walls are definitely on our radar as we continue to embrace design aspects of the seventies, and timber floors never go out of style. I've gathered some ideas showing how to incorporate wood into your interior, from homewares and furniture to joinery and architectural details.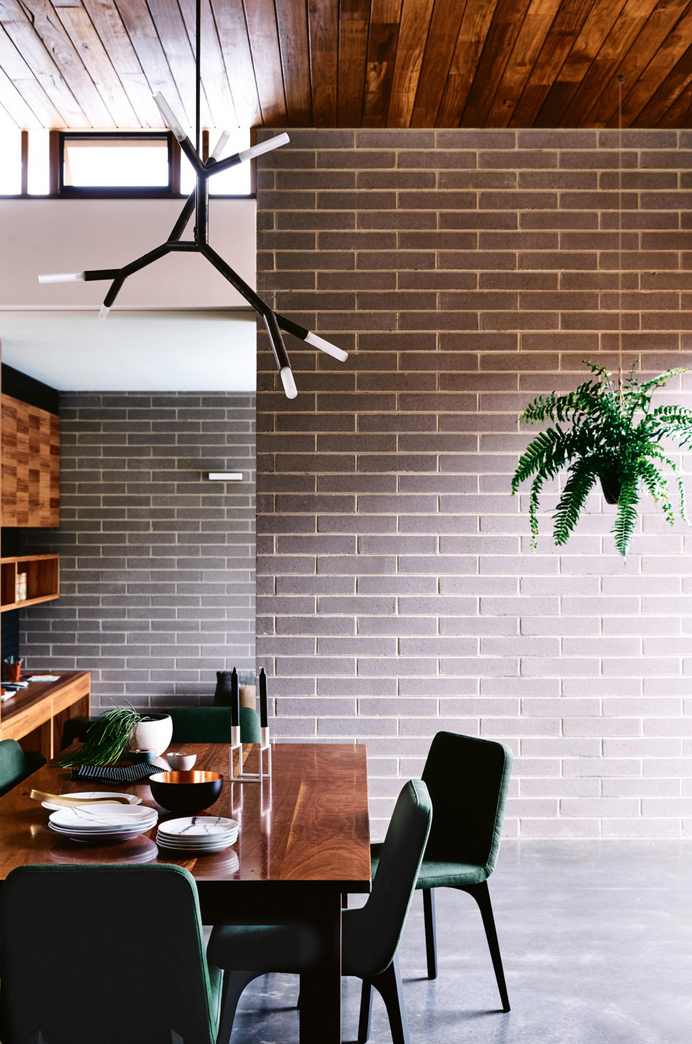 Using wood in the kitchen
The warmth of timber makes it versatile enough to team with virtually any colour palette. The two kitchens below are vastly different in style and colour, but the timber cabinetry makes a stunning feature in both.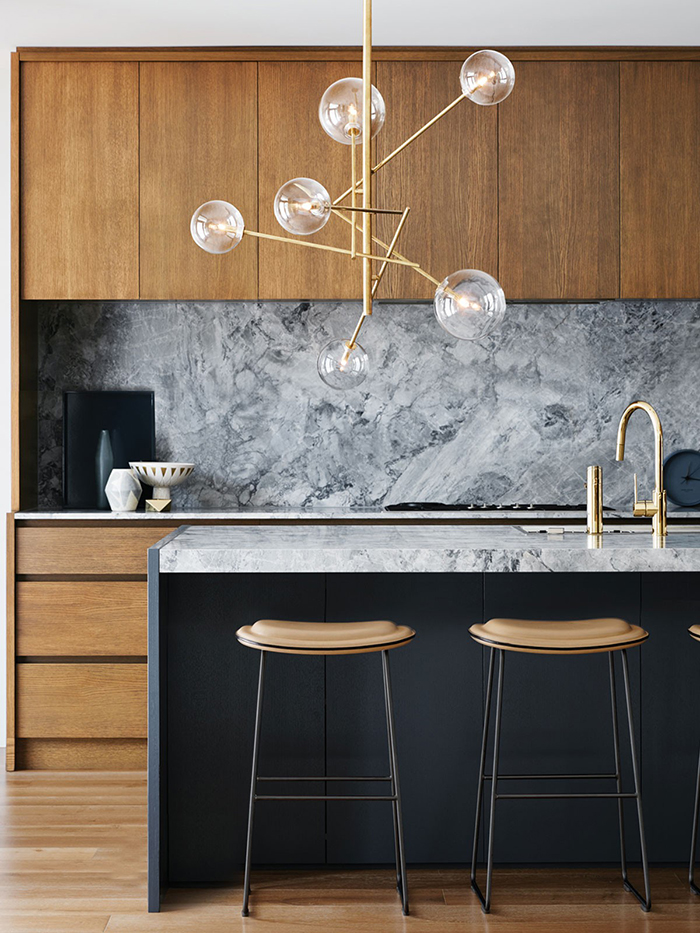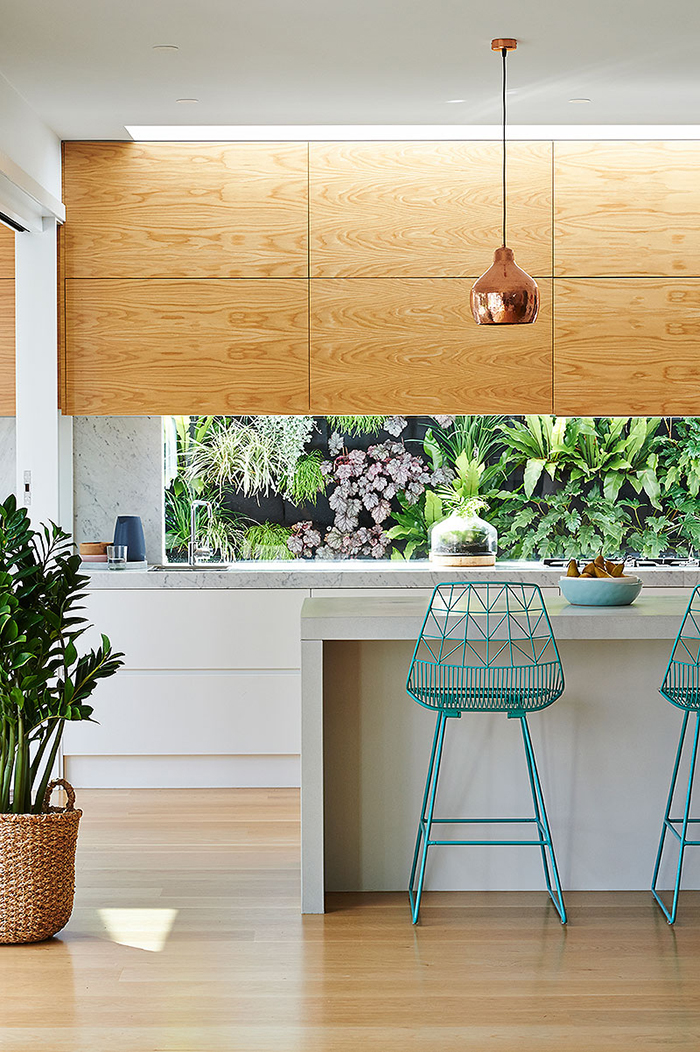 Built in timber joinery
Create a feature with clear finished timber joinery. A window seat is a gorgeous functional addition to a living space – the large window brings the outdoors in, and the use of wood creates an additional connection with nature.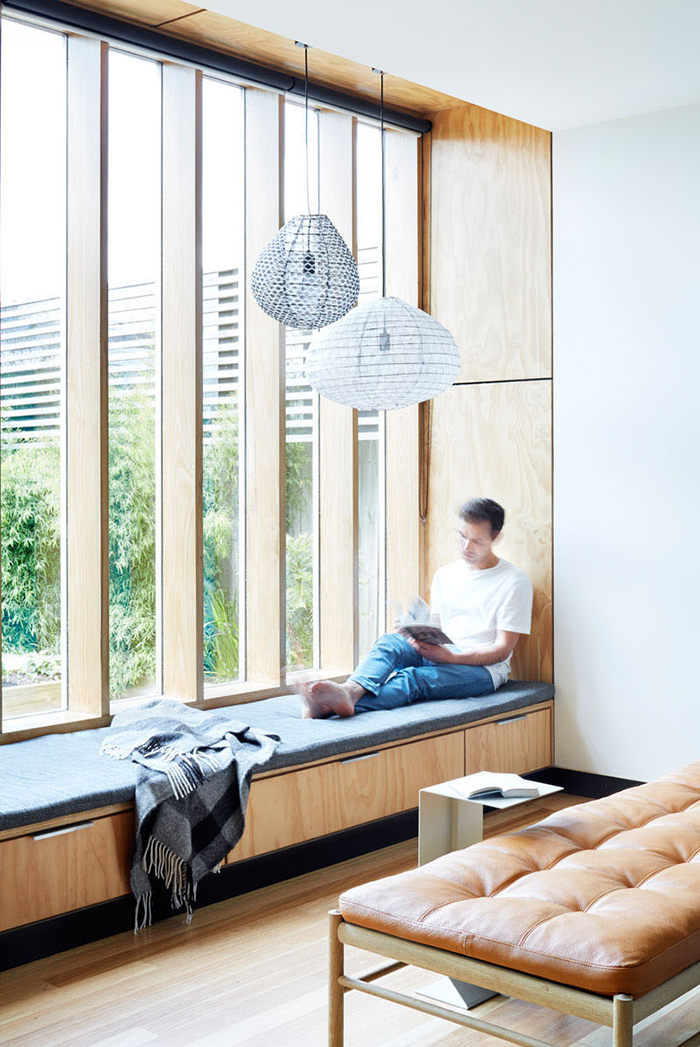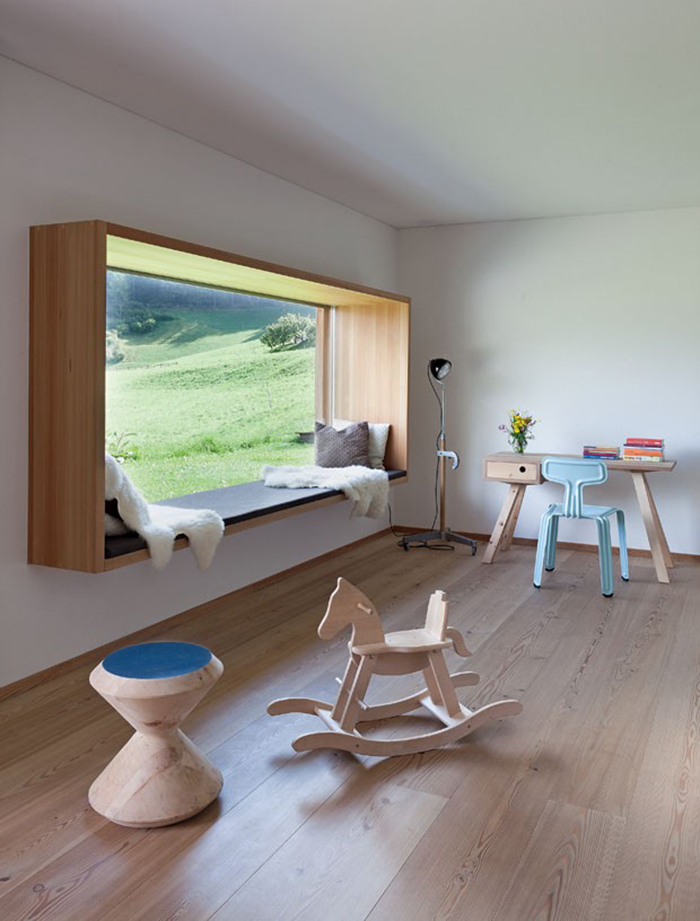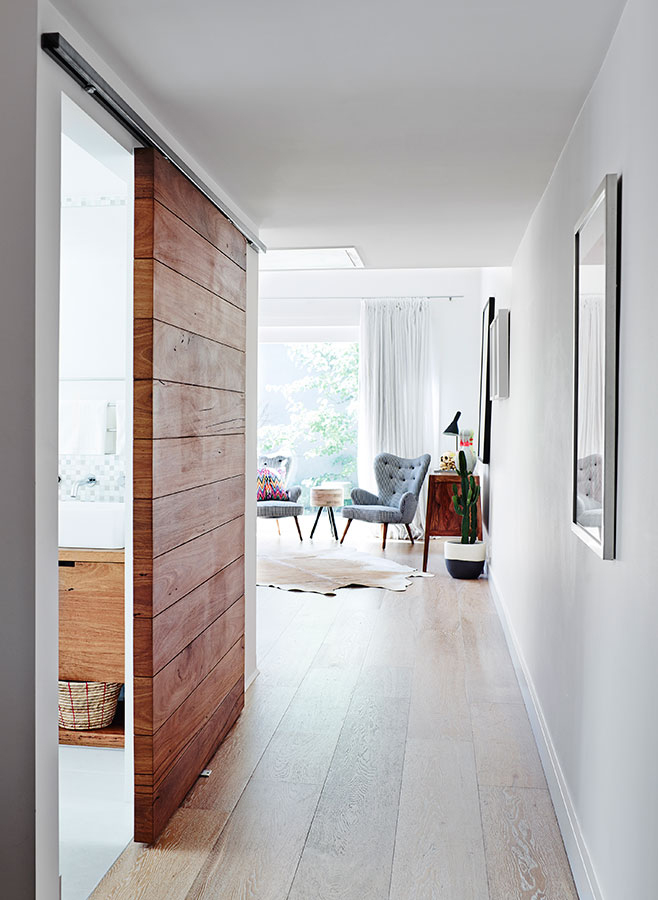 Wood interiors: feature walls
Internal walls clad in timber are enjoying a renaissance.  From feature walls to entire spaces, wood makes a room look cosy and inviting, and ultimately calming. Overall the whole vibe of a space is softened and warmed by the colour and grain of natural wood.
This bedroom has so much character and warmth from the use of natural elements: wood furniture, walls and window frames, layered wool and jute rugs, and layers of textured textiles.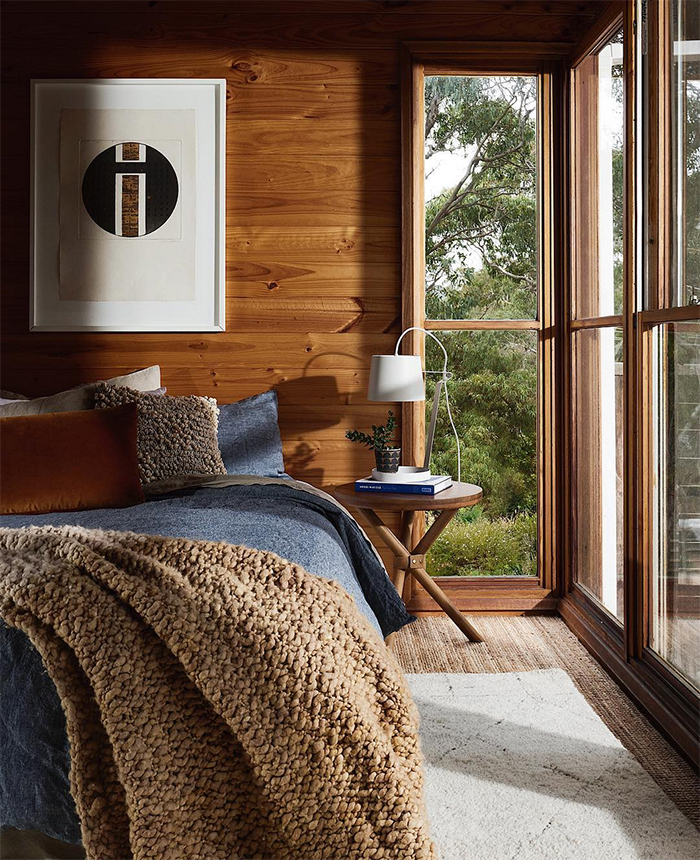 And how gorgeous is this bathroom? Imagine how different the sense of connection with nature would be if it was tiled instead.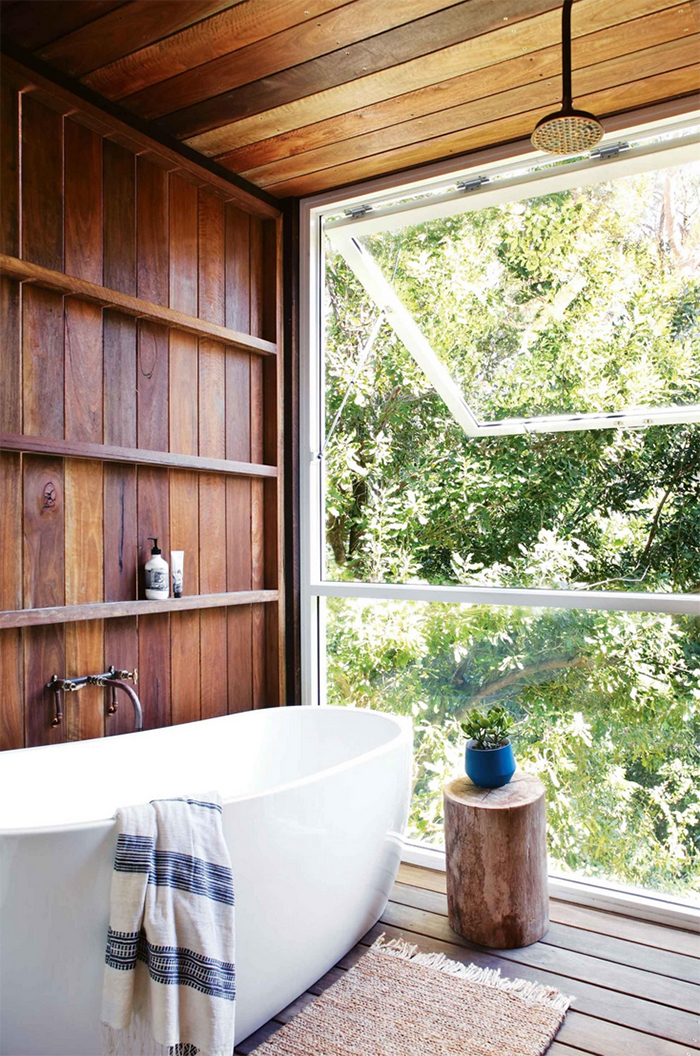 Architectural details
Exposed timber beams, structural supports, and timber clad ceilings are architectural features that are being added to new builds and renovations, or restored in old properties. These unique features add interest and character to our homes, while celebrating the inherent beauty in wood as a structural material.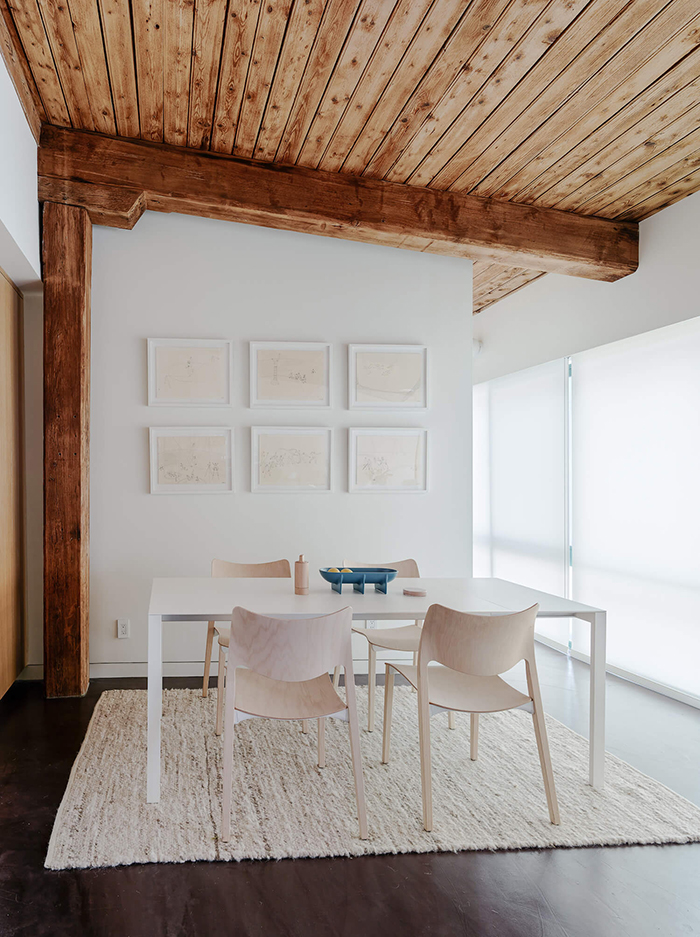 It's in the details
Of course it's also easy to bring the warmth of wood into your home without renovating. The addition of timber shelves, furniture, artwork or homewares are all easily achievable ways to get the look and feel.
Well designed and well made wooden furniture has a lifespan beyond our own and beautiful pieces can become heirlooms complete with family stories and memories.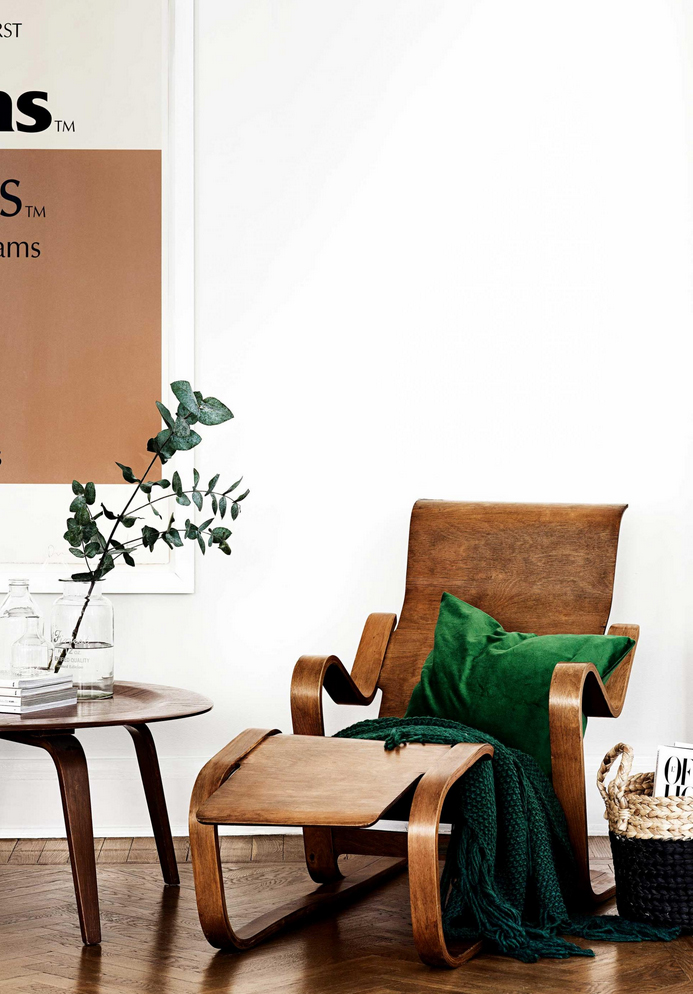 A simple timber shelf and a collection of wooden chopping boards in the living space below tie back with the furniture and add soul to the room.
The benefits of wood interiors
1 / Research has shown that the use of natural elements like wood in interiors produces similar physiological and psychological benefits to spending time outside in nature.
2 / Design connected to wood and nature can help to lower blood pressure and heart rates, reduce stress and anxiety, and increase positive social interactions.
3 / Responsibly sourced and certified wood is the only large scale sustainable/renewable building material.
4 / Wood helps tackle climate change, as approximately 50% of the dry weight of wood is carbon. Compared to other materials, wood has low embodied energy.
With our fast paced and increasingly online lives, natural materials and the sense of connection with nature they provide will continue to be something we crave for our homes. The feeling of warmth and character that's inherent in wood together with the sense of well being it promotes – for us and the environment – makes it an obvious choice.
Disclosure: this post is in collaboration with Planet Ark's Make It Wood campaign, which supports the use of sustainably sourced, certified wood based on the benefits to the environment and our health and wellbeing that it provides.
I only partner with brands that are a good fit with We Are Scout, our aesthetic and what you, our readers, enjoy. Concept, image sourcing, words and opinions are all my own. Thanks for supporting the brands that allow me to keep on scouting.
Save
Save
Save
Save
Save
Save
Save
Save
Save
Save
Save
Save
Save
Save