One of my favourite parts of blogging is doing this Space to Create series. I love to meet other creative souls, visit their studios and share their stories with you. I recently enjoyed catching up with Christina Mclean of TRADE the MARK in her big and light space St Peters. Christina's studio is full to the brim with her work in her signature palette of indigo and orange, and her collected curiosities.
Christina works with ceramics and textiles and judging by the sheer volume of pieces in her studio she's quite prolific and disciplined in her practice.
Meet Christina…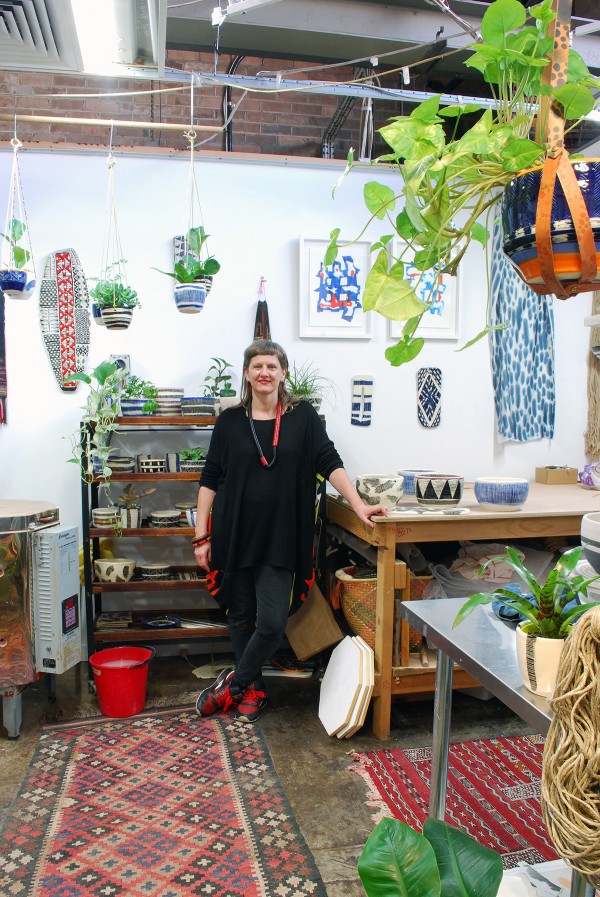 Where do you live?
I live in a little leaning timber cottage in Marrickville, Australia with my partner Jo, our dog Scout and 2 cats Tikka and Fudge. Oh and 3 fish. I've been in this house for 15 years, I love that it's dipping in nearly every corner of every room, and I work with all of its idiosyncrasies.
Where do you create?
At my studio, situated in a big-shared warehouse in St Peters. I've been there for just over 4 years; it's my home away from home. I've set it up so that I've got a lot of my treasures around me. It's a completely functioning studio with a lot of my collectables on the walls and floor.
When do you create? Is it a full time job?
My friends and family would say all the time. I don't really have a switch off button. It's definitely a full time job and some. I get up at 6, sometimes 5 – I really like the mornings – I'm more alive and effective at this time. I go for a half hour walk in Sydney Park with Scout and then I'm in the studio making till about 6 -7 depending on deadlines.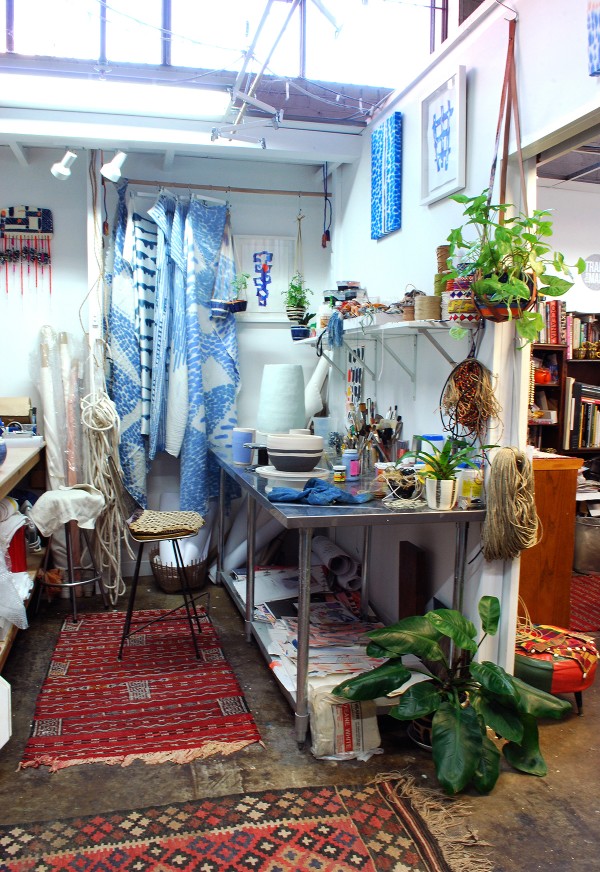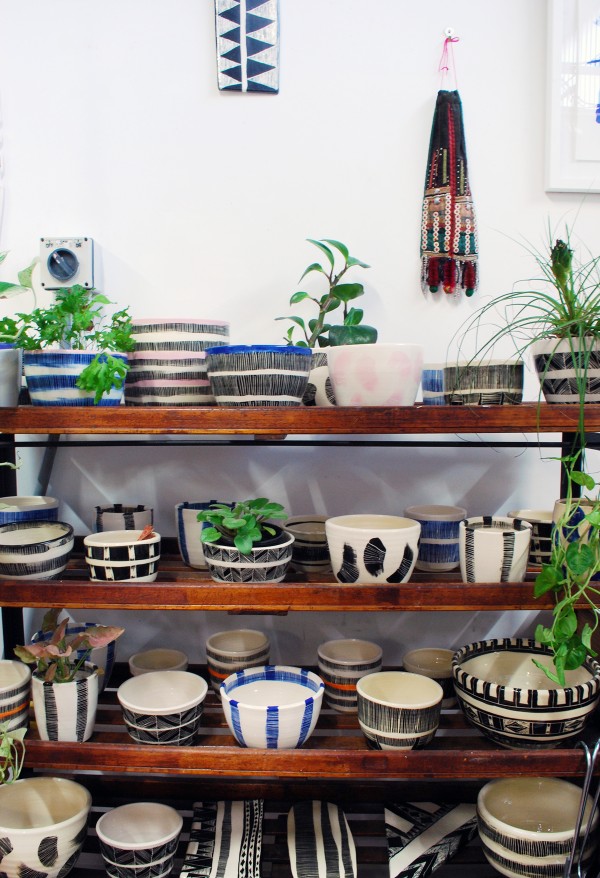 What path led you to this creative place?
Straight after high school I was hungry to go to Art School, I got into Sydney Colllege of The Arts (SCA) majoring in ceramics. I loved it, and ate up the art school vibe voraciously. Straight after the 3 year fine arts degree I knew I wanted to pursue a creative path in ceramics. I was incredibly fortunate to share a friend's existing ceramic studio and to use his wheel and kiln. He had moved on from ceramics to glass and just wanted someone to use the space and equipment. I had no money, so there was no way I could have set up a ceramic studio by myself, I was lucky!
Another Art School friend came in with me and we established Chowk ceramics, which ended up being a fabulous creative business for us both for 12 yrs. We had a great space on Enmore Road where we had a gallery/shopfront and studio workshop out the back. It was the the 90's and the www was only in it's embryonic stage. A bricks and mortar store was really a great way to make work and get instant feedback.
We both finally wanted to go in different directions with our individual work. I was keen to try my hand at working in the textile field. I went back to study, doing a Post Graduate Diploma in Design at UTS. Out of this I fell into the fashion world, working with some of the best Australian fashion brands. I worked for textile wholesalers and printers for a few years, learning the ropes until I set up my own textile print studio Christina Mclean Design at the end of 2008. I still work on prints occasionaly now by producing print collections and developing print concepts for various fashion brands.
By the end of 2014 I was really missing making with my hands. I was sick of being in front of the computer and the digital world that so preoccupies us now. TRADE the MARK was born out of this frustration. It was returning to my roots as a maker and developing work that I thought was relevant. Work that would last and made with materials that would stand the test of time.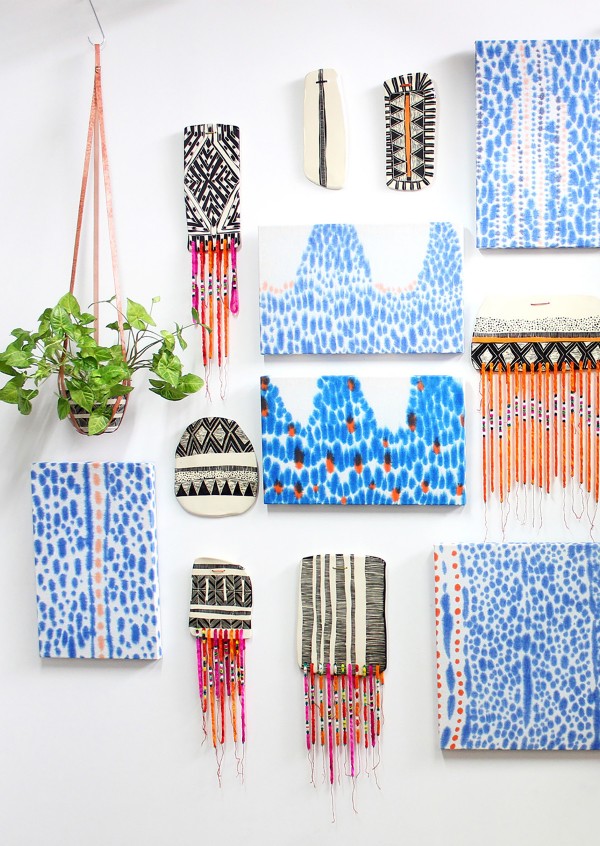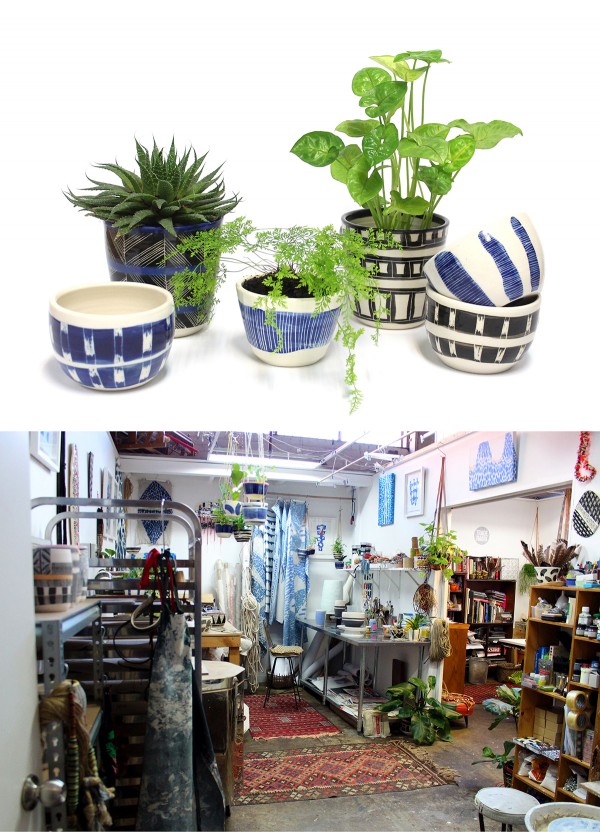 What's your elevator pitch? How do you describe what you do?
I'm really terrible at summing up what I do; I'm a mark maker. I work pattern and marks onto and within a range of different mediums; textiles, clay, leather, glass and paper. TRADE the MARK is committed to the slow, tradition of hand craftsmanship.
How would you describe yourself in six words?
Passionate, dogged, inquisitive, creative, persistent, visual.
Where do you find inspiration and motivation?
Nature is a constant source of inspiration. Whether I'm at the beach staring into shallow rock pools, watching the sand and how it creates ever moving and changing patterns, or bush walking and staring at mountainous vistas. Plants. I adore gardening and propagating plants, particularly bromeliads. The leaves and flowers of bromeliads will forever inspire me.
Travel is another vital form of inspiration. I really switch into another headspace when I'm travelling. You're able to experience each day in such a different way and I like the person I become after a good month away. My itinerary always includes visits with other artists and craftspeople who produce anything by hand. It feeds the soul and my own practice.
The materials I work with are constantly pushing and motivating me. Clay work is constantly pushing me to hone my skills. When you pack a glaze kiln you're sometimes really surprised by the outcome.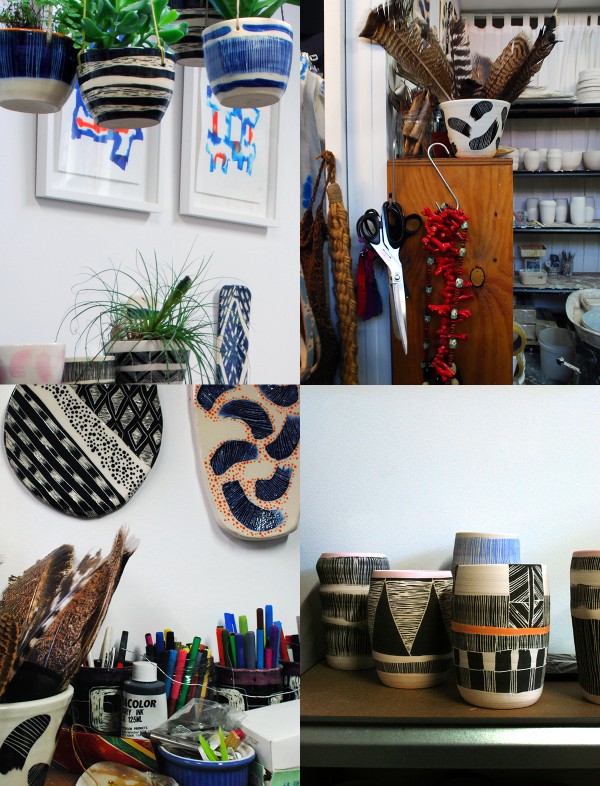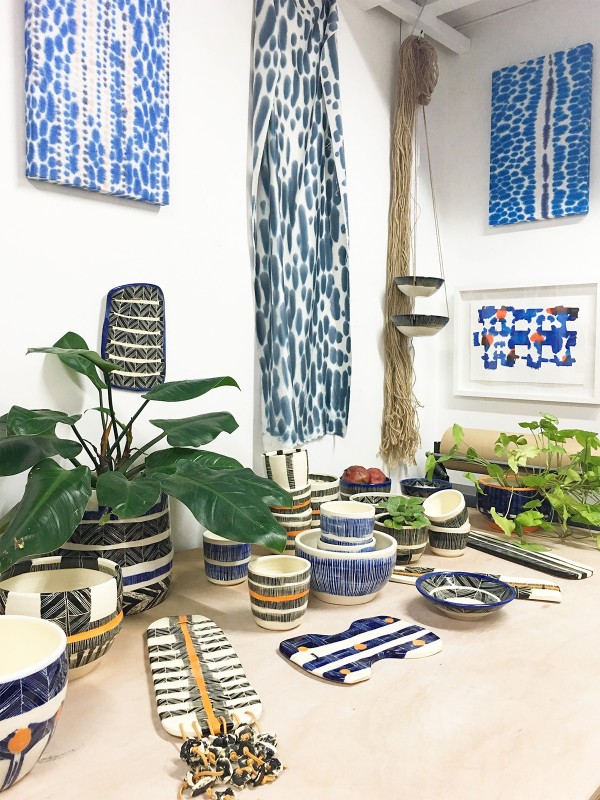 What are the essential items in your workspace?
My hands, without them I'm nothing. In regards to ceramics it's definitely my old venco wheel and my kiln. With my textiles my brushes and my step ladder are pretty vital.
Do you have a favourite tool that's essential to your work?
I'd have to say my brushes, for both my ceramics and textiles work. I've accrued quite a few over the years, all for different purposes. For my ceramic work I adore the variety and a have a big selection of hake brushes for glazing. Another tool I couldn't live without are my sgraffito tools.
What do you love the most about your creative space?
That it feels like home, I'm here enough so it's important it has that ambience for me. I like my space to reflect how I live so that when I have an open studio or clients come they feel that too.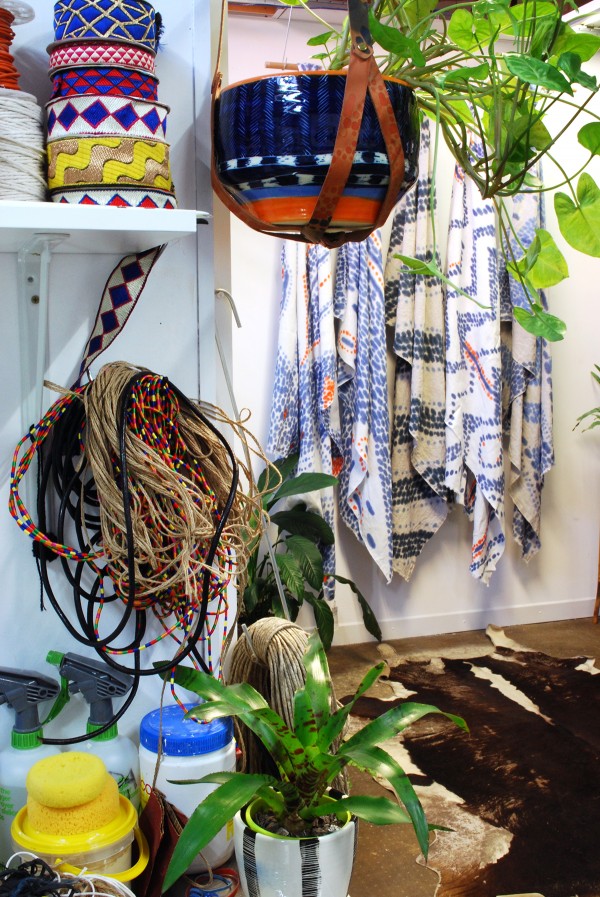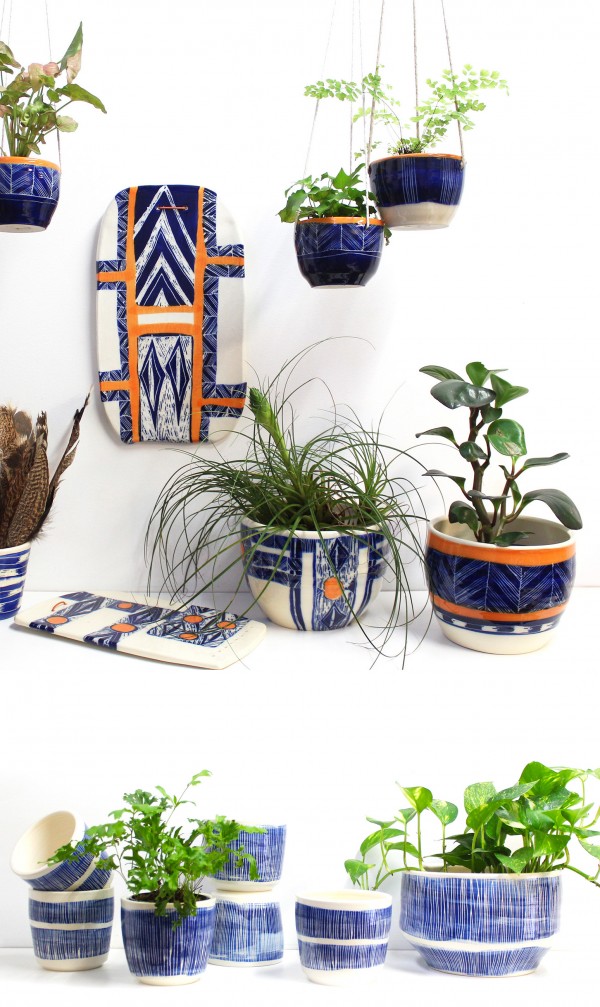 Is there something you don't like, or would like to change?
When I first saw the space it had carpet, and a false ceiling, I wasn't impressed as one of my must have's is a light space. Then I asked to see what it would look like without the false panels in the ceiling and voila, there was a bank of windows along the top that let so much natural light in. Four years later and I'd like it to be bigger; it's getting a little squishy in here now.
Do you listen to anything while you work?
Music, lots of music; James Blake, Sigur Ros, Laura Marling, Tiny Ruins, Nina Simone, Bat for Lashes, Beyonce, SBTRKT, Patti Smith and Anohni are all on high rotation at the moment.
Favourite work-time snack (or beverage)?
Every morning I have my kale, banana, apple and chia seed smoothy, then I don't feel so bad when I have my coffee.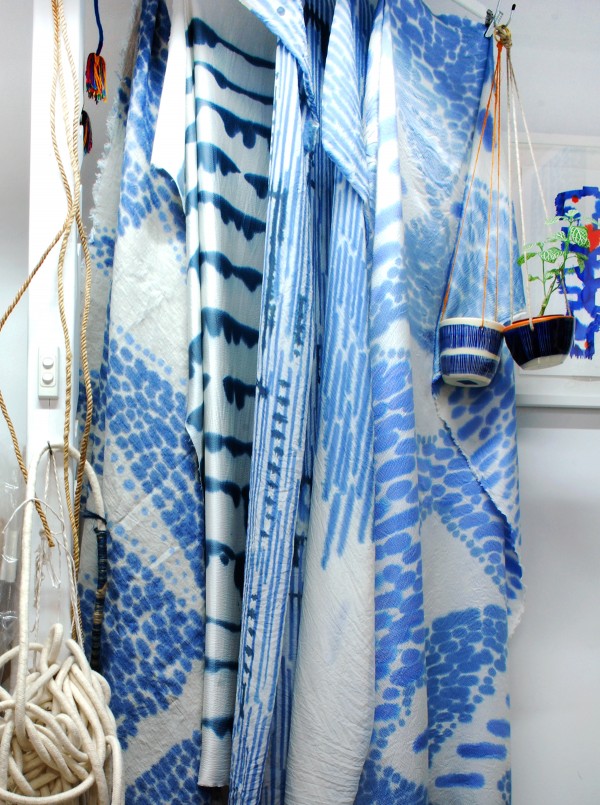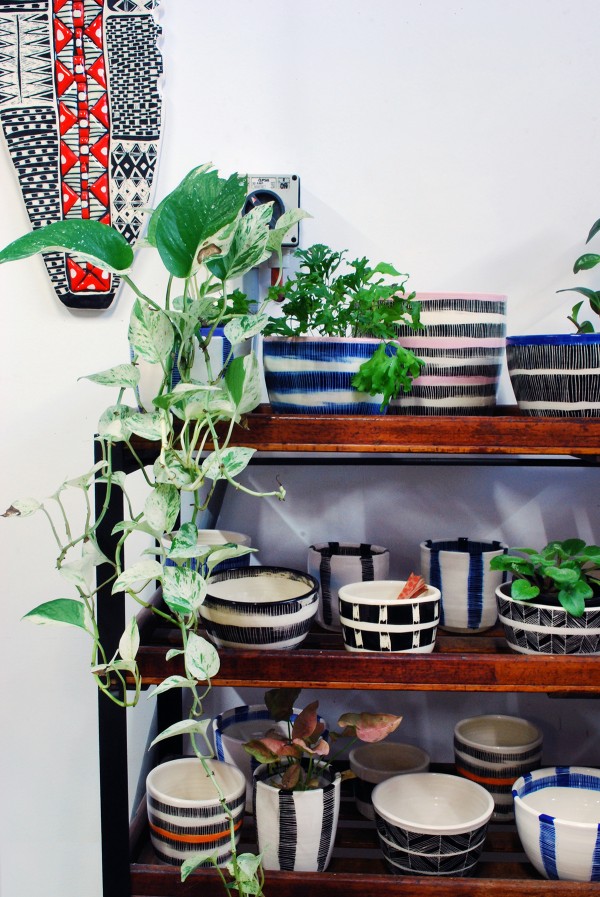 What would be your dream job or collaboration?
I'd love to work on some larger scale ceramic installations. I have some new ideas in the pipeline to merge and unify my textiles and ceramic work together.
Who or what are your biggest creative influences?
Any creative running a business is a legend in my eyes and anyone who makes work by hand. I marvel at the skill that goes into a hand woven piece of cloth. A hand embroidered molar with 5 layers of fabric showing through. A hand built sculptural piece made from clay that stands 8 foot. I bow down to any artist/craftsperson who has stuck at the process long enough to express themselves authentically through that medium. That takes patience, perseverance and strength.
Tell us five online resources or apps you can't live without.
I don't know that I can't live without them, but, no surprises: Instagram, facebook, twitter and tumblr.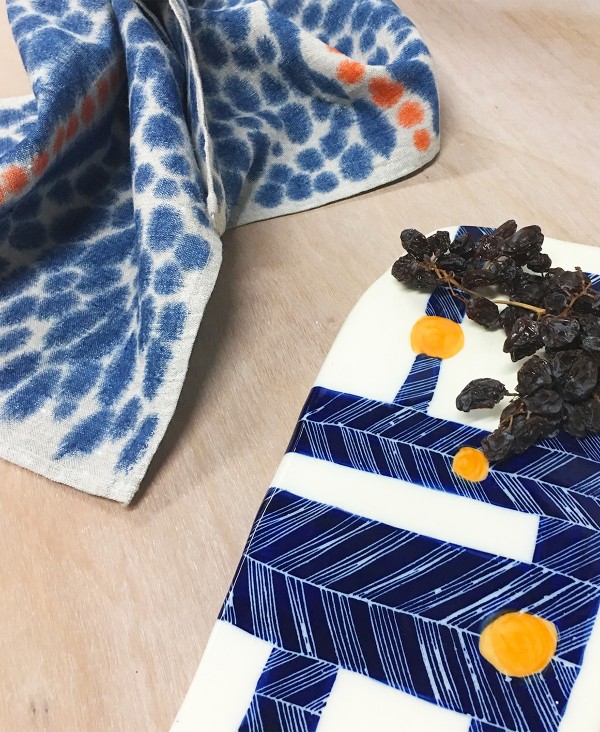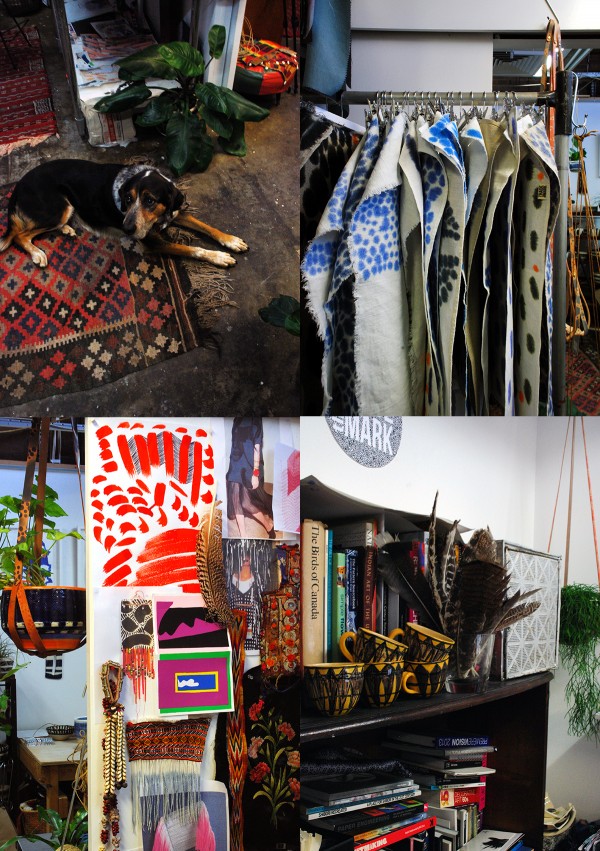 What's the hardest thing about what you do?
Sticking to one thing, I'm constantly switching between ceramics and textiles. This of course has a lot of pro's going for it, the cons are not having the time sometimes to really develop a product or work to its furthest extent.
How do you work out the financial aspects of your business? What resources, tips and tools would you recommend?
My least favorite part of business! Definitely not my strength, I ask a lot of people how they do things; I learn through mistakes and evolve as I need to. I have an accountant and I use Xero.
What advice do you have for aspiring creatives?
Work hard and be authentic.
Do you have a dream that you'd love to fulfill?
To be honest, I'm really living the dream. One day I'd love a bigger studio, so that I could do bigger work. A few more kilns and some helpers are always a dream.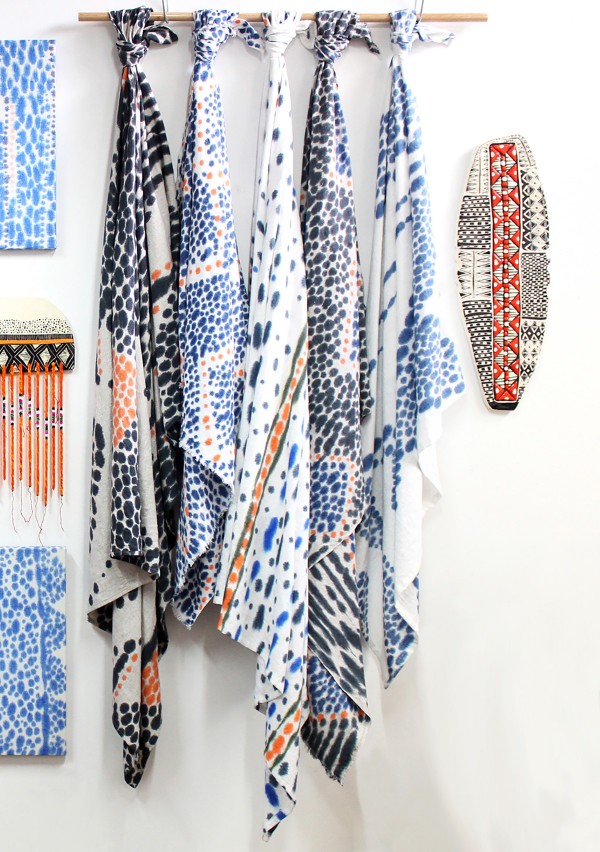 Photos by Lisa Tilse for We Are Scout, unless otherwise captioned.
I hope you enjoyed this studio tour with Christine. If you'd like to visit Christina in the TRADE the MARK studio yourself, she's having an open day tomorrow, Saturday 13 August 2016 from 10am – 3pm. Find her at 23 May Street, St Peters, Sydney.
TRADE the MARK will also be at Big Design Market here in Sydney on November 25th, 26th & 27th at The Royal Hall of Industries.
To connect with Christine:
Visit the TRADE the MARK website here
Connect with Christine on Instagram @tradethemark
On Twitter @tradethemark
and on Facebook
Check out what Christine is pinning too

If you'd like to take a look into a whole range of other artists' and creatives' lives and studios, visit the Space to Create archives.
Save
Save
Save