I love having giveaways on the blog – and I enjoy announcing the winners even more. The three Shop Small giveaway prizes are:
$150 voucher to use at Potteround Floral Design to fill your senses with beautiful blooms.
$150 voucher for Egg of the Universe wholefoods cafe – share a delicious lunch with a few friends.
$200 voucher to purchase something beautiful for your home from Sky Parlour.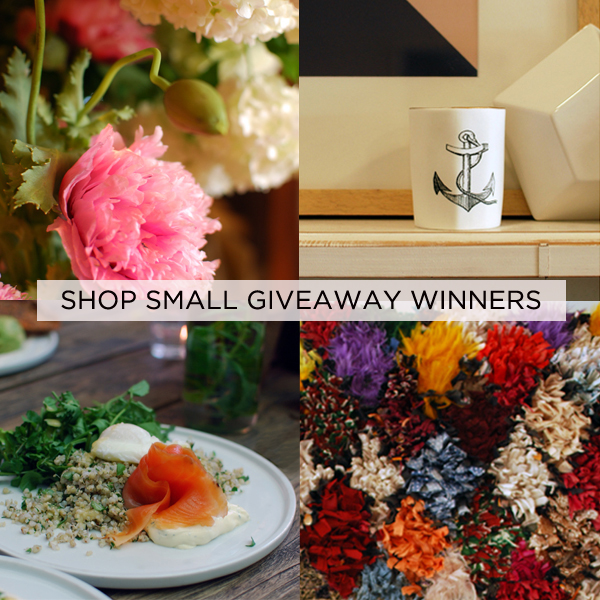 And the winners…
Winner 1 is 'bj', who summed up shopping small and locally perfectly:
I always support local and shop small first. It is where you get personalised service; where you find that special item not everyone else is going to have; where often first jobs are given; where you can have a coffee "on your own but you are not"; fundraising for local kindergartens and schools happen; notices are put up. The hub of a community.
Winner 2 is Lisa, who wrote about her lovely neighbourhood (edited comment):
Within 500 metres of my door is the most wonderful old fashioned strip shopping centre with little more than a cafe, an IGA, a bakery, chemist and a wonderful butcher who greets his customers by name, ages his own meat, offers the kids a jelly bean and opens the door for all his customers. We truly live in paradise.
And winner 3 is Alisa Leabon who supports local small businesses (edited comment):
I always like to shop small where I can… I love going into a local shop or cafe where they know your name, what coffee you like or what your taste is. Everyone should be supporting their local small business first before shopping at the large chain stores. The service is more personalised and you may buy something unique!
None of the winners have left their email addresses, so please email me within 14 days or your prize will go to another entrant. bj, you have first choice of which voucher you'd like, so get in touch!
If you missed my Shop Small guide to Sydney's Rozelle and Balmain take a look, and don't forget to download my walking map and recommendations. Support your local community, shop local, shop small this Christmas.