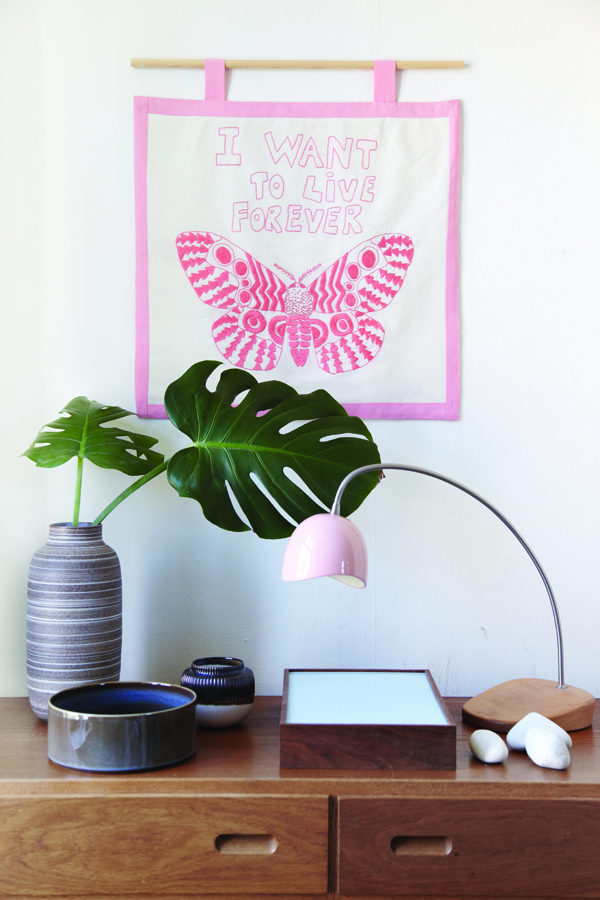 It seems like every week when I do a Space to Create post I think I've found my ideal creative environment! Last week I knew that Ellie and Sam's modest and authentic creative life in rainforest surroundings was what I really wanted… this week I know that I want to live in Lisa Grue's fabulous home and work in her expansive studio in the heart of Copenhagen! Fickle? Me? Obviously.
Lisa is an artist and illustrator with clients such as Nylon Magazine, fashion designer Anna Sui, Vogue and Ace Hotel NYC. Her work is bright and bold and she describes it as a "sublime cocktail of zany ideas, superbly ambiguous humor, in-your-face attitude, and poetic femininity". Lisa was recently honored as one of the new design talents of Denmark, with a grant from the National Art Foundation of Denmark.
Meet Lisa…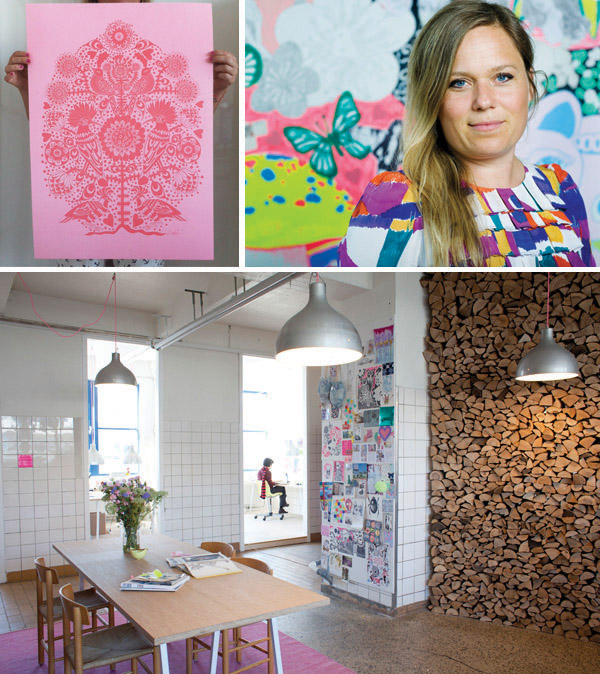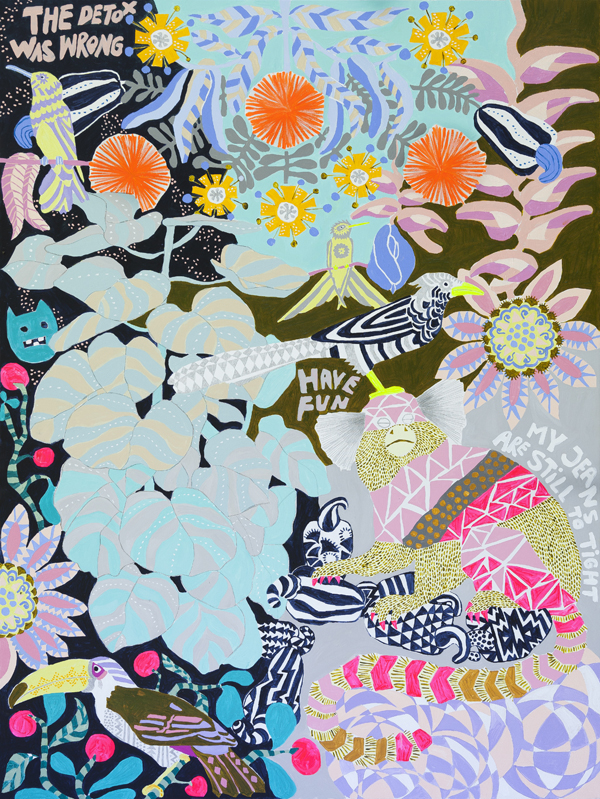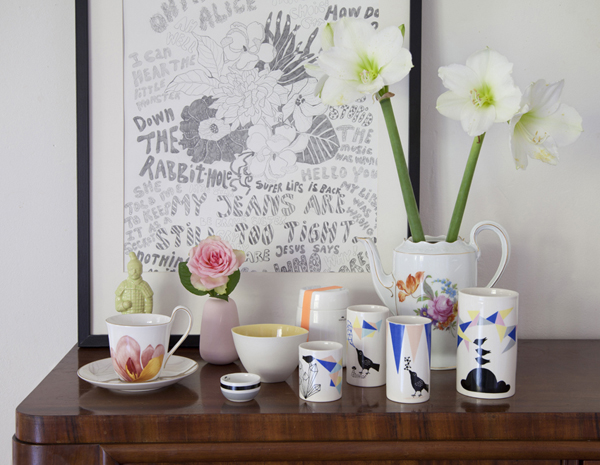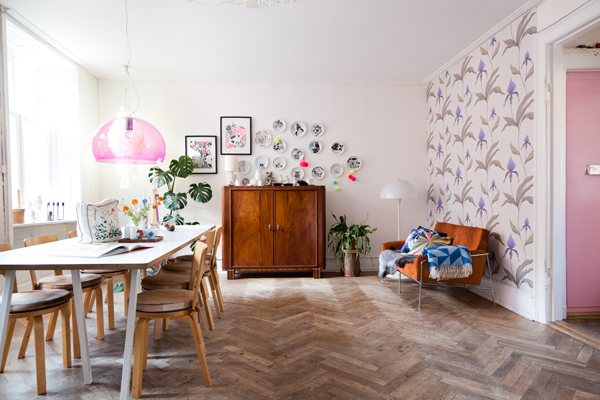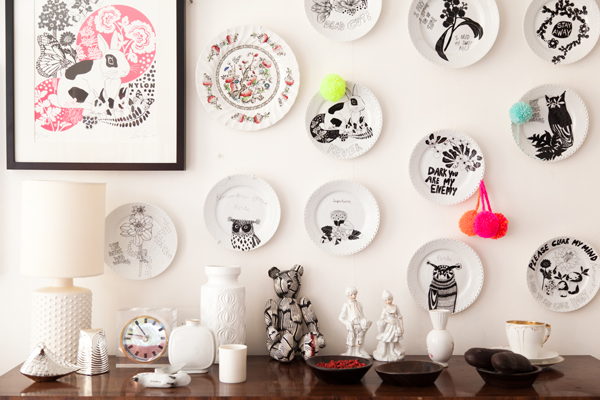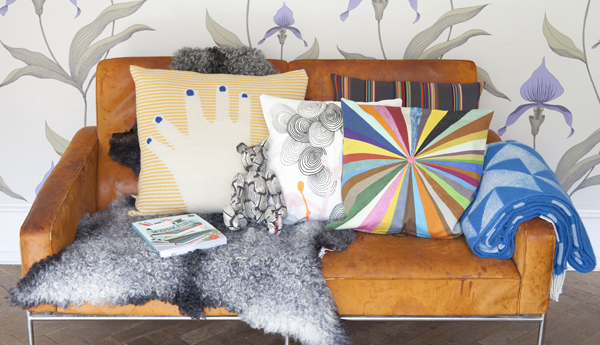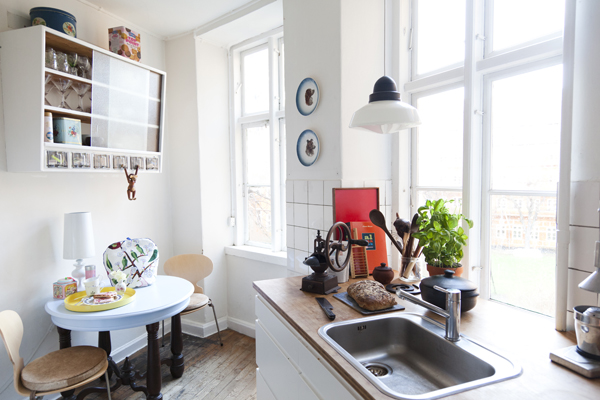 Where do you live?
I live with my husband, designer Denis Sytmen, and our 5 year old son Mika in a charming old city apartment in the heart of Copenhagen, Denmark. Our building is a yellow painted house, with a big share garden with lots of fruit trees, flowers, a big green lawn and a badminton court. Very unlike what you expect in the inner city.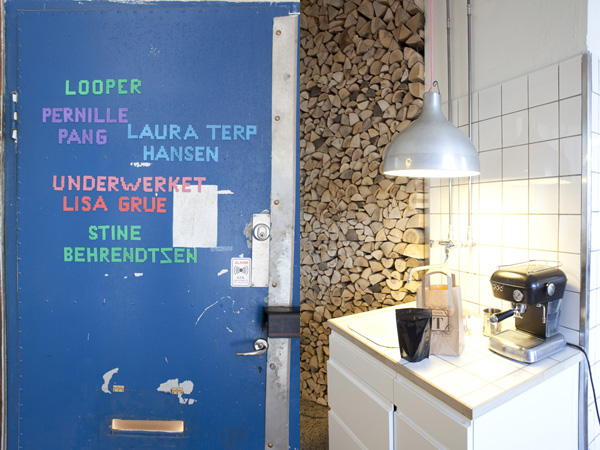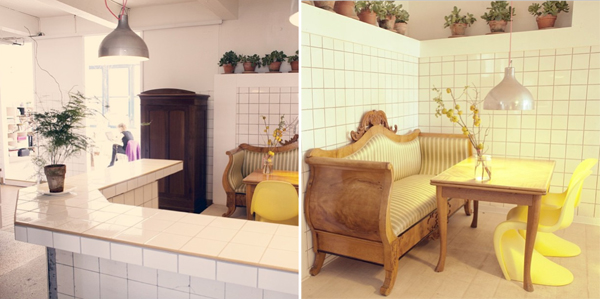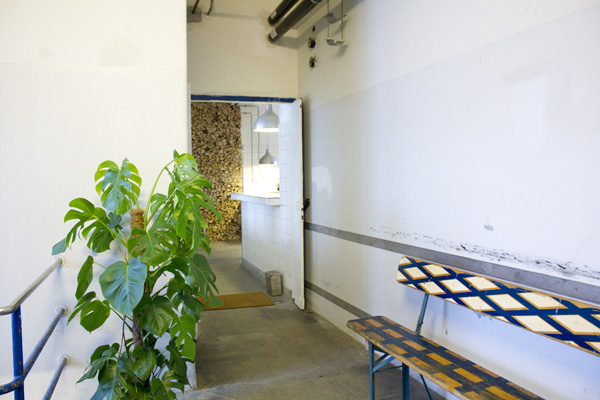 Where do you create?
I have a big 150 square meter studio in the old meatpacking district in Copenhagen. It is actually the studio I have been dreaming about for many years. I now feel so lucky to have this place. It is me and my husband's studio and we rent table space for other creatives. So in all we have 6 – 7 people there.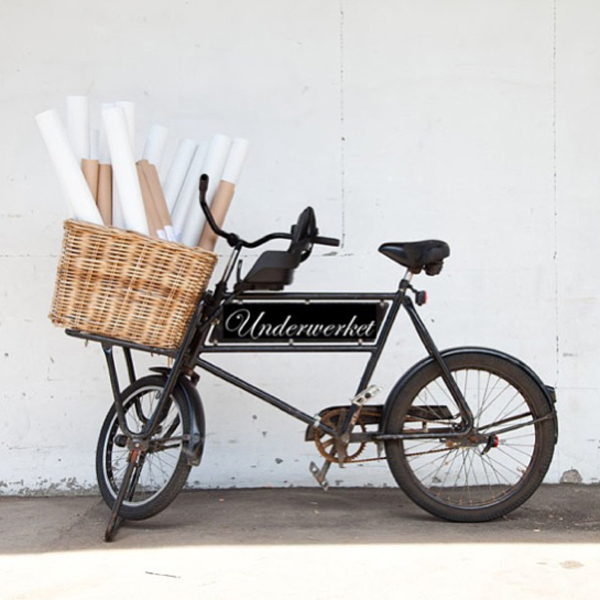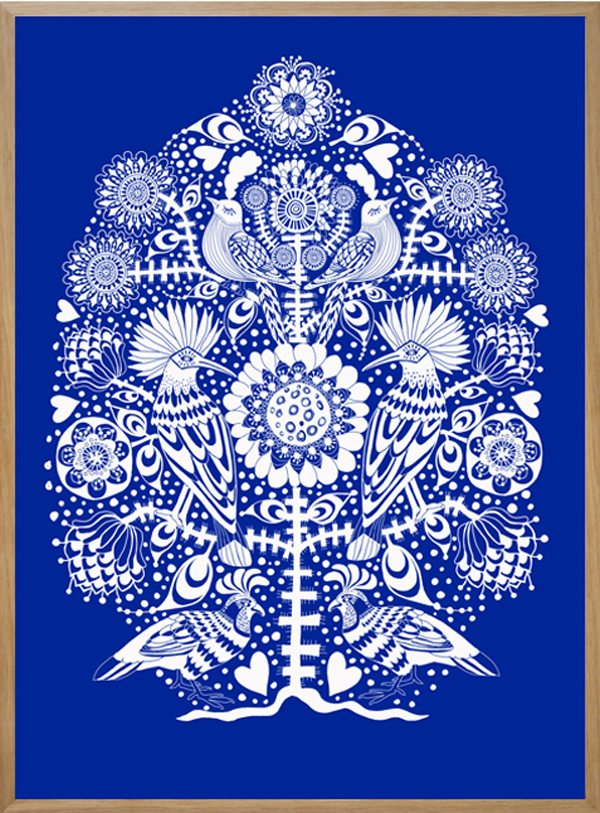 New product release: "Birds in a Tree" print, available in 3 colourways.
When do you create? Is it a full time job?
Yes it is my full time job.  I have been working and living off illustration, art, graphic design, art direction and styling for the last 12 years. So I work from when I wake in the morning – until whenever. It varies a lot, depending on what kind of job I'm working on: art piece, photo shoot, illustration job, etc. Right now I'm working on a large commissioned art piece/ embroidery – and I also embroider in the evening at home. It's more a lifestyle than a job.
What path led you to this creative place?
I have been drawing ever since I could hold a pencil. We didn't have that much money in my family so I discovered that I could participate in drawing competitions to win different things for myself and my family. I won things like a ghetto blaster, skiing vacation for the whole family, books, money, candy and expensive drawing equipment. So that was easy, I knew very early that I wanted to be an artist / illustrator. I studied graphic design at The Royal Danish Academy of Design.
What's your elevator pitch? How do you describe what you do?
I am an artist and illustrator. I also find other creative people's stories fun and inspiring. My husband and I interview and do photo shoots in the homes of artists, designers, architects and other creative people that lead interesting lives. These stories are published in interior magazines worldwide.
How would you describe yourself in six words?
Ambitious – humorous – fun – adventurous – ironic – colorful
Where do you find inspiration and motivation?
My very short answer is in "Life". What ever happens leaves a story in me – both good and bad. I am a very restless person who needs to have something to look forward to, so I always arrange travels round the world with my family. We've been doing a lot of house swapping which is fun and exciting.
What are the essential items in your workspace?
Music – I always listen to music when I work. I could not work in silence. And then I drink a lot of tea and coffee latte. Of course I need different materials – but that depends on what kind of project I do. And I also need to have fun.
What advice do you have for aspiring creatives?
Never be afraid to fail, enjoy what you do, have goals and follow them. And do not listen to people who tell you what you cannot do. The sky is the limit.
Do you have a dream that you'd love to fulfill?
I need to paint much more. I really want to spend more time doing that. More art projects in the future, that must be my mantra the next couple of years.
Thanks so much Lisa for giving us a peek into your creative life. To buy Lisa's art, and to connect with her you can find her here:
Lisa Grue's online shop
Instagram: @lisagrue
Lisa's blog
Underwerket website
Save