After owning a couple of apartments my then husband and I bought our first house when our daughter Roxy was two. We really loved living in our Potts Point apartment, six floors up with fantastic views across the city and harbour, but after living in inner Sydney for over a decade it lost a lot of appeal when I became a mum. I longed for a more family friendly neighbourhood, more living space and importantly a garden.
We'd been looking for a while and missed out at a number of auctions when we found and bought the perfect home for us in a quiet street on Sydney's Lower North Shore. We had the interior painted before we moved – the cream walls had to go and I decided on a crisp white throughout to create a blank canvas and freshen things up.
Can you guess the first thing that I did when we moved in?
My first priority was to plan and plant the garden. We didn't worry about renovating the bathroom or making any of the cosmetic changes I was desperate to do. I knew that they would happen eventually. But a garden needs time – years in fact – to get established and to start looking good so I wanted to make it my priority. Plus I was keen to spend time gardening.
Focusing on the gardening was the first step to making our new home feel like it was truly ours. Gone were my days of small apartment living and the days before that when I was renting and not able to make the cosmetic changes I wanted to. If you're transitioning from renter to a homeowner, you can find a number of helpful articles on the Stockland My Place residential hub. Buying your first home is such an exciting time and being informed and planning – whether for financing your purchase or planting your garden – is key to having a home you love.
Before I get to the transformation of my own garden I've gathered some inspiration images for different styles of planting and homes.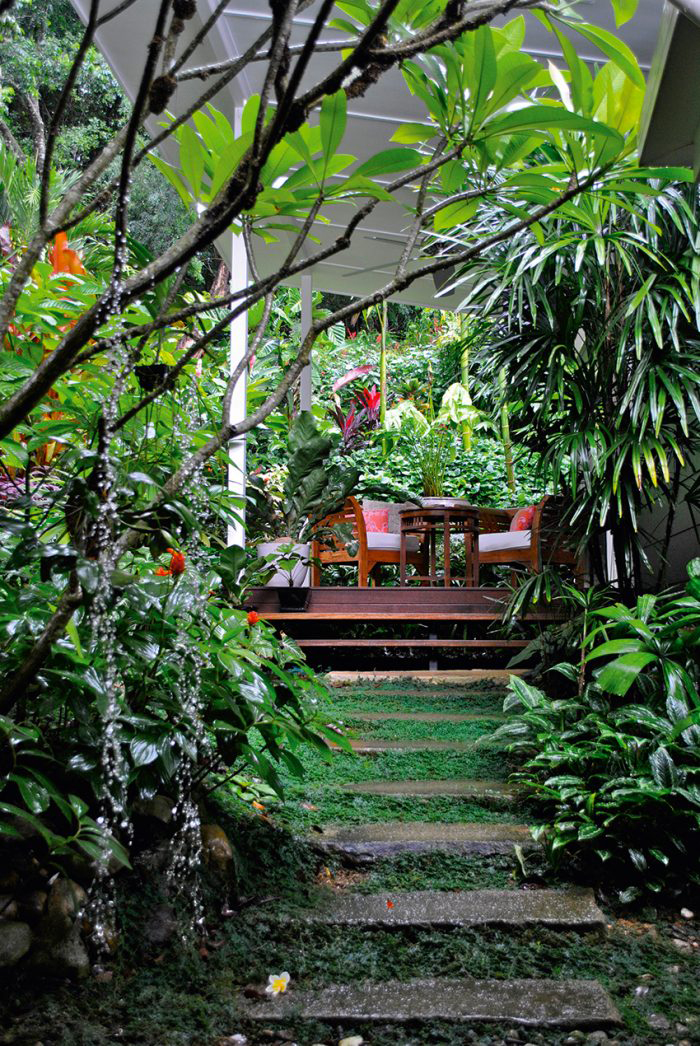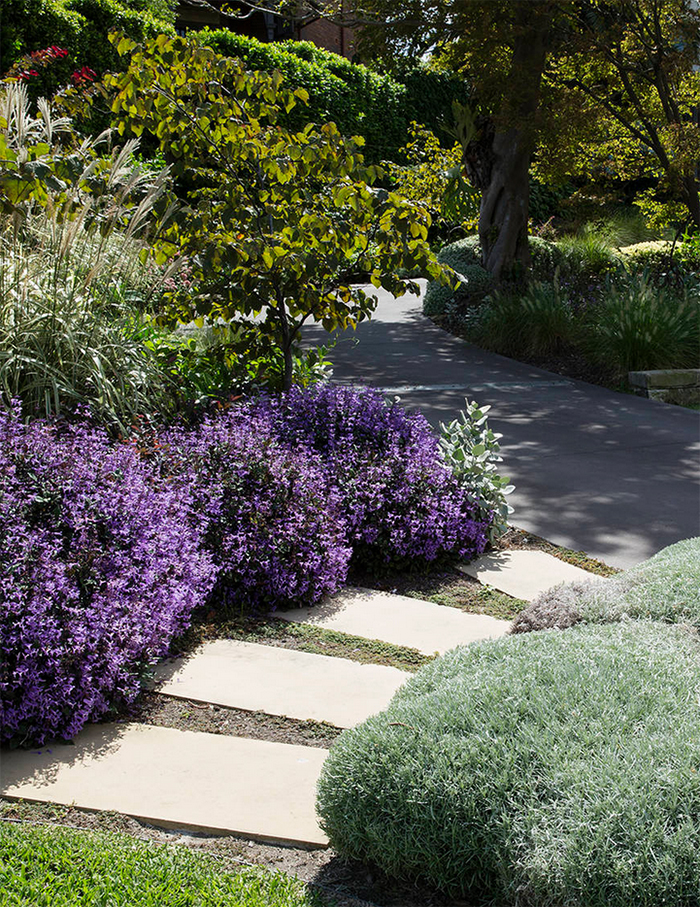 Our home and garden
To suit the 1940's era of our first home I knew that I wanted a fairly formal garden with lots of foliage and only white flowers. I know, I was very particular! The idea of planting things in rows, and clipping trees and hedges into neat shapes really appealed to my perfectionist nature.
Below is the house and garden when we bought it. It was a hodge podge of different plants that had been placed seemingly randomly without thought. Not my style at the time at all, and not one that complimented the house.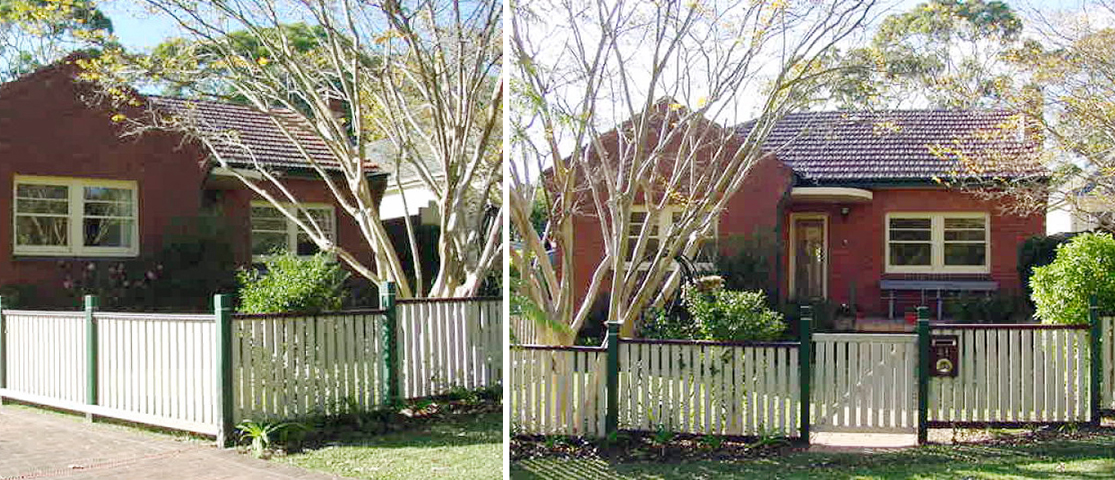 I set about removing most of the plants and I really enjoyed clipping the large Camellia on the right hand side of the house into a big round ball. We bought Murrayas which would grow into tall hedges for along the front of the house and inside the fence. In front of that I planted a lower Japanese Box hedge, and two Pencil Pines to frame the front of the house.
A couple of months later the new plants were in place and the clipping, watering and weeding began – with the help of Roxy (always in some sort of fairy get up!) of course.
About a year on the garden was really starting to look good, the fence was painted and our baby chickens were grown and laying eggs.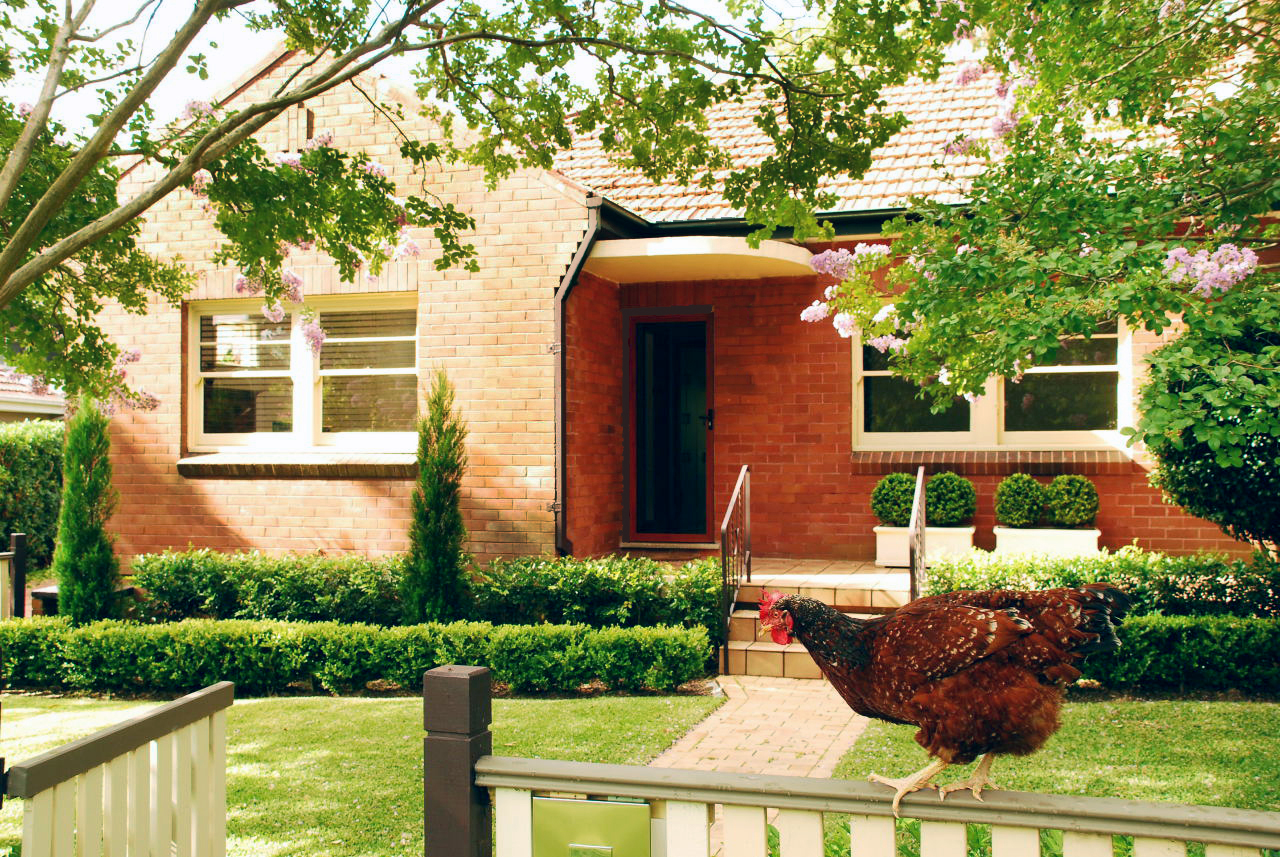 And here it is 5 years later when we sold the house. What a difference the garden, and better paint colours, made to the street appeal our home! The Murrayas behind the fence had struggled despite my attention, and were just a little higher than the fence. They still had another 30cm to grow to match my vision(!), but the rest of the garden was perfect.
I took on the garden as a personal project and really loved spending weekends digging, planting, watering and trimming – weeding not so much – with Roxy playing nearby. And it turned out to be not only a great way to destress and connect with nature, but also a wonderful way to meet our neighbours and connect with the locals. It can sometimes be hard to make those connections in a new neighbourhood, but spending days working in the garden was a really great – and unexpected – way to meet people walking past and a good topic to start a conversation.
So my tip when you buy a home? Start from the outside in. Plant out the garden – or just add to it if that's all it needs. Show it some love from day one and over time you'll create a welcoming oasis, adding to the street appeal and value of your home, with the bonus of spending relaxing downtime pottering, connecting with family, nature and the neighbours.
Don't forget to check out the Stockland My Place residential hub where they shed light on the most important topics being faced by first-time buyers in today's property market, including how to transition form renter to home owner. Navigating your first home purchase can be tricky so be open to all the advice and help on offer! Stockland are all about community and creating places where families can thrive.
Disclosure: This post was produced in partnership with Stockland. I only partner with brands that are a good fit with We Are Scout, our aesthetic and what you, our readers, enjoy. Concept, words and opinions are all my own. Thanks for supporting the brands that allow me to keep on scouting.