I've known Fiona Chandler for a number of years now and one of the things that is so likeable and memorable about her is the seemingly endless enthusiasm and positivity she exudes. She channels this passion into her art and has a strong desire to nurture creativity in others. She's an active part of the art community and last year she set up the Northern Beaches collective art space Sydney Road Gallery.
Fiona's latest show Floating Land, with Sarah Montgomery, opens this week at Cornerstore Gallery in Orange. With the installation complete and a small lull in Fiona's hectic schedule it seemed like a good time to catch up with her.
Meet Fiona…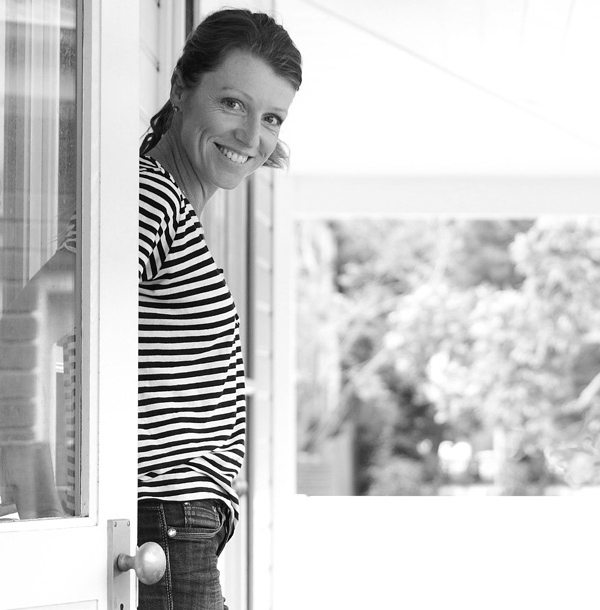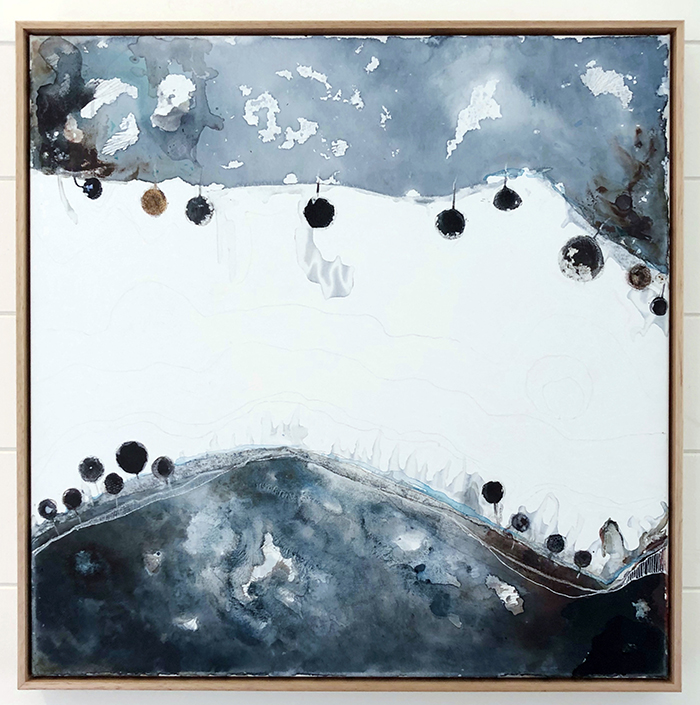 Where do you live?
In a little blue house in Freshwater, Sydney with more books, flowers and plants than cleaning products. It's light filled with continual comings and goings – kids, dogs, chooks and friends.
Where do you create?
I have a studio out the back of the house. But often when a big show is coming up my work takes over the house too. I work with water so all of my pieces need considerable drying time, and they have to be flat.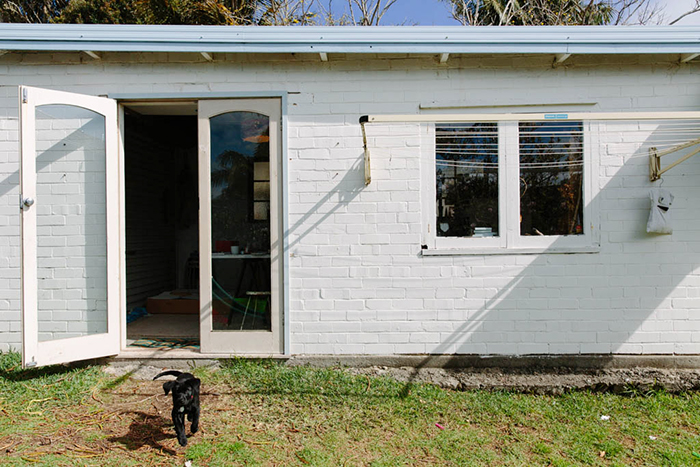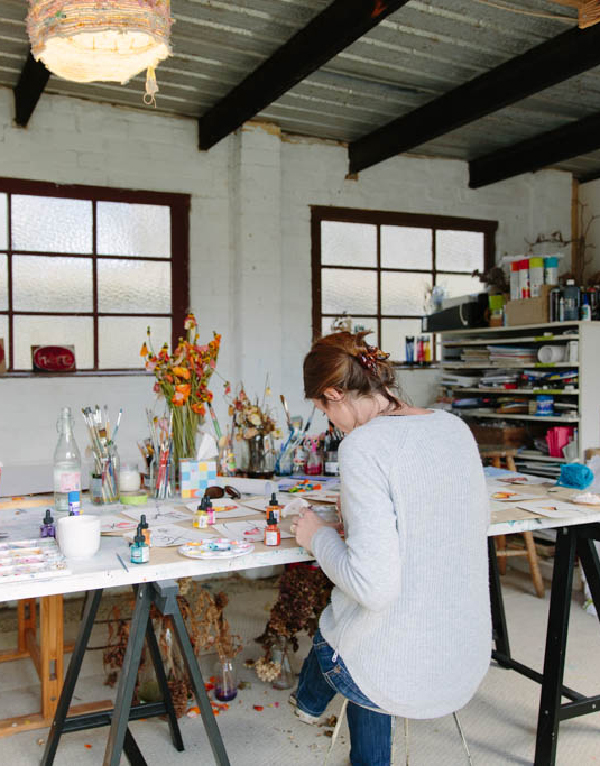 When do you create? Is it a full time job?
Being an artist is a full time job, so is being an active member of the art community. I run a free artist in residence program at the local primary school as well as organize the Creative Conversation series with the Creative Women's Circle and Manly Regional Gallery. I'm the founder of the Sydney Road Gallery and I also mentor kids at my studio.  It's the best job ever!
What path led you to this creative place?
I was a designer for almost 20 years, eventually running my own business. But I was always hoping to get back to my art. A few years ago I had the opportunity to do a residence at Warringah Creative Space and I was off and running. Within 12 months art became my full time gig thanks to the encouragement of many along the way.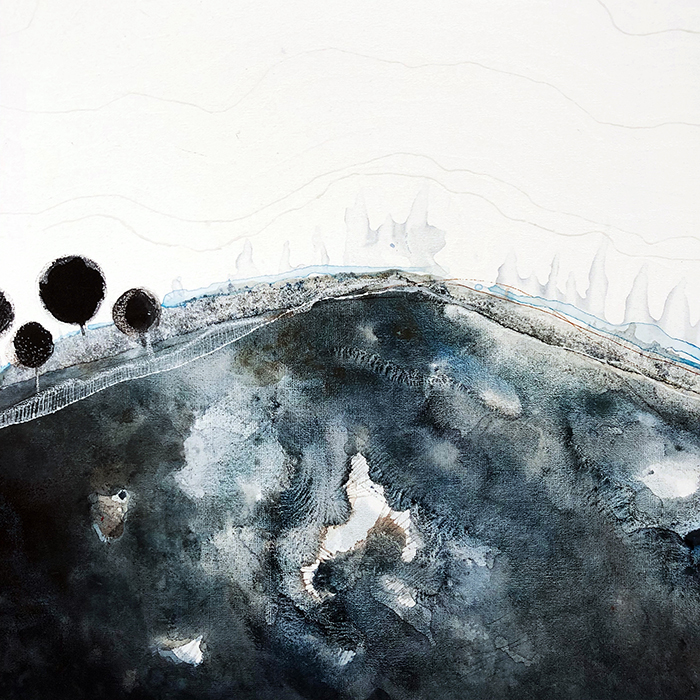 What's your elevator pitch? How do you describe what you do?
I am a painter.
How would you describe yourself in six words?
Endlessly optimistic, gatherer of good people.
Where do you find inspiration and motivation?
Everywhere! Conversations and the changing of the seasons, family life and reading. Lots of reading.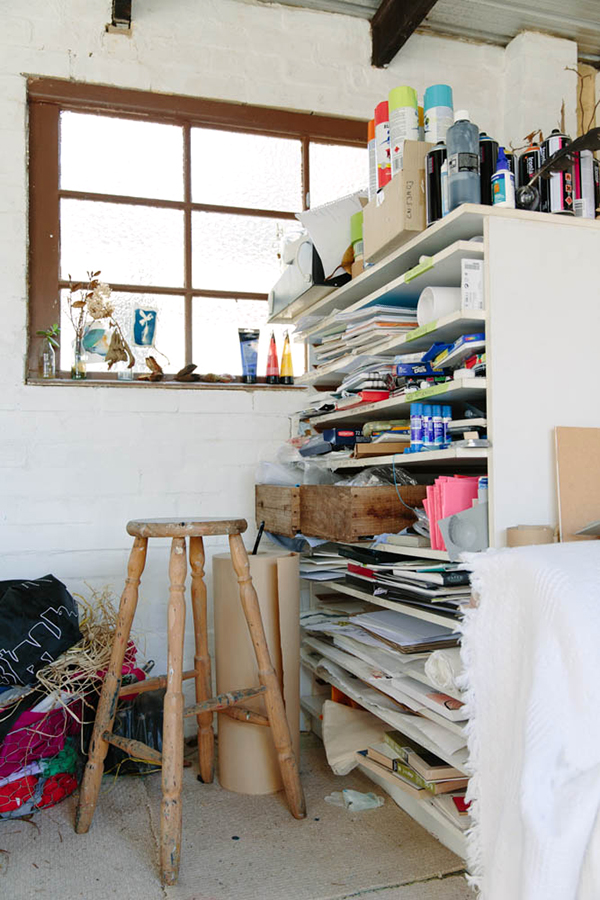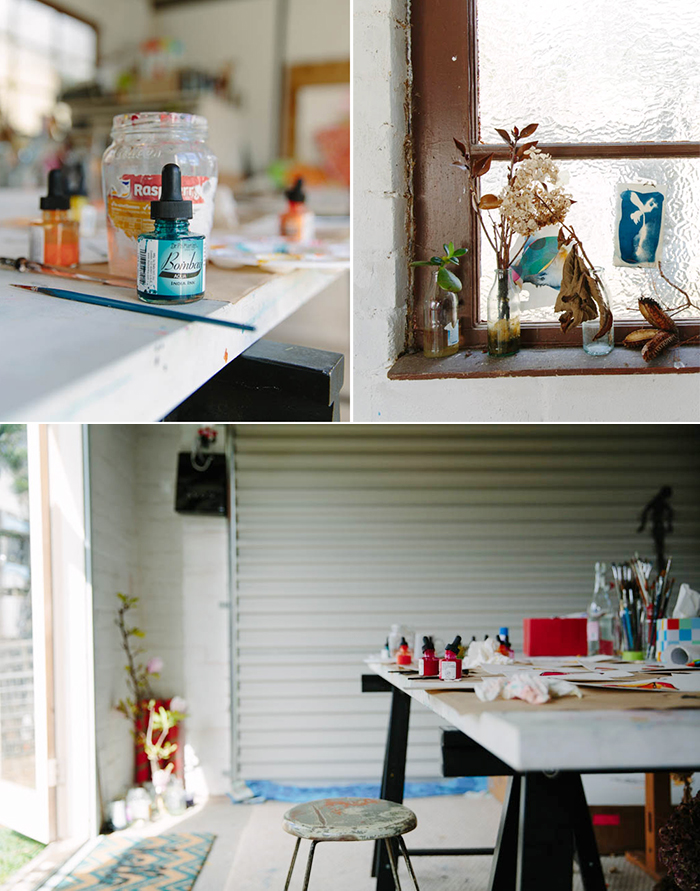 What are the essential items in your workspace?
I work across a variety of mediums, which are constantly changing. I'm in love with Daniels Smiths pigments and Golden Aacrylics, but water is the constant in my work.
What do you love the most about your creative space?
it's a dedicated space just for painting. It's thrilling to have a spot that I don't have to pack up each day.
Is there something you don't like, or would like to change?
I would love a tap and I need a little more room as the canvases I work on are getting bigger.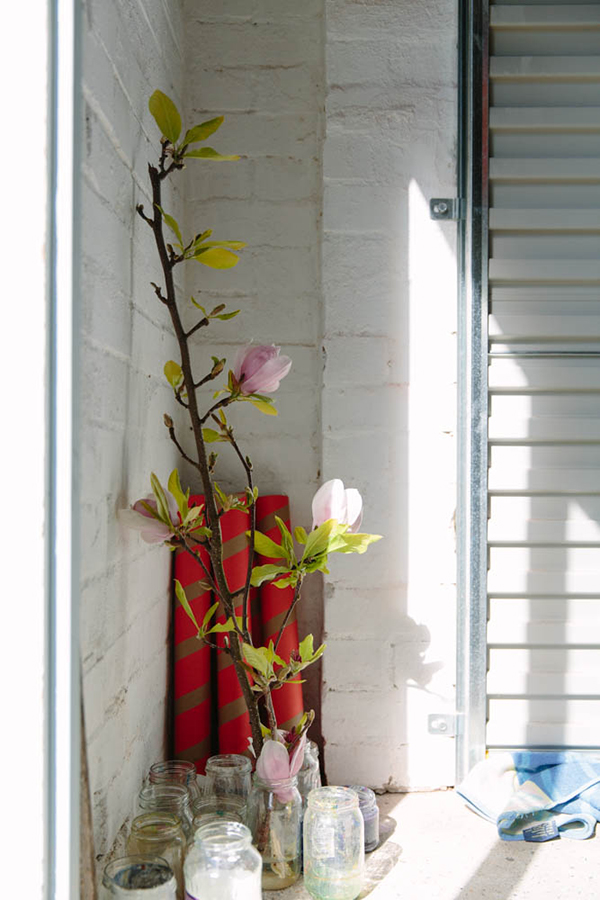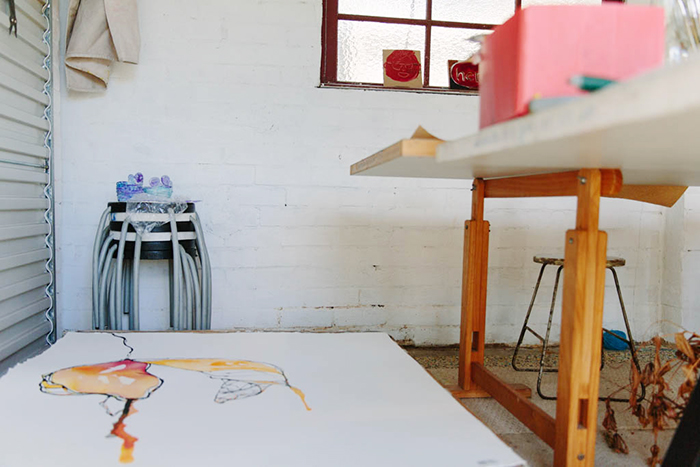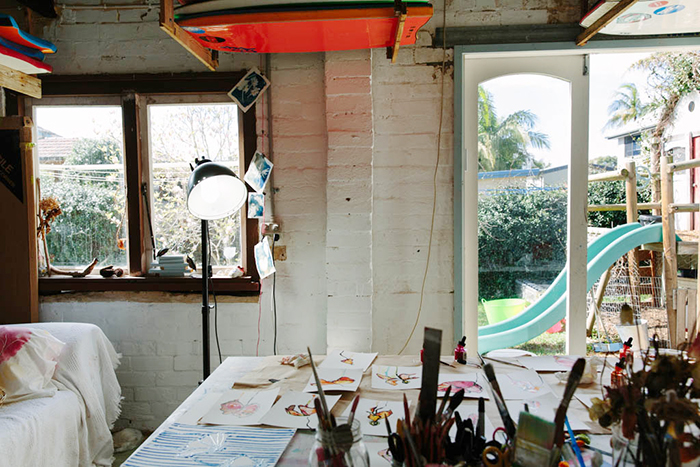 Do you listen to anything while you work?
Podcasts: I love The Jealous Curator; Talking with Painters (Maria is an amazing interviewer); Chat 10 Books 3 (you need a pen to hand for this one); Conversations with Richard Fiddler; and My Open Kitchen. I do listen to others but these are the constants.
Favourite work-time snack (or beverage)?
Tea. Lots of tea with milk and sugar.
What would be your dream job or collaboration?
To be invited to show at arthouse gallery, they're such welcoming people with a stable of interesting artists. I would love to do the windows of an Australian label for fashion week – think huge bright paintings behind an iconic brand like Lee Mathews.
Who or what are your biggest creative influences?
I love to read about people who have had longevity in their field. Mirka Moira and Wendy Whitely are 2 that I go back to often.
I ask many questions of people who are outstanding in their field. The generosity of their information is always appreciated and it influences how I move forward with my art as a business. Longevity is the key. Tracey Deep, Megan Morton, Amanda Penrose Hart and Karen McCarthy have all helped with the evolution of Sydney Road Gallery.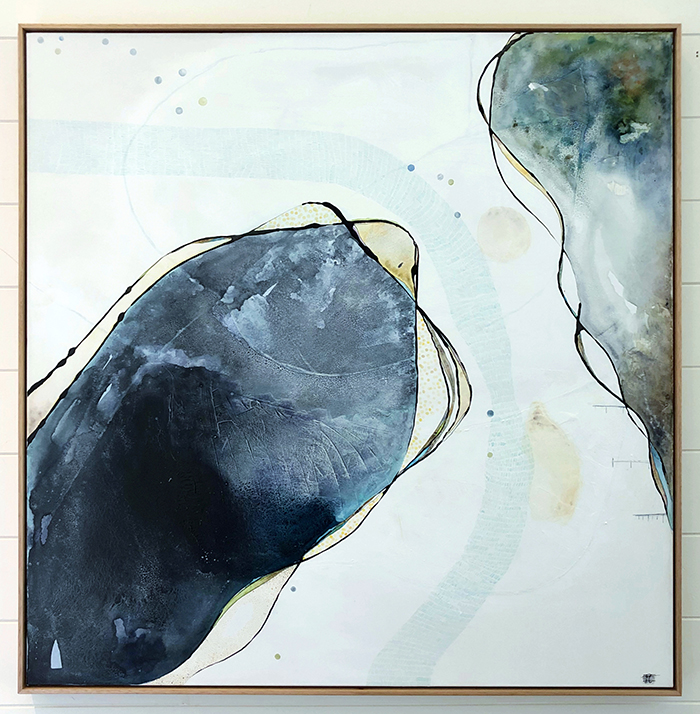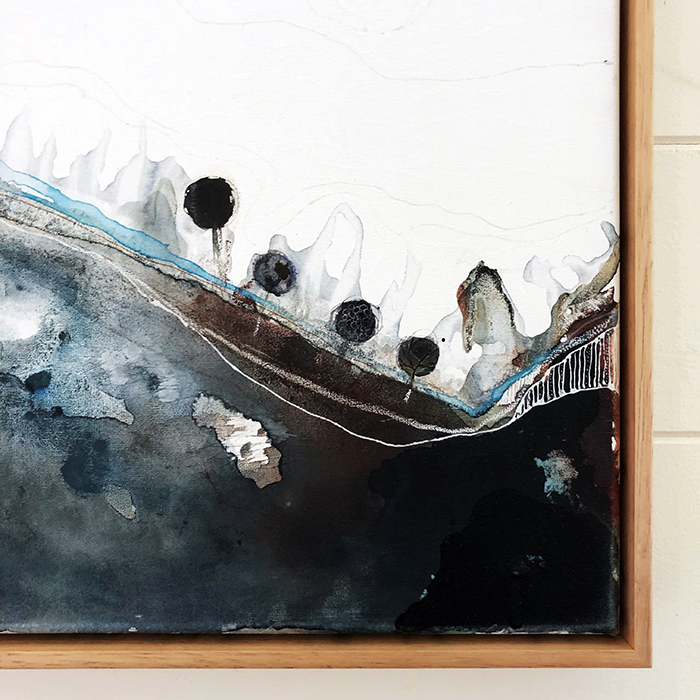 Tell us five online resources or apps you can't live without.
Instagram, Artwork Archive, The Design Files (every morning), Swiss Miss and Vogue Living.
What's the hardest thing about what you do?
Opening nights – my own and others. It's so important to support the arts but opening nights are not really in my comfort zone.
How do you work out the financial aspects of your business?
I started using Artwork Archive this year following a recommendation and it has changed my whole practice. And I am not a spreadsheet person! I now know exactly where everything is and what are worthwhile leads to follow.
What advice do you have for aspiring creatives?
Say "yes" a lot and be professional. Make sure you have photos high res and low res, professional admin practices, an up to date bio and CV.
Be brave and turn up for your art everyday.
Do you have a dream that you'd love to fulfill?
To be an Arthouse Gallery artist – this has been the top of my dream list for years.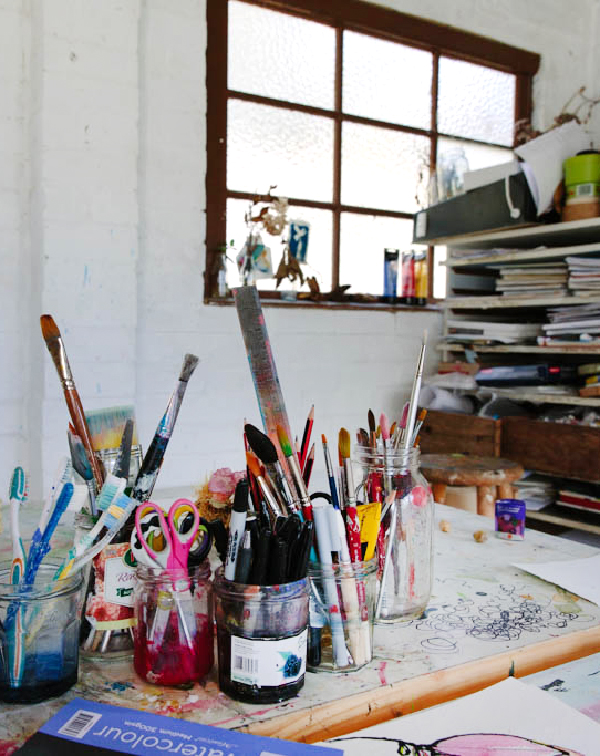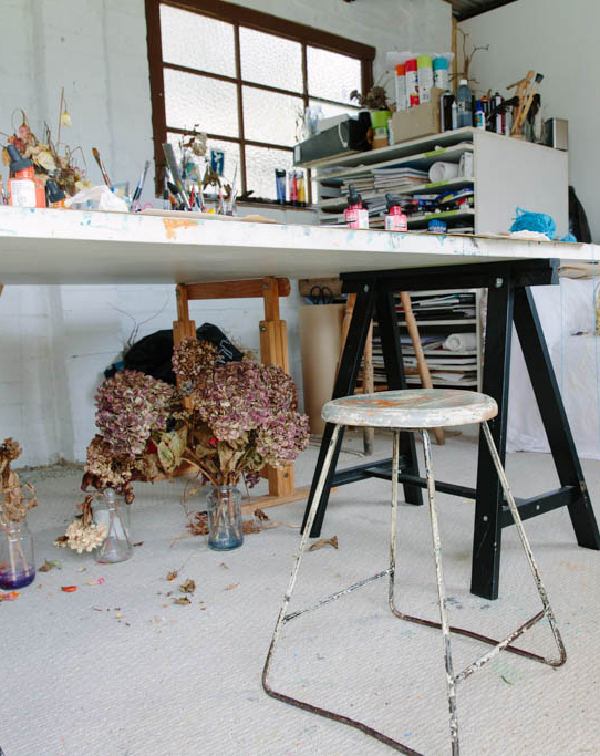 You can connect with artist Fiona Chandler on Instagram @fionakatesimplegorgeous
You might also like to see the creative spaces of Amanda Tye and Jessica Watts, who are fellow artists at Sydney Road Gallery. To take a peek into a whole range of other artists' and creatives' lives and studios, visit the We Are Scout Space to Create archives.