The silly season is upon us and this week I 'decked the halls'… actually, I decorated the Christmas tree, but it's a good start and the most exciting part. This year we have a new tree and I decided to go over the top, piling on the decorations. Minimalism be damned!
I have a quite a vast collection of decorations and each Christmas I choose a colour palette for the tree. Colours for this year include lots of metallics: copper, gold and silver, combined with blush and small amounts of white. The tree really is groaning with ornaments but I'm embracing my inner maximalist with a more traditional style of decorating.
Our new Christmas tree was given to me by Balsam Hill. Well known and loved in the US, Balsam Hill are relatively new in Australia and they have a huge variety of amazing quality realistic looking trees. One of the best features is that the tree is pre-lit with hundreds of warm glow candlelight LED lights. Brilliant. No more wrapping lengths of fairy lights around and around the Christmas tree.
I chose the Norway Spruce tree because of its classic shape and the narrow profile which is perfect for apartment living. The selection of trees varies in height and width so you can choose one to fit your space. I'm so impressed with the quality and the realism of this tree. It's easy to assemble – all the branches are attached to the trunk sections, and they just fold down – and it comes with a sturdy storage bag too.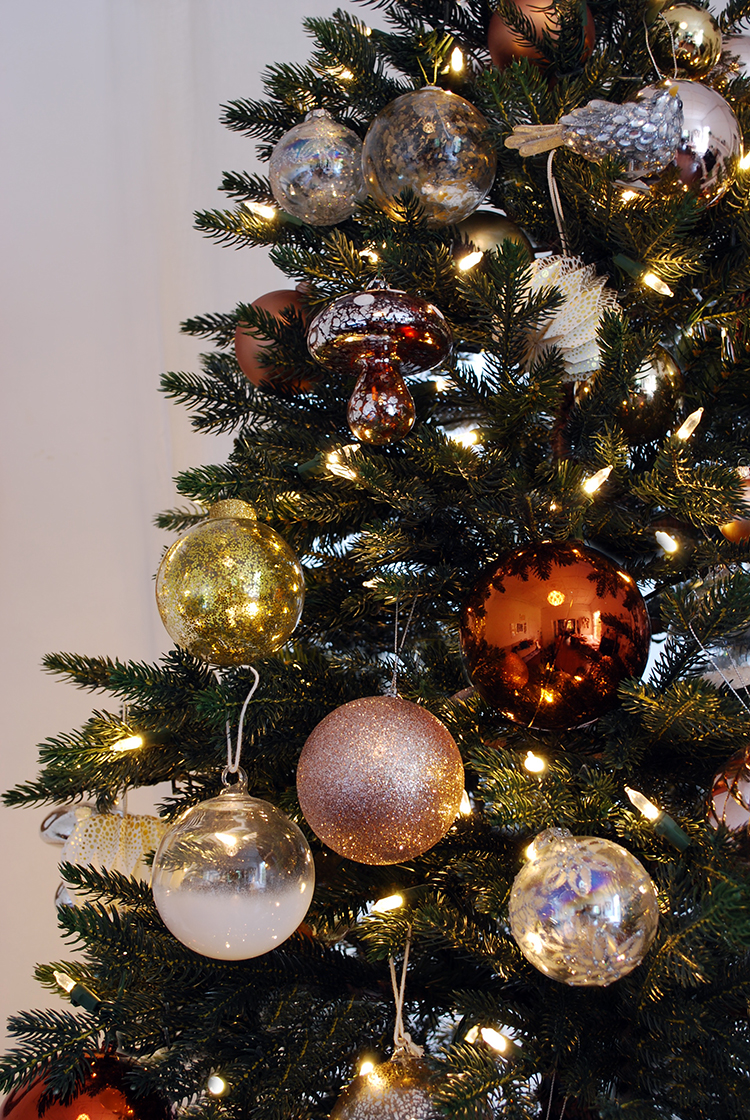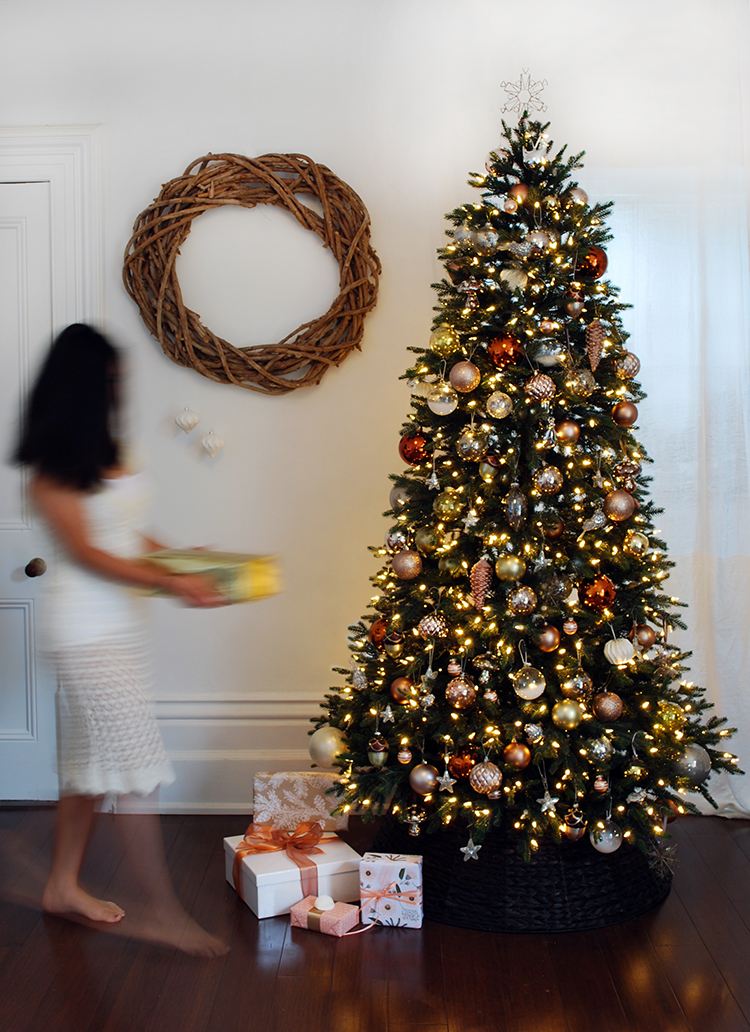 Roxy is 13 now and we've always decorated the tree together. One of our family traditions is that each year I take her shopping for a special new decoration for the Christmas tree. When she was little she usually chose sparkly fairies, but now her taste has matured and she has a lovely variety of keepsakes. I love knowing that by the time she has a Christmas tree in her own home she'll have a collection of ornaments from her childhood which will hold special memories for her.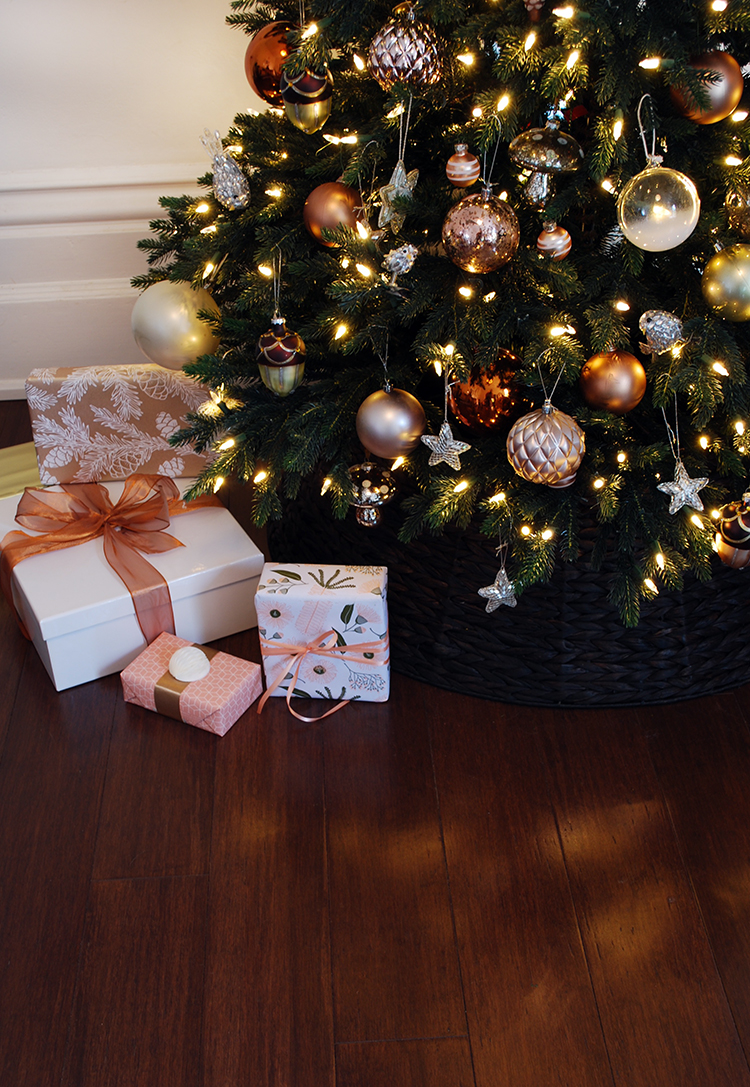 My chosen colour palette always carries through to gift wrapping too… so few presents yet… still so much to do!
Something that I hadn't given much priority to previously was covering the base of the Christmas tree. Mainly because I'm not a fan of tree skirts, so in the past the tree stand has been hidden from view by gifts. Now I have a woven 'tree collar' from Balsam Hill, in a dark chocolate colour which goes beautifully with our floorboards. It's a feature in itself, but doesn't detract from the impact of the tree. The collar comes in two pieces that clip into place around the base of the tree. Super easy, and it's proven to be a new favourite place for our cat jump behind and hide.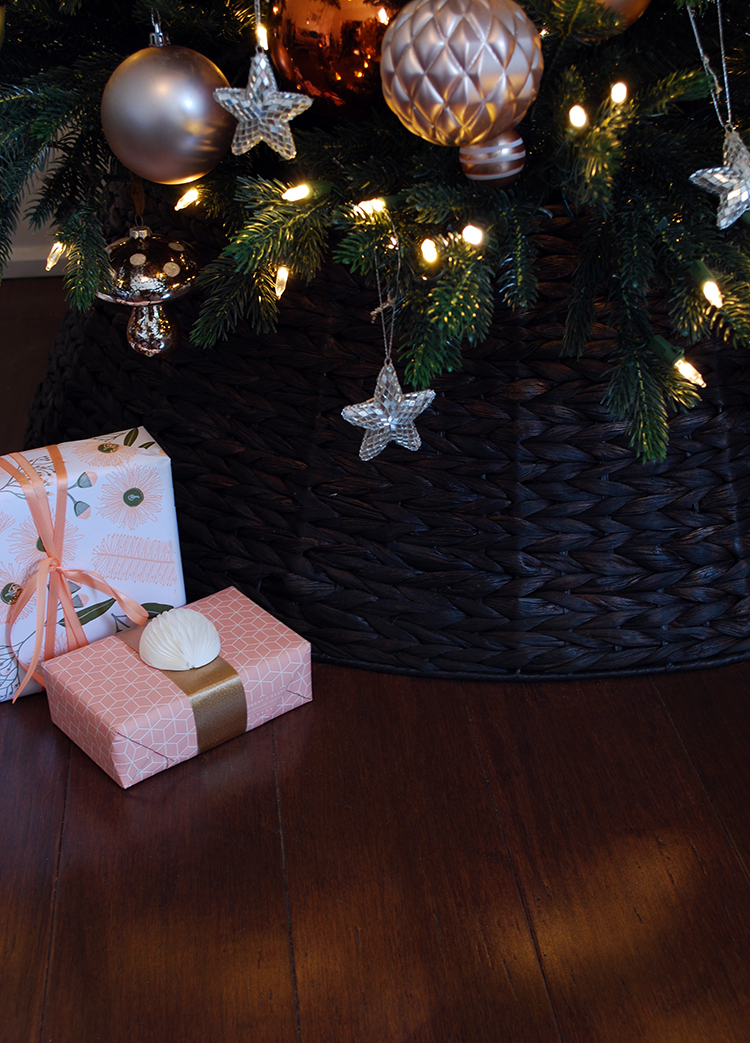 New to our ever-growing ornament collection is this set of three LED fairy light filled large glass baubles. I'm thinking of hanging them in a window, or they'd look beautiful along the centre of our Christmas table. You can find them here.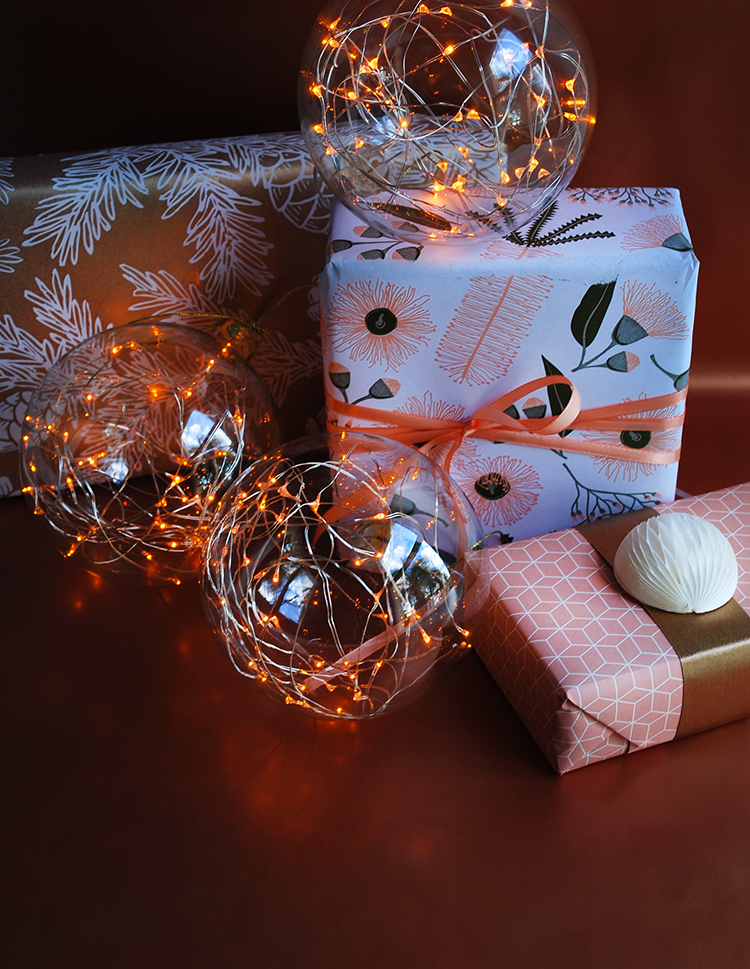 So that's where I'm at with decorating as at December 2nd. We are always excited to put the Christmas tree up, and we leave it in place for much longer than it should be. My thinking is that it's such a magical time of year, why not prolong the enjoyment if you can?
Disclosure: this post is in collaboration with Balsam Hill. I chose a Christmas tree and tree collar from their collection which were given to me. I only partner with brands that are a good fit with We Are Scout, our aesthetic and what you, our readers, enjoy. Concept, product choice, words and opinions are all my own. Thanks for supporting the brands that allow me to keep on scouting.