Alan Walsh is a British born artist who is known for his graphic posters that reference the bold designs of the art deco era and pop art. With clients including London Fashion Week, Grey Goose Vodka, Coca-Cola, Tag Heuer Watches, Mercedes Formula One Team, Royal Flying Doctors and Tour De France, Alan's work spans advertising as well as collectible art.
Yorkshireman Alan calls Australia home for now, with a studio in Sydney's Paddington, and a new home base in the NSW Southern Highlands. He has recently settled into "a beautiful little English style cottage hidden in 4 aches of leafy green land, complete with 3 cows. The interior is a mixture of antique furniture, some vibrant art and vintage posters, a bit of Slim Aarons photography with a few modern things thrown in".
With a father that worked designing racing cars, Alan would spend many childhood hours with a colouring or sketch book in the back of a car travelling to and from motorsport circuits. "The racing was interesting but the thing that truly mesmerized me was off the track, the sheer glitz and glamour that arrives when the Formula One roadshow comes to town. It wasn't only the places we travelled to, I was also captivated by the luxury brands that would sponsor the sport – the huge designer watches the drivers would wear, the way certain woman around the circuit would dress. I loved this, and in the end I'd be drawing the subjects around me more than the racing cars. If you look at my collections these things still feature in my work today," Alan said.
I recently had the chance to chat to Alan about his art and creative process.
Where do you find inspiration and motivation?
I still find inspiration from the same place I did when I was a little boy, motorsport, and the fashion and glamour that surrounds it. I'm especially drawn to the Vintage Watches that used to sponsor racing. I was fortunate to do a Racing Collection with Vintage Heuer watches for the Silverstone Grand Prix last year. When it comes to the female collections, the chic styles of French woman in places like Cannes and Antibes.
Do you listen to anything while you work?
Depending on the stage of my creative process I'll listen to different music. While sketching I like to be in a nice peaceful environment, ideally early in the morning. I'll have lavender oil burning and classical music playing softly. As the progress moves on I up the tempo and have something like the Beatles.
Favourite work-time snack (or beverage)?
That's easy, Yorkshire Tea with milk and one sugar.
What would be your dream job or collaboration?
A few years ago I wrote down two brands I really wanted to work for, the first was Coca Cola. I'm lucky enough to have ticked that one and have a fantastic working relationship with them across a number of their brands. My second was Paul Smith, a British clothing label. I keep having a dream at the moment that I'm sketching for Victoria Beckham. I've had that dream 3 times now so maybe that's telling me I need to work with her too…
Who or what are your biggest creative influences?
There are the obvious ones like Andy Warhol, Bernard Villemont and Slim Aarons but I like hearing about other creatives, not necessarily artists and why they are successful. I really admire Ed Sheeran for his work ethic.  A few years ago he realised that he needed to work harder than other musicians around him to be the best. Extra tour dates, promo days or time in the studio. I took quite bit from listening to that interview. I try and apply the same process to make myself more focused and successful.
How would you describe yourself in six words?
English. Cheeky. Determined. Calm. Creative. Fun.
What advice do you have for aspiring creatives?
Stay positive and don't let anyone tell you that you can't succeed, especially schoolteachers. If you want something enough, then you can make it happen. I had my tough days of sleeping on the gallery floor because I couldn't afford to pay my rent, but when you come out of those tough times and struggles it feels good, very good.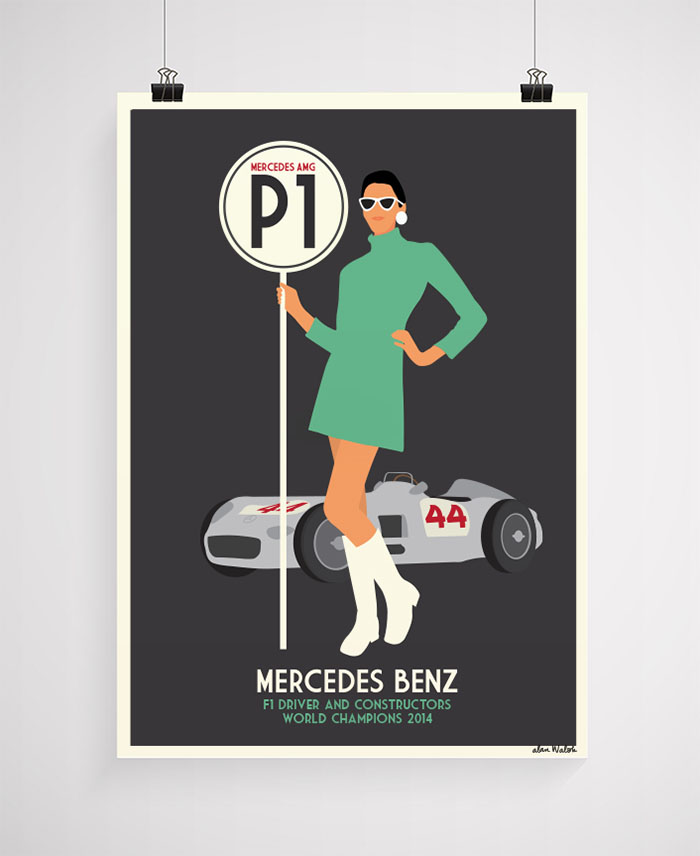 You can find and purchase posters and limited edition prints by Alan Walsh on his website.