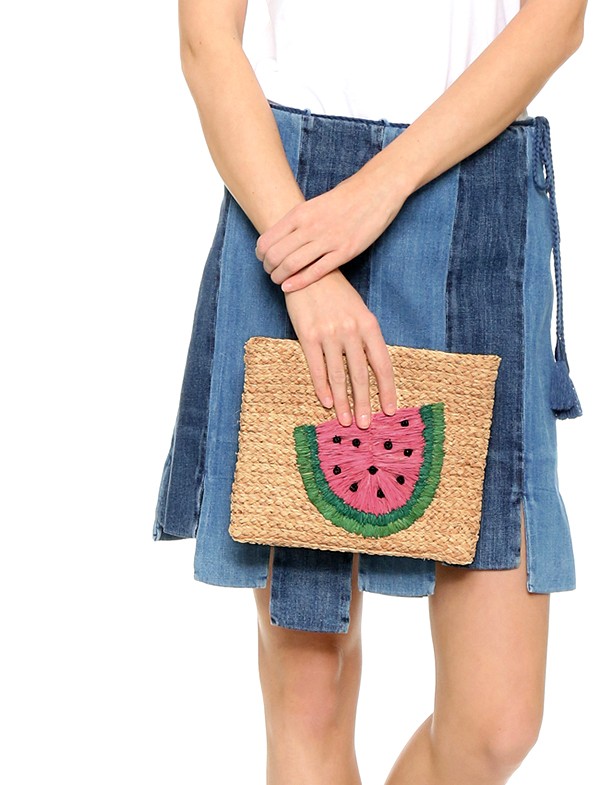 Take one quirky and fun clutch, add it to any outfit and bam! you're set to go. Novelty clutch purses add playfulness and personality to your style with whimsy, eccentricity, or just plain street cred. We've found 14 designer clutch purses to suit any budget, from under $20 to the incredible in-your-dreams Anya Hindmarch Gold Crisp Packet that will set you back thousands. If you find something you must have, take a look at the end of the post to see how you can get your hands on it for 15 – 25% off.
Are you ready? Let's get kooky…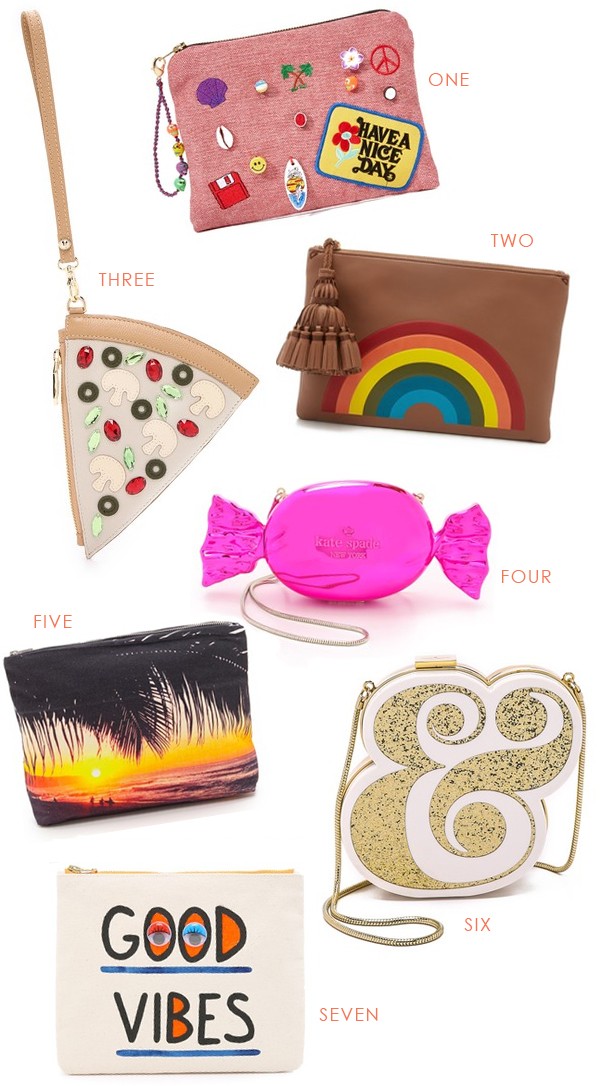 ONE / Venessa Arizaga Have a Nice Day clutch
TWO / Anya Hindmarch Rainbow Georgiana Clutch
THREE / Patricia Chang Pizza Wristlet
FOUR / Kate Spade New York Candy Wrapper Clutch
FIVE / Samudra Surfer Palm Pouch
SIX / Kate Spade New York Wedding Belles Ampersand Clutch
SEVEN / Zhuu Good Vibes Pouch
EIGHT / Rebecca Minkoff Pouch with Glow in the Dark Sticker Set
NINE / Woven straw watermelon clutch
TEN / Anya Hindmarch Crisp packet
ELEVEN / Dogeared Guacamole is Extra pouch
TWELVE / Rebecca Minkoff Hologram Leo Clutch
THIRTEEN / Flynn Madison pouch
FOURTEEN /  Lizzie Fortunato Safari clutch
If you're looking to buy a new clutch – or shoes, bags, or clothes! –  take a look at Shopbop's Spring Sale which has just started and runs until March 5th US Pacific time. You'll find these 14 quirky cool clutches there, and a whole lot more. Click here for the sale details and the discount code.