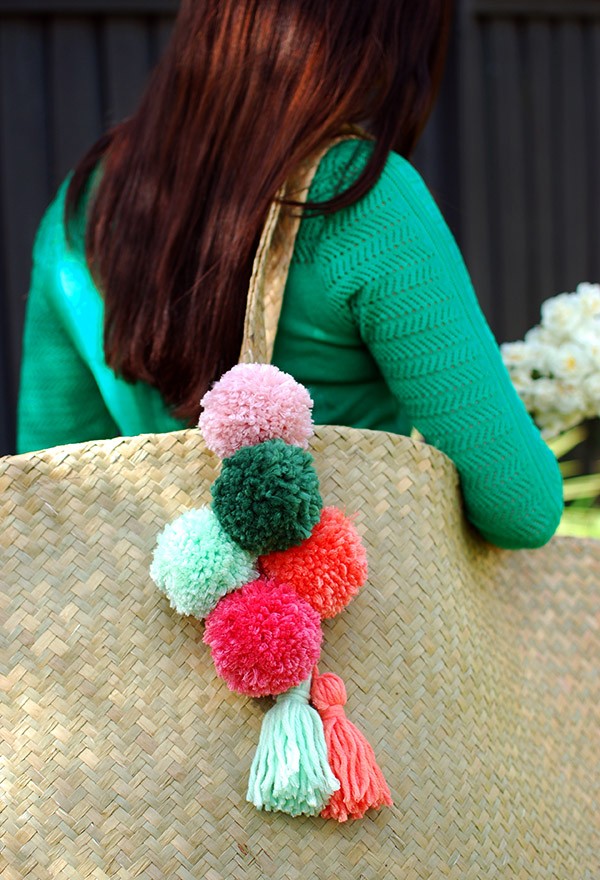 IKEA have the perfect large 'Nipprig 2015′ seagrass bags in store right now. They're big and roomy and great to use for the beach, market shopping, or toting all your kids'  stuff around (I'm so happy to be past that stage of motherhood!).
Being super affordable I grabbed a few and have been getting my craft on to personalise them.
In this tutorial I'll show you how to make a colourful big pom pom tassel. You might also want to check out my other seagrass tote which is now sporting an over sized layered raffia tassel.
Materials
Yarn in different colours.
Clover Pom Pom Maker in 2.5 inch (or 65mm).
Sharp scissors.
Let's get started
This is a super-easy project and a nice way to personalise a simple woven bag. We've seen similar totes with pom pom tassels going for over $300! Yikes.
The key to getting the right look is to choose your colours carefully. Take inspiration from the colours in your favourite frock, or something you've seen in a magazine.
1. Make a 6.5mm (or 2.5 inch) pom pom in each colour. Click here for my instructions on how to make a pom pom. I've added some handy tips on how to make the perfect pom-pom using a Clover pom pom maker in this tutorial. Make sure you don't cut off the pieces you used to tie your pom poms – you'll need them later.
2. Now make two tassels using two colours in the same yarn as your pom poms. Click here for my tutorial on how to make a tassel.
3. Gather your pom-poms in a staggered arrangement, and allow the tassels to hang just below the lowest pom-pom.
4. Tie your pom pom/tassel collection to the handle of your tote bag.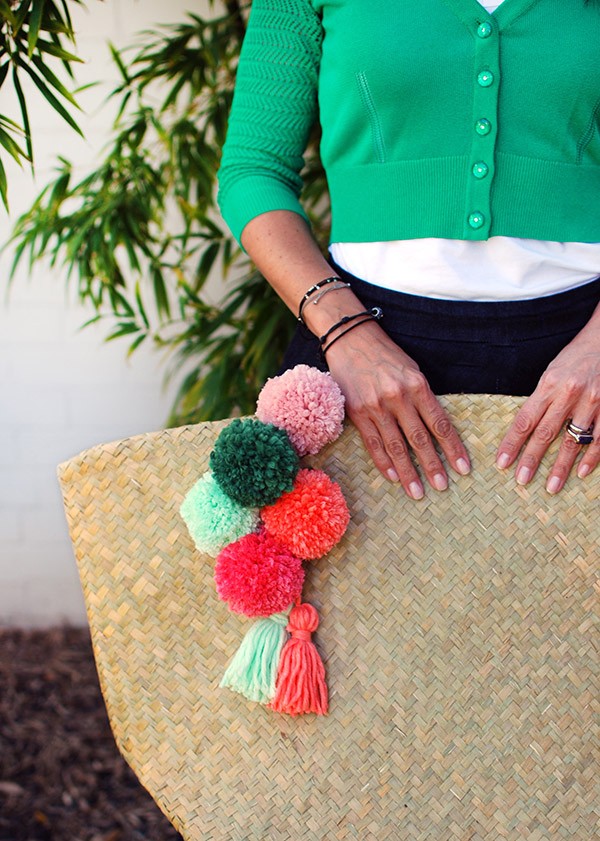 That's it! Instant designer-look accessory. Now go and make a bunch of them and gift them to your girlfriends for Christmas. Or use them as a bonus gift and gorgeous way to wrap your presents. They would make rather fun key ring tassels, too!
Love tassels? Learn how to make a gorgeous layered raffia tassel for your tote bag here. Or learn how make a tassel with scrap fabric. Don't miss my tutorial on how to make a knotted tassel statement neckpiece.
Want more DIY ideas? Have a scroll through all of our craft projects.
Photography and styling by Lisa Tilse for We Are Scout. Thanks to Carolina for being our model!
Save