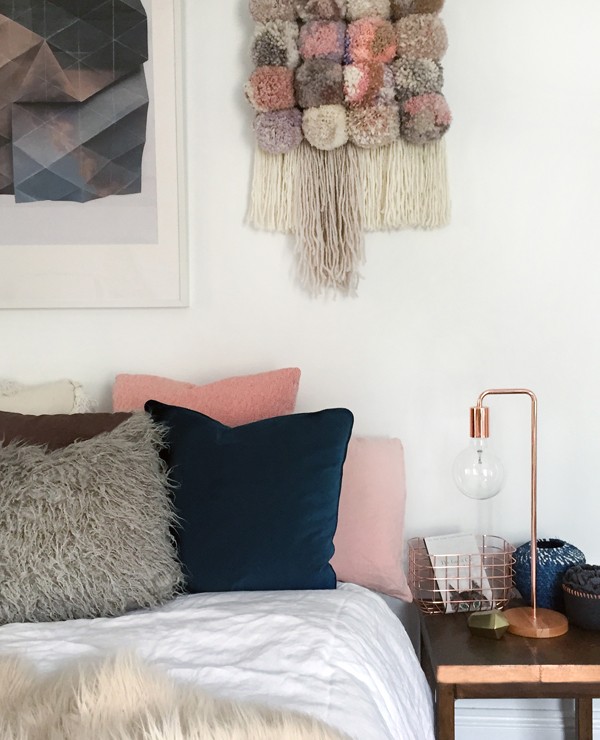 Talk to any interior designer and ask them about the cheapest and easiest way to update a room, and they'll almost never fail to mention adding cushions. It's easy to dismiss this advice as tired and cliched, so we decided to test the theory for ourselves in our own homes. Have a look at our 'before' and 'after' photos and see for yourself.
Rebecca's living room makeover
Our living room has been one of the most neglected spaces in our home, which is a major oversight considering we spend most of our time there. We have big renovation plans for this room, but we've already spent our entire budget on fixing up major structural stuff elsewhere in our home. So Lisa stepped in to give me a hand – with a bag load of cushions from Freedom.
Before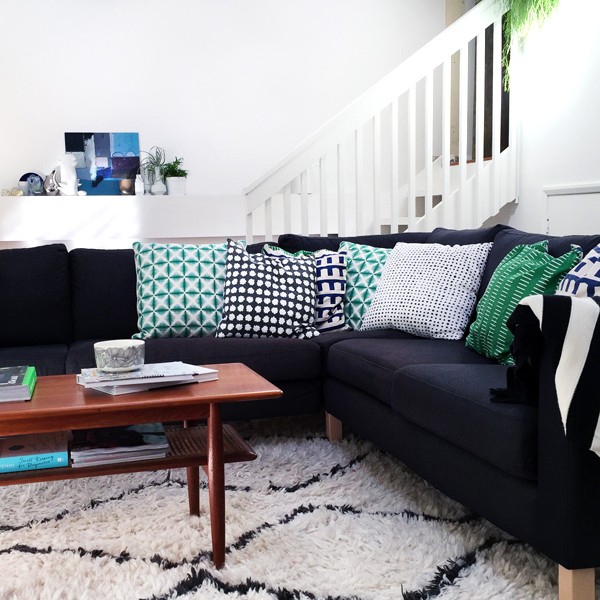 The living room is light and bright, with high raked ceilings and white walls. We chose a charcoal sofa with easy-care, washable covers as we have a four-year old, and we didn't want to fuss over keeping the sofa in a pristine condition. It's also a nice contrast to the mostly white room, which I deliberately chose for a light and bright, Scandi-inspired feeling.
I wanted to use homewares and art to add colour and texture. Before my mini-makeover, the room was still in 'summer' mode, and the cushions were a mix of patterns with a lot of white. I was fairly happy with the colour palette, but I wanted to create a cosier look with richer textures for the colder months.
 After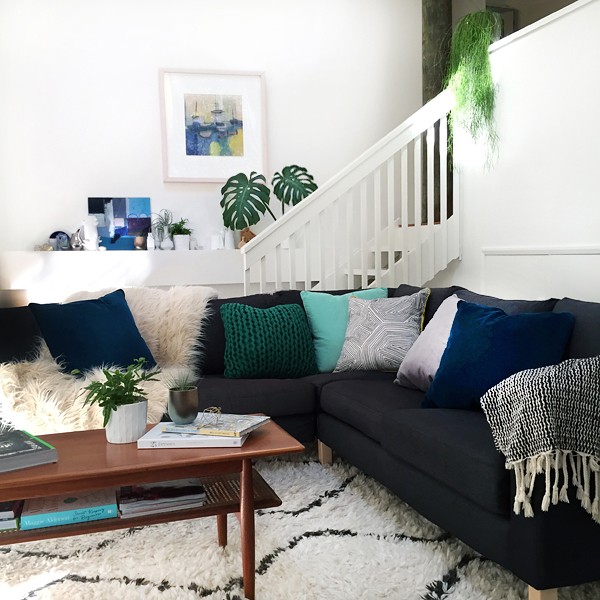 You can see that the cushions have worked to make the room instantly warmer and the colours richer. Lisa achieved this by:
– using warm textures and minimal pattern in the cushions;
– selecting a mix of cushions in velvet, chunky knit, and embroidery; and
– working with a colour palette of rich emerald, teal, grey, soft aqua, charcoal and cream.
Lisa added a shaggy afghan-style throw to the mix on the sofa, which compliments and accentuates the shaggy rug. It's interesting that although we used cool colours, the textures reflected in both cushions and the rug make the whole room feel softer and warmer. The colour palette is also in keeping with my art and collection of indoor plants, as well as the bushland setting of the Treehouse.
Lisa's bedroom makeover
I like my bedroom light and white, with natural coloured pure linen sheets and a plain white linen doona cover all year round. They work together with white walls and dark timber floors to create a strong but neutral base which I can change without too much effort to suit the seasons… or my styling whims.
Before
In summer, my bedroom had a minimal palette of soft dirty pink with white and natural linen colour. The addition of the warm copper and rose gold tones in the table lamp, basket and bedside table complements the soft tonal colours, while adding a metallic point of difference.
Both the summer and winter looks are based on the hues in the art print and the pom pom wall hanging I made. In summer, the wall art works with the lighter colours and tones, while in winter, it accentuates the deeper, richer colour palette.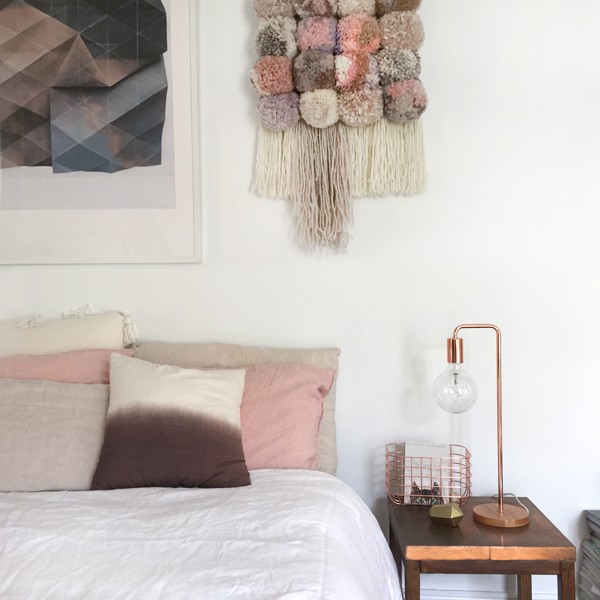 After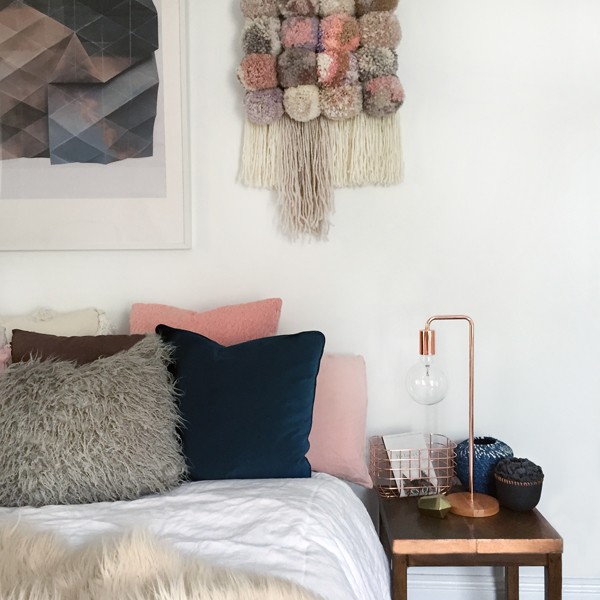 For my mini winter makeover, the addition of just three cushions and a shaggy throw transforms the look and feel of the room by injecting richer, deeper colours and more varied textures.
I chose a grey shaggy pillow that visually ties in with the cream throw and together, they reflect the textures in my wall hanging. Working with the colours and moody tones in the print above my bed I selected cushions in charcoal, grey and teal blue. The coral cushion is in the same colour range as the dirty pink bed linen, as well as the peachy pink tones in my DIY wall hanging and art print.
The result? A cosy, warm inviting look that's rich and lush with much more depth.
I like to move homewares around in our apartment to change things up – the coral cushion was on the living room sofa in the summer, and the cream shag throw was part of my recent living room makeover. The charcoal cushion is the same one that was on my bed in summer – I just flipped it from the white ombre 'summer' side to the charcoal 'winter' side. I also added additional texture with a couple of my handmade woven and ceramic vessels on the bedside table in indigo and charcoal.
Tips: How to update a room on a budget
– Transition a space from summer to winter by updating the cushions.
– It's easy to move cushions from room to room in your home. For example, Rebecca moved her 'summer' cushions from her living room to her outdoor lounge setting on the balcony. Combine them in different ways to create a new look.
– Add one or two new cushions to the mix, together with a few new homewares, to update a colour palette and make a seasonal change.
– Cushions are an easy and budget-conscious way to makeover a room, but always try to work with what you have. You don't have to shop for new furniture to give your home a new look.
– Using simple colours as a base (such as a charcoal sofa and white bedding) allows for greater flexibility when using colours. All you need to do is change a few key homewares to create a whole new style.
As you can see, we're now convinced by the power of cushions to update a room on a budget. Are you a member of the Cushion Appreciation Club too?
– See more of Lisa's apartment here.
– Take a look at how Lisa styled Rebecca's entry hallway here.
By Rebecca Lowrey Boyd and Lisa Tilse for We Are Scout.
All photography and styling by Lisa Tilse, for We Are Scout.
Please note that this is not a sponsored post. We were gifted our choice of cushions from Freedom, but we were under no obligation to post. But we were so impressed with the results, we thought we'd share them with you. We only ever blog about products and brands we genuinely love.
Save
Save