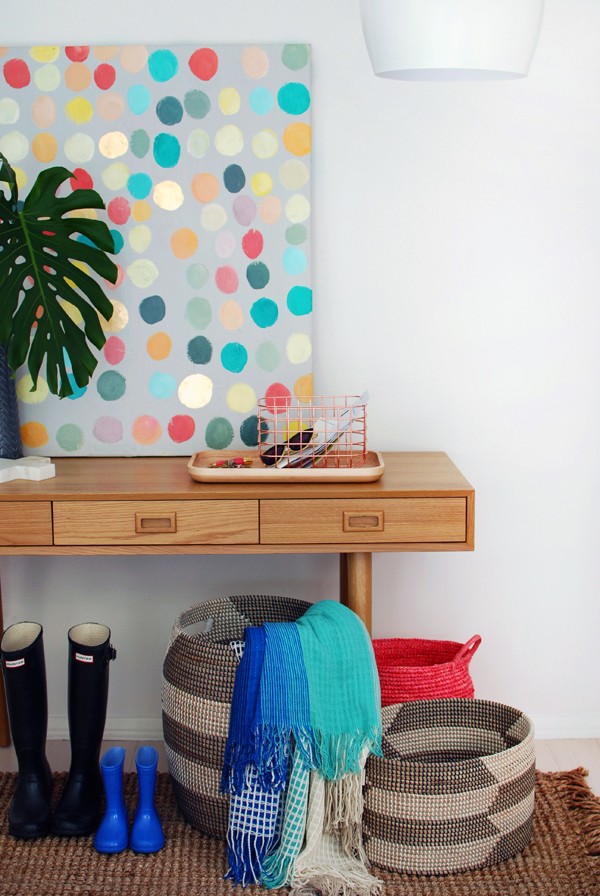 We've been living in the Treehouse for a little over a year now, and our entry hall was in dire need of some attention.
It's all been a bit of a mess, with keys and mail gingerly balanced on the bannister of the stairs, and a jumble of shoes greeting everyone upon arrival. The problem, is of course, bigger than just mess.
Getting in and out of the house with a pre-schooler – and ensuring we've got all the right stuff for the day: forms, library bags, hats, and assorted paraphernalia – is a logistical challenge.
On top of his stuff, we've also got to get ourselves organised – remembering to take the mail to the post office, remembering bills that need to be paid, remembering to take our son's blue book to the doctor… the list goes on. We really needed an organisational overhaul.
So when Freedom asked me to check out their new autumn/winter collection, and blog about how I would work it into my own home, I immediately thought about our entry hall.
I've been on the hunt for the perfect console to sit inside our front door. Something streamlined but stylish, preferably with a mid-century inspired design. It also needed to have at least two drawers to stash and organise all of our stuff.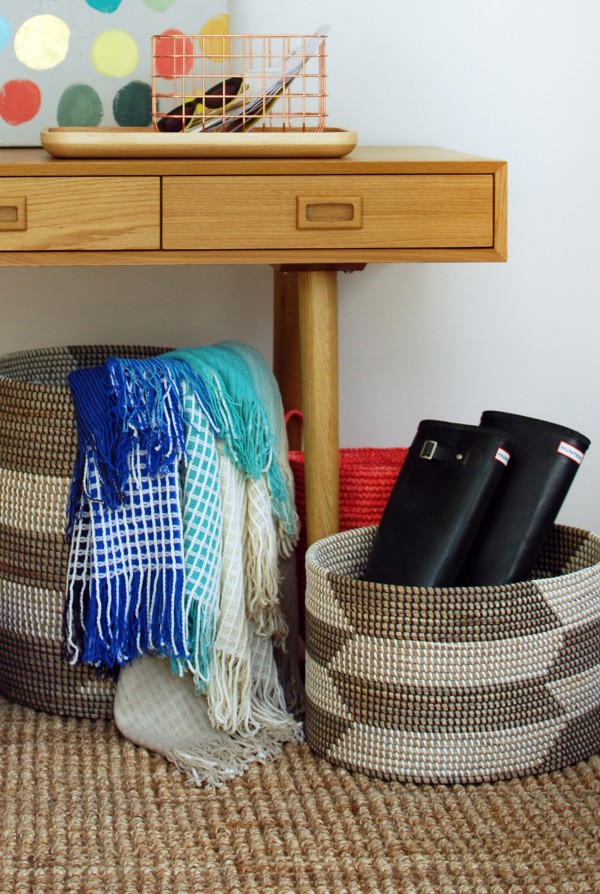 Say hello to Freedom's Miss Wood 3 Drawer Desk. This mid-century-inspired stunner in oak has not two, but three handy drawers, which I've re-purposed as "in", "out" and "miscellanous crap". It not only looks stylish and complements the retro architecture of our home, it's also superbly functional at organising our lives.
I popped Freedom's timber Host tray on top, along with one of their gorgeous new copper baskets, which adds a touch of warmth to the overall look. The combination of the tray and basket not only looks bang-on-trend, but it also provides that much needed 'dumping ground' for all of my things when I walk in the door. Keys, sunglasses, lipgloss, phone, bangles – and the odd toy – soon found their way to the tray/basket combo – and I haven't uttered the words 'where's my phone/keys/sunglasses' since.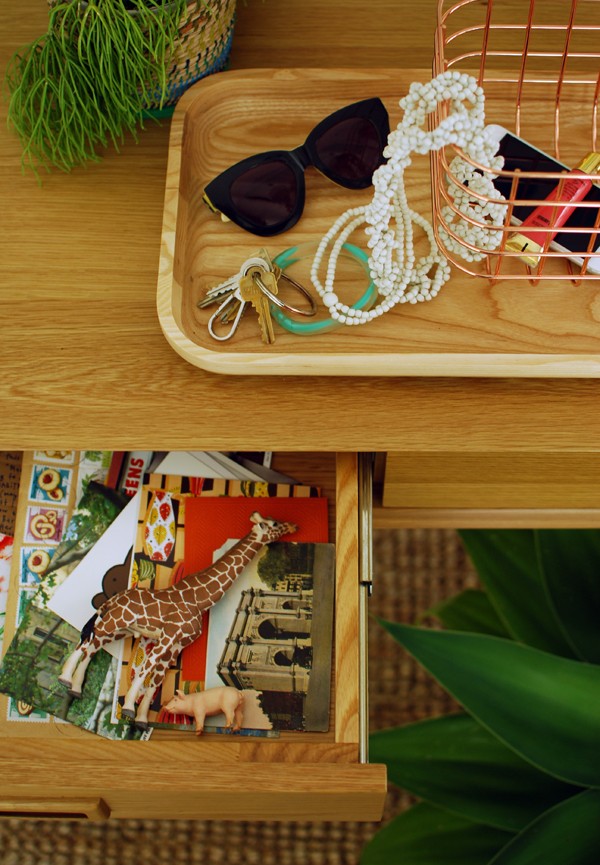 The beautiful rose gold tones in the copper basket also picks up the metallic spots in Freedom's gorgeous new Golden Confetti artwork, which I hung above the console.
I also chose three baskets to sit under the console; one for each member of the family to throw their shoes – and anything else – when they first walk in the door. Have I mentioned how much I love Freedom baskets? They're the only ones I use in my home – storing toys, craft items and assorted junked – and looking fabulous at the same time.
Finally, I added Freedom's lovely Sprout coat rack to hang our hats, coats and scarves. It's a practical and beautiful piece in my favourite combo of white and timber, and I've just heard that Freedom will be doing it in copper soon.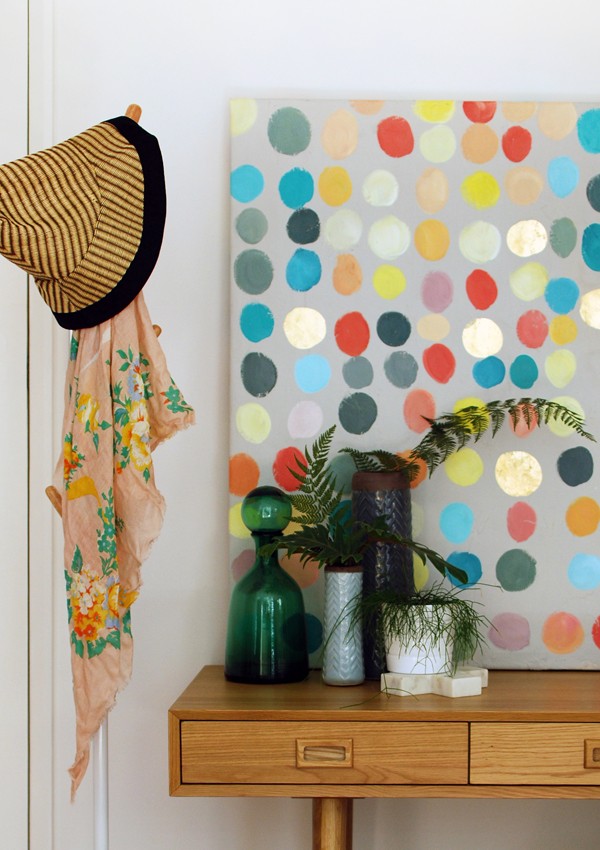 I really can't believe what a difference having a proper set-up with a console, drawers, and sorting baskets, has made to our lives. It might sound slightly hyperbolic, but leaving the house is a much calmer process, with things easily found and in their right place.
We no longer forget library books, water bottles, and blue medical books – because we've popped them in our son's dedicated basket the night before. Organisation experts are always banging on about how everything needs to have a home – and they're right. It just took us six months – and a new console and set of baskets and trays – to sort it out.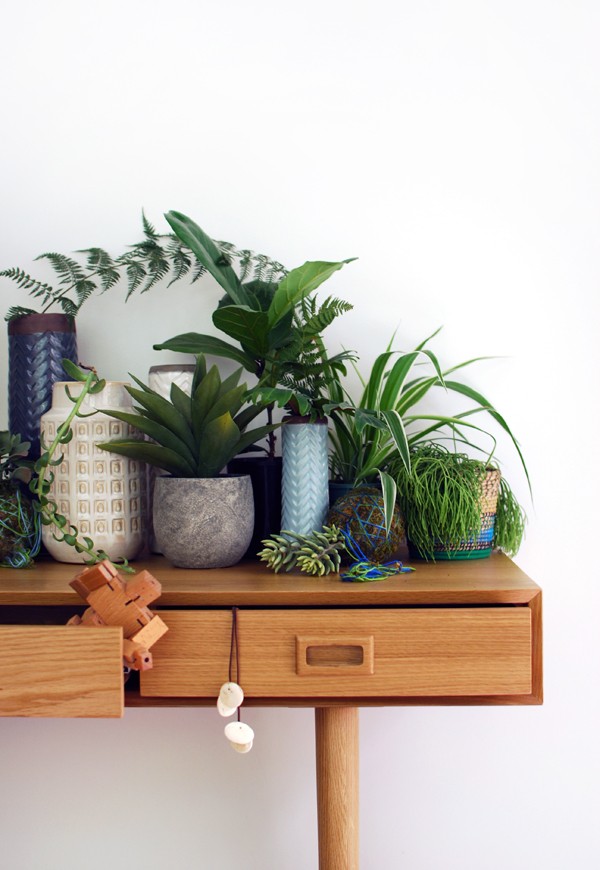 I also experimented with a different look, playing with selection of Freedom's beautifully crafted collection of vases and vessels, and a bunch of indoor plants. I remember blogging about indoor plants a while ago, and it's a '70s trend that's exploded in recent years.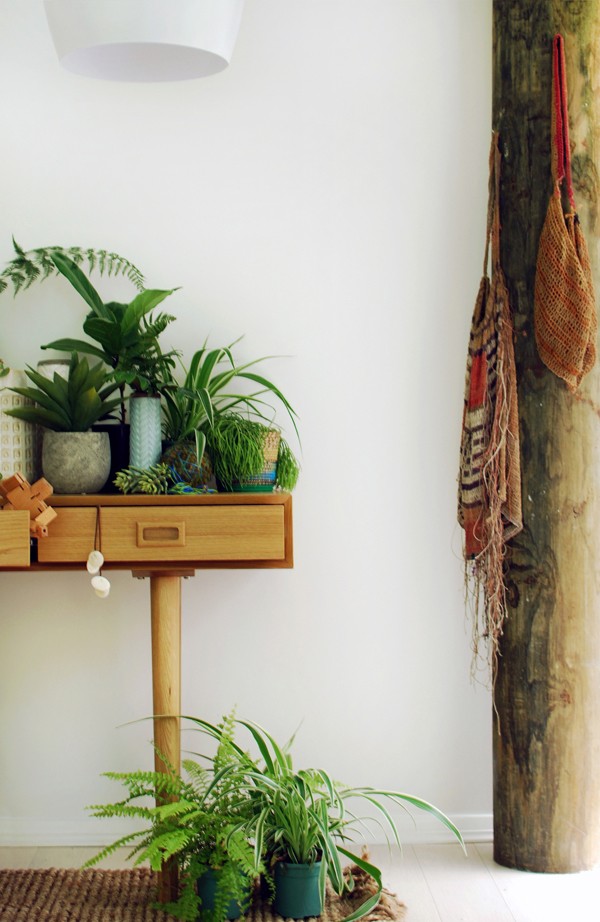 I love the look of greenery displayed en masse in group of different vases and plant holders. For a mix-and-match look, I chose a range of vessels in different shapes, textures and materials, with a loose tonal theme of neutrals with blues and greens.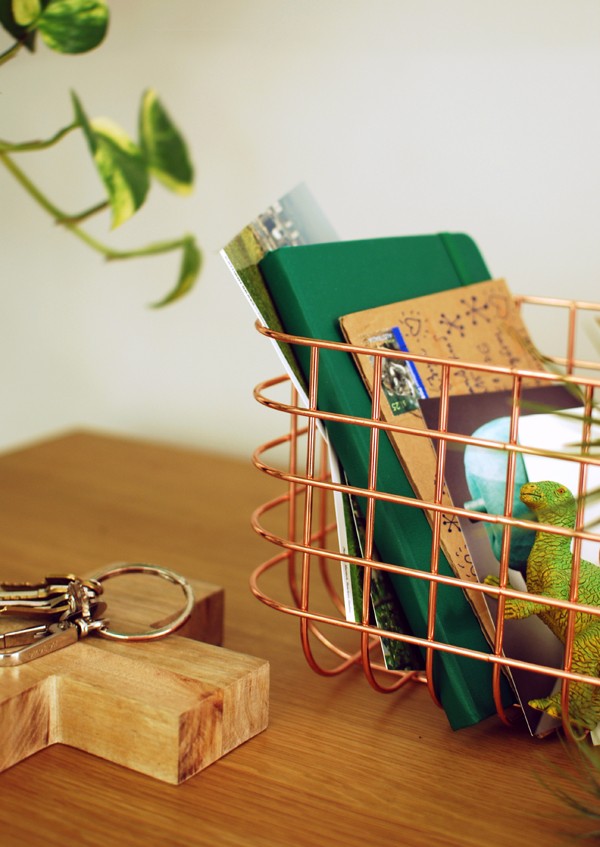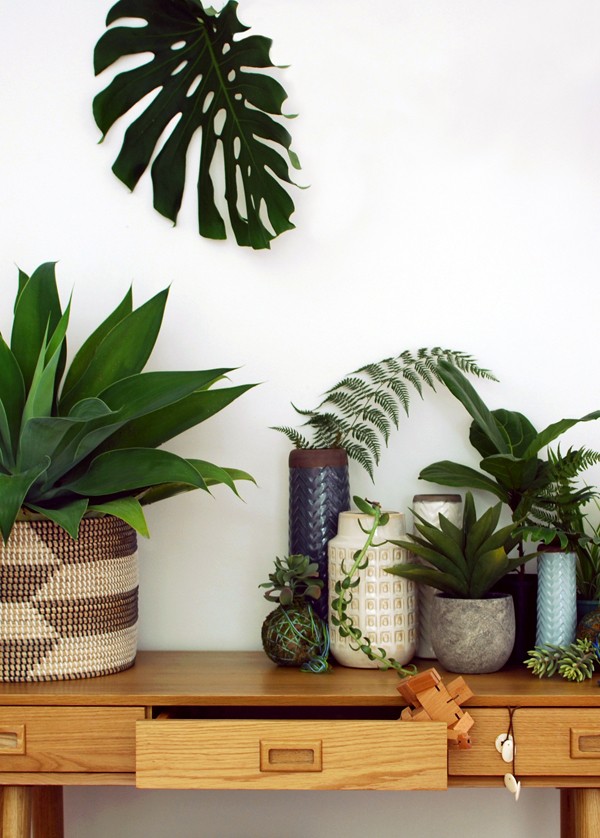 Combined with Freedom's stunning new Sia pendant, it's a green and earthy look I really love. It also works well in our pole house, with exposed timber poles in every room.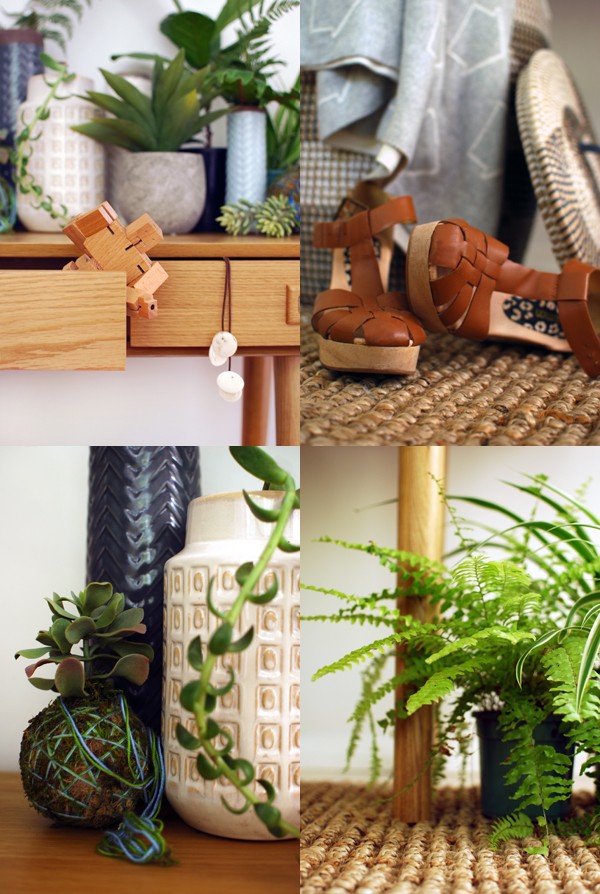 I also hung my two vintage dilly bags from Papua New Guinea on the pole, and they added another textural element to the 'earthy' mix – and a point of interest. They had been languishing in a storage box for two long! I love how the natural fibres are reflected in Freedom's woven baskets and tasselled jute rug. It's the perfect combination of old and new.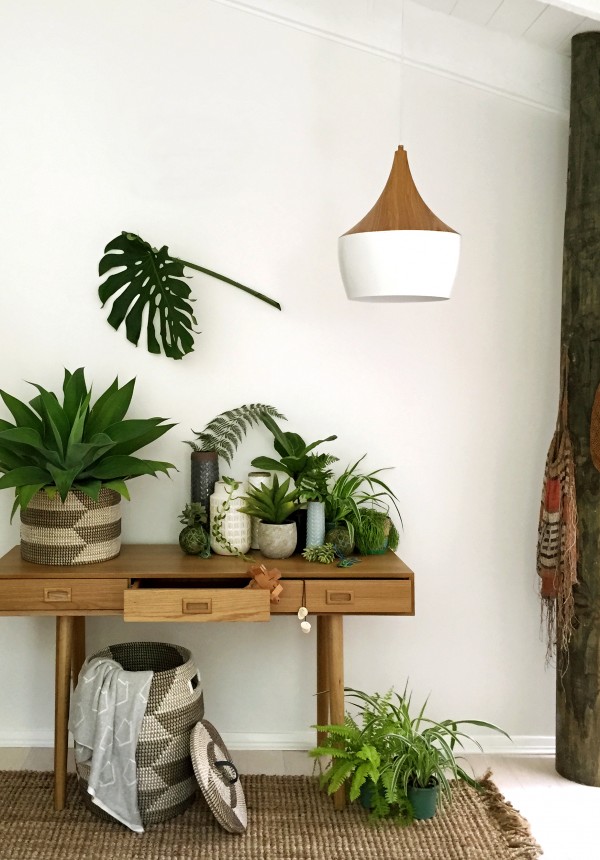 What do you think? Which look do you love the most?
Don't forget to enter in our giveaway to WIN a $500 Freedom Gift Voucher! Ends March 9 at midnight AEST. Closed.

By Rebecca Lowrey Boyd/Wee Birdy for We Are Scout.
All photography and styling by Lisa Tilse, for We Are Scout.
Disclosure: This is a sponsored post in collaboration with Freedom. We only partner with brands that are a good fit with our blog, our aesthetic and what you, our readers, enjoy. Content and concept, product selections, words and opinions are all our own.
Save
Save
Save
Save
Save