I came across Rose Miller's art on Etsy and was immediately drawn to her considered colour palettes and the combination of beautiful portraits with graphic backgrounds. I fell in love with her "Strawberry Blonde" and purchased a print which now hangs in my bedroom.
It's lovely to be able to show you Rose's creative space because it's so unique and special. All of these stunning paintings are created from her beautiful but compact Tasmanian Oak desk which once belonged to her husband's great grandfather. Like many of us Rose is juggling being a full time mum with doing something that feeds her creative soul.
Meet Rose…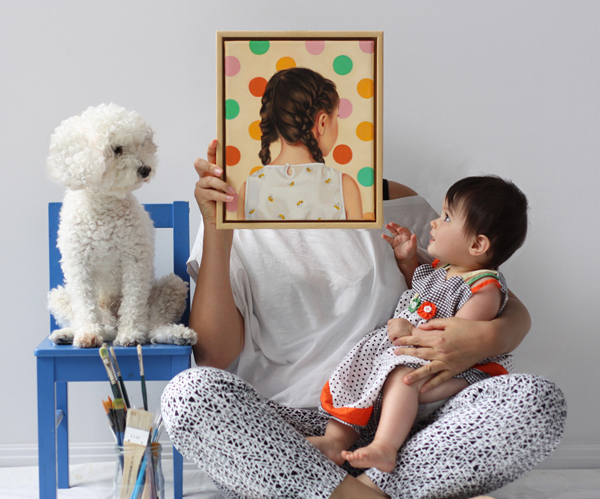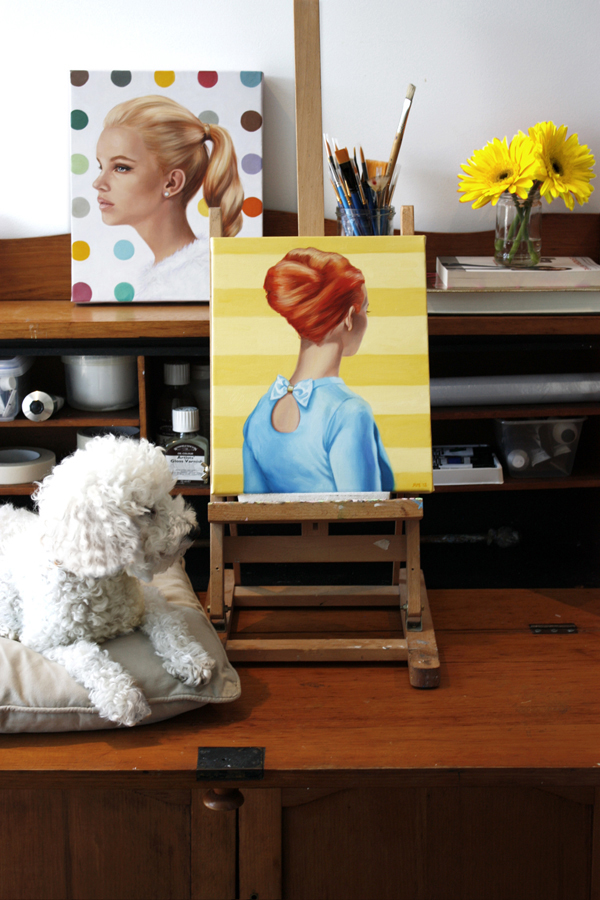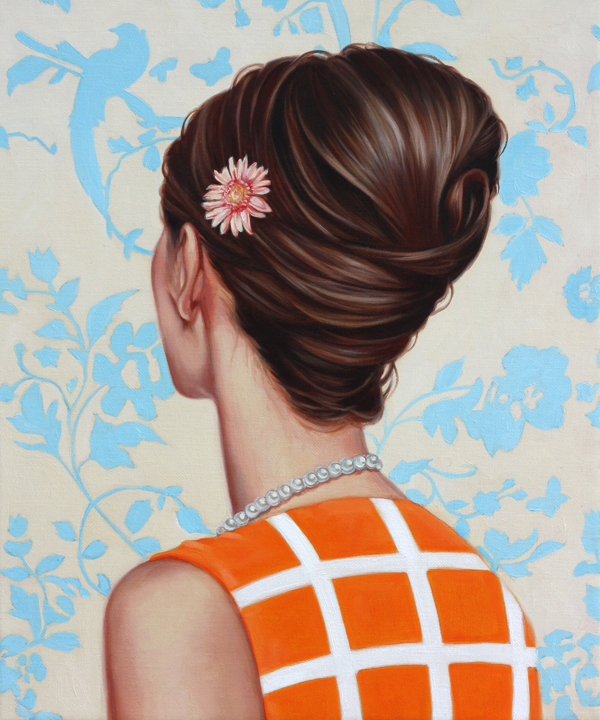 Where do you live?
I live in a busy inner Suburb of Sydney Australia, in a high rise modern 3 bedroom apartment with my husband, our son aged 5 and our baby girl who just turned 10 months, and of course the leader of our roost: Wolfgang our beloved Poodle. It's a compact space, but we live quite simply and minimally having only essential furniture and possessions. We have a large private terrace that has a view of the city, a hidden communal large green space and garden that's very quiet and peaceful, and an indoor pool and gym.
I like to call our family "The Urban Nomads" because we are always moving due to the nature of my husband's work. We previously lived and worked in Europe for nearly 8 years but came back to Australia to be with our extended families and have our children grow up in here. One day I would like to have a more permanent and spacious home with a veggie garden, but at the moment this set up suits our current lifestyle and budget.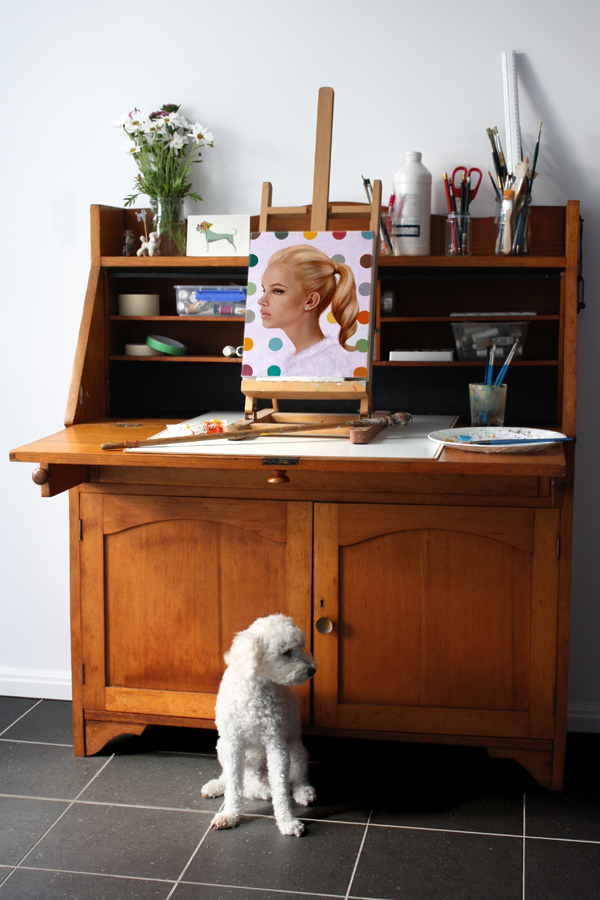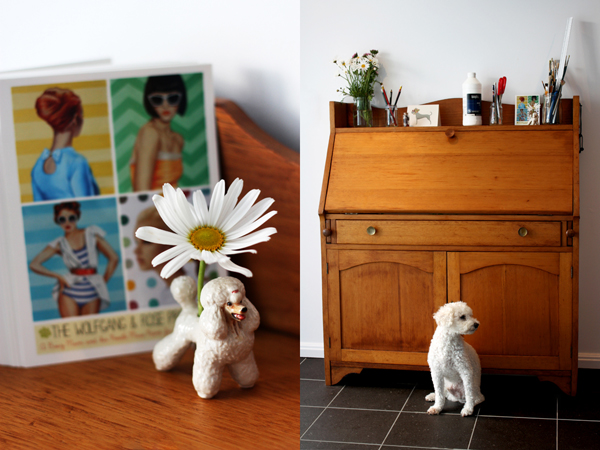 Where do you create?
Because of our compact apartment, I don't have the luxury of a studio space. But what I do have is my little "Studio Desk". I adore my desk and have had it for my entire artistic career. It previously belonged to my husbands great grandfather, it was his writing desk and is made out of a beautiful Tasmanian Oak. It holds and stores everything I need to paint and create – it even has my sewing machine hidden in there. When opened up it makes the perfect painting table, and when it is closed, it hides everything away neatly and safe from prying little fingers! Even when I was working as a full time designer/artist, I still used my little "Studio Desk", but I had a larger environment to place it in. In our current home it sits quietly in the sunny hallway that leads to our outdoor terrace.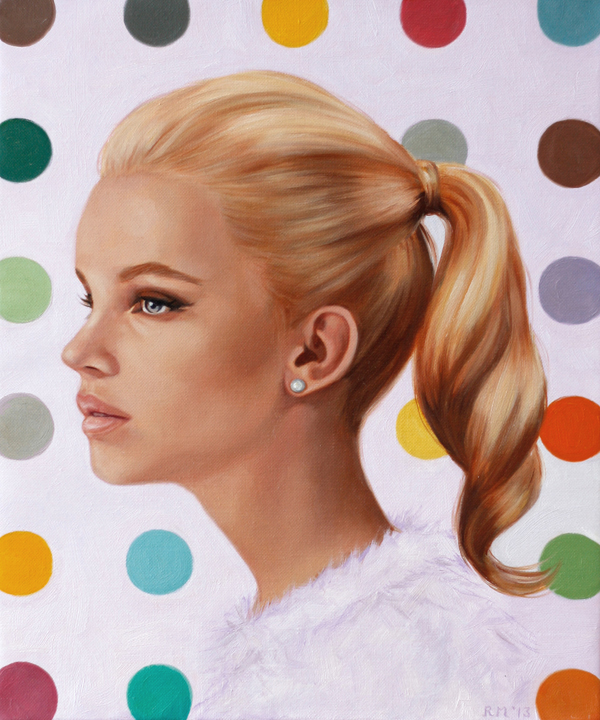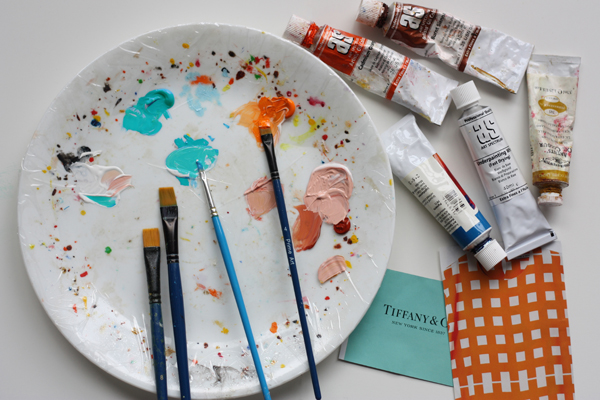 When do you create? Is it a full time job?
Working on the Wolfgang and Rose Project is a luxury for me, it's what I do in my downtime when my kids give me piece and quiet, and that's not very much time at all. But because of my time constraints, I find that I can actually get so much done in shorter periods. I guess it's because I've become better with time management, I get in there and just paint! There is no procrastination and no wasting of any free moments.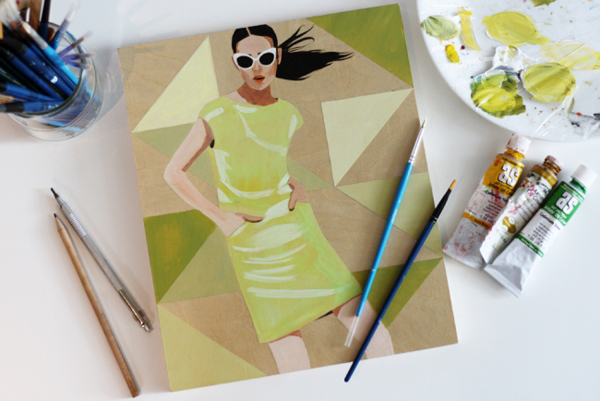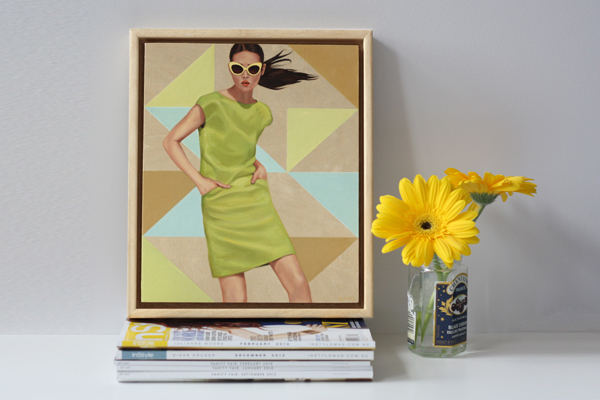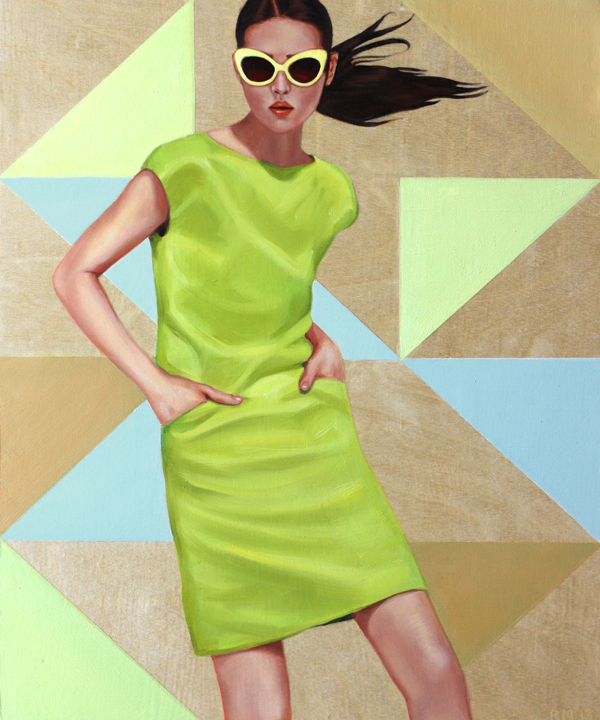 What path led you to this creative place?
I was living and working as a freelance designer and fine artist in Europe for nearly 8 years. It was a very lucrative and fulfilling career for me. When my first child came along I truly believed that I could balance motherhood and a full time career, as I worked from my home studio. But after nearly 3 years of struggling to do both roles, the reality set in that it was impossible to be great at both as I'm the type of person that gives one hundred percent to everything that I do. I also couldn't produce enough work, and in that industry its produce or perish! So when we moved back to Australia in 2012, I decided to focus on my family and put my career on hold.
After my daughter was born last year, I really began to miss being creative. I guess it was because with two children, I had almost no time to myself. I felt that I needed some kind of outlet and creative space for me as a person. So I decided to paint again. But rather than be creative for commercial art agencies and galleries on a large scale as I had done before, I wanted something more intimate and personal on a much smaller scale.
That's when I started The Wolfgang and Rose Project. This allowed me to be creative in my own time and I'm under no pressure to paint for deadlines or to anyone's specifications. I like to call it a hobby with benefits! It's a great creative release, plus it's now starting to earn me some income through the sale my paintings and prints online. I am planning to raise my children full time until the youngest reaches school age, so I'm rather excited to see how this little hobby of mine pans out during this time. So far I've had a great response to my artwork and am very grateful to actually do something like this, with the minimal creative time that I currently get.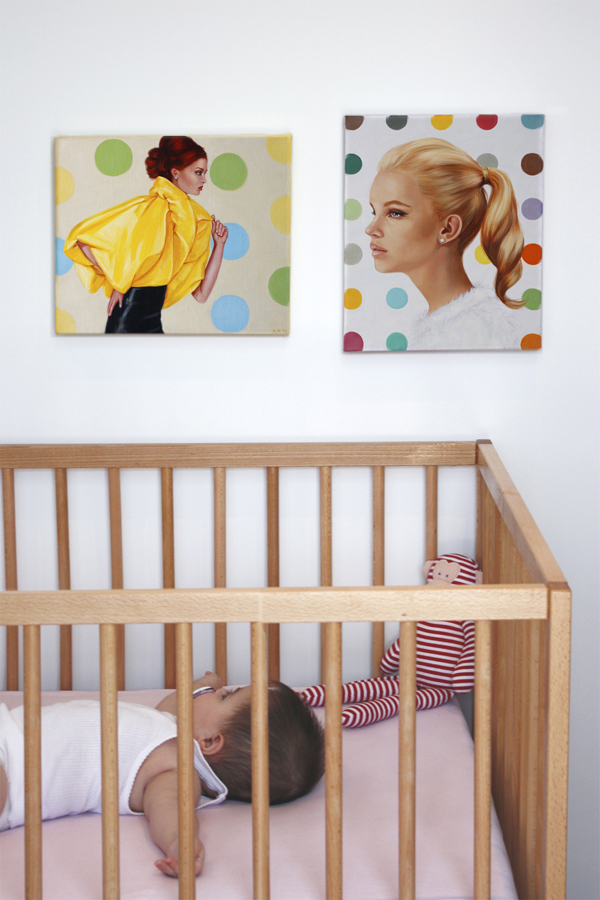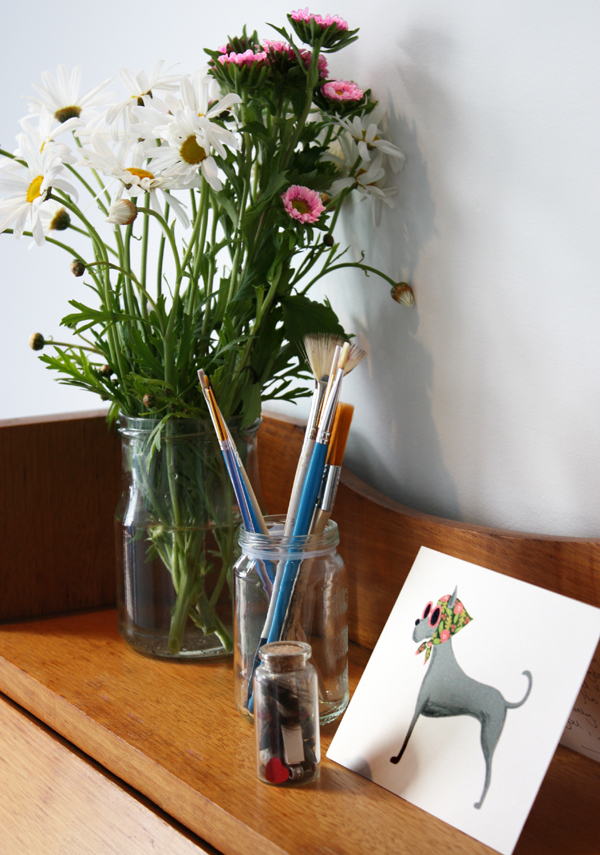 What's your elevator pitch? How do you describe what you do?
"A Busy Mum and her Poodle Muse paint for Creative Sanity!"This sentence sums me up perfectly.
How would you describe yourself in six words?
Fun, nurturing, loyal, optimistic, perfectionist, creative, observant.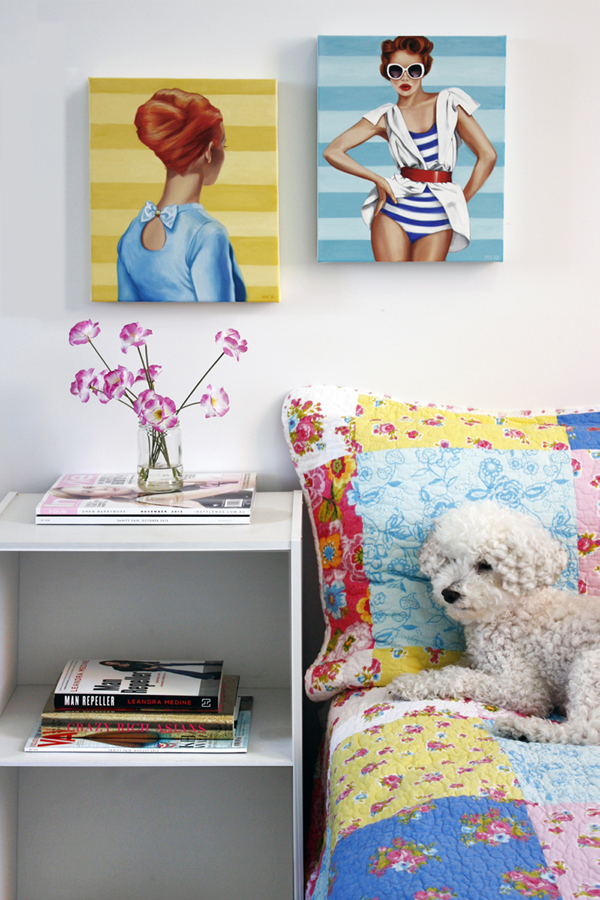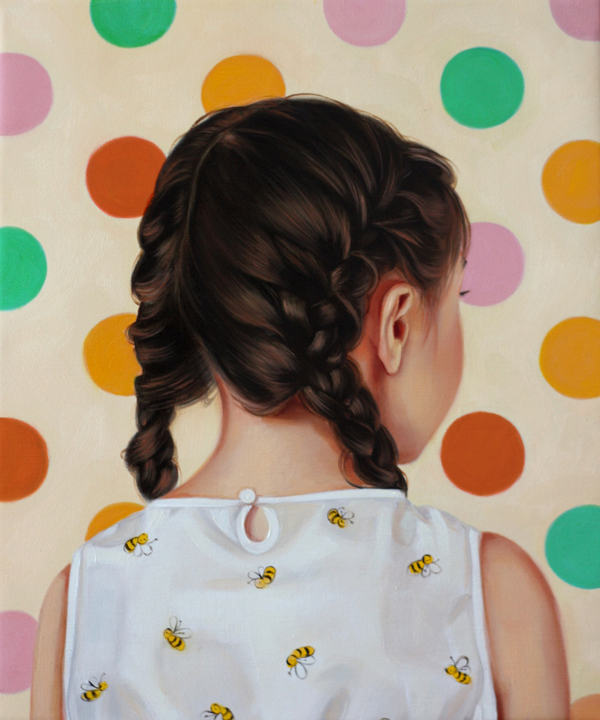 Where do you find inspiration and motivation?
Even though I'm home-bound most of the day with my kids, in my boring clothes and mostly make-up free, I'm still a glamour puss at heart! So even though I may not be so polished everyday, I can still create a world full of polished, chic looking people through paint. The same goes with my home, I don't have the space or freedom to decorate my house in the bright and funky way that I would like to, so again through my paintings I can experiment with design, colour and pattern.
I love reading design blogs, fashion magazines and would totally waste hours on Pinterest if I could. I'm the type of person that can find beauty in everything, and I totally believe that inspiration comes from just being observant of everything, and being open to new ideas and concepts.
What are the essential items in your workspace?
My beloved poodle Wolfgang of course! He turned 13 this year and is still going strong. I am totally honest when I say that he is my "Muse". He keeps me calm and happy and has always been there with every piece of art that I have ever created throughout my career.
I have a very basic workspace set up, just my paints and brushes, so I guess those are my other essential items.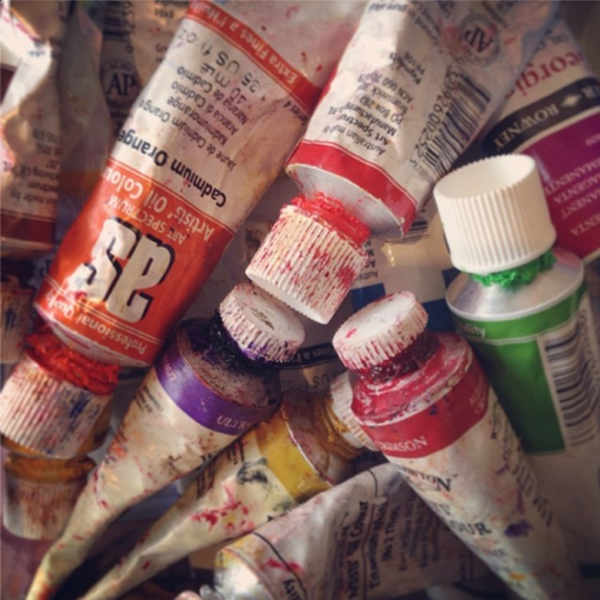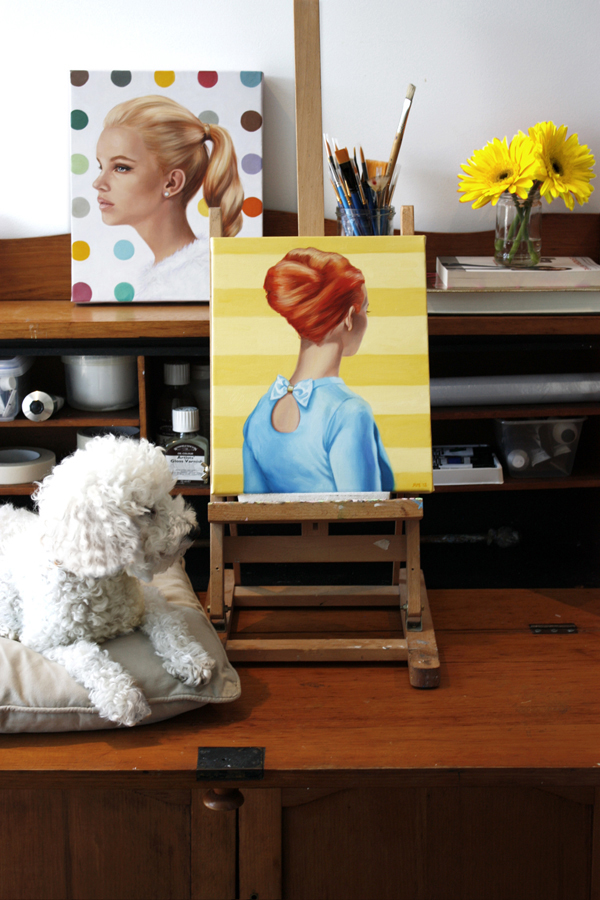 What advice do you have for aspiring creatives?
I have a saying called "do the brush millage", basically the more you paint the better you get. There are no shortcuts, you have to be prepared to master the essential techniques and properties of the medium that you choose to create in, that way you will never be limited in what you want to create.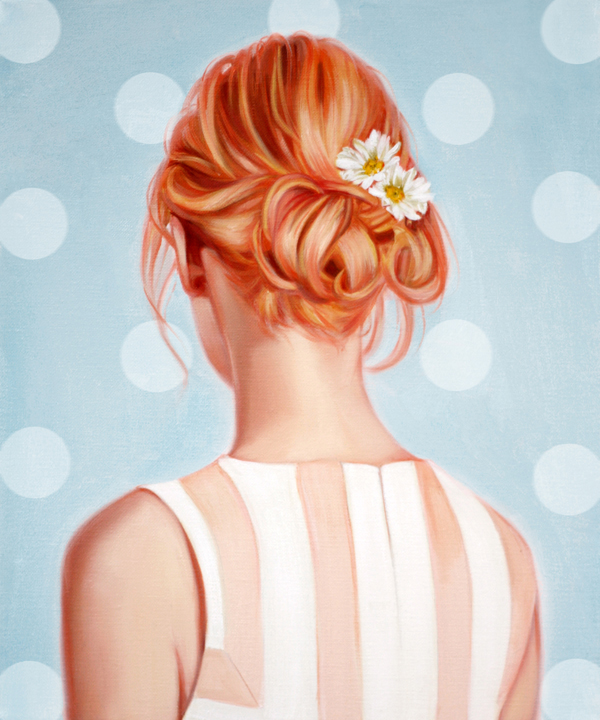 Do you have a dream that you'd love to fulfill?
I would love my own studio space one day, a place to create in peace and quiet, with pretty pastel wallpaper, a baby blue velvet chaise lounge for Wolfgang, and a nice little table that is always set with a vase of fresh flowers, fashion magazines, and a cute tea set for when visitors pop by. Yes, that would be lovely!
I hope you love Rose's unique Space to Create, her story and art as much as I do. You can see more and connect with Rose here:
Wolfgang and Rose Website/blog
Purchase original paintings and prints at Wolfgang and Rose on Etsy
Connect on Facebook
Follow Wolfgang and Rose on Instagram
Save
Save