Technically summer is over and although it doesn't quite feel autumnal here in Sydney yet it's bound to fairly soon. With the change of season in mind I've given my bedroom a warm mini makeover with Freedom's new autumn/winter collection.
I often like to change the colours and arrangement of my bedroom but it's always based around white bedlinen. I know that it might not sound very wintery, but I love to sleep in white bedlinen all year round and it makes the perfect starting point to easily update the look and feel of the room. The Scandinavians lead the trend so well with their fresh white on white interiors.
My idea for the cooler months was to revamp things with luscious warm textures and a minimal soft colour palette.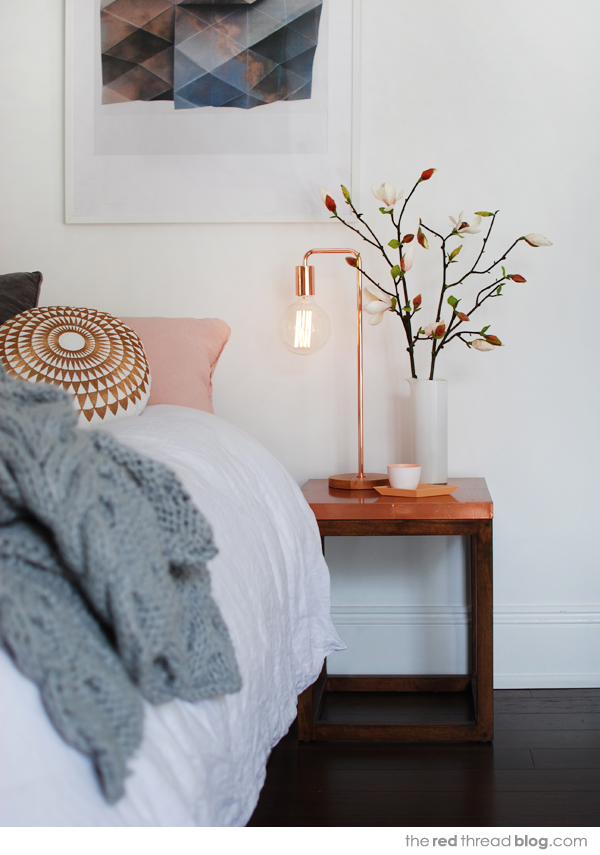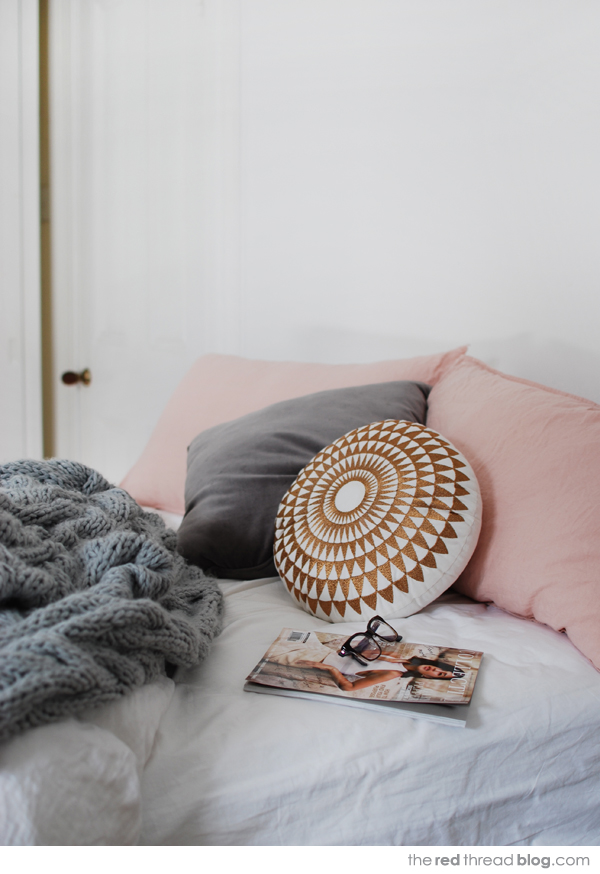 It all started with the stunning copper Metro Table Lamp and the copper topped The Professor side table that I couldn't possibly live without! I adore dirty pink (I already owned the linen pillowcases), and it goes perfectly with copper and a dash of soft grey. To achieve a cozy and interesting feel I layered textures: crumpled linen, lush velvet, chunky wool, and metallic copper.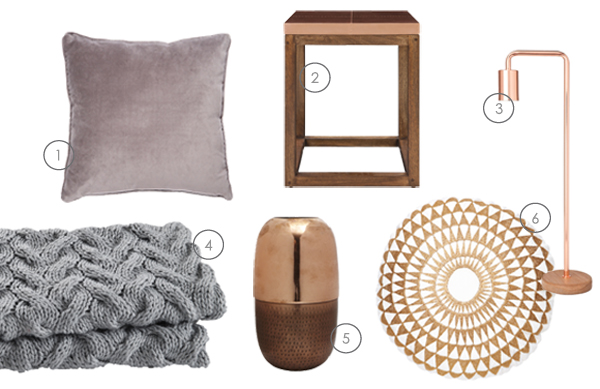 My bedroom mini makeover choices – all available now from Freedom:
1 // Velvet cushion in tornado.
2 // The Professor square side table.
3 // Metro Table Lamp teamed with a beautiful big bulb that has a copper filament (available in store).
4 // Quest Throw in grey.
5 // Hathor Vessel (available in store).
6 // Exeter Cushion with metallic copper thread embroidery (available in store).
This light globe has a copper filament which gives a beautiful shimmery warm glow to the room and it reflects on the lamp and tabletop, intensifying the richness of the copper.
The super soft chunky knitted throw, together with the velvet cushion, is the perfect compliment to the shiny copper surfaces, crumpled linen and rich wood. I'm waiting for the cooler weather now so that I can snuggle up under it… although I have the feeling that someone may sneak off with it for the sofa.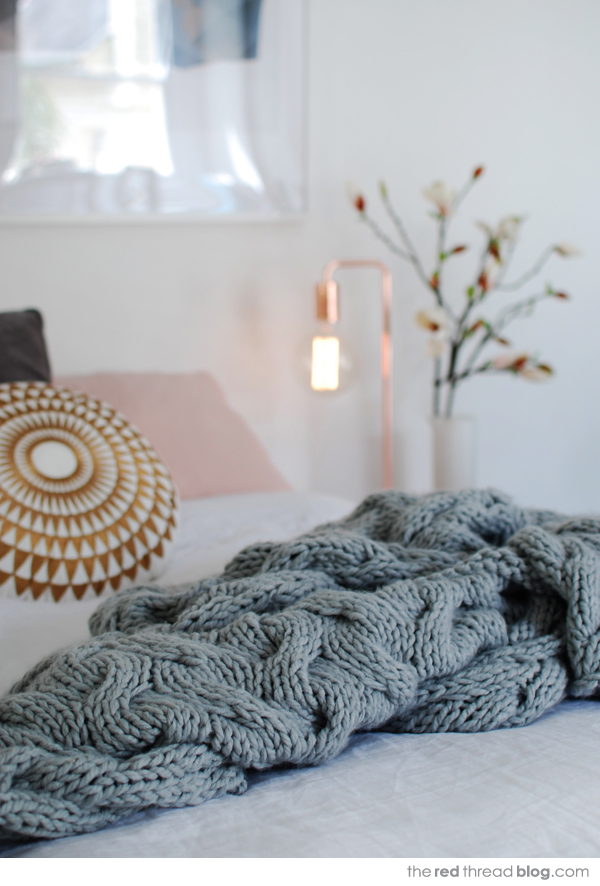 Bedside copper overload! I swapped this vessel for a simple white vase I already owned and moved this one to the living room. It's now looking lovely on a white shelf where it can be the star of it's own show.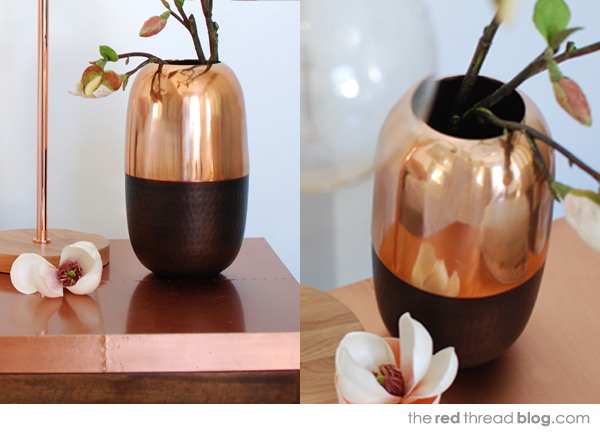 By now you might be wondering what the deal is with the magnolia blossoms in autumn. Well… they are faux blooms. I know. I know! I have an aversion to flowers that aren't made by mother nature, but when I spied these in Freedom (available in store) I knew that they would work perfectly in my bedroom makeover, and honestly they look real. I'd love to have fresh blooms every week, but a lot of the time it's not practical or affordable. These are a great alternative, and I can pretend it's spring even in the depths of winter. How faux would you go?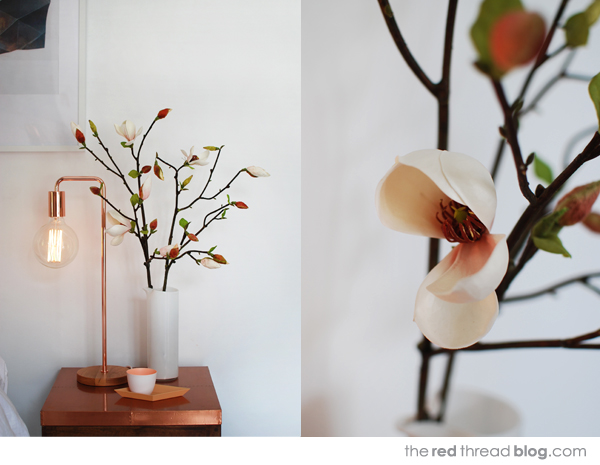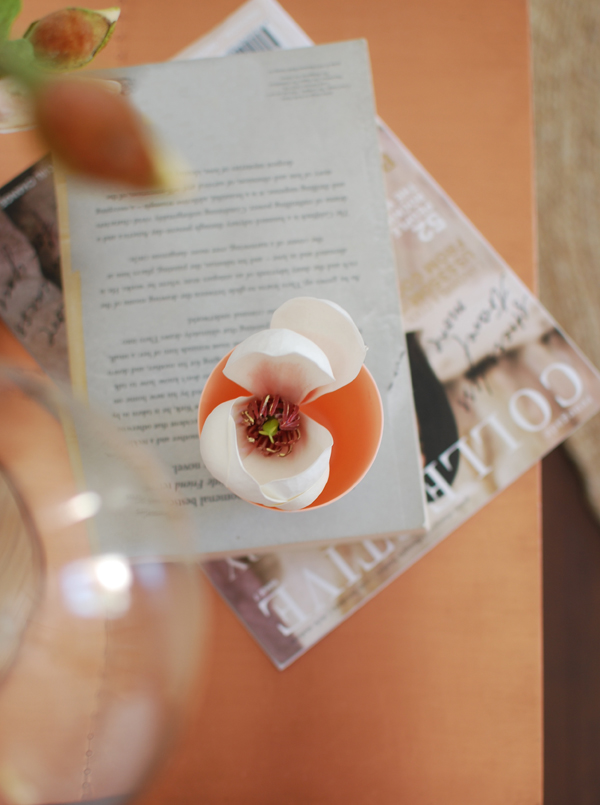 Mini bedroom makeover complete! I've used the word 'copper' a lot in this post, but how good is this trend?! Freedom also have another stunning table lamp, a pendant light and some bowls and other vessels in copper –  the finish of the moment.
If you're into the Scandi aesthetic for winter you might also like these other new pieces from Freedom… that desk!! Oh my.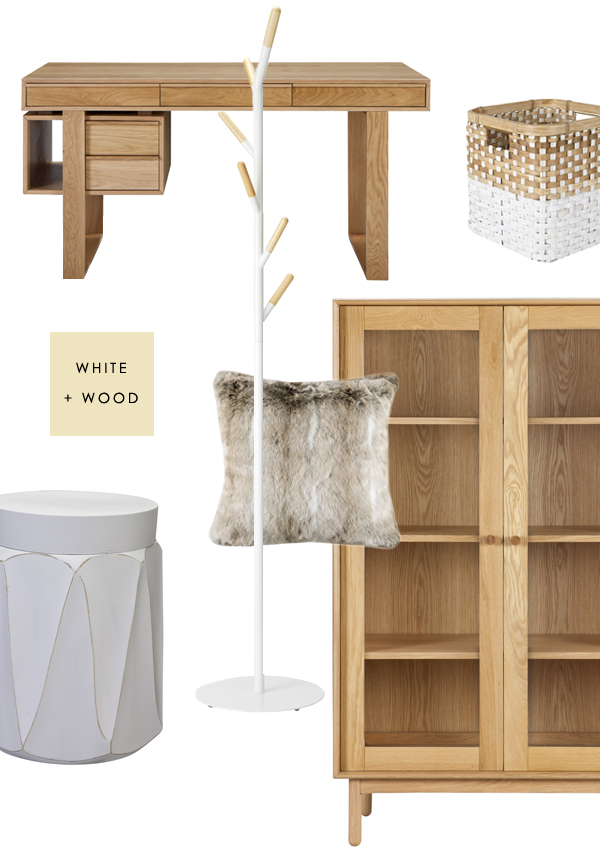 This is a sponsored post in collaboration with Freedom. I only partner with brands that are a good fit with my blog, my aesthetic and what you, my readers, enjoy. Bedroom images are by me, Lisa Tilse,  for the red thread blog. Montages created with images from Freedom. All words and opinions are my own.
You might be interested to take a look at previous ways I've changed up my bedside: with a washi tape headboard, with colour block pillowcases – it's a tutorial, and with geometric paper patchwork art – another tutorial.
Save