I'm so excited to bring you this week's Space to Create post. The creative life and space of Ellie Beck and Sam Messina is so different to any I've featured before. Ellie, Sam and their two children live in a beautiful rainforest setting where creativity and nature are an intrinsic part of their everyday lives.
Ellie has so beautifully answered my questions that I don't want to preempt their story with a long introduction, except to tell you that they make a range of accessories from skateboards under the name 'Deadwood Creative', as well as Ellie's creations under her eponymous label. Ellie likes to use textiles, yarn and found fabric to screen print, stitch, sew, weave, embroider and experiment with natural plant dyes.
Meet Ellie and Sam…
Where do you live?
We live amongst the rainforest in Northern NSW, on my family land (where I grew up). A ring of trees surrounds our home and garden, and there are creeks to play at. Currently we live in a small "shack", while we are building our new home and studio space. It's a one room 4x7m building (with a small kitchen annex) where we all live, sleep and work. There's an outside "shower room", and compost toilet. For the first 18months of living here, we had no electricity what-so-ever, lots of dinner by candlelight and reading by torchlight.
Our new home will be two pavilions connected by an open walkway, designed by my dad and me. It's all timber, using as much recycled materials as possible, with rustic concrete walls that we made ourselves. The floorboards are the most delicious red timber. And there's lots of glass and windows framing the view outside. Sometimes I stand in my kitchen-building-site and imagine it all finished and filled with our noise and collections.
The main town, Murwillumbah, is about 20 minutes away, and is a quaint small country town with some stunning art deco buildings. There's a flourishing creative community, but also the regular country town folks. Luckily there's a few good cafes as well.
Where do you create?
Anywhere and everywhere. It depends on what we're making. When I'm screen printing or sewing I set up on our kitchen table – and have wet printed fabric hanging across the room. My crochet work is mostly always with me; at the kitchen table doing homework with the kids, in the car on roadtrips (not so easy on the winding country roads!), at school presentations, or when I'm having coffee with friends. Having portable projects has been the main thing keeping me going, in terms of being creative everyday, while we live in such a way, with no set working space.
Sam has his machinery, for cutting and sanding skateboards, set up within our house/building site. It's movable as needed, depending on what room is currently being built. One day he'll have a woodworking space and I'll have a textiley making space.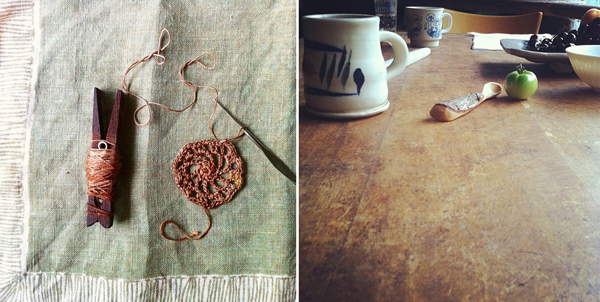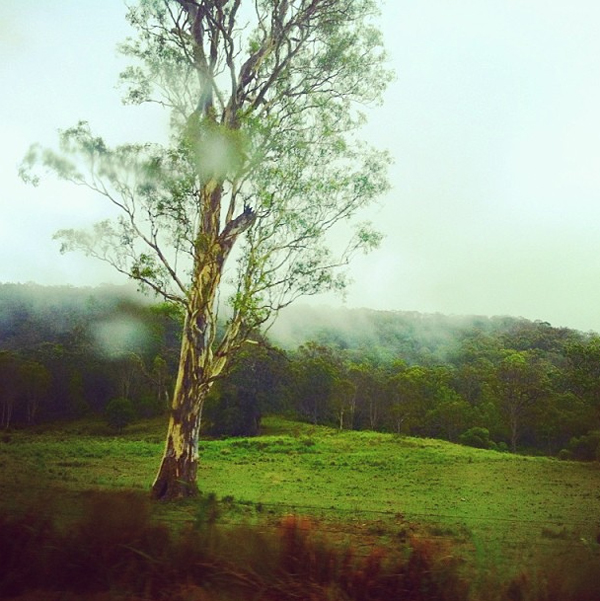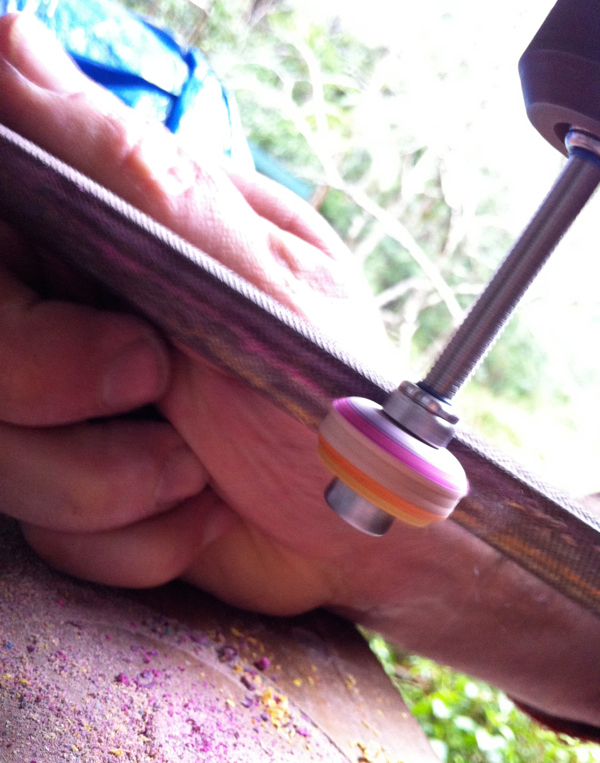 When do you create? Is it a full time job?
Currently it's not our full time job, in so much as it's not a full time income. Our aim is for our skateboard accessories business to become full time this year, but that will be determined by our house building process, and how much time we can stretch between both.
I run workshops (in screen printing and craft gatherings), and I'm just about to re-launch the Creative Business Talks I ran last year with another local creative, that we ran during our pop-up shop a year ago. I'm also the co-ordinator for the Artisan Market at our beautiful local art gallery (Tweed River Art Gallery), which is one of the best regional galleries in the country. It's such a beautiful space to hold a handcrafted makers market, and I love being connected with the arts / crafts scene in that manner.
I'm a full time mum, who is always putting her hand up for another school activity – so that is a big part of our life at the moment; as well as volunteer work at the local environment centre.
Basically we create whenever we can around general life (crochet everyday is important to me, even if it's just stitching for the sake of stitching, rather than having a project in mind). When we have market events coming up we put everything into the making and it becomes full time.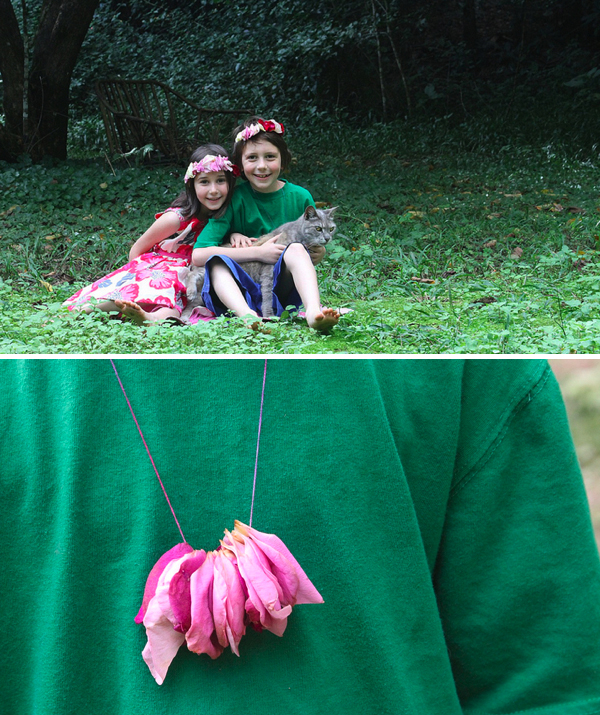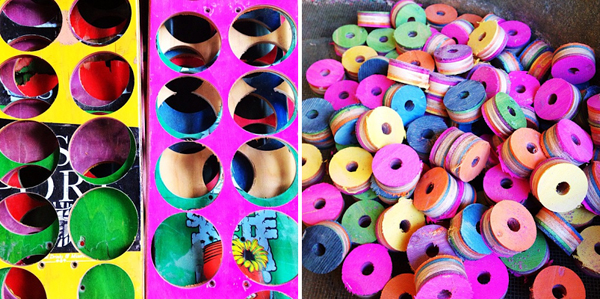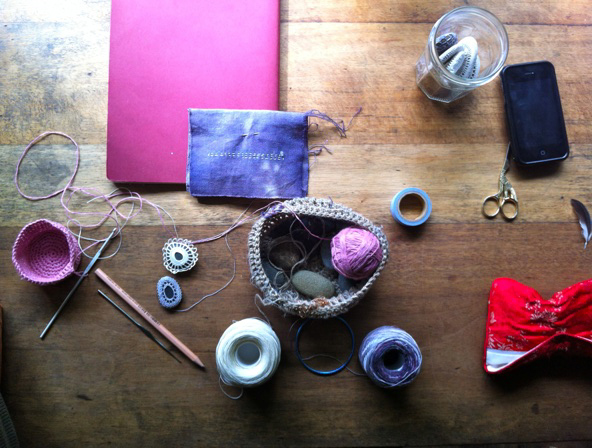 What path led you to this creative place?
I've always been a creative; it's just a constant flux and flow of what and when and how. Before children I worked in retail, where I was able to do all the window and merchandising displays, which allowed my creativity to play. Once children came along (I have two – an almost 9yr old boy and a 6yr old girl) I had more time (in so much as a new mother has more time!) and wanted to be creative in my everyday. I grew up in a very creative family, where everyday we were creating and making; I was lucky to go to a Steiner school and to have artistic parents. It's important for my children to have a similar creative childhood as I had.
The more I spend time with my making and creating the more I realise it's what I'm meant to be doing, and where I'm meant to be at. Sometimes it's just the working out what threads to grasp onto in my life to make something happen, and which strings to leave behind.
Sam also is from a creative family (photographers), and has always been interested in art and design. He's designed products and skateboard art in his previous jobs, as well as being visual merchandiser and buyer – all creative outlets.
So really, what we do now is more us forming a narrower path for our creative skills, rather than suddenly discovering that we have them. Finding what's your special skill, what one can contribute meaningfully to the world in a creative manner sometimes takes longer than expected!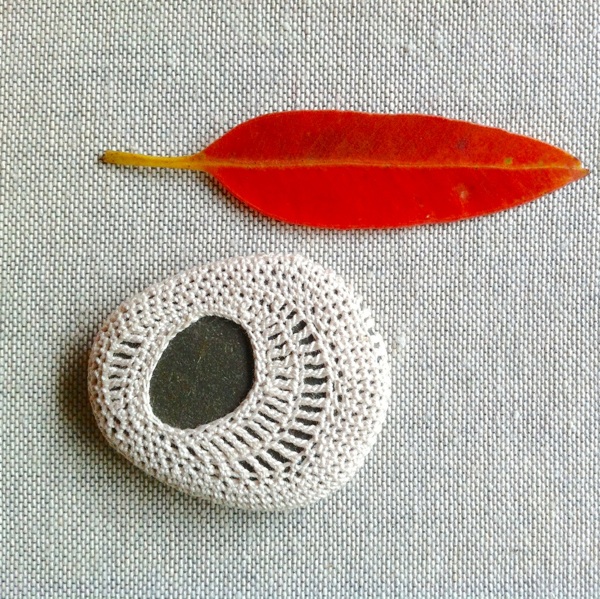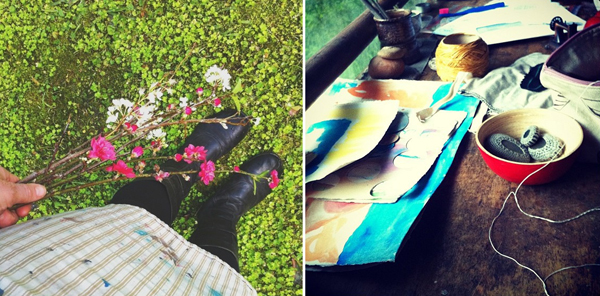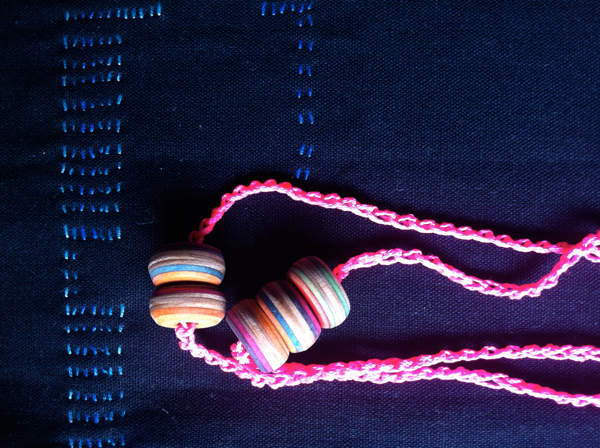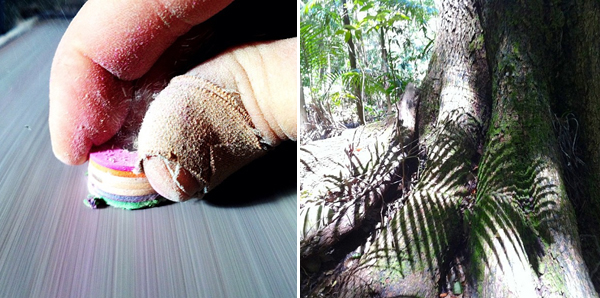 What's your elevator pitch? How do you describe what you do?
Generally someone asks about the stack of skate bracelets on my arm so I get to say "my husband makes these out of broken skateboard decks. He handcrafts them all, right through to finishing them with a fine sandpaper and painting on the non-toxic clear coating".
I'm still working out what my elevator pitch is, as I have many hats in the creative sense: I'm a creative who works with natural textiles, screen printing, sewing and naturally dyeing. I teach classes and gatherings for creative folks, or to help people find their inner creative.
How would you describe yourself in six words?
Passionate, spontaneous, adventurous, a dreamer, optimistic, sharing
Where do you find inspiration and motivation?
Everywhere – all around. Online I'm finding Instagram to be full of inspiration, everyday (sometimes I have to turn it off as it's a visual overload of goodness!). My kids are such artists themselves already, and they inspire me through their designs, shapes and lines – I want to turn their drawings into screen prints and art works. My daughter will grab fabric scraps, washi tape, embroidery thread and magically design fabulous dresses for her dolls; and she's writing a book about the Foxey family. My son is into exploring and discovering, and always asking why – he likes to know how things work, and what makes things as they are; a little science-artist mind. I'm endlessly fascinated by how they see the world and how they fit within it.
Sam and I work well together, in a creative sense, as we both bring a different viewpoint of an idea. We are inspired by a similar aesthetic, but have our own sensibilities that add together.
Memories of my childhood, of the things my mother created with us and taught us to do – that were a natural part of her creative life; I long to bring them more fully into my creative life as a mother and maker.
Outside – walking and looking and being; I think that's the biggest for me. Even if not with an actual representation of "nature" (though I do have a screen print design with real leaves), I find a line or a shadow to be a strong inspiration. Just sometimes soaking up the energy from walking down at the creek, or amongst the trees and birds give me so much.
My materials themselves speak to me. When I'm working with fabric or threads, often spending time just being with the process of making creates it's own inspiration. I find when I'm at my quietest – being alone in the house for a full day – is when I'm my most creative. On those days I ignore Instagram or Pinterest, and tune into the birds and the wind and my own inner thoughts.

What are the essential items in your workspace?
The ones I crave for most is quiet and time and space. This is when I find I'm most creative, in a real-to-me sense. Screen printing tools, inks and colours to play with, and fabric (always organic natural fibres) to play with. A ball of twine/string/yarn and a crochet hook can take me places – always keeps me creative. Sunshine and cups of tea help a lot too.
For Sam it's his woodworking tools, sander and drill press, and piles of sand paper – and lots of other little things that he makes if he needs a special thingy or something. Old skateboards, which all have their own ex-life and speak to him just as my fabric speaks to me.
What advice do you have for aspiring creatives?
This is a hard one – I feel sometimes that I'm still an aspiring creative. I'm still learning that I'm allowed to call myself, and to be a creative. Not that anyone's telling me different – it's me telling myself. I'm finding that the journey to respect my own work as real is the biggest thing. To know that I have something to give and share and to value in myself.
Being myself, and true to myself, is a hard thing. There's so much out "there" that we can take and copy and be inspired by, but to make something true to us, and for us, I think is another thing altogether. So – take the time to listen to you, and what your creative voice is saying. Please, don't copy someone else, or even try to do what other people are doing – if it's not you, then it will never feel right. Learning to let something go that isn't working is a big thing – not everything has a happy ending.
Gathering with other creatives is such an important thing, equal I feel to spending time alone. Find like-minded creatives who will help you fit into your creative work; supportive and nurturing creatives.
Spend time, every day if possible, making and creating. The journey is so much more important than the end result. I have also learnt to embrace my 'wonk' – I spent many years aiming for the perfection that I see other people's work, but that's not me. Once I allowed myself to be not perfect, for my work to show my thoughts and meanderings and sometimes knots and mistakes, I found these things slip naturally into the work and become part of what I make.
Oh – also, I think having a blog and an Instgram account are vitally important to me as a creative. I think about my work in a different way – a good way – when I know I'm sharing with others. It makes me accountable to myself, and allows me to write about the process as well as have feedback and support. Also, in this digital age, it's given me so much more exposure as a creative and connection to other creatives than I would find in my own town or circles.
Do you have a dream that you'd love to fulfill?
Oh yes, I long to have a time/space on my own. I keep thinking about an artist in residence in some far off country. Sure, I'd miss my family, but they'd be more than fine without me. To be able to be full time with my making, the process and the journey – with no interruptions of family life. Writing it sounds selfish, but I think for me it's a dream I'd love to work towards. Also, I keep thinking about art gallery walls and exhibitions. And a book – there's thoughts in my head of book writing. All big things, but all doable.
Thanks so much Ellie and Sam for sharing your creative lives. After my day of traffic and noise and the non-stop pace of the city their authentic 'hands on' life looks pretty great to me. And what a fantastic environment for their children to grow up in.
Visit Ellie's website.
And the Deadwood Creative shop.
If you'd like to see more of Ellie and Sam's creative lives take a look at Ellie's wonderful blog Petalplum.
Connect on Instagram: @petalplum @sammessina
Save