This is a fast an easy advent activities calendar that I made yesterday, with only a few days to spare! You can put this together in no time, even faster if you skip the spray painting step… although I do love the gold!
You'll need:
Dot stickers in gold and neon pink – newsagent or office supply stores.
Free printable number tags. Click here to download the pdf.
Washi tape
Long ice block (popsicle) sticks – craft supplies or discount variety shop. They are longer and thinner than regular ice block sticks. You'll need 30 for this project, but make sure you spray more just in case.
Gold spray paint
Blu tac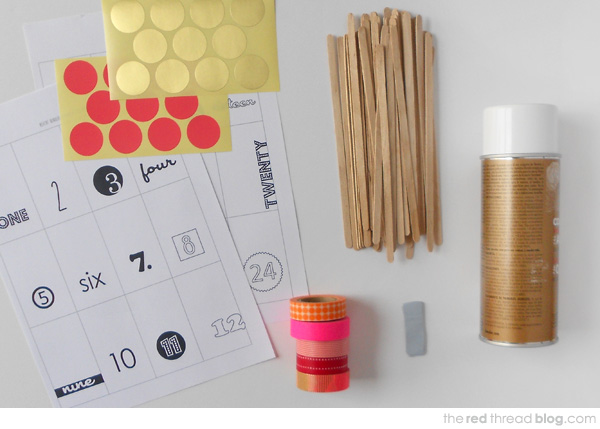 Start by spraying the sticks gold. Do this outside or in a very well ventilated area.
When they are dry put very small blobs of Blu Tac on the backs of the sticks at both ends.
Attach them to the wall starting with the 4 horizontal ones that will form the base. Overlap them slightly and make sure the line is straight.
Then add the diagonal sticks to form the first row, overlapping each stick sightly and making sure the Blu Tac isn't visible. Continue adding the rows until you're finished.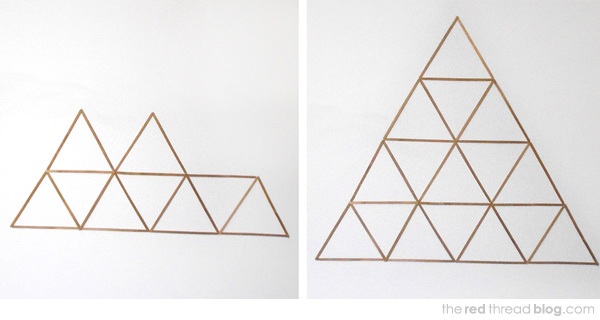 Next randomly add the pink and gold dots.
Print out the free printable number tags onto fairly thick paper. Standard office paper would be fine, but there may be show through when you write on the back. Cut the tags out and cut lots of pieces of washi tape, some with diagonal cuts on the ends.
Write the advent activities on the backs of the tags. If you want to include sweet or other treats you can just hide them somewhere in the house and write the location on the back of the tag. Or better still, make it a treasure hunt, so each hiding place has another note with directions on it. But only if you're prepared to put everything in place the night before!
Decorate the tags with washi tape and stick them to the wall.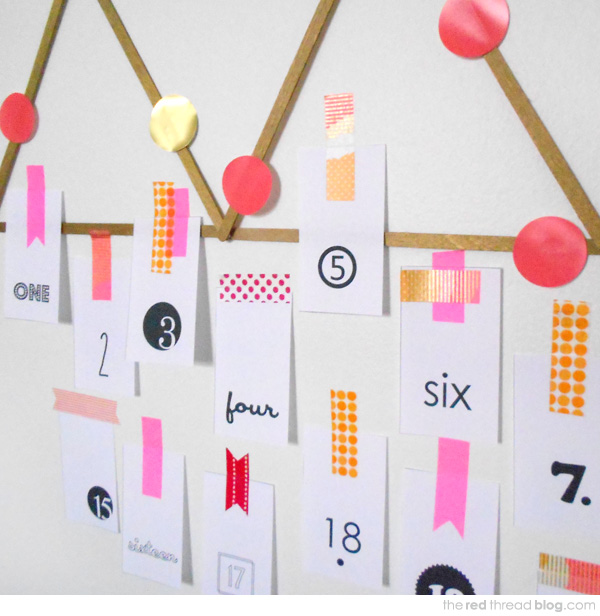 It's done! A fun and easy advent activities calendar. Something to cross of the list… now to get onto the rest. The clock is ticking!