A fresh flower garland isn't as tricky to make as you might think and they are amazing statement pieces for any special occasion. Impressive and beautiful, they'll instantly transform a space.
I caught up with my fave local florist Jodie McGregor to get flower garland know-how from a true professional. As Sydney's most awarded florist, and with many years' experience Jodie knows everything there is to know about creating and styling with blooms. Click through to take a look inside Jodie McGregor Flowers' vibrant shop and learn how to create a breathtaking contemporary flower arrangement with Jodie.
Are you ready to make a gorgeous – and surprisingly easy – fresh flower garland? We'll also give you ideas on how to style and use them.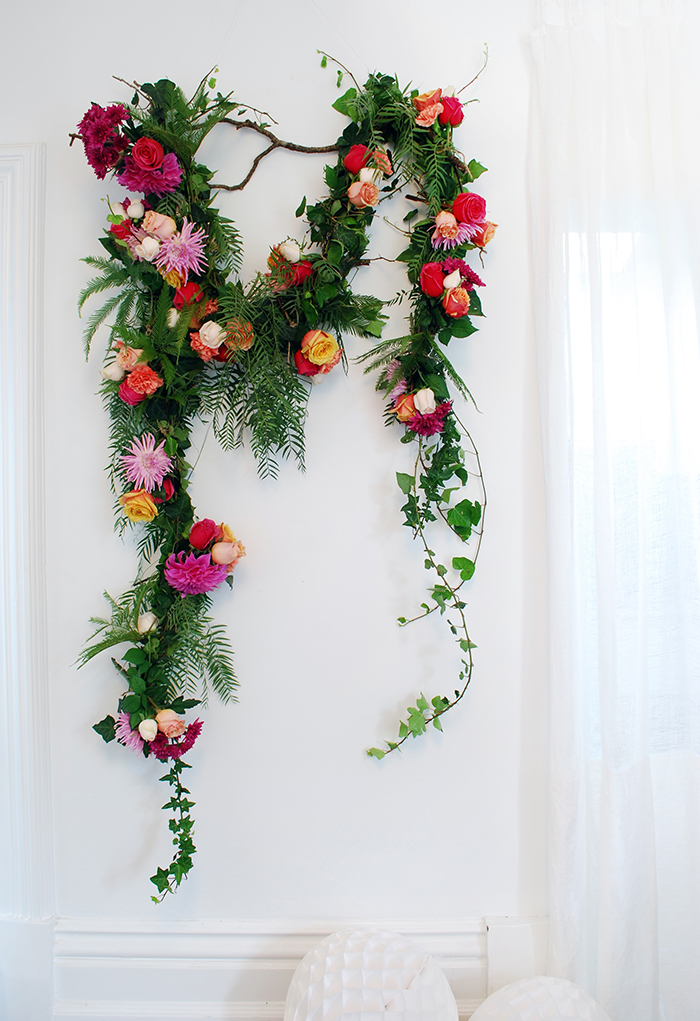 Let's make a fresh flower garland
You'll need foliage, flowers, a branch, secateurs and twine.
Start by cutting 20 lengths of twine roughly 20cm long.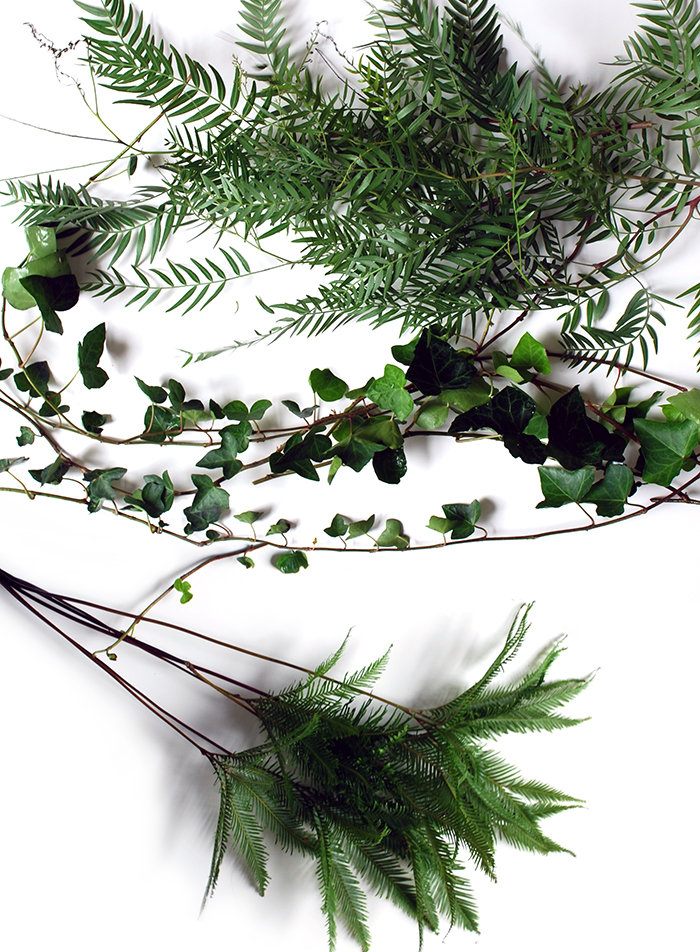 Lay the foliage out so it's easy to access. We used a large bunch each of peppercorn and umbrella fern and about 20 long pieces of ivy (the photo illustrates the foliage varieties, not quantities). Ivy is perfect for the base structure because it's sturdy and long.
Lay out 5 pieces of ivy. Take the longest piece and wrap it around and along the others to create a bundle. Repeat to make a second bundle.
Overlap the ends of the bundles by about 25cm and tie them together with twine. Add additional bundles to make the garland longer – ours is 3.5 metres in length.
Add in pieces of peppercorn along the garland and tie them in place with twine.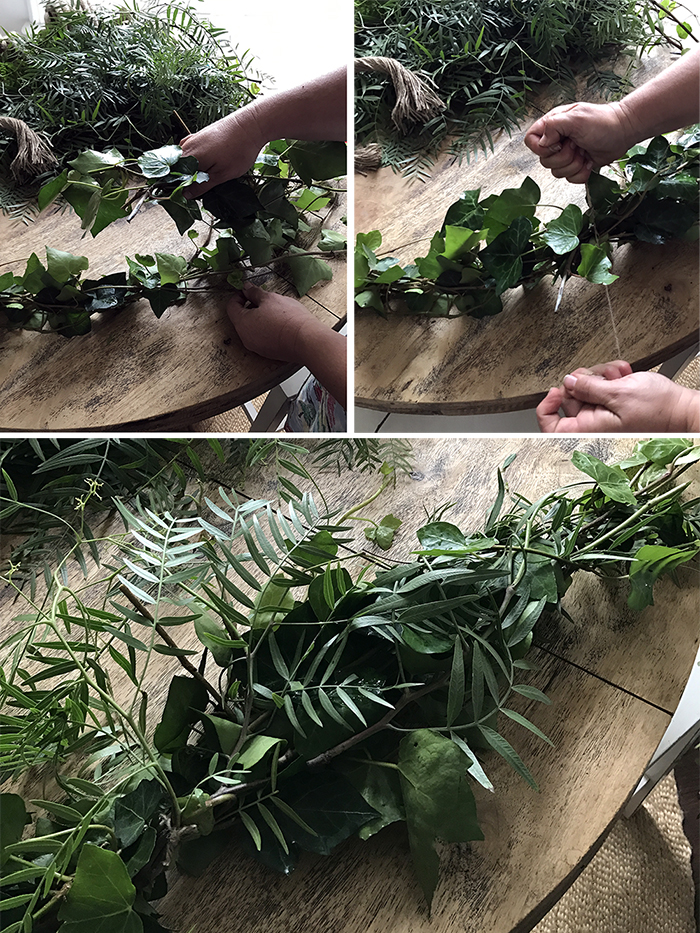 Attach twine to the branch and hang it up – it's easier to construct the rest of the garland while it's hanging.
Drape the foliage garland over the branch.
Poke in a few pieces of umbrella fern in places where the foliage is thinly spaced.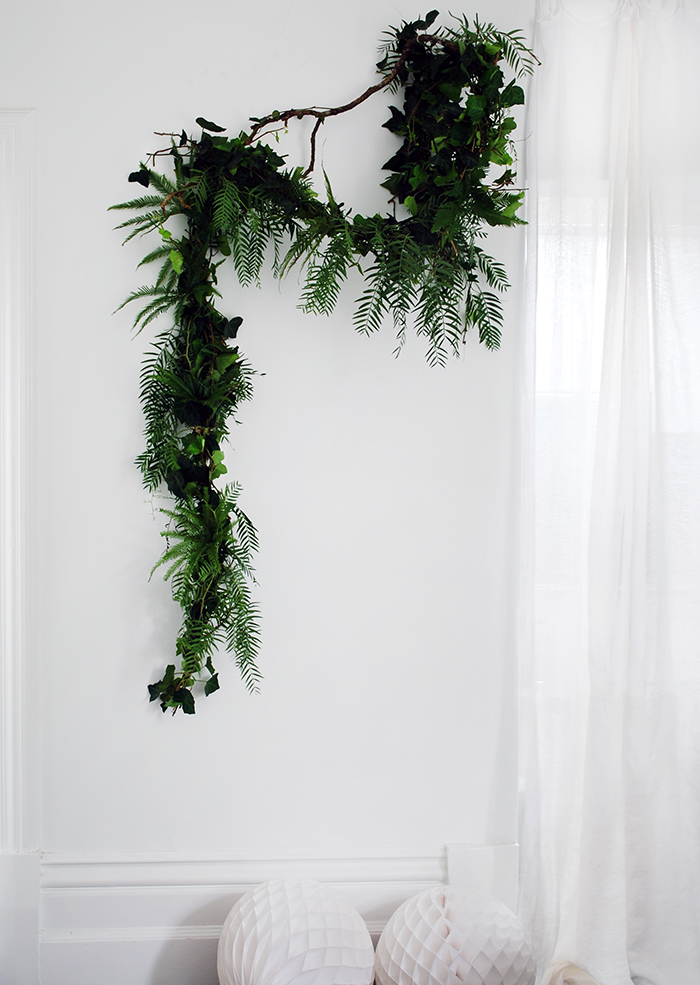 Now for the flowers…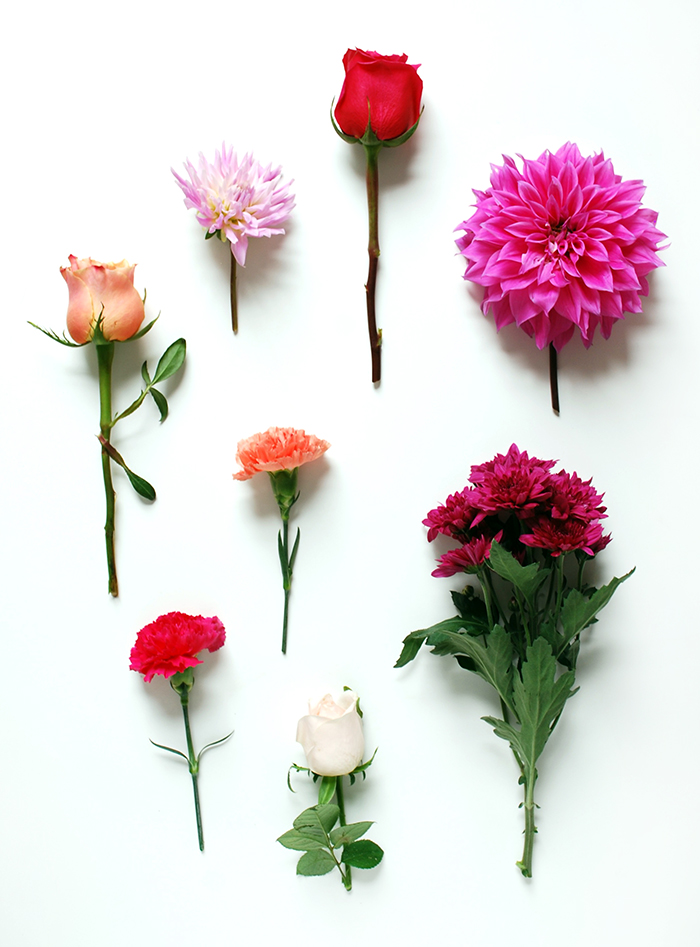 Jodie chose a mixture of bright flowers in various sizes and colours for our garland. It's important to vary the scale to create interest and a natural look. We used Polaris Chrysanthemums (the soft pink flower and the bunch of dark ones), beautiful big Dahilas, peach and hot pink Carnations, Cherry O and Cherry Brandy Colombian Roses, white local garden roses called Sweet Avalanche.
Cut the stems to about 15cm and create mixed posies of four or five flowers.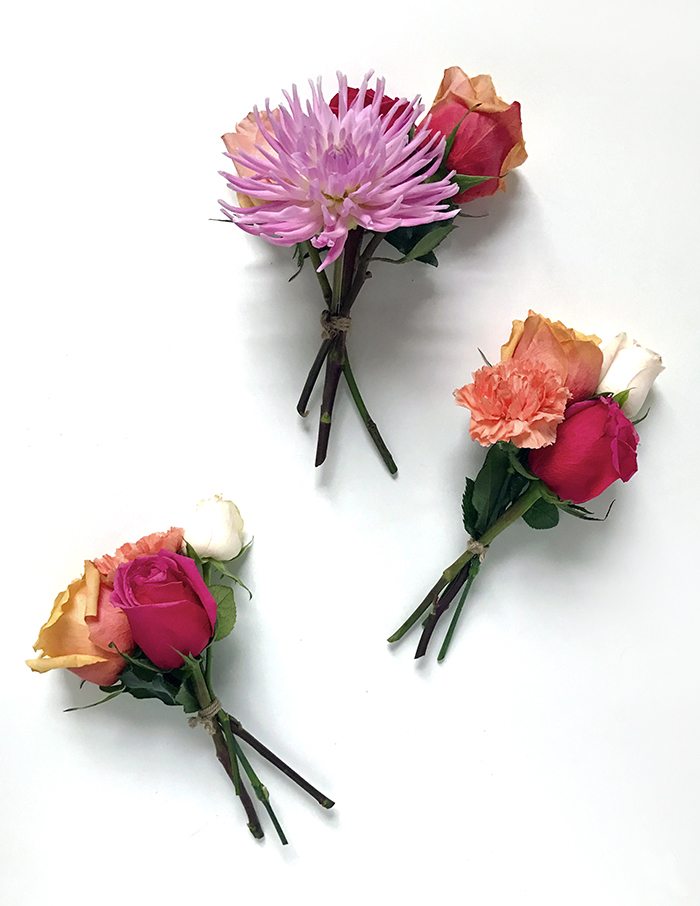 Tie the posies along the garland at random intervals. The aim is to make the garland look natural and uncontrived.
Stand back and look for gaps. Fill some of the spaces with more flower posies and in others poke pieces of peppercorn and umbrella fern. Keep stepping back so you can get an overview.
If the ends of the garland stop abruptly add some trailing pieces of ivy. Your fresh flower garland will look best when it's rambling and natural.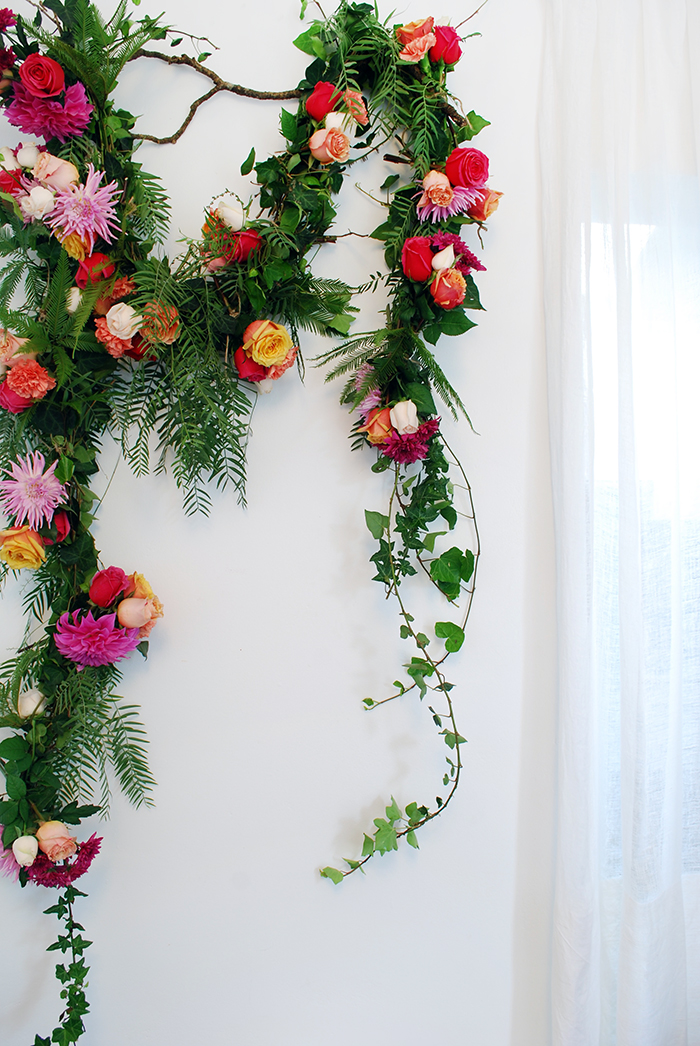 Jodie's prep tips
It's hard to find time on the day of a party or event to do everything. The following prep can be done up to 3 days before.
Make the foliage garland and roll it up into a circle. Pop it into a big garbage bag with about a bucket of water. Tie up the top of the bag. The garland will be easy to transport and it will stay fresh. On the day just cut open the bag, drain the water, hang it and add the flowers.
You can also make all the flower posies a few days before and store them in buckets of water. Buy the flowers from a florist (not a supermarket or service station!) and you'll be assured that they are super fresh from the markets and they'll still be looking beautiful on the day of your event.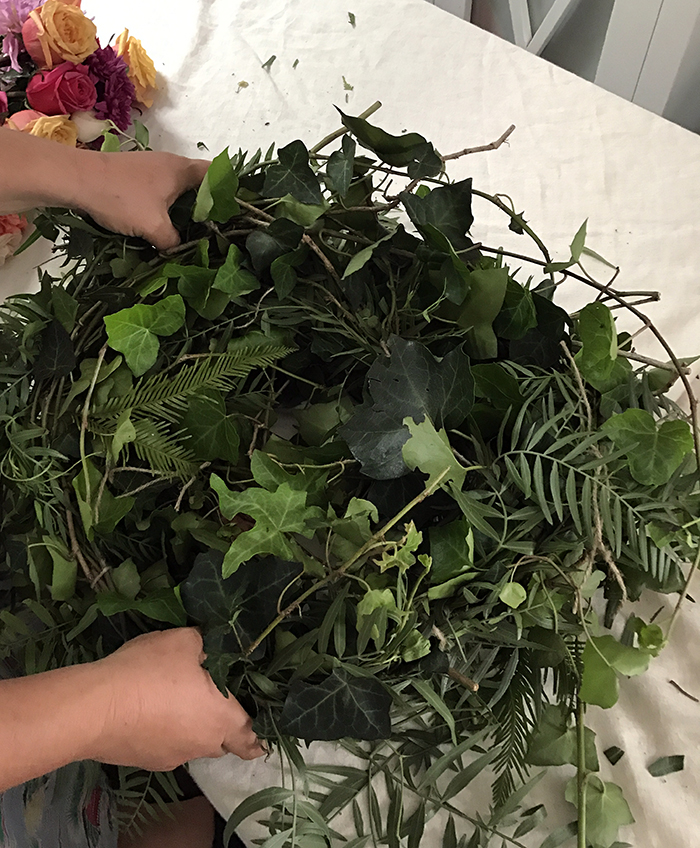 Make a floral table runner
This method of making a garland is also perfect for creating a fresh floral table runner. Instead of hanging the foliage garland lay it along the table and then add the flower posies and additional foliage. Look at the garland from the top as well as all sides, to make sure it's lush and full from all angles. Allow it to cascade over both ends of the table for a spectacular statement.
Make a floral garland photo backdrop
A shorter garland with a waterfall of flowers makes a stunning wall hanging or a fun photo backdrop for a party.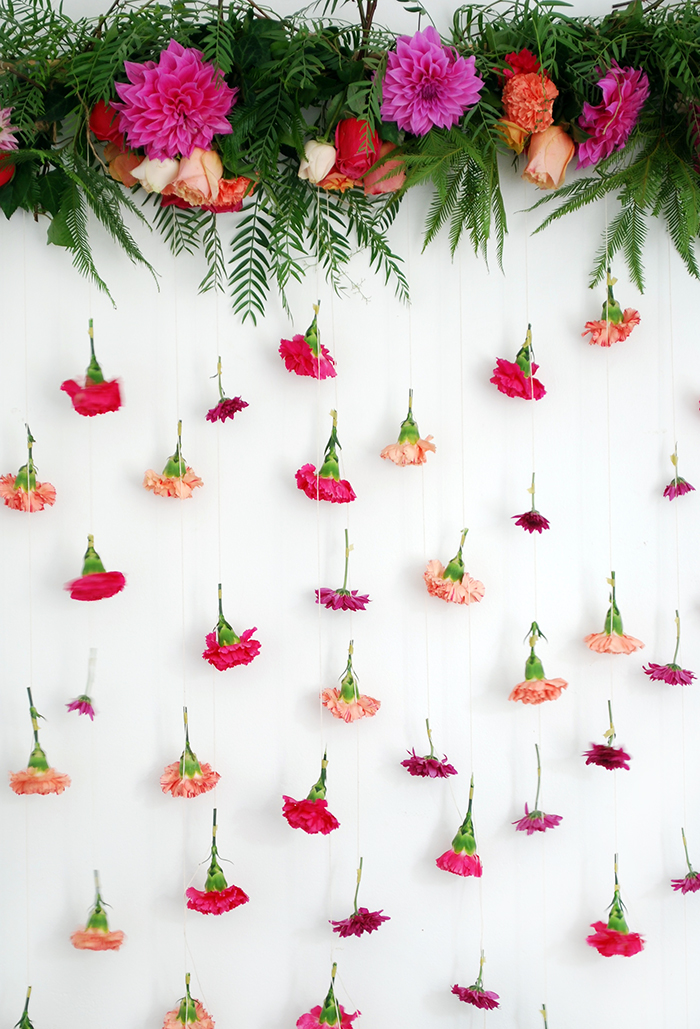 You'll need a 1.5cm diameter dowel cut to suit your wall space – to attach the garland and hanging flowers to – plus additional twine and florists tape or green washi tape.
Cut the carnations and small chrysanthemums stems to 4cm in length. Cut lengths of twine or white string to about 1.2 metres.
Attach the flowers to the twine with tape. Mix up the colours and sizes of the flowers, as well as the spaces between them.
Hang the dowel on the wall and tie the flower strings to the dowel.
Make the foliage garland about 20cm longer than the dowel so the ends won't be visible. Tie the foliage garland to the dowel with twine and then add the flower posies and additional foliage to fill it out.
Carnation flower strings
With the leftover blooms we made strings of flowers. They look fun, fresh and modern hanging in a jumble on the wall.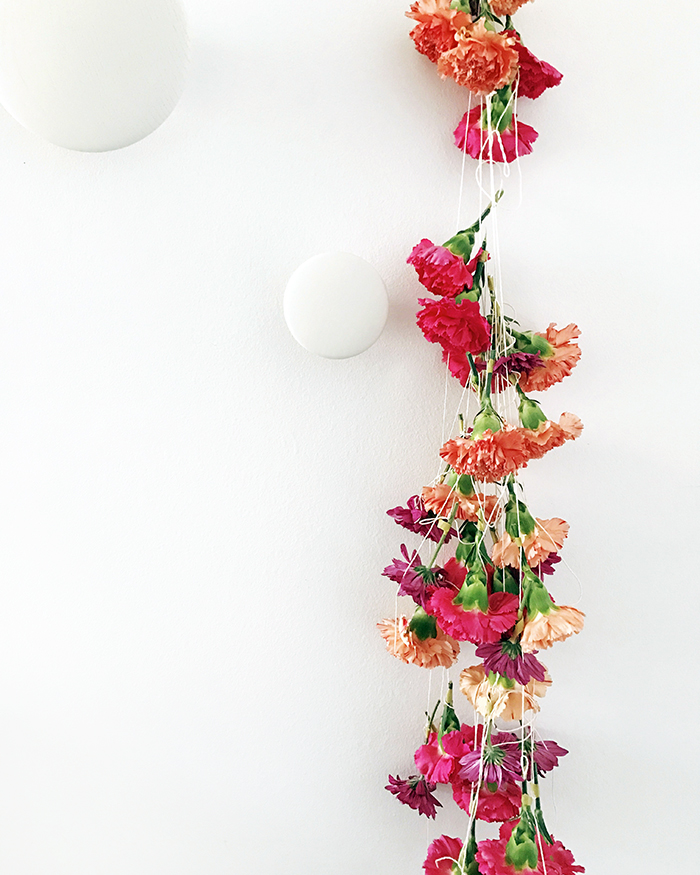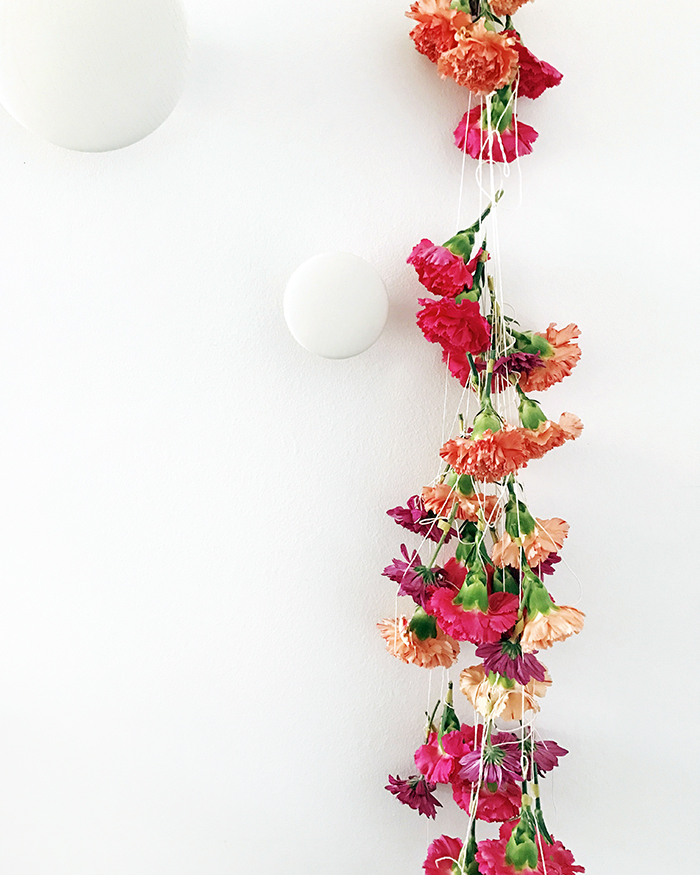 All photography and styling by Lisa Tilse for We Are Scout.
Follow Jodie's instructions and you can easily make these amazing fresh flower decorations for your next party or event. Seriously impressive! And don't forget to tag us on Instagram: @we_are_scout_lisa and @jodiemcgregorflowers.
If you're in Sydney pop in and visit Jodie and her lovely Jodie McGregor Flowers team at 123 Johnston Street Annandale, and pick up an armful of the freshest, carefully chosen blooms. Or visit their website to shop online.
Save
Save
Save
Save
Save
Save
Save
Save
Save
Save
Save
Save
Save
Save
Save
Save
Save