"When something is new to us, we treat it as an experience. We feel that our senses are awake and clear. We are alive." – Jasper Johns
Our experiences and memories are shaped by our five senses: sight, sound, taste, touch and smell. As story tellers we communicate though the senses, creating music, art, words, flavours and aromas.
With the launch of Nespresso Variations 2016 limited edition coffees I challenged myself to visualize the flavours and sense of taste through images. To allow the sense of sight to bring to life the experiences of taste, texture and smell.
Each year Nespresso releases three highly anticipated, unique new Variations coffee flavours for the festive season. This year the flavours are inspired by the desserts of Austria.  Austria, specifically Vienna, is world famous for its memorable pastries and elegant coffee house traditions. Nespresso Variations 2016 invites coffee lovers to celebrate and indulge in the rich flavours and aromas of this evocative and sensory Viennese history.
For this collaboration with Nespresso I wanted to do more than just shoot images of coffee and pastries. This conceptual approach is about indulging your sense of sight to evoke the flavour notes of the limited edition dessert-inspired coffees.
Nespresso Variations 2016: Linzer Torte
This flavoured espresso celebrates the popular Linzer Torte, a lush and tasty red fruit tart topped with pastry in a distinctly recognisable lattice design. Nespresso's Linzer Torte coffee features the taste of those full red fruits with spiced dough notes.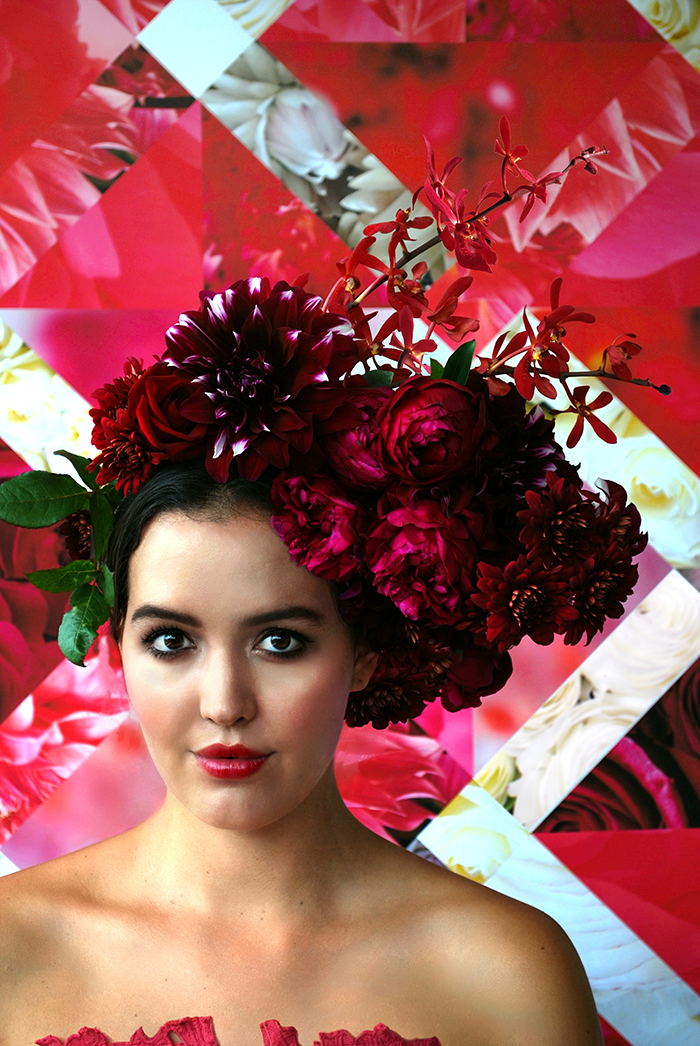 As a visual metaphor for the lush red berries in the Linzer Torte I used abundant deep pink and red flowers to create this stunning floral headpiece. The layered petals in berry hues also appear on the printed backdrop together with the well known pastry lattice design. The image is full, rich, vibrant, and layered, evoking the taste of the red fruits tempered by spiced pastry.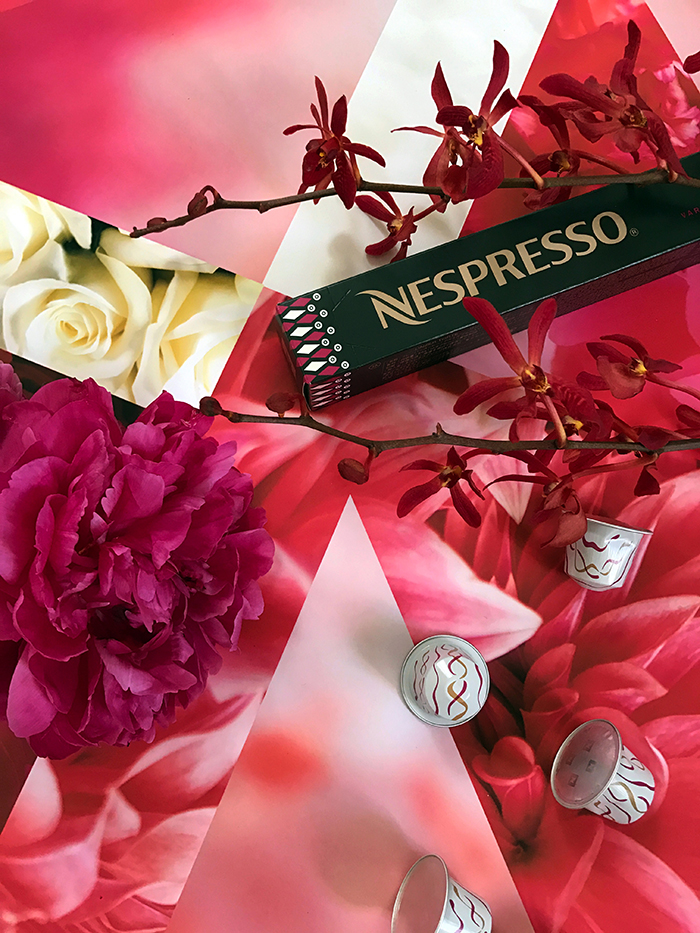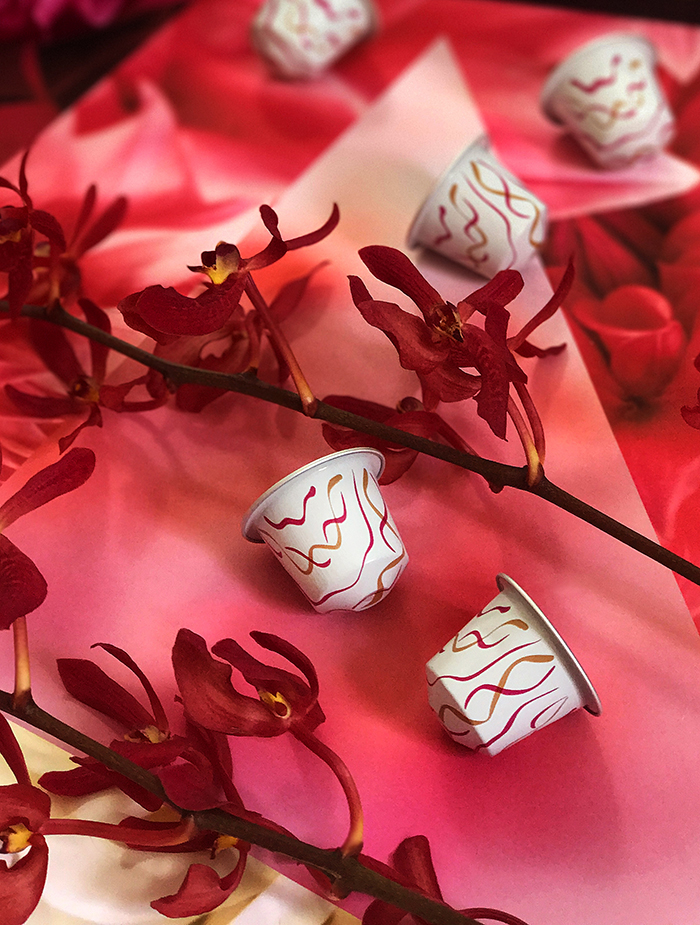 Nespresso Variations 2016: Apfelstrudel
The classic Viennese Apfelstrudel consists of layers of puff pastry and apple filling. Nespresso have encapsulated the tantalisingly rich aromas of baked apples with a hint of cinnamon and delicious pastry in this coffee offering.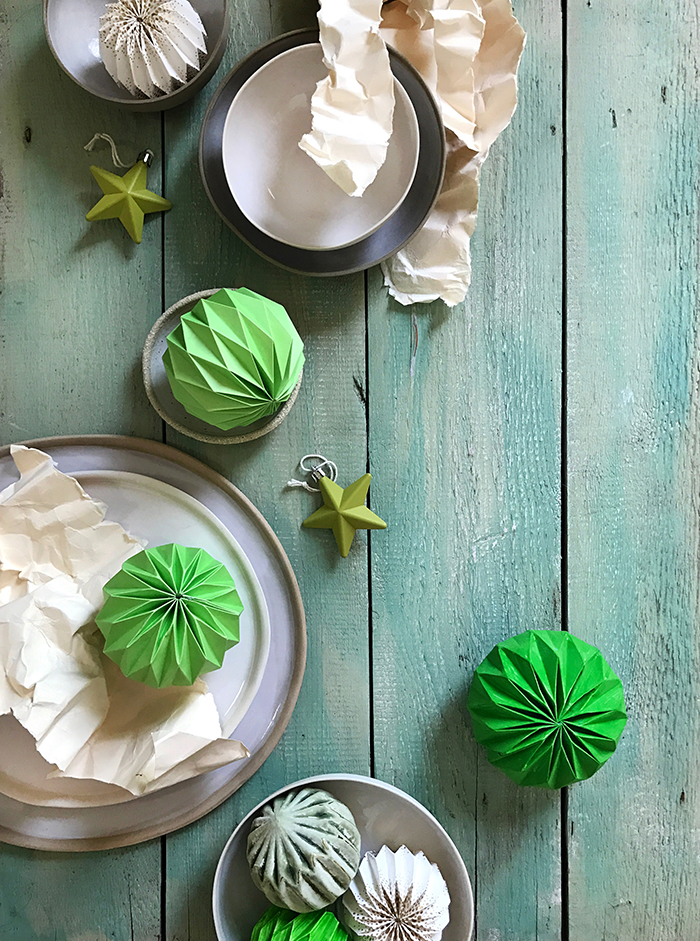 Apple strudel is a home style rustic dessert. This image is all about evoking memories and feelings of a familiar comfort food and a sense of home. I brought this idea to life through the materials, textures and domestic setting in this photo. The beautifully painted and worn wooden table and paper feel familiar and warm. Fresh green apples ready for baking and layers of pastry inspired the paper forms.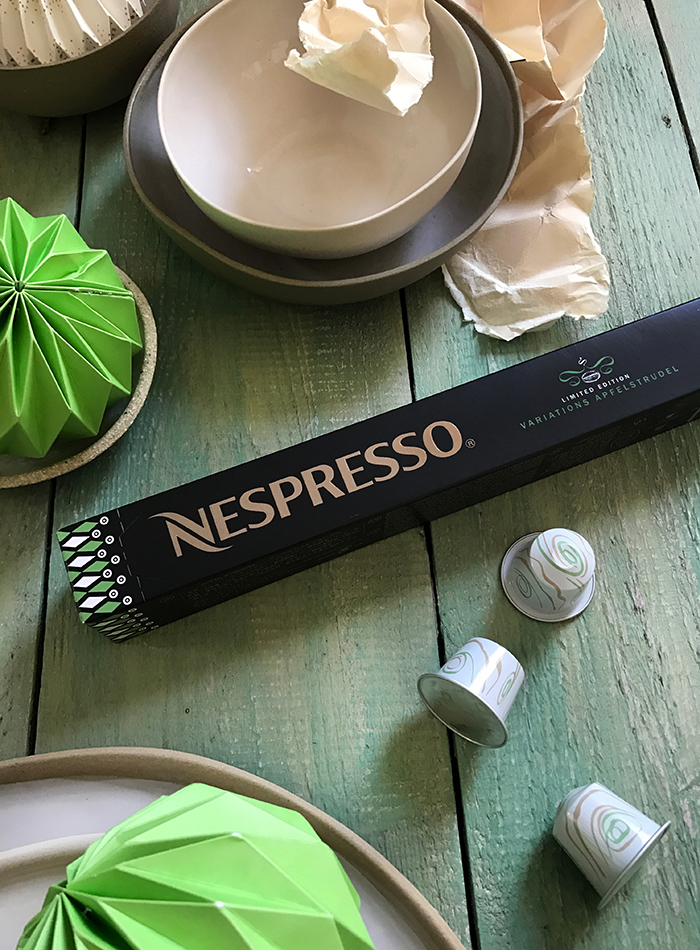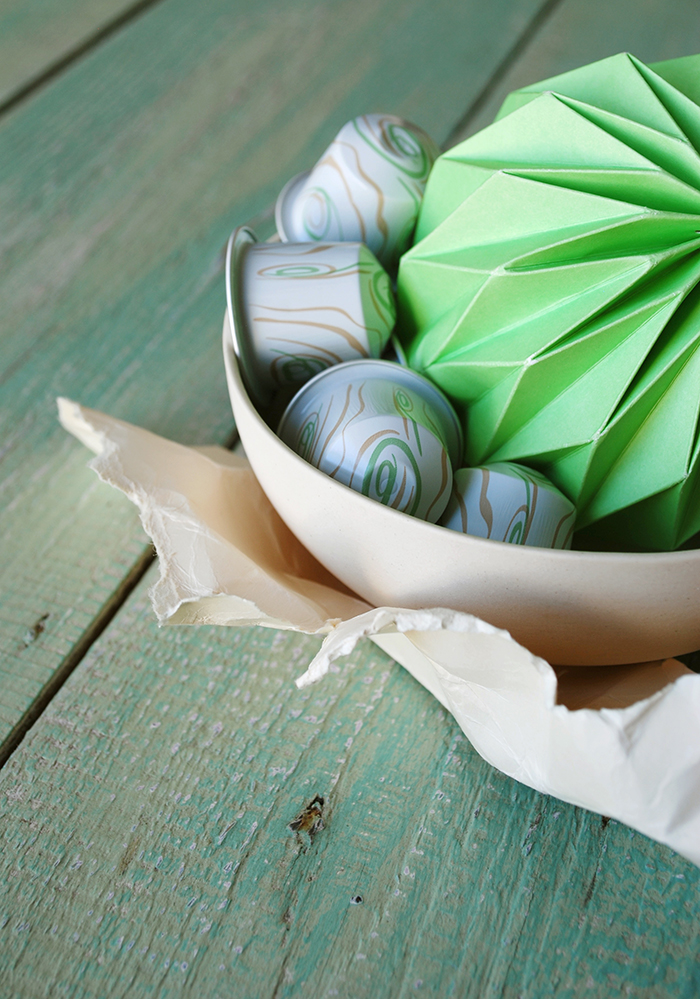 Nespresso Variations 2016: Sachertorte
Austrian Sachertorte is a decadent chocolate cake glazed with a layer of apricot jam. Nespresso's Sachertorte coffee perfectly recreates the rich flavours of this much loved dessert with soft chocolate and apricot notes.
The stylistic choices here are all about rich, dark and decadent chocolate. Glossy thick chocolate ribbon is looped and folded on rich brown fabric. The still life image features layers of vessels and fabric in tones of chocolate brown with highlights of apricot. The visual metaphor suggests the rich density of the cake and the experience of the flavours.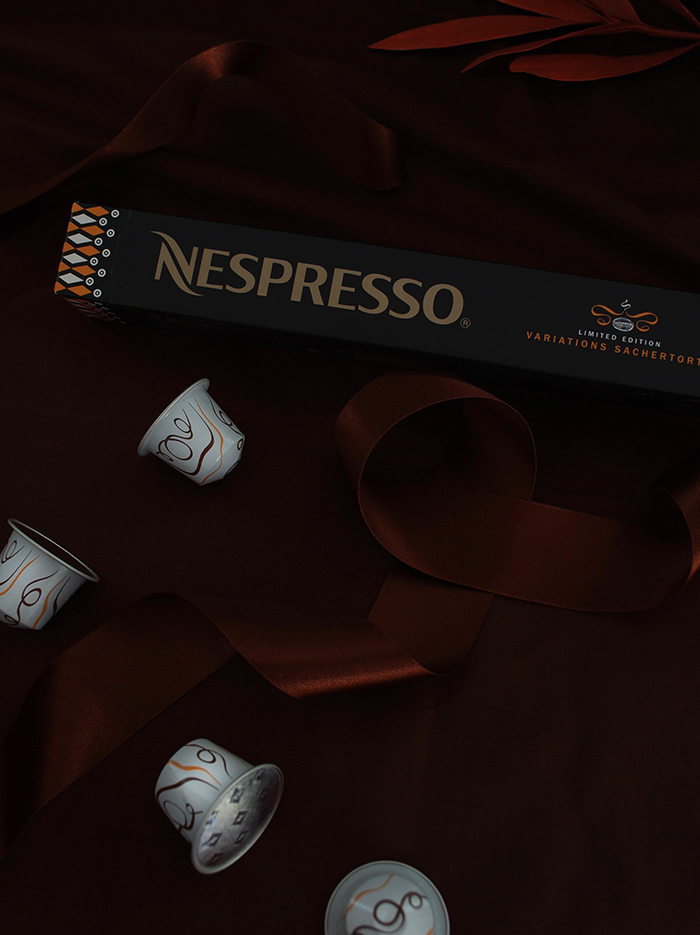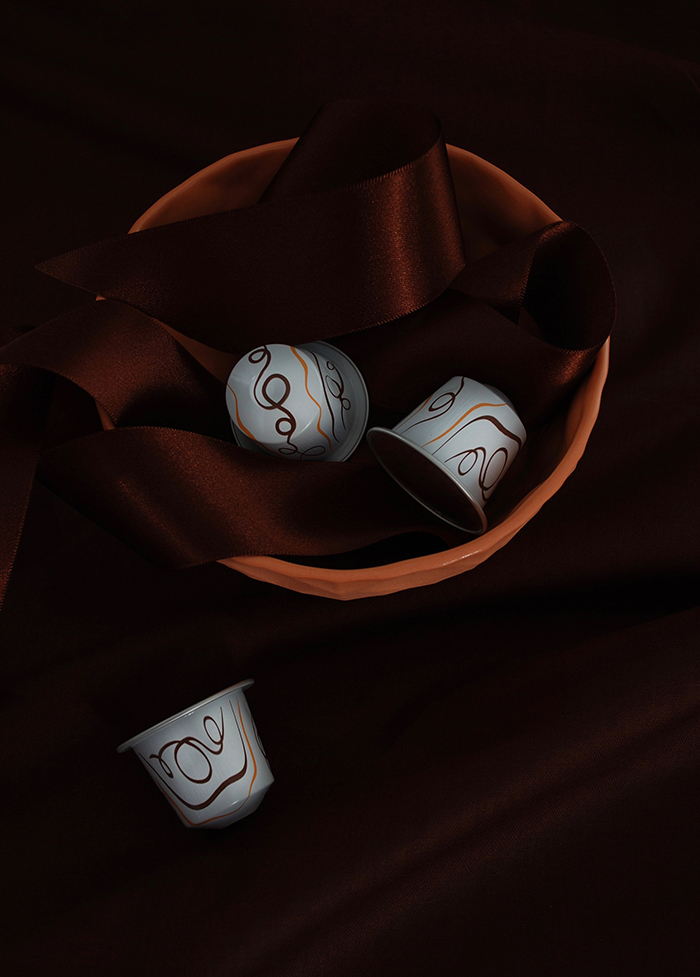 Nespresso Variations 2016
While taste is at the forefront of the Nespresso coffee experience, the limited edition Variations are also about evoking the senses and bringing back, or creating, memories and traditions. These three tempting and memorable flavours are available now in single sleeves as well as in gift packs – perfect for the coffee aficionados in your life.
Giving with Nespresso
Nespresso has a range of limited edition and permanent accessories to complete your memorable coffee moments. The collection is beautifully packaged for gift giving this holiday season.
All photography and styling by Lisa Tilse for We Are Scout.
Disclosure: This is a sponsored post in collaboration with Nespresso. I only partner with brands that are a good fit with We Are Scout, our aesthetic and what you, our readers, enjoy. Content, concepts and opinions are all my own. Thanks for supporting the brands that allow me to keep on scouting.
Save
Save
Save
Save
Save
Save
Save
Save
Save
Save
Save
Save
Save
Save
Save
Save
Save
Save